Want a reliable Internet security and privacy solution? A VPN provides what you need. Nowadays, the ISPs are allowed to sell users' Internet privacy to third parties without permission. To reclaim your privacy, you need a reliable VPN. A VPN hides your real IP address, wipes your digital footprint, spoofs your virtual location, connects you to remote servers and encrypts your connection to the Internet so as to give you the best possible browsing experience. Some of you may have unpleasant experience with VPN due to slow connection or low uptime. Hence, it is very important to pick the right VPN. Our team have tested numberless of VPNs and recorded their performance careful. We test and update the test result every year. Hope our review helps you find what you need. VPNArea is one of most popular and reliable VPN services. Get to know more about it in this VPNArea review.
What is VPNArea?
VPNArea is a Bulgarian VPN provider hosted in Switzerland. The company was launched in 2012 owned by Offshore Security LTD and they have been regularly updating their software. It provides worldwide servers and delivers secure network at impressive speeds on users' devices for various purposes. Any of the servers guarantee complete anonymity when surfing the web & or using any geo-restricted services. The VPN utilizes blowfish/AES encryption, all major protocols as well as other advanced technology to keep your online activities private and safe.

Pricing and Discount
VPNArea provide one package with three memberships. You can choose among the 1-month, 12-month and 36-month plans. The 1-month plan is $9.9 USD without discount. The 12-month is 50% off. It costs $59.00 USD for 12 months. It is the most popular plan. Want bigger discounts? The 36-month plan includes the biggest savings. It is 70% off. It costed $356.40 USD, now it is only $107.64 USD for three years of subscription. It is $2.99 USD per month!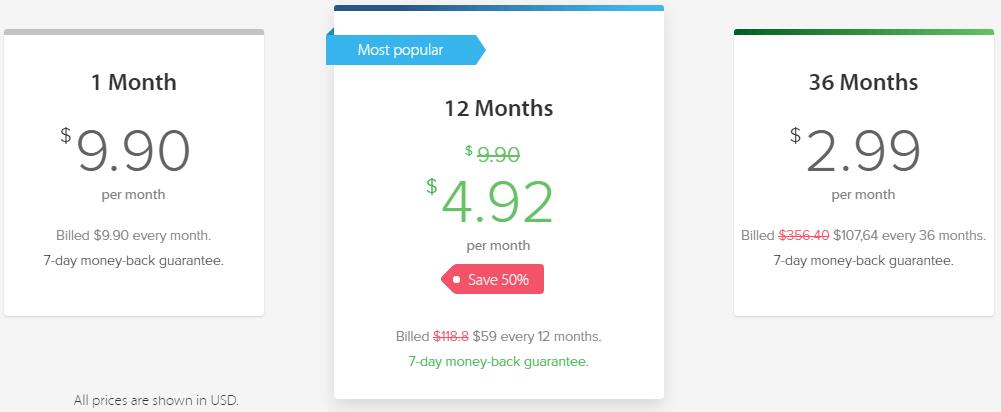 By the way, the plans don't auto-renew. You need to manually renew your plan at the end of each billing period. The provider won't keep taking money if you don't need the service. Some service auto-renew while they do not allow customer to end membership without certain reason though the customer don't need the service any longer. That's why many users choose VPNArea. If they don't need VPN, they don't have to do anything, simply not renew the plan at the end of membership.
7-day Refund Guarantee
VPNArea does offer a 7-day refund. If you are not satisfied with the service, you can request a refund by sending as email. There are no sneaky "can't have used more than x amount of bandwidth"-type exclusions. The provider claims on its website that they have never refused a refund request. They have confidence in their product.

Why VPNArea?
VPNArea is one of the best VPN services when it comes to features and affordability. It offers top of the line servers to guarantee you the best experience. You are able to browse freely without limit from anywhere. The bank-grade encryption keeps your online data and connections complete safe. No one can access your information without your authorization. It offers friendly price which starts from $2.99 USD per month. One single plan comes with highest encryption, unlimited bandwidth, dedicated IP option, anti DNS leak, great online protection, a seven day money back guarantee, multiple platform software, instant activation and much more.


Once you finish payment, the website immediately displays a clear page with username, registered email address, and a link to the Members Area where you can log in. Within seconds an excellent welcome email arrived with extra details including links to the main clients and advice on where you can go for support. Once you install and set up VPN, it works for you immediately.
Vast VPN Servers
You can get access to the fast VPN network for great experience. VPNArea develops infrastructure servers in 70 countries with blazing fast 1 Gbps+ speeds. VPN servers are needed for different purposes. Some servers are optimized for streaming to bypass Internet censorship and other restrictions so that you can access your favorite content at home and from abroad. Some servers are specially developed for games and P2P sharing to achieve private and fast connections. The provider also offers special servers, including Double VPN and Stunnel to every user's need.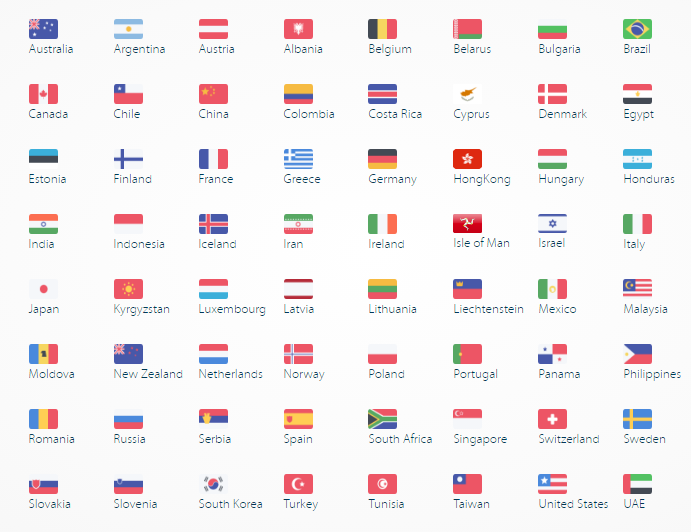 High Encryption & Advanced Protocols
To ensure your connection and device get unbreakable encryption, VPNArea utilizes AES-256 cipher with 4096-bit RSA keys and SHA-256 algorithm. This is the strongest encryption configuration available to the public. Though the hackers are good at attacking users on the Internet and ISPs are able to monitor record Internet users' activities, they can't decode your content. All they see is encrypted sessions.
VPNArea supports OpenVPN, L2TP and PPTP. OpenVPN is the latest and most secure one. It should be your first choice. If your device does not support this option, you can download the third party OpenVPN software from app stores. The software is free, safe and very easy to install. If you only want fast download speed, PPTP is good. This provider keeps updating their technology to supports forward secrecy. You will always get the best protection.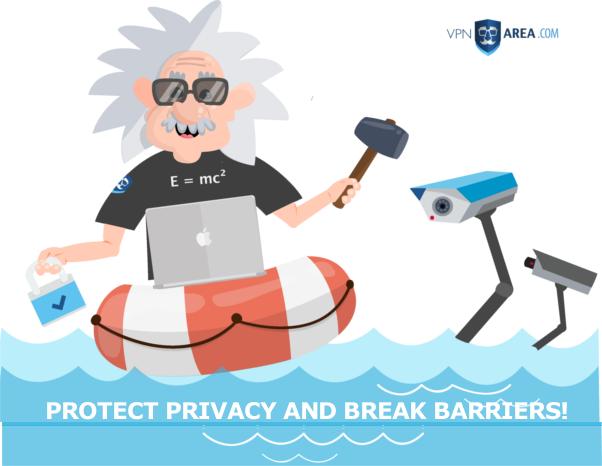 Wi-Fi Safety
Unless you use a VPN service, all your traffic flies through the cyber space naked and vulnerable. Users who know little about cyber attack and Identify theft may feel safe browsing on mobile device in a coffee shop or bar. From your ISP to public WiFi snoopers and hackers, there is always someone after your data. The hackers on the unsecured network can spy on everything you look at or type in.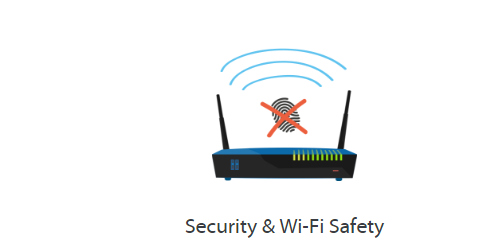 They are able to install malware onto the network that logs every keystroke and reports the information back to them. The information may include your IP address, social medial account & password, detail data of bank app. That can spell disaster in the form of identity theft or leaking of confidential documents and information. Luckily, VPNArea encrypts all your connections to the Internet with unbreakable bank-grade encryption, keeping privacy intruders at bay. It protects you from malicious network at public place, so you can conduct activities without worrying about information leak.
Freedom & Unblocked Content
Most users utilize VPNArea as a way to connect to data or websites that are unavailable to them for a variety of reasons. Some websites may be blocked in your country due to government policy. Some services are not available in where you live as the services come with geo-restriction. They only can be accessed in certain countries. This VPN replaces your IP address and connect you to remote servers to escape from Internet censorship. As the government does not know you are located in their jurisdiction, they will not stop you from accessing websites they ban. You get Internet freedom. Given the worldwide servers, you appear to be from US, UK or other country so that you are able to unblock US-only, UK-only or other content with restriction.
You simply need to click "Connect" on VPNArea client, and the restrictions just fall like dominoes. You will no longer be a victim to restrictions imposed by web sites, streaming platforms, ISP, company/government firewalls. Enjoy all of your favorite websites safely with VPNArea.


BBC iPlayer & Netflix
BBC iPlayer and Netflix are typical services that they both have geo-restriction and block VPN access. BBC iPlayer is normally restricted from those outside the United Kingdom while it has many fans all over the world. Netflix is a very popular steaming service while you can't access it outside US. That is very upset as many users have to move to another country for work. Users in other country also want to watch different videos on this great platform.
To access your favorite show, you need VPNArea which is one of the rare VPNs that are still able to unblock BBC iPlayer and Netflix abroad. It is an important feature needed to be considered when selecting a VPN. Its dedicated IP, smart servers and advanced protocol all work together to give you excellent streaming experience on BBC, Netflix and Hulu etc.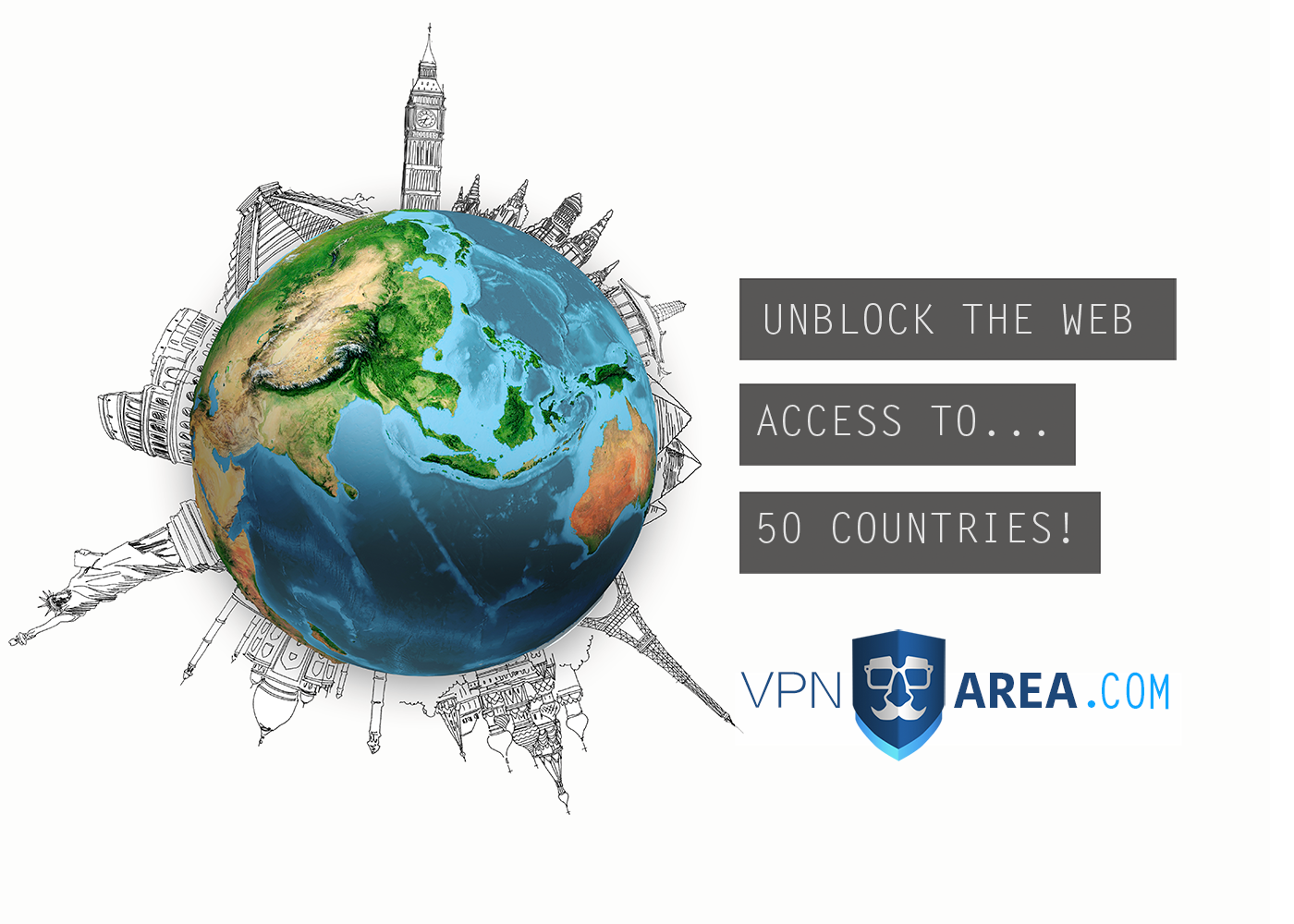 Privacy & Incognito Surfing
VPNArea provides new IP addresses from different countries and regions to keep your information private on the Internet. As your IP address is essentially your fingerprint on the Internet which reveals your location and other personal information, this VPN masks and make it virtually impossible for a hacker to target you. The advertiser can track you and deliver annoying ads when you surfing the Internet. The blocking ad feature of this VPN stops your ISP from seeing what addresses you visit with provided DNS servers.The ISP, employer, university or government will not know who you are and what you are doing on the Internet.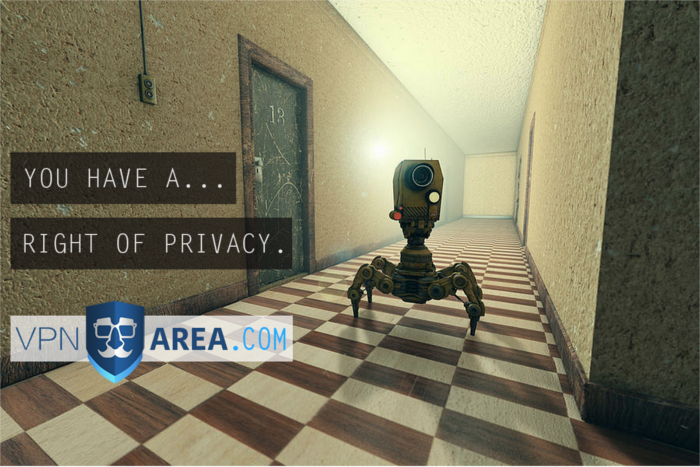 That also further confuses potential hackers and comes with a lot of other perks. No one can track you according to the browsing. The ISP will no longer be able to sell your browsing habits. The Congress allows the ISP to sell your personal information to the third parties without your permission and you can use VPNArea to encrypt your connections. It's time to reclaim your legal right of privacy. Another important feature is being able to maintain anonymity when making payment. This provider allows you to pay anonymously using Bitcoin to avoid trace.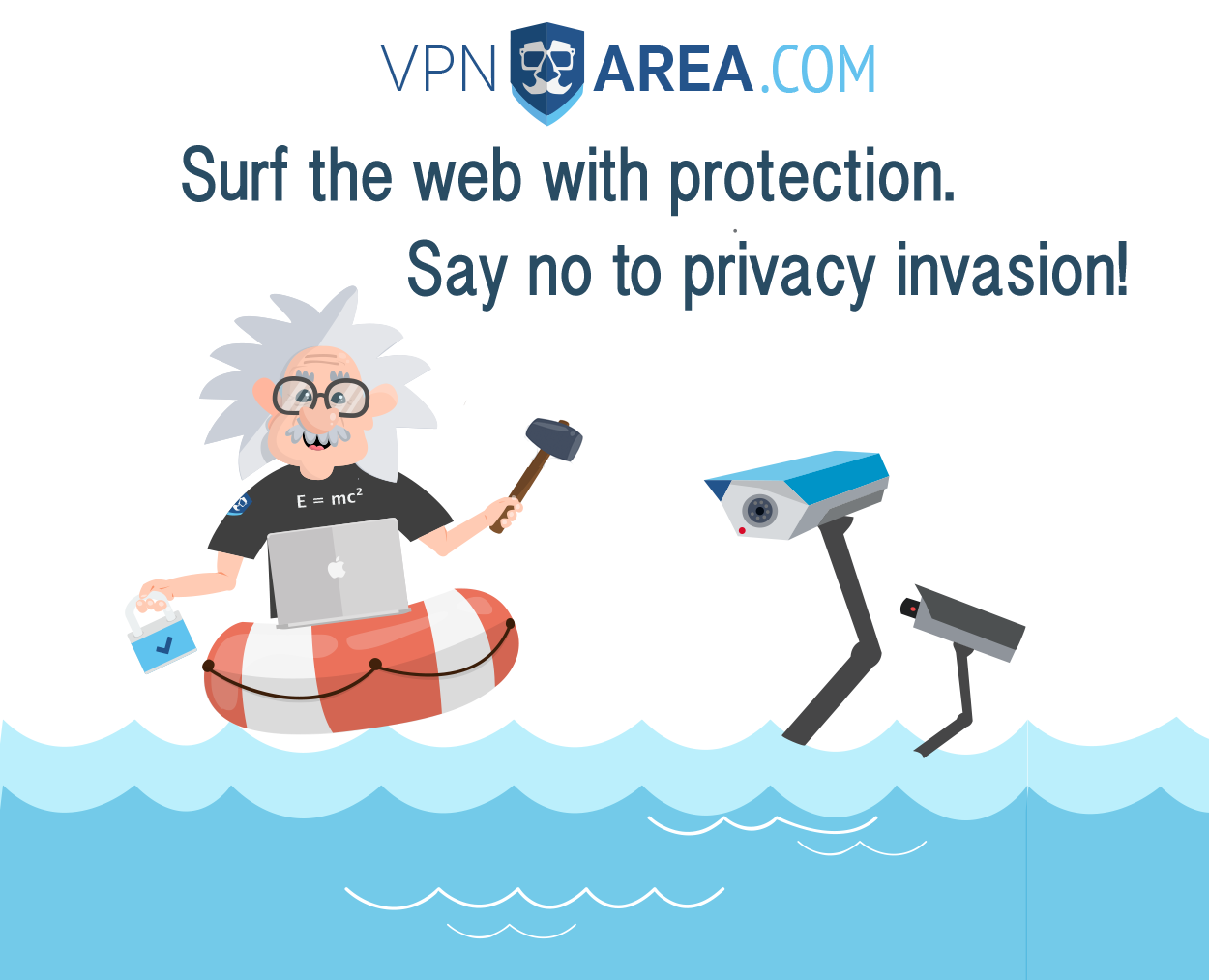 P2P/Torrents/Gaming Optimized & Unlimited Bandwidth
VPNArea is friendly with P2P, torrents and gaming by providing unlimited bandwidth and optimized servers. Some VPNs do support P2P and torrents as they are illegal in some countries, but this VPN helps you do torrent fast and securely. With special streaming servers and double VPN servers, the ISPs or other parties will not know who use P2P/torrent. Your connection goes through 2 of its servers which is double protection. It is necessary to remind that servers in Austria, Australia, France, Japan, Singapore, Sweden, United Kingdom, The Isle of Man and Iceland do not work with P2P/torrent. The rest servers are fine with them. You can download anything you want as it allows unlimited bandwidth.


As some games require certain servers and good connections, you may not be able to play the hit games. You can choose the suitable server provided by VPNArea to make you seem to be from a location where the games have best performance no matter where you are located. You not only can play the game, but also be able to enjoy the fast and stable experience without noticing the buffering.
Outstanding Apps
The company offers custom clients for Windows, Mac, Android, Linux and iOS which usually makes for easier setup. If you are a beginner, don't worry. The Window VPN comes with instant setup and you can get started without any problem. The app can auto-reconnect, auto-start, auto update and auto switch servers for you. From the app, you can see how busy a server is before you connect to it. You will be informed by a sound each time you connect or disconnect VPN. Though the apps are easy to use, they are equipped with latest technology. They are able to stop WebRTC & IPv6 & DNS and real IP address leaks and block ad etc. You only need to install the app, and VPNArea will take care of the rest.
For advanced users, there are powerful settings available. Just change the settings according to network and purpose for the best performance. This VPN also works on Chromebook, DD-WRT internet routers, Merlin Firmware and Tomato. As the provider allows a maximum of six simultaneous connections, you can protect all of your devices or share your account with family and friends.


Customer Support
You can contact VPNArea support staff via email, Skype, and live chat. By the way, the live chat option doesn't operate 24/7
Live Chat: It is an easy and quick way to get your questions answered.
FAQs Section: Common questions and answers can be found in the FAQs. You can give it a shot before contacting a customer representative. Detail solutions there are useful.
Skype: It is a great way to connect to the technical team via Skype. You can talk to them clearly and issue will be fixed right away.
E-mail: This is obviously the slowest mode of support. However, e-mails are great for record keeping and remembrance of what the solutions were of particular issues. If you meet the problem again, you can view the solution in email and fix it immediately.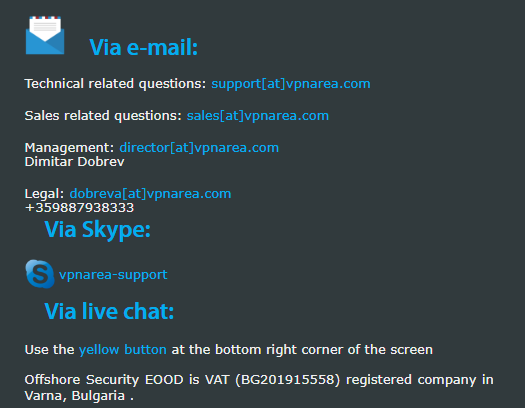 Jurisdiction
VPNArea company hosts its emails and servers in Switzerland which is the perfect location for privacy. It is well-known that it is a country which highly respects users' privacy useful laws for privacy protection. They are not subject to European data retention laws. The government cannot force them to provide information, even with a subpoena. Besides, VPNArea does not log any of your traffic, let alone providing your log information to the third parties.
Learn More How to Use VPNArea in this short video:
Top 10+ Best VPN Services In The World
VPN Brands
Servers
Country
# of Connections
Price(USD)
Official Website
3000+ servers in 94 countries.
British Virgin Islands
5
$6.67/Month (Save 49%)
Best Choice
5570+ servers in 60+ countries.
Panama
6
$3.49/Month (Save 80%)
View Deals
200+ servers in 70 countries.
Bulgaria
6
$4.18/Month (Save 50%)
View Deals
Servers over 34 countries &

Still work in China

.
Czechia
5
$4.88/Month (Save 20%)
View Deals
Click Here to Read More Top 10 Best VPN Services »
Conclusion
After reading this VPNArea review you understand it is a reliable VPN service that you can trust. Its security features on offer are excellent. It uses a 245-bit AES encryption algorithm along with OpenVPN to encrypt your online sessions. Even the government can't decode your connections. The large number of servers assists you to access any restricted content without leaving trace. No more government ban or streaming limit. The state of the art protection & equipment of this VPN ensures that you'll always have the best online experience wherever you are connecting from. VPNArea does not keep any logs of your activities. The VPN app also protects users from DNS leaks and the addition of a Kill Switch makes sure the users remain secure even when offline. The dedicated IP address and auto-IP changer also help you keep anonymous. That means your privacy is completely safe. In addition, the VPN company does try to make up for it with a seven-day money back guarantee and the customer service is also decent enough. They are reliable. Currently, its 36-month plan is 70 % off. It only costs $2.99 USD per month. You can receive the amazing online protection, excellent network speeds, ultimate online freedom and much more by spending less money. Save 70% on VPNArea membership now.


Published by & last updated on February 27, 2020 12:43 am