Hello i did an update last night on my Galaxy S7 active and now I have an FBI lock on my phone for pornographic websites and a ransom. I've tried to go into safe mode but my phone requires a pin once I put the pin in it goes back to normal screen and I see the FBI thing and can't do anything.

well i downloaded this thing because it look really weird and i wanted to see if it was real, and when i clicked and downloaded, it took me to the FBI warning where it said to say $500 and when i tried to restart my phone it popped up again and didnt let me unlock my phone, at the moment i turned off my phone because i wasnt sure what to do and now i need help on how i can get rid of the virus

I have a samsung Galaxy s 8 Plus locked up, samsung galaxy s7 that is locked from the FBI vanilla card scam virus.
More Information about the Fake FBI Prism Virus.
Samsung S7 and S8 are android phones produced by Samsung Company. Although the phones have been designed sophistically to prevent from being infected by any virus threats, it ends up failing to escape from the infection of FBI scam virus. The FBI scam virus is a ransomware that is programmed to attacked various devices like smart phones/tablets running Android system of brands such as Samsung, Huawei, LG, Motorola, ZTE, etc. This virus started to prevail several years ago and has developed into all types of variants with slight difference. As soon as the device is infected, the virus will lock it up and block victims from doing anything including restarting or powering off, let alone running any antivirus tools to kill it even though no antivirus facilities are reported effective to do that. Besides locking up the smart phones or tablets, other two traits of the virus can help further confirm if it is the FBI scam virus. First of all, the ransomware pretends to be a law enforcement agency in the country of the victims. In this case, the Department of Investigation Bureau is the government agency the virus pretends to be by stealing the title and logo of the agency. What role does this trick play in the whole scam trap? Yes, you may guess it. The trick is used to scare the victims and hurry them to make the ridiculous fine as soon as possible. The second trait to identify the FBI ransomware involves the unreal fine ranging from $100 to $500 bucks it demands the victims pay. You can view it as a ransom it requires the victims pay to unlock the device. As a matter of fact, you can unlock your phones or tablets by turning to an expert for help at much lower cost instead of paying the unreal penalty. So, you are suggested to talk to an expert for help when you find the FBI scam virus on your Samsung S7 or S8.
AS A RESULT OF FULL SCANNING OF YOUR DEVICE, SOME SUSPICIOUS FILES HAVE BEEN FOUND AND YOUR ATTENDANCE OF THE FORBIDDEN PORNOGRAPHIC SITES HAS BEEN FIXED. FOR THIS REASON YOUR DEVICE HAS BEEN LOCKED.
……

FIRST OF ALL, FAMILIARISE WITH THE POSITIONS STATED IN SECTION "THE LEGAL BASIS OF VIOLATIONS". ACCORDING TO THESE POSITIONS YOUR ACTIONS BEAR CRIMINAL CHARACTER, AND YOU ARE A CRIMINAL SUBJECT. THE PENALTY AS A BASE MEASURE OF PUNISHMENT ON YOU WHICH YOU ARE OBLIGED TO PAY IN A CURRENT OF THREE CALENDAR DAYS IS IMPOSED. THE SIZE OF THE PENALTY IS $500.00

ATTENTION! DISCONNECTION OR DISPOSAL OF THE DEVICE OR YOUR ATTEMPTS TO UNLOCK THE DEVICE INDEPENDENTLY WILL BE APPREHENDED AS UNAPPROVED ACTIONS INTERFERING THE EXECUTION OF THE LAW OF THE UNITED STATES OF AMERICA (READ SECTION 1509-OBSTRUCTION OF COURT ORDERS AND SECTION 1510-OBSTRUCTION OF CRIMINAL INVESTIGATIONS). IN THIS CASE AND IN CASE OF PENALTY NON-PAYMENT IN A CURRENT OF THREE CALENDAR DAYS FROM THE DATE OF THIS NOTIFICATION, THE TOTAL AMOUNT OF PENALTY WILL BE TRIPLED AND THE RESPECTIVE FINES WILL BE CHARGED TO THE OUTSTANDING PENALTY. IN CASE OF DISSENT WITH THE INDICTED PROSECUTION, YOU HAVE THE RIGHT TO CHALLENGE IT IN COURT.
……
Screenshots of Variants of the Ransomware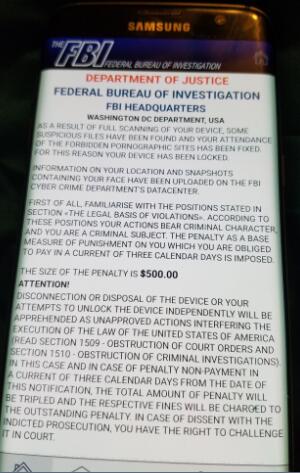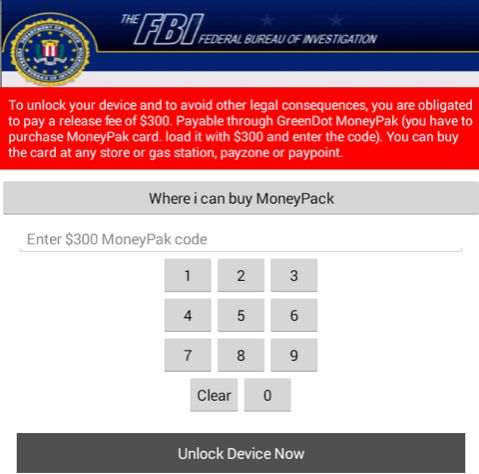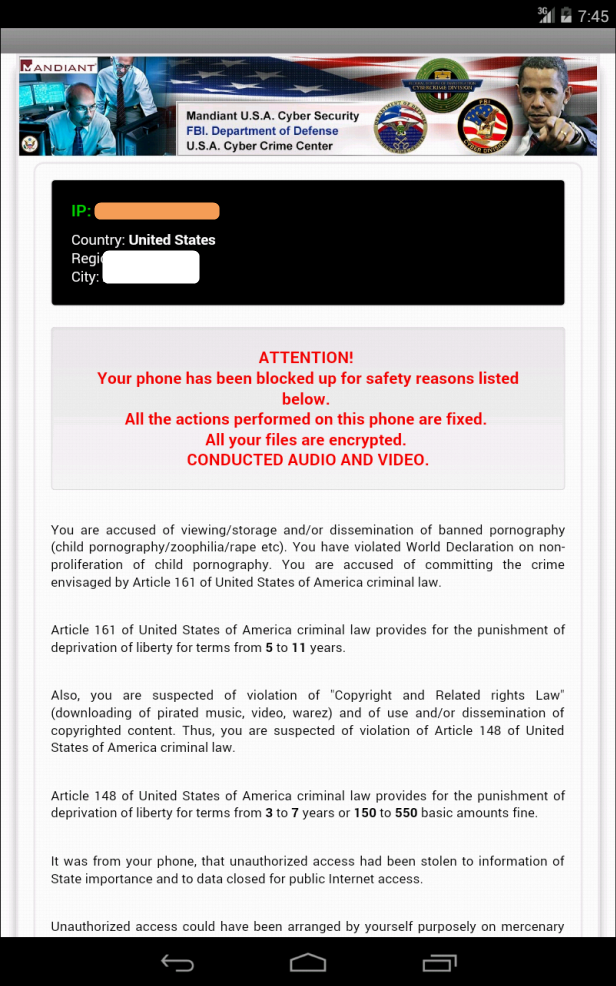 Please Contact YooCare 24/7 Online PC Expert now if you don't know how to start the virus removal on your devices.

Possible Danger Caused by the Ransomware:
It will take control of your mobile phone or tablet rapidly once it is downloaded.
It will pretend itself as a legit warning and then ask for a ransom.
It will not allow you to call, text or even access your home screen on the infected device.
It will not let you power off the device or do anything else except for inputting the demand Ukash/Moneypak code.
How Is Your Device Attacked by the Fake FBI Scam Virus? How to Stop it?
There are some most common ways in which a fake FBI scam virus usually distributes itself. So if you can have a closer study of the following knowledge, it is sure that your device will be able to avoid such an infection.
If you have a choice, never install a suspicious app on your device. It is known to many people that the freeware or shareware programs are the most common methods taken advantage by the hackers to spread a malicious program or all kinds of viruses.
Secondly, do not use your device to visit porn or gambling websites. According many victims of the fake FBI scam infection, their device is exposed to a porn site before the virus is found on the system. So it is believed that to stay away from the pornographic or gambling websites will help prevent the virus from infecting your device.
Finally, never open a spam email and download its attachments. Nowadays, many viruses use email to reach the victims. So when you receive an unknown email with a suspicious attachment, not be so curious as to open it and let the virus attached sneak into your system.
How to Remove the Message of FBI Scam Virus?
Once your phone or tablet is blocked by the FBI prism scam, you will have no access to its home screen. Thus, you need to bypass this FBI prism scam block and then you have the chance to locate the scam on your Android device. Here are some instructions on bypassing this FBI prism scam on your phone or tablet.
Step 1: Restart the safe mode on your infected phone or tablet.
For Samsung Galaxy S4: 1. Power down. 2. Turn on and repeatedly tap the soft-button for "Menu."
For Samsung Galaxy S3 and others: 1. Power down. 2. Turn on, then press and hold Volume Down (Galaxy S3 and others), Volume Up (HTC One and others), or Volume Down and Volume Up together (various Motorola devices) when the vendor's logo appears.
Note: "Safe Mode" on Phone and tablet starts up without loading any third-party add-ons and different devices have different ways to access safe mode.
If you have managed to select Safe Mode successfully, you will see the text "Safe Mode" at the bottom left corner of the screen. As the picture shows below: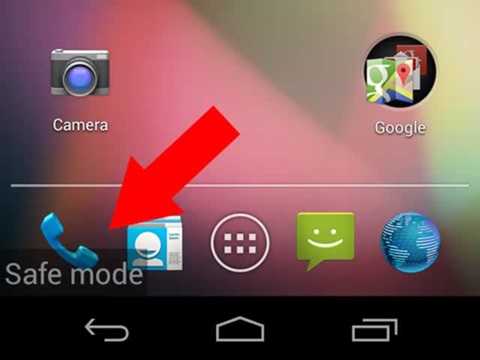 Step 2: If you can find "Safe Mode" on the left hand corner, that means your phone or tablet is in safe mode already, then you can contact an expert for further ransomware removal instruction.
Note: The ransomware removal guide is so complicated, and it requires sufficent skills. If you are not an Android device repair expert, do not try by yourself. In case you lose your confidential data and photos, an expert is needed during the process of manual removal. Yoocare experts can provide you with the most professional service of the ransomware removal.
Conlusion
When your Samsung S7 or S8 or other brands of smart phones/tablets with an Android System like LG, Motorola, ZTE, etc. are found completely locked up by a warning notification stating from FBI or other law enforcement agencies which happens in the cases of its variants that are designed to attack devices of users in different countries, it means your Android device has been corrupted by the FBI scam virus. Pretending to be a law enforcement department, completely locking up your device and demanding you pay an unreal penalty are the three traits of the virus you can depend on to tell and confirm the infection. There are no antivirus tools proved to be effective to fix the problem. Manual removal implemented by an expert is the best way to deal with it. To completely get the warning message off phones or tablets, you can contact YooCare PC experts 24/7 online for help right now.

Published by & last updated on September 10, 2017 8:14 pm