Hey. My computer has been attacked by ZEUS virus. The virus locks my browser and asks me to call a number. I did call, but they asked for $ 700 to remove the virus and I refused. I can't afford it. Is there any cheaper way to get rid of "Windows Detected ZEUS virus" alert? Please help.
What is "Windows Detected ZEUS virus" Alert?
"Windows Detected ZEUS virus" alert is brought by a piece of scareware which is a member of the dangerous viruses' family. It displays fake alerts, such as "Windows Detected ZEUS virus", "You have a ZEUS virus" or other similar alert to scare users. Pretending to be kind, it urges you to call "Microsoft technicians" for help. In fact, this is a tech support scam. The virus alert is not issued by the Microsoft or any other legit anti-virus program. The real threat is not ZEUS virus but the nasty scareware behind this fake alert. If you called the number like it suggests you, the people who claim to be Microsoft technician would persuade you to buy their software or service. According to victims, they were demanded to pay $ 600 to remove ZEUS virus. Therefore, do not call the number. You need to remove the scareware which brings ZEUS virus alert completely.
How "Windows Detected ZEUS virus" Alert Works?
The scareware is installed to create chaos on your computer. In order to work freely, it disables your antivirus program. The antivirus program will not be able to detect or remove the scam virus. Besides, the virus changes the browser and system settings to work for its owners. Your browser runs out of control and computers performance slows gradually. This virus is able to inject and display advertisements on the web browsers. You will be redirected to the third-party domains. A flood of flashing pop-up windows, banners, in-text links, and auto-play video commercials appear on your screen frequently. However, you need to know that not all the domains and popups are safe. Some of them are malicious. You will be forced to download virus once you click on the suspicious programs.
Gradually, the popup becomes powerful. For example, the "Windows Detected ZEUS virus" alert is able to hijack your browser completely. When you open a new tab, the alert appears immediately and takes over the browser. The alert page can't be closed though you click on the red "X" many times. It writes that your Microsoft system has been compromised. You are supposed to call the given number to contact "Microsoft". At the same time, someone reports circularly that you have Trojan virus on system. It seems like someone is controlling the computer. Being scared, many users believe that they are Microsoft technicians and can help them fix the problem. They just call the so-call Microsoft tech support for help at any cost. However, users should know that ZEUS virus does not exist and they are not Microsoft technicians. They are not helpful but evil who created scareware to attack your computer for money.
The "Windows Detected ZEUS virus" alert acts like a piece of spyware. In order to access your personal information, it tries to install additional third-party software without your permission. It monitors people's activity on the Internet is of special interest to these ad-based programs. The virus gathers the information about your interests, mostly viewed websites, entered data etc. At the same time, the scareware exploits software vulnerabilities and take advantage of user incompetence regarding safe Internet browsing. In this way, the virus can update itself and bring in more threat to ruin your computer. Those viruses will cause sluggish computer performance, system errors and crushes, system shut-downs for no apparent reason. Those problems will further make you trust the "Windows Detected ZEUS virus" alert. Your computer is infected with a virus, but it is not ZEUS virus. It is another scam virus. You have to figure the real virus and remove it manually.
"Windows Detected ZEUS virus" Alert
• ** ZEUS VIRUS DETECTED – YOUR COMPUTER HAS BEEN BLOCKED **
• Error: Virus – Trojan Backdoor Hijack #365838d7f8a4fa5
• IP: [your ip address] Browser:Internet Explorer [Your ISP]
• Please call computer system technician immediately on: (855) 247-2419
• Please do not ignore this safety alert. Your Microsoft System Has Been Compromised. If you close this page before calling us, your computer access will be disabled to prevent further damage and your data from being stolen.
Screenshot of "Windows Detected ZEUS virus" Alert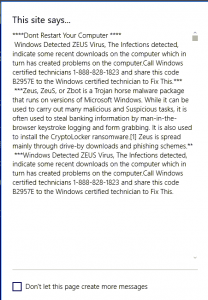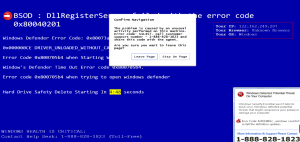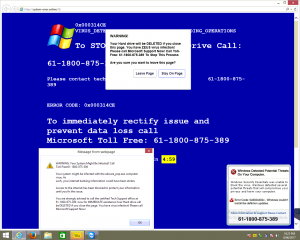 Processing manual removal is supposed to have a certain level of computer literacy. If you are not sure how to start and are afraid of making any critical mistakes damaging the computer system, please live chat with YooCare Expert now.

Manual Removal Guides:
Removing the "Windows Detected ZEUS virus" alert scam virus seems to be difficult for ordinary computer users, even those famous antivirus programs cannot do that successfully. Hence, manual removal can ensure that the stubborn virus will be gone completely. As mentioned above, manual removal needs professional knowledge, because the lack of experience may cause errors resulting in some other unpredictable problems. The following guide provides a general concept of the removal. You may not be able to find out some certain files for the virus can be changed. If you fear the loss of important data, please consider making a backup before starting the removal.
1. Restart the Infected Computer into Safe Mode with Networking
(* Usually the malware will be temporarily disabled in Safe Mode which will provide users a chance to get this problem fixed. If you are still getting the virus popup in safe mode with networking, please try safe mode with command prompt instead.)
Restart your computer, immediately, quickly and repeatedly hit F8 key before the Windows start-up screen shows. Select "Safe Mode with Networking", and then press Enter key.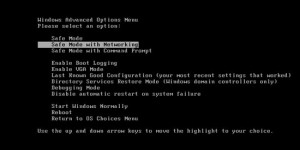 2. Stop the Processes Related to the Fake "Windows Detected ZEUS virus" alert scam virus in Windows Task Manager
Press Ctrl+Shift+Esc keys together and end the virus processes in the Processes tab of Windows Task Manager.

3. Show Hidden Files
(1). Press Win+R to get Run window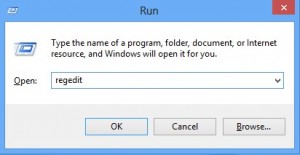 (2). Type Control Panel in the Run window and hit enter to get Control Panel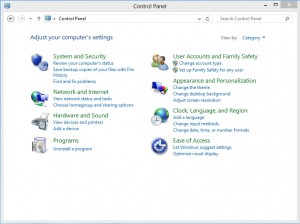 (3). Click on Appearance and Personalization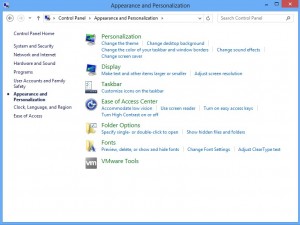 (3). Click on Folder Options

(4). Click on View tab in Folder Options window
(5). Tick Show hidden files, folders, and drives under Hidden files and folders tab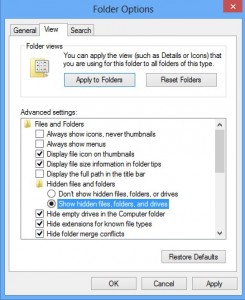 (6). Click Apply to take effect, then click OK at the bottom of the Folder Options window
4. Delete Virus Files
(1). Using Registry Editor to delete or adjust all the related registry entries of  "Windows Detected ZEUS virus" alert scam virus.
*Guides to open Registry Editor:
Press Win+R key together to get the Run box, type in 'regedit' then click OK, Registry Editor window will pop up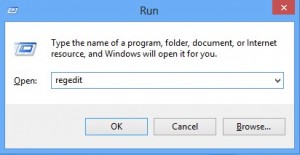 (2). Find out and remove the associated files of this fake virus alert
Video Shows You How to Safely Modify Windows Registry Editor:
Conclusion
"Windows Detected ZEUS virus" alert is not real. It misleads you by telling you that you have ZEUS virus while there is another threat on computer. They are not helping at all. Do not get tempted to call the indicated number as you can only lose money while you still have viruses. They will continue to stay on your computer and then cause significantly more problems. if you have contacted the listed phone number and purchased any software from them, please remove them as soon as possible. According to the computer experts, the "Windows Detected ZEUS virus" alert is caused by a scareware which is difficult to remove. On one hand, you can't remove the virus with the help of antivirus as it is disabled. On the other hand, this virus is complicated. In order to remain safe on your computer, the virus may disguise its working components as elements of legitimate applications which help the malware run on the system undetected for an extended period of time. The suspicious browser toolbars, expansions or plug-ins it installs are difficult to be realized by you if you are not good at computer virus removal. In this case, you can ask help from computer expert. Get rid of "Windows Detected ZEUS virus" alert safely.
Can't remove the virus and are afraid of making any critical mistakes damaging your computer? please contact YooCare Expert for further removal help.

Published by & last updated on January 4, 2018 9:41 am