Hi. I have viruses on my computer. Need your help. Here is the thing. I was viewing clothes promotion on a website that a pop-up ads brought me to. Later, I went out for lunch for a while leaving the page open. When I came back, I saw the "Your computer has been locked" alert saying that my computer has virus. It asked me to contact Microsoft Technician for help, but I found that it was too expensive to get their help. Is there a cheaper way to get rid of this "Your computer has been locked" screen locker?
Brief Description of "Your computer has been locked" Screen Locker
"Your computer has been locked" is a fake alert that the cyber criminals use to grab money from unexpected users. It does not like other notifications from legit programs, such as Norton, Avira and AVG etc. The warning is made up by the criminals. They create nasty malware and make them issue misleading popup to trick you. The popup may trick you that your computer is infected with viruses and you need to contact technician quickly. It provides a number to contact the so-called technicians. In fact, they are not the Microsoft certified or Norton certified technicians. They only steal the names of famous companies to scam you without doing any good to your computer. If you call the number, they will spare no effort to persuade you to purchase their virus removal tool or other useless program to fix the problem. The price they offer is very expensive which ranges from $ 200 to $ 500. Do not follow its guide to purchase it. To avoid being scammed, you need to know the big truth. The truth is that the virus reports about other virus detection itself and asks for money to fix the problem. You never should trust it. To get rid of "Your computer has been locked" screen locker, you have to remove the virus completely.
How "Your computer has been locked" Screen Locker Virus Spreads?
Nowadays, viruses become pretty rampant. Various viruses and malware have been created and spread widely to attack computer and mobile devices. The criminals can make a large amount of money from them. In order to protect your computer from virus attack, it is very necessary to learn how virus that brings "Your computer has been locked" screen locker spreads. This virus is spread via several different ways. First of all, it is spread via deceptive websites. Virus can sneak into your system and install itself while you are visiting malicious websites or legit websites that have been compromised. Maybe, you never intend to visit any dangerous websites. However, you can be redirected to unwanted websites suddenly after clicking on suspicious pop-up ads by mistake. Then, the virus comes. In the second place, virus can be spread via free software and shareware. Adware and malware can be installed along with unknown software from suspicious websites and stores. Or, it can come along with free music, videos and other resources. It is a wise idea to download app and other resources from official websites and stores. Besides, the criminals send you virus via spam. A fishing link or attachment is embedded into email which pretends to be the delivery company or online shopping company. We suggest you ignore spam to avoid virus.
What "Your computer has been locked" Screen Locker can Do?
"Your computer has been locked" screen locker is caused by a piece of nasty malware which is able to perform various activities without your knowledge. Both your system and browser settings will be changed. Also, it blocks your browser firewall and security program. In this way, more malware and threat will be downloaded and installed without any problem. Your naked eyes will not notice it because it is pretty good at disguising itself. The virus does not look harmful at all. You even think that it is useful by reading the ads. Once the malware totally takes control of your computer, it displays bogus warning and locks the screen. It may say that your computer is infected with serious viruses. Your computer is blocked for suspicious activities. Sometimes, it lists your IP address, location, operating system and other information to make you believe that your computer is at risk. Pretending to be kind, it provides number for you to contact tech support. Phone number and fake technician ID are shown on the screen, saying that they are the nearest Microsoft technicians that have been found. Do not be fooled by it. They are not from Microsoft. The number is fake. They are the owners of the malware that is trying to ruin your computer. Some of our customers said that they called the number. At the other side, those people provided expensive code to fix the problem. After the customers paid, they provided code while it did not fix the problem completely. This is how they take money from innocent users. If you are one of the victims, do not fall in their trap. Know who they really are and end their trick in time. Take actions to remove "Your computer has been locked" screen locker right now.
Processing manual removal is supposed to have a certain level of computer literacy. If you are not sure how to start and are afraid of making any critical mistakes damaging the computer system, please live chat with YooCare Expert now.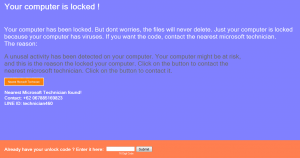 Manual Removal Guides:
Removing the "Your computer has been locked" screen locker seems to be difficult for ordinary computer users, even those famous antivirus programs cannot do that successfully. Hence, manual removal can ensure that the stubborn virus will be gone completely. As mentioned above, manual removal needs professional knowledge, because the lack of experience may cause errors resulting in some other unpredictable problems. The following guide provides a general concept of the removal. You may not be able to find out some certain files for the virus can be changed. If you fear the loss of important data, please consider making a backup before starting the removal.
1. Restart the Infected Computer into Safe Mode with Networking
(* Usually the malware will be temporarily disabled in Safe Mode which will provide users a chance to get this problem fixed. If you are still getting the virus popup in safe mode with networking, please try safe mode with command prompt instead.)
Restart your computer, immediately, quickly and repeatedly hit F8 key before the Windows start-up screen shows. Select "Safe Mode with Networking", and then press Enter key.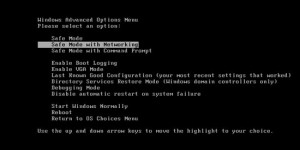 2. Stop the Processes Related to the "Your computer has been locked" screen locker in Windows Task Manager
Press Ctrl+Shift+Esc keys together and end the virus processes in the Processes tab of Windows Task Manager.

3. Show Hidden Files
(1). Press Win+R to get Run window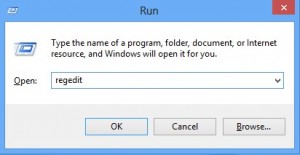 (2). Type Control Panel in the Run window and hit enter to get Control Panel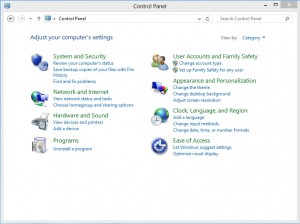 (3). Click on Appearance and Personalization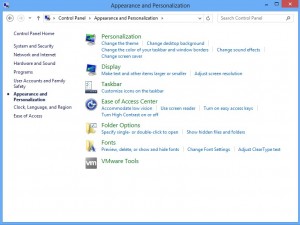 (3). Click on Folder Options

(4). Click on View tab in Folder Options window
(5). Tick Show hidden files, folders, and drives under Hidden files and folders tab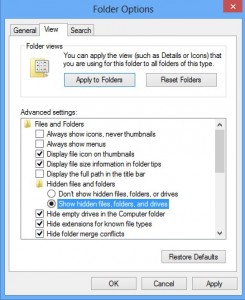 (6). Click Apply to take effect, then click OK at the bottom of the Folder Options window
4. Delete Virus Files
(1). Using Registry Editor to delete or adjust all the related registry entries of "Your computer has been locked" screen locker.
*Guides to open Registry Editor:
Press Win+R key together to get the Run box, type in 'regedit' then click OK, Registry Editor window will pop up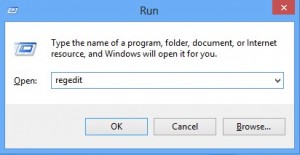 (2). Find out and remove the associated files of this fake Antivirus
Video Shows You How to Safely Modify Windows Registry Editor:
Conclusion
"Your computer has been locked" screen locker is nasty and harmful. It steals the title of Microsoft technicians to scam people. In fact, they have nothing to do with Microsoft. According to our poor customer, they lost money and still got stuck with the tricky screen locker. Hence, do not call the number or do anything as it said. At the same time, you need to get rid of this evil screen locker soon before it is able to access your private information and steal more money from you. So far, manual removal is the most effective way. Locate and remove malicious files to get "Your computer has been locked" screen locker off your computer once for all.
Can't remove the virus and are afraid of making any critical mistakes damaging your computer? please contact YooCare Expert for further removal help.

Published by & last updated on November 29, 2016 6:09 am