Hi, there. I was trying to make a Bootable USB for my computer, so that I could reinstall my operation system and then fix my computer problems. I did a research on Google on the Internet about how to create a bootable USB for both windows and mac computers. And I got kinds of information on it. My computer is a Windows 7. I followed the guide online. I thought I did everything as it said. But no matter how many times I tried, I still couldn't make it work. I am really upset now. I know I am not a skillful computer genius. I need help from real tech support guys. Please help.
Detailed Information About Bootable USB?
A bootable USB is one that contains instructions for your computer's bootloader to load up various assets to run an operating system. It is the process of using a USB flash driver to boot or start a computer's operating system. It enables computer hardware to use a USB flash driver to get all essential system booting information and files rather than the standard/native hard disk or the CD drive or DVD driver. A common use of a bootable USB flash drive is to use it to boot into Windows. Usually, before you install a new system on your computer, you have to prepare a USB flash drive or a blank CD-R or DVD-R disc which used to save new system files. Beside, a good computer with administrator right is needed as well, which will be used to make the OS files to the bootable drivers. So, a bootable USB acts as a replacement of previously used CD-ROM which can be used to install (even demo run) various operating systems on a computer system at the time the computer has loaded its BIOS settings. Thus, if you don't have a blank CD-R or DVD-R disc when you want to install your Windows system on your computer, you can also use the USB flash drive at least 1 GB instead. The needed storage volume of USB flash drive depends on the types of Windows you want install, such as Windows 7, Windows 10, Windows 8, Windows XP and Windows Vista and so on.
Bootable USB is mainly used to recover, repair and install an operating system. It provides users with an alternative method to boot a system. It can be used as live USB that is one can try that software on ANY machine without installing the software. It can be plugged into a USB slot to boot a computer, server or laptop. Booting from removable media such as a USB drive allows you to perform diagnostics on a computer that is having trouble booting from the hard drive. If you already get a bootable USB, it will be easier for you to install the new system. Booting from the Bootable USB, you have to change bootable USB as the first boot priority settings in BIOS menu. And then reboot the system and the system will boot from that USB. Bootable USBs are generally prepared for OS installation. Typically, to perform a USB boot, a bootable USB device must first be created. The bootable USB drive can be set up using a native operating system component or through various third-party utilities. The software/utility will copy all the operating system files and boot sequence into the USB drive to enable the USB boot.
Processing manual removal should have a certain level of computer literacy. If you are not sure how to start or afraid of making any critical damage on the computer system, please open a live chat with YooCare Expert now!

How to Create A Bootable USB?
To make a bootable USB which contains the installer for an operating system (Windows 7, for example), it is recommended that you have a flash drive of at least 4 GB in size, to store all the necessary files. You can use your BIOS to select which bootable drive is used to boot from, and the USB drive will now show up as well as a result of its containing media that can be used as an operating system. How to make a USB flash driver to be bootable one is the most important thing of the OS installation procedure. The following guide will show you step by step on how to make this work done.
Step By Step Manual Guide:
Install Any Operating System on your Personal Computer, using your USB Flash Drive
Step 1. Type in CMD in the Start Menu search box, and then press Enter. When you see run Command Prompt, right-clicking on it and choose Run as administrator.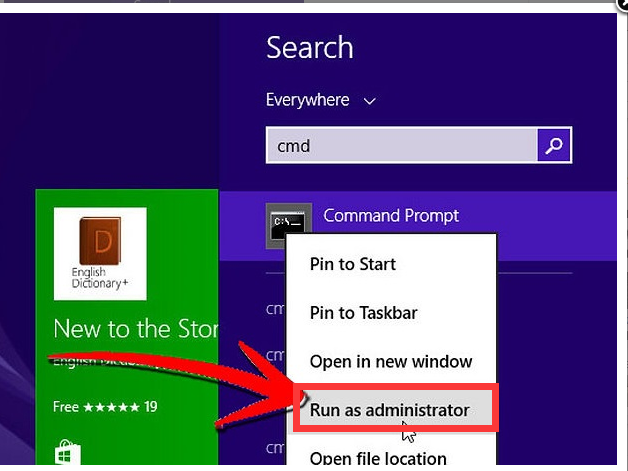 Note: If a password is requested, please input the password of your Administrator account.
Step 2. Run the Disk Management service. Type word: diskpart in where the cursor is blinking and hit Enter.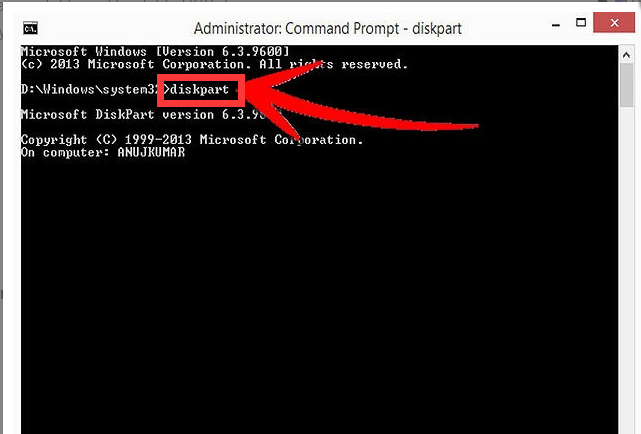 Step 3. List the available disks by running the command listdisk and hit Enter.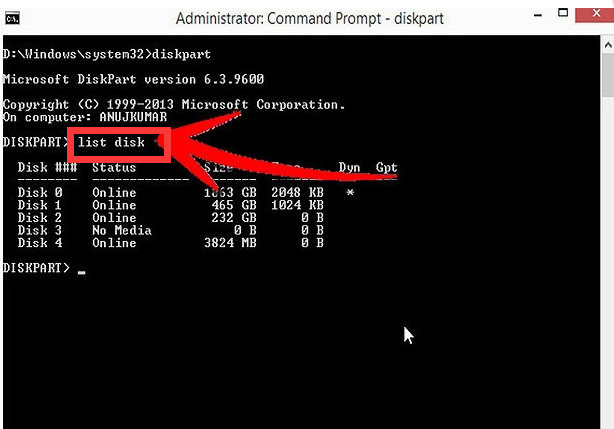 Note: Now you will be able to see a list of your connected drives on your PC. Your USB Flash drive should be also here. Notice the number of it.
Step 4. Select your USB from the list. Type in select disk [and the number of it without "[" "]" ]. Hit Enter.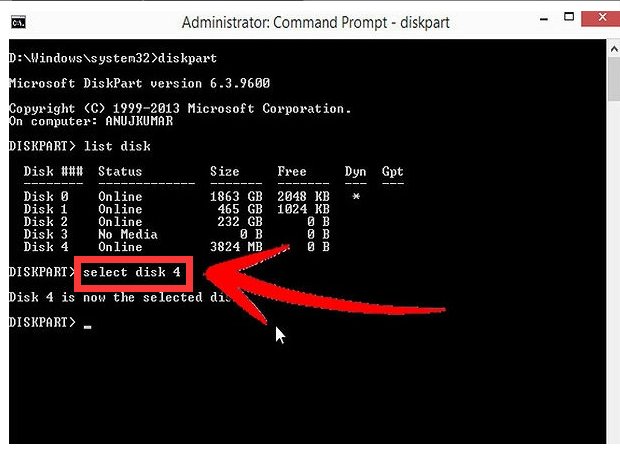 Step 5. Clean the USB Flash Drive. Type in the word clean and hit Enter. It will delete all files.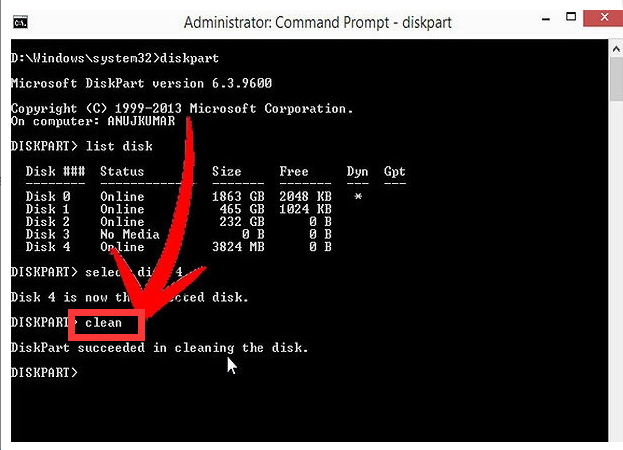 Step 6. Create a primary partition on your USB Flash Drive. Run the command create partition primary.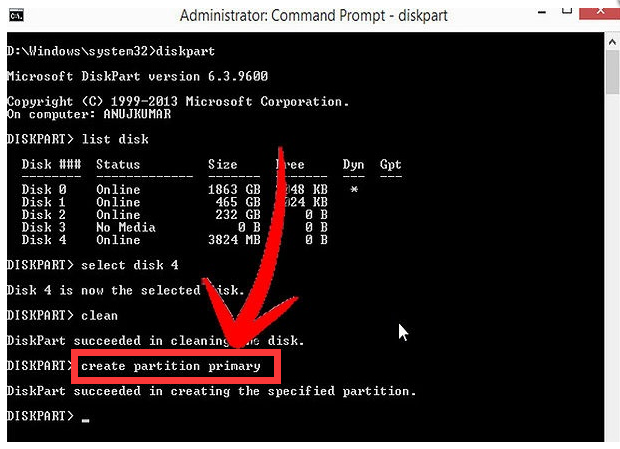 Note: You will be welcomed by the message Diskpart succeed in creating the specified partition.
Step 7. Choose the partition. Type in select partition 1 and hit Enter. After this to complete the process, type in active, so you can use it.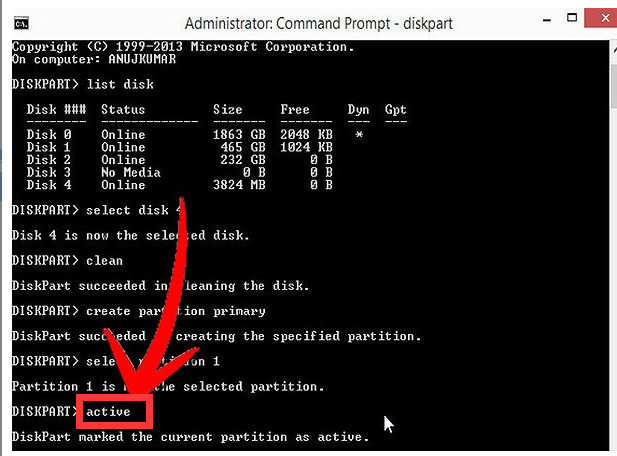 Step 8. Format the USB Flash Drive. Run the command format fs=fat32 and hit Enter.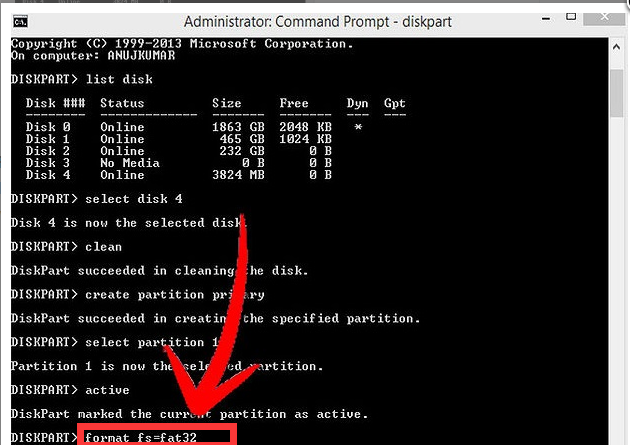 Note: For small drives it will take only few minutes. For 64Gb USB Thumb Drives it may take hours. So, be patient. If you can't wait, you may use the command format fs=fat32 quick, but we don't recommend it.
Step 9. Allocate a letter to your bootable drive. Run the command assign and hit Enter. To exit from Diskpart simply run exit command.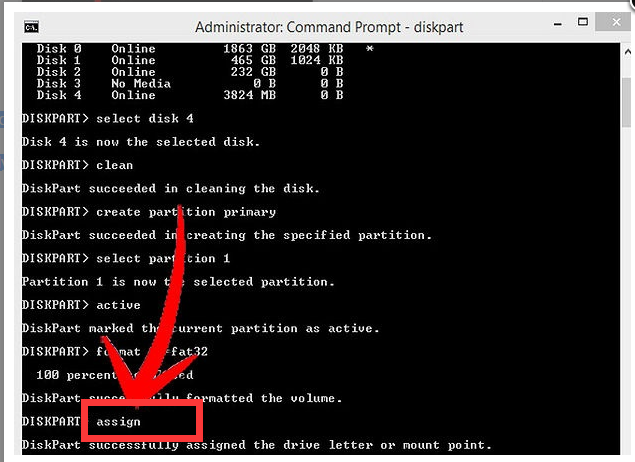 Step 10. Final step. Choose one of the Windows Vista, 7, 8, 8.1 OS and copy the installation files on your USB.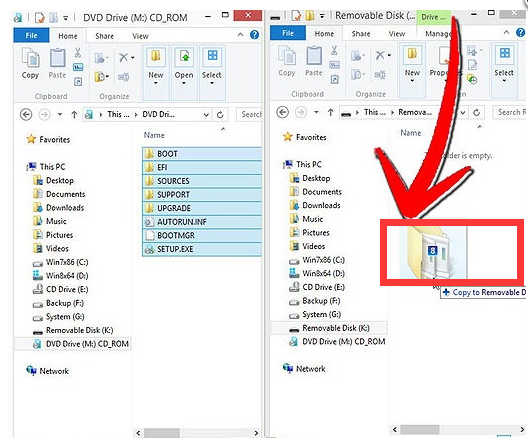 Conclusion
How to make bootable USB successfully is an important procedure of OS installation if you want to use USB flash driver as the bootable device. Bootable USB is really useful. it can be the pendrive so that you can boot from pendrive when you install the new system, like windows, Linux, etc. It can be used as live OS which can be used to install any system on any computers. It allows someone to run a copy of another operating system off of a Bootable USB device without disrupting the operating system that is currently on the computer. It can fix your Troubleshooting, etc. It helps you to get alternative ways of new OS installation. However, creating a bootable USB is a complicated procedure. If you don't have skillful computer technology, it is highly recommended you to contact YooCare Online Expert to help.
Note: Bootable USB creating process is a skillful and risky job, if any mistakes are made in the process, you may damage your computer immediately. If you are not sure how to do, please contact YooCare PC experts 24/7 online for help right now.


Published by & last updated on September 5, 2016 6:12 am