Earlier today an XXX. Extension pop up came up on my Samsung tablet and accused me of watching bad porn and was going be fined 200,000 if I didn't pay $100 iTunes card. Was it real or just some kind of virus? It frozen my Internet browser so I can't go online anyway. It said the money should be paid in 48 hours or else I will go prison and my photos, musics etc will be erased. I didn't do anything wrong. I was freaking out. What should I do to get rid of the warning?
What's XXX. Extension Pop Up on Android Device?
XXX. Extension Pop Up is a form of malware, as known as Ransomware that can freeze user's Internet browser and even seize control of the infected device to stop users from doing anything on it. This virus doesn't encrypt user's files, but, instead of that, it holds the phone/tablet's hostage and then starts showing a fake warning message to trick users into paying $100 through iTunes card. On the XXX. Extension pop-up, it usually displays a message which is supposedly from a law enforcement agency (FBI, CSIS, Australian Federal Police, Metropolitan Police, Cyber Police, International Criminal Police Organization) and states your device has been used to visit websites containing pornography, child pornography, zoophilia and child abuse. Your illegal activity on the Internet has been recorded so that a fine of $100 through iTunes card is needed to avoid getting into jail. This virus usually masquerades itself as a pure text or pdf file, and naive mobile users might get tricked to download and open it. Until then, the browser on the phone or tablet will get blocked because this warning always shows up while browsing the Internet. The virus relies on JavaScript that blocks the browser and causes a huge warning message to demand money so it should be deleted as quickly as possible.

The majority of people are quite easily scared into thinking that XXX. Extension pop-up warning is real and legitimate because it is supposedly delivered by authorities, such as FBI, Cyber Police, RCMP, ICSPA, etc. that are well known worldwide. In fact, this alert is created by cyber criminals and is nothing else but a scam. All the information on the pop-up is misleading and should be ignored. In some cases, the pop up may even display your IP address, city and location to further convince you that is a real warning from the authorities. But you should not trust it because it is just a trick created by the hackers to swindle people's money. Users often install this type of virus when they open malicious email attachments sent by unknown senders. Even one click on a malicious ad or link can download this malware to the mobile device. If your phone has been blocked by XXX. Extension pop-up, please do not spend any money to pay the ransom. It does not guarantee to exit out this fake warning and gain Internet access again; it only guarantees that the malicious actors receive the victim's money, and in some cases, their banking information. Be careful and do not be the next victim.
Please Contact YooCare 24/7 Online PC Expert now if you don't know how to start the removal on your phone/tablet.

Possible Danger Caused By :
It will take control of your mobile phone rapidly once it is downloaded.
It will pretend itself as a legit warning and then ask for a ransom.
It will not allow you to change your phone settings or open Google Play to download antivirus program.
It will not let you power off the phone or do anything else except for inputting the demand Paysafecard or Ukash code.
It may damage your data and the whole Android system.
Important Things You Have To Know If Your Android Phone Has Been Blocked by XXX. Extension Pop Up Virus Message:
1. XXX. Extension Pop Up Virus can attack smartphones running with Android or Mac OS X system.
2. Don't pay for anything or provide your personal information to this hoax, it won't help lock out of this fake virus warning but just waste your money.
3. Currently no app is able to detect or remove this malware, even for preventing the virus from attacking the device again.
How to Remove XXX. Extension Pop Up Virus From Android Phones?
1. Restart your phone to safe mode.
Note: "Safe Mode" on Phone starts up without loading any third-party add-ons and different devices have different ways to access safe mode.
For example:
For Samsung Galaxy S4: 1. Power down. 2. Turn on and repeatedly tap the soft-button for "Menu."
For Samsung Galaxy S3 and others: 1. Power down. 2. Turn on, then press and hold Volume Down (Galaxy S3 and others), Volume Up (HTC One and others), or Volume Down and Volume Up together (various Motorola devices) when the vendor's logo appears.
If you have managed to select Safe Mode, you will see the text "Safe Mode" at the bottom left corner of the screen.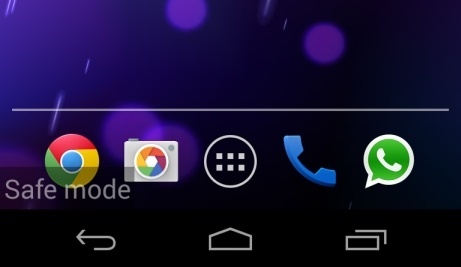 2. Once you have put your phone in safe mode, contact an expert for further removal instruction.
XXX. Extension Pop Up Virus aims to attack mobile users in United States, Canada, Australia, New Zealand, United kingdom, Germany, Ireland, France, Italy, Netherlands, Spain, Norway, Switzerland, Sweden, Belgium, Denmark and Greece etc. Although the pop up looks believable, which accuses people of viewing or distributing prohibited pornographic content, violation of copyright and related rights, etc, it is not suggested users to pay the fine or provide any personal details for the pop up is actually a fake warning designed by cyber criminals. It is a well-known scam that uses JavaScript to hijack web browser and demands money from unwary users to unlock the phone. Don't be tricked by the hoax and take immediate measure to get rid of the pop up as quickly as you can.
Note: Manual removal is a skillful and risky job, if any mistakes are made in the process, you may damage your phone immediately. If you are not sure how to do, please contact YooCare PC experts 24/7 online for help right now.


Published by & last updated on June 21, 2016 9:08 am