Is your computer locked by Cyber Command of South Texas virus that asks you to pay $300 fine through Ukash or Paysafecard? Over the years, many people have lost high amounts of money because they believed their personal computers were either hacked or locked by a powerful entity, such as FBI, U.S.A. Cyber Crime Investigation or this one called Cyber Command of South Texas. Unfortunately, this isn't a real warning from the government or any legitimate authorities. It is a virus designed by hackers to mislead you and extort your money. The following page contains step by step instruction to help you unlock Cyber Command of South Texas Virus from your computer.

Computer Has Been Blocked By Cyber Command of South Texas Virus? – An Overall Description
Cyber Command of South Texas Virus, a member comes from U.S.A. Cyber Crime Investigations Ransomware that designed by cyber criminals in order to attack computer users in South Texas and rip off random computer users. Another variants like Cyber Command of Hawaii, Cyber Command of Washington, Cyber Command of New York, Cyber Command of California, Cyber Command of New Arizona, Cyber Command of South Texas, Cyber Command of Pennsylvania, Cyber Command of North Carolina, Cyber Command of Ohio, Cyber Command of Utah, Cyber Command of Maryland are widely spread and used to attack different regions in United States.

Cyber Command of South Texas virus is really a Trojan in disguise that freezes your computer and displays bogus message to mislead its victims. It is promoted via spam e-mails, malicious or hacked Web pages, peer-to-peer networks. It locks your computer screen immediately as soon as Windows starts up without leaving any chance for you to use your legitimate programs or browse the Internet. According to fake message, it states that the user has done something illegal, such as downloading or distributing copyrighted material, viewing child pornography or distributing spam and then demands a fine of $300 within 48 hours in order to correct this violation. In some cases, it even takes over the computer's webcam and photographs the target user as if the police or other authorities are watching and recording their activities. It also threatens and claims that if the fine isn't paid in time, you could go to jail. In reality, the Cyber Command of South Texas is a scam and it is not associated with government authorities. It is designed by hackers to steal money from the inexperienced computer who believe that everything is real. The fine of $300 is asked to be paid using MoneyPak or MoneyGram payment system so that victims won't have a chance to trace their money once they realize it is a scam. Bear in mind that paying the ransom almost never results in having the computer unlocked. The hackers just want to scam as much money as they can so that it won't stop the attacks easily.
Cyber Command of South Texas Ransomware can greatly damage your computer system once it is downloaded. It locks down the computer and blocks you from accessing everything on the computer. It is very frustrating if the computer is blocked. Pressing Ctrl+Alt+Del won't help to open task manager, also you cannot close or minimize this fake South Texas Ransomware message. The only thing you can do is to hold the power button and shut the PC down. But if you turn it on, the virus pops up right away even though you have done it a million times. By running in the background, the virus can add junk files to your computer and decrease your PC performance. It is likely that it will attack your files and documents so that you may experience data loss as a result. To save your computer, you should remove Cyber Command of South Texas Virus instantly without any hesitation.
Please Contact YooCare 24/7 Online PC Expert now if you are not familiar with any manual removal process or afraid of making mistake during the removal process. It will require expertise to remove this virus manually.

 Cyber Command of South Texas Virus $300 Scam Locked Page: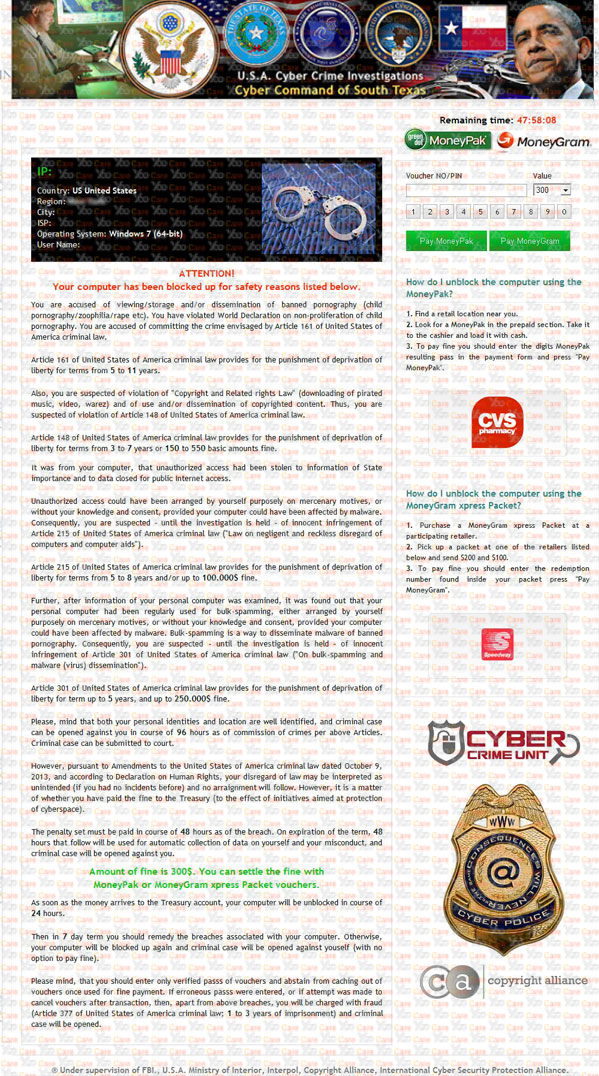 Possible Danger Caused By This Scam:
It will take control of your computer rapidly once it is downloaded.
It will pretend itself as a legit warning and then ask for a ransom.
It can disable your task manager and even pop up in safe mode.
It can connect to a remote IRC server and forward the data to cyber criminals without a computer user's awareness.
It can't be simply uninstalled or removed in control panel.
A Step-by-step Manual Removal Guide
Since Cyber Command of South Texas Virus has completely locked up your computer making you difficult to gain access, you will need to manually remove it instead of using antivirus programs to do so. Also, antivirus programs cannot completely catch this virus. Otherwise, it would have caught it at the beginning when this malware tries to sneak inside. Below are some basic steps on how to get rid of this virus manually. However, due to the changeable characters of this virus, you may not find the exact same files or entries to delete. That's also why the manual removal requires expertise to do it. You will need to go through files and entries under different locations to define and delete. Any mistake could lead to unpredictable problems during the process. Thus, a backup of important files and programs is suggested before Cyber Command of South Texas malware removal. A flash drive or external hard drive will be needed.
1. Since you cannot gain access to the infected computer under regular mode because of this lock screen, please restart the computer and put it in Safe mode with Networking first. Here's the guide: Restart the computer upon the locking screen and start hitting F8 key repeatedly when PC is booting up again; if successfully, Safe mode options will show up on the screen for you to select. Please use arrow keys to highlight Safe mode with Networking option and hit enter key. System will be loading files into this mode afterward.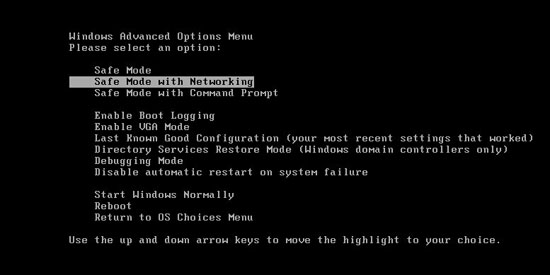 Attention: If virus stays in your computer for a long time, it may work in the background and block you from accessing safe mode with networking, thus, you'll see virus page still or the virus forces you to log off and restart your computer automatically. In that case, please choose: Safe mode with command prompt and try if it helps. If none of them helps, please contact YooCare expert for instant help.
2. Open Control Panel from Start menu and search for Folder Options. Go to Folder Options window, under View tab, tick Show hidden files and folders and non-tick Hide protected operating system files (Recommended) and then click OK.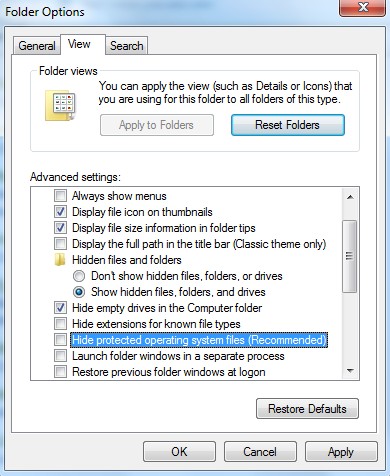 3. Under Safe mode with Networking, please hit Ctrl+Shift+Esc (Ctrl+Alt+Delete) keys together to pull up Windows Task Manager; go to Processes tab on top and scroll down the list to find processes associated with Cyber Command of South Texas scam and click End process.


4. Open Registry Editor by pressing Windows+R keys and pull up Run box and searching for regedit.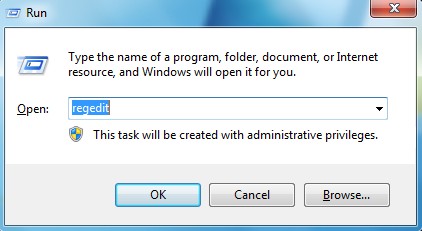 5. Find out and delete files and registry entries as below:
HKEY_LOCAL_MACHINE\SOFTWARE\Microsoft\Windows NT\CurrentVersion\Winlogon\
HKEY_CURRENT_USER\Software\Microsoft\Windows\CurrentVersion\Run\random
6. Restart computer back to Regular mode and check out if the warning page still shows up again.
Similar Video Shows You How to Unlock The Computer:
Conclusion
Ransomware is not a new threat, but in the last year, it has become more effective and more popular with criminals. Just like this one called Cyber Command of South Texas, it gets inside secretly and comes up straight after windows welcome screen. That means each time you turn the PC on, instead of showing the desktop icons, your computer screen is frozen by this malware page. You can neither get your main screen back nor open task manager while it is taking over of the target PC. The virus claims your PC is blocked because you use it to view or dissemination the banned pornography such as child pornography/zoophilia/rape etc. The only way it provides you to unlock your computer is to pay $300 via MoneyPak or Moneygram according to the instruction it shows on the locked page. However, paying the fine is not helpful at all to get your computer back. The only purpose of this malware is to scam your money, scam as many people as possible on the internet. Under the name of a governmental agency, this virus has scared many people of involving in law issue. To release the fear and get their computer back, about two-thirds of the victims would pay money to hackers even though they have known that they didn't do anything like it states on the locked screen. Once did that, the only result is money loss and the bad situation stays the same. Do not pay the ransom, it may give criminals access to your financial information. All you need to do is to get rid of Cyber Command of South Texas scam as quickly as you can.
Note: Manual removal is a skillful and risky job, if any mistakes are made in the process, you may damage your computer immediately. If you are not sure how to do, please contact YooCare PC experts 24/7 online for help right now.


Published by & last updated on October 18, 2013 5:34 am