My computer is completely blocked by Cyber Command of New York page. It claims to be from U.S.A. Cyber Crime Investigations and has Obama in the upper right hand corner. It says I need to pay a $300 dollar fine through Moneypak or Moneygram within 48 hours in order to get the PC unlocked because I am blocked for possession of child pornography, and zoophilia, and rape footage. Is it real or just a scam used to steal my money? I am worried that the authorities might prosecute me, even though I would never willingly enter illegal site. Can you help me to unlock my computer?

Cyber Command of New York Virus Locked Computer? – How To Remove?
Cyber Command of New York is categorized as Ransomware that masquerades itself to be a legitimate warning from the authorities like U.S.A. Cyber Crime Investigations, Cyber Crime Unit or U.S.A. Cyber Crime Center agencies in order to panic inexperienced computer users located in New York and then further extort their money. It is also called U.S.A. Cyber Command virus, Obama virus, U.S.A. Cyber Crime Investigations virus, similar as Cyber Command of California, Cyber Command of Hawaii, Cyber Command of Arizona, Cyber Command of North Carolina etc.
Basically, Cyber Command of New York virus initiates its attack by blocking access to the infected computer and displaying a full screen page instead to take over your computer screen. It claims the computer was used in illegal cyber activities such as illegally download music or watching porn so that it is blocked and $300 fine is needed in order to cover all the violation and get the computer unlocked. This virus is tricky because it can modify system registry and add its own entry to your computer without your knowledge so that every time you turn the computer on you will see the fake New York locked page rather than your regular desktop icons. And the worse is you will not be able to close or minimize the virus page, neither shut down the computer normally. The only thing you can do to stop the bogus Cyber Command message from appearing is to power off your computer or take the battery out. This scam requires you to pay a ransom before you can access your Windows desktop, applications, or files. To further scare innocent users, it also shows the detected IP address, country, operating system and specific location New York  in order to convince users into believing this is a real message rather than a virus. However, the truth is that Cyber Command of New York is a computer virus and a hoax designed by the hackers who want to steal money and information from its victims. You are not actually being targeted by any government agencies.
Users who get this warning locking their computers must be so paranoid into thinking the cops will come and get them and throw them in jail so that many people have fallen into this scam by paying the ransom to the hackers without thinking twice. In that way, the only result they get is money loss because paying the fine won't help to unlock the computer and remove this virus completely at all, instead it just makes thing worse and worse. Cyber Command of New York asks users to pay $300 via MoneyPak or Moneygram which belong to a kind of prepaid card you can buy from Walgreens, 7-11, Walmart, CVS etc. By sending money from such prepaid card, you can not be able to trace where the money gone and you won't know who got your money eventually.
Now this kind of Ransomware has become a very common issue for PC users all over the world. Cyber criminals keep changing the style of the virus warning and adding more features on the virus page in an attempt to make victims fall into the scam and get money from them. Unfortunately, the real authorities or government cannot catch all the cyber criminals to prosecute them and stop their illegal activities. Therefore, it is suggested users not pay any money or provide any personal information if your computer is locked by Cyber Command of New York Virus now, otherwise you will experience money loss and identify theft as a result. In addition, you should take immediate measure to remove Cyber Command of New York scam from your computer and get computer locked as soon as possible.
The following instructions require certain levels of computer skills. If you're not sure how to get rid of this malware scam, please live chat with YooCare experts now.

Cyber Command of New York Ransomware Asking For $300 Fine Page:
Even if Cyber Command of New York Virus has a convincing appearance, you should understand this is nothing but a computer scam designed to target unsuspecting computer users. Cyber criminals create such virus and make it spread all over the world. It may get into the system by clicking malicious code or distribute unsafe advertising pop-ups, visiting pornographic website or downloading attachment from spam emails. Once it is installed, it freezes a computer and then demands the user pay as much as $300 to unlock it. Your computer screen will be displayed like the following picture: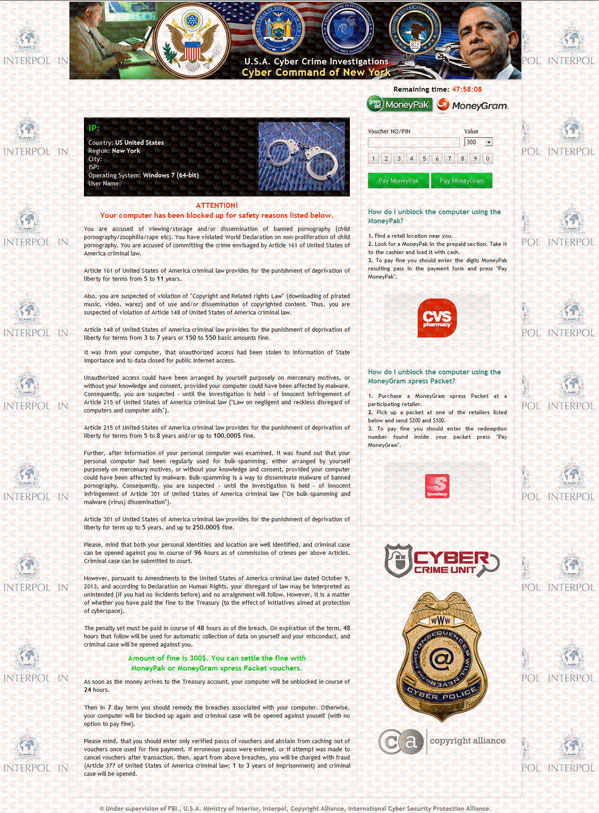 Important Things You Have To Know If Your Computer Has Been Blocked By This Fake New York Virus Scam:
1. Cyber Command of New York Virus mainly targets computers users located in New York and attacks Windows operating system.
2. Don't pay for anything or provide your personal information to this hoax.
3. Currently no anti-virus program is able to detect or remove this malware, even for preventing the virus from attacking the computer again.
4. Be aware that even if you are able to unfreeze your computer on your own like doing a system restore, the malware may still operate in the background. To completely get rid of Cyber Command virus, manual removal is needed.
How To Unlock Computer From Cyber Command of New York Virus? – Manual Removal Guide:
Since this malware has completely locked up your computer making you difficult to gain access, you will need to manually remove it instead of using antivirus programs to do so. Also, antivirus programs cannot completely catch this virus. Otherwise, it would have caught it at the beginning when this malware tries to sneak inside. Below are some basic steps on how to get rid of this virus and get your computer unlocked manually. However, due to the changeable characters of this virus, you may not find the exact same files or entries to delete. That's also why the manual removal requires expertise to do it. You will need to go through files and entries under different locations to define and delete. Any mistake could lead to unpredictable problems during the process. Thus, a backup of important files and programs is suggested before Cyber Command of New York Virus removal.
1. Restart your PC before windows launches, tap "F8" constantly. Choose"Safe Mode with Networking" option, and then press Enter key.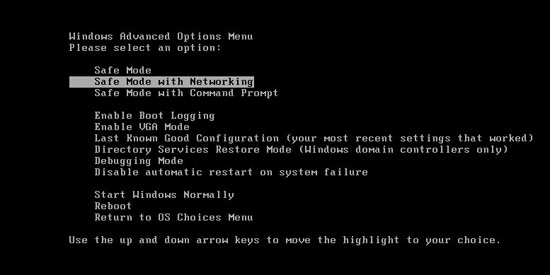 2. Open Control Panel from Start menu and search for Folder Options. Go to Folder Options window, under View tab, tick Show hidden files and folders and non-tick Hide protected operating system files (Recommended) and then click OK.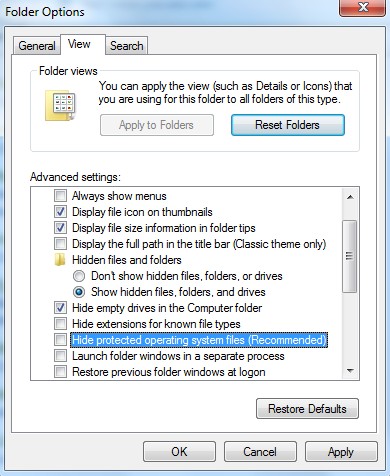 3. Under Safe mode with Networking, please hit Ctrl+Shift+Esc (Ctrl+Alt+Delete) keys together to pull up Windows Task Manager; go to Processes tab on top and scroll down the list to find processes associated with Cyber Command of New York virus and click End process.
(If you can't figure out the process of the virus, you can end the process called explorer.exe first so that virus won't come up)


4. Open Registry Editor by pressing Windows+R keys and pull up Run box and searching for regedit.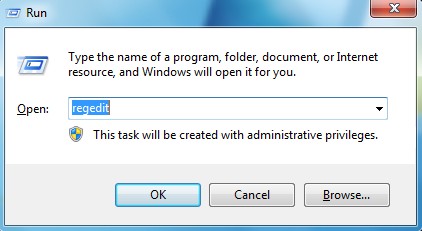 5. Find out and delete files and registry entries as below:
%Temp%\[RANDOM CHARACTERS].exe
C:\Documents and Settings\<Current User>
C:\Users\<Current User>\AppData\
HKEY_LOCAL_MACHINE\SOFTWARE\Microsoft\Windows NT\CurrentVersion\Winlogon\
HKEY_CURRENT_USER\Software\Microsoft\Windows\CurrentVersion\Run\random
5. Reboot the computer to normal mode when the above steps are done.
Cyber Command of New York Virus Removal Video Guides You To Unlock Computer Immediately:
Cyber Command of New York virus is good at using scare tactics by blocking the entire system down and claiming that user has violated laws. It works hard on misleading users into believe that paying $300 fine is necessary to avoid any legal troubles. However, all the message displayed are bogus even though it goes on to say that the user's Internet address was identified by the U.S.A. Cyber Crime Investigations and has been associated with child pornography sites or other illegal online activity. At the first glance of this bogus message, victims must be scared to death. They are shocked and disturbed that this computer malware flashed child pornography at themselves, then their picture are taken by their own web camera and flashed up on the computer screen. This is just one of the tricks of the virus. As a matter of fact, all your see on the screen is a hoax and this message is not associated with any authorities. And users should know that no law institutions would use such ways to contact you warning about violations that you have done. Even though the bogus page states that once the fine is paid and verified the computer will automatically be unlocked and you will be able to access your Windows desktop again, but no one can guarantee it is the truth. Paying the ransom won't help to get the PC unlocked and make computer clean at all, instead it could collect personal information including passwords, bank accounts and other financial information. Therefore, users should unlock computer Cyber Command of New York Virus Scam from the computer as quickly as possible instead of giving money to the hackers who create such awful virus.
Note: Manual removal is a skillful and risky job, if any mistakes are made in the process, you may damage your computer immediately. If you are not sure how to do, please contact YooCare PC experts 24/7 online for help right now.

Published by & last updated on October 23, 2013 3:54 pm