Can the FBI Virus lock your computer? Can the police put a block on your computer without knowing? If a government sign pops up on your desktop and locks you out is it a virus? If your computer has been blocked by FBI virus scam that says it is for your illegal activities or watch child porn, how to  get rid of a virus that blocked your PC? If your computer has been blocked by FBI spam notice saying you have to pay a fine of $100, $200, $300, $400 or $450 via Moneypak code within 48 hour or 72 hours, otherwise, you will be arrested or have to go to jail, what to do? If this is not real police, how to unlock laptop for FBI virus attack?

Computer Is Locked By FBI Virus – How to Remove?
The FBI virus (also known as FBI Warning Virus) is a ransomware attack that hackers have used for years as a way to extort money from computer users by pretending to be the FBI and demanding fines be paid for several online violations. It is a variant of FBI Cybercrime Division Virus or DOJ virus, and the virus effects Windows XP, Windows Vista, Windows 7 and Windows 8. Once this virus is installed on the computer it will begin to change the system settings and directories, blocking files and programs from being opened, and it will also set the lock screen to be displayed immediately after the computer is turned on. Once the computer is turned on it will display the warning message and all other functions of the computer will be blocked. How to unlock my laptop with fake FBI virus  posting?
The user will quickly realize that he or she is not able to launch any Internet browsers or open any applications on the computer. The start menu will not be able to be accessed as well, completely disabling the entire computer. If the computer is manually powered off and restarted the same situation will occur and the message will be displayed right away and all computer functions will be blocked.This will even happen if the computer is started in safe mode. To get department of justice virus off is not so hard but not easy for most users as the virus changes fast. The FBI virus will launch every time the computer is turned on.
Cannot go online warning says pornography and terrorist, you owe 200 dollars? FBI virus scam that scares you? Most users will at least power down once, thinking that it could be a glitch, but when the same block occurs the second time they will tend to begin to look into the details and take this message more serious. The message states that it is coming directly from the FBI and that the computer is being blocked because it has been linked to the distribution of pornographic content, participation in SPAM email campaigns, and multiple copyright violations linked to downloading files online. It then goes on to demand a fine of between $100 and $300 be paid immediately in order to stop the pending legal troubles and additional fines.
There are several different versions of the FBI virus, and each will require a different fine amount and payment method. All of the payment methods that these viruses accept are prepaid forms that allow money to be transferred through a transaction number. This allows the hackers to have quick access to the money and it gives zero protection to the computer user. If the user attempts to retrieve their money once they find out that they have been taken advantage of they will see that they are not able to dispute the charge like they would with a credit card charge. Please remove the FBI locked computer virus completely once found it.
Note: The following instructions require certain levels of computer skills (It is for advanced computer users). If you're not sure how to get your PC unlocked from FBI virus, please live chat with YooCare experts now.

Screen-shots of This FBI Virus Scam
The FBI Virus has been spreading rapidly and it did really cheat thousands of computers users. This type of Ransomware was discovered in 2012 that cyber criminals used the same way by warning users that they did something illegal and need to pay money to cover this violations, otherwise they will be sent to jail and FBI will arrest them. Of course FBI alert is not true because FBI won't give any warning like this way by locking one's computer. Since FBI child porn virus has been around for a while now and has become one of the most malicious virus, FBI virus removal is needed instantly once upon detection. Victims can have a view on the following pictures about different versions of FBI scam.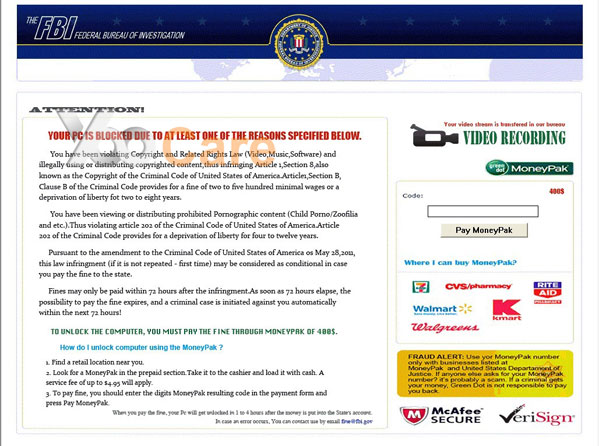 FBI virus Greendot Moneypak scam asks users to pay a fine of $200 through Greendot Moneypak Card in a period of time to unlock your PC.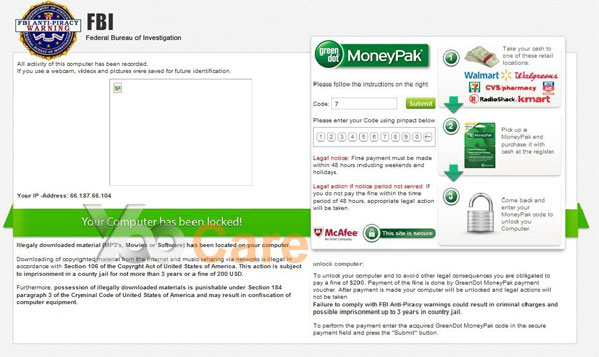 To threaten innocent users, FBI virus can display your computer's IP address, host name and even turn your webcam on automatically without your permission.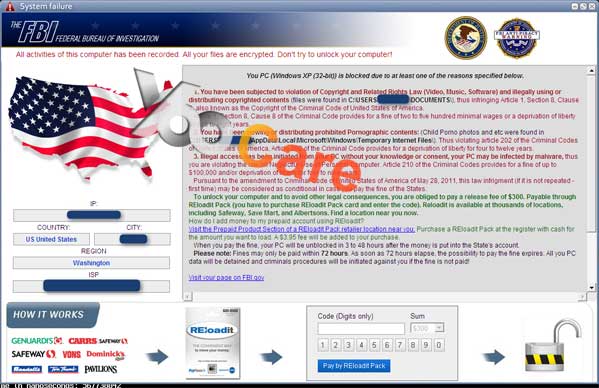 FBI virus blocks infected computer and displays a bogus message on the screen accusing the user of using and distributing copyrighted files (music, video, software).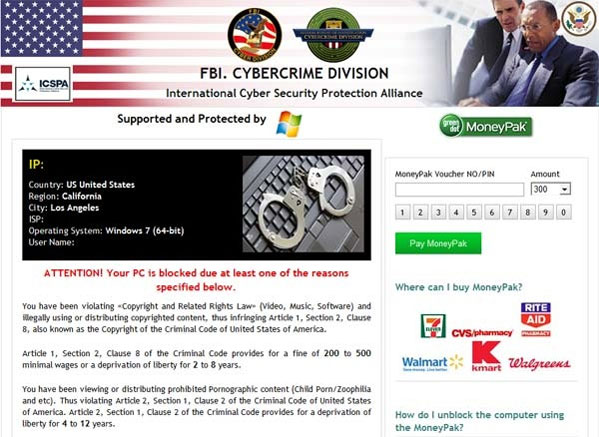 FBI Virus – Your computer has been locked! Permanent lock on 12/04/13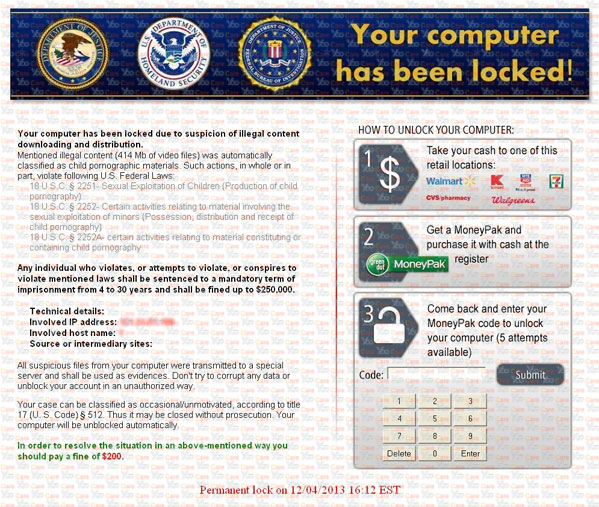 I haven't done anything illegal. How do I still get this thing installed?
The FBI virus is spread across computers through a variety of ways, but there are two main techniques that the hackers use to infect the majority of computers. The first one is through email blast marketing, where they load up millions of email addresses into their software each day and send SPAM emails that contain a message that tells the person to open the attachment that was sent along with the message. This attachment is infected with the FBI virus and will install itself onto the computer once the attachment is opened. The body of the email message will state that there was a story or picture of the user found online and they should open it right away to see what people are saying. This curiosity gets the best of most users and they open it and get infected with the virus without even knowing.
It is important that an attachment sent by an unknown sender is never opened! This is one of the most popular ways to spread ransomware and malware attacks, so these types of emails should be deleted and not even opened. Many email providers have very good spam filters, but sometimes these slip through the cracks, so as a rule of thumb, never open a message form someone you do not know. The other way the FBI virus is spread is through torrent download sites and other popular file sharing websites. These sites receive millions of unique visitors every single day and are a great target for the hackers since they freely download and install files onto their computer without thinking before doing so.
This way also works hand in hand with the message that is displayed when the FBI virus is launched on the computer. One of the accusations is copyright violations, and that causes many of the users to think that it is valid since they were just downloading illegal files. So, when they see the option to pay a small fine as a way to avoid the pending legal action that it claims, then they will tend to pay the money in hope that it eliminates and other potential trouble. A couple hundred dollars is worth it if it means that legal action will stop, as the message claims.
How To Unlock Computer From FBI Virus Warning Screen?
There are several versions of the FBI virus, each with a different amount for the fine, but they all have the same structure. The different versions are as follows:
FBI MoneyPak
FBI PayPal Virus
FBI Green Dot MoneyPak Virus
FBI Cybercrime Division Virus
FBI Online Agent
FBI Virus Black Screen
The warning screens all have authentic looking logos and seals, and too add to the fear factor, they include the users IP address and location within the message body.
The removal instructions below will walk computer users through the necessary steps needed in order to delete all of the FBI virus files and return the computer to its normal operation. Once they are all deleted the block will be removed. Once the FBI warning virus is removed it would be a good idea to do a complete virus scan of the PC and make sure that it is set to perform regular scans, eliminating possible future viruses. Please do a system backup before you start to delete FBI Virus manually.
1. Restart your PC before windows launches, tap "F8" constantly. Choose"Safe Mode with Networking" option, and then press Enter key.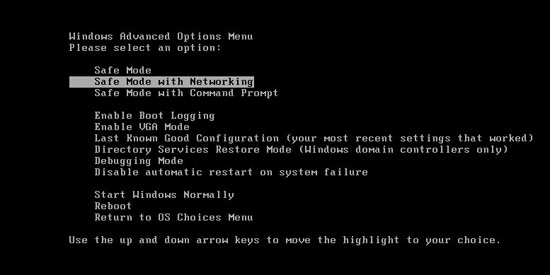 2. Press Ctrl+Alt+Del keys together and stop the Ransomware processes in the Windows Task Manager.
Random.exe (The name of the virus process may be different all the time)
(If you can't figure out the process of the virus, you can end the process called explorer.exe first so that virus won't come up)
3. Delete associated files of FBI virus from your PC completely as follows:
%Temp%\[RANDOM CHARACTERS]
%AppData%\random
4. Search for all related registry entries infected by this dangerous virus and wipe them out:
HKEY_CURRENT_USER\Software\Microsoft\Windows\CurrentVersion\Policies\System "DisableTaskMgr" = 0
HKEY_CURRENT_USER\Software\Microsoft\Windows\CurrentVersion\Run\random
5. Reboot the computer to normal mode when the above steps are done.
Video Guide For Manually Remove FBI Virus From Regdit:
In conclusion:

There are also some versions of the FBI virus that will hijack the webcam on the computer and display a live video feed within the message, stating that the users are being watched and the video feed is being used to properly identify the owner of the computer so that the criminal charges can be filed. This is enough personal detail to scare many users into sending the money as requested, but they will soon realize that they have been taken advantage of when the computer remains locked.
The message states that once the payment is verified the computer will be unlocked within 72 hours, but the time will pass and nothing will change. There is only way to remove the block from the computer, and that is to delete all of the FBI virus files that are on the computer. There aren't any automated software or programs that can do this, and the only way to make sure that all of the files are deleted is to do it manually.
Kindly Reminder: Manual removal is a skillful and risky job, if you are not computer geek, any mistakes are made in the process will lead to data lost and system crashed. To save your computer in time, please contact YooCare PC experts 24/7 online for instant help.

Published by & last updated on June 17, 2013 5:10 pm