Attacked by Windows Foolproof Protector Virus? How to clean this malware from your computer?
Windows Foolproof Protector is a rogue program which warning computer users that their computers are infected with many risk security threats. Windows Foolproof Protector spyware is does not different much from its previous versions, such as Windows Trouble Taker, Windows Component Protector, Windows Cleaning Tools, Windows Stability Maximizer etc. Windows Foolproof Protector has a nice interface so that computer users can not distinguish whether it is a real security program. Fake Windows Foolproof Protector uses malicious websites to install their rogue programs quietly. When computer users enter such websites and download something are fake or by sending hijacked email etc. Once Windows Foolproof Protector was installed, it will hijack legit security program and browser on users computer, it can change the system files and registry value. Windows Foolproof Protector pretends to be a security tool that scans every time you boot up your computer, but the scan results are false, Windows Foolproof Protector displays a false positive or misleading scan results report and says that user's computer infected with viruses or Trojan, but users will not able to fix all the problem before users purchase the full version of  Windows Foolproof Protector. And this nasty virus will disable your Tasks Manager and blocks all programs of user installed. It attacks your system via Trojans which stay in the background and pretend as a normal process. It starts automatically when you login to Windows, Windows Foolproof Protector also disables Windows Firewall and security updates and other antivirus applications. Windows Foolproof Protector terminates user's real security program and deletes important files and folders. Whenever you try to run any program it always pops up a warning massage that asking users for purchasing, computer user can do nothing before removing fake windows anti-virus 2012. Need help removing Windows Foolproof Protector virus? You are strongly advised to follow our removal instructions below.
WindowsFoolproofProtector ScreenShot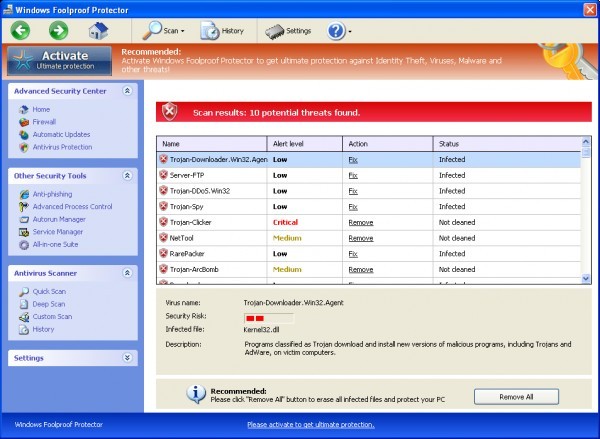 Similar Video Shows You How to Safely Modify Windows Registry Editor:
Manual removal of Windows Foolproof Protector requires Expertise, Please take care before performing the steps. If you failed to remove WindowsCommandProcessor Malware, you are welcome to contact PC expert to fix the problem.

Published by & last updated on April 10, 2014 2:48 am