Do you want to remove Opera Browser completely from your Windows 10? The problem is how do you get rid of it safely? Is there an easy way to uninstall the browser away?
Opera Browser Review
There are many web browsers which we all use for our many different purposes. Some of them are really good and some of them just fake to be good. One of such amazing web-browsers is the Opera web browser. There are many advantages of using this web browser but at the same time, there are many disadvantages also. In this article, we will talk about some of the major advantages and disadvantages of this Opera Browser.
Advantages
Compatibility
When we want to use any browser, we first want to use those browsers which we have already used on some other platforms. However, in many of the cases, the users can't do this as their browser is available just for any specific operating system and not for others. Here, in this case, you will not find any such issues as the Opera browser supports all leading operating systems like Windows, Android, iOS, Linux, etc. So if you are searching for a web browser that you can use on all major platforms, the Opera browser can be a great pick for you.
Encrypted data transfer
These days the cases of cyberattacks have increased in great numbers. One of the reasons behind the cyber attack is the loss of data or the tracking and reading of data while sending it from one device to another or from one location to another. In this browse, you will not find any such issues. This is so because when you transfer either form of data like text, audio, or image, it gets encrypted automatically and in this way, no one else would be able to see what is inside the packet if data transferred.
Auto decryption
Now, Many of you may think it's fine that we could send the data without letting others know what we are sending, how one can read the data after receiving a scripted Message. So even in this case, you need not worry about it. Just like the auto encryption, the facility of auto decryption is also provided by the Opera browser.
No tracking
When we talk about the other browsers, most of the browsers don't have the facility to let the trackers away from what you are going through the web browsers. They keep tracking you all the time and sometimes, they get some very crucial information which might be very helpful for them and a very drastic loss for you. Even the browsers who claim to offer this facility to handle the tracker, don't do much in this case. Now if we talk about the Opera Browser, it really helps you, in this case, a lot. Users are always safe from the eye of the tracker and without any worry, they can complete all tasks here.
No problem with blocked websites
Many of us have faced the problems of blocked websites sometimes in every browser. It is really a very frustrating time when we need to open the website urgently but we are not able to. Here in this case you will really not get any such issues. Here you can open and visit all the websites without any issue. And in many cases, it works much better than the VPN service.
Portability
Normally it happens that when we want to use any app or software, first of all, we need to install them. In this way, it takes a lot more time for the users to use any specific app if the app is not already installed. Along with this many times, it happens that we want to install some apps to use but we can't do it due to lack of space in our device. To install this Opera browser, you will not face any such problems. This is so because the Opera browser supports portability. This means, to use it, you need not download and install it first in your system. Actually, you can download this browser in your USB and whenever you need to use it, you can simply insert the USB in your system and can use the browser very easily. You will not find this facility in any other browser.
Disadvantages
Though the Opera browsers have some of the very unique features, many of the users may find it very difficult to handle or just useless. Let's know some of them.
Speed
Speed is one of the major issues which is faced by almost all the users. This is really not tolerable by many of the users but at the same time, many of us think that this is quite natural if you know the procedure of searching on a web browser. According to many users, it's not any problem also and it can't be fixed. The reason behind this is that when something works with the features provided by this browser in this much-secured way, it's pretty common to face this problem.
No images
The next big issue you may find here is the issue related to the images. In this browser, you will not be able to see any images and it's really a very big issue and makes it usable only for the users who want to use it just for the purpose of safe browsing and data transfer.
Complicated UI
One another issue with this web browser is its very complicated user interface. When you open the app on the Android device, you aren't able to do anything and you just get troubled about what to do next.
If you are unsatisfied with this web browser, just uninstall Opera Browser completely from your computer by following the guides below.
How to Uninstall Opera Browser completely?
If you don't have tech in fixing computer problem, we have two solutions for you. They are manual removal and automatical removal guides.
Option 1: Uninstall Opera Browser manually. There are three methods to choose on Window 10.
Method 1: Uninstall it from Start menu.
Step 1: Click Windows icon at left bottom to open start menu.
Step 2: Look for the Opera Browser. Right click the icon, select Uninstall and confirm the task.
Method 2: Uninstall it from Settings.
Step 1: Click Windows icon at left bottom, and select Settings to open.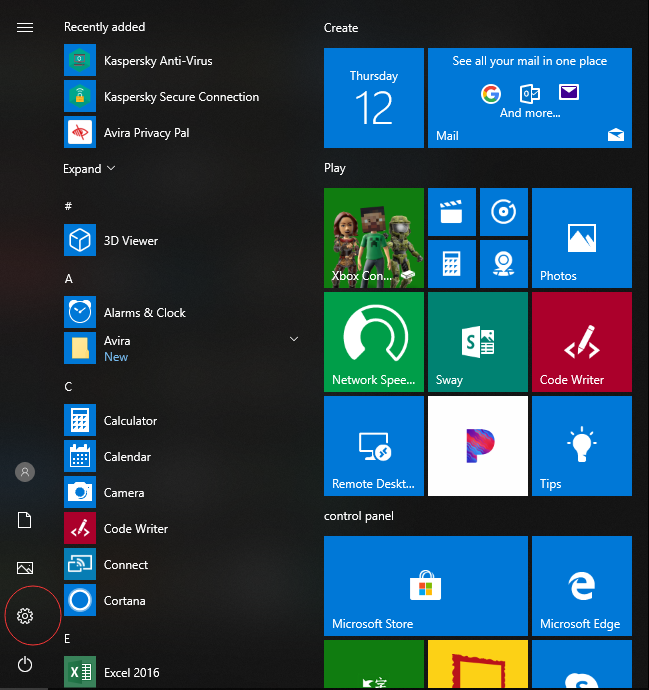 Step 2: On Settings screen, double click Apps. Select Apps & features on the next window.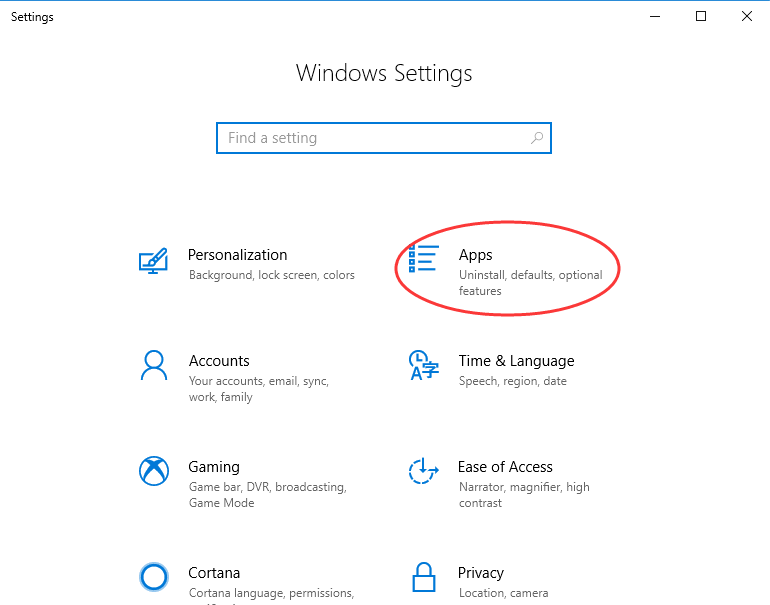 Step 3: You will see the list your installed software. Select Opera Browser there. Click Uninstall from the popup menu. Confirm the uninstalling.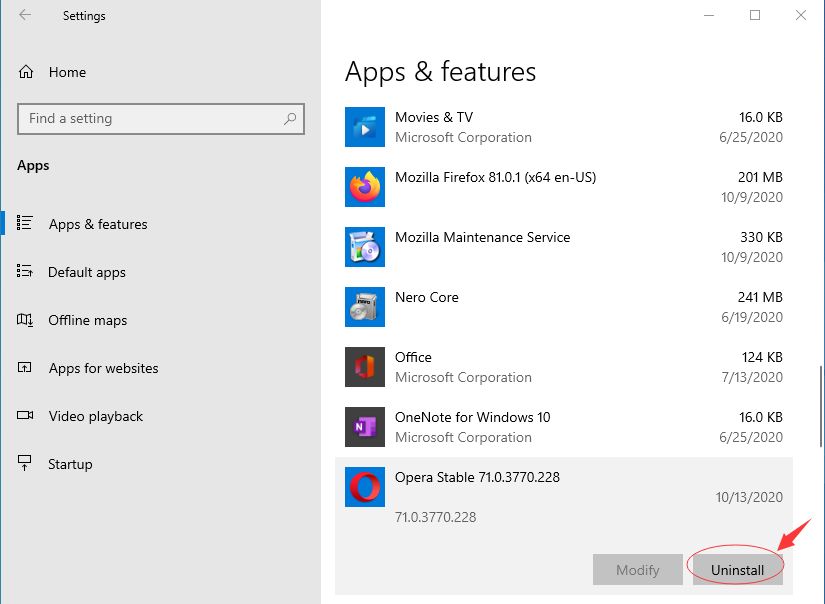 Uninstall it from Control Panel.
Step 1: Click search box on taskbar and type Control Panel. Click Control Panel from the popup list.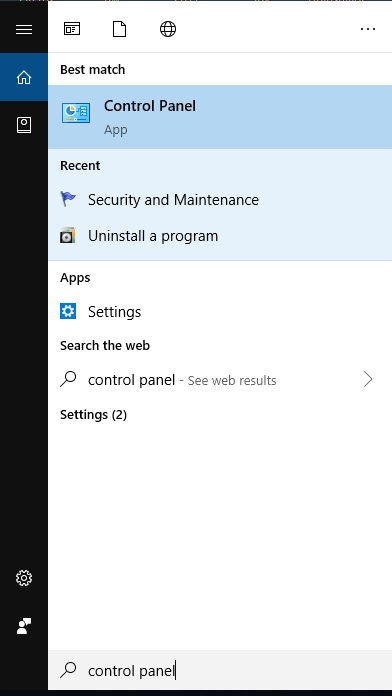 Step 2: Click Uninstall a program under Program menu.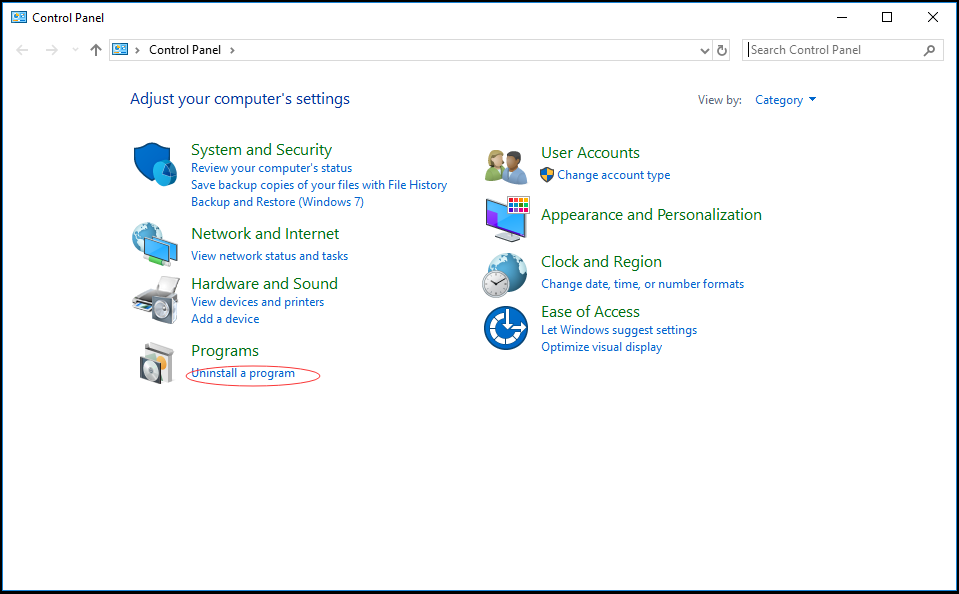 Step 3: Select the Opera Browser and click Uninstall. Confirm the uninstalling.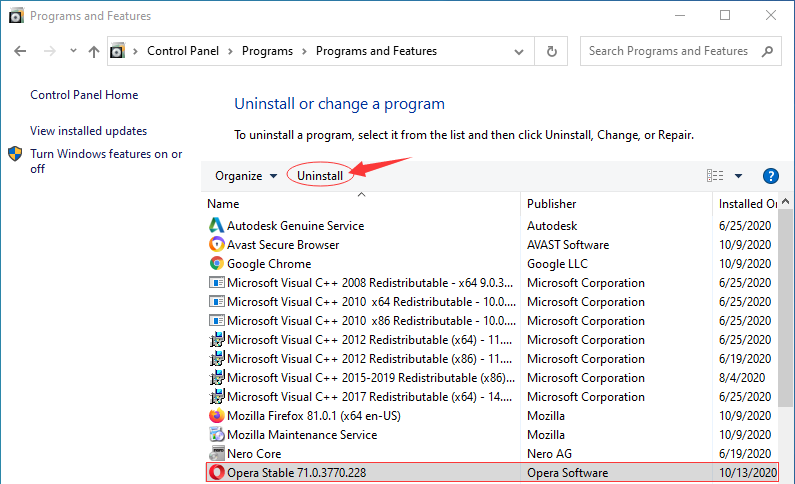 After uninstalling the software, it is time to remove all its leftovers. To get started, you need to open Registry Editor. Press Windows key + R, type regedit, and press Enter. Next, click Edit at the top of the window and select Find. Then, enter Opera in the search box and click Find Next. Finally remove all entries detected.
HKLM \ SOFTWARE \ Classes \
HKLM \ SOFTWARE \ Microsoft \ Windows \ CurrentVersion \ Shell Extension \
HKLM \ SOFTWARE \ Microsoft \ Windows \ CurrentVersion \ Installer \ UserData \
HKLM \ SOFTWARE \ Wow6432Node \ Microsoft \ Windows \ CurrentVersion \ Shell Extension \
HKLM \ SOFTWARE \ Wow6432Node \Microsoft \ Windows \ CurrentVersion \ Uninstall \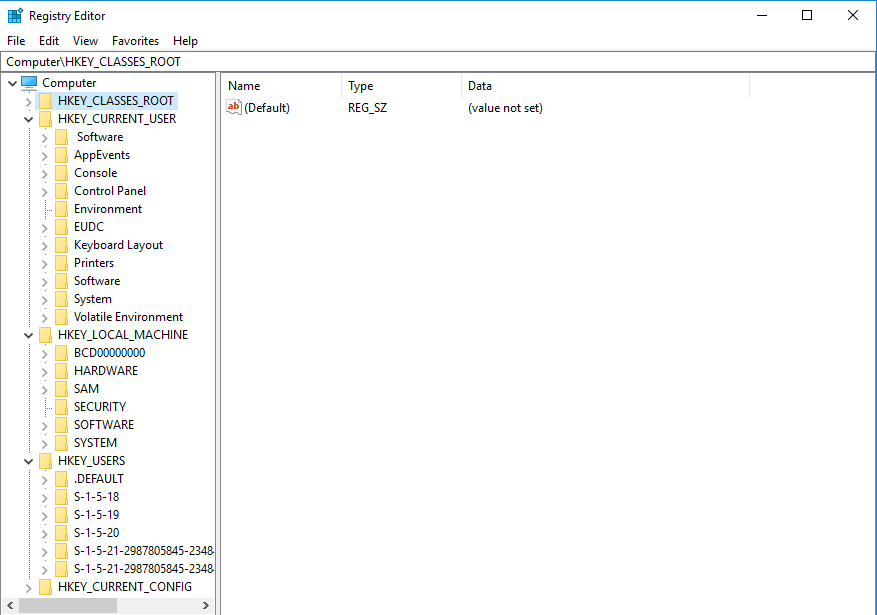 After you remove all the registry files above, then Opera Browser is gone.
Option 2: Uninstall Opera Browser with Uninstallor
You are suggested to use Uninstallor to remove Opera Browser from your system to keep safe. Uninstallor is a useful uninstaller which helps users uninstall persistence software, adware, bloatware and other unwanted programs effectively without leaving useless files and folders after the uninstallation. Below are the guides to use Uninstallor to uninstall the software completely.
Step 1, download and install Uninstallor onto your computer. Run it and select "Opera Browser" and click Analyze Now to start.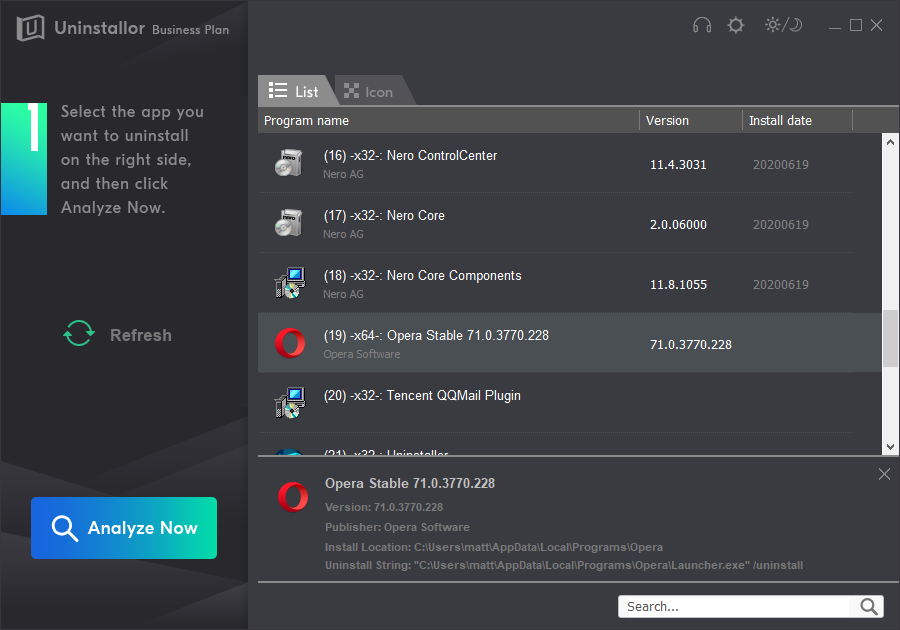 Step 2 Click Uninstall Now button to uninstall files and folders.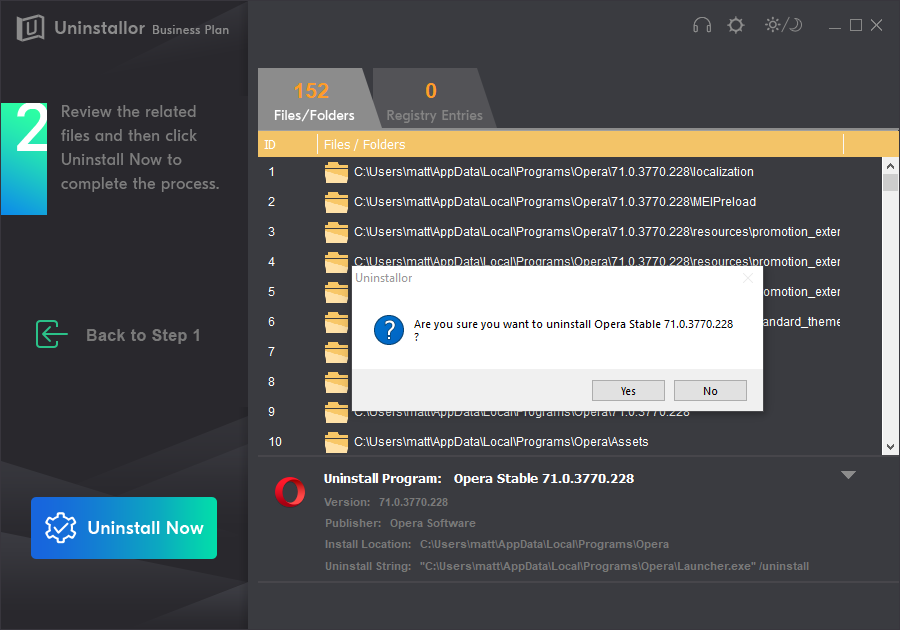 Step 3 Click Remove Now button and click Yes to clear leftovers after uninstalling.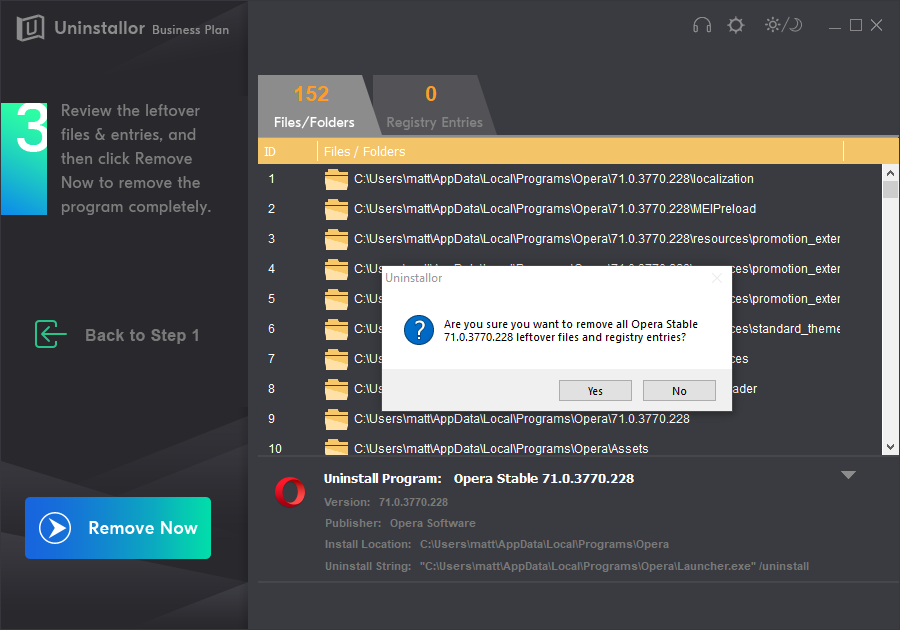 Opera Browser has been removed completely from your computer.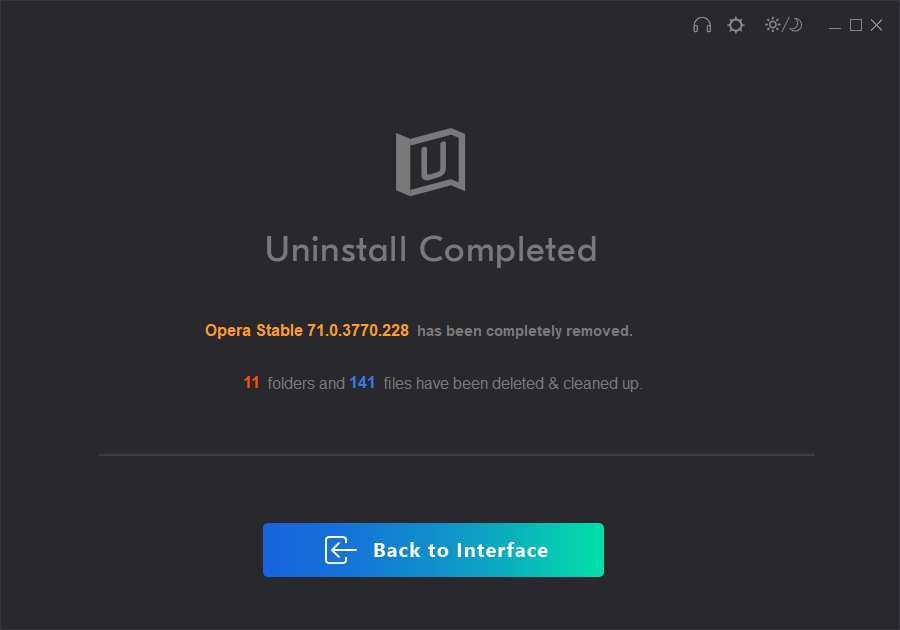 Conclusion
With the above discussion, it's very clear that there are some very features in the Opera browser which are very useful for us but at the same time, there are some basic features missing from this web browser which might be the reason to dislike this web browser. With this discussion, it's very clear that this web browser is not for all the people who are not much technical and want to use the web browser for their daily work only, However, if you are one of the people who are really very concerned about their privacy, this web browser may be best for you. If you are not happy with it, just uninstall Opera Browser completely from your Windows 10 with the guides here.
Published by & last updated on November 20, 2020 2:54 am