Do you know how to uninstall Firefox Browser easily from Windows 10? If you don't want to do it yourself, is there a great removal tool that will be able to do all things for you? And is it safe to use a thirty-part tool?
Firefox Browser Review
When we talk about the uses of the internet, apps, and websites come in our mind first. Websites are browsed with the help of web browsers. There are many web browsers present for users to choose from. One among them all is a Firefox web browser. There are many of the good features in this web browser which you will not find in any other web browsers but at the same time, many of the features are there which are really intolerable for many people. Let's know some of the main advantages and disadvantages of this Firefox web browser. And then you can decide if you keep it or still want to uninstall the Firefox Browser away.
Advantages
Incognito mode
In this modern era, hardly anyone would be there who does not use the web browser. Through the help of web browsers, we enter the infinite world of the internet where we can search anything we want to search and we can also watch any kinds of videos, listen to audios, read the text files, etc. Along with this we also get the facility to download them. But many a time we just don't want others to know about what stuffs we are working on the internet and many more things like this. Incognito mode is one of the features which the users use to restrict the other from reaching these data. Actually, when we work on shared computers, the other people on another system are also able to know what we are doing on the internet at any instant. Just after switching on to the incognito mode in Firefox web browsers you also restrict others to reach your personal data and search history as in this mode known cookies or history is not created.
Privacy
These days privacy is a great concern for the people who depend on the internet a lot. Sometimes their personal info gets leaked which creates a lot of problems for their business and personal life. Just like all the web browsers, even the very popular google chrome has no control over it and it is also mentioned in its terms and condition that chrome collects these data from every user who uses the chrome. For most of the users, such problems are actually no big problems and they still use chrome. However, for many of the users, who don't want to be recorded for any such things, this policy creates a lot of problems.
The unique extensions
Many of the web browsers use many different types of features to give their users a very good feeling and comfort when they use that particular web browser. One of such features is the Extensions. This features you can find in many of the web browsers including google. Actually, the number of extensions on google are more than extensions on any other web browsers. However, if we talk about the extensions present on the Firefox web browser, they are really very cool and unique. Many of the extensions you will not find even on chrome. For example, the duckduckgo extension. This extension is very useful for the users when they want that throughout their working on the web browser and searches, they remain out of reach.
The best alternative of chrome
It's true that google chrome is one of the most used web browsers or better say that it is the only one at present which is used by most of the users due to its so many features. But at the same time, it also got so many complaints from the European countries due to its privacy policy. For all such users who really think it's a big issue for them, Firefox can be a good alternative to Google chrome. This is so because Firefox offers all features offered by google chrome and that is too without any issue of privacy as it doesn't collect the data of the users without their concern.
Disadvantages
Speed
In this modern era when people have moved towards 4G after 3G and 2G internet services, the speed of the Firefox is not acceptable by many users. According to them, the speed of the Firefox is really slow even using high-speed internet. Many users complain that the web pages of the various websites take a lot of time to get downloaded in the comparison of many other web browsers. Many of the users also complain about the downloading speed through this web browser. That is the reason, many people really find it very difficult to work on it.
Compatibility
Compatibility is one of the major issues with this web browser. There are many web brewers who are available on all major platforms like android, windows, mac OS, and many others. Here in this browser, you will not find any such facility. It's not available for many of the platforms and users really don't like these problems when they want to use this browser due to it's some special features. Along with this, many websites are there which you can not open using this Firefox web browser. If you will try to open those websites using this web browser, you will get some kind of error notification on the browser instead of the home page of the website whose address you entered.
Customization
Customization is yet another problem on this web browser. Here you will not find many options to customize the web browsers as per your requirement. This is also one of the major issues in this web browser.
Conclusion
With the above discussion, it's very clear that this web browser too has some minor problems associated with this. But along with that it also has some features which you will not find even in the top-rated chrome browser. So it's all up to you to use it or not or whether you want to try this or not. If the features of this browser you really need to do your work, you should go for this, otherwise, you can try some other web browsers like chrome also especially to solve the issue of incompatibility of some particular websites. If you don't want to keep this web browser, just uninstall Firefox Browser completely from your computer by following the guides below.
How to Uninstall Mozzila Firefox Completely?
If you are lack of computer skills or new for computer, you probably feel frustrated when trying to uninstall Firefox Browser. However, we have two solutions for you. They are manual removal and automatical removal guides.
Option 1: Uninstall Firefox Browser manually. There are three methods to choose on Window 10.
Method 1: Uninstall it from Start menu.
Step 1: Click Windows icon at left bottom to open start menu.
Step 2: Look for Firefox Browser. Right click the icon, select Uninstall and confirm the task.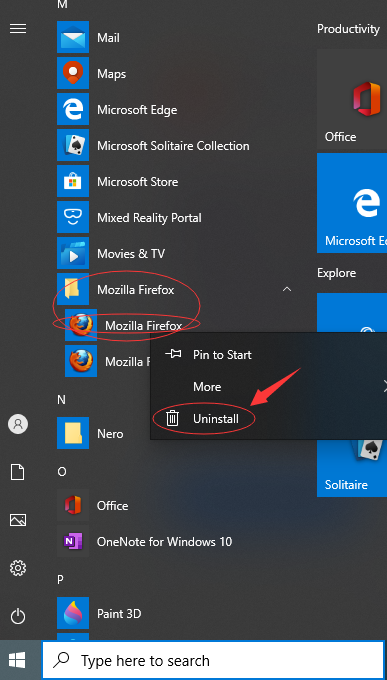 Method 2: Uninstall it from Settings.
Step 1: Click Windows icon at left bottom, and select Settings to open.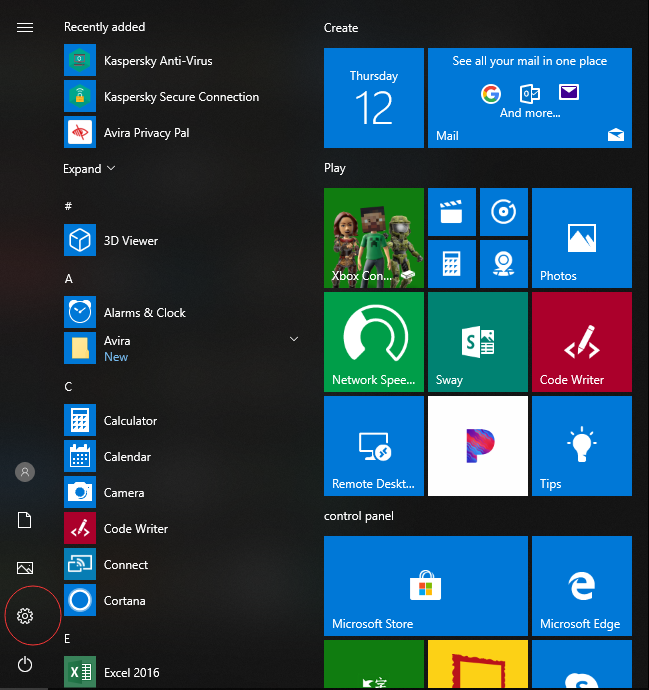 Step 2: On Settings screen, double click Apps. Select Apps & features on the next window.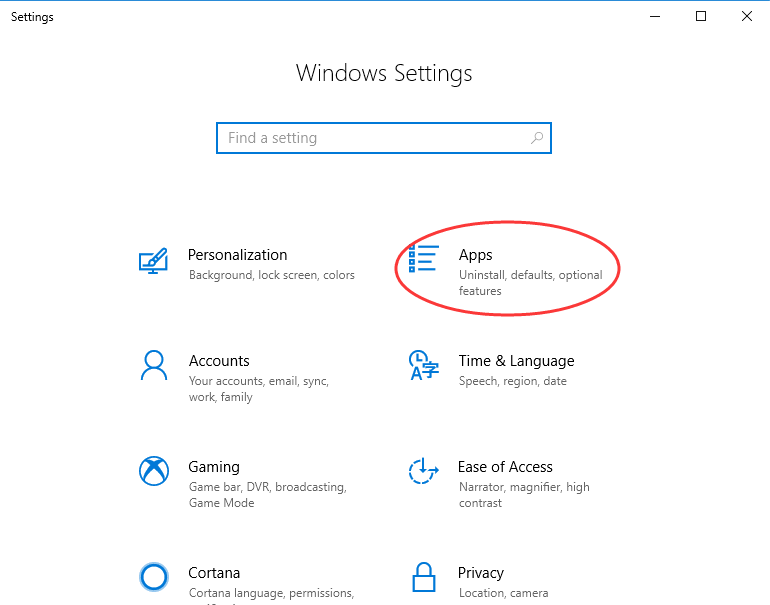 Step 3: You will see the list your installed software. Look for and select Firefox Browser. Click Uninstall from the popup menu. Confirm the uninstalling.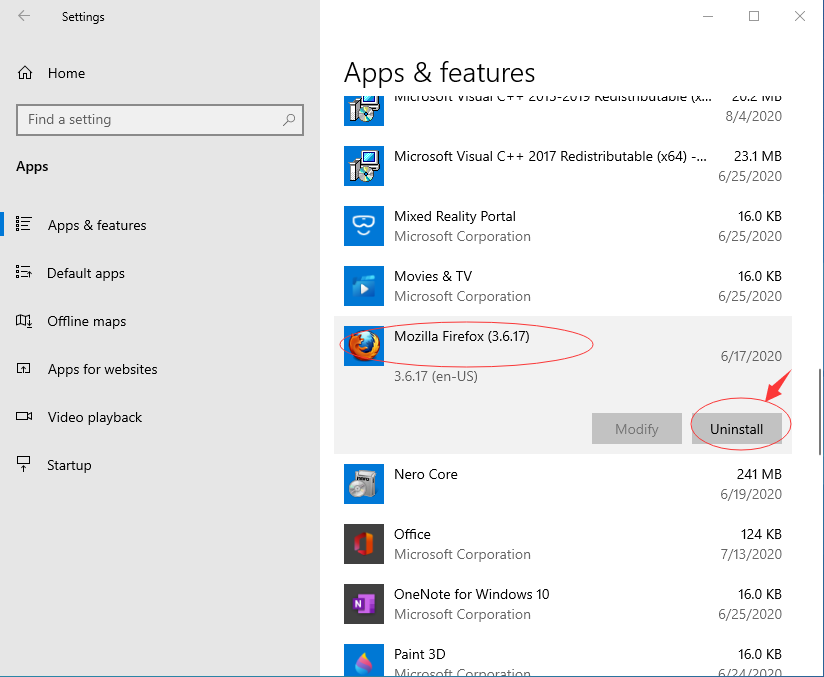 Uninstall Firefox Browser from Control Panel.
Step 1: Click search box on taskbar and type Control Panel. Click Control Panel from the popup list.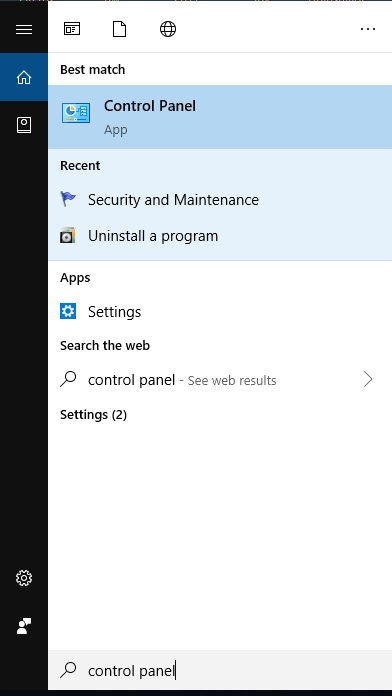 Step 2: Click Uninstall a program under Program menu.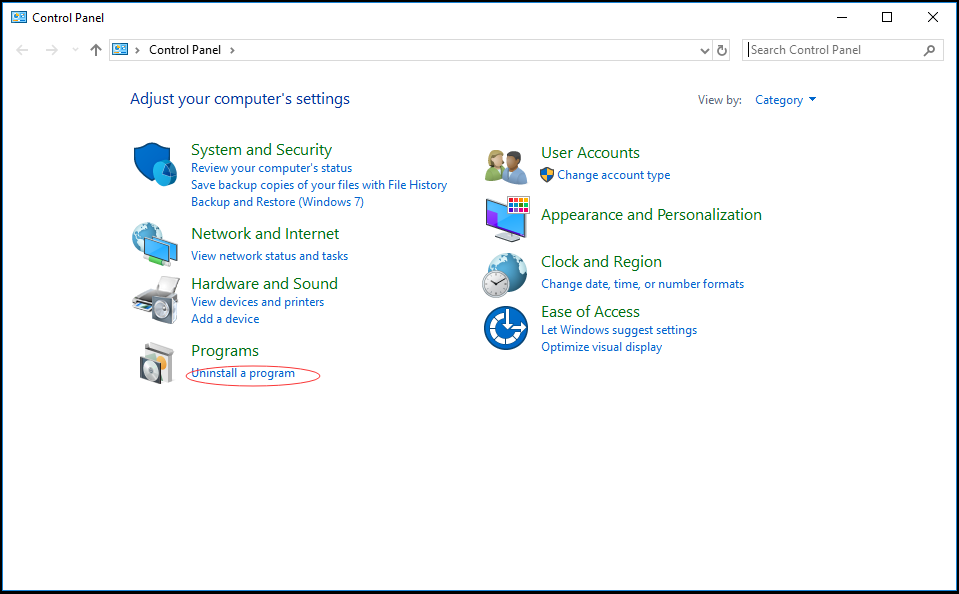 Step 3: Select Firefox Browser and click Uninstall. Confirm the uninstalling.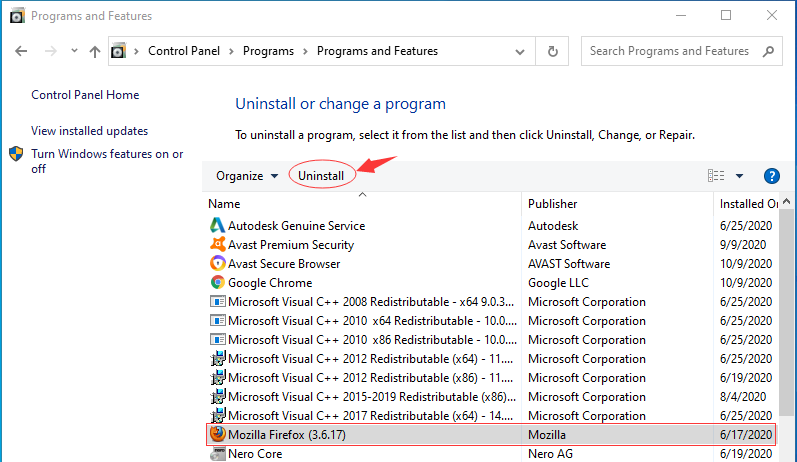 After uninstalling the software, it is time to remove all its leftovers. To get started, you need to open Registry Editor. Press Windows key + R, type regedit, and press Enter. Next, click Edit at the top of the window and select Find. Then, enter Mozilla Firefox in the search box and click Find Next. Finally remove all entries detected.
HKLM \ SOFTWARE \ Classes \
HKLM \ SOFTWARE \ Microsoft \ Windows \ CurrentVersion \ Shell Extension \
HKLM \ SOFTWARE \ Microsoft \ Windows \ CurrentVersion \ Installer \ UserData \
HKLM \ SOFTWARE \ Wow6432Node \ Microsoft \ Windows \ CurrentVersion \ Shell Extension \
HKLM \ SOFTWARE \ Wow6432Node \Microsoft \ Windows \ CurrentVersion \ Uninstall \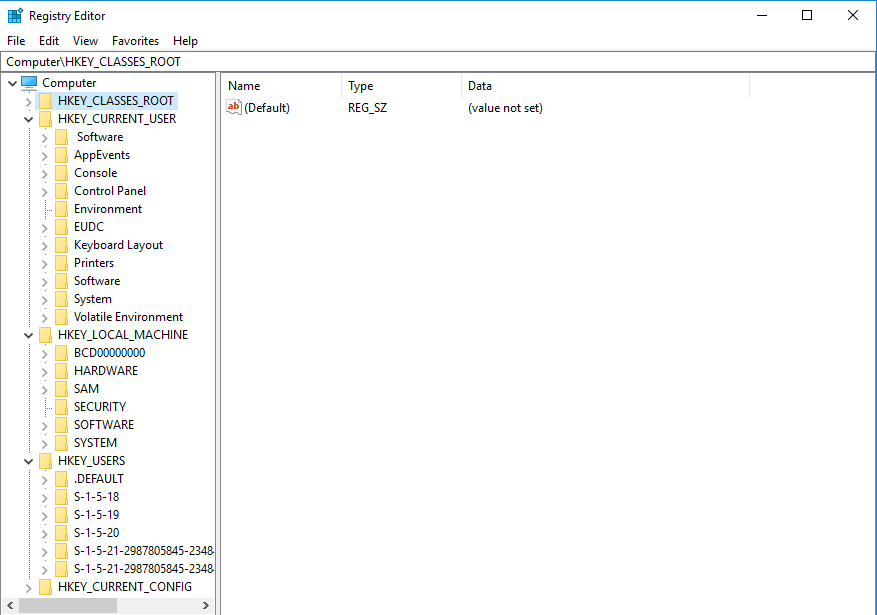 After you remove all the registry files above, then Mozzila Firefox is gone.
Option 2: Uninstall Firefox Browser with Uninstallor
You are suggested to use Uninstallor to remove Firefox Browser from your system for safety. Uninstallor is a useful uninstaller which helps users uninstall persistence software, adware, bloatware and other unwanted programs effectively without leaving useless files and folders after the uninstallation. Below are the guides to use Uninstallor to uninstall the software completely.
Step 1, download and install Uninstallor onto your computer. Run it and select "Mozzila Firefox" and click Analyze Now to start.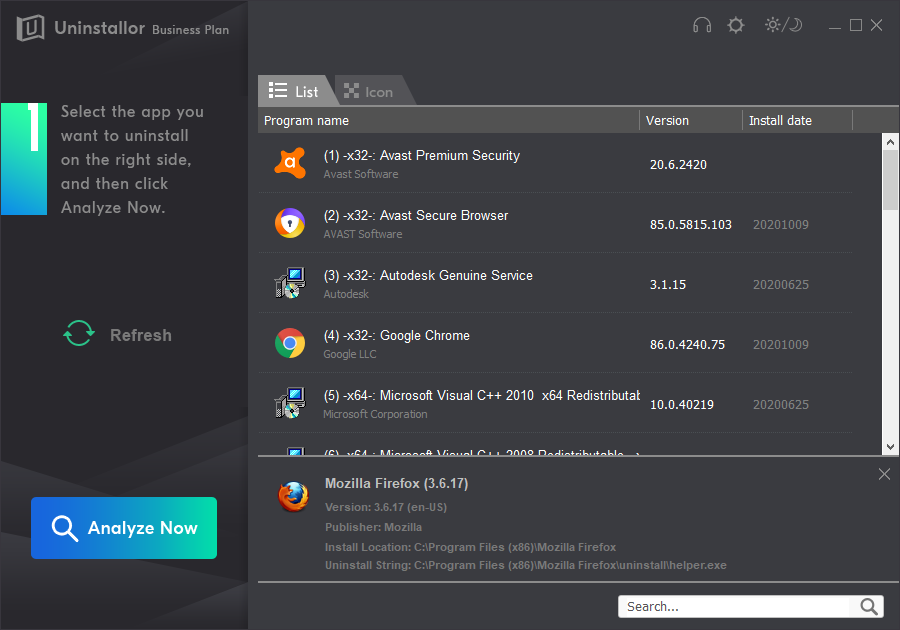 Step 2 Click Uninstall Now button to uninstall Mozzila Firefox's files and folders.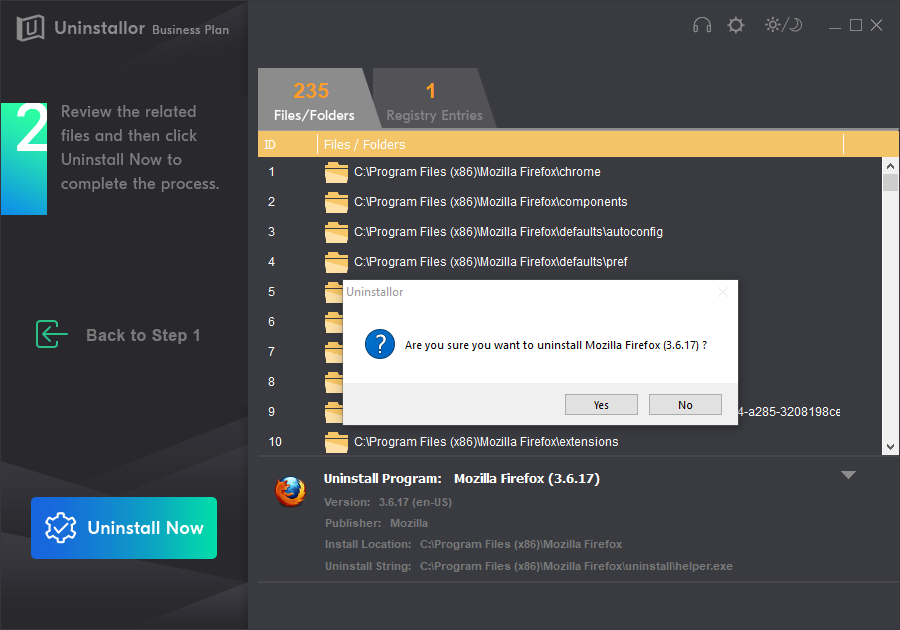 Step 3 Click Remove Now button and click Yes to clear leftovers after uninstalling.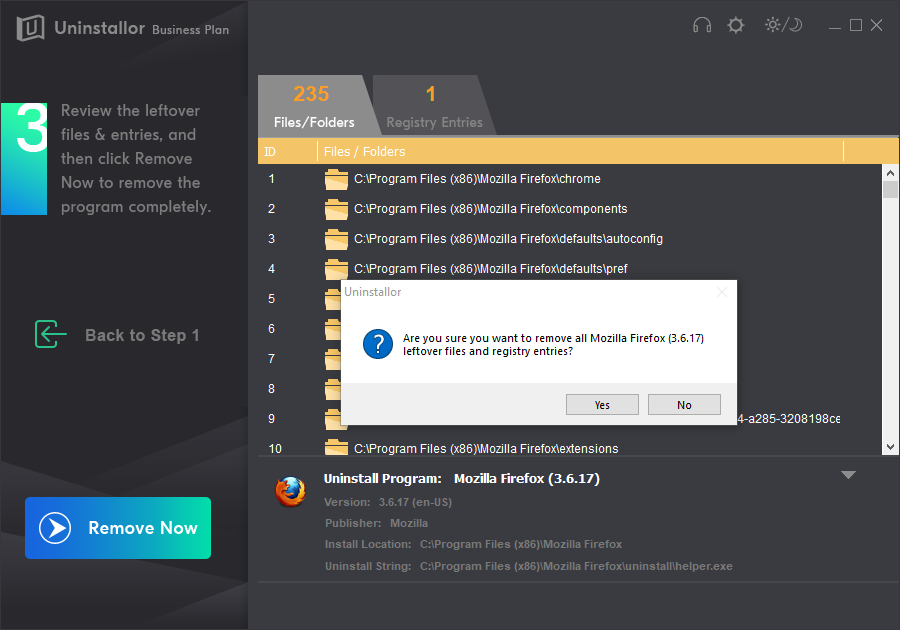 There you go. image has been removed completely from your computer.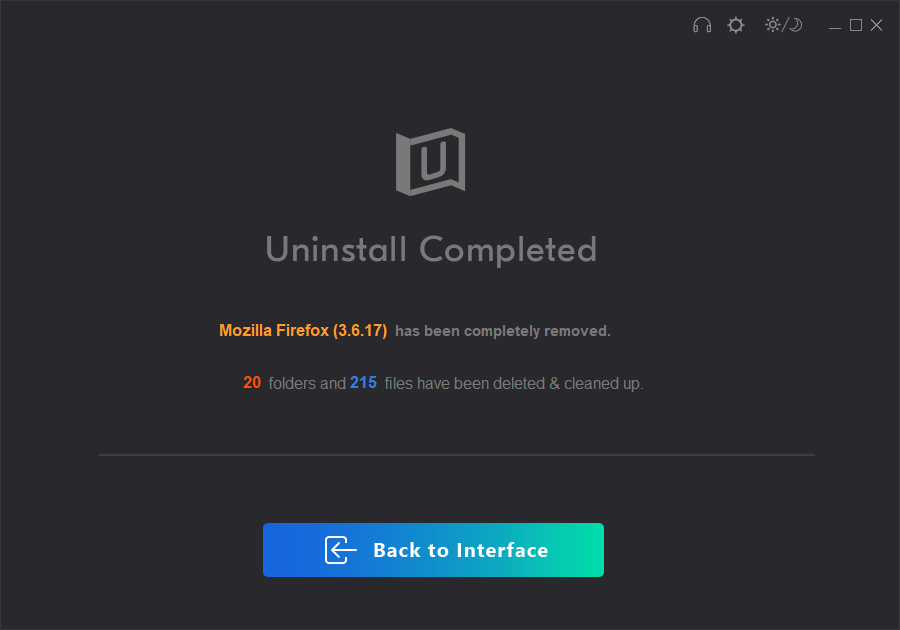 Published by & last updated on October 26, 2020 3:33 am