Can not uninstall McAfee Total Protection completely from your computer via control panel? How can you remove it manually? Is there an effective McAfee Total Protection removal tool available for you? What is the best solution?
About McAfee Total Protection
This is the best antivirus that is used for digital protection, this antivirus has been also awarded for its performance. The compatibility of this product to protect computers and mobile devices are just mind-blowing. This software helps to block unwanted viruses, and if a virus is found then the virus is isolated, or even it will remove the virus completely from the device.
This Antivirus also features the option that if this software detects any suspected program then the software will ask for your permission. You can remove the suspected program if you want or can keep it if it is not harmful to your device. It also notifies you about if any virus is detected from the last website you opened.
There are many features which make McAfee different and compatible than any other antivirus. Like one of the amazing features is that this software can connect more than one device in just one subscription, or I can also say that it can connect at least 10 devices and secure it at one time.
In this article, I will mention the advantages and disadvantages of McAfee protection. And it is up to you if you want to uninstall McAfee Total Protection completely from your computer in Windows 10 or keep it on your PC.
Advantages
It provides immense security to your windows and Android devices and removes every virus detected. Let's discuss some advantages of McAfee Protection.
More than Antivirus
McAfee protection provides all-over protection to your devices, and it secures the first position among security solutions. It finds advanced or new viruses also and also keeps your information secure. By this software, you can also keep your bank transaction protected and keep it personal. It performs many other functions other than removing viruses as it notifies you if any virus gets in your PC, this also informs if anyone tries to steal your data or any of your connected devices.
McAfee Free Trial
McAfee provides a free trial for 30 days, you can assure that if the software works properly or not. Although you cannot say no to this software because of its features. No credit cards, no debit cards no money is required and there you go discover how it works absolutely free.
Multi-device Protection
Mc Afee can protect more than one device at a time, this protects windows, android from viruses. You don't have to worry about your other devices, because Mc Afee is there to see all your devices at one time. One special thing is you don't have to buy different subscriptions to protect different devices, only one device is enough to protect more than 10 devices.
Instant Alerts
If McAfee is installed in your device and if any of your personal details are in danger then this antivirus will notify you about this. Likewise, this antivirus helps to protect from getting your data theft, this proves the versatility of this software. This feature is also added in all antivirus, but McAfee has this feature to protect your PC and other devices.
Antivirus for PC
Using antivirus to protect your PCs is always recommended to protect from threats. However, windows are upgraded but it will not be enough to fight with new and upgraded threats, the modern problem needs a modern solution. McAfee can fight with new and evolved viruses or threats, Mc Afee works more than the antivirus, it is one of the best antiviruses for the PC.
Disadvantages
● The biggest disappointment with the software is that it makes the system a little slow, during its working process, your device may hang sometime or it may respond slow. The working of McAfee depends upon the cost of your device.
● McAfee is usually to make the system secure and up to some extent it does it too, but it consumes a lot of time to enter the device and start with the device in its to secure. This software sometimes strikes with some updates and creates lots of confusion.
● McAfee creates a lot of false detections also, it has to be decreased especially the negative ones.
● It needs to be upgraded because the most negative part is it makes the device slower.
● It is very slow to recover the data, or sometimes it fails to recover it, which creates one of the biggest disadvantages in McAfee.
● McAfee doesn't offer any free scanning functions, users who use their own personal machine cannot scan if any problem takes place.
● Mc Afee fails to detect any advanced threats or viruses out there in your device, so this is not recommended for upgraded and more advanced viruses.
● This may also require a lot of resources to perform a particular job.
● This is a complicated antivirus, and it can only be managed by an experienced
● This antivirus only needs additional software to work, while most of the advanced antivirus software does not need any additional software.
● McAfee is not easy to use, this is very complex software. If one is using this for the first time they will find it very complex to use, it takes a few weeks for you to understand this completely.
● This software is a bit expensive, compared with other such types of antivirus.
● This software sometimes creates problems like it shuts the computer without any notifying and also slows down the function of the PC.
If you are searching for an antivirus that has more features in addition to only cleaning your device from threats. In this article, I have mentioned about features of McAfee protection, which will help you to know more about it. When you are unhappy with it, you can uninstall McAfee Total Protection from your PC any time you want.
How to Uninstall McAfee Total Protection Step by Step from Windows 10?
Many users want to manually remove McAfee Total Protection from their PCs before trying a removal tool, so we offer both manual and automatic solution for our readers. You can either choose manual removal way or use Uninstallor.
Option 1: Uninstall McAfee Total Protection Manually via Windows Add/Remove Feature
There are two parts in this solution.
Part 1: Uninstall Software Manually
Method 1: Uninstall via Start Menu
Step 1: Press Windows key and find McAfee Total Protection on the Start menu.
Step 2: Right click on its icon and select uninstall option.
Method 2: Uninstall via Control Panel
Step 1: Type "control panel" in search box on taskbar. Click "control panel" on the popup list to open it.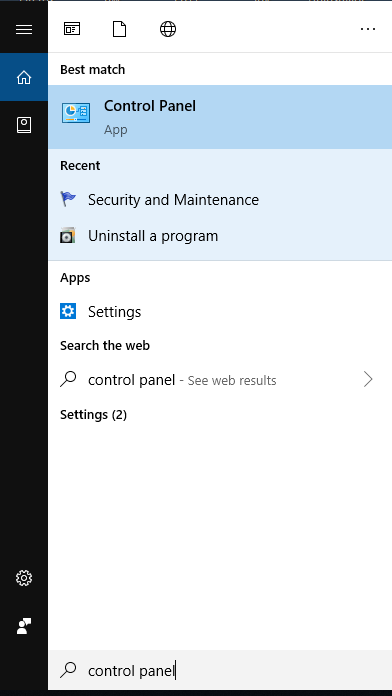 Step 2: Click "Uninstall a Program" under Program menu. It will open "Programs and Features."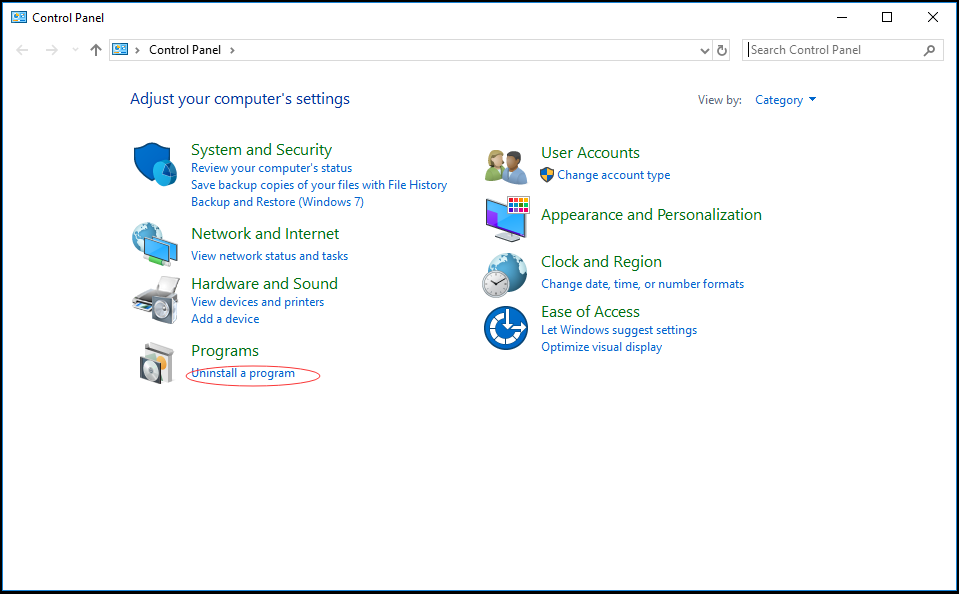 Step 3: Find and click on McAfee Total Protection, next click Uninstall button on the top to uninstall it.
Method 3: Uninstall via Settings
Step 1: Click "Start" button at bottom left. At left side of the Start menu, click Settings icon which looks like a gear.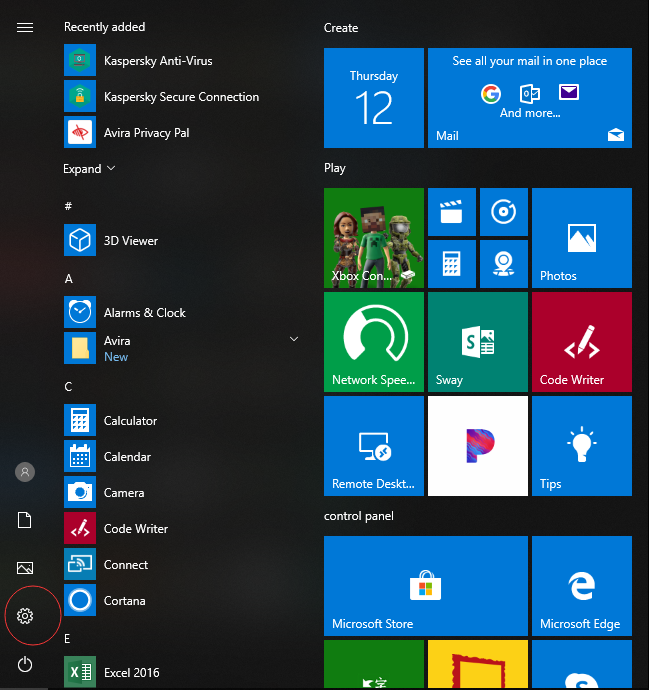 Step 2: On Windows Settings screen, click "App" menu. Next, select "Apps & Features" tab.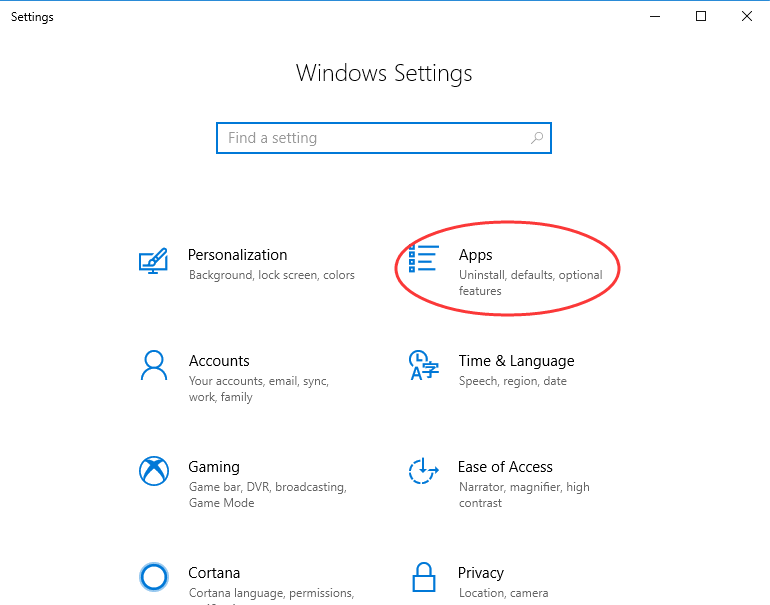 Step 3: Scroll down to select McAfee Total Protection, and a menu with "Uninstall" and "Modify" will appear. Click Uninstall, and perform the removal with prompts.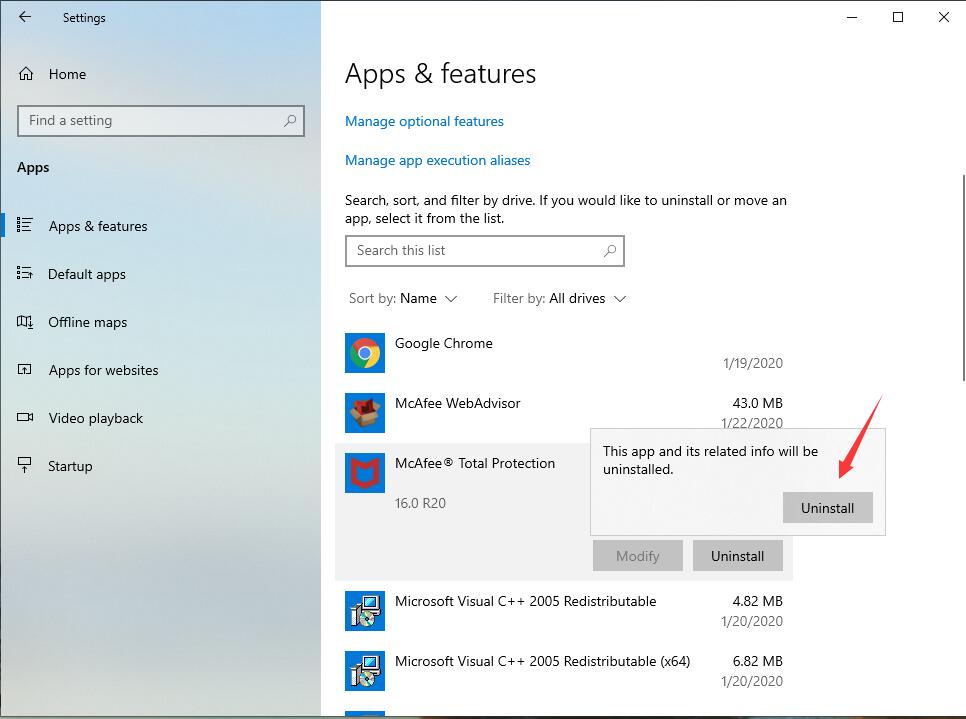 Part 2: Clean All Leftovers of McAfee Total Protection from registry editor.
Before making any registry modifications, we suggest you back up your registry data to avoid issues caused by wrong operations.
Firstly, press Windows +R keys. A dialog will appear.
Secondly, type "regedit" in the blank and click "OK" to open Registry Editor.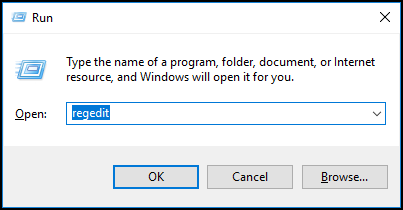 Thirdly, press "Ctrl" + "F" keys to open search box. Type McAfee Total Protection and search for results. Unfold the registry group to accurately locate its registry files. Right click on related files and folders, and click Delete option. Locate all invalid registry entries and delete them one by one.
HKEY_CLASSES_ROOT\Installer\Features\AE11A35A5900F39468AF1AE5A8684A50
HKEY_CLASSES_ROOT\Installer\Products\AE11A35A5900F39468AF1AE5A8684A50
HKEY_LOCAL_MACHINE\SOFTWARE\Classes\Installer\Features\AE11A35A5900F39468AF1AE5A8684A50
Lastly, click My Computer and select Tools tab. Click Folder options and select View tab. Choose Show hidden devices from the View menu. Click Apply, then OK and exit the window. Next, search for McAfee Total Protection on your hard disk. Remove all founded items.
C:\Program Files(X86)\McAfee Total Protection\
Option 2: Use Uninstallor to Uninstall McAfee Total Protection Automatically
If you have tried the manual methods but failed, you are suggest to use a third-party uninstaller. First, just download and install Uninstallor on your PC.
Step 1. Launch Uninstallor, select "McAfee Total Protection", next click on "Analyze Now".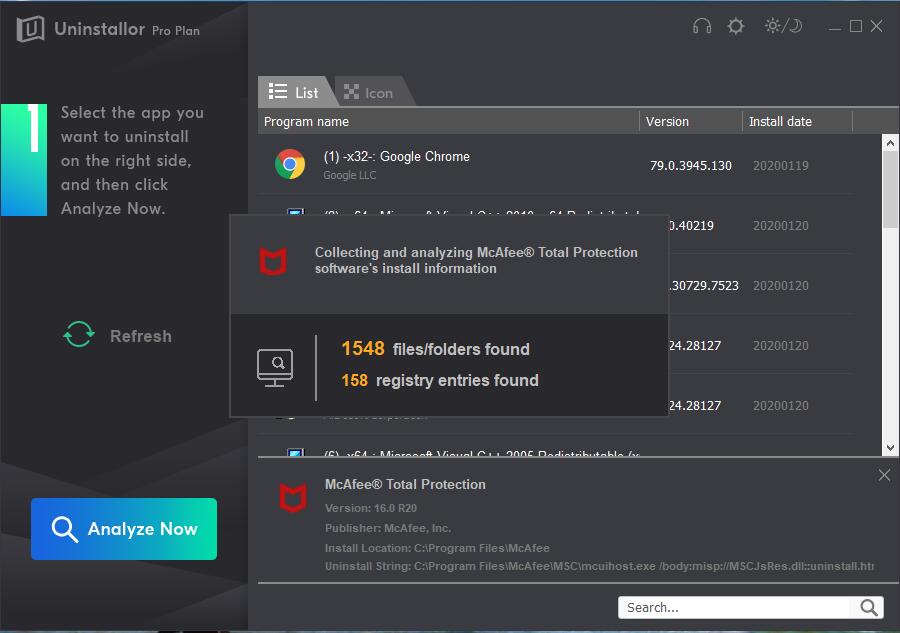 Step 2. Click "Uninstall Now" button to uninstall files related to McAfee Total Protection automatically.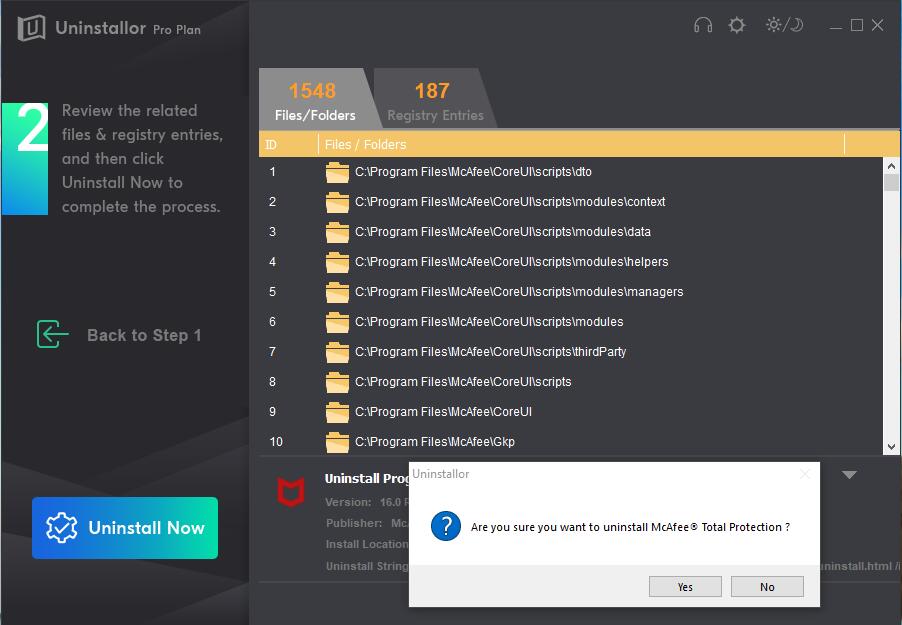 Step 3. Simply click "Remove Now" button to clean all associated files and folders.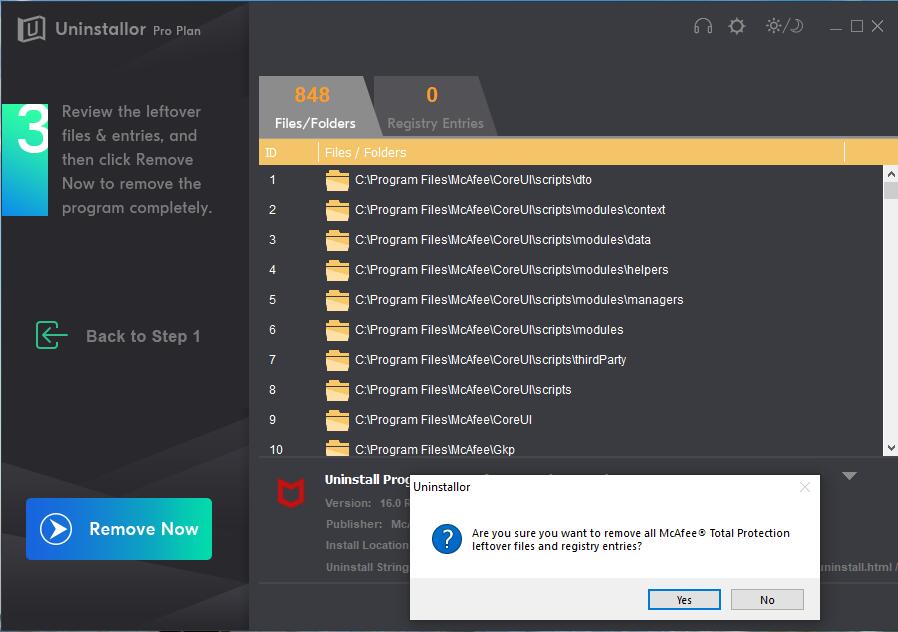 At this step, then McAfee Total Protection is completely uninstalled.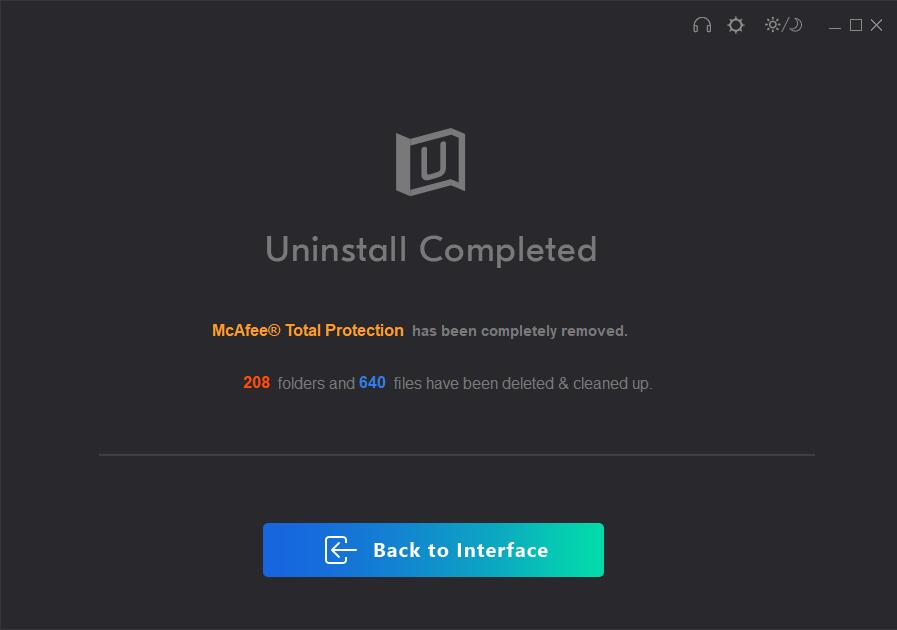 Warm Prompt
McAfee is one of the popular and amazing protections known in the security field of the devices. It has many different features other than just Antivirus which makes it versatile and different from others. This does many other functions than just antivirus like notifying, instant alerts, and many others. On the other hand, everything has some cons. The same is with antivirus; it also has some cons along with its pros.
There are manual and automatic solutions available our readers to uninstall McAfee Total Protection completely from Windows 10. You can select the one that is fit for you. If you are not good at computer, We suggest you use a professional uninstaller named Uninstallor, which will be able to help you clean all files and leftovers. With few clicks, you can uninstall stubborn, problematic and unwanted software without any problem.
Published by & last updated on August 20, 2020 1:01 pm