Can not uninstall Avast Premium Security permanently from your computer in Windows 10? When you removed it away, it is coming back after you restart your PC, and it begins to scan, so you want to uninstall it completely? What is the best way to uninstall Avast Premium Security easily? Is there a great Avast Premium Security removal tool to help me do the job?
Avast Premium Security Review
We are all living in a time today where cyber crimes are increasing every day, there are many big companies whose data is stolen every day and all of us are not completely safe from the threat of cybercrime. Even big companies like Uber are not safe from the cybercrime incident. So we can think about how important it is to stop incidents like cybercrime and at the same time, it is very difficult to stop it.
Now you may be wondering, how can we stop cybercrime with the help of farm antivirus? Will antivirus be helpful to stop cybercrime?
So the answer is yes, with the help of antivirus, you can not only reduce the incidence of cybercrime but at the same time stop it completely. In today's time, antivirus is very helpful in stopping every event happening from cybercrime, from the biggest companies to us and you today, with the help of antivirus, you can secure your data systematically.
Now the second question that comes to your mind would be which antivirus is better for your computer and laptop and is at an affordable price because today due to the increasing cybercrime, many such companies have come in the market, which makes their antivirus product better. So it is very difficult for you to choose one among all these.
So let me tell you Avast Premium Security is a product that also provides complete security to your computer and laptop as well as it is an antivirus that is made available to you at a very affordable price so that you can get this antivirus as much as possible Use it for the day and keep your data safe. However, if you are unsatisfied with this software, you can completely uninstall Avast Premium Security with the solutions here.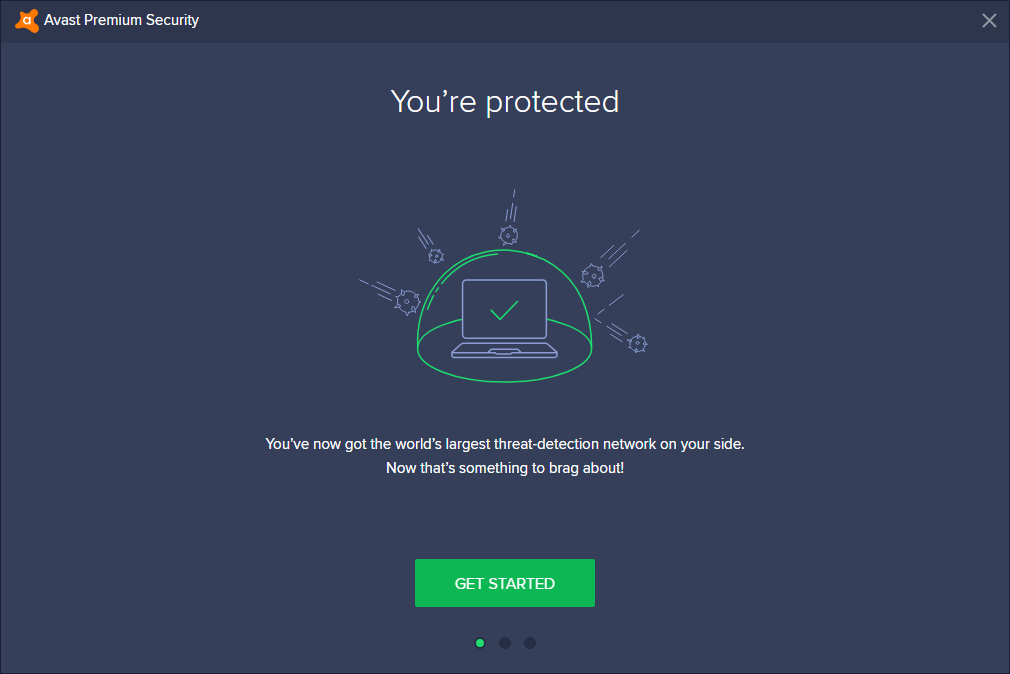 Advantages
While many such antiviruses have come in the market that provide you with your antivirus for a very short time at a very expensive price, on the other hand, Avast Premium Security antivirus provides your company for long time durations at a very affordable price. Now we will know about some of its best features that other antivirus companies do not provide.
Many types of tools which help to stop viruses
Within Avast Premium Security, you will find many such tools and settings, with the help of which you can easily produce your computer laptop with a virus. Avast Premium Security Antivirus prevents the attack of different status pay viruses on your laptop and computer with the help of such tools.
Firewall
It is a tool that makes an invisible wall in your computer and laptop that prevents any kind of virus from attacking your computer and laptop, although it is not a wall it works The way we call it a firewall.
Sandbox
With the help of this tool, you will continue to get every information of your laptop and computer on your email, how your antivirus is working in your system as well as what kind of virus on your laptop and computer, with this antivirus It is being stopped with help and every little bit information that is necessary for you and you want to see it together in one place.
Also, this antivirus also provides you analysis of all those data so that you can see all the information very easily.
Anti-spam
With the help of this feature of antivirus, you can prevent any kind of unusual message from staying in your PC and laptop, every day it happens that we get many spam messages which also contain many types of viruses due to your negligence. Those messages are not able to be deleted easily, but with the help of this antivirus, you can list them and delete them easily.
Webcam shield
Nowadays, what is the software today, because of which your computer or laptop webcam is not safe, the software contains viruses that hack your laptop and computer webcam, with the help of it, you can easily monitor your personal things. There are many such incidents that happen due to these webcams hacking, but the virus is going to keep virus-free every day of your software so that they cannot hack your laptop and computer webcam.
Password manager
It is seen that people forget about many of their things daily due to their busyness. In all those things, the password is also a very important thing that we and you forget every day, but with the help of this antivirus, you can record your antivirus and Can manage.
Disadvantages
There are some deficiencies in all antivirus in the coming days. If an antivirus works better, it is quite expensive. If an antivirus does not work better than it costs less, but if an antivirus works better, along with an affordable price If you get it, then there are some minor flaws in them.
Similarly, there are some drawbacks in this antivirus, which is as follows: You cannot use this antivirus in two computers and laptops at the same time If you have taken a single member of it as well as you can use this antivirus during its membership timing. You cannot install and reinstall from a computer or from one laptop to another computer and laptop, although this feature is rarely provided by antivirus, this antivirus is a small drawback.
Conclusion
Avast Premium Security is an antivirus that is able to detect and eliminate related viruses from each of your laptops and computers, as well as the antivirus you get at a very affordable price even after all these quality. There are minor flaws in this, so we can ignore it because all those shortcomings are nothing in view of its security purpose. This antivirus not only protects your laptop and computer from viruses, as well as it protects you from all the criminal activities that are related to social media. And can protect themselves from social media crimes. If you have other antivirus and don't need it, but don't know how to uninstall Avast Premium Security from your PC, get the guides below.
In simple words, this antivirus comes from domestic use to industrial use, which does not let you and your computer laptop's personal data be written, as well as gives you criminal activity.
How to Completely Uninstall Avast Premium Security Step by Step from Windows 10?
Not everybody understand know how to remove Avast Premium Security from his or her PC, there are different reasons, so we offer both manual and automatic solution for our readers. You can either choose manual removal way or use Uninstallor.
Option 1: Uninstall Avast Premium Security Manually via Windows Add/Remove Feature
There are two parts in this solution.
Part 1: Uninstall Software Manually
Method 1: Uninstall via Start Menu
Step 1: Press Windows key and find Avast Premium Security on the Start menu.
Step 2: Right click on its icon and select uninstall option.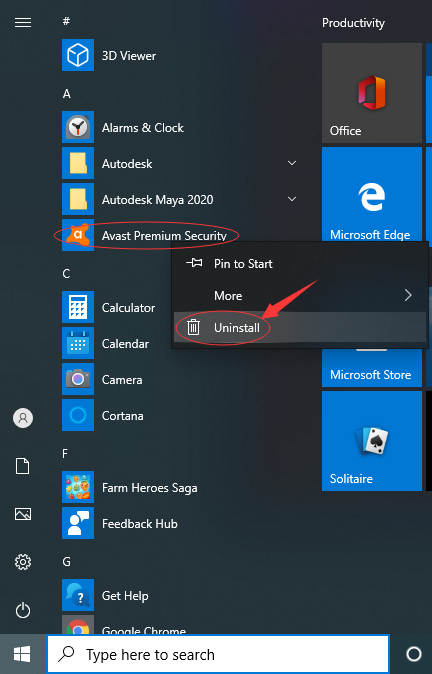 Method 2: Uninstall via Control Panel
Step 1: Type "control panel" in search box on taskbar. Click "control panel" on the popup list to open it.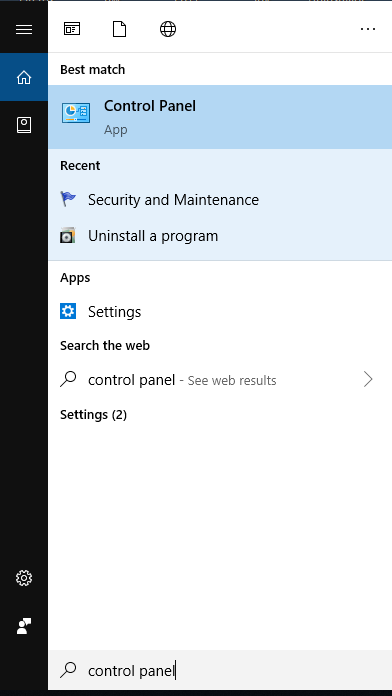 Step 2: Click "Uninstall a Program" under Program menu. It will open "Programs and Features."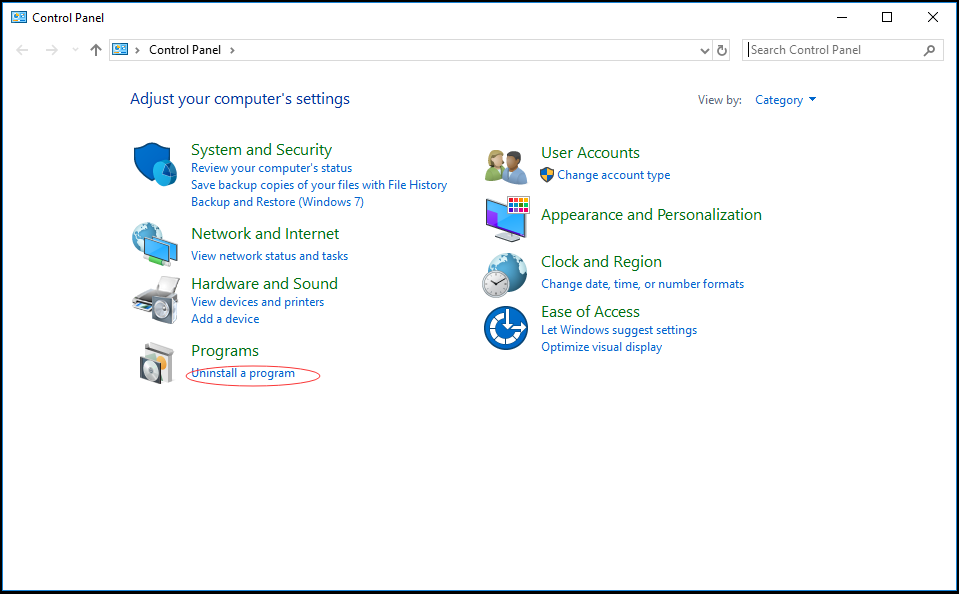 Step 3: Find and click on Avast Premium Security, next click Uninstall button on the top to rip it off.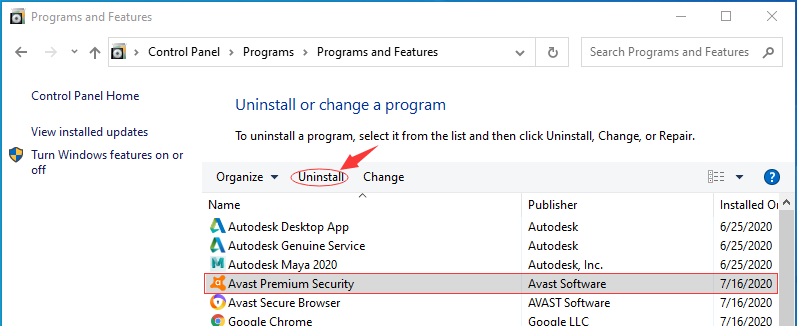 Method 3: Uninstall via Settings
Step 1: Click "Start" button at bottom left. At left side of the Start menu, click Settings icon which looks like a gear.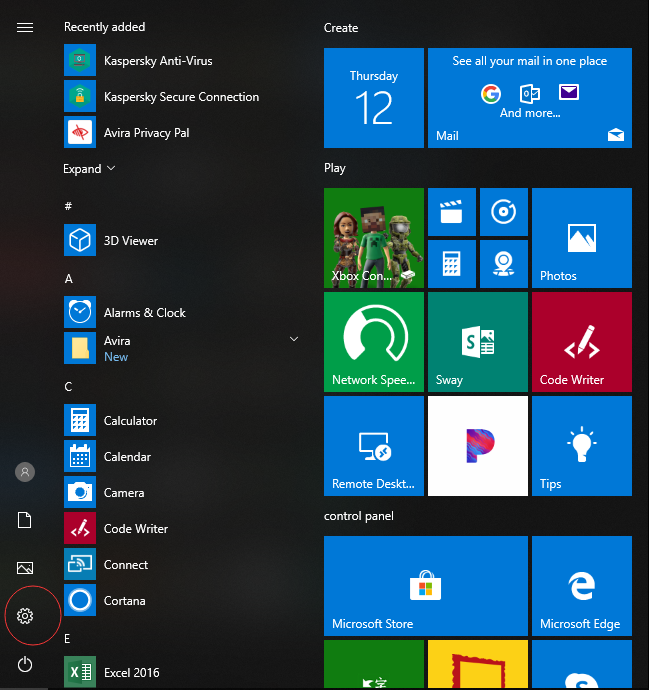 Step 2: On Windows Settings screen, click "App" menu. Next, select "Apps & Features" tab.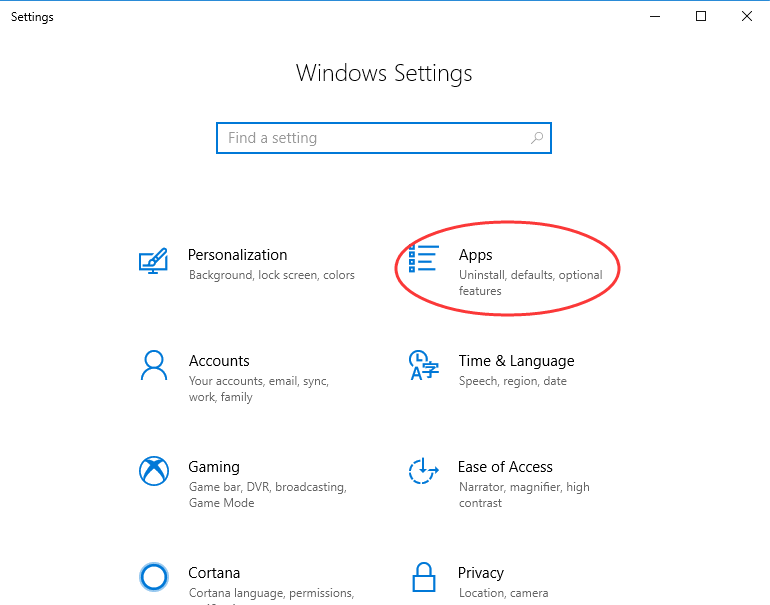 Step 3: Scroll down to select Avast Premium Security, and a menu with "Uninstall" and "Modify" will appear. Click Uninstall, and perform the removal with prompts.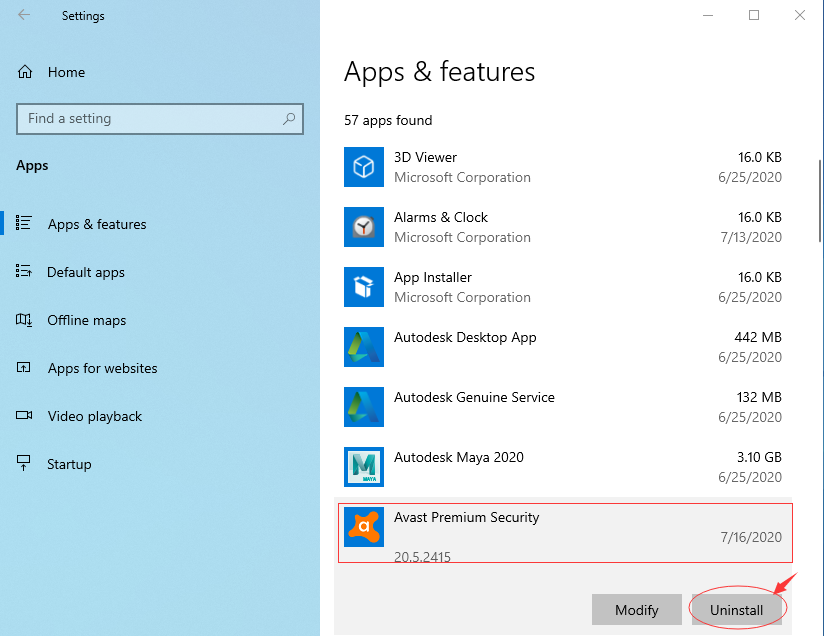 Part 2: Clean All Leftovers of Avast Premium Security from registry editor.
Before making any registry modifications, we suggest you back up your registry data to avoid issues caused by wrong operations.
Firstly, press Windows +R keys. A dialog will appear.
Secondly, type "regedit" in the blank and click "OK" to open Registry Editor.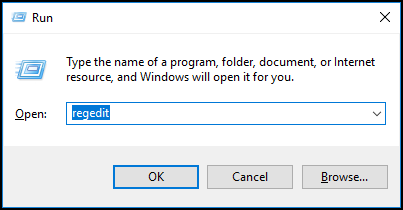 Thirdly, press "Ctrl" + "F" keys to open search box. Type Avast Premium Security and search for results. Unfold the registry group to accurately locate its registry files. Right click on related files and folders, and click Delete option. Locate all invalid registry entries and delete them one by one.
HKEY_CLASSES_ROOT\Installer\Features\AE11A35A5900F39468AF1AE5A8684A50
HKEY_CLASSES_ROOT\Installer\Products\AE11A35A5900F39468AF1AE5A8684A50
HKEY_LOCAL_MACHINE\SOFTWARE\Classes\Installer\Features\AE11A35A5900F39468AF1AE5A8684A50
Lastly, click My Computer and select Tools tab. Click Folder options and select View tab. Choose Show hidden devices from the View menu. Click Apply, then OK and exit the window. Next, search for Avast Premium Security on your hard disk. Remove all founded items.
C:\Program Files(X86)\xxx\
Option 2: Use Uninstallor to Uninstall Avast Premium Security Automatically
If you have tried the manual methods but failed, you are suggest to use a third-party uninstaller. First, just download and install Uninstallor on your PC.
Step 1. Launch Uninstallor and select the software or App, here we select Avast Premium Security, next click on "Analyze Now".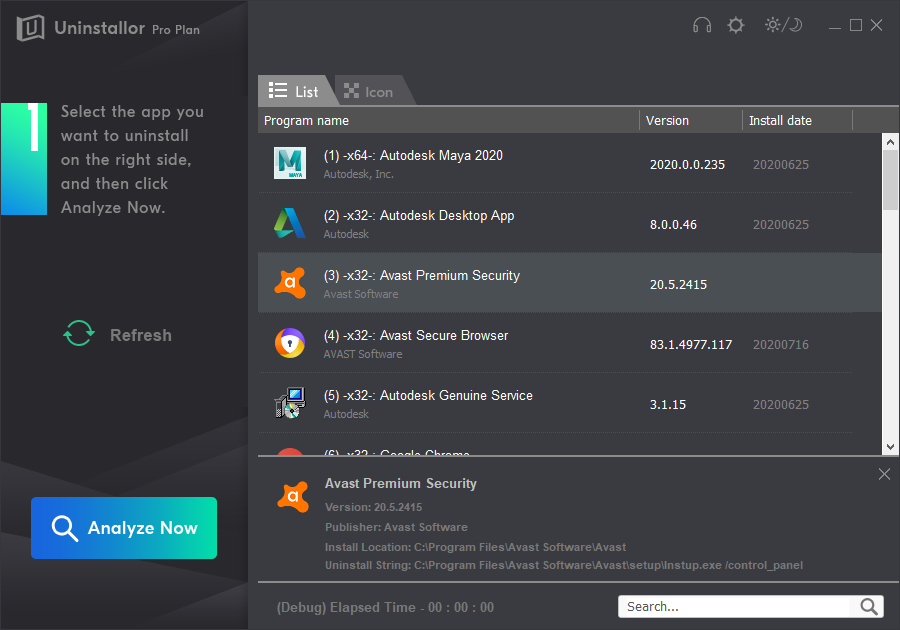 Step 2. Click "Uninstall Now" button to uninstall files related to Avast Premium Security automatically.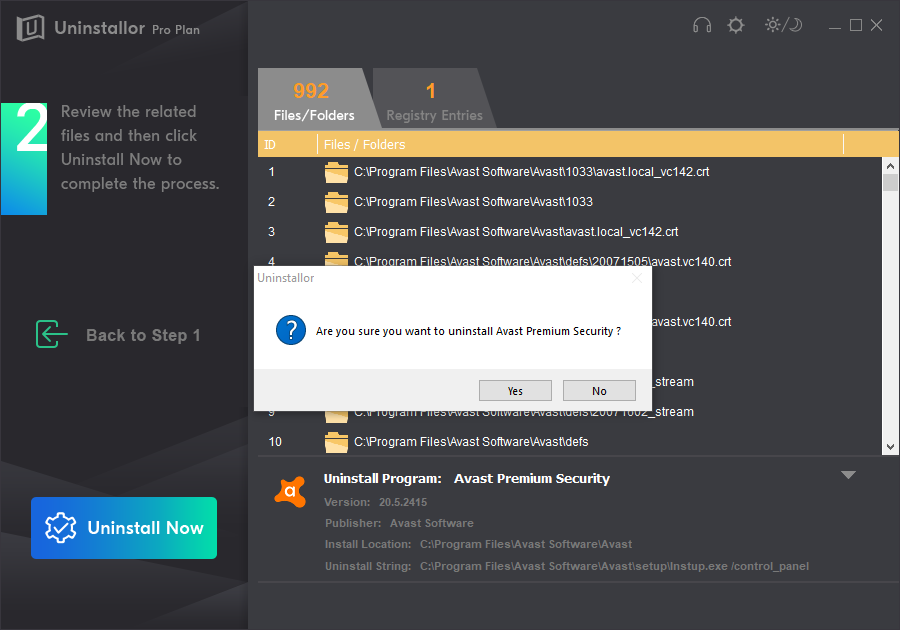 Step 3. Simply click "Remove Now" button to clean all associated files and folders.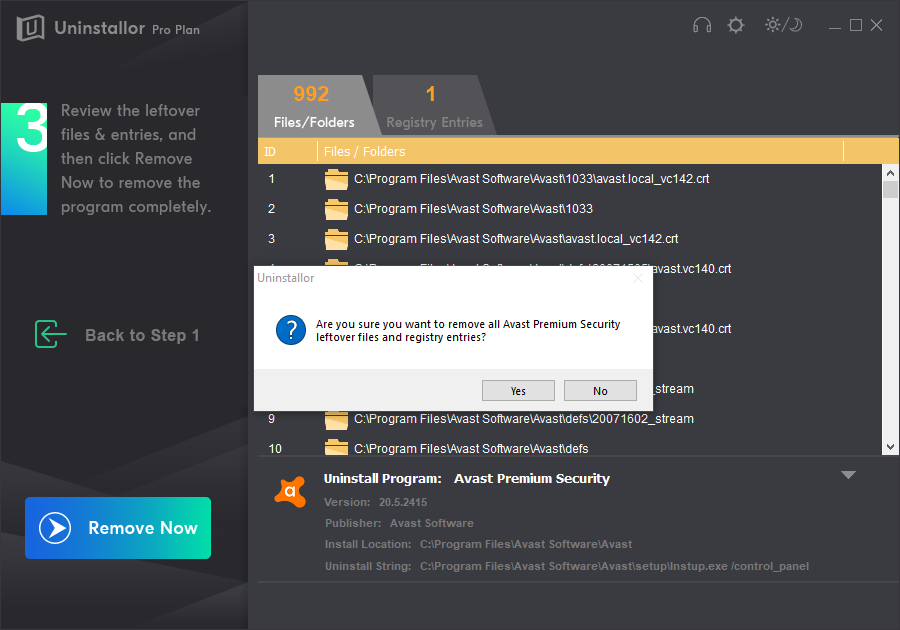 When it shows Uninstall Completed, then Avast Premium Security is completely uninstalled.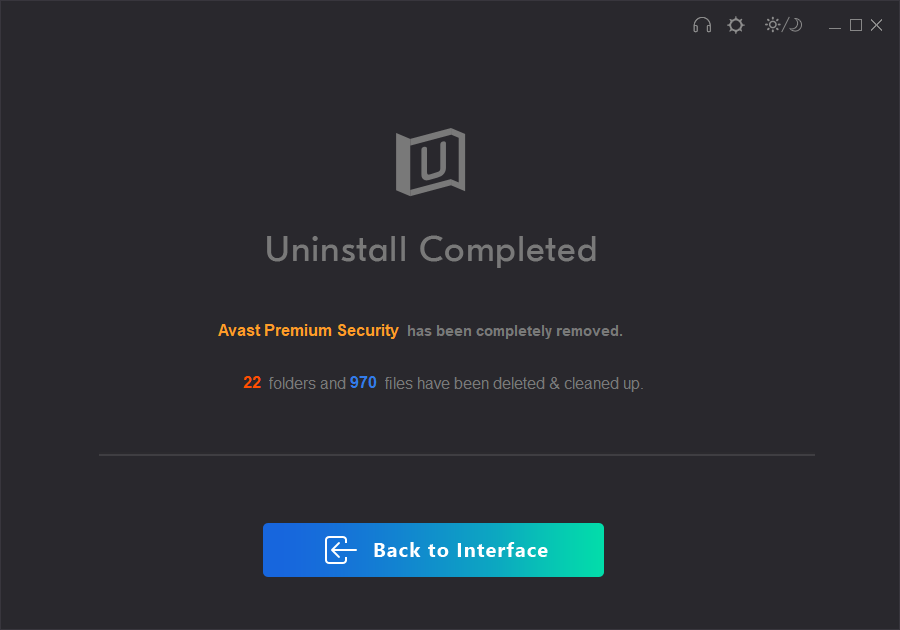 Warm Prompt
There are manual and automatic solutions available our readers to uninstall Avast Premium Security completely from Windows 10. You can select the one that is fit for you. If you are not good at computer, We suggest you use a professional uninstaller named Uninstallor, which will be able to help you clean all files and leftovers. With few clicks, you can uninstall stubborn, problematic and unwanted software without any problem.
Published by & last updated on July 28, 2020 6:19 am