Can not uninstall Adobe Photoshop 2020 from your computer in Windows 10? How do i remove this program completely without any errors? I need to have all Photoshop 2020 uninstalled so that I can do a clean install of the program. I ran some programs and then tried to install Photoshop 2020 and it still does not work properly. I need everything removed for a clean install. Is there a great removal tool to do all things for me?
Adobe Photoshop 2020 Review
Keeping the memory of someone or someplace is the desire of everyone. Keeping these memories in the form of videos or photos is very common to all. Sometimes we want to get our memorable pic but due to some unknown reasons, the pics don't seem to be good enough. Photoshop is one of the leading software which can remove the bad effect in those images almost perfectly. This year in 2020, it launched its updated version. Let's know what are some good and bad things in this updated version.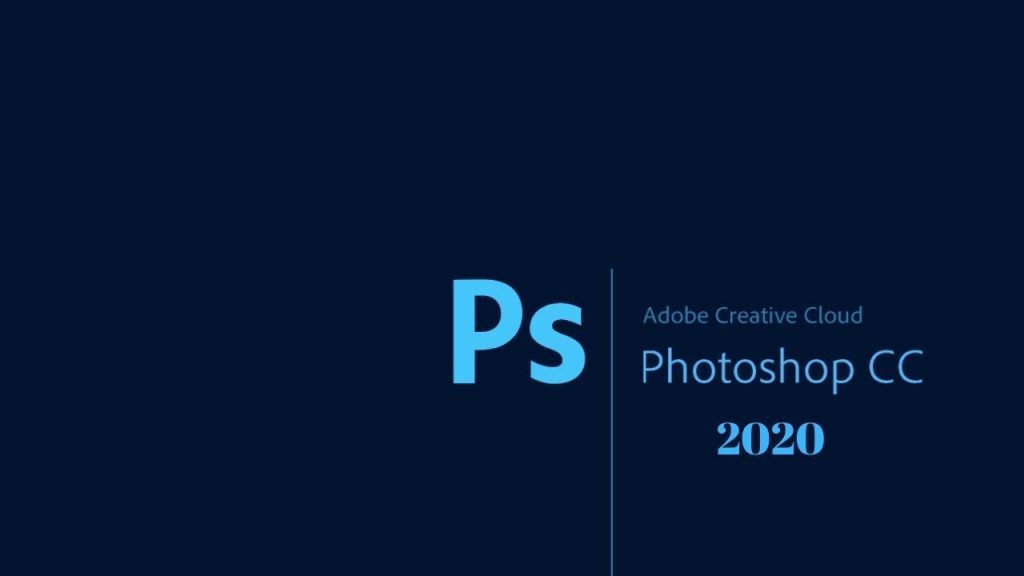 Advantages of Adobe Photoshop 2020
Adobe Photoshop is one of the best kinds of editing photos and enhancing its values since long ago. Time to time it has been changing itself for giving more features and greater experiences to the users while using it for various purposes. It recently launched its latest version of photoshop that is the photoshop 2020 element. There are many new features which can be seen in it's latest version. Let's know some of them to make sure if you still decide to uninstall Adobe Photoshop 2020 from your computer in Windows 10 or Macbook. The subject selection tool is one of the best features in the 2020 edition of photoshop. Due to the availability of this feature the user has got great comfort in selecting the object. With the help of this subject selection tool, one can select any special object from any image having more than one object. This tool has been given the position in the toolbox wherefrom it can be easily picked and used. The subject selection tool can be used using different modes of tool selection. In one mode you get the choice to select the object while using the rectangular boxes. This tool is beneficial for those objects which are very clearly separated from other objects with many gaps between them and the boundary of the object should be not more complex. In all other cases, you can easily go for the lasso tool for selecting any complex shape. Here also you get one more feature. While using the lasso tool and keeping the shift key pressed, your selection would take place in the form of any polygon which may be convenient in many other cases. The other great feature the latest edition of photoshop got is the automatic colorization. With the help of this feature, you can convert any black and white image into the colour one. Along with this, you can also enhance the strength of some specific colour of the image. So you don't need to worry about the time difference as with the help of this feature, you can give a colorful look to even those pictures which were shot at those times when there was no color camera. Object removal features are also one of the best features the photoshop got in its 2020 edition. Though it has been added in its latest addition, many of the people may wonder why it gets a late entry while it's being given already on many other photo editing applications. No worries!! At least we got it in this latest edition. With the help of it, you can remove any object from the image permanently and very clearly. Initially, when we were removing the objects from the background, the edges of separation were not very smooth. In this latest version of photoshop, you will not get this problem. In this version, even after removing the background, you will get a new image very clear and it will not look like that you have made any changes in it. Now if we talk about its logo, there is also one visible difference which can be noted by anyone. In the older version of the logo, the corners of the rectangle were pointed and the letters of Ps were also with the same blue color as of the rectangle. In the latest edition, the logo is mostly the same with few differences. The first difference is that the logo letter Ps got the white color instead of blue and the second change is that the corners of the rectangle are no more pointed instead it got rounded in the latest edition. Though the previous logo was not looking bad, the latest logo looks better than that. Now if we talk about its installation process, that is way easier and faster this time. Along with this, all the common features can be handled more easily in this edition, and the user interface has also been modified to give more comfort to the users. Along with this, there are many other features also in this version of photoshop.
Disadvantages
Though it got so many new benefits in the new edition, it could not remove some of its old problems. It's a very hard way of learning photoshop using this. It is still very complicated as it was before and that is the reason, we mentioned this as it's a disadvantage too here. The next disadvantage of it is its incompatibility for the users who need to edit so many pictures on a single day. With its so complicated procedure, you can not do all the editing on all the pictures in any batch rather than going for individual editing for all, most of the time. Now if we talk about the price of the latest version that is high just like the previous one. That time too it was one of its biggest drawbacks and this year too there is no drop in its pricing. Just like these, there are few minor problems in the latest version which can be avoided too and actually not a disadvantage for all.
Conclusion
Above we have discussed some of the very needed to know points in the updated version of Adobe Photoshop 2020. There are many good features which it got this year along with some problems which could not be fixed even in this version. Though some issues persist in the edition also, the latest edition can be easily said yes by the users who are working with it for quite a long time. For beginners, it can be also very handy to use this year leaving some special points. But if you wanna uninstall Adobe Photoshop 2020 completely to reinstall a new version and make the process to be successful, you can do it by following the guide below.
How to Completely Uninstall Adobe Photoshop 2020 from Windows 10?
Most users failed to uninstall Adobe Photoshop 2020 due to different reasons, here we offer both manual and automatic solution for the removal. You can use Windows add/remove feature to remove software and clean leftovers manually. If you are in a rush and need quick solution, you can use Uninstallor to help you do all things.
Option 1: Uninstall Adobe Photoshop 2020 Manually via Windows Add/Remove Feature
To remove this program completely, you need to use Windows add/remove feature to remove all the files, registry entries and various components for the products manually. Hence, there are two parts in this solution. You have to uninstall software first and then clear leftovers completely. There are three methods to uninstall the software at first part.
Part 1: Uninstall Software Manually
Method 1: Uninstall via Start Menu
Step 1: Press Windows key and look for Adobe Photoshop 2020 on the Start menu.
Step 2: Right click on Adobe Photoshop 2020 icon and select uninstall option. You will be redirect to the "uninstall or change program" window, click on uninstall.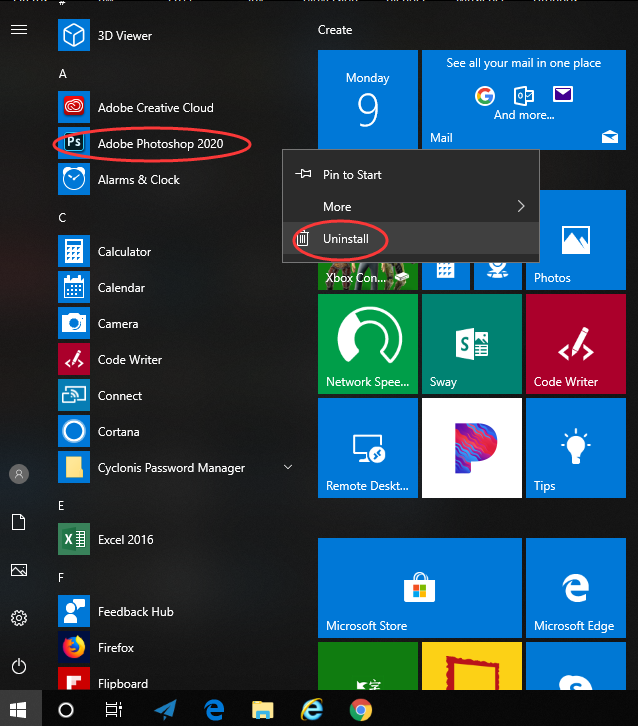 Method 2: Uninstall via Control Panel
Step 1: Type "control panel" in search box on taskbar. Click "control panel" on the popup list to open it.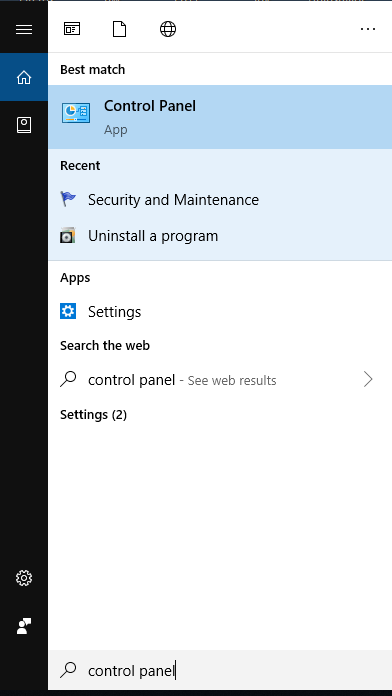 Step 2: Click "Uninstall a Program" under Program menu. It will open "Programs and Features."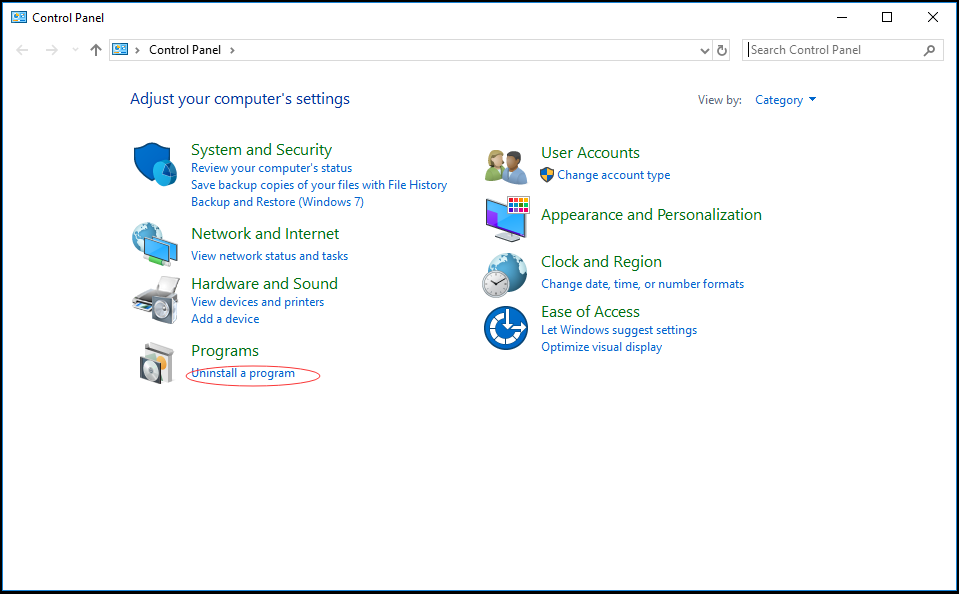 Step 3: Locate and select Adobe Photoshop 2020. Click Uninstall button on the top. If Uninstall button is not available, click Change button and follow the wizard to proceed. When it opens uninstall panel, click Next option to continue the Setup Wizard. Check if you can see Remove option during the Setup Wizard. Click Remove option, and mark all options to uninstall the software successfully.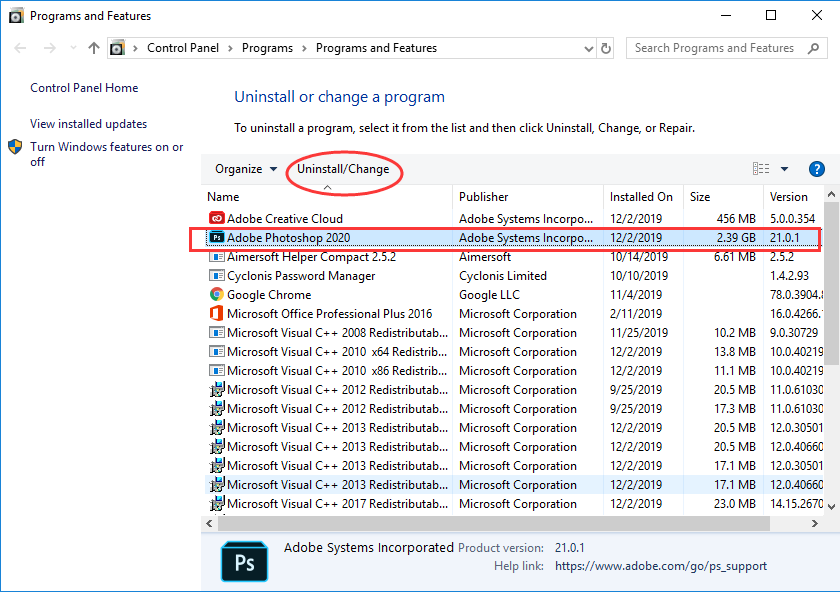 Method 3: Uninstall via Settings
Step 1: Click "Start" button at bottom left. At left side of the Start menu, click Settings icon which looks like a gear.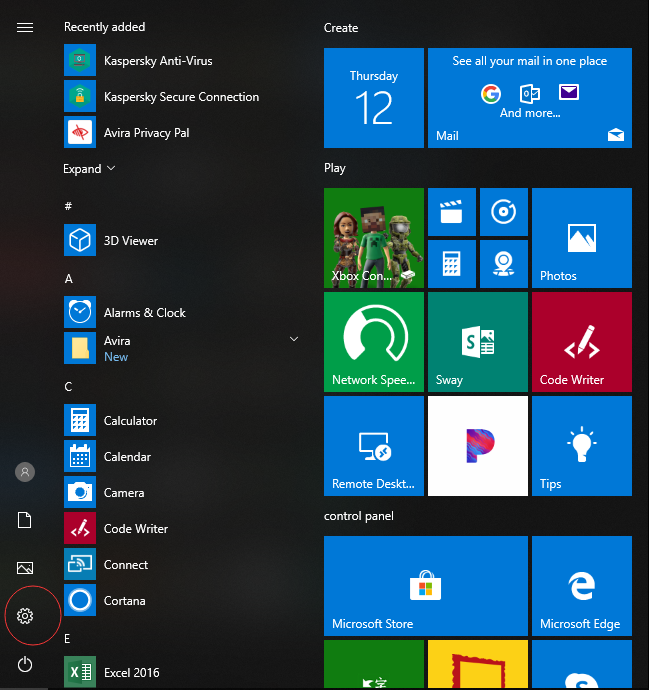 Step 2: On Windows Settings screen, click "App" menu. Next, select "Apps & Features" tab.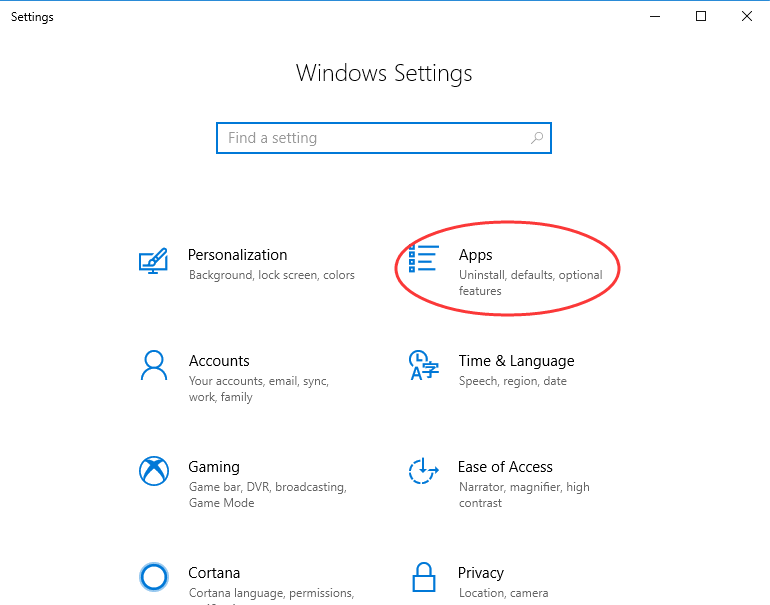 Step 3: Scroll down to select Adobe Photoshop 2020, and a menu with "Uninstall" and "Modify" will appear. Click Uninstall, and perform the removal with prompts.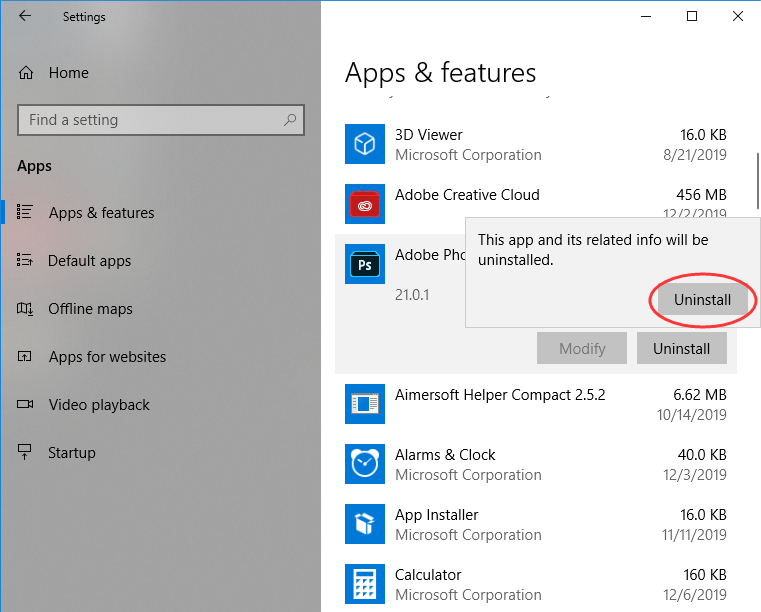 Part 2: Clean Adobe Photoshop 2020 Leftovers
When you uninstall Adobe Photoshop 2020, you only delete the executable files. For complete uninstallation, you will have to clear the invalid registry entries, services and app data manually. That not only lets you free up disk space used by Adobe Photoshop 2020, but also helps you avoid software conflict and other issues. Before making any registry modifications, we suggest you back up your registry data to avoid issues caused by wrong operations.
Firstly, press Windows +R keys. A dialog will appear.
Secondly, type "regedit" in the blank and click "OK" to open Registry Editor.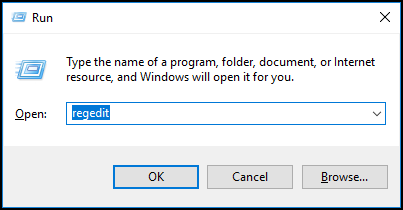 Thirdly, press "Ctrl" + "F" keys to open search box. Type Adobe Photoshop 2020 and search for results. Unfold the registry group to accurately locate its registry files. Right click on related files and folders, and click Delete option. Locate all invalid registry entries and delete them one by one.
HKEY_CLASSES_ROOT\Installer\Features\AE11A35A5900F39468AF1AE5A8684A50
HKEY_CLASSES_ROOT\Installer\Products\AE11A35A5900F39468AF1AE5A8684A50
HKEY_LOCAL_MACHINE\SOFTWARE\Classes\Installer\Features\AE11A35A5900F39468AF1AE5A8684A50
Lastly, click My Computer and select Tools tab. Click Folder options and select View tab. Choose Show hidden devices from the View menu. Click Apply, then OK and exit the window. Next, search for Adobe Photoshop 2020 on your hard disk. Remove all founded items.
C:\Program Files(X86)\xxx\
Option 2: Use Uninstallor to Uninstall Adobe Photoshop 2020 Automatically
If Adobe Photoshop 2020 still can not be uninstalled after trying all the manual methods above. You are suggest to use a third-party uninstaller. Uninstallor is a powerful utility which helps you uninstall Adobe Photoshop 2020 within two minutes. First, download and install Uninstallor on your PC.
Step 1. Launch Uninstallor and select the software or App you wanna uninstall, next click on "Analyze Now".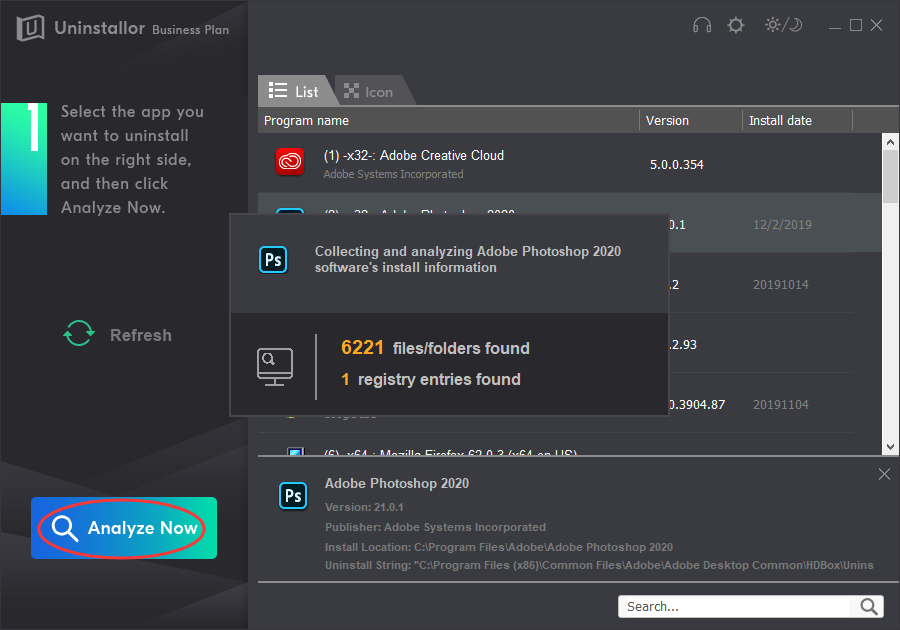 Step 2. Click "Uninstall Now" button, and the program will uninstall the software and locate leftovers for you automatically.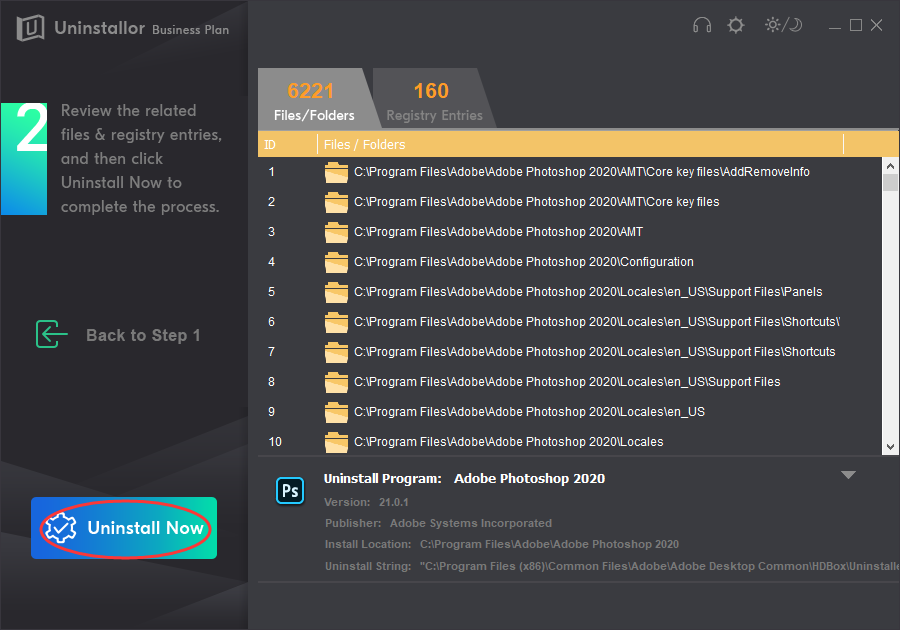 Step 3. Simply click "Remove Now" button to clean all associated files and folders.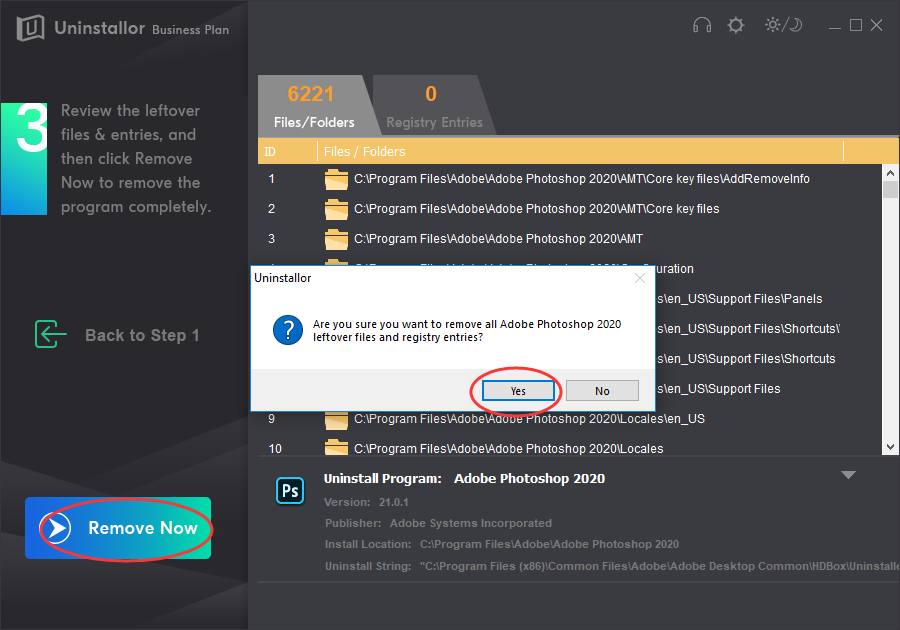 In this way, Adobe Photoshop 2020 is completely uninstalled.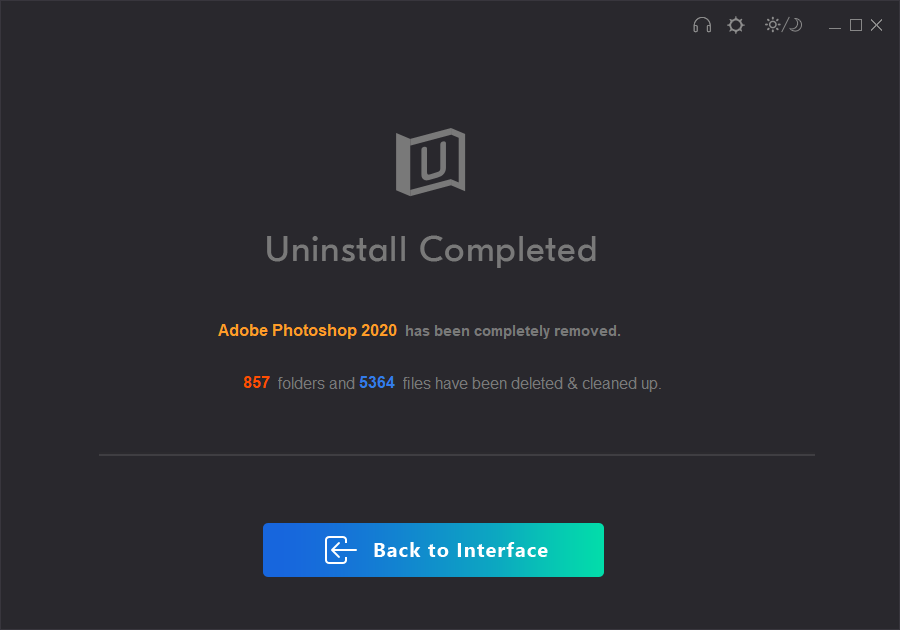 Warm Prompt
There are manual and automatic solutions for you to uninstall Adobe Photoshop 2020 completely from your Windows 10. You can select either manual solutions or automatic solutions. If you are not good at computer, the manual solution may not suit you. On one hand, it does not guarantee a successful and 100% removal. On the other hand, if you have some computer skills and patience to edit registry data, you can have a try. We suggest you use a professional uninstaller named Uninstallor, which is an excellent option because it includes software package, custom fix and remote support. With few clicks, you can uninstall stubborn, problematic and unwanted software without any problem.
Published by & last updated on July 22, 2020 2:29 pm