Hello. I would like to know how to uninstall KeepVid online video converter completely. This software did help me convert some videos, but I don't need it any longer and try to uninstall it. However, it won't uninstall and gives me some notifications instead. Please help. Any suggestion will be appreciated.
KeepVid Video Converter Review
What is KeepVid video converter? KeepVid video converter is a useful tool which helps you convert videos to a format you want. It allows you to upload and convert videos on KeepVid online video converter no matter how many times you need. To convert a video, you need to save it on your device and load it on KeepVid video converter. Many users choose this tool because it does not change the aspect ratio of the video. The frame rate won't be changed during the converting process. If the file you uploaded on KeepVid online video converter contains both video and audio, the converted file includes both video and audio.
If you refuse to spend so much time in converting the video, you can use its desktop video converter which provides you more stable and faster converting process to get the work done. It allows users to set Maximum converting task to change two for simultaneous conversion. KeepVid online video converter has clean and neat user interface, so users can convert the video to the format they need like MP4, MOV and AVI with easy clicks. This tool supports eight languages which are English, German, French, Portuguese, Spanish, Italian, Japanese and Arabic. When you install the software, you can choose any of the provided languages. This software has been chosen by a number of users. Of course, there are some users who don't like the service because of different reasons.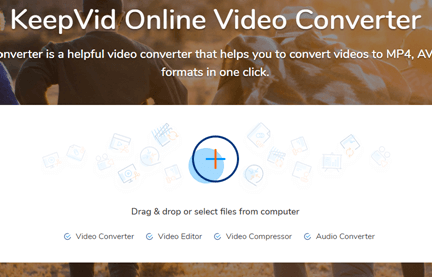 Have Problems with KeepVid Online Video Converter?
No matter how great a program it is, users can meet some problems with it. Users have problems with KeepVid Online Video Converter as well. Some users are not satisfied with the tool as it does not support the video they upload. The tool supports many formats while the format they need is missing. Some users try to convert a copyright-protected video, but they fail. It is because KeepVid online video converter doesn't convert any copyright-protected videos. Some users need to convert a large video, but KeepVid online video converter only allows users to convert a video with the size no larger than 100MB.
KeepVid online video converter can't convert videos on iOS devices, so iPhone or iPad users are not able to use this tool on their devices. It is because iOS devices do not allow users to upload videos on browsers. Some users are not satisfied with the converted video. When users try to convert 4K videos, they get videos with lower quality. Some of them are not able to find the converted videos the next day. After users convert the video, this tool provides you a download link which lets users download the converted video. However, the link is only available for 24 hours. After 24 hours, the link will be erased from the server. Many users installed the software themselves while some users don't know when they installed the software. It is because the software is downloaded and installed along with free software from unknown resource. Users don't feel comfortable with the software which is installed without their knowledge and permission. Due to one of those problems, many users decide to uninstall KeepVid online video converter and switch to another tool.

Try to Uninstall KeepVid Online Video Converter?
When users try to uninstall KeepVid online video converter, they get another problem. They are stopped by unknown errors and can't uninstall the software completely. Somehow, users can't find KeepVid online video converter in control panel, and they don't else they can use the Windows uninstall feature. Sometimes, some software may miss from the control panel, and make it difficult for users to uninstall them manually.
Sometimes, unknown errors pop up and end the uninstalling process unexpectedly. We will list some of the common messages that users may see during the process. Users may see "this software is in use and cannot be deleted." As the software keeps running at the background, the uninstalling can't proceed. "You don't have sufficient permission to uninstall this program" is commonly seen. Even though you are the administrator user, you still get this message. "This software has been corrupted and can't be uninstalled" is one of the common errors. If the software was corrupted or was not properly installed, your uninstallation may be stopped by this error.
Many users can uninstall the software smoothly, but they still see icon, components and files of KeepVid online video converter on the PC after the removal. Even worse, the software bounces back after they restart the PC. If you don't uninstall the software completely, you may fail to reinstall it when you need it again in the future. KeepVid online video converter leftovers also can cause application conflict issues, and some software can't be launched and displays a running error code unexpectedly on the PC. The invalid registry entries and other remnants will pile up and continue to occupy your hard disk space.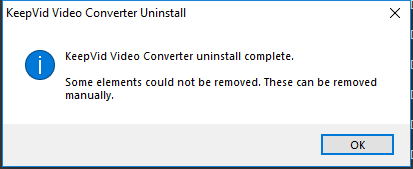 How to Uninstall KeepVid Online Video Converter Completely on Windows 10?
As a number of users require methods to uninstall KeepVid Online Video Converter, we provide both manual and automatic solutions. The step-by-step guides will help you go through the uninstalling process. If you have rich experience in dealing with computer issues and would like to do it yourself, the manual solution is a great option. If you prefer a more effective solution for all software you try to uninstall in the future, the automatic solution suits you.
Option 1: Manual Solution
There are two parts in manual solutions. On one hand, you need to uninstall the software. On the other hand, it is necessary to clear KeepVid online video converter leftovers to avoid software conflict issues and system slowdown problem. Removes all files created by KeepVid. To ensure you can uninstall the software successfully, we list three methods. Follow the below guide to proceed.
Part 1: Uninstall Software
Method 1: Uninstall from Start Menu
Step 1: click Windows icon at left bottom and look for KeepVid online video converter on the popup menu.
Step 2: right click KeepVid online video converter icon and select Uninstall option. It will take you to Windows uninstall feature.
Step 3: locate and select KeepVid online video converter. Click Uninstall button, and click Uninstall again when it confirms if you are sure to uninstall the software.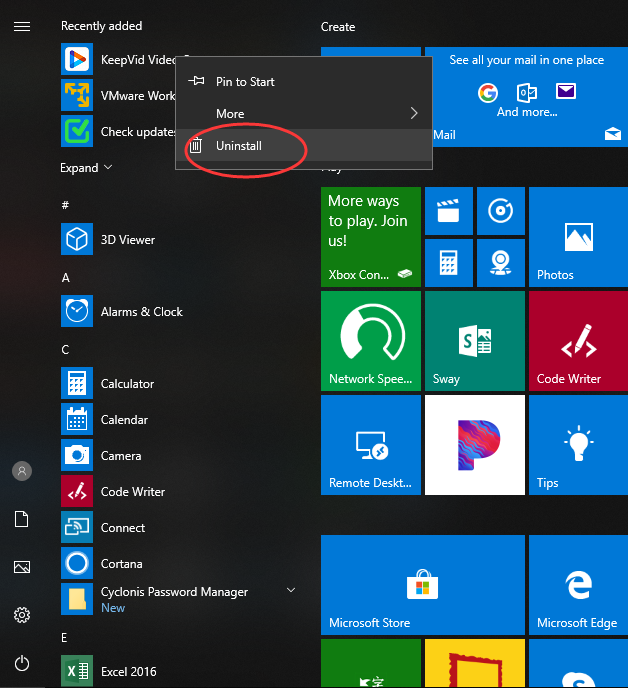 Method 2: Uninstall from Settings
Step 1: press Windows key on keyboard, and click Settings icon on Start menu.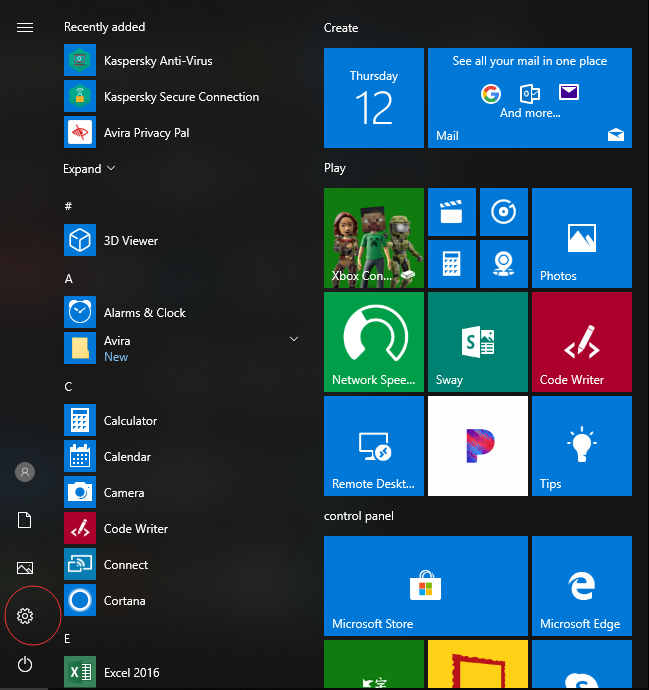 Step 2: on next window, click App, and select App & features in the left column.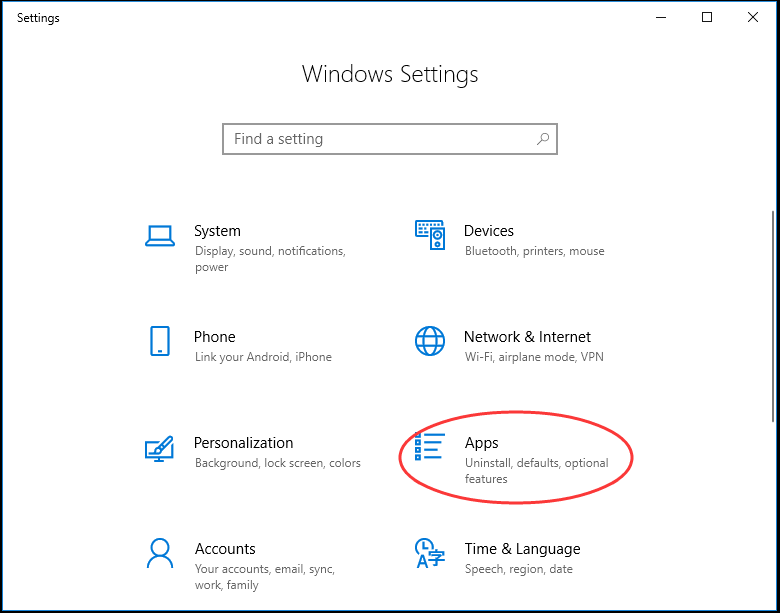 Step 3: look for KeepVid online video converter. When you select it, you will see a menu with uninstall and modify options. Confirm by clicking Uninstall button in opened window if necessary.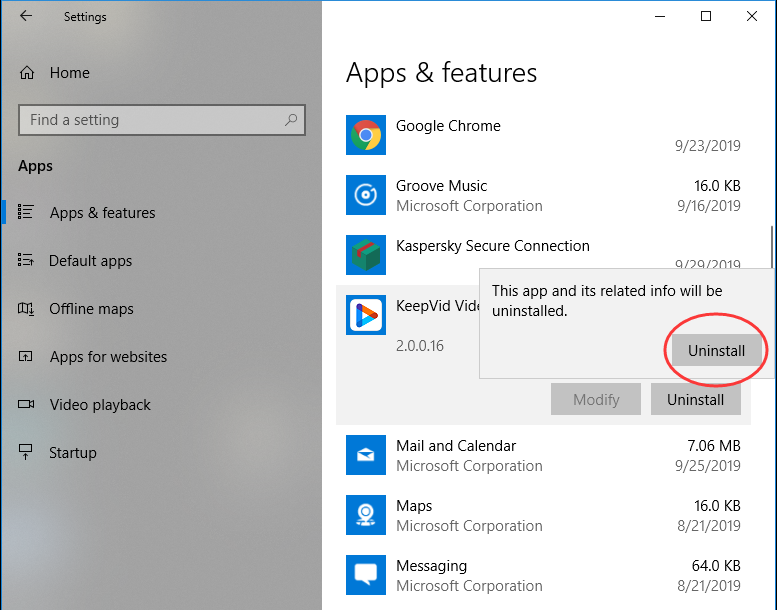 Method 3: Uninstall from Control Panel
Step 1: open search box on taskbar, and type in "control panel". Open control panel when its app pop up.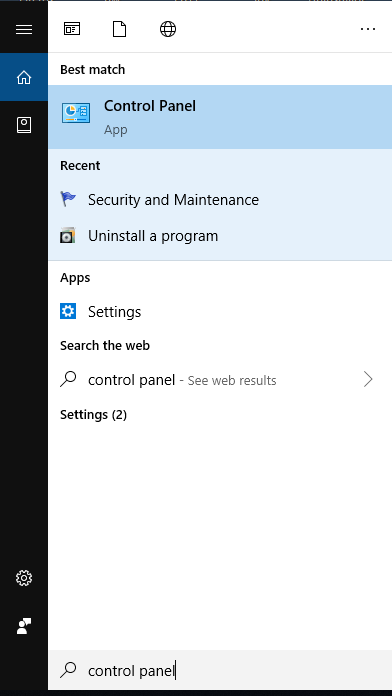 Step 2: click "Uninstall a Program" under Program menu.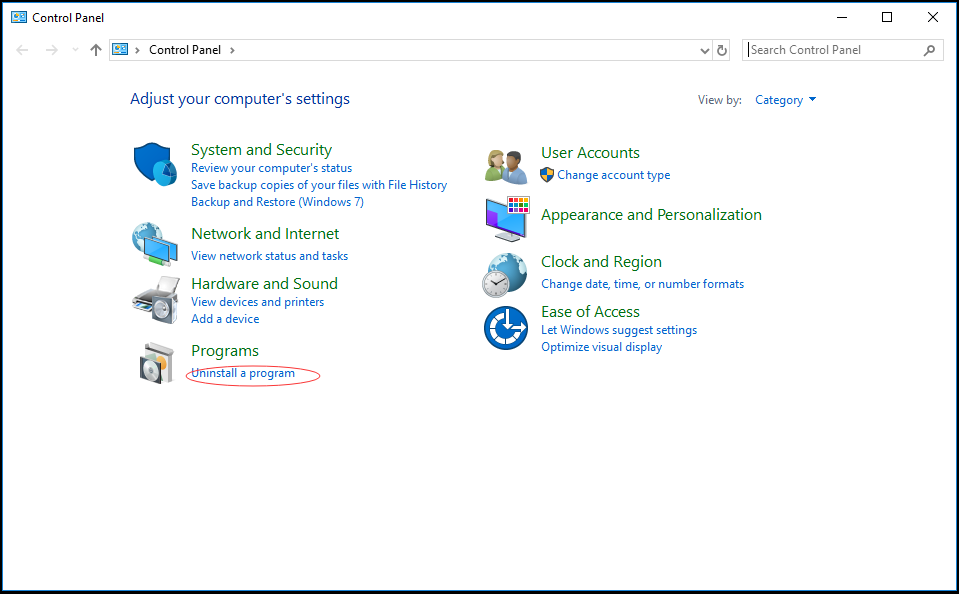 Step 3: select KeepVid online video converter, and click uninstall button at the top. Confirm and finish the uninstalling.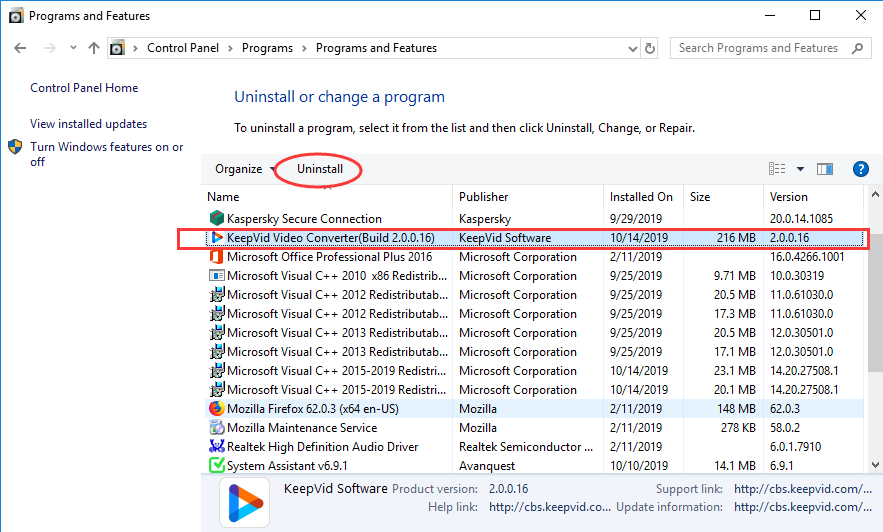 Part 2: Remove KeepVid Online Video Converter Leftovers Manually
KeepVid online video converter is not completely deleted yet. When you uninstall the software, you only remove the executable files. There still are app data, registry entries and information of this program on the PC. Therefore, you need to locate and remove all of them manually. Before you start, we suggest you back up Registry Data to avoid data loss and operation mistakes. In case you remove the wrong files, you can recover immediately.
Firstly, press Windows + R keys at the same time to open Run dialog.
Secondly, in the blank, type in "regedit" and click OK option to open Registry Editor.
Thirdly, press Ctrl + F key to open search dialog. Type "KeepVid" and hit Enter key to search for all related files. Identify the matched files and folders in the results. Remove them one by one.
Lastly, use "KeepVid" keyword to search for app data and other files on your hard disk. Clear all remnants. Now, KeepVid online video converter is completely removed from your PC.
Option 2: Automatic Solution
If you think manual solution is risk-taking and low-efficient, you can use Uninstallor which is an advanced uninstaller. Instead of deleting the application and cleaning all the files manually in different locations on the PC, this professional uninstaller will help you uninstall the software and clean all remnants with few clicks. Uninstallor comes with a small size, and can be downloaded and installed quickly. It is able to uninstall unneeded, problematic, stubborn and malicious software without leaving any remnant on the PC. As it does not require special computer knowledge to use, beginners can use this uninstaller to uninstall software without any problem. Learn how to use Uninstallor to remove KeepVid Online Video Converter in a hassle-free way below.
Firstly, download and install Uninstallor on your PC. This can be done within two minutes.
Secondly, run Uninstallor. After it loads all software you installed on the PC, search for KeepVid Online Video Converter and click "Analyze Now" button at the left side.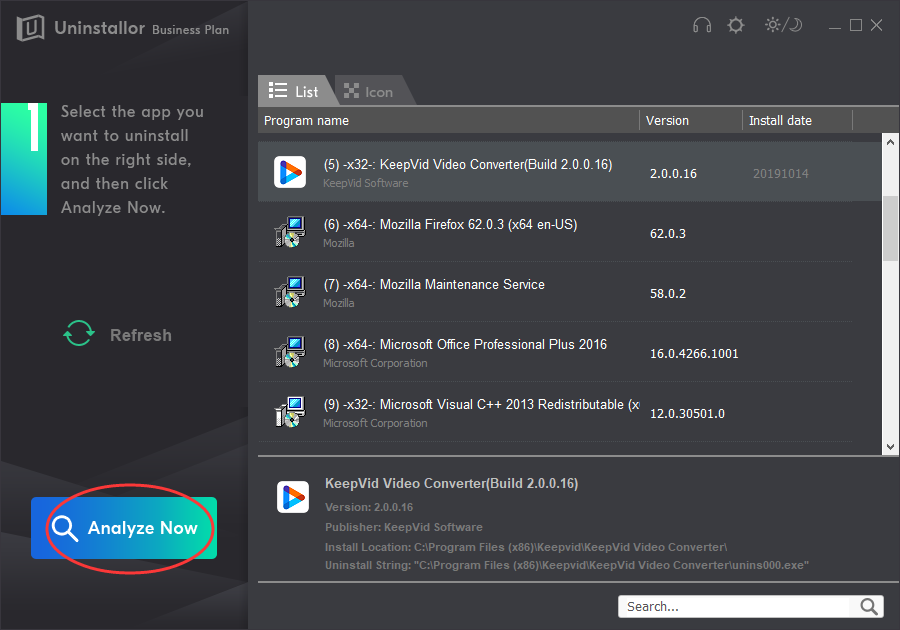 Thirdly, click "Uninstall Now" button when it lists detail of the software, and then click "Yes" in pop-up dialog to uninstall. It will locate and displays leftovers for you.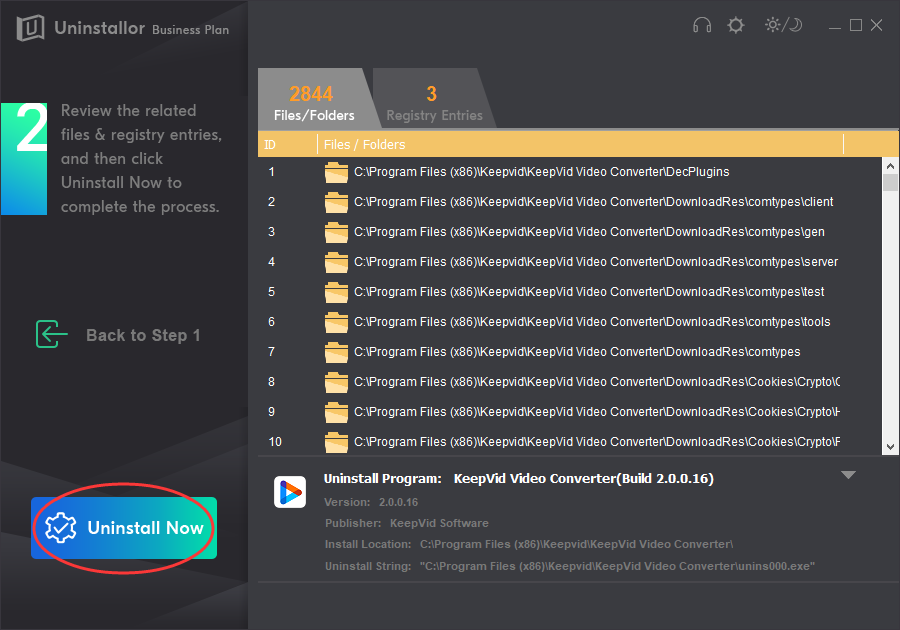 Fourthly, click "Remove Now" button to clear all leftovers automatically. Click "Yes" to confirm the task. KeepVid Online Video Converter is completely uninstalled.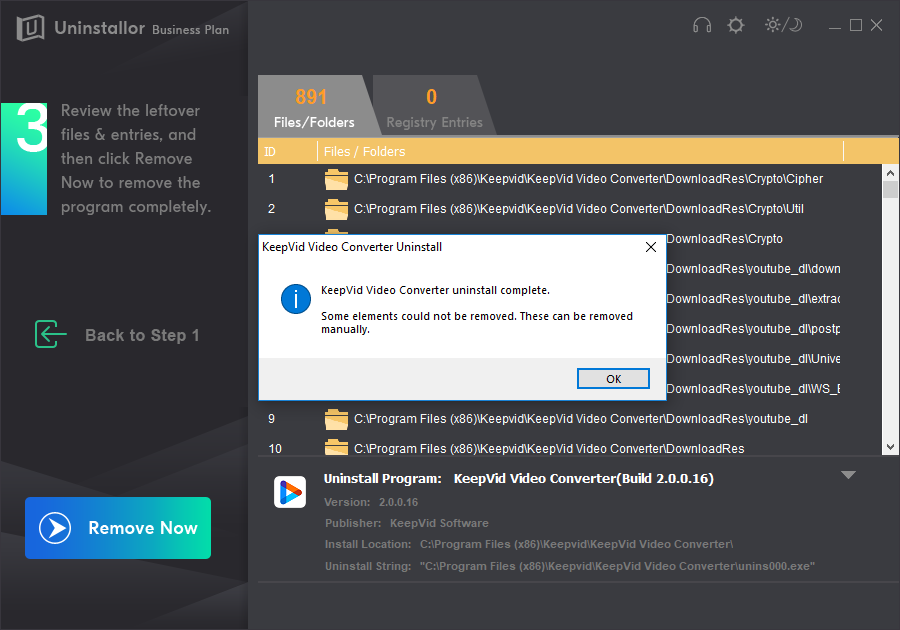 Video Guides to Uninstall KeepVid Online Video Converter
Conclusion
Incomplete and unsuccessful uninstallation often happens when you try to uninstall an application on PC. Still struggling with incomplete or unsuccessful KeepVid Online Video Converter removal? Simply follow our guides to proceed. Both manual and automatic solutions work. If you master at computer and would like to spend some time to finish the task, the manual solution is good for you. Remember to clear software leftovers completely after you use Windows default uninstaller to remove the software. If you are not sure how you can get started correctly, you can use a third party uninstaller or contact computer experts for help. Uninstallor is recommended because of its powerful features and ease of use. It has the capability to uninstall various kinds of bloatware, stubborn software, bundled software, adware and plugin etc. The software has clean user interface and is very easy to use. If you are Uninstallor user, you can require a custom fix and contact their support team for remote support. That will ensure you are able to uninstall any software you installed on the PC. Don't waste your precious time in endless trying. Get Uninstallor, and you will be able to uninstall unwanted software easily and effectively.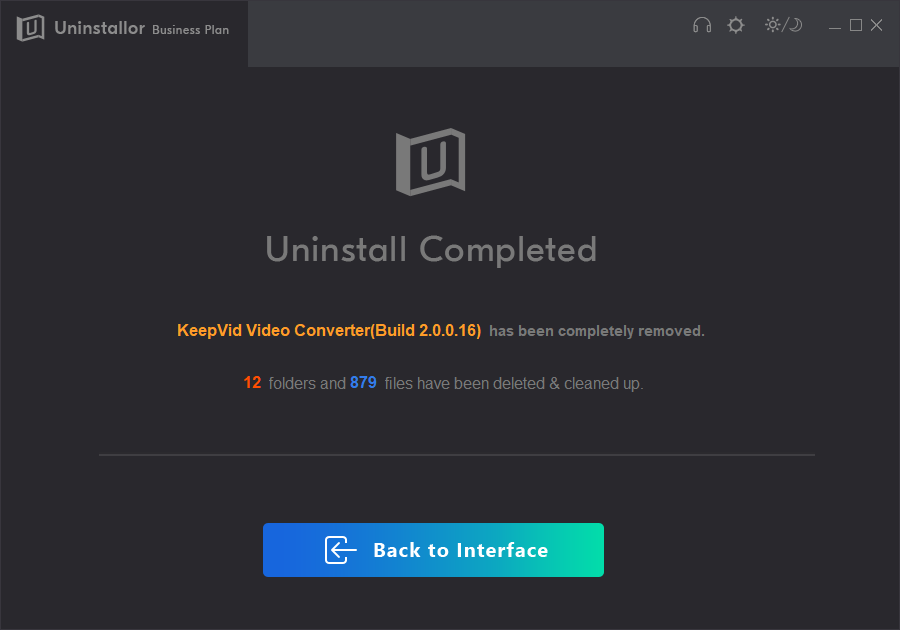 Published by & last updated on January 8, 2020 4:13 am