How do you guys uninstall IObit Malware Fighter? I tried many ways I know, but all ended with error. Using Windows 10, I planned to delete this software manually, but things do not go well. It is not as easy as when I uninstalled Facebook. Somehow it showed me errors all the time. I am so frustrated. Would you please tell me how to get rid of IObit Malware Fighter completely?
What is IObit Malware Fighter?
IObit Malware Fighter is an advanced security & privacy solution which protects users against various kinds of threats like virus, ransomware, spyware, worms and adware etc. This service has a huge anti-malware database, keeping users safe from both the new and old malware. It lets users store passwords and other important data in a safe box, highly protecting users' privacy. There is a useful anti-ransomware engine which enables users to get a fast and comprehensive scan of the PC system. It also protects users' data from ransomware effectively.
IObit Malware Fighter solution includes browser protection, helping users stay away from phishing sites, prevent malicious programs from altering users' browser settings, and block annoying ads, tracking cookies and other unwanted programs when browsing. It erases tracking cookies when user closes browser application, preventing others from tracking and collecting user's online privacy. There is DNS protection as well. It boosts up the manual DNS server set for extra layer of protection. After users install malware removal utility, they will be protected by startup guard and camera guard. The startup guard detects and stops malicious process running in RAM. The camera guard blocks unauthorized access and prevents snoopers. The new MBR guard protects users against goldeneye threats. IObit Malware Fighter works silently in the background without affecting PC performance. It has a clean user interface with a scan, protect update and action center feature. The provider offers apps for all Windows system versions, so users can protect their PCs for free.
Have Problems with IObit Malware Fighter?
IObit Malware Fighter has been highly praised and used by a large number of users. Of course, there are users who don't like the service. Some users install it as it is advertised as free. The software worked greatly until they found out that the software is not compatible with their favorite software. The users report that they run into many problems after installing the software. In fact, there is no a perfect product that you never have a problem with it. Users still choose to use it as long as the issues are fixable. Some users may choose to uninstall it.
Users report that IObit Malware Fighter occasionally fail to work properly. Sometimes the full scan mode crashes, and it does not respond to command. Sometimes it fails to detect and prevent some unknown malware. Some users think the software takes too much space on the hard disk and slows down the PC. Some users can't install new antivirus like Kaspersky due to software conflicts. When users play video game, their PC crashes to the Blue Screen of Death and then restarts. In the end, they find out it is the IObit Malware Fighter that cause the problem. To install more software and use their favorite software properly, some users decide to uninstall IObit Malware Fighter.
Fail to Uninstall IObit Malware Fighter from Windows 10?
Do you receive strange errors when uninstalling IObit Malware Fighter? Do you fail to install the updated version or other software after uninstalling IObit Malware Fighter? Do you see leftovers after you remove IObit Malware Fighter? We have received many tech support requests on uninstalling antivirus software from users. According to the request, many users don't know how to remove the antivirus software completely. They got different problems during the process.
Some users say they does not find IObit Malware Fighter in the program list of Add/Remove Programs. When user installs a piece of software on the PC, the software will be added to the app list. If they can't find the app, they can't uninstall the software via the standard removal method. Some users tell they don't have sufficient permission to uninstall the software though they are the administrator users. Some users see weird errors that they don't understand. Users will not be able to uninstall IObit Malware Fighter when the file required to uninstall this software is corrupted or missing. Some users did see error like "The program is corrupted and can't be uninstalled."
Some users can finish the uninstalling while there are remnants left over in the registry and hard drive. If users still see associated files and components of IObit Malware Fighter on hard disk, that means the program is not completely uninstalled. Those leftovers will slow down your computer and stuff your system with invalid files. Though the executive file is no longer on the PC, the leftovers still stop users from installing software that is not compatible with IObit Malware Fighter. That is a real headache. Some users try to clean leftovers manually, but they delete the .dll, .sys or other files shared with other software. The remnants are cleared while other software do not work since then. It is important to delete IObit Malware Fighter in a proper way.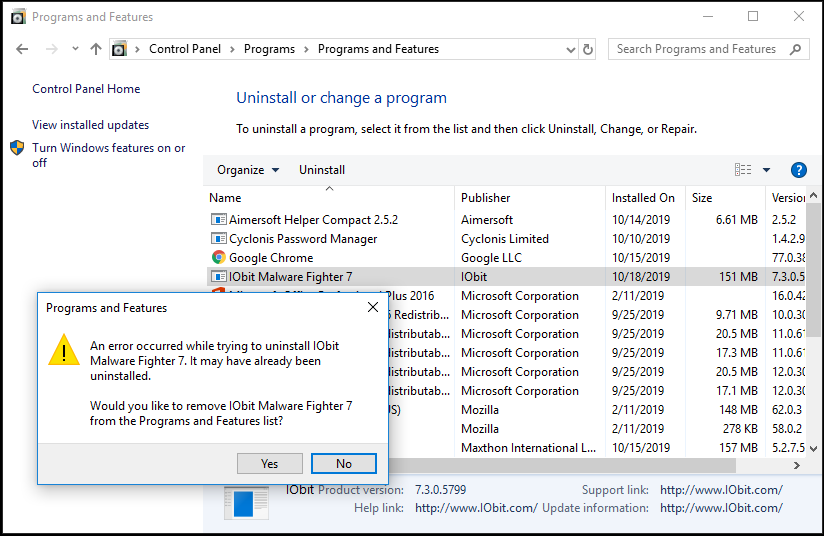 How to Uninstall IObit Malware Fighter Completely?
Do you have one of those problem when uninstalling IObit Malware Fighter? Have no idea what to do next? Follow our guide to proceed. As users' requests, we provide step-by-step guides to uninstall the software. There are both manual and auto solutions. The manual solution requires certain computer skills to remove leftovers completely. You should deal with it cautiously. If you prefer a third party uninstaller for auto removal, you only click few buttons by simply following the wizard. Based on your need, you can choose any of the solutions.
Solution A: Uninstall IObit Malware Fighter Manually
Many users who are good at computers choose manual solution. There are some steps to follow. We will explain them in detail.
Method 1: Uninstall from Start Menu.
Step 1: click Windows icon at left bottom to open Start menu.
Step 2: scroll down the list and look for IObit Malware Fighter. Right click the icon. Click Uninstall option.
Step 3: it will take you to Windows add/remove feature. Look for IObit Malware Fighter and click Uninstall button from the top. Click Yes when it asks if you are sure to uninstall the software.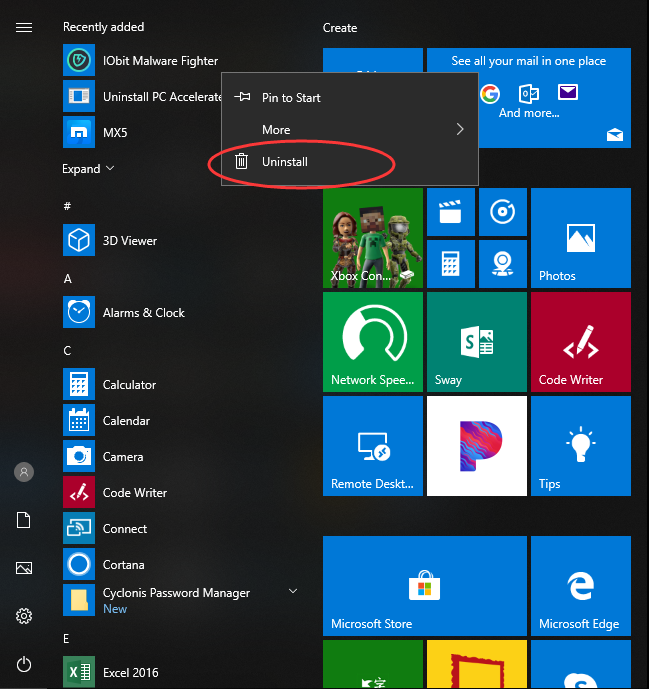 Method 2: Uninstall from Settings.
As some users report that they can't find IObit Malware Fighter on the Start menu, we provide
multiple methods to proceed.
Step 1: click Windows icon to open Start menu. Click Settings icon at left side which looks like a gear.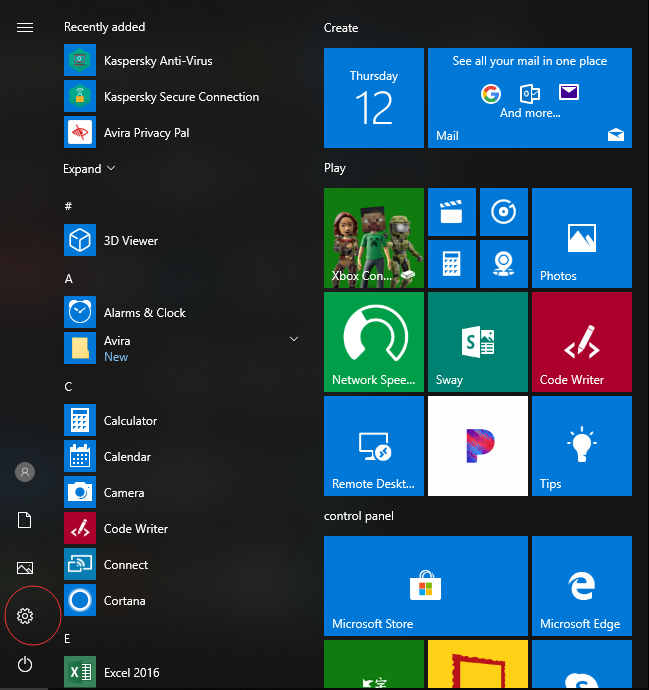 Step 2: click Apps option when it open Settings window. Choose Apps & Features.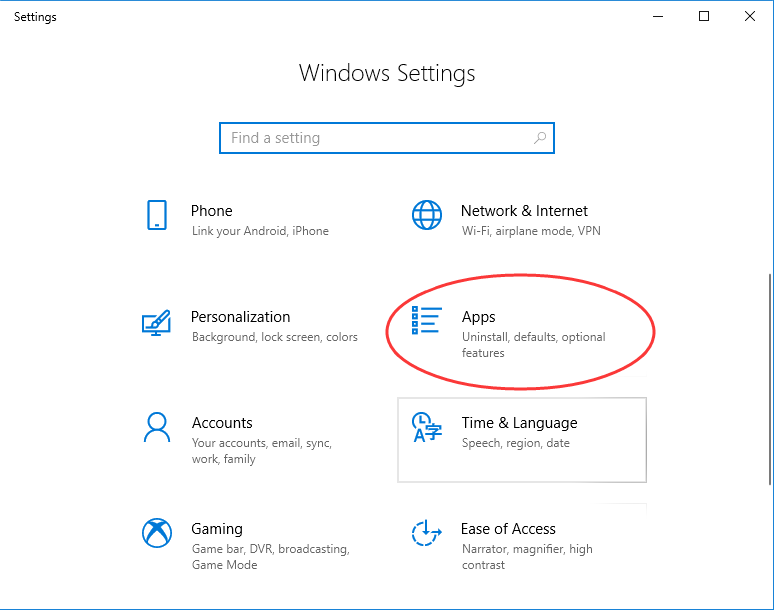 Step 3: look for IObit Malware Fighter. Select Uninstall when the menu pops up. Click Yes to confirm the uninstalling.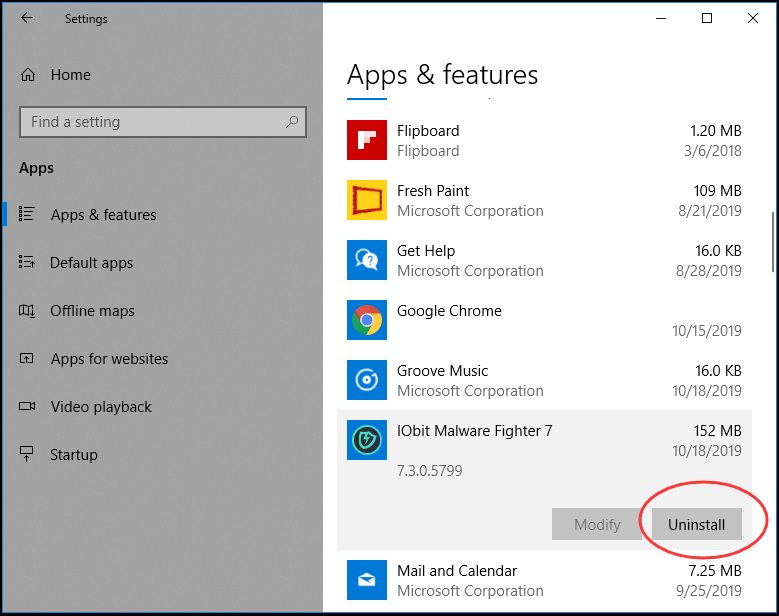 Method 3: Uninstall from Control Panel.
Step 1: click search box on taskbar and type in "control panel". Click control panel when it pops up at the top list.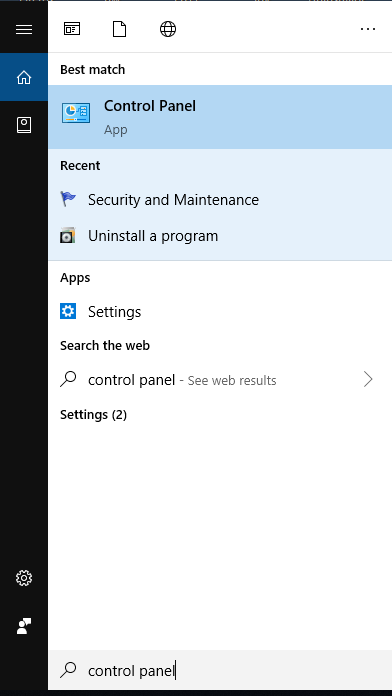 Step 2: click Uninstall a Program under Program option on the control panel screen.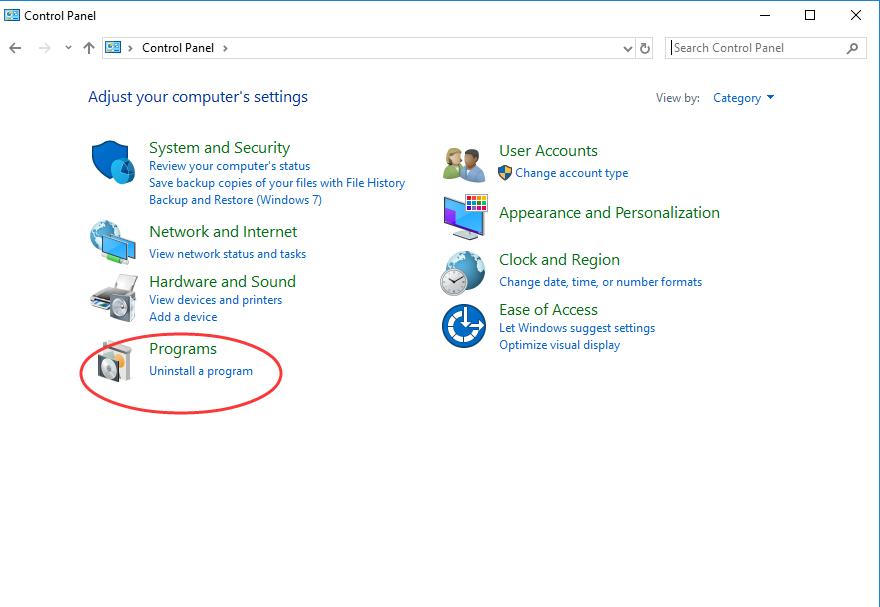 Step 3: locate and select IObit Malware Fighter. Click Uninstall and confirm the command by clicking Yes on the popup dialog.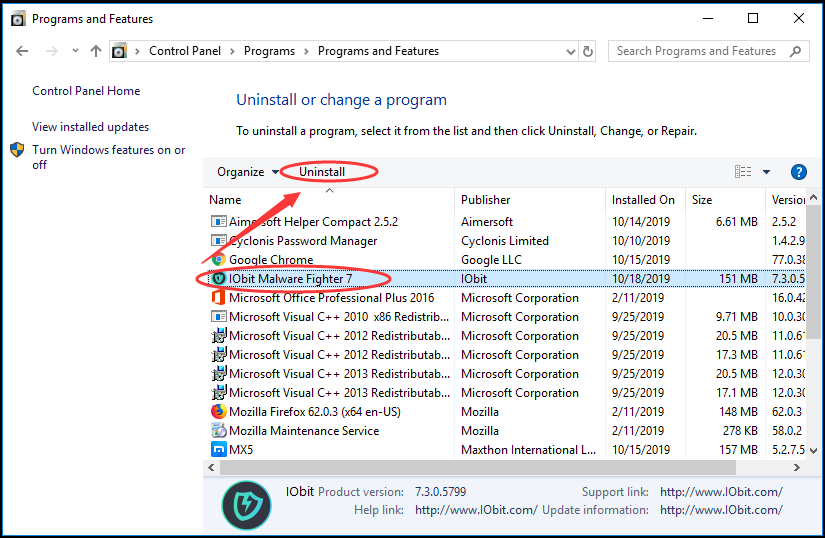 Guides to Clear IObit Malware Fighter Leftovers Manually
Uninstalling IObit Malware Fighter seems to be easy, but simply removal is not enough. The Windows Remove/Add Feature only uninstalls the main executable files of the program. There are leftovers that still exist on the PC. The invalid files and folders in the registry affect your computer performance in a bad way. Here is the guide to clean leftovers completely.
Firstly, press Windows button + R key to open Run dialog.
Secondly, type in "regedit". Then click on the OK button.
Thirdly, click Edit and select Find. Type the key words IObit Malware Fighter to search all registry files.
Fourthly, expand the registry branch, find out and delete the registry leftovers of IObit Malware Fighter. Below is part of the leftovers.
HKEY_CLASSES_ROOT\*\shellex\ContextMenuHandlers\IObit Malware Fighter
HKEY_CLASSES_ROOT\//\//\IObit Cloud Anti-Malwre
HKEY_LOCAL_MACHINE\SOFTWARE\IObit
HKEY_LOCAL_MACHINE\SOFTWARE\IObit\IObit Malware Fighter
Note: this process requires some computer skill. To avoid losing important data, you are suggested to back up registry data before you start to clean leftover in registry editor. From the Registry Editor menu, choose File and then Export files to a location you can remember. If you deleted the wrong files, you can restore instantly.
Besides, you need to clear app data. By default, the PC does not display some files. To located all leftovers, you need to show hidden files. Open control panel, and double click on the files and folder options. Click the View tab and check "Show hidden files, folders and drives". Next, uncheck "Hide protected operating system files." Then click Ok button. Finally, you can search for files and folders associated with IObit Malware Fighter to delete them completely.
Solution B: Uninstall IObit Malware Fighter by Using Uninstallor
If you think manual removal is too complicated, you can use a third party uninstaller to uninstall IObit Malware Fighter automatically. Simply install the uninstaller and follow the wizard to uninstall any software you don't need. There is no need to worry that you will delete the wrong files or leave useless files on the hard drive. That will save your much time and frustration. Uninstallor is very easy to install and use. It takes less than one minute to install the software. The software includes uninstall wizard, so you will be able to uninstall IObit Malware Fighter without any problem.
Firstly, install and run Uninstallor. It will load a list of software you installed on the PC when you open it.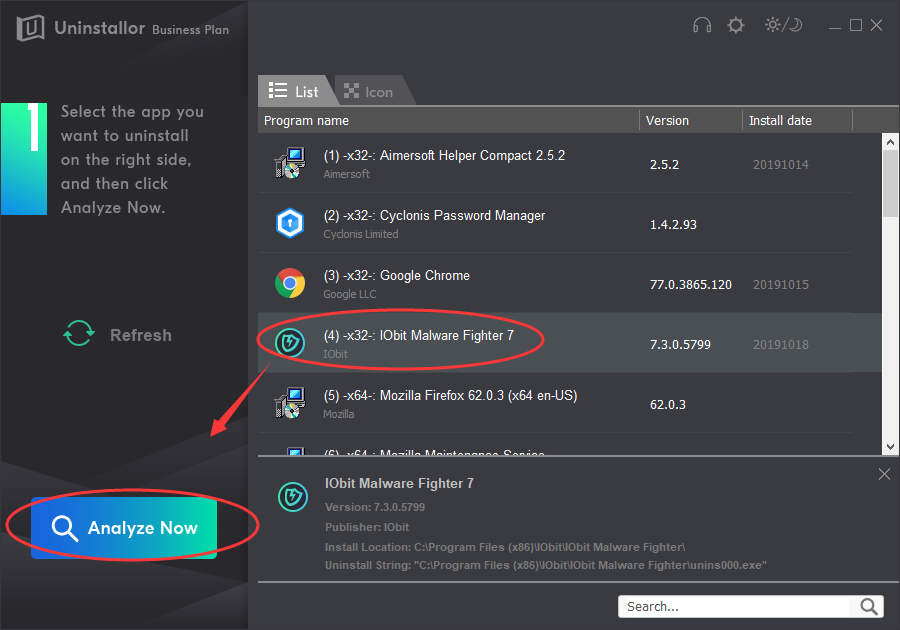 Secondly, use search box to locate IObit Malware Fighter quickly. Select it and click Analyze Now button.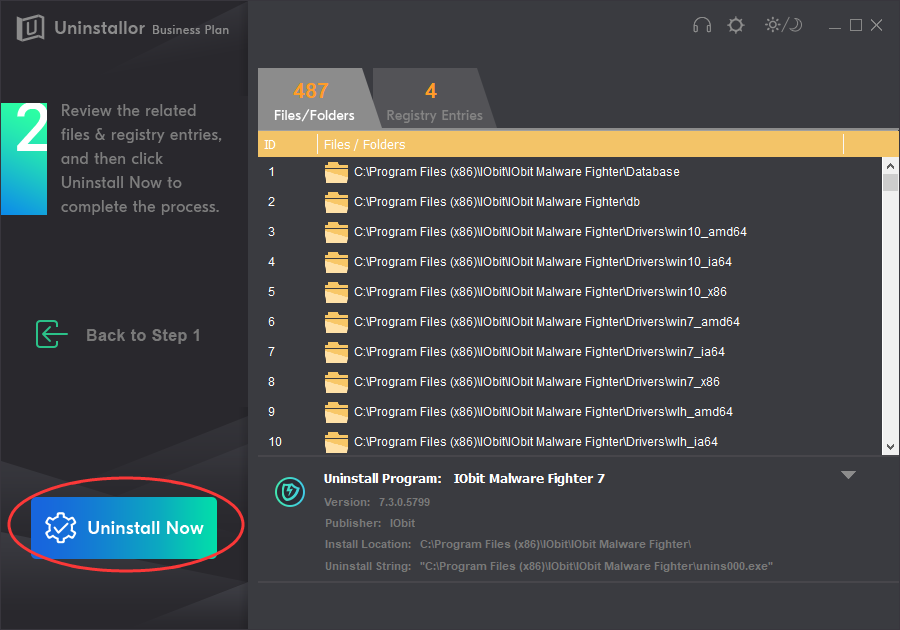 Thirdly, click Uninstall Now button when it finishes analyzing software. Click Yes to continue the removal when a dialog pops up asking if you are sure to uninstall the software, and then check all three options for complete removal. It searches for leftovers automatically after it uninstalls the software.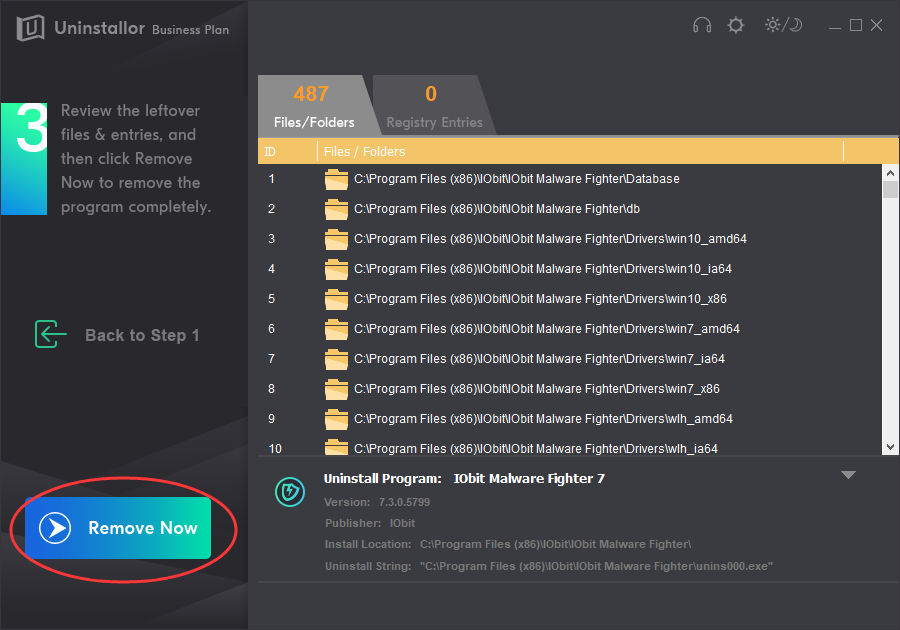 Fourthly, click Remove Now button to clear all leftovers with one click. It's done. IObit Malware Fighter is completely deleted.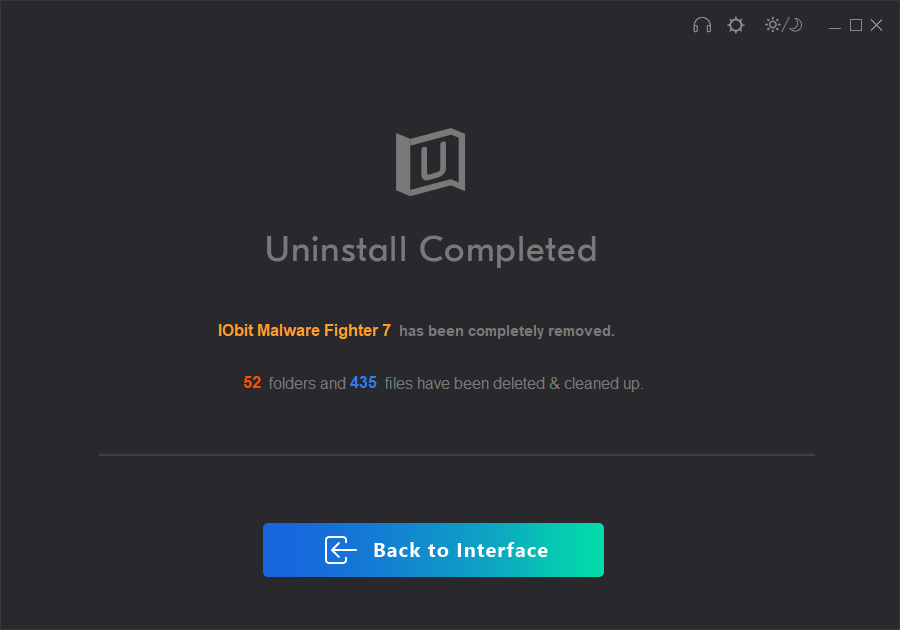 Video Guides to Uninstall IObit Malware Fighter
Conclusion (How to Uninstall IObit Malware Fighter)
No matter you choose manual or automatic solution mentioned above, you will be able to uninstall IObit Malware Fighter successfully by following the guide. If you are not good at computer and would like to save time, you can try Uninstallor. Uninstallor helps you uninstall IObit Malware Fighter, and completely remove all of its files and free up your hard disk space. If you have other stubborn software to uninstall, Uninstallor will help you uninstall them all. The service also includes custom solution and remote tech support. If you have any problem, simply contact the service for help. Get Uninstallor to get rid of IObit Malware Fighter completely now.
Published by & last updated on January 8, 2020 3:47 am