Hello. I need your help. Here is the thing. I tried to uninstall Emsisoft Anti-Malware for many times, but it was not getting any progress. I clicked the uninstall button, but it just got stuck and ended with nothing. The second time I tried, I saw Messages file *C:/Program Files/Emsisoft Anti-malware/unins000.msg* is missing. Please correct the problem or obtain a new copy of the program. The third time, the process started but got stuck with no reaction again. So, I decided to reboot the PC. It is weird that Emsisoft Anti-Malware is no long listed among the installed programs after I rebooted the PC. I still saw shortcut and files there. My friend suggested me reinstall the software, and then remove it completely. I did, but it told that there's a version already installed. I don't know which step I did it wrong. How can I remove Emsisoft Anti-Malware completely? Any help or advice would be appreciated.
What is Emsisoft Anti-Malware?
Emsisoft Anti-Malware is a useful anti-malware program, developed by Austria-based Emsisoft GmbH. It protects users' PCs from various kinds of Internet threats, including viruses, spyware, Ransomware, Trojans, bots, adware and worms etc. It also blocks suspicious activities that are performed without your knowledge, like keylogging, changing Web browser settings, and the installation of software. This anti-malware has two scanners. According to the provider, two scanners scan quicker and detect more threats with efficient combination of technologies.
Emsisoft Anti-Malware package includes useful features like Surf Protection, Real-time File Guard and Behavior Blocker. Surf Protection blocks fraudulent and dangerous websites, so you won't be scammed or download virus without your knowledge. The Real-time File Guard scans for various types of malware in real-time and guards your files from Ransomware. The Behavior Blocker scans and monitors all running applications with the live cloud-verification to catch and stop zero-day threats timely. Besides, the Anti-Ransomware stops ransomware before the files are encrypted. Emsisoft Anti-Malware software can be configured to do what you need, so you will be able to control the PC in the way you like. It is easy to use the software to scan and detect malware.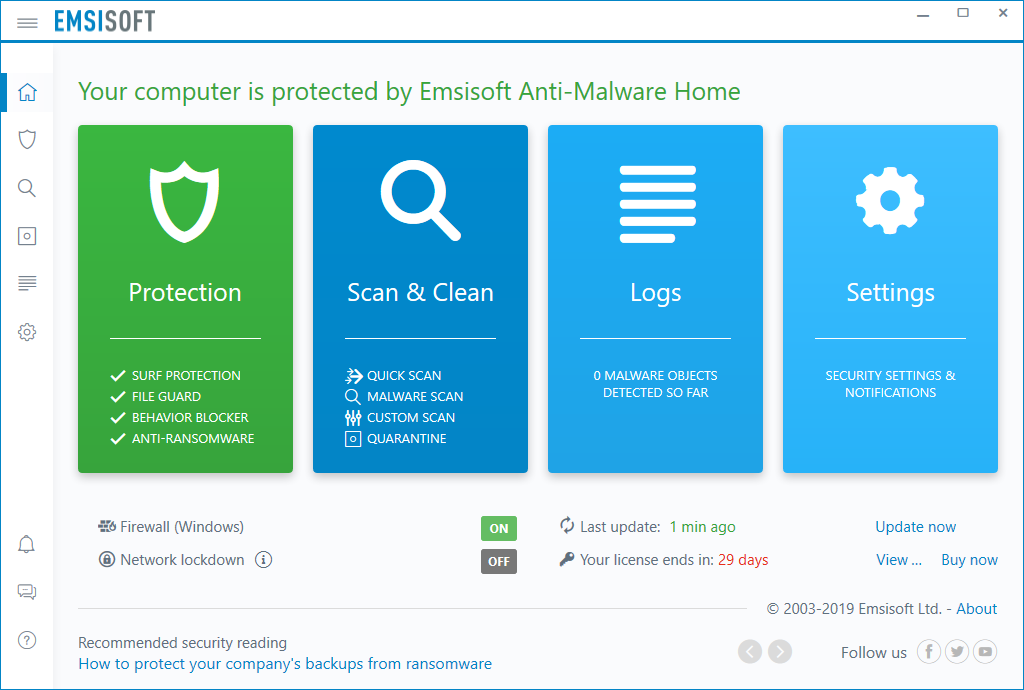 Try to Delete Emsisoft Anti-Malware off the PC?
Many users love Emsisoft Anti-Malware as it protects their PCs and files greatly. However, some users that they encounter problems when using the programs. It is quite normal that users have problems with a product. There is no a perfect program that you never meet problems with. Some users report that the software stops working properly after they download and install the latest version of Emsisoft Anti-Malware. At the same time, other installed antivirus programs are totally blocked. The PC can't connect to the Internet and becomes slow to respond.
Some users tell that Emsisoft Anti-Malware does not update or work. When they click the software, it freezes and nothing happens. Users are told that important files and components are missing. Some users try to reinstall the software to fix the problem, but they fail due to unknown errors. Some users find that their PC slows down and gets frozen frequently. They even see errors when they try to use another antivirus program. Some users decide to uninstall Emsisoft Anti-Malware as they consider it is no longer useful.
Can't Uninstall Emsisoft Anti-Malware?
Many users report that they can't uninstall Emsisoft Anti-Malware successfully. They saw errors and had permission issue during the process. Why is it so difficult to uninstall Emsisoft Anti-Malware? It is because the software is well integrated with your system, so it will be a bit difficult to uninstall. Some users report that Emsisoft Anti-Malware removal via Windows add/remove takes a long time to finish, and it usually results in freeze-up or crash. Many users tell that the uninstalling process has been interrupted and stopped due to unknown errors. It may be settings corruption, administrator permission, missing files and other issues. Ensure you quit the program before you uninstall it because the PC does not allow you to uninstall the software which is running.
Sometimes users can't find Emsisoft Anti-Malware in the list of installed programs, so they don't know where else they can uninstall the software. Some users report that Emsisoft Anti-Malware files cannot be deleted thoroughly. Although they uninstalled the software, they still see its components and notification alert displaying on the PC. The leftovers are hard to detect or cannot be deleted. Incomplete uninstall can cause a series of problems. If you would like to reinstall the software in the future, it won't let you proceed. If the software that you are about to install is incompatible with Emsisoft Anti-Malware, the process will be stopped and never finish until you delete Emsisoft Anti-Malware completely. Though its files still exist on your PC and stop you from using the PC properly, it does not work to protect your PC any more. For any reason you need to uninstall this program, make sure it is completely removed.
How to Uninstall Emsisoft Anti-Malware Completely?
Do you have the same problems when trying to delete Emsisoft Anti-Malware off your PC? Fail to uninstall stubborn software? If you have one of those problem and seek an effective solution, you come to the right place. We will guide you through step by step to remove Emsisoft Anti-Malware completely. To meet different needs, we will show both manual and automatic solutions. You can choose any solution you like. To ensure everything goes well, you can restart the PC into safe mode before you start.
Solution One: Uninstall Emsisoft Anti-Malware Manually
If you are good at computer and have sufficient time, you can remove Emsisoft Anti-Malware manually. There are few steps and processes to go through. There are three methods to finish the first process. If you don't see the software on the Start menu, try it from Settings or Control Panel. Follow the step-by-step guides below.
Method 1: Uninstall from Start Menu
Step 1: click Windows key on keyboard to open Start menu.
Step 2: look for Emsisoft Anti-Malware on the program list. Right click the icon and select Uninstall.
Step 3: after you click Uninstall, it opens the window with your installed software. Look for Emsisoft Anti-Malware and click Uninstall. Click yes when it asks if you are sure to remove the software.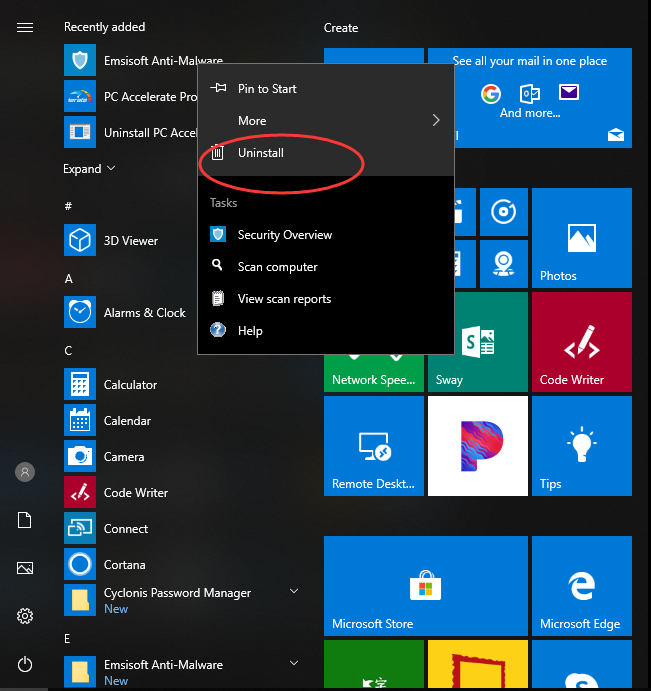 Method 2: Uninstall from Settings
Step 1: click Windows key on the keyboard. Click Settings icons at the left side.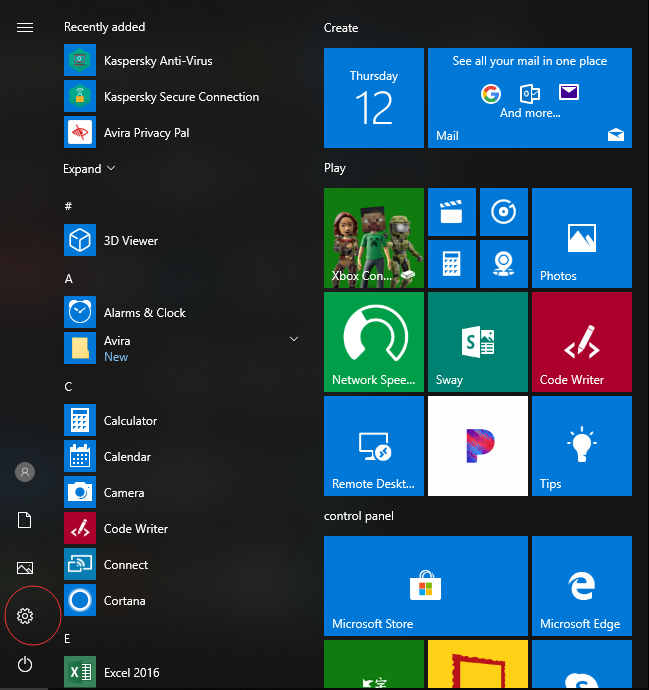 Step 2: click Apps on the Settings screen and select Apps & Features on the next window to display all the apps you installed.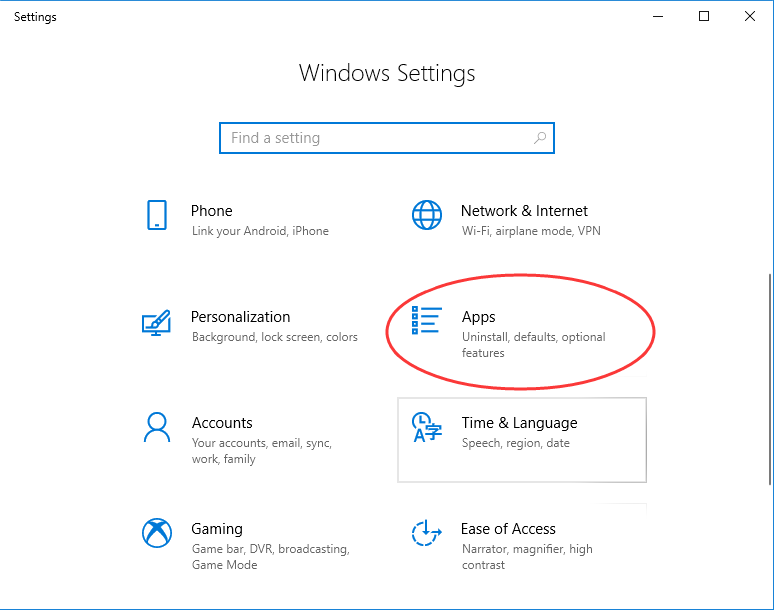 Step 3: scroll down to click Emsisoft Anti-Malware, and click Uninstall button twice.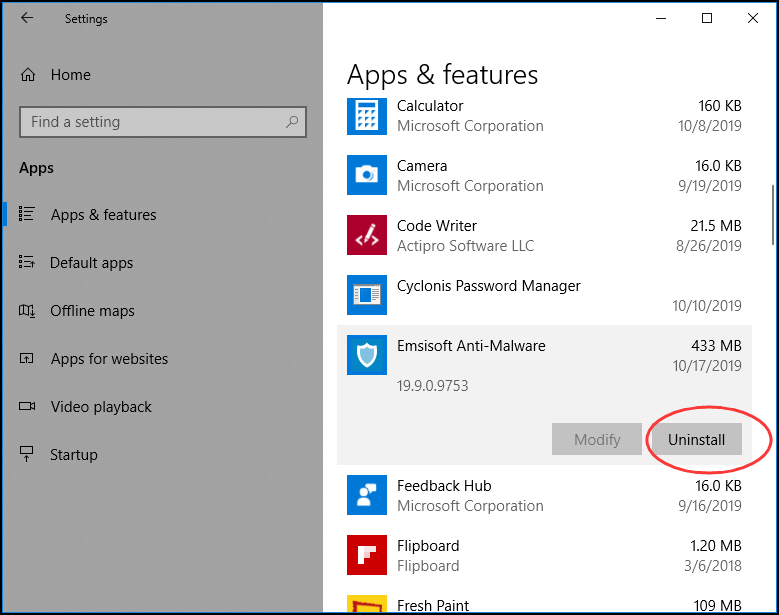 Method 3: Uninstall from Control Panel
Step 1: click search box on taskbar and type in control panel. Click Control Panel on the popup list.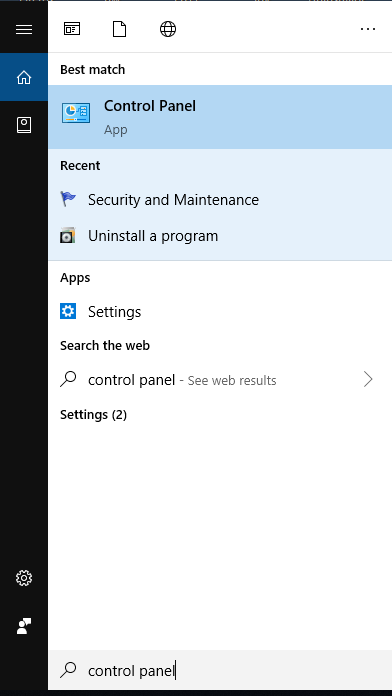 Step 2: click Uninstall a Program under Program option. It will open a window with software you installed on the PC.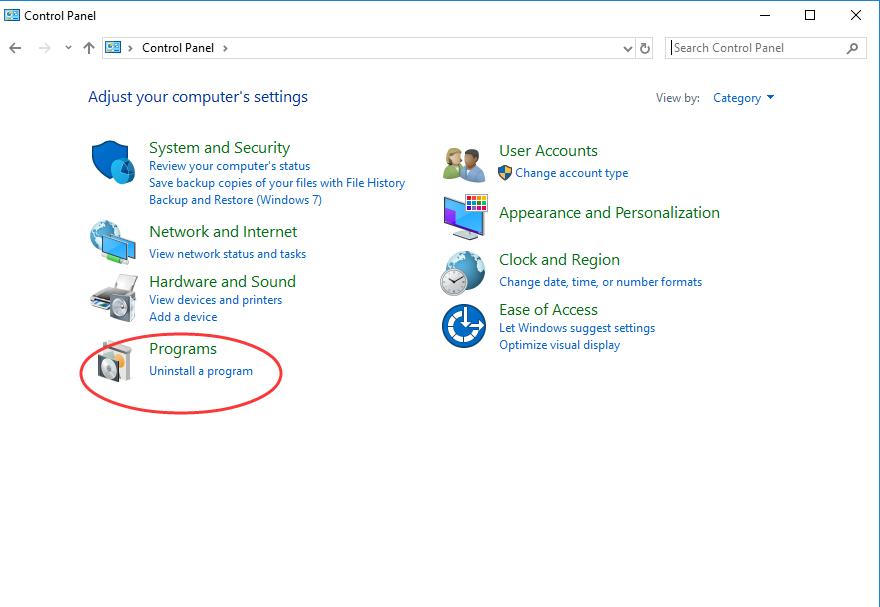 Step 3: select Emsisoft Anti-Malware, and click uninstall button on the top. Click Yes to confirm the uninstall.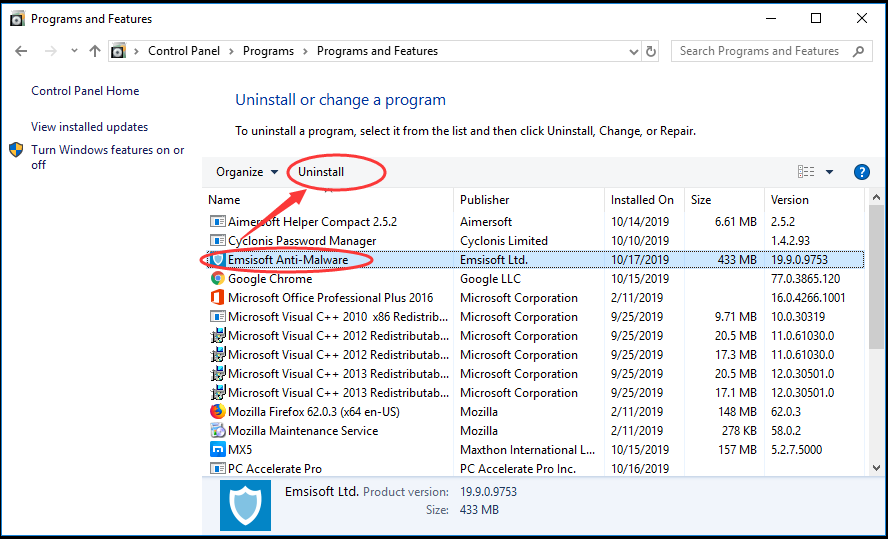 Guides to Clean Emsisoft Anti-Malware Leftovers
Only uninstalling Emsisoft Anti-Malware from the list of installed programs is not enough. To delete Emsisoft Anti-Malware completely, you need to remove its registry entries and other files manually. How to get rid of Emsisoft Anti-Malware remnants? Here is the guide.
Firstly, press Windows key + R keys at the same time. The Run dialog will pop up.
Secondly, type "regedit" and hit Enter to launch Registry Editor. Click Yes if you are prompted to give confirmation in UAC dialog.
Thirdly, identify and delete the entries belonging to Emsisoft Anti-Malware. There are lots of items. Expand the target folders and delete files associated with Emsisoft Anti-Malware one by one. Below is part of the Emsisoft Anti-Malware leftovers.
HKLM \ SOFTWARE \ Microsoft \ Windows \ CurrentVersion \ Shell Extension \
HKLM \ SOFTWARE \ Wow6432Node \ Microsoft \ Windows \ CurrentVersion \ Run \
HKLM\SOFTWARE\Wow6432Node\Microsoft\Windows\CurrentVersion\Shell
Extension\
HKLM\SOFTWARE\Wow6432Node\Microsoft\Windows\CurrentVersion\Uninstall\
Note: In registry, there is a collection of databases of configuration settings that are pretty important to the Windows operating system. You need to be cautious and don't delete the crucial files. Some of the leftovers are ambiguous to identify. To avoid mistake in deleting registry entries, you can back up data. Click file and select export. Save the backup in another location on the PC or a removal drive. You will be able to recover data quickly if you delete the wrong files.
Next, clear app data. Emsisoft Anti-Malware leftovers can be recognized as hidden folders by your PC. Therefore, show the hidden files first. Open Control Panel, click Folder Options, and then select the View tab. Check the "Show hidden files and folders" in Advanced settings and click OK. Finally, you can search for Emsisoft Anti-Malware leftovers in the result and delete them all.
Solution Two: Use an Uninstaller to Uninstall Emsisoft Anti-Malware
Many users think it takes too many steps and a long time to finish the complete removal. As a matter of fact, it is a laborious and tedious job to remove Emsisoft Anti-Malware manually. Is there a time-saving and hassle-free way to remove Emsisoft Anti-Malware? Yes. You can use Uninstallor to perform uninstalling effectively. It is very easy to proceed.
First of all, install and run Uninstallor. Once you open the program, it loads all software you installed on the PC.
Secondly, use search box to locate Emsisoft Anti-Malware quickly. Select the software, and click Analyze Now button. It will analyze the software and provide the best solution to uninstall the software successfully.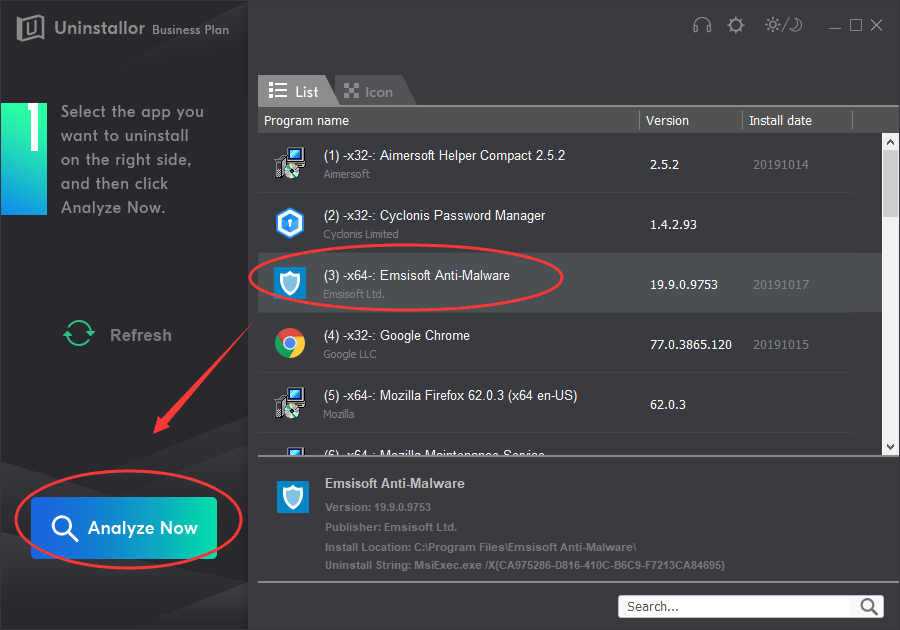 Thirdly, click Uninstall now button when it finishes analyzing.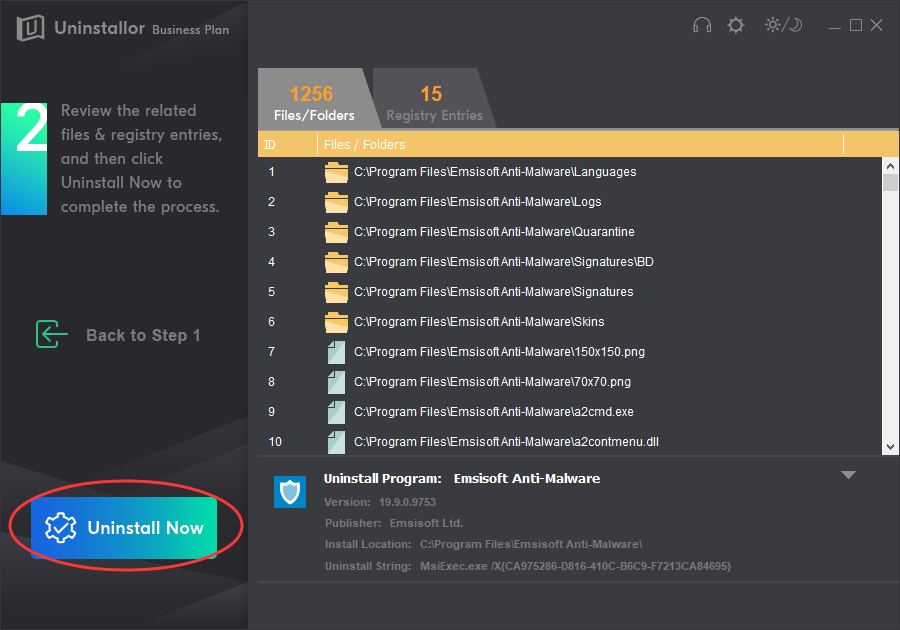 Fourthly, the program detects leftovers for you automatically. Hence, you only need to click Remove Now to clear leftovers once for all. Emsisoft Anti-Malware is completely deleted off your system.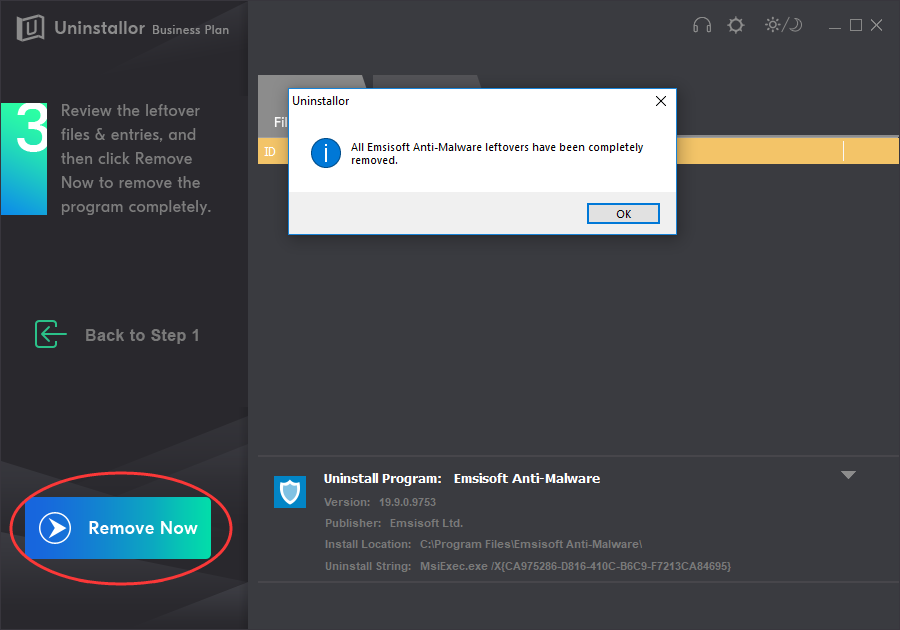 Video Guides to Uninstall Emsisoft Anti-Malware
Conclusion (How to Uninstall Emsisoft Anti-Malware)
It is not an easy job to remove Emsisoft Anti-Malware thoroughly. For some users, it may be too overwhelming and also time-consuming to remove Emsisoft Anti-Malware manually. Wrong operations can cause a series of problem. If you are not good at computer, you need a professional uninstaller. Uninstallor is a great tool which helps users uninstall stubborn software, bloatware, plugin, adware and other unneeded programs easily. In addition to software package, the service also includes custom solutions and remote support, providing a convenient and effective solution for all users. Users are able to request support if they can't uninstall the software. If you are tired of performing complex removal steps, use Uninstallor to delete Emsisoft Anti-Malware thoroughly in a much faster and easier way.
Published by & last updated on January 8, 2020 3:44 am