Did you hear of Segurazo Antivirus? Is it a good program? I didn't recall installing it, but it is on my PC now, scanning the system and displaying many alerts. Actually, I don't like this program, but I can't uninstall it. I tried to uninstall Segurazo Antivirus from control panel, but failed. It told I need sufficient permission from administrator. It is so weird because I am the administrator. I restarted the PC and tried many times, it won't uninstall. Do you know how to fix this issue? How do I get rid of Segurazo Antivirus completely? Please help.
What is Segurazo Antivirus?
Segurazo Antivirus is advised as a security suite which includes real-time protection, data and passwords protection and threat detection. The company provides Basic Antivirus Suite and Pro Antivirus Suite. There is a free version as well. The free version scans for malware, performance disruptions and other malicious threats. To remove the threats, you need to upgrade to the premium version. The premium antivirus comes with many security features and tools. It offers real-time protection for users' important data against both existing and emerging malwares. It has a built-in scan tool which performs a quick scan of protected data to keep potential threats away from you. The ransomware protection detects and neutralizes a ransomware attack timely to avoid data and financial loss. At the same time, it provides protection for classified passwords and privacy of digital data. It blocks malicious websites and spams with dangerous attachments & links. When it detects harmful threats, it isolates the threats on the system to prevent further damage to the PC and data. However, Segurazo Antivirus is identified as unwanted program by some famous antivirus software. It is because Segurazo Antivirus typically enters the PC unnoticed. In this case, many users don't know how it has gotten on their PCs.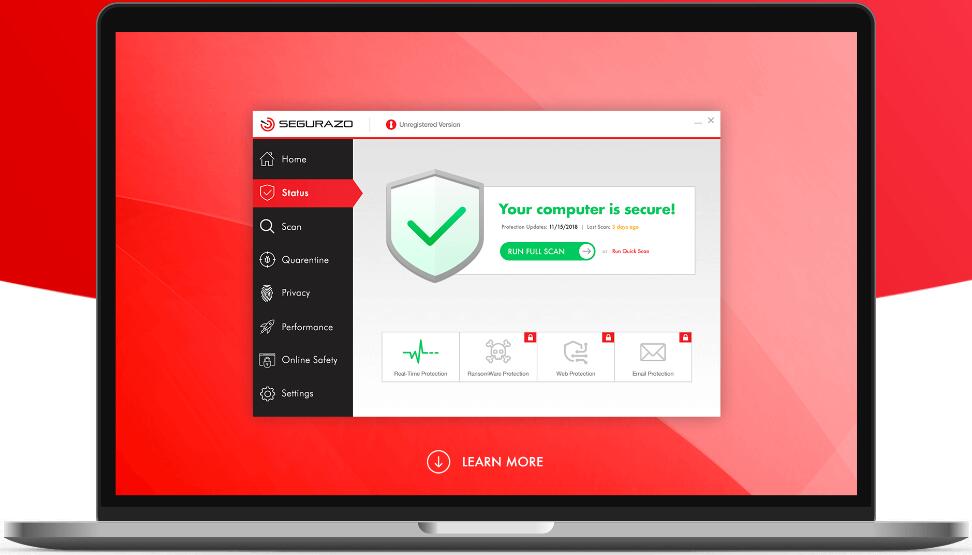 Having Problems with Segurazo Antivirus?
As we mentioned, some security programs classify Segurazo Antivirus as malicious program. In fact, it is not originally harmful for your PC. This legit program is considered as a potentially unwanted application due to its aggressive promotional nature. It has an official website where you can download it while it is distributed with the help of free software bundles. It is installed through setups of other software without your notice. This misleading distribute method makes you think it is not a good program. You may not feel like to keep a program that you don't recall installing suddenly appeared on your PC. The information Segurazo Antivirus will be installed as an additional tool is presented in the installation wizard of some software in the Advanced mode. To avoid unwanted program, you should choose Advanced mode to view bundle software and uncheck the option to stop it from being installed.
Many users complain that they encounter different kinds of problems after they see Segurazo Antivirus on the PC. According to users, they experience popup advertisements, browser redirects, promotional search content, and declining browser performance and functionality. They see coupons, banners, surveys and alerts on Opera, Google Chrome, Mozilla Firefox, Safari, Internet Explorer and Microsoft Edge. The annoying ads on the screen make it irritating to the user to work on websites. When users click on them, it leads users to untrustworthy websites. Some users think Segurazo Antivirus affects their PC performance in a bad way. As users are not able to disable the program, the program continuously runs in the background, using up a lot of CPU resources and slowing down the performance. Some users report that the program even tries to install additional apps in their systems. If you are having problems caused by Segurazo Antivirus, you can uninstall it from your PC.
Can't Uninstall Segurazo Antivirus?
Can you uninstall Segurazo Antivirus successfully? Do you see any error when trying to remove Segurazo Antivirus? If you fail to delete Segurazo Antivirus off your PC, you are not alone. According to our tech support form, majority users can't uninstall this program properly. Like other antivirus software, Segurazo Antivirus is not easy to remove. It has been specifically programmed. After it is installed on your PC, it starts automatically during startup and runs in the background. What's worse, it can't be disabled by the administrator. You can see its component processes in the Task Manager, but can't end the tasks. Its entries in the Registry Editor, and other files are protected on a high level like they are the system files. Therefore, it is a quite tricky task for users to uninstall Segurazo Antivirus successfully.
You may be stopped by insufficient permission, corrupted file issues or other errors. No matter how many times you try, you just can't proceed. Some users even can't find Segurazo Antivirus in control panel. Some of you may be able to remove the exe files while the program has not been deleted completely. Segurazo Antivirus may be reinstalled multiple times if you don't remove the core files completely. The leftovers also may cause software conflicts and stops you from installing other antivirus software. Hence, it is important to remove Segurazo Antivirus thoroughly if you don't need it any longer.
How to Uninstall Segurazo Antivirus Completely?
Can't find Segurazo Antivirus in Apps & Features? Do you have the same problems when trying to uninstall Segurazo Antivirus? Don't know how to bypass errors to finish uninstalling? Don't worry. We will guide you through step by step to delete Segurazo Antivirus completely off your PC. Some users require manual guides and some users prefer a faster automatic way, so we provide both solutions to let you choose. You can choose to uninstall Segurazo Antivirus manually or automatically.
Solution 1: Uninstall Segurazo Antivirus Manually
For users who have certain computer skills, manual removal is a good solution. If you are not good at computer, you are suggested to contact a tech expert for help. It is because you will need to deal with important files in Registry Editor to clear leftovers completely. Follow our guides to proceed.
Method 1: Uninstall from Start Menu
Step 1: press Windows key on keyboard, and the Start menu will open.
Step 2: look for Segurazo Antivirus on the popup menu and right click its icon. Next, click Uninstall option.
Step 3: click Uninstall on the next screen with Segurazo Antivirus selected. Click "Yes" when it asks if you are sure to remove the software.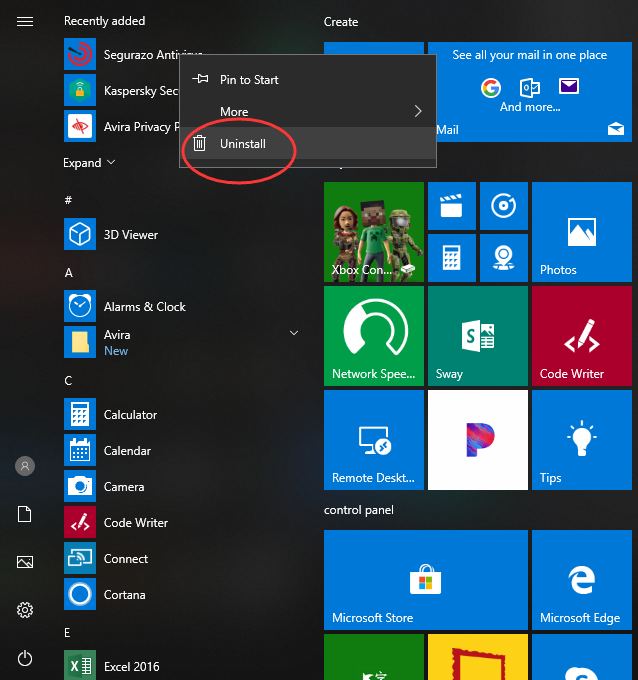 Method 2: Uninstall from Settings
Step 1: press Windows key and click settings on the Start menu.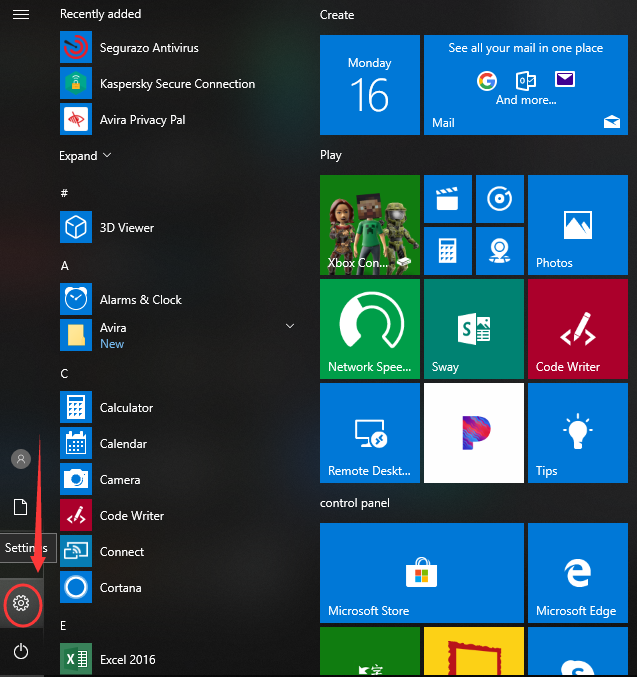 Step 2: go to the Apps menu and then press Apps & features.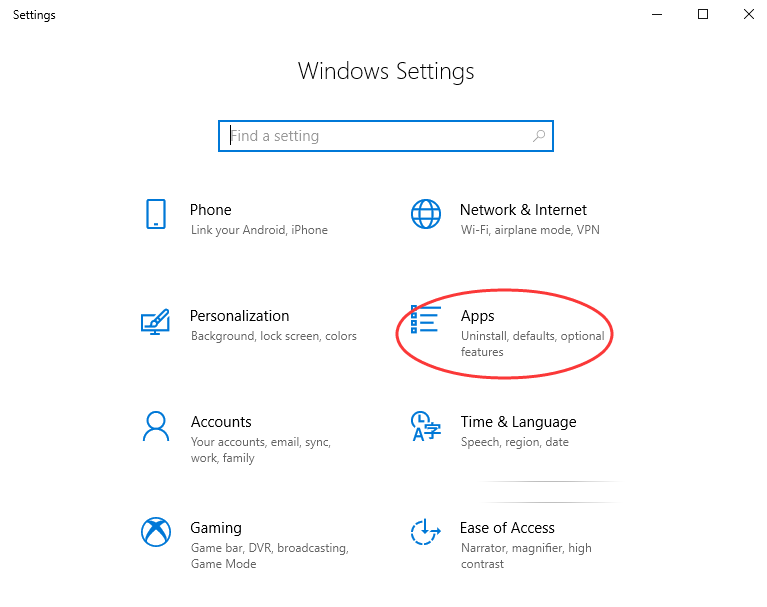 Step 3: scroll the menu down and look for Segurazo Antivirus. Select it and click uninstall button. It will ask you for permission. Press "Yes" and then uninstall.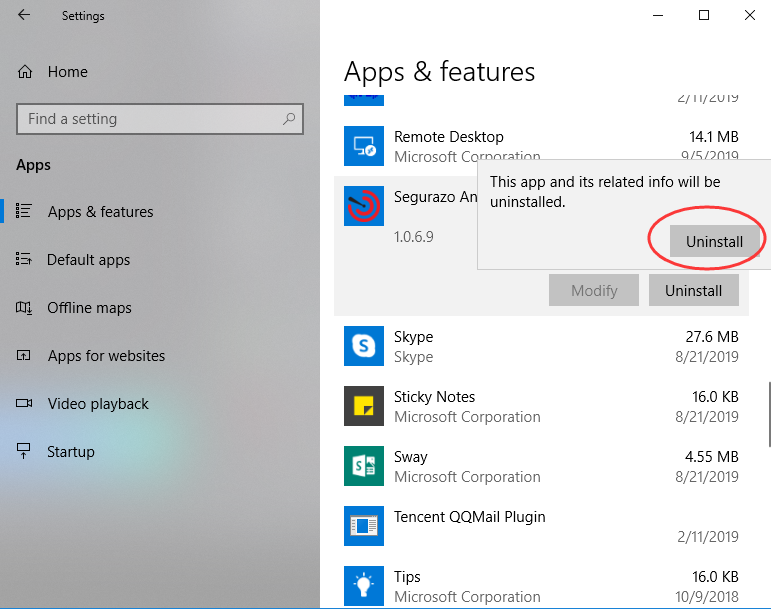 Method 3: Uninstall from Control Panel
Step 1: click search box on taskbar and type in "control panel". Click "control panel" on the popup list.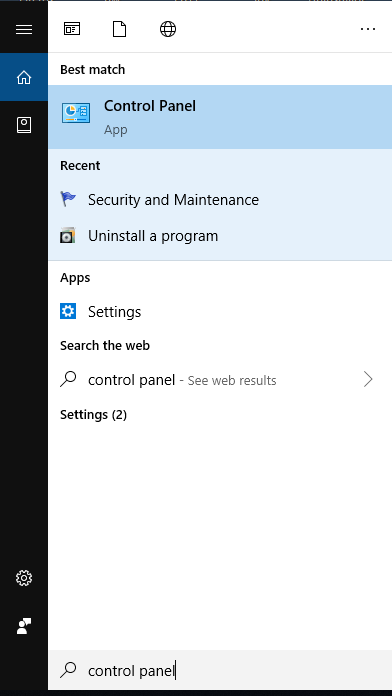 Step 2: click "Uninstall a Program" under Program menu on the control panel screen.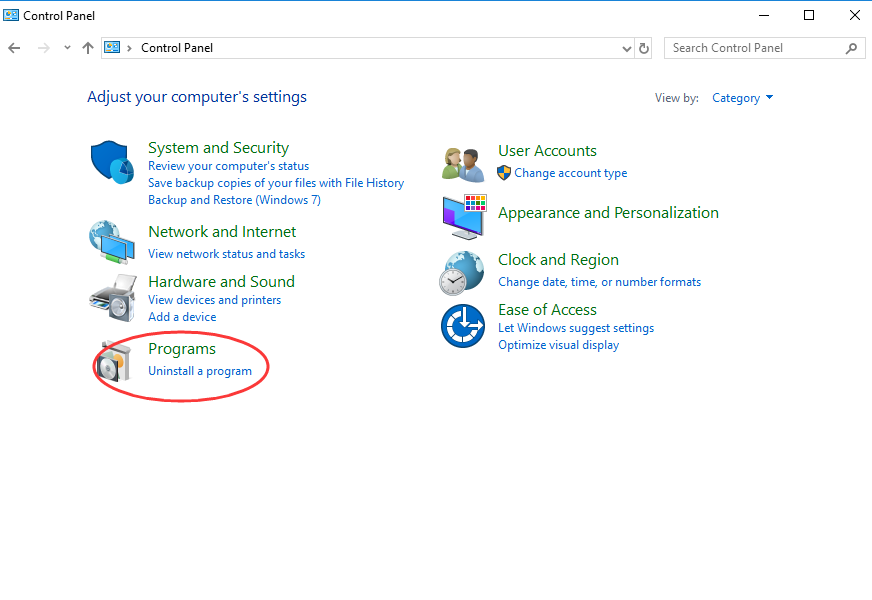 Step 3: locate and select Segurazo Antivirus. Click uninstall button on the top and click "Yes" to confirm the uninstalling.
Guides to Clean Segurazo Antivirus Leftovers Manually
You know what? Using the system remover to uninstall Segurazo Antivirus is not enough. The registry entries, app data and other files still exist on your PC. With those data, Segurazo Antivirus can be reinstalled. If you try to install another antivirus which is incompatible with it, the installation will fail no matter how many times you try. To avoid those problems, follow the guide to clear Segurazo Antivirus leftovers.
First of all, press down Windows + R keys to launch Run prompt. In Run, type "regedit" and hit Enter. In UAC window, click "Yes".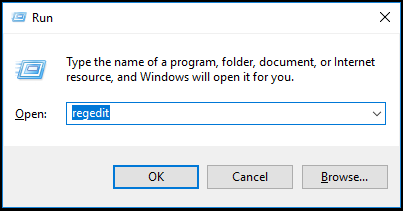 Secondly, press CTRL + F to open Find in Windows Registry. You can also click Edit > Find for the same result.
Thirdly, type "Segurazo" and click Find Next. Expand founded folders and select files associated with Segurazo Antivirus. Right click and choose to Delete a key. Keep finding next keys to clear all registry entries.
HKEY_CURRENT_USER—-Software—Microsoft—-Windows—CurrentVersion—Run– Random
HKEY_CURRENT_USER—-Software—Microsoft—Internet Explorer—-Main—- Random
Note: manual removal is a lengthy and complicated process that requires advanced computer skills. To avoid unintended mistakes, you can back up Registry data. In case you delete important files by mistake, you will be able to restore them easily.
Solution 2: Remove Segurazo Antivirus with an Uninstaller
If you think manual removal is too overwhelming, consider using a third party uninstaller. Many users fail to uninstall Segurazo Antivirus manually because they miss some steps and see errors that can't be bypassed. If you are one of them, Uninstallor is the tool you need. Uninstallor allows you to remove Segurazo Antivirus completely without any problem.
Firstly, download and install Uninstallor on your PC. The program loads all software you installed on the PC when you run it.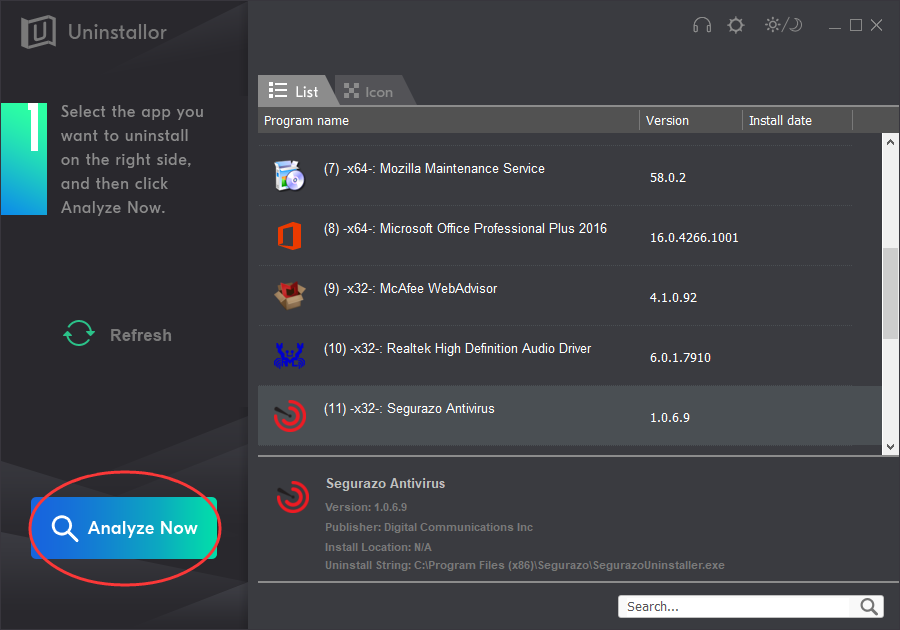 Secondly, look for Segurazo Antivirus on the list. Select it and click Analyze Now button.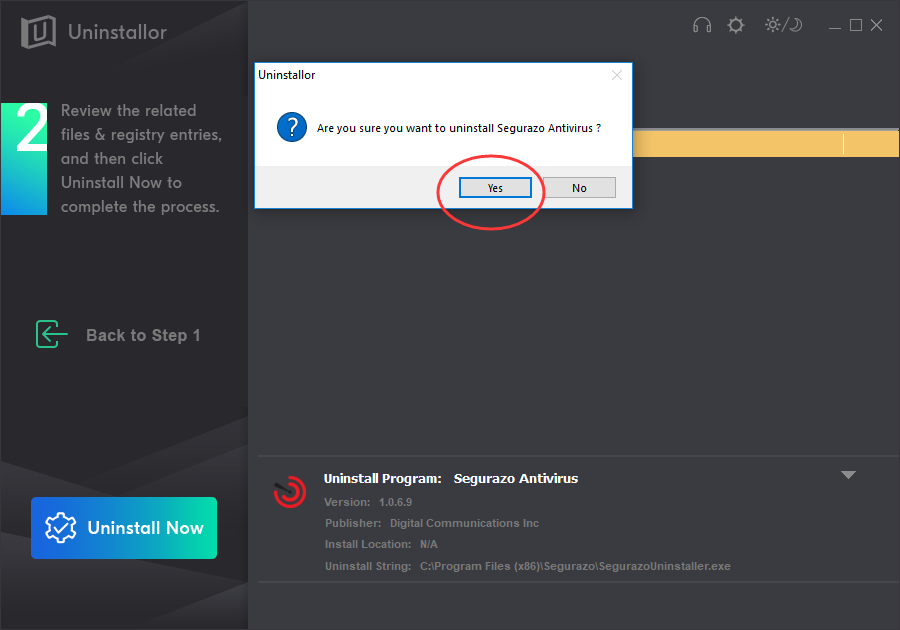 Thirdly, click Uninstall Now button when it finishes analyzing. It will take a while to finish uninstalling.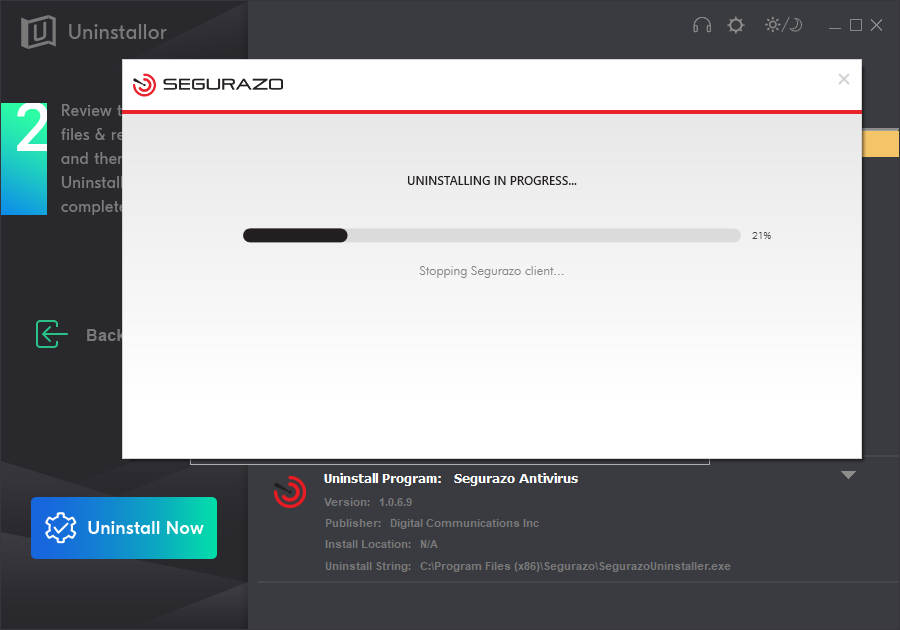 Fourthly, Uninstallor will display leftovers of Segurazo Antivirus automatically. Hence, you only need to click Remove Now button to clear leftovers completely. Click back to the interface. You will see Segurazo Antivirus is gone. It is completely deleted from your PC.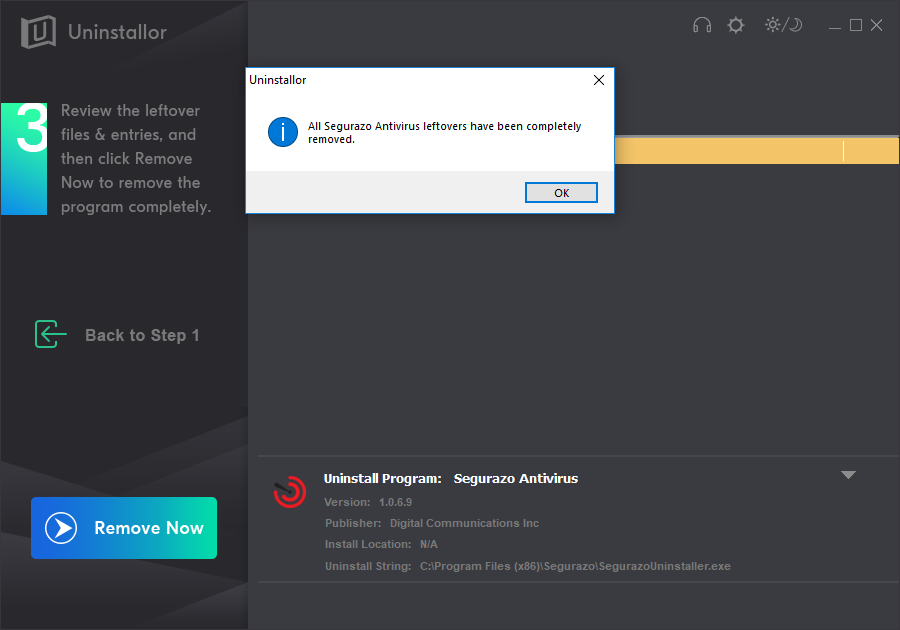 Video Guides to Uninstall Segurazo Antivirus from PC
Conclusion (How to Remove Segurazo Antivirus)
It is not an easy job to get rid of Segurazo Antivirus. It requires right steps and thorough removal. If you choose to remove Segurazo Antivirus manually, there are more processes to go through. During the processes, you need to delete files from Registry Editor and clear leftovers from app database. It is necessary to deal with it cautiously. If you prefer an easier and more effective removal method, you should try Uninstallor. Uninstallor is a very useful utility which helps users uninstall stubborn software, bloatware, adware, and other types of unwanted programs. By simply following the wizard, users can uninstall software that Windows add/remove feature can't with few clicks without any leftover. Uninstallor service includes custom fixes and remote support as well. Their team develops and improves the uninstaller. Besides, they provide extra service to ensure their users can uninstall any software they installed. If you are an Uninstallor user, you can require a custom fix and remote support to uninstall software successfully. Use Uninstallor to remove Segurazo Antivirus from your PC once for all. It is very simple and effective way to uninstall stubborn software like Segurazo Antivirus. Give it a try, and you will know how useful it is.
Published by & last updated on December 19, 2019 2:27 am