I need your assistance to remove or uninstall Kaspersky Antivirus program. This software worked greatly for the first year, but I don't think it is still the one I like. Many problems appear. It froze constantly. Whenever I tried to do something, I always got that spinning wheel cursor. I have to wait, sometimes 5 minutes. My PC barely works for me. When using the PC, it popped up messages like "connecting to Kaspersky servers", "fail to connect to Kaspersky servers" and "Kaspersky stops working" etc. I tried to quit the software, but the exit option never loaded. I even could not stop it with Task Manager. I don't know what else what can I do to fix the problem. Would you please help me uninstall Kaspersky Antivirus?
What is Kaspersky Antivirus?
Kaspersky Antivirus is one of the most famous antivirus software on the earth which offers basic security for PCs. It provides excellent security solutions to protect users' devices from viruses, keylogger, spyware, ransomware, Trojans, worms, adware, malicious tools, auto-dialers and more threats. Kaspersky Antivirus software includes many great features, including anti-virus scan for your software and files, activity monitoring, search for vulnerabilities and Internet traffic control. There is a Kaspersky Rescue Disk which allows you to boot from the rescue disk's alternate operating system so as to remove malware.
With Kaspersky Antivirus, you will be able to protect your operating system, files and personal data. It offers to scan your entire PC, or specific files, folders or drives for malware and other harmful programs. It helps you disinfect and delete infected files to avoid further loss. It provides real-time virus protection and monitors known & unknown virus to update databases. The provider will upgrade the functions remotely via the My Kaspersky portal. Kaspersky Antivirus has been awarded high ratings in malware detection and removal. A large number of users choose it as their security program. Some users don't feel like the product as it is not compatible with some of their software on PC.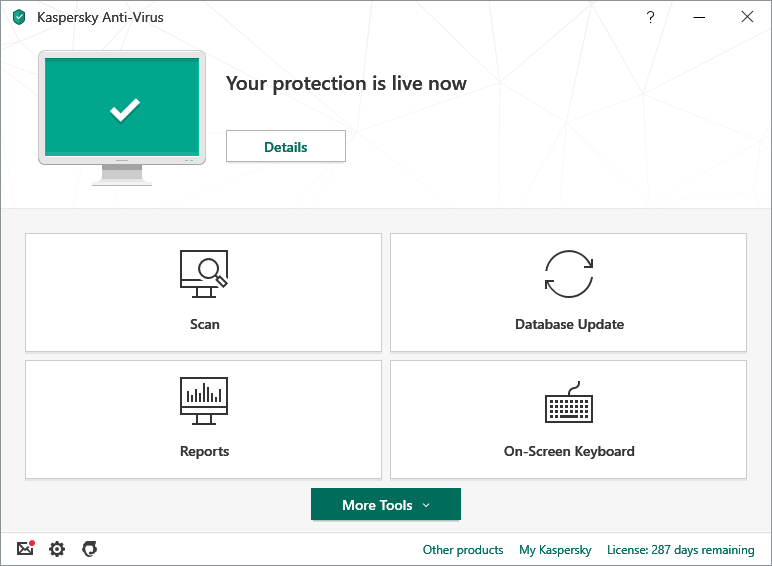 Have Problems in Using Kaspersky Antivirus?
Kaspersky Antivirus is a great security solution with high ratings. Even when you use the best software on earth, you may run into problem when using it. It goes the same with Kaspersky Antivirus. It is normal that users have problems with Kaspersky Antivirus. Some users reported that sometimes the Kaspersky Lab servers were not accessible, and they could not use the PC normally. It kept connecting to the servers. The users are wondering if their PCs are protected when the software is not connected to the servers. When users install Kaspersky Antivirus, password manager, Kaspersky Secure Connection and other tools are installed alongside. By default, these software starts automatically during startup. Hence, users find it takes a long time to load the system. With the software running in the background, the PC runs slowly. The PC may freeze and take a long time to respond.
Some users are upset as Kaspersky Antivirus is not compatible with a third-party firewall and other software installed on the PC. Users face issues with the mouse pointer normal scrolling while using third party software. According to the test results, Kaspersky Antivirus is not compatible with AVG products, Avira products, Bitdefender products, CA AntiVirus, CA eTrust AntiVirus, Cipafilter Client Tools, ClamWin Free Antivirus, Command AntiVirus, Comodo security software, CyberDefender Early Detection Center, ESET software, F-Secure Antivirus, IObit Security 360, McAfee, Microsoft AntiSpyware, Panda Antivirus, Norton AntiVirus, Trend Micro software Webroot AntiSpyware and more famous software. This is why users see error and have problems on PC when using the Kaspersky Antivirus.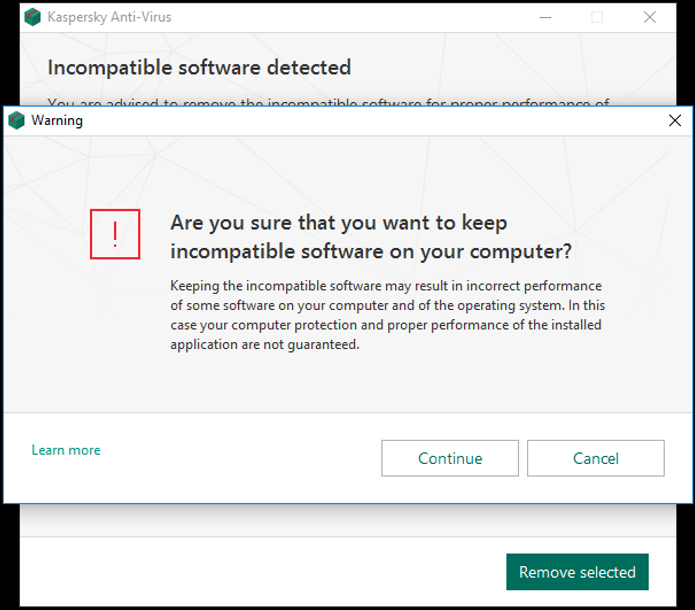 Can't Uninstall Kaspersky Antivirus?
Some users are trying to uninstall Kaspersky Antivirus after they found out the software did not work in the way they liked. Some users decide to switch to other security software because their governments reject the software. Some users try to uninstall the old version of Kaspersky in order to install the latest version. However, Kaspersky cannot be removed successfully. According to a recent research, many users have trouble in uninstalling Kaspersky Antivirus. Actually, it is not an easy job to uninstall an antivirus app completely from a PC. It is because antivirus software components insert themselves deep into the operating systems core to protect the PCs to the maximum extent. They also create files/folders/registry entries in various locations. That makes it very difficult to uninstall the software completely.
Even they can uninstall Kaspersky Antivirus with the Add/Remove Programs of Windows, there are some folders and files in their program files they could not delete them. They saw messages like "An error has occurred. Not all of the files were successfully uninstalled" and "Files and folders of Kaspersky Antivirus can be found in the hard disk after the uninstallation." The leftovers can cause low performance, system error, and other problems. As there still are Kaspersky folders on PC, users can't install and use other security software as it is not compatible with Kaspersky.
Besides, users may be promoted to enter a password when users try to uninstall the software because Kaspersky Antivirus has been password-protected. Some users don't know where to start to uninstall as Kaspersky Antivirus is not listed in Programs and Features. Normally, all software users installed can be found under control panel. However, many users notice that they can't find some software and they are about to remove them. Sometimes, users get error like "You do not have sufficient access to uninstall Kaspersky Antivirus." They still fail to access when they log in as the administrator. Improper installation or uninstallation can cause many problems. If you don't need Kaspersky Antivirus any longer, remove it completely.
How to Uninstall Kaspersky Antivirus?
If you are not good at computer, you probably feel frustrated when trying to remove Kaspersky Antivirus. There are two ways to uninstall Kaspersky Antivirus. You can choose to remove the software and delete leftovers manually or use an uninstaller to delete Kaspersky Antivirus automatically. If you choose manual ways, you can use the Windows add/remove feature to uninstall software and delete registry entries one by one to ensure the program is completely off your system. That requires certain computer skill. If you use an uninstaller, follow the wizard to uninstall the software once for all. It is very easy to perform the task.
Option 1: Uninstall Kaspersky Antivirus manually. There are three methods to choose on Window 10.
Method 1: Uninstall from Start menu.
Step 1: Click Windows icon at left bottom to open start menu.
Step 2: Look for Kaspersky Antivirus. Right click the icon, select Uninstall and confirm the task.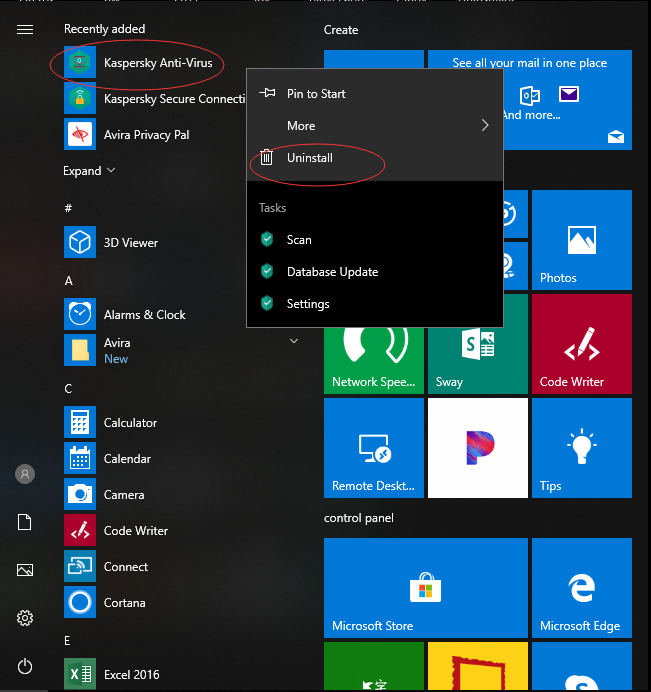 Method 2: Uninstall from Settings.
Step 1: Click Windows icon at left bottom, and select Settings to open.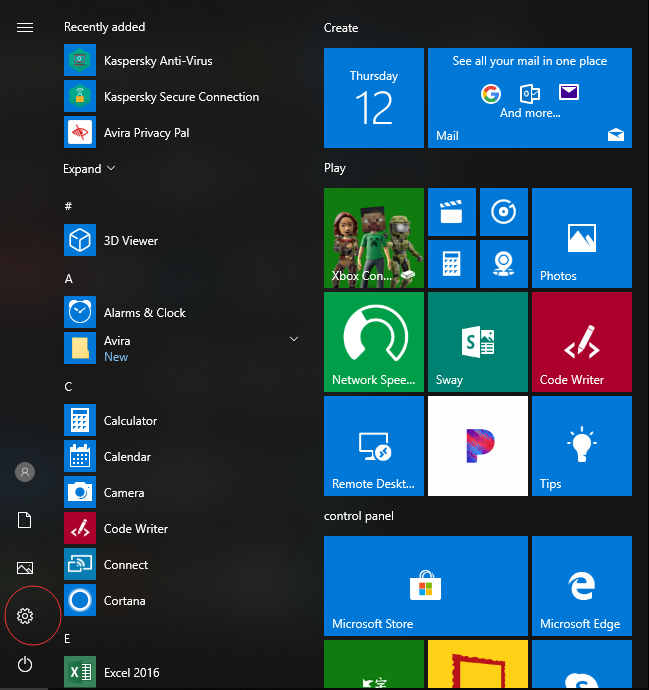 Step 2: On Settings screen, double click Apps. Select Apps & features on the next window.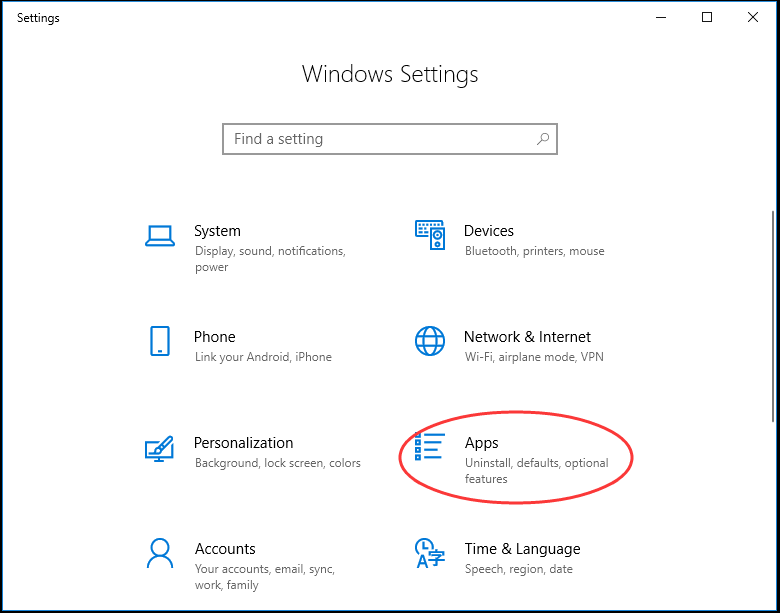 Step 3: You will see the list your installed software. Look for and select Kaspersky Antivirus there. Click Uninstall from the popup menu. Confirm the uninstalling.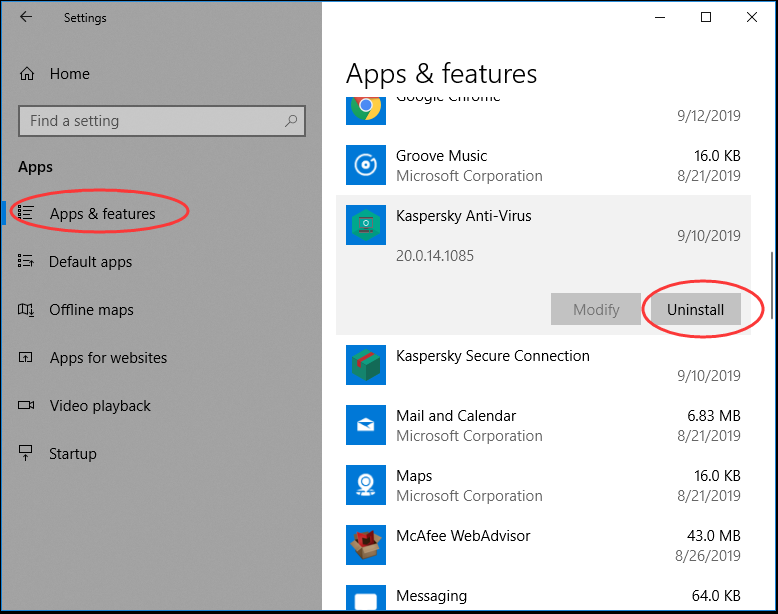 Uninstall from Control Panel.
Step 1: Click search box on taskbar and type Control Panel. Click Control Panel from the popup list.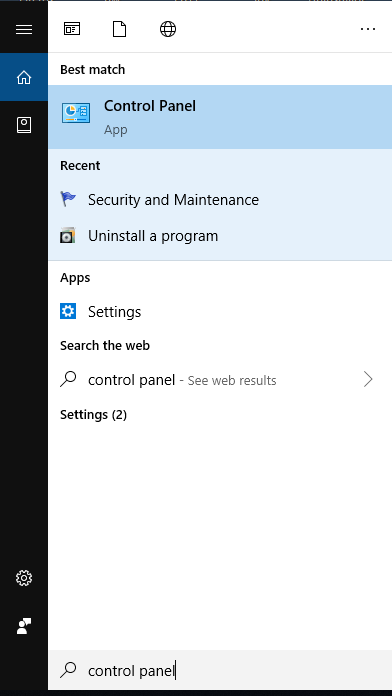 Step 2: Click Uninstall a program under Program menu.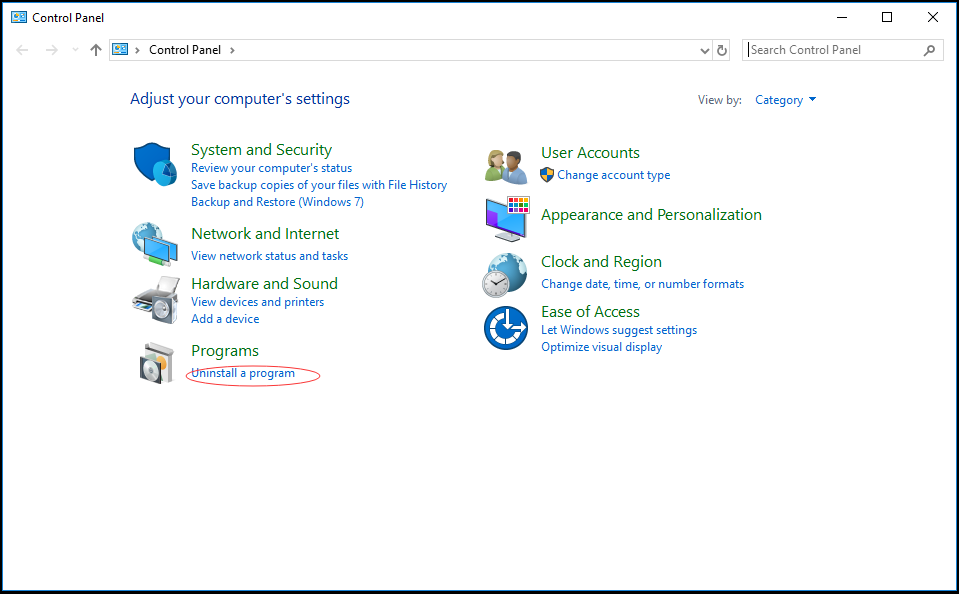 Step 3: Select Kaspersky Antivirus and click Uninstall. Confirm the uninstalling.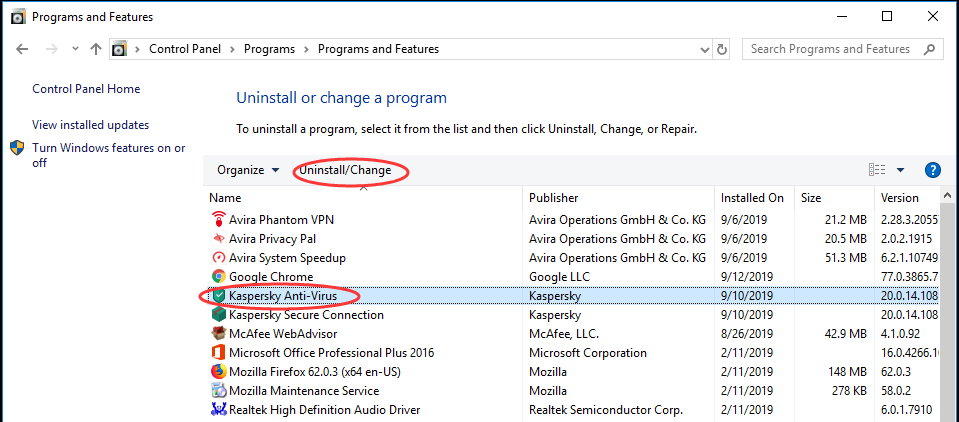 After uninstalling the software, it is time to remove leftovers of Kaspersky Antivirus. To get started, you need to open Registry Editor. Press Windows key + R, type regedit, and press Enter. Next, click Edit at the top of the window and select Find. Then, enter Kaspersky in the search box and click Find Next. Finally remove all entries detected.
HKLM \ SOFTWARE \ Classes \
HKLM \ SOFTWARE \ Classes \ CLSID \
HKLM \ SOFTWARE \ Classes \ Interface \
HKLM \ SOFTWARE \ Microsoft \ Windows \ CurrentVersion \ Shell Extension \
HKLM \ SOFTWARE \ Microsoft \ Windows \ CurrentVersion \ Installer \ UserData \
HKLM \ SOFTWARE \ Wow6432Node \ Classes \ CLSID \
HKLM \ SOFTWARE \ Wow6432Node \ Classes \ TyperLib \
HKLM \ SOFTWARE \ Wow6432Node \ Microsoft \ Windows \ CurrentVersion \ Shell Extension \
HKLM \ SOFTWARE \ Wow6432Node \Microsoft \ Windows \ CurrentVersion \ Uninstall \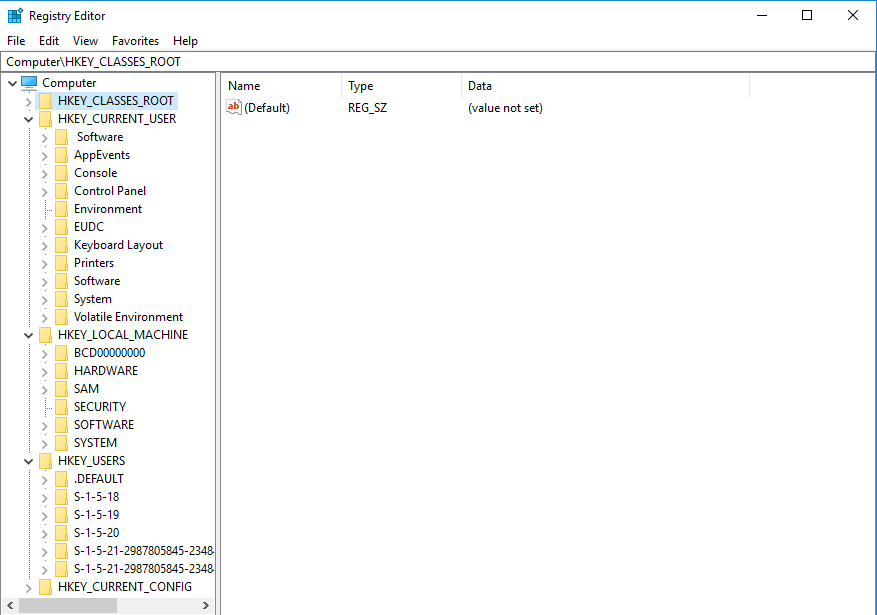 After you remove application files and registry keys completely, Kaspersky Antivirus is off your system. It is tedious and risk-taking to uninstall Kaspersky Antivirus manually. You are suggested to back up the registry data in case you delete the registry keys or values of important programs by mistake.
Option 2: Uninstall Kaspersky Antivirus with Uninstallor
If you think removing Kaspersky Antivirus manually is overwhelming for you, you can consider using Uninstallor to do the job automatically. Uninstallor is a useful uninstaller which helps users uninstall persistence software, adware, bloatware and other unwanted programs effectively without leaving useless files and folders after the uninstallation. It is pretty easy to use the Uninstallor. Below are the guides to use Uninstallor to uninstall Kaspersky Antivirus completely.
First of all, download Uninstallor on your PC. There is no need to install the program. When you double click the Uninstallor.exe, it opens the program, and loads software you installed.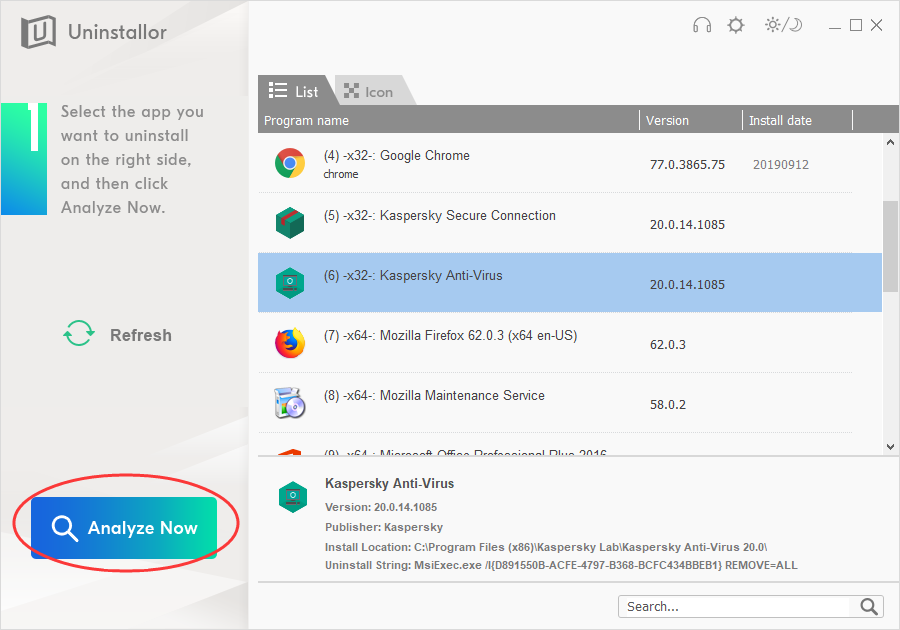 Secondly, look for Kaspersky Antivirus. If you have too many apps, you can use the search box to look for software you need quickly. Click Analyze Now button at the left side, and it will analyze the software to offer most effective solution to uninstall.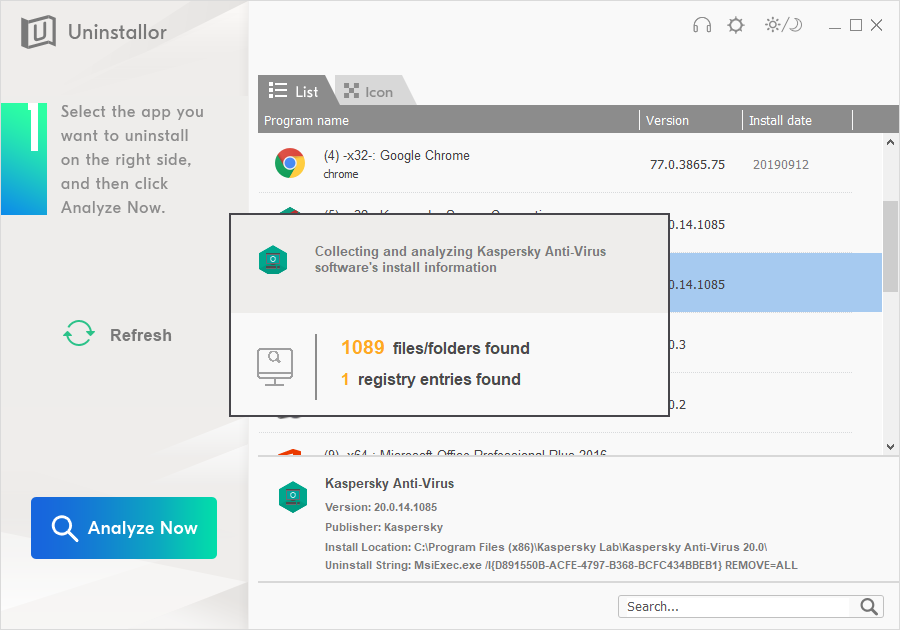 Thirdly, click Uninstall now button and click Yes to confirm the uninstalling.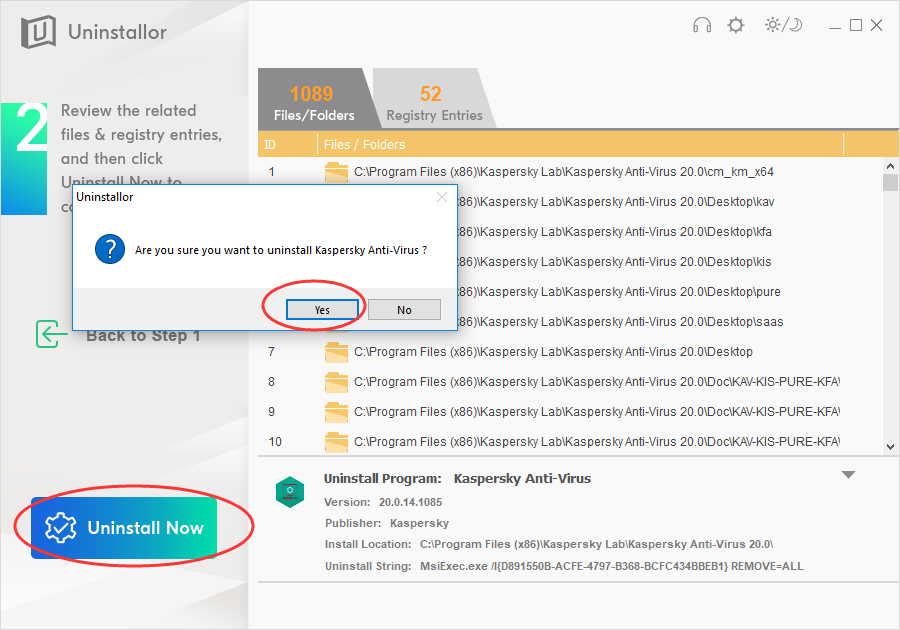 Fourthly, it shows you leftovers of the software. Click Remove now button to clear leftovers after uninstalling.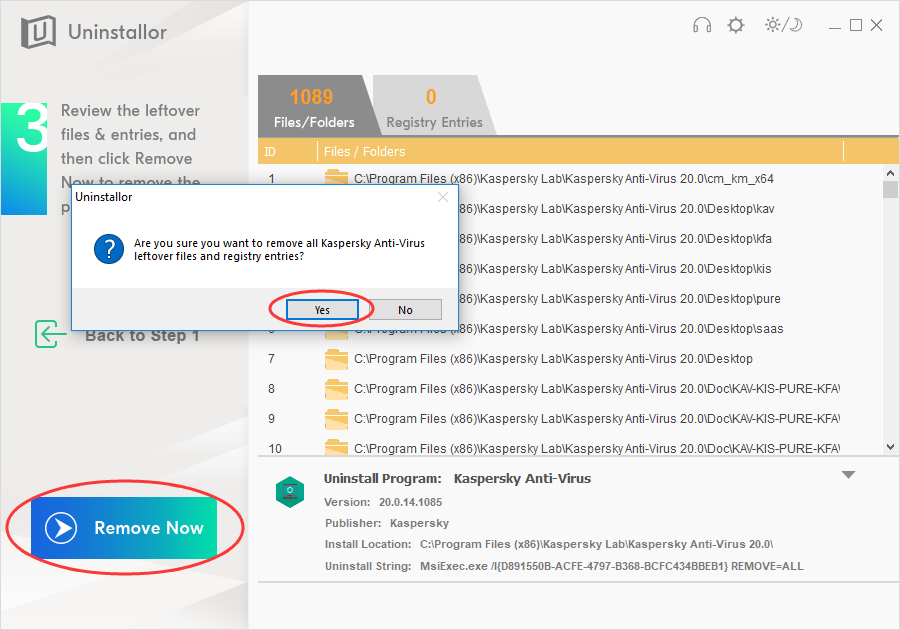 There you go. Kaspersky Antivirus is completely removed from your PC.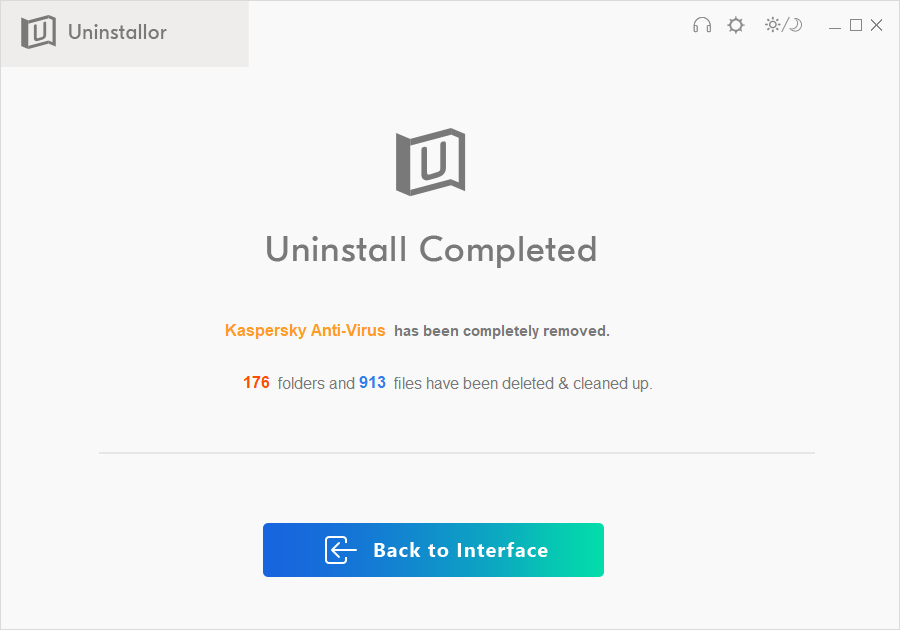 Video Guide to Uninstall Kaspersky Antivirus
Published by & last updated on November 26, 2019 1:51 am