Hello. What is the best way to remove PC Accelerate Pro completely? I need help in uninstalling PC Accelerate Pro off my Windows 10. I didn't remember when I installed it. Lately, it gets my attention because it pops up with security warnings frequently, telling there are a bunch of threats and issues on my system. My PC starts getting slowly. When I click on the waning, it tells me call a remote tech support number to fix my PC. I don't think my PC has viruses because I installed several antivirus programs on it. They are all popular products with high reputation, and I use the premium version. So, I decided to uninstall PC Accelerate Pro, but I failed. I tried every method I know, but I couldn't do anything with it and see configuring errors all the time. Do your guys know how to uninstall PC Accelerate Pro completely? Please suggest. Thanks.
What is PC Accelerate Pro?
PC Accelerate Pro is advertised as a system optimizer and registry cleaning program which helps users free up hard drive space. However, it has been identified as potentially unwanted program by many security products. Many users found it as a problematic product which messes up their system secretly. After PC Accelerate Pro is installed on your PC, it changes your settings and takes over some functions. It offers to scan your PC, and displays a list of issues. It lets you review the issues, providing option to activate the PC Accelerate Pro license and a button to fix issues. No matter you choose activate license option or fix issue option, you need to pay for it. According to experts, the issues do not exist. The only issue the PC Accelerate Pro itself which makes up fake warning to persuade users to purchase its full version or pay for unnecessary tech support.
How does PC Accelerate Pro sneak into your system? On one hand, you may install the software yourself as you consider it as a useful system optimizer. The provider spreads its ads, advertising it with many helpful functions and tricking many users into downloading the software. You won't know it is a potential unwanted program until it messes up the system. On the other hand, PC Accelerate Pro can be bundled with other free software that you download off of the Internet. You may install it along with a media player or browser app. To avoid unwanted program, you are suggested to pay close attention to the license agreements and installation screens so as to stop third party software from installing alongside when installing a piece of software. Many users checked the license agreements when they install software, but they still didn't notice the installation of PC Accelerate Pro. Why? It is because some free downloads do not adequately disclose that other software will be installed as well. In this way, PC Accelerate Pro is installed on your PC without your knowledge. It just appears and displays alerts and issues, trying to persuade you to purchase their service. If you don't want the annoying App, just remove PC Accelerate Pro away from your Windows computer.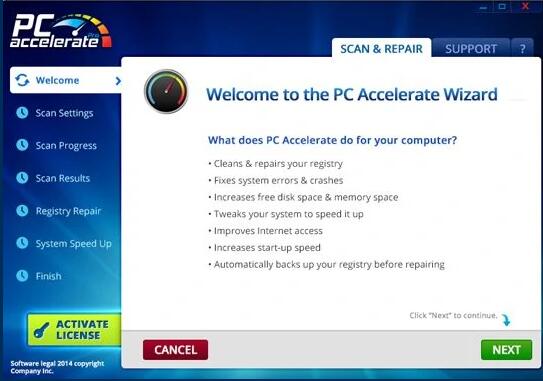 Why Do Users Want to Uninstall PC Accelerate Pro?
Many users are looking for a way to get rid of PC Accelerate Pro completely. If PC Accelerate Pro does help users free up disk space, why do they want to get rid of it? It is because this software is not as useful and good as it advertises. It brings many troubles to users and ruins the systems, providing users awful experience.
After the PC Accelerate Pro is installed, it lets itself starts automatically when your system starts up. Without asking you for permission or suggestion, it runs automatic scans and tells your PC has issues by displaying issues in detail. On the screen, there is a phone number which can link you to the "tech support." From the appearance, it does look like a security program. However, it is not.
You may suffer a flood of errors, alerts and warnings when you use the PC to work, play games, study or watch videos. The endless popups claims dozens of issues have been detected on your PC. PC Accelerate Pro offers to help you fix the issue. However, you need to pay for the license for its full version or tech support to fix it. It makes sense to pay for a software license and tech support when you need help. However, this program creates problems to trick you into purchasing their service. That does not make sense. Besides, PC Accelerate Pro brings adware, browser hijackers, and other potential unwanted program to ruin your system, attempting to urge you to purchase their service. Hence, many users choose to uninstall it to end the problems.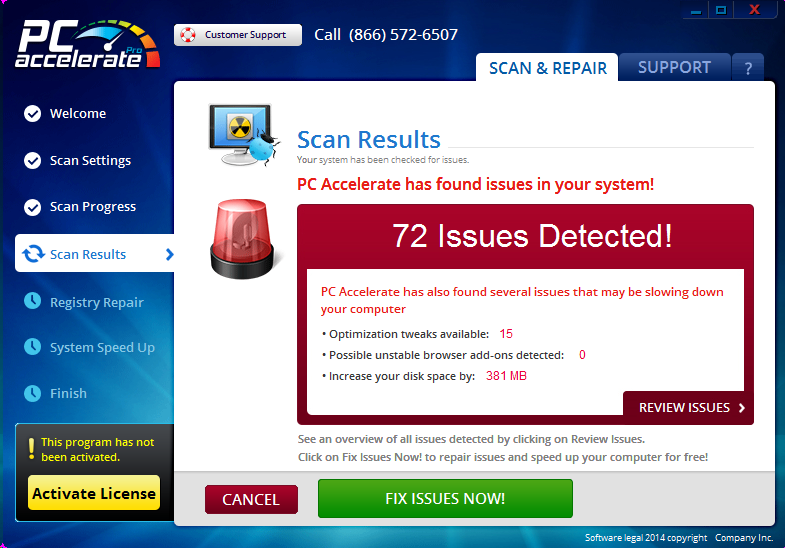 Can't Remove PC Accelerate Pro from Your PC?
PC Accelerate Pro can be installed easily even without your knowledge. It sneaks into the system quietly and displays fake alerts to scare you into buying their software license and tech support. However, it is not that easy to uninstall. Sometimes, it can be removed via regular routine. However, few users are able to do that. They get error and fail to proceed due to Admin right, configuration setup issue and more problems. Even if you can uninstall PC Accelerate Pro software, a pile of leftovers still exist on the PC. The leftovers may bring the software back or other harmful program, affecting your system.
In most cases, users found left registry entries, plugin and other files after manual removal. If you are good at computer, you can scroll through the list of programs and double-click on each of the entries to remove them after you uninstall PC Accelerate Pro. If you are not sure what you are removing, we don't suggest you remove them manually. If you remove the registry entries or keys that are important to your system, it can cause vital problem to your PC. Can't remove PC Accelerate Pro completely by using the Windows Program/Features? You can try Uninstallor which is a useful tool that helps you uninstall stubborn software, adware and unwanted programs completely.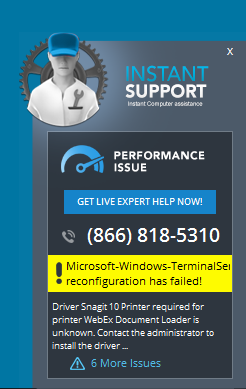 How to Uninstall PC Accelerate Pro from Windows 10?
Still can't find an effective PC Accelerate Pro removal guide or tool? Follow our guides to get rid of it once for all. You can get rid of PC Accelerate Pro manually or use Uninstallor to uninstall it automatically.
Method 1: Manual Guides to Remove PC Accelerate Pro
There are multiple methods to remove PC Accelerate Pro from your Windows 10. You can use any method you like. As PC Accelerate Pro is tricky and not easy to remove, you can contact technicians to help you clear leftovers. Now let's get started.
Option 1 – Uninstall from Start button: Click the Start Button at the bottom left, and type "PC Accelerate Pro" to look for the software. Right click PC Accelerate Pro and click Uninstall.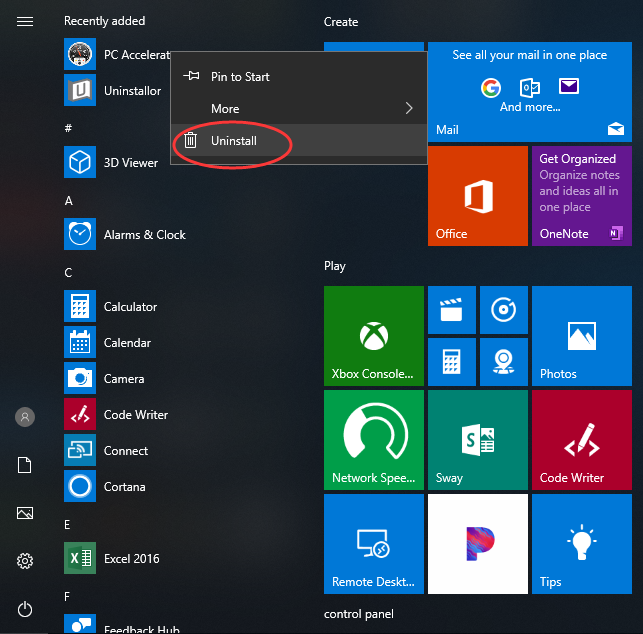 Option 2 – Uninstall from Settings: Click Start button and select Settings at the left side.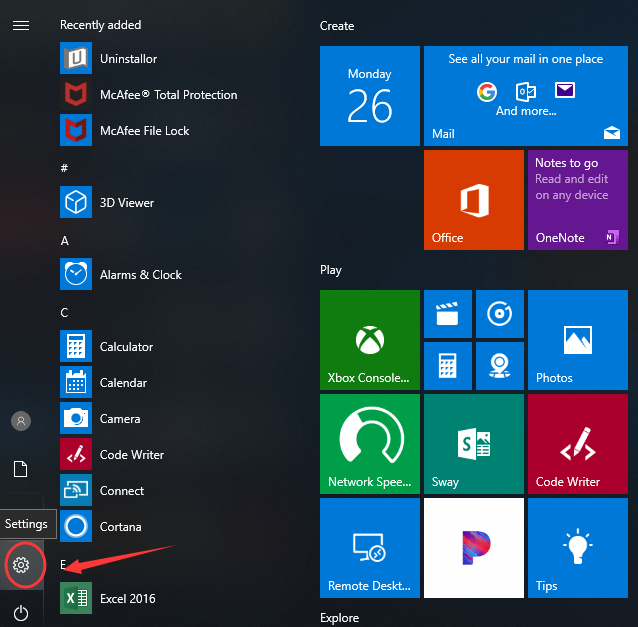 Next, it will open a windows. Select Apps, and then click Apps & features. Search for PC Accelerate Pro among your apps. Click it and select Uninstall.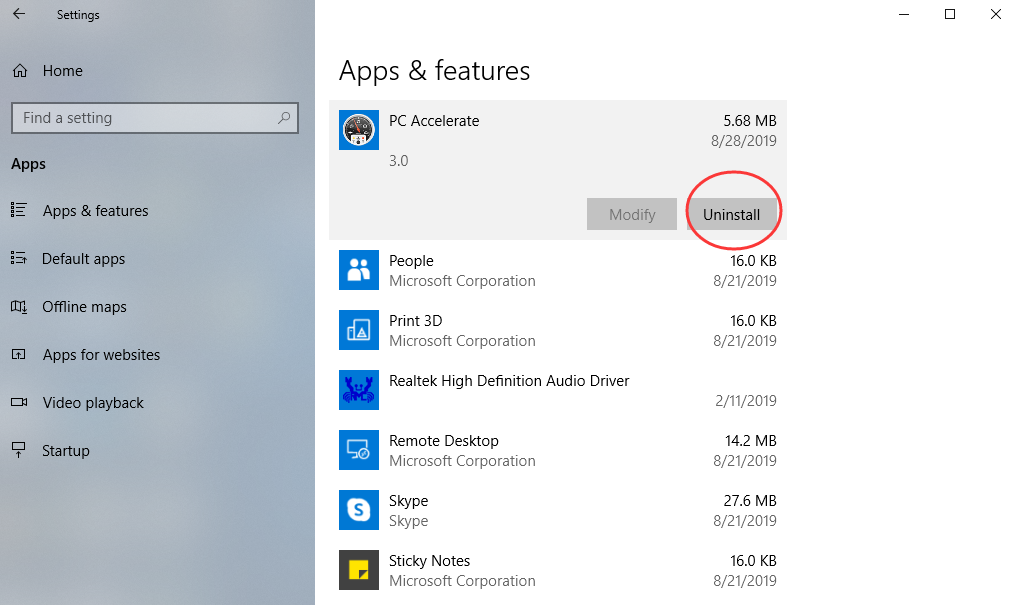 Option 3 – Uninstall from Control Panel: Click the search box on taskbar and type Control Panel. You will see Control Panel on the top. Click to open it.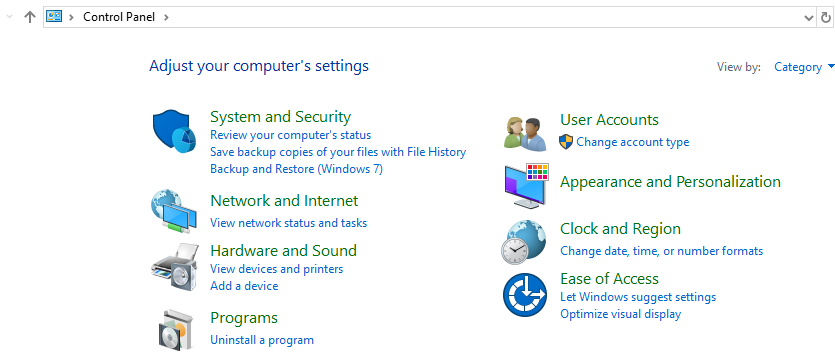 Next, select "Uninstall a program" under Program option. Search for PC Accelerate Pro from the app list and uninstall it.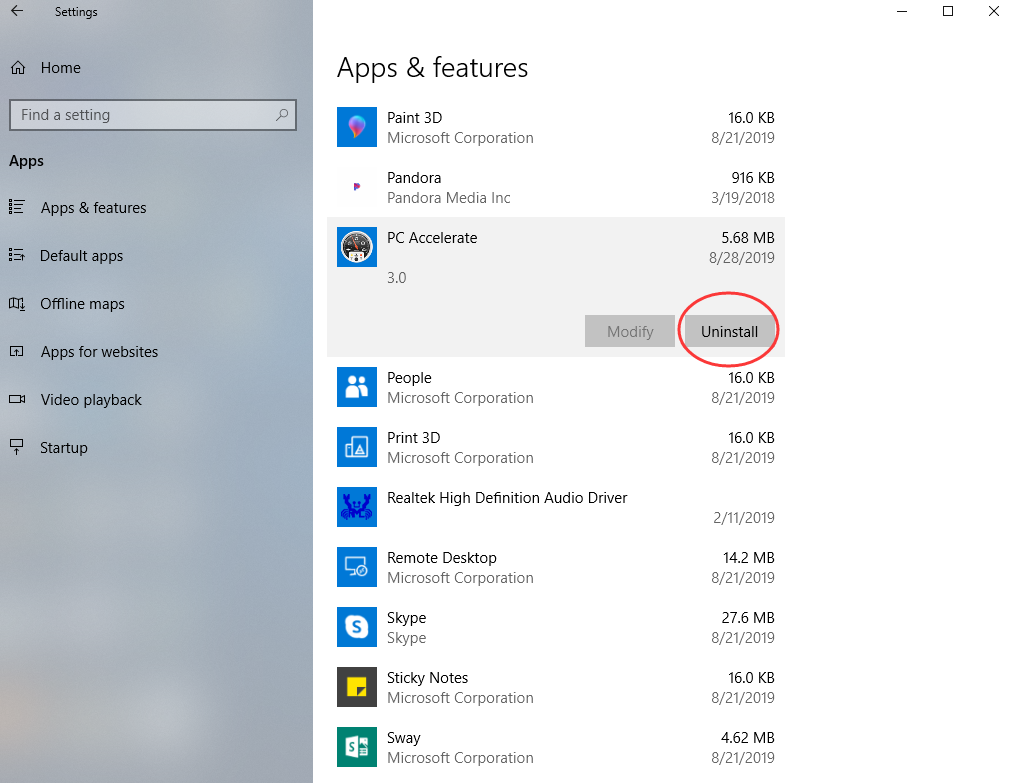 Hope you can get it off your computer by using the manual removal guides above, if you have tried the above methods but still can not uninstall it away, you can try the following method.
Method 2: Guides to Uninstall PC Accelerate Pro with Uninstallor
If you think the manual removal method is overwhelming or can't uninstall the software completely, you are suggested to use Uninstallor to uninstall PC Accelerate Pro within 30 seconds. According to many users, they can't find PC Accelerate Pro from their app list under Settings and Control Panel because this software is very tricky. Even though you find the icon, it pops up a window saying you don't have right to uninstall the software even though you are the Administrator. Sometimes, it may say the configuration setup has been corrupted, and the software can't be uninstalled. Sometimes, it seems you can remove PC Accelerate Pro. However, it tells you there are leftovers. Would you like to get rid of PC Accelerate Pro once for all? Use Uninstallor to do it now.
First of all, download Uninstallor on your PC and install it. It is very easy and fast to get Uninstallor ready. When you open the program, it loads all your installed software and apps automatically.
Secondly, find and click PC Accelerate Pro. If you have a long list of apps, you can use the search box to look for needed software quickly. Type in key words and the software will pop up immediately. After you select the software you want to uninstall, click Analyze Now button. Uninstallor will collect and analyze the software's install information, showing you all files and registry entries with specific install location.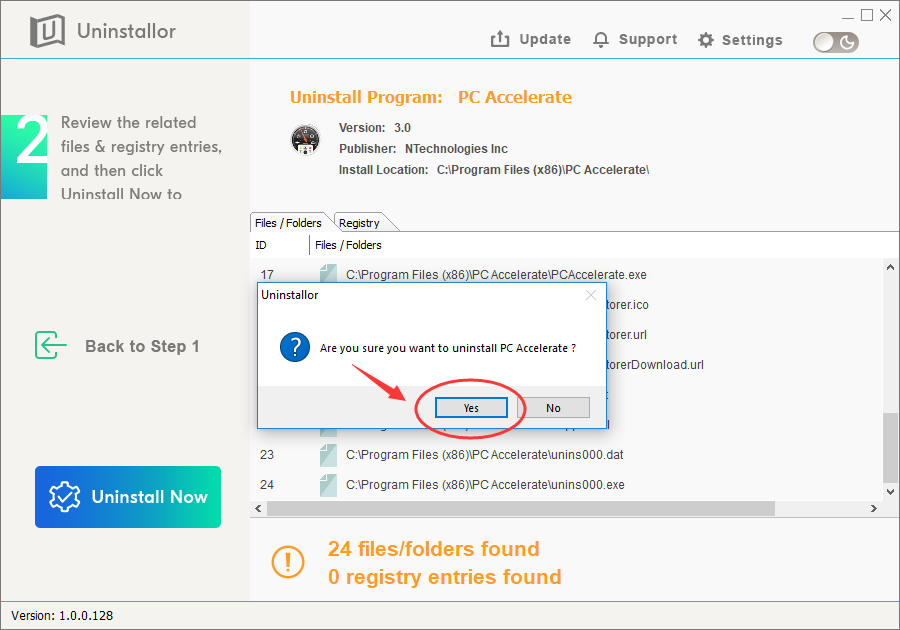 Thirdly, click Uninstall now button after the software analyses, and Uninstallor will take care of the rest. Simply sit there and wait before it finish the uninstallation. There won't be leftovers, useless registry entries & key or junk files when you use Uninstallor to remove PC Accelerate Pro.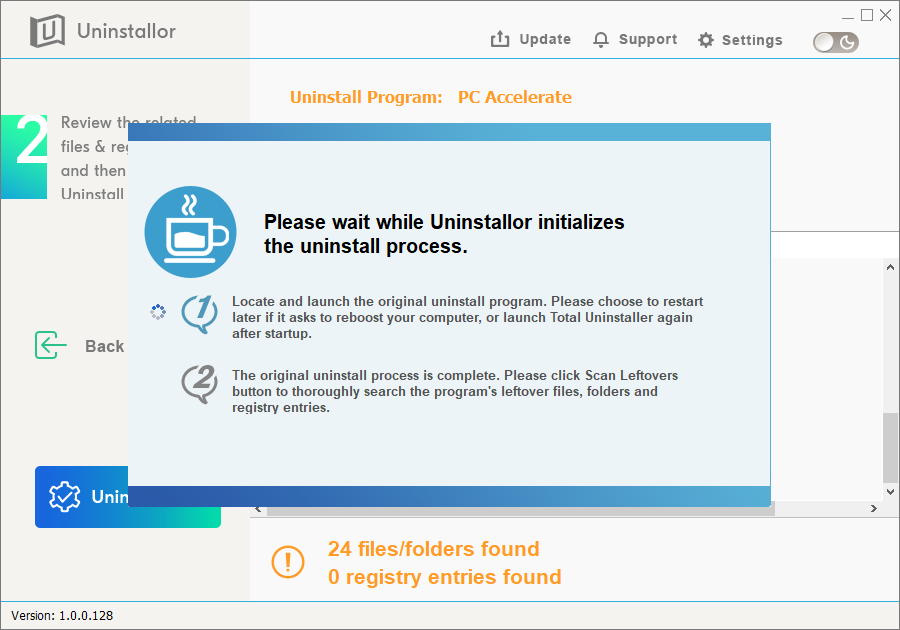 Video Guide to Remove PC Accelerate Pro
Published by & last updated on November 26, 2019 1:54 am