I am looking for a way to remove McAfee Antivirus product completely. The software came with the system and popped up, telling me to update to the premium version frequently. I have another antivirus, and it works greatly. So I decided to remove it, but I failed to uninstall it in the same way I uninstalled Twitter. Does that means I can't uninstall the software that is preinstalled on my system? No. You can uninstall preinstalled McAfee Antivirus completely with a useful tool. Let's learn how to uninstall McAfee Antivirus product from Windows in this article.
What are McAfee Antivirus Products?
Owned by Intel, McAfee is a famous company that offers security software. The service provides a wide range of security products for both home and business use. Among them, the antivirus package protects you against viruses, malware, ransomware, spyware, unwanted programs, and more on your PC. It also blocks risky websites and helps prevents dangerous downloads and phishing attacks. You can use the software for free during the free trial, and the functions won't work after the free trial expires. To use the service, you need to purchase a package.
McAfee Antivirus products are useful tool that protect users' device and data from various kinds of threat. They prevent ransomware, Trojan and worms etc. from accessing your system and precious files on the PC, reducing the chance of data loss due to ransomware infection and other harmful malware corruption. They help users remove dangerous malware and viruses. Many users enjoy the protection while some users want to remove the antivirus software. Some of them prefer other products recommended by their friends. Some of them think the Windows Defender protection is enough. However, they found out that it is not easy to uninstall the software properly.

Trying to Remove McAfee Antivirus Product off Your System?
Users might download McAfee Antivirus software themselves or the software came with the PC when they first bought it. They downloaded the free trials to try the service. If they didn't like the service, they tried to uninstall it. It is very easy to install the software while it is not easy to uninstall the software. On one hand, a set of tools and software are installed alongside. On the other hand, the software can't be removed completely if you didn't uninstall it correctly.
It is well-known that Windows 10 comes with a handful of pre-loaded applications no matter users need them or not. Some PCs from certain companies come with a trial version of McAfee Antivirus program and the software is pre-installed on the device. At the beginning, the software works without any problem, helping you block and remove threats actively. Once the trial period is exceeded, you are required to pay for the license to continue to enjoy the protection from the antivirus software. If you don't pay the license, you may face some issues. For example, you will be interrupted by endless pop-ups regarding renewing the subscriptions all the time.
Besides, the software can affect your system security software. For example, it blocks features of Windows Defender, and you fail to enable the software. Without protection, your whole system is vulnerable. Some users have to choose to upgrade to the premium version as they believe they have no choice as the system security software does not work any longer. The McAfee Antivirus product itself is useful while some users don't feel happy as they think they have no choice. That may affect users' review over the product.
Some users try to uninstall the software as they need space for other software for work. When you install the antivirus package, the WebAdvisor browser protection, a bunch of optimization software and a two-way firewall are installed alongside. This is why it takes some times to finish the installation. The software and functions help a lot when you use the premium version. After your license is expired, the protections are not available while the software is still there, occupying your space and causing heavy system load. Your PC will run slowly and freeze frequently.
It is important to have antivirus protection on your PC. For excellent protection, you can upgrade to the premium version of McAfee Antivirus. If you don't feel like to pay, or don't need the protection any longer, you need to uninstall the software correctly because the software without license is useless for your PC. You should ensure your PC is protected no matter which antivirus software you use.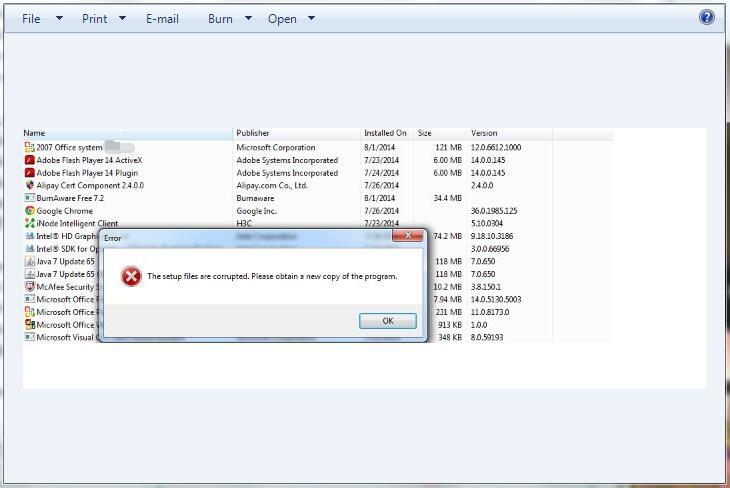 Can You Uninstall McAfee Antivirus Product from Windows 10?
If you don't want to use this antivirus or you are using another antivirus program to protect your PC, you surely can uninstall the software. How to uninstall McAfee Antivirus from Windows 10? You can uninstall it manually it or use a tool to remove it quickly.
Method 1: Manual Removal Guides
Manual Guides to Remove McAfee Antivirus software from Windows 10. If your McAfee Antivirus product came preinstalled on your PC, you can try the service first before you uninstall it. It is free to try. What if it is a piece of software you like? If you don't feel like the service after trying, remove it from your system.
Method 1: Click the Start button and enter key words to search for McAfee Antivirus product. Right click on the app and select Uninstall.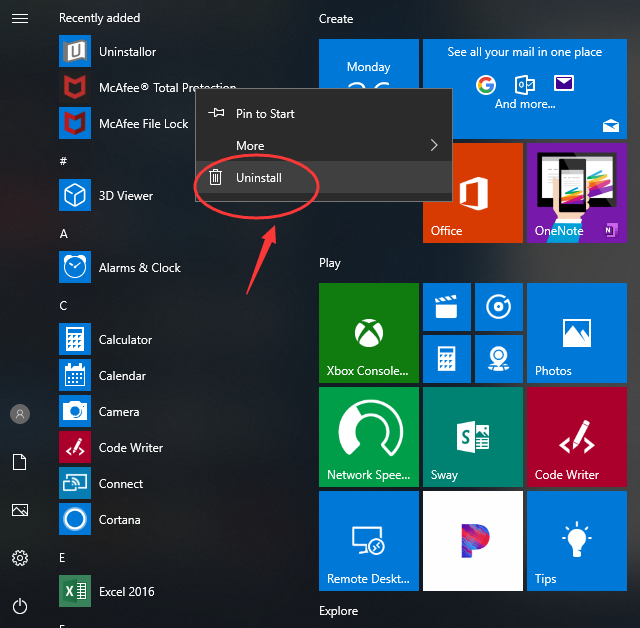 Method 2: Click the Start button and select Settings at the left side.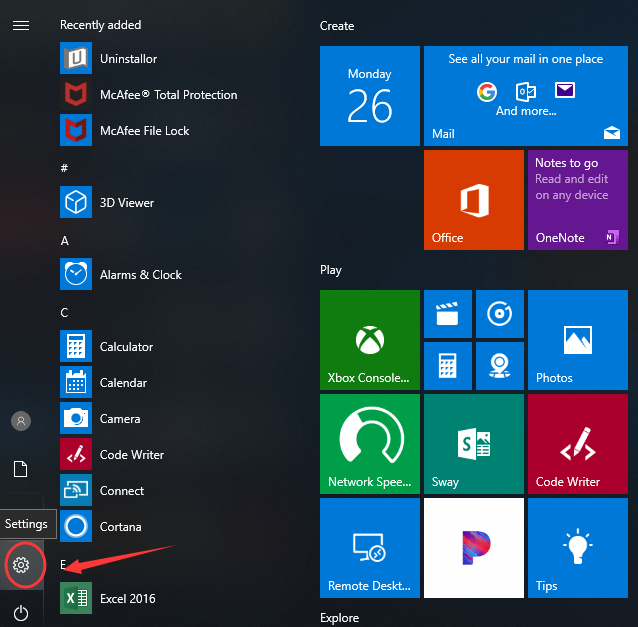 Next, select Apps and click Apps & features. Look for McAfee Antivirus software, and then select Uninstall.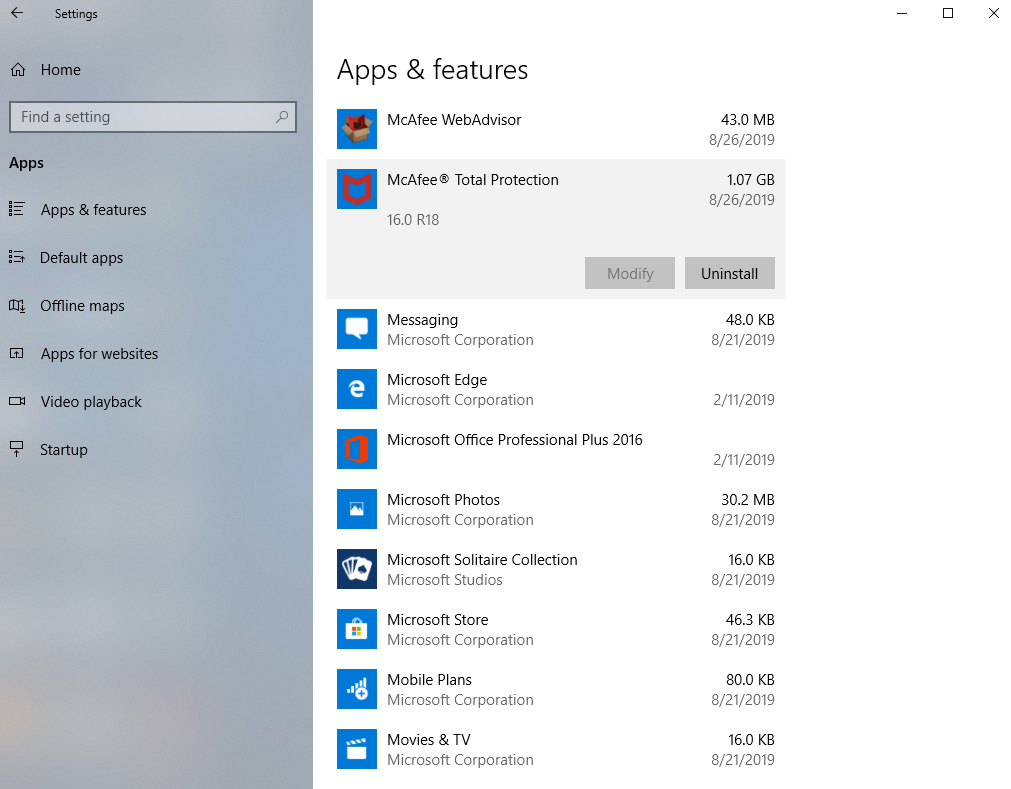 Method 3: Type Control Panel in the search box on the taskbar and open it.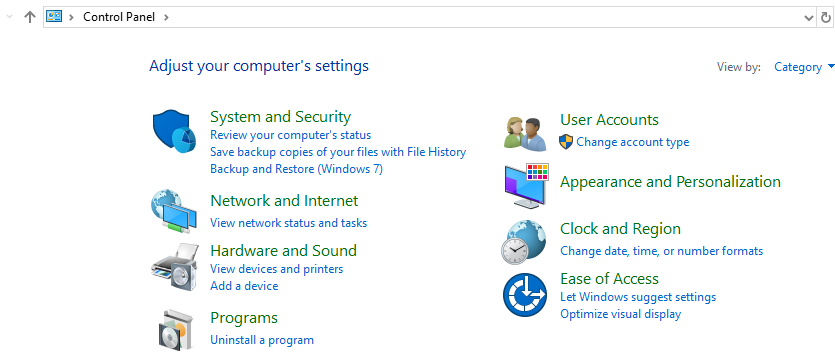 Next, select Uninstall a program under program. Look for McAfee Antivirus software from the shown list. Right click on it and select Uninstall.

Hope you can get it off your computer by using the manual removal guides above, if you have tried the above methods but still can not uninstall it away, you can try the following method.
Method 2: Uninstall With A Tool
Guides to Uninstall McAfee Antivirus Software with Uninstallor. Many users found that nothing happened after they clicked Uninstall button from Control Panel. Some users got an error message like "this program can't be removed" when trying to uninstall McAfee Antivirus software. Sometimes, it leaves a lot of junk registry entries and files behind even if it shows the software is uninstalled. If you are looking for an effective solution to remove McAfee software completely, Uninstallor should be your first choice. It helps you remove all stubborn software and bloatware that you don't need any more. Below are the guides to uninstall McAfee Antivirus Software completely.
First of all, download and install Uninstallor on your PC. It only takes few seconds to get the software ready. When it finishes, click finish and open program.
Secondly, the program will analyze and load all software on your PC. You can look for McAfee Antivirus from the list or type key words in the search box to find it quickly.
Thirdly, choose McAfee Antivirus software and click Analyze Now button. Uninstallor will collect and analyze the software's install information, showing you all files and registry entries with specific install location.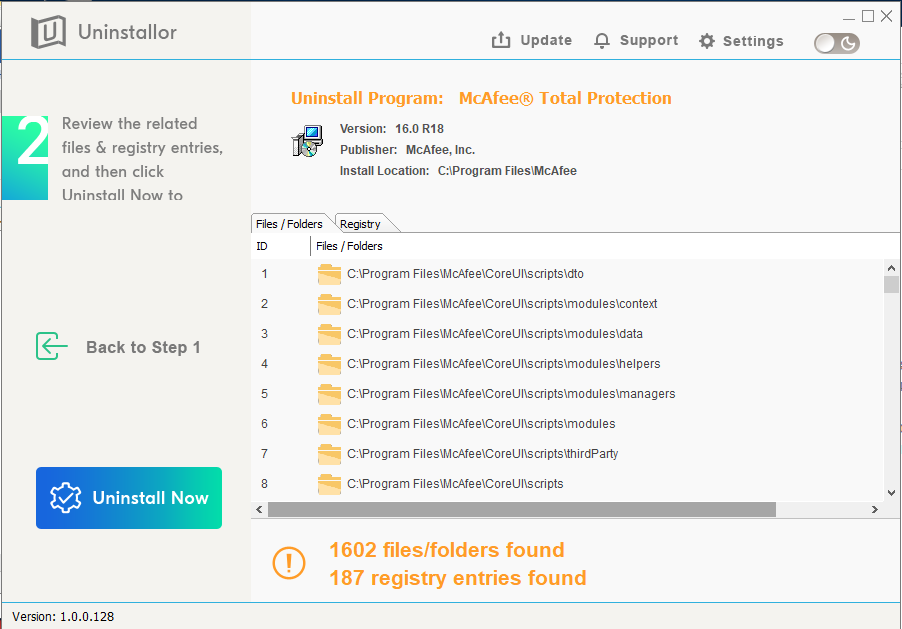 Finally, click Uninstall Now button to uninstall McAfee Antivirus Software completely. The whole process is very easy to go through.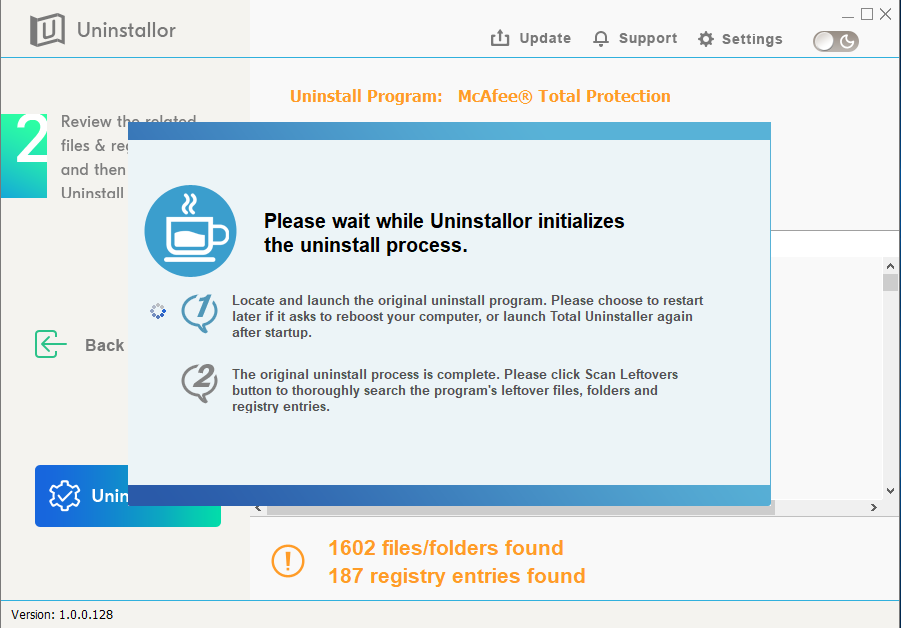 You only need to follow the uninstall wizard to finish the job. Even if it is the preinstalled or bundled software, Uninstallor can uninstall it without any problem. No Leftover or registry entries will be left on your PC. Besides, the Uninstallor provider offers custom fix solution and on-demand remote support in case users have problem in uninstalling the software by themselves. Still can't uninstall your expired McAfee Antivirus Software? Use Uninstallor to remove McAfee Antivirus Software completely.
Video Guide to Uninstall McAfee Antivirus Software
Published by & last updated on October 16, 2019 2:59 am