Do you know F-Secure provides VPN package? Did you ever use the F-Secure Freedome VPN? Would like to sign up with the service, but are not sure if it is the service you want? You should get F-Secure Freedome VPN free trial to try the service yourself. It is totally free to try F-Secure Freedome VPN. Why don't give it a shot and find if it is the service you want?
F-Secure Freedome VPN Free Trial
Many users ask how to find out the right VPN without wasting money on unwanted products. It is very simple. Apply a free trial to test the service out before you purchase it. F-Secure Freedome VPN is owned by the popular security company, and comes with solid features. If you are not sure if it is the service you are looking for, you should use their free trial to find it out. In those days, many beginners are looking for a reliable VPN solution for privacy and security. As they didn't use VPN before, it is difficult for them to decide if it is worth to buy the product without trying it. Is there any F-Secure Freedome VPN free trial? Yes. The provider offers F-Secure Freedome VPN 5-day free trial to let you try their service.
F-Secure Freedome VPN free trial comes with the same package of premium subscription. The provider does not limit bandwidth, server locations, VPN protocols or other features. Many VPN services provide free trial with limited features. Their users can use limited bandwidth, connect to few servers and switch to only one protocol. Many users still don't know what the VPNs fully offer. If you want full experience with a VPN service, get F-Secure Freedome VPN free trial. It gives you full access to their service and allows you to try every aspect of the service.
It does not require billing information to activate F-Secure Freedome VPN free trial. You can skip registration. Simply download and install the VPN client on your device. Connect to server you like and start to try the service. There are no bandwidth caps, and you can try it on your favorite streaming service without restriction. You have 5 days to try the VPN. The trial period is longer than the average trial period on the market. With full features and long enough trial period, you surely can feel the service thoroughly.
When your F-Secure Freedome VPN free trial expires, the account is automatically deactivated. There is no need to contact the service to cancel your account. As you don't provide credit card to get the trial, you won't be billed at the end of the trial. To continue using the service, navigate to the official website to sign up a plan of the service. If you decide not to use the VPN, you may uninstall the app from your device. Get your VPN trial to try the service free now.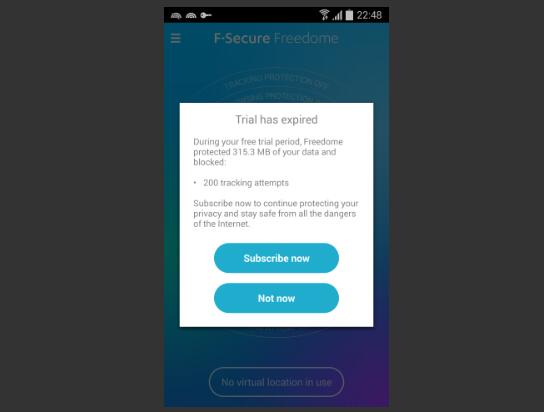 Money Back Guarantee
Like other reputable VPN providers, F-Secure offers money back guarantee to let users avoid making wrong purchase. If you would like a longer risk-free trial period, you can sign up a F-Secure Freedome VPN plan to avail their money back guarantee. The company offers a 30-day money back guarantee for all purchases made on the F-Secure web site.
After you sign up a plan and create your account, use the VPN to conduct various activities to know it well. Switch between different servers and VPN protocols to feel the connection, performance, ability to unblock streaming service and more. If you are not happy with the service for any reason, submit a cancellation request. As long as you don't breach their use term or use the VPN for illegal purpose, it is easy to get a refund. Remember to submit your request within 30 days of the purchase. The guarantee does not work for you if you cancel the service after 30 days you signed up the service. The process is very simple. You only need to contact the provider and submit your refund request with your subscription detail. According to the provider, they will process your refund request within 24 hours. Have a test drive with F-Secure Freedome VPN. It is risk-free.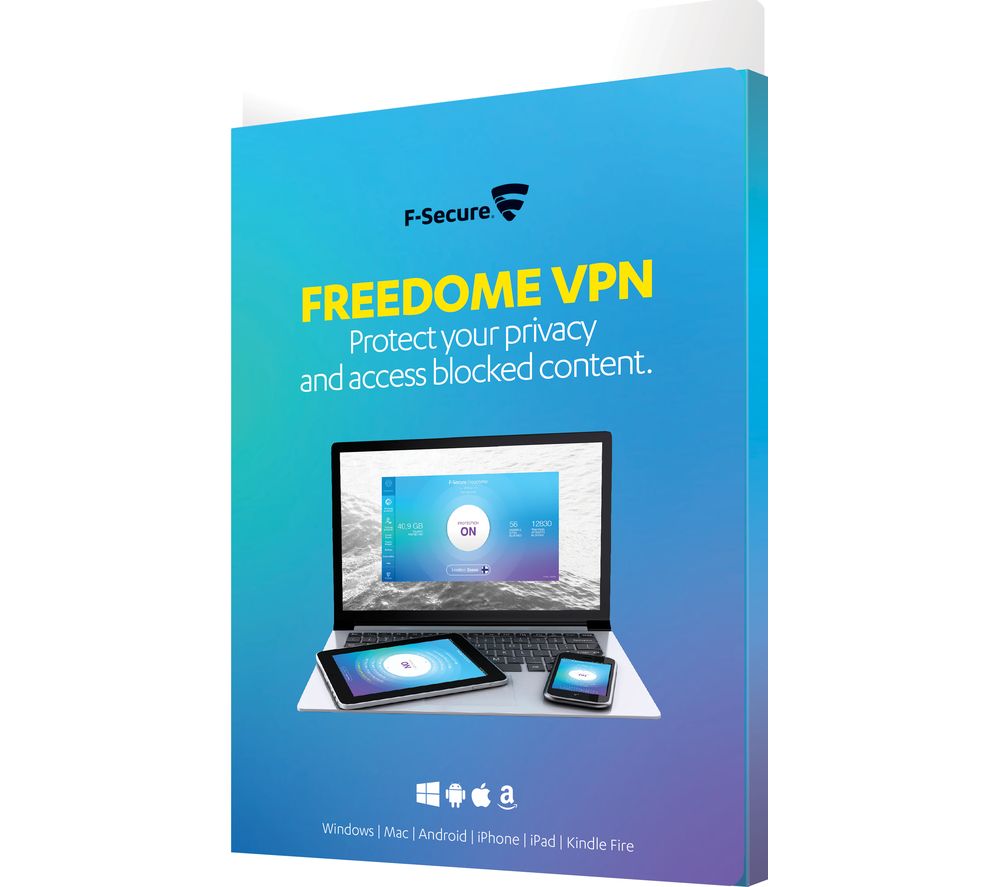 How does Free VPN Trial Helps?
What do you do to test the service after getting the F-Secure Freedome VPN free trial? Firstly, you can test if there are any IP address leaks or DNS leaks when connecting to the VPN. Switch to a server in different country, and open websites that show your IP address or search for your IP address directly on Google. Some websites display your IP address, and tell visitors that their IP address is not protected. When you search for "what is my IP address", you will see the IP address you show to others. If the shown IP address is a new one from a different country, it means your online ID is protected.
Secondly, connect to a public WiFi hotspot after you turn on VPN to see if there is any scanning or warning of an unknown network. Does the VPN protect you on public or home network? Thirdly, try all VPN features to see if they work properly. Try different functions from the settings to see if they work in the way you like. Fourthly, check it is easy to connect to nearby servers. Switch between different servers to feel the VPN speeds and reliability. Fifthly, use F-Secure Freedome VPN free trial to see if it can bypass geo-restriction and unblock your favorite streaming, torrenting and social media platforms. Finally, test out the different VPN apps on the devices you want to use, such as on your computers, phones, or tablets. You will get a clear answer whether you like the service or not.

How much does F-Secure Freedome VPN Cost?
F-Secure provides affordable and flexible VPN plans. You may love the service after using the F-Secure Freedome VPN free trial and decide to upgrade to the premium version. There are three plans that allow you to cover all your devices including mobile devices, laptops and desktops. There's no difference in the features between the three paid plans. No matter which plan you sign up, you get full features. The only differences between then are the number of devices you can use simultaneously with one license, and the billing cycle. It lets you choose to connect to 3,5 and 7 devices simultaneously. There are 1-year and 2-year plan. It lets you choose either fixed-term or auto-renewable. If you choose fixed-term, you need to renew every one or two years. If you choose auto-renewable, your plan will be renewed automatically at the end of the subscription. After you purchase a plan, you will receive a subscription code that is required when you need to log in your account on each device covered by your account. Once you log in your device, your subscription is activated. You will have a great time with F-Secure Freedome VPN because there are no ads, and the provider offers unlimited bandwidth and full respect for your privacy. You have option to cancel the account any time if you don't it any longer. If you need to connect to 3 devices simultaneously, it costs only $29.99 USD a year. It costs $59.99 USD to cover 7 devices for one year. If you want more discounts, the 2-year plan should be your first choice. It is only $79.99 USD and allows 7 simultaneous connections. In total, it is the best offer which is $0.48 USD per device/month.

About F-Secure Freedome VPN
F-Secure is a Finland-based security company which has been in the security business since 1988. In addition to security suits, the company provides VPN package as well. With over 30 years of experience in security industry, it has solid security features to build the VPN. It is able to stop others from snooping at and intercepting your online session. The provider has no logs policy. The VPN does not leak DNS and protects your privacy in many aspects. It has great network that brings reliable performance and good speeds. It can help users unblock popular streaming sites that come with aggressive geo-restriction. Its price is friendly. F-Secure Freedome VPN is a risk-free service because there are a no-registration 5-day free trial and a 30-day money-back guarantee. It is free to try the service out before you commit to sign up a plan. You can get packages for up to 7 devices. This VPN is cross-platform and extremely easy-to-use. The provider offers clear PP and ToS, ample FAQs, live chat and phone support to help users fix issue timely. You should try the service yourself. There is a F-Secure Freedome VPN free trial which lasts for five days.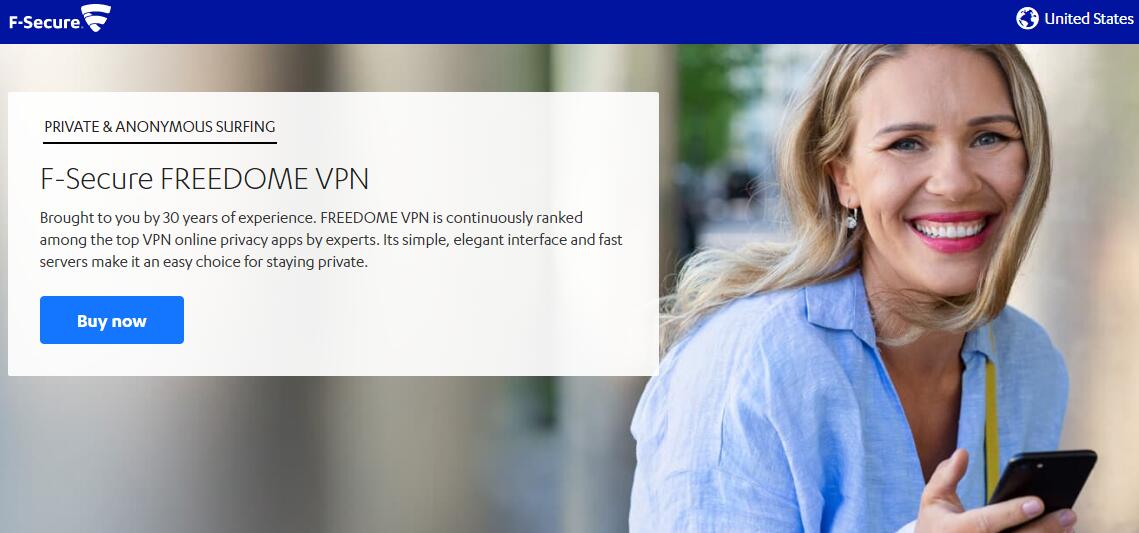 Fast Network. F-Secure Freedome VPN has a wide network with severs in 30 different locations including Germany, Belgium, Czech Republic, Denmark, Finland, France, Ireland, Italy, Norway, Poland, Spain, Sweden, Switzerland, The Netherlands, United Kingdom, Hong Kong, Japan, Singapore, Canada, Mexico, United States, and Australia etc. As there is no bandwidth cap, and streaming and P2P are allowed, you can enjoy fast connection when streaming, downloading and browsing.
Internet Security. F-Secure Freedome VPN deploy AES-128 and AES-256 encryption along with 2048-bit RSA keys and SHA1 authentication to protect your online data. Likewise, it supports OpenVPN and IKEv2. This level of encryption can't be cracked yet. It is used by university, banks and even government agency to safeguard database. When you use this VPN, others can't view your data or monitor your activities. Even though the hackers intercept your information, they can't read the data without the decryption key.
Internet Privacy. Most users want VPN to take back their privacy. To help you protect privacy, F-Secure Freedome VPN hides your IP address by offering a new one in different a city or country so as to stop your ISP, advertisers, snoopers and other parties from tracking you and collecting what you do online. There is a kill switch which blocks your Internet connection if the VPN drops. It is an extra layer of protection to your privacy. Besides, the provider has clear and direct privacy policy with statement, "We do not share nor sell any of your traffic"; "We do not read your traffic"; "We do not know what traffic is yours." Only you know what you do online. You can browse, stream, download and conduct other online activities anonymously.
Bypass Internet Restriction. F-Secure Freedome VPN enables you to bypass geo-restrictions you might otherwise encounter. This feature is helpful for expats and users who live in country with high Internet censorship. It lets users spoof their locations and disguise their connection to make the streaming sites or firewall believe that you are located in the "legit" country or live beyond their jurisdiction. Users will be able to unblock YouTube, Netflix, Hulu, BBC iPlayer, Pandora and more popular sites from anywhere on the earth.
Ease of Use. F-Secure Freedome VPN has a simple and elegant interface. Beginners can use the apps without any problem and can expect a smooth user experience. It is easy to find and connect to server you like. The sever locations are listed by region. It lets you hide the ones you don't need, making it easier to connect to your favorite servers. You are able to connect to nearby server for best possible connection with one click because the VPN app can instantly define the optimal server based on your location. Get your F-Secure Freedome VPN free trial, install the client, log in your account, connect to server you like, and you are good to go. It will take care of the rest. If you have any technical issue, simply contact their customer support for help.

Top 10+ Best VPN Services In The World
VPN Brands
Servers
Country
# of Connections
Price(USD)
Official Website
3000+ servers in 94 countries.
British Virgin Islands
5
$6.67/Month (Save 49%)
Best Choice
5600+ servers in 60+ countries.
Panama
6
$2.99/Month (Save 75%)
View Deals
800+ online servers in 50 countries.
British Virgin Islands
Unlimited
$1.99/Month (Save 83%)

Chinese Click Here>>

View Deals
3,341+ servers in 32+ countries.
USA
10
$3.33/Month (Save 67%)
View Deals
1,300+ servers in 60+ countries.
USA
10
$6.49/Month (Save 46%)
View Deals
Click Here to Read More Top 10 Best VPN Services »
Conclusion (F-Secure Freedome VPN Free Trial)
Still hesitate? Don't waste your precious time on hesitating. Get your F-Secure Freedome VPN free trial. It does not cost you any penny while you can use the service like its paid users for five days. Open its official website to get the free five-day trial without limitations. No credit card detail is required. Simply download the app on any device you like to try the service out. You don't need to go through a registration to get your hands on experience. Act now. The F-Secure Freedome VPN free trial will let you know how the VPN works in securing and anonymizing your digital life.

Published by & last updated on April 20, 2020 5:11 am