Did you ever use RememBear? Is it easy to use? How does RememBear protect your data? What features can you use? Is it expensive? To provide you accurate answer, our team purchased a plan and tested the product for few months in order to write this RememBear review. Hope it gives you information you need and make an informed decision. Today, most users need a reliable password manager to take care of their digital life as they have more and more accounts & passwords to remember. Beginners may make mistake and choose the wrong product due to lack of experience. Our goal is to help you choose the best product for your need at reasonable price. Learn if RememBear is your best password manager in this article.
Brief Information of RememBear Password Manager
RememBear is a useful password manager owned by the name company which creates TunnelBear. Since it has been released, the company keeps expanding new features to upgrade their service. It delivers reliable password management solution, and keeps users' passwords & information safe. At this digital age, people need various kinds of accounts and passwords to access online contents. They need social media accounts, streaming accounts, blog accounts, email accounts, bank accounts and more to conduct different types of activities. According to the researches, most users have difficulty to manage their passwords. It is really a heavy burden to remember so many password combinations of various apps and websites. People usually get confused by different passwords and have to reset passwords frequently so as to access their accounts again. Hence, a handy password manager like RememBear should be essential for Internet users.
RememBear lets you store unlimited passwords in the data vault, and create secure notes for your personal information. It uses advanced technology to encrypt your data and protect the data vault. You can use its built-in password generator to create solid password to prevent data breaches. It supports one-click password filling and automatic login. It offers to help you fill web forms as well, helping you save your precious time. RememBear has a cute bear feature. The provider designs it very easy to use. It works on all major systems and browsers. As it syncs your passwords across different devices, so you can access your passwords conveniently from anywhere. Can't remember all of your passwords? Get RememBear to take care of them.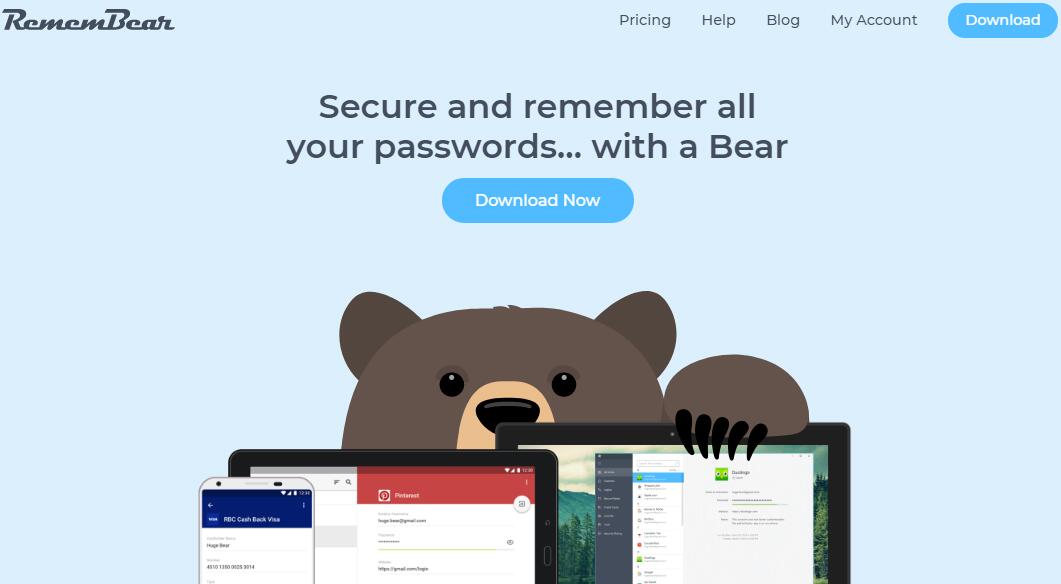 How Much Does RememBear Cost?
Is it expensive to use RememBear? No. RememBear offers friendly prices. If you can't decide yet, you also can try the service by using their free version. The free version comes with limited features. It lets you use the free version on device and does not support sync or backup. If you would like to use all features, you can upgrade the premium package easily.
RememBear offers affordable premium package. There are three plans to choose. It is not difficult to choose because they include the same features, and you only need to choose which billing cycle you like. If you prefer shorter subscription, you can sign up the yearly plan. If you don't feel like to renew the plan frequently and want some discounts, you can sign up 2-year or 3-year plan. The 2-year plan is 17% off and the 3-year plan is 42% off. It only costs $1.75 USD per month.
Free version with limited features: $0.00 USD
Premium version with full features
1-year: $3.00/month
2-year: $2.50/month
3-year: $1.75/month

What can You do with RememBear?
How does RememBear help? Is it worth to invest the password manager? RememBear can help users in many aspects. It comes with all basic features that you expect from a password manager. By installing the password manager app or browser extensions on your device, you can manage your passwords and protect your personal information effectively. Let's learn its features in detail.
Store All Password in One Place
RememBear offers a secure vault to store all of your passwords. It lets you import your exiting passwords from browsers as well as other password managers with one click. If you wrote down passwords on a notebook, you can add them manually. Once you add passwords in the vault, you can access them anytime you need them. Unlike password storage on browser, RememBear encrypts and stores your passwords in cloud and sync them from one device to another. If you store passwords on browser, they can be exposed when the hackers gain access to your browsers or snoopers open your browser to steal passwords when you walk away from the PC. With RememBear, others won't be able to view your passwords without decryption key. Whenever you need the passwords, simply log in your password manager account. You won't forget a single of your passwords.
Sync & Back up Passwords across Multiple Devices
Have multiple devices to deal with business and personal stuff respectively? Left your work PC at home and failed to access business accounts at a meeting? RememBear allows you to sync data across different devices. After you add new logins to the vault, the data will be uploaded to the cloud automatically. The data in the cloud also works like backup. With the backup, you won't lose your passwords due to software error. When you log in your account on a different device, the new added data will be available on it. There is no need to add new passwords on each device manually. Besides, the browser extensions can capture your new logins automatically. When you use new account to log in, it pops up and asks if you would like to save it to the vault. You are allowed to edit to the title. With one click, you can store new logins and give it a beautiful title. By helping you sync and back up passwords on different devices, RememBear makes it easy to manage all of your passwords from anywhere.

Auto logins
Many websites require login confirmation every day you open them. Some even require verifications to log in your account. Would you like to log in your favorite sites quickly and still keep safe? You should use RememBear for auto logins. The password manager can recognize legit sites and help you log in securely. With the stored logins, it automatically logs you in and gets you access to their favorite accounts as fast and as effortlessly as possible. As you don't need to enter password manually, the hackers won't have a chance to use keyloggers to steal your passwords. RememBear grants you quick login while maintains security as well.
Password Generator
RememBear helps users generate safe passwords. How do you create password for a new account or change your old passwords? Do you have to spend a long time to think of a password? Do you use your name, phone number or pet's name to create a password? Do you use one password for multiple accounts? You know what? Most data breaches were caused by weak passwords. Reused passwords could bring potential risk. Hackers collect users' habit of creating passwords and use particular machine to crack millions of passwords within few seconds. Data breach happens every day, and users' social media account and even credit card detail are sold on black market. Strong passwords are very important.
Don't know how to create strong passwords? Use RememBear's password generator to do it. Whenever you need a new password, it creates one for you immediately. It creates a password in the combination of lower case & uppercase characters, numbers, and special characters. You can decide the number of certain types of characters and the length of passwords. The password it generates is random, secure and hard-to-crack. Besides, you can use it to update your old passwords. After you import passwords, you can see them in the vault with the marks of password strength. If you see them in red color, they are not secure. In this case, you are able to use RememBear password generator to create new which is secure and unique. Don't reuse password on different platforms. If one account is hacked, others can be compromised quickly. With RememBear, you can create as many random and solid passwords as you need without remembering them at all. Use password manager to store passwords, and you can carry it everywhere.
Form Filler
If you love shopping online or need to fill web forms frequently, you will love the form filling feature. In addition to passwords, RememBear allows you to store personal information like name, contacts, addresses, social security number, order reference number, software licenses, IDs and credit card number etc. When you check out online, it helps you fill basic fields and you will be able to finish it with few clicks. It makes purchasing items online considerably easier. When you load a page with a form, you can see Bear icons next to fields that the password manager can fill for you. If you need it to fill form, click the icons to tell it work. It can't abuse your personal information on malicious website. If you don't feel safe to store your sensitive information like credit card security code in the vault, just skip it and only store your credit numbers on it. You can save time in typing a long series of numbers and keep safe at the same time.
Multiple Platforms
RememBear offers apps for Windows, MacOS, Android and iOS devices. There are browser extensions for popular browsers like Google Chrome, Firefox and Safari. After you install the app or browser extensions on your device, you will see the cute bear in the text box of the website's login page and next to fields in web forms. It is very easy to install and set up the password manager. Simply follow the wizard to install the app and create your account with a strong master password which will be the only password you need to remember in the future. Once you finish setup, it pops up and guides you to imports passwords without any problem. If you have any problem, you can submit a ticket or send an email to their support team asking for help.
RememBear Security
How does RememBear protect your items? How do you know your passwords are safe with this service? RememBear is relatively new on the market while its security is solid. According to the provider, they have invested a lot of time on thoughtfully engineering the strong end to end encryption to equip RememBear. It uses AES-256 encryption as a strong cipher to protect your passwords and personal information. Only you can see data in your vault. The hackers won't be able to decrypt anything substantial. In order to make master password unique, the service provides a New Device Key (NDK) which adds a series of random characters to your password, literally making it impossible to crack. If you lose your RememBear New Device Key (NDK) in addition to your Master Password, there is no way to way to recovery and access your account as the provider does not have those information.
Besides, RememBear uses a form of Diffie-Hellman key exchange, allowing their servers to verify your master password without actually having it. This is very important for your data's security. For example, if a hacker gained access to the password manager's physical servers, your account would not be compromised as there would not be actual master password to steal. In addition, RememBear's security architecture and implementation have been audited by Cure53, a German cybersecurity research firm. Cure53 conducted a white-box test and audit of the product. "No critical security issues were discovered" from the penetration test. You can view the published report on their website. It turns out that RememBear is a secure password manager that you can trust.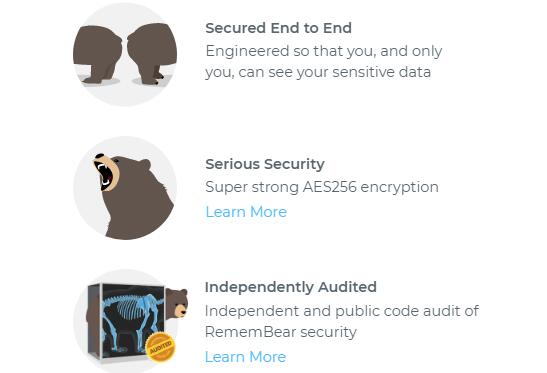 Video Guides to Save Money with RememBear Coupons
Top 4 Best Password Managers In The World
| Brands | Rating | Support Platforms | Offers | Price(USD) | Official Website |
| --- | --- | --- | --- | --- | --- |
| | #1 Read Review | Windows, Mac, iOS, Android, Linux, Chrome OS, watchOS | Offers Free Version | $39.99/Year | Best Choice |
| | #2 Read Review | Windows, Mac, iOS, Android, Linux, Chrome OS, Windows Phone, watchOS | Offers Free Version | $24.00/Year | View Deals |
| | #4 Read Review | iOS, Android, Safari (Mac), Chrome and Firefox (Mac and Windows) | Offers Trial Version | $14.99/Year | View Deals |
| | #5 Read Review | Windows, Mac, iOS, Android | Offers Free Version | $12.00/Year | View Deals |
Conclusion (RememBear Review)
RememBear is a great service that eliminates your frustrations in creating and remembering complicated passwords. It offers an encrypted data vault to store all of your passwords, notes, and credit cards etc. across all of your devices, including phones, laptops, and tablets for quick and secure access. The auto login and form filling features are very helpful. The password manager helps you identify weak passwords and generate strong passwords for you. You can use hard-to-crack passwords to secure your accounts without keeping them in mind. Use your master password to unblock your account, and you can access your passwords anytime and anywhere.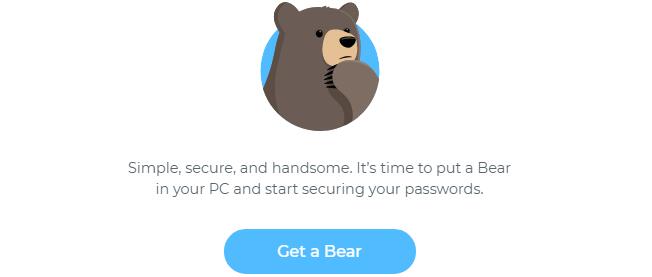 Published by & last updated on July 3, 2020 8:01 am