Are you looking for a Trust.Zone free VPN trial to test out the service and see if it meets your need without any risk? It is always wise to try the service before you decide to purchase it. Most VPN providers offer free trial to let users try their services. For example, Trust.Zone offers free trial as well as money back guarantee to let all users try their service without paying a dim. It enables you to feel the VPN performance, try different servers, hide IP address, protect sensitive information, unblock restricted contents and try more aspects to find out if it is the service you are searching for. Get Trust.Zone free trial to start your tests.
Trust.Zone Free Trial
Is Trust.Zone free to use? No, it is not free. Don't worry. Its prices are affordable. Besides, you can try the service free before purchasing a plan. To let all users test their service, the company provides a Trust.Zone free trial. The trial period lasts for 3 days, and it is available for every Internet user. It allows users to connect and switch between different servers for fully feel the service. During the trial period, the VPN client works greatly. It is equipped with the same user interface, encryption, privacy features and other tools. It lets you test the VPN speeds and reliability. Try the servers to unblock restricted contents and use shared IP address to hide their browsing histories. It is a pity that Trust.Zone free trial comes with limits. This trial provides you with data transfer limit of 1GB and one VPN connection. That means you only can test the service on one device. If you make use of the trial properly, you still can try the service in all aspects and learn how the VPN basically works. When using Trust.Zone free trial, you can benefit from the encryption, OpenVPN protocol, no-logs policy, kill-switch, and Seychelles base. Though it comes with limits, it still can help you learn the service well.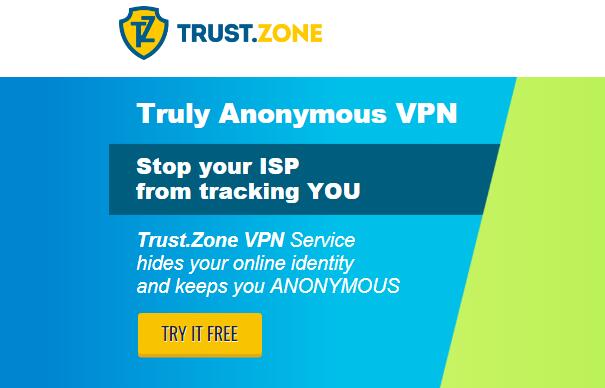 Money Back Guarantee – Try Trust.Zone Risk-Free
If you are looking for longer period of trial and use the VPN on more one device, consider their money back guarantee. Most reputable VPN providers offer money back guarantee as risk-free trial, allowing users to get started with their VPNs without any concern. To avail the money back guarantee, you need to sign a plan. If you can't decide yet, sign up the monthly plan to try the service. It provides you 10 days to make a decision. During the 10 days, you can use the service like other users to learn if the VPN features working properly. If you find out it is not the service you want, simply demand a refund and cancel your account within 10 days of your purchase. Depending on the payment method you used, it can take up to 20 days after cancellation of your contract to receive your refund. To get a full refund, you can't exceed 1 GB of data transfer. If you exceed 1 GB, you will still get part of the price. Sign up a plan to test drive Trust.Zone. It is a risk-free VPN. Below is their refund policy.
If you are not completely satisfied with our VPN services, and you notify us in writing via email within the first 10 days of your contract that you wish to cancel, you will be given a 100% refund of the contract amount in case the bandwidth usage is not more than 1GB.
Requests made later than the 10 days purchase date window will be denied.

Before claiming a refund, Trust.Zone recommends reading our FAQ section to resolve issues you may encounter. You can also request for a help from Trust.Zone support team via contact form.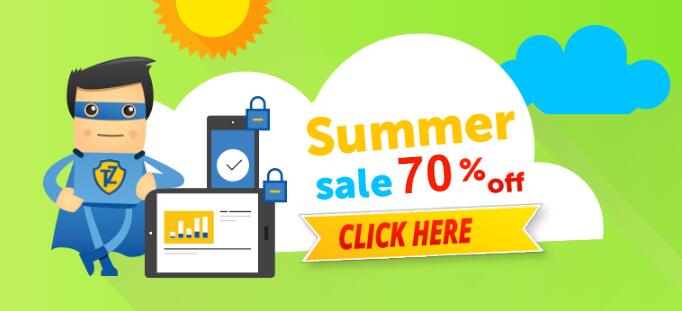 How to Use Trust.Zone Free Trial to Make Informed Decision?
If you would like to try Trust.Zone, you should make good use of the free trial. To get the free trial, you need to open its official website. Click "Try it free" button or directly navigate to the pricing page. Next, select Free Test plan to sign up. It requires your email and a strong password to create your trial account. After you register, you will receive an email to activate your trial. No credit card is required, so you won't be charged after the free trial expires. There is no need to cancel the account if you don't like the service. If you find out it is the service, it is very easy to update to their premium subscription. Simply choose the billing cycle you prefer to sign up the service. How to make use of the free trial to get accurate test result?
We suggest you install Trust.Zone on your favorite device to try the service. During the trial period, you can use it to conduct different activities to learn the service well. Ask those questions when you try the service. Does it effectively protect your private information? Does it protect you on public network? Does it unblock your favorite stream sites? Does it support torrent? When you test it, connect to a server in a different city or country and search for your IP address on Google. You also can check your IP address on famous sites that are specially used to detect IP address. If it displays your real IP address, it means it does not hide your IP address. If it displays the IP address offered by VPN provider, it means the VPN is working on privacy protection.
Next, turn on the VPN and connect your device to a public network to see if it can detect new network and warn you about insecure network. Also, try different servers to learn if it unblocks Netflix, YouTube, WhatsApp and other sites. Of course, trying the VPN on your favorite streaming and torrent sites is necessary. Besides, you can learn how it impacts your connection speed. Please note even the best VPN on the earth can impact your connection speed as it reroutes your data through remote & encrypted servers. Don't worry. Fast VPNs won't let you notice the slow down. The connection speed varies on different servers in different countries. Therefore, users may have different experiences. You can try the servers that are close to your real location best possible connection. After learning all these aspects, you will know if it is the VPN you are looking for and make the right decision with your real experience with the service. Get your Trust.Zone free trial now.

How much Does Trust.Zone Premium Cost?
Once the free trial is over, you can subscribe to their paid service to continue to use the Internet, privately, safely and freely. Is it expensive to sign up a Trust.Zone plan? No. It won't break your bank to purchase this VPN. The provider offers competitive prices with flexible billing cycles. You can choose to sign up every one month, every one year or every two years. The longer subscription you opt for, the lower monthly cost is. It costs $8.88 USD to sign up every month. The 1-year is 63% off and costs $3.33 USD per month. The 1-month and 1-year plans allow three simultaneous connections. The 2-year plan allows five simultaneous connections and it includes the biggest discounts as well. With Trust.Zone coupon, you get it at 71% off. It is only $2.88 USD. The premium package comes with 170 servers, unlimited data transfer and bandwidth, support for P2P, advanced encryption, and up to five simultaneous connections. You will be able to enjoy the original Internet privately and safely. Your initial purchase will be covered by a 100% refund policy. Hence, it is risk-free to purchase a Trust.Zone package. The Trust.Zone free trial enables you to try the product first, so you won't make a wrong purchase.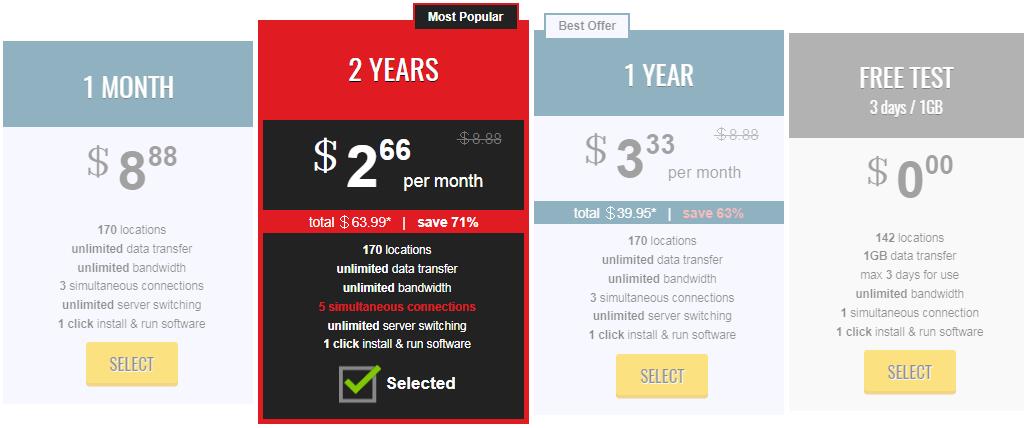 About Trust.Zone
Trust.Zone is a great VPN service that provides users with complete anonymity on the Internet. This company is located under Seychelles jurisdiction, and delivers Internet solution to worldwide users. It provides shared IP addresses and uses high encryption standard in order to prevent your ISP from monitoring what you do online and keep your data safe from prying eyes. It has a large network with worldwide servers, allowing you to unblock websites and apps that come with geo-restriction. It is a great tool for users to protect Internet privacy and bypass Internet restrictions. We will introduce Trust.Zone features briefly below.

Privacy Protection. Trust.Zone is based in Seychelles which is far away from the grasp of the 14 Eyes Countries. When you use the VPN, the provider does not reveal your IP, DNS or WebRTC information online. It replaces your IP address with a new one, stopping others from tracking back to you according to the IP address you left online. This VPN has strict no logs policy. It does not log your traffic, DNS requests, bandwidth usage, timestamps or numbers of sessions. According to the provider, they only store their users' email addresses to manage accounts and offer customer support. Besides, the provider offers extra 10% discount for users who pay with Bitcoin to remain anonymous. You not only can make anonymous payment, but also save money on your VPN order.
Reliable Encryption & Protocols. Lots of users purchase a VPN to encrypt their online data to prevent financial and data loss. Is Trust.Zone secure enough to protect you? Trust.Zone boasts an OpenVPN protocol with a 256-bit military-grade encryption which has proven to be impenetrable so far. OpenVPN is the most popular VPN protocol as it offers the highest encryption and standard while maintains fast speed. It also supports L2TP over IPsec with the same encryption. You can connect to the protocol you need without extra fee. Likewise, this VPN uses RSA-4096 as their handshake encryption of choice. Besides, the company uses the self-signed SSL certificate for their software for security. In a word, Trust.Zone offers unbreakable and considerable encryption for your online activities and data.
Worldwide Server Network. The server network of a VPN also is very important. The more server location options are available, the better your connection speed is. Its scattered server network all over the world speaks volume for the diversity it provides to its users. Trust.Zone provides 170 fast servers in 99 zones. It has not as many servers as EXpressVPN provides, but it delivers satisfied connection as the servers are distributed logically in the most popular locations. You will be able to connect to nearby servers quickly and enjoy the fast connection easily. Trust.Zone VPN supports unlimited bandwidth and unlimited speed. The provider does not limit your connection no matter you are streaming or downloading. There is no need to pay attention to the volume of your download/upload traffic or have to stop streaming at the end of the month. Would like to gain access to the fast & global network? Activate your Trust.Zone free trial to feel it. It is absolutely free.
Streaming without Geo-Restriction. Expats or users who live in countries with high Internet restriction extremely need VPN to access their favorites sites and apps. For example, you need to a VPN to unblock Netflix if you move to Japan for work. It is because Netflix is restricted to the US. If you live in China, Turkey, Russia, or Iran, you fail to access many famous sites like Google, YouTube, and WhatsApp etc. because those countries block certain contents to filter Internet contents they don't want their people to see. Luckily, you will be able to watch your favorite TV shows or movies from anywhere hassle-free by connecting to one of Trust.Zone's global servers. When you connect to a server in the US, you appear from the US from others' sights. That enables you to get rid of the strict Internet censorship and avoid geo-restriction issued by streaming services. Based on real tests, Trust.Zone is able to unlock different video libraries of Netflix and other famous sites that come with strict restrictions. Besides, it allows you to download torrents/P2P without any restriction whatsoever.
Ease of Use. Trust.Zone is very simple to use. Its VPN client is intuitive, user-friendly and works seamlessly. It works with numerous operating systems like Windows, Mac, Linux, Android, iOS, Ubuntu, DD-WRT, Xbox 360, Play Station, Smart TVs, and Amazon Fire Stick etc. The instant setup does not require any technical skill. It is easy to switch to different server and change protocol. You can set it on during startup and ensure your privacy is protected all the time. If you don't need the VPN, simply turn it off or disconnect it from a serve. If you meet any problem, contact the customer support via the email, social media, or a contact form. The support is available Monday to Friday, 6:00 AM to 4:00 PM GMT +0. You will receive answers and solution timely.

Learn More in This Short Video
Top 10+ Best VPN Services In The World
VPN Brands
Servers
Country
# of Connections
Price(USD)
Official Website
3000+ servers in 94 countries.
British Virgin Islands
5
$6.67/Month (Save 49%)
Best Choice
5159+ servers in 60+ countries.
Panama
6
$2.99/Month (Save 75%)
View Deals
800+ online servers in 50 countries.
British Virgin Islands
Unlimited
$1.99/Month (Save 83%)

Chinese Click Here>>

View Deals
3,307+ servers in 32+ countries.
USA
10
$3.49/Month (Save 65%)
View Deals
1,300+ servers in 60+ countries.
USA
10
$6.49/Month (Save 46%)
View Deals
Click Here to Read More Top 10 Best VPN Services »
Conclusion (Trust.Zone Free Trial)
Can't make a decision yet? Get Trust.Zone free trial to help you make the right decision. Trust.Zone offers a 3-day free trial and allows a maximum download of 1GB during the trial period. It does not require payment information to sign up a trial account. Though this free trial comes with limited data transfer, it still provides you opportunities to access all of their servers and unblock restricted contents. You will be able to benefit from the military-grade encryption and excellent privacy policy. There is also a 10-day money-back guarantee. It lets you sign up a plan to use their risk-free service. You can request a refund if you are not 100% satisfied with the service within 10 days of your purchase. Trust.Zone's free trial is a great chance to test out their VPN before deciding about whether or not to buy a package. Get Trust.Zone free trial now. There is no risk to take.

Published by & last updated on January 7, 2020 7:40 am