Can you try AirVPN free? Is there any AirVPN free trial? Yes, there is a free trial that allows you to try the service before you sign up a plan. Many users find it is difficult to make a decision when choosing a VPN. On one hand, there are a large number of VPNs on the market. Some of them are cheap and some of them are expensive. On the other hand, different VPNs operate under different jurisdictions. A VPN works in the US while it may fail to work in China. Users need to confirm that the VPN works in the country they will live. Some users may want VPN to unblock streaming sites. AirVPN is a great VPN with high reputation. It helps users protect privacy, bypass Internet restriction, unblock Netflix and download via torrent. It has a huge global server network, and offers decent speed and strong encryption. To confirm it is the VPN you want, get the AirVPN free trial to test the service yourself.
AirVPN 3-Day Free Trial: How to Activate?
In those days, VPNs become popular among Internet users as they gradually understand the important of online privacy. Most users tend to try their service before you decide to work with the service for a long term. Some users may use the VPN's free version to feel the service. Some users avail the service' free trial and money back guarantee to try the service free. For example, AirVPN provides free trial and money back guarantee for all users. Its free trial with full features and money back guarantee are the most popular ways to try the service. Why VPN free trial is important? It is because the free trial allows users to access full features of the service and test the service in all aspects without being charged. After knowing the service works for their needs properly, they can sign up for a long term without any concern. Getting a free trial with a VPN can help make an informed decision.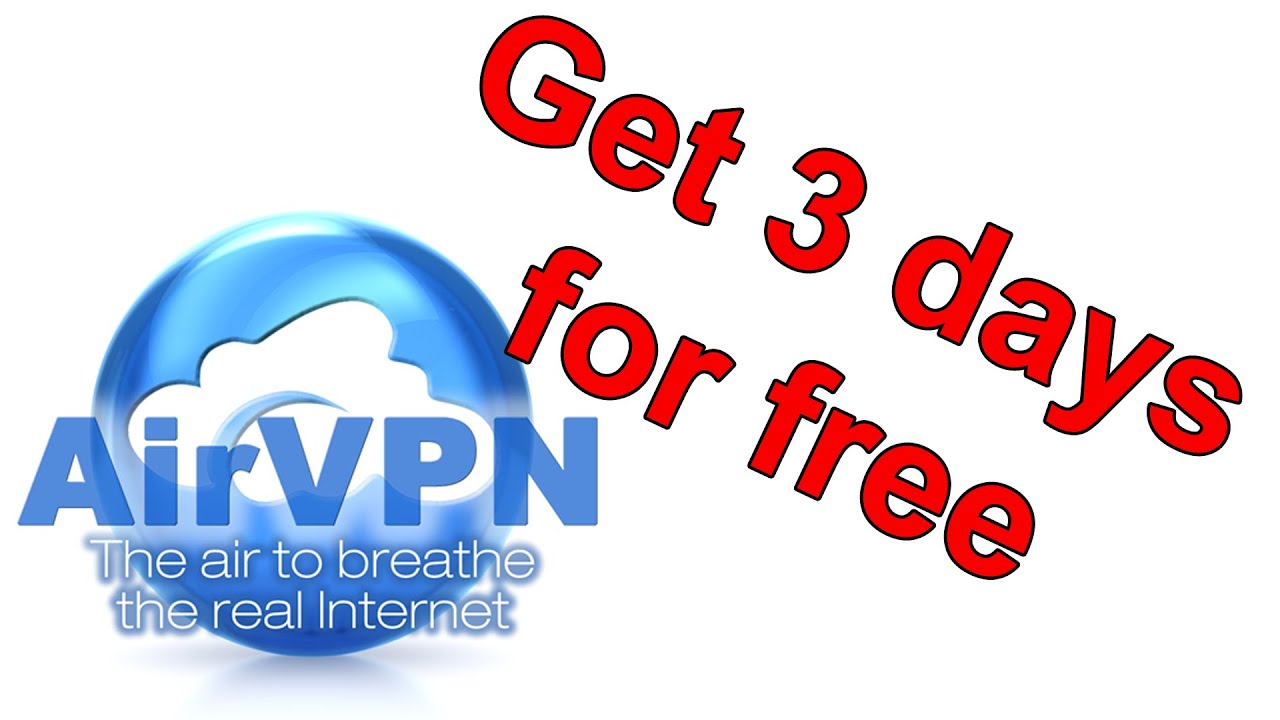 How does AirVPN free trial work? How get the free trial? How long does the free trial last? The provider is confident that the product will live up to users' expectations, so they offer a 3-day free trial upon request. You have three days to try the VPN out. To get the free trial, you need to open AirVPN official website and create an account. You only need to provide your name and email address to create account. Next, navigate to the client area and you will see a message inviting you to sign up a plan. Click the link, and it will take you to pricing page. Pick the 3-day plan and choose your payment method. You will see "contact form" message at right side of the page. Click "contact form", and you will see a ticket form. Fill up your contact title and choose "Trial Request" option from the pull-down menu under Department. Write a message to explain you need a AirVPN free trial and submit the request. It may take days to receive an answer. The provider explained in their form, "Trial requests are satisfied, according to availability, in 1 – 48 hours usually."
After the provider confirms your request, they send you approval with a coupon code, telling you can use the code to sign up their 3-day plan free. The coupon code allows you to obtain a full 100% discount. Copy the coupon code and open AirVPN pricing page. Choose 3-day plan and paste the coupon code to finish the payment. Will free trial charge you? As you get 100% discount, you pay $0.00 USD at checkout. You will not be charged anything during the 3-day trial. Can you cancel your account during trial? Yes. You can cancel your subscription at any time. It does not require special quality to apply the AirVPN free trial. According to the provider, any user can ask for a free trial of three days by creating a ticket to "Trial request" department and submit your request. As we mentioned, it may take several days to receive the answer. If you don't feel like to wait, you sign up the 3-day plan directly which costs 2 € (approx. $2.22 USD). In this way, you can try the service immediately to learn how well it works for you.
What can You Do during AirVPN Free Trial?
Is the AirVPN free trial offering full experience? AirVPN offers 3-day free trial with full features. You can conduct all activities like other premium users do. Some users may have tried other VPNs' free version or free trial, and found out most of them came with limits. They could not get full access to the service. Some free trials will throttle bandwidth allocation, provide less secure VPN protocol, and offer sharply reduced server choices. Luckily, thing goes differently with AirVPN. You are able to use the free trial to fully understand the service.
When trying the service, confirm if the service protects your privacy and encrypts your online traffics properly. For example, you can learn the types of activity logs are kept, types of IP addresses are offered, encryption methods are being used and available VPN protocols. Also, you can switch to different to know its performance. Please note all VPN will slightly hinder online performance and speed. The performance and speed are affected by user's locations and servers they connect to and their router. For best possible connection, you are suggested to connect to servers that are close to your location. That will shorten the distance from the VPN server and increase your connection speed. Confirm if the connection speed meets your needs. Does the VPN slow down obviously during peak times? Is it easy to connect to nearby servers? Does the connection drop frequently? If you mainly need VPN to bypass Internet geo-restriction, connect to proper servers to see if it helps you unblock your favorite websites or apps. Besides, install the VPN on multiple devices to get a feel for the user interface and customer support system. Try every aspect you would like to know about the service and make a right decision. Apply your AirVPN free trial.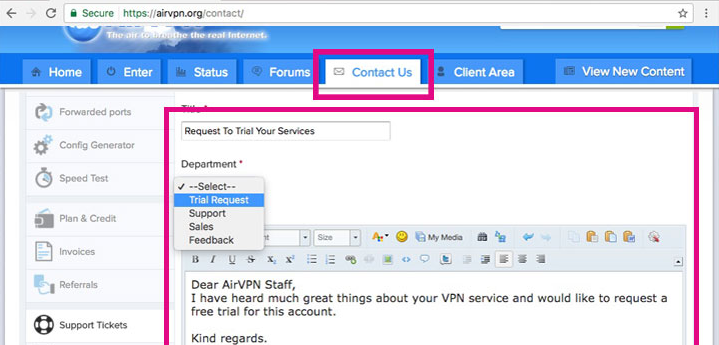 7-Day Money Back Guarantee
In addition to the AirVPN 3-day free trial, you get a 7-day money-back guarantee that begins when your real subscription starts. Many reputable VPN providers offer money back guarantee on their products to let users avoid making wrong purchase. Some providers even replace their free trial with money back guarantee to prevent criminals from signing up without payment information. If the criminals use the free VPN trial to spread malware, spam, and phishing emails without providing payment information, it is very difficult to track and stop them. If you would like to try AirVPN for longer period, you can sign up a plan to avail the money back guarantee. If you are not satisfied with the service, you can request a refund within 7 days of the purchase. Get AirVPN risk-free trial. Below is their refund policy.
AirVPN strongly encourages to test the free Service before you pay any subscription to commercial plans. The free service differs from the commercial service only with respect to bandwidth limitations. In case you are not satisfied with the commercial Service, once you have subscribed you have the right to obtain a full reimbursement, given that your request is sent within 3 commercial days from the subscription payment. AirVPN accepts only written refund requests sent to the addresses given in the Privacy Notice. You have the right to request a reimbursement without giving explanations. The right to be refunded is invalid if You have violated the Terms of Service and/or if you send the request after having used the Service for more than 3 days and/or if you have used the Service for a global traffic volume exceeding 5 GigaBytes. Air warrants a reimbursement within 30 days from receipt of reimbursement request.

Is AirVPN Premium Expensive?
After trying the VPN for three days, you may be convinced by its amazing features and performance. Is it expensive to get an AirVPN premium package? No, the provider offers medium-price. Their original prices are shown in Euro. If you don't use Euro, there are options to convert it into USD dollars or UK pounds. The provider offers flexible billing cycles. You can choose 3-day, 1-month, 3-month, 6-month, 1-year, 2-year or 3-year plans. Longer subscriptions come with bigger discount. You also can use AirVPN coupon code for extra discount.
Three days: 2 € (approx. $2.22 USD)
One month: 7 € (approx. $7.78 USD)
Three months: 15 € (approx. $5.56 USD/m)
Six months: 29 € (approx. $5.37 USD/m)
One year: 49 € (approx. $4.53 USD/m)
Two years: 79 € (approx. $3.66 USD/m)
Three years: 99 € (approx. $3.06 USD/m)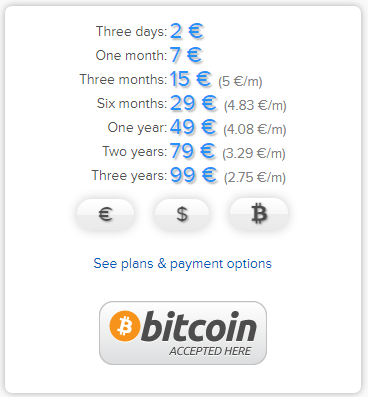 About AirVPN
AirVPN was started by a very small group of activists, hacktivists and hackers in 2010. It originally was a free service which helped users protect privacy and safeguard precious online data. To keep the project financially sustainable, the company added a commercial side, and gradually became the service we used today. AirVPN works by encrypting your Internet traffic to and from your device and replacing your real IP address with a new one shared by worldwide users. It stops others from determining users' locations and collecting browsing history, letting you safely get out of the reach of surveillance agencies, hackers, and other parties wishing to snoop at your online behavior. By providing worldwide servers and advanced VPN protocols, it assists users to bypass Internet censorship and geo-restriction to access the Internet contents freely from anywhere. If you can't decide now, start your AirVPN free trial and have a taste of the service free for three days.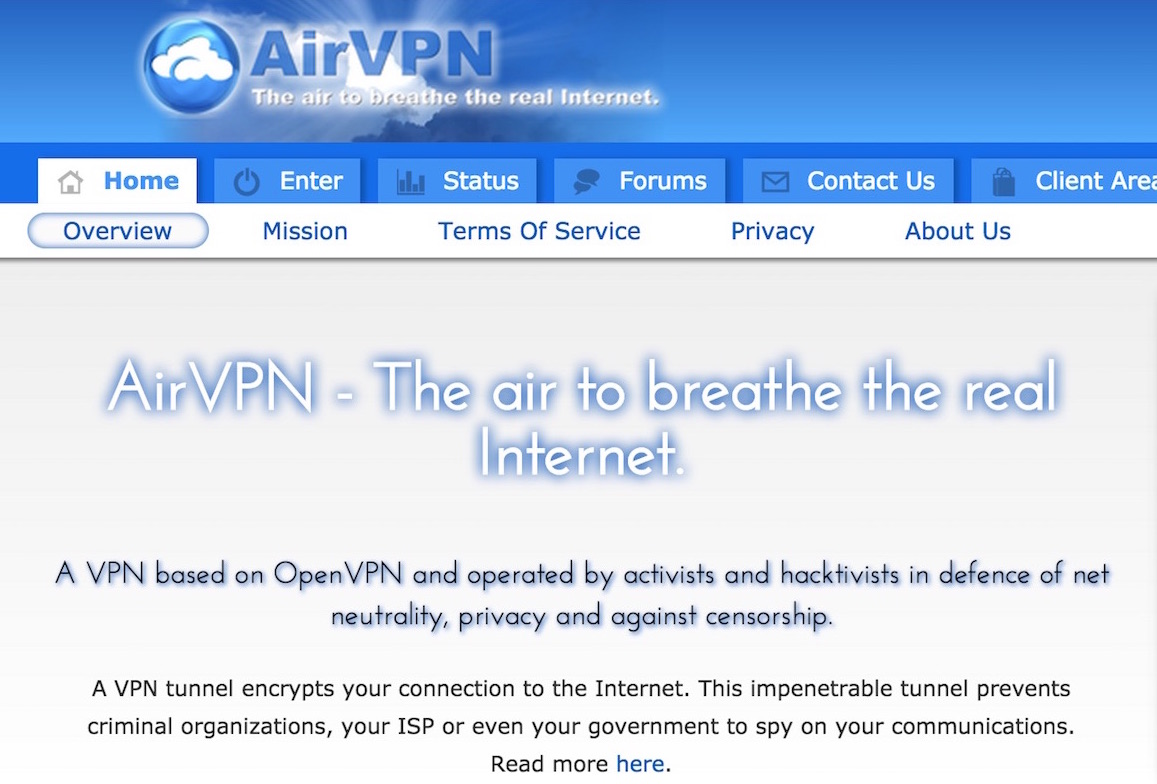 Speedy Network. AirVPN provides a robust portfolio of 890+ servers in 190+ country locations all over the world. All of their users can get ultra fast and reliable access to their entire network. The provider allows unlimited bandwidth and server switches. There are no restrictions on your uploading or downloading. It has high performance servers in many countries. There is no maximum speed limit. It supports 4 Mbit/s download and 4 Mbit/s upload for minimum allocated granted bandwidth. The VPN also helps you avoid ISP throttling for better performance than you do without a VPN. You can expect satisfied connection speed. Note: the speed varies on different servers and in different countries.
Solid Security. For security, AirVPN utilizes high level encryption of 4096 bit RSA keys size, AES-256-GCM Data Channel and HMAC SHA384 Control Channel. Likewise, the provider offers OpenVPN on ports 80 TCP / UDP, 443 TCP / UDP and 53 TCP / UDP. OpenVPN is the most reliable and secure solution for encrypted tunnels. This VPN's servers also support directly OpenVPN over SSH, OpenVPN over SSL and OpenVPN over Tor, making it effective to get rid of the most brutal techniques of monitoring, censorship, throttling and traffic shaping. AirVPN keeps you safe online.
Privacy Protection. AirVPN hides your real IP address with a new one, stopping others from discovering your identity through it. It encrypts your connection to the Internet to prevent your ISP and other parties from monitoring and collecting your online activities. Also, the VPN provider has no log policy. They have no monitoring nor logging of your online activities. They offer transparent policies on bandwidth allocation to let you know performance you can achieve. That ensures there is no overbooking or overselling. Perfect Forward Secrecy is a great feature which supports Diffie-Hellman key exchange DHE, ensuring others can't decrypt your encrypted data. AirVPN is a great tool to reclaim your privacy.
Internet Freedom. You may fail to access some popular websites in your country or can't access your favorite show while traveling in foreign country. It is a common issue as some governments block foreign websites while some streaming services refuse foreign users' access to their contents. For example, the Internet filters in China stops users in the country from accessing websites and apps that they consider as "harmful." Popular services like Facebook, Twitter, Instagram, WhatsApp, Google and YouTube etc. are not available for users in mainland China. Besides, popular streaming services like Netflix, Hulu, Pandora and BBC iPlayer are restricted in their countries. They even block VPN access under the pressure of copyright holders. If you travel out of the country, you can't access your favorite shows on those platforms. The two kinds of restrictions both work based on your geo-location. The firewall and streaming service decide your location according to your IP address. Luckily, AirVPN helps you unblock Netflix, Amazon Video, Vudu and BBC iPlayer etc. Get AirVPN free trial to feel the Internet freedom from anywhere.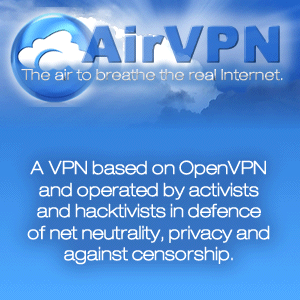 Top 10+ Best VPN Services In The World
VPN Brands
Servers
Country
# of Connections
Price(USD)
Official Website
3000+ servers in 94 countries.
British Virgin Islands
5
$6.67/Month (Save 49%)
Best Choice
5159+ servers in 60+ countries.
Panama
6
$2.99/Month (Save 75%)
View Deals
800+ online servers in 50 countries.
British Virgin Islands
Unlimited
$1.99/Month (Save 83%)

Chinese Click Here>>

View Deals
3,307+ servers in 32+ countries.
USA
10
$3.49/Month (Save 65%)
View Deals
1,300+ servers in 60+ countries.
USA
10
$6.49/Month (Save 46%)
View Deals
Click Here to Read More Top 10 Best VPN Services »
Conclusion (AirVPN Free Trial)
Would like to give AirVPN a shot? Simply submit a ticket asking for a free trial in the client area on its official website. Wait for the provider's answer and activate your trial account for a thorough test. The trial will last for three days. If you love the service, sign up any plan you like to enjoy the service. AirVPN is a solid service. You can feel strong encryption, anonymous browsing, stable connection speed, fast servers and Internet freedom. The company offers apps for iOS, Android, Mac, Windows PC and Linux. It works on popular browsers as well. You are allowed to run up to 5 connections simultaneously with one license. Don't waste your time in hesitating. Get the AirVPN free trial to make an informed decision.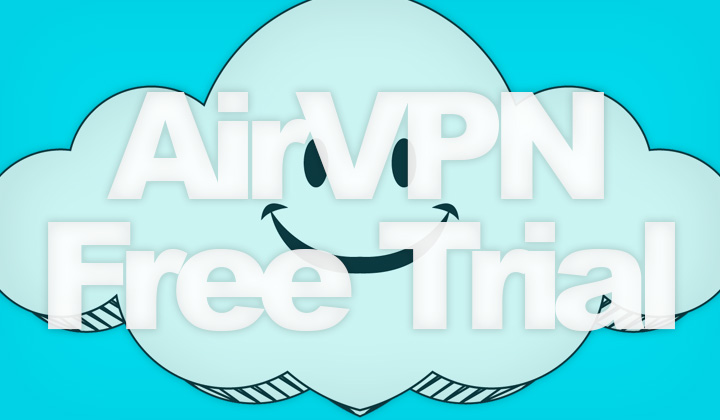 Published by & last updated on April 20, 2020 5:09 am