Does your PC run slowly after installing piles of software? Can't uninstall pre-installed or bundled software to space up your PC? You should install Uninstallor to uninstall useless software and junk files for create more space your useful programs. What is Uninstallor? How does it work? What kinds of programs can it deal with? Is it easy to use? Uninstallor is a great uninstaller which is capable of cleaning up every trace of unwanted programs in seconds. Let's learn more about it in this Uninstallor review.
What is Uninstallor?
Uninstallor is a piece of useful software which helps you easily uninstall apps and programs that can't be removed by regular uninstaller. This software is powered by the in-house team which has 10 years of experience in app analysis and development. Its app database is built on real-time experiment and advanced technologies. This is why it is able to any unwanted app out of the box. If you are looking for a useful tool to remove useless software, unwanted bloatware, stubborn crapware and malicious toolbar/plugins, Uninstallor is a great choice.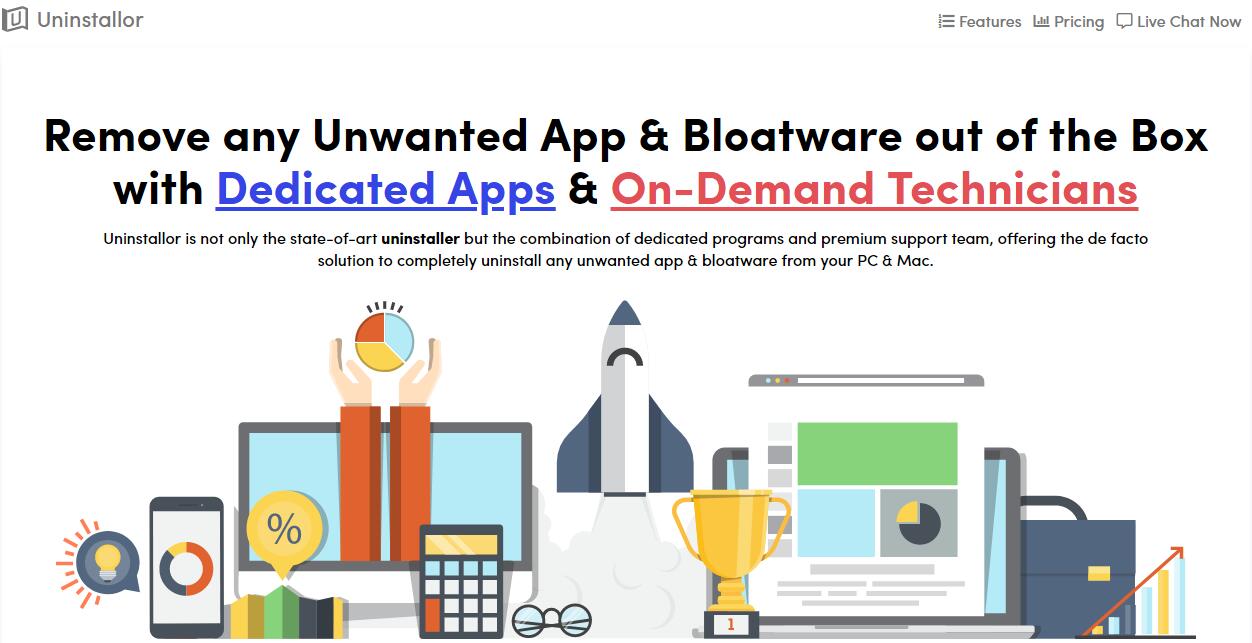 Why do you need to uninstall software, programs or browser extensions? You might download some software to finish some tasks while don't need them any longer in the future. To free up space on your PC, you may choose to uninstall them. Some software come with your system and some are bundled with popular browser apps while you don't need them at all. However, this kind of software is very difficult to uninstall. When using the browser, you may mistakenly install malicious toolbars and plug-ins that record or steal your browsing data, and also slowing down your surfing speed. The unwanted software and nasty programs slow down your PC performance and harm your system as well. It is necessary to use Uninstallor to remove them completely.
Why don't you use Windows Add or Remove Programs function to uninstall apps? There are several steps to go through, and it takes some time to load all your apps. As we know, when we try to uninstall some apps and programs, they require us to go through multiple steps or open web pages in your browser to proceed in an attempt to make you change your mind to keep the apps. Besides, the Windows Add or Remove Programs function often leaves broken registry keys and unnecessary files on the hard disk after uninstalling some software. Luckily, Uninstallor enables you to find out the application you want to uninstall quickly. It has clever features, helping you clean unwanted programs completely. Use Uninstallor to remove unneeded software and registry entries. Get rid of malicious toolbars and plug-ins to prevent any possibility of privacy leakage for safe browsing experience.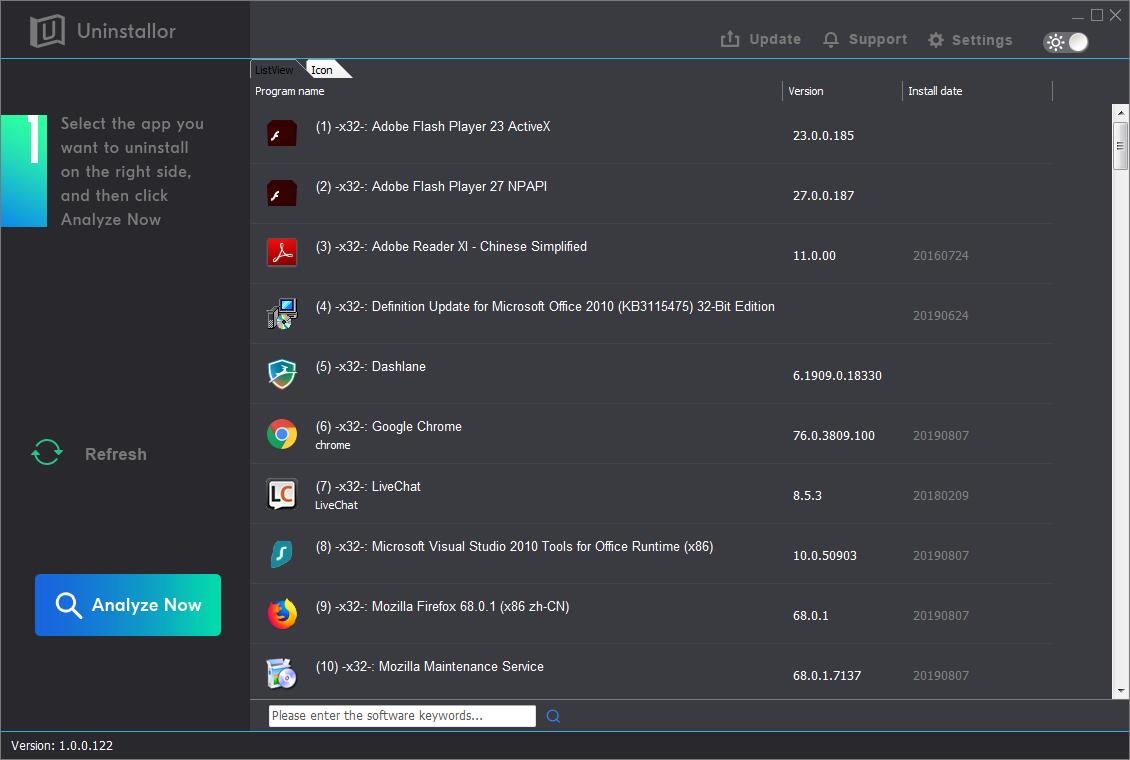 Uninstall Unneeded Apps Quickly
You may notice that your PC become slower and slower after you use it for a certain period of time. Once you have installed lots of apps, your PC takes a long to start and respond. For faster respond and higher performance, many users choose to clear up software they don't need. Don't know how to uninstall the app from your Windows? Let Uninstallor do the job for you. It will remove the specific unwanted app from Windows PC successfully.
When you open Uninstallor, the app analyzes and loads information of your installed programs quickly. From the home screen, you will see a long list of installed programs. There is a search box at the bottom of the screen. The list of software is sorted by name. You can view the install date, version of software, publisher, install location and uninstall string information there. By entering key words like program's name or manufacturer, you will be able to easily find the app/bloatware you are looking for. To write this Uninstallor review, we purchased a pro license of the software and tested it thoroughly. We installed a large number of popular apps, bloatware, bundled software, browser extensions, toolbar and plug-ins etc. on our Windows PCs, and used Uninstallor to uninstall them. It helps us removed them completely. We were satisfied with the test results. Do you need Uninstallor too? Simply install it on your PC and follow its uninstalling wizard to remove software you don't need effectively.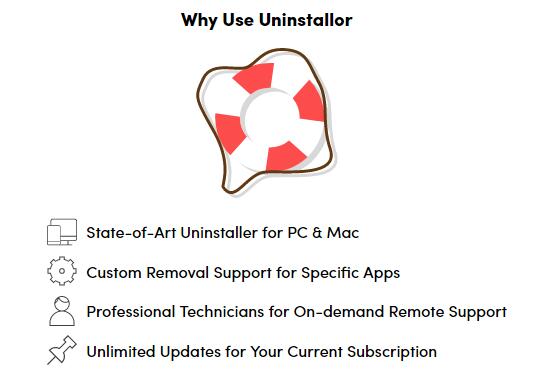 Remove Leftovers Completely
Why is Uninstallor worth to invest? It is because Uninstallor is able to completely remove leftovers that regularly software can't. If you didn't remove a piece of software correctly, it would still be listed as an installed program and the left-behind components would occupy your precious disk space. Besides, the unwanted apps slow your OS performance by leaving too many files and associated entries. Bloatware can have thousands of files/folders and several registry entries. Some stubborn software can't be removed via regular routine. Many users believe that the software is gone from their PC as they don't see its icon any more. In fact, it's still on your PC. Like when an item is removed from the menu at the restaurant, it does not mean the dish won't appear in the kitchen.
In this case, you should use Uninstallor to get rid of unwanted programs once for all. This tool is able to detect and remove left associated files, folders and registries effectively. It only takes four simple steps to uninstall a piece of software completely. Open Uninstallor software and search for unwanted programs. Next, use the Analyze Now button to analyze the files and registry entries of the program. It will show you the specific locations of files/folders and registry. There is no need to locate them on your PC and remove them manually. Simply click the Uninstall Now button at the left side to remove all of them with one click. All found files and registry entries will be removed from your PC completely.
On-demand remote support
What makes Uninstallor different? The company provides on-demand remote support to ensure their customers can't remove any software and program without any problem. When you sign up the Pro or Business plan, live chat and ticket support are included in the subscription. If you found out the software can't recognize the program you would like to uninstall, you can request remote support from their support team with confirmed schedule. The technicians will resolve your problem via Teamviewer with your permission. Besides, the company offers custom removal service. To use the service, you only need to submit your request via live chat or support ticket. The technicians will provide effective solution to ensure you can remove unwanted software. It is worth every penny you spend on it. Have problem when using Uninstallor? Contact their support via live chat or support ticket for help. Pro and Business subscribers can submit custom fix demand and schedule remote support service for convenient and effective service.

Uninstallor Pricing
Uninstallor is priced friendly. If you only need the program and custom fixes, you can choose the Basic package. It costs $29.95/year. This package includes 1 machine license, Uninstallor program for PC & Mac, 2 custom fixes per year and live chat/ticket support. If you need more than one licenses and remote fix demand, the Pro package is a great deal. This package includes 3-machine licenses, 3 custom fixes per year, 1 remote fix demand and priority live chat/ticket support. You are allowed to install software on Windows PC & Mac. It costs $49.95/year. If you are looking for a package for your company or team, you should consider the Business package. It costs $199.95/year. This package comes with 20-machine licenses, 10 custom fixes per year, 5 remote fixes demand and priority live chat/ticket support. No matter your team use Windows PC or Mac, they always can use Uninstallor to remove unwanted programs easily.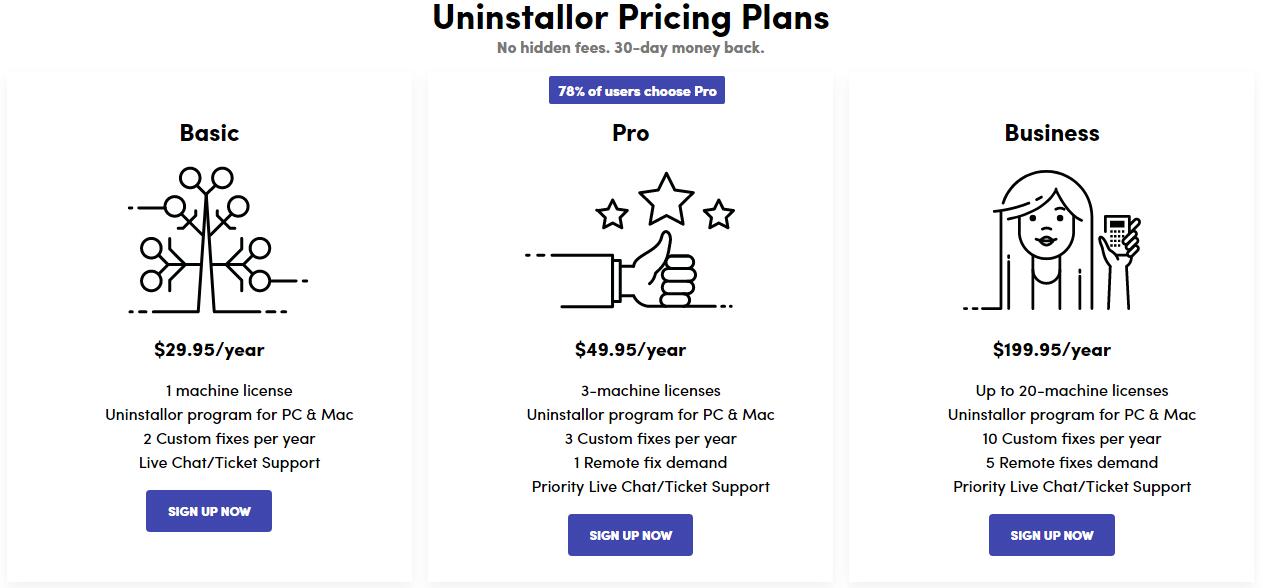 Learn more in this short video
Conclusion
Uninstallor is an effective program which helps you remove unwanted software and programs without leaving any invalid remnant that burdens your system gradually. It is well-known that the stubborn software, bloatware, preinstalled software are very difficult to deal with. Luckily, Uninstallor can defeat them all. Besides, the custom fixes and remote support ensure you can uninstall any software you don't want. It also is a very useful tool which wipes off all the junk files and unwanted registry entries clearly quickly and effortlessly. You will be able to free up disk space, speed up your PC and improve PC efficiency. It is very fast to install Uninstallor which is very straightforward and very simple to use. The program is compatible with all 32-bit and 64-bit versions of Windows. The price is affordable as well. It starts from $29.95/year.
Published by & last updated on January 13, 2020 6:37 am