Did you ever use Trend Micro Password Manager? Is it secure? Does it offer effective password management solution? Is it worth to invest? Before signing up a service for a long term period, most users have many questions to ask. It is right to learn a service well to avoid investing in the wrong service. Trend Micro Password Manager is an effective tool which offers to secure users' passwords and sensitive information with strongest encryption. If you are looking for a secure and affordable password management solution, Trend Micro password manager is a great option. Learn more about the service in detail in this Trend Micro Password Manager review. This review is based on our real-time test results. Our team have tested a large number of password managers and recorded honest test results. Hope this review will help you.
What is Trend Micro Password Manager?
Trend has many security suites for both personal and business use. It is a well-known global company that delivers solid security solution to worldwide users. It has branch offices in different countries and serves lots of users. Trend Micro Password Manager was created by its security experts to protect users' passwords and confidential information. It helps you manage a large number of passwords as well as keep them safe all the time. It has a password generator which creates unique and strong password for you with one click. Its Password Doctor helps you identify weak and reused passwords after you import passwords from browsers or add them manually. It captures passwords as you log in and replays them automatically when you revisit the websites. It allows you to create secure note and store personal data in the vault for quick access and auto form filling. It syncs your passwords and personal data across all your Windows, macOS, iOS, and Android devices, so you will be able to manage your passwords on any device you like. Trend Micro Password Manager is a very useful tool for any user who has problem in remembering passwords of social media accounts, video sharing sites, digital financial accounts and more accounts.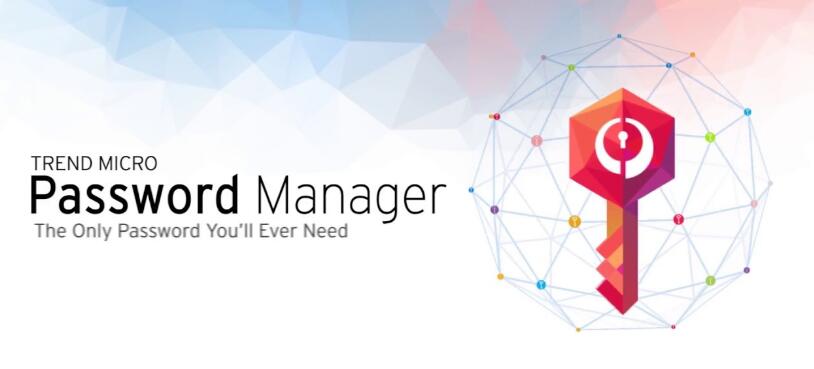 Trend Micro Password Manager Pricing
Trend Micro Password Manager is a solid yet affordable service. It offers customer-friendly price. There is free edition which allows you to try the service without paying a fee. The free edition allows only five passwords and five secure notes. For unlimited secure storage, you need to upgrade to their premium version. There is only one package, so you won't need to pick between different features. The provider offers two plans, and both of them come with full features. You can choose to sign up every one year or every two years. It costs $14.95 USD for one year. If you sign up for two years, you get some discounts. It is $24.95 USD for two years. You save $4.95 USD. Simply pick the billing cycle you like. There are no complicated factors to consider. Its price is cheaper than many similar products on the market. It only takes $24.95 USD to use the password management solution for two years.


Trend Micro Web-Based Password Management
According to our research, most users have difficulty in managing their passwords. Many users find it is not easy to think up a strong password. Some users can't remember their passwords and have to reset passwords frequently. Some users reuse the same password on all platforms. Some users write their passwords down on notebook, and they fail to access their account at office when they leave notebook at home. In fact, you don't need to spend so much time and put effort in creating and remembering strong passwords. Trend Micro offers a secure and effective password management solution. It places all your passwords in a secure vault, helps you create strong passwords and enables you to access them anytime.
After you install the client, Trend Micro Password Manager automatically offers to add the extension to your favorite browser, and walks you through to import passwords from browsers and other sources. There is no need to add passwords manually. It groups your passwords into categories for easy access. It lets you view your passwords on both client and browser extension. From the vault, you can view the list of your saved passwords and sites. For easier access, it allows you to sort the list of your stored data by name or recent used logins and place certain item at the top. There is a search box. When you type in key word, it narrows down the displayed list items and you will be able to find wanted password quickly. When you click any of the items, it takes you to related site and logs you in automatically.
What if you left your laptop at office and needed passwords at home? It is not a problem. Trend Micro Password Manager syncs your passwords across all of your devices. This password manager is available on PCs, Macs, and Android and iOS devices, and works with Chrome, Safari, Internet Explorer or Firefox browsers. That means you are able to manage your passwords from any location on any device and browser quickly and easily. By offering to store your password at one place, encrypt your data vault and fill forms automatically, it gives you control to your precious data, keeps you safe from hackers and saves you time. It is the password management solution you need.

Password Captures & Replays
Do you have to add new logins to your browsers manually? Why don't you install Trend Micro Password Manager to captures passwords automatically? Your browsers may offer to capture logins as well, but they are not as secure as this password manager. Last week, a security research found eight browser extensions can steal sensitive information on famous browsers. They are able to collect users' credit card, email, phone number and more sensitive information. It is not safe to store sensitive information on browsers. Luckily, Trend Micro Password Manager offers secure storage to store your precious information. When you first log in a website, it pops up a little window, asking if you would like to save the credentials you've entered. It lets you open the editor to assign your new login to a folder and give it an easy-to-recognize name. Next time you revisit the website, it lets you skip entering passwords and confirming logins.
Passwords & Data Sync
Most users have multiple devices for home and work. They conduct online activities and use personal information on different devices. Do you have to add information on each device manually? In fact, you only need to install Trend Micro Password Manager on your devices. It will sync your passwords and personal data across all your Windows, macOS, iOS, and Android devices. Once you add new passwords or information on one device, they will be sent to the cloud. When you use another device, the new data will be able available on it. This password manager backs up and syncs your information, so you are able to access them wherever you are.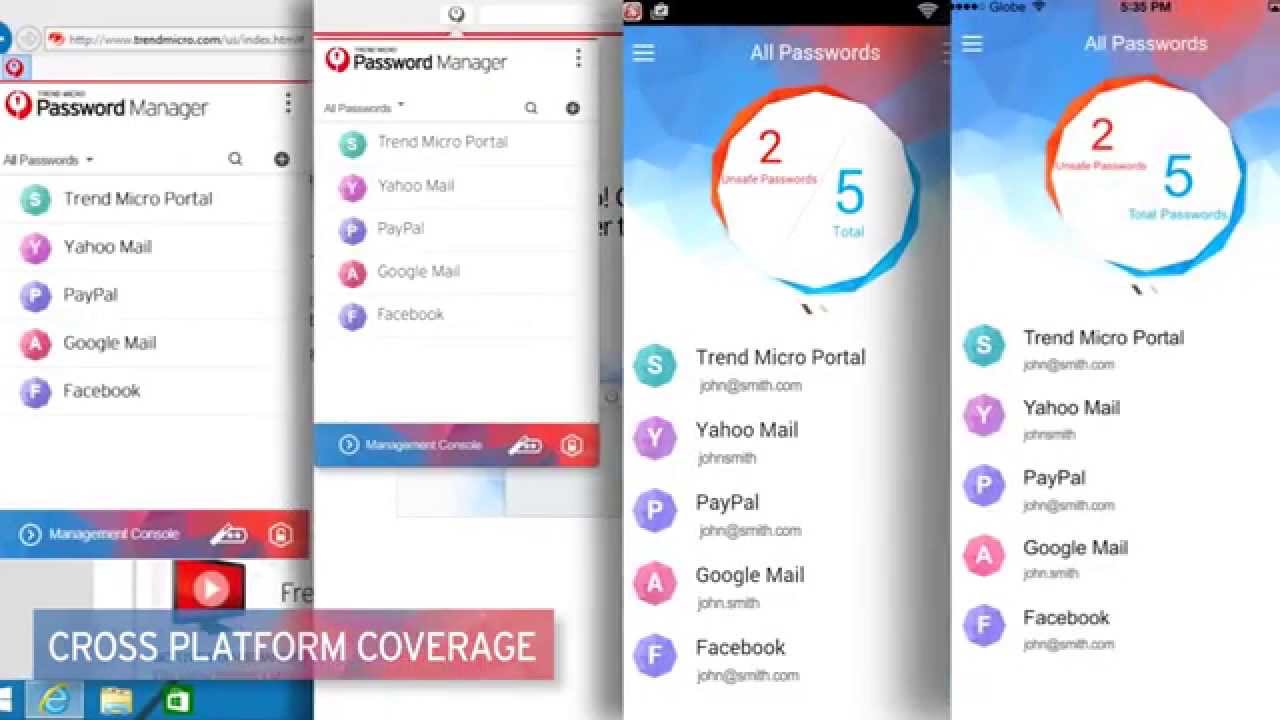 Password Generator
A password gives user access to their account, and hackers can make use of the password to steal your personal information for malicious purpose. Simple passwords can be cracked easily. Reused passwords bring potential threat. Hence, you need strong and unique password to secure your account. When you create a new account, you may need to spend some time to think up a strong password. Are you tired of trying complex combinations to create password? You need Trend Micro Password Manager's help. Both its browser extension and mobile application include a password generator. Every time you create new account or simply need a new password, the password generator creates a strong password that includes all characters and special symbols in a random combination. In this way, hackers won't be able to crack your passwords by using brute force techniques. The passwords it creates are secure and unique, safeguarding your precious information.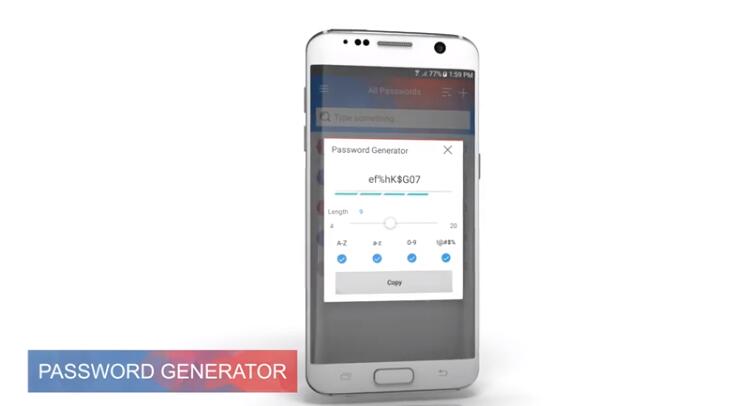 Password Doctor
In the past, you may use weak and duplicate passwords. How to know if your passwords are safe? This password manager's password doctor will help you recognize the weak passwords in your collection. After importing your existing passwords, Trend Micro Password Manager reports how many passwords you've stored and marks the weak and duplicate passwords in the vault. You will see a link next to a password if it is not safe. When you click on the link, you see two lists. One list is of weak passwords and anther list of passwords you've used more than once. To update your weak passwords, you can click the Improve Now button to log in to the site and change password manually. It does not have an auto password changer. After you follow the password doctor's guide to change passwords, all of your passwords will be strong enough to stop cyber threats.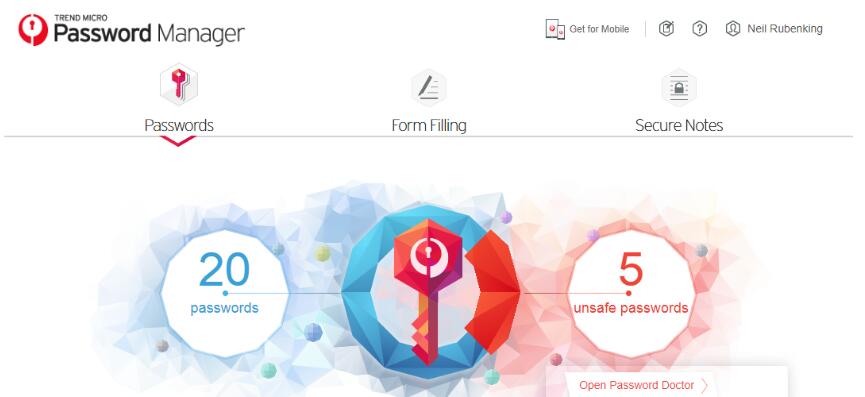 Form Filling
If you shop online a lot or need to fill form frequently, Trend Micro Password Manager's form filling feature can simplify your digital life. In addition to passwords, the password manager allows you to store personal information as well. It lets you create secure notes and store personal information like name, contacts, shipping addresses, poste code and credit card number etc. You are able to add free-form text like product license keys, combination of a safe, and other forms of real-world secrets. Likewise, Android users can use their templates like Bank Accounts, Membership Cards, and Contacts to create structured notes.
With the stored information, Trend Micro Password Manager is able to automatically fill in your personal information during signup and checkout with your permission. When you are about to fill a web form or make payment, the password manager icon is loaded on the page. It was able to fill most fields like mailing address, phone & email, and payment information etc. when we tested the service. It does not match your profile until you click the field to show a button and tells it to fill form. That ensures the auto form filling feature won't be abused. Before you make it fill form, you can hover over the button to preview which fields it can fill. The stored logins supports faster and securer access to your account. Instead of popping up to confirm every login, Trend Micro password manager logs you into your favorite websites automatically. The auto login and form-filling prevent keylogger from capturing keystrokes. It would be great if this password manager allows you to attach additional files to your different storage solutions.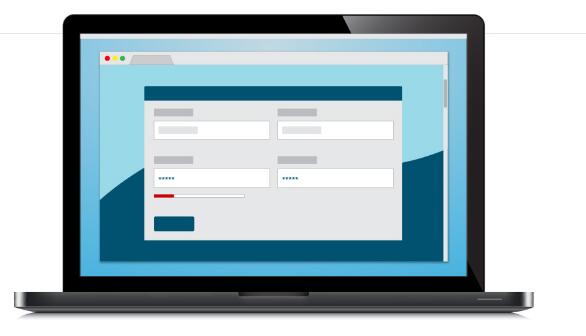 Multiple Platforms & Customer Support
Trend Micro Password Manager works with all major systems and platforms. You are able to install the password manager on all of your Windows, macOS, Android, as well as iOS devices, and sync data between each of them. It lets you install browser extensions to your favorite browsers, so you will be able to create password, capture & replay logins, fill web forms and conduct more activities conveniently and securely. It is very easy to get started with this service. Visit Trend Micro official website from here and click password manager under product for home tab. You can start a trial or sign up a plan easily. It has clear user interface, and you can navigate to related features quickly. It does not require technical skill to use the service. If you meet any problem when using the password manager, feel free to contact their customer support. The chat service is available for all users during specific times every day. The representative handles your issues via Facebook Messenger. You can also search for needed information and even ask a question on its forum. Any user can join the forum and receive a decent answer from employees or other community members. Besides, the company offers user guides, FAQs and tutorial videos on their websites to ensure no user will get lost

Trend Micro Password Manager Security
With the background of the giant security company which has specialized in internet security solutions for decades, Trend Micro Password Manager comes with solid security features. You can count on having a safer place for your digital information. It uses the strongest encryption methods available to safeguard your information. Master password is required to access your data vault. As the company does not save your master password, they can't decrypt or view your data. Your passwords and personal information remain under your control. This password manager has Local Mode. When you use this mode, your data will never be sent to the cloud. Trend Micro Password Manager locks your passwords automatically when you are away from your device, so snoopers won't have a chance to snoop at your precious information. This product supports fingerprint for Android and Touch ID for iOS for secure access. Sadly, it lacks advanced features such as two-factor authentication. Trend Micro Password Manager is secure enough to protect your passwords and personal information.
Besides, Trend Micro Password Manager package comes with a secure browser which is bonus. When you are about to a known financial site, the password manager offers to open the site in the secure browser. By default, it launches site in the secure browser when you tap to open a saved site from the vault. According to the provider, this browser has the ability to derail man-in-the-middle attacks. That is great for online shopping and other personal activities. The browser encrypts everything you type online and hides your activities from third parties to protect your privacy. You can conduct online activities at ease mind without worrying about information leak or data theft.
Learn more about Trend Micro Password Manager in this short Video
Top 4 Best Password Managers In The World
| Brands | Rating | Support Platforms | Offers | Price(USD) | Official Website |
| --- | --- | --- | --- | --- | --- |
| | #1 Read Review | Windows, Mac, iOS, Android, Linux, Chrome OS, watchOS | Offers Free Version | $39.99/Year | Best Choice |
| | #2 Read Review | Windows, Mac, iOS, Android, Linux, Chrome OS, Windows Phone, watchOS | Offers Free Version | $24.00/Year | View Deals |
| | #4 Read Review | iOS, Android, Safari (Mac), Chrome and Firefox (Mac and Windows) | Offers Trial Version | $14.99/Year | View Deals |
| | #5 Read Review | Windows, Mac, iOS, Android | Offers Free Version | $12.00/Year | View Deals |
Conclusion (Trend Micro Password Manager Review)
With Trend Micro Password Manager, your passwords are encrypted and available to you whenever you need them. It comes with all basic features users expect from a password manager. It creates strong and random password for you within one second. It lets you import and export passwords freely, helping you organize passwords well in the vault and log in websites securely. It keeps secure notes for you, and helps you fill web forms and finish payment, so you won't need to carry wallet everywhere. It even offers a secure browser for your financial sites. The password manager works on all popular systems and syncs your data across multiple platforms. It has been well-designed and is simple to use. There is a useful customer support as well. The security features and protection it provides are solid. You can feel safe to use the service to manage your passwords. Yet, the price of the product is affordable. If you need an affordable and solid password management solution, Trend Micro Password Manager is a great choice.


Published by & last updated on July 3, 2020 8:07 am