Can you try Surfshark VPN free? Is Surfshark VPN Free Trial truly free? How to test drive Surfshark? VPN becomes an important tool in those days as more and more users realize their privacy has been invaded badly. To protect privacy, you need to pick the reliable VPN provider. Can't decide if Surfshark VPN is right for you? You can try the service yourself to confirm it. Surfshark offers free VPN trial to let you try the service without taking a risk. Surfshark free trial comes with all the same bells and whistles you find in their paid version. Thanks to the free trial, you can try out the VPN service for 7 days before committing to a paid plan. In addition, its premium plans come with a 30-day money-back guarantee. You can try Surfshark in every aspect on any platform.
Surfshark Free Trial: Try VPN Service for 7 Days Free
Is there a Surfshark free trial? As the network atmosphere changes all the time, some VPNs may not work for you greatly. Therefore, VPN free trial is important. By trying the service yourself, you will know exactly how it works and what benefits it brings. Surfshark is a powerful VPN which has gained high reputation quickly after it was launched. Though your friends recommend it after using the service, you may still want to try it yourself. It is right to make a cautious choice when investing a VPN with your hard-earned money. If you would like to try Surfshark, simply get their free trial. The provider offers Surfshark free trial for their iOS, macOS, and Android applications. You can choose one of the apps to start your trial.
Surfshark free trial is very helpful. Many VPN providers offer a limited bandwidth and few selected features on their free trials while Surfshark gives you access to their full features. When you use the free trial, the provider does not limit which server you can connect to and how much bandwidth you can use. You can use the service just like their premium users, so you will have a true feeling of the service. Try it on your mobile devices or PC. When you activate the free trial, it requires payment information. Don't worry. You won't be charged until the trial period expires. If you don't feel like to use service after the free trial, just cancel your account within the 7-day period. You will be able to avail their trial version for absolutely free.
Length of trial: 7-day free trial & no-questions-asked risk-free money-back guarantee
Money-back guarantee: 30 days
Differences between trial and subscription: none
Applications of Trial: iOS, macOS, and Android applications
Compatible devices: Windows, macOS, Android, iOS, FireTV, Linux, Chrome, and Firefox
Unblocks streaming on: Netflix, Hulu, CBS, ESPN, and others
Supports torrenting: yes, through a designated server
Payment details needed: yes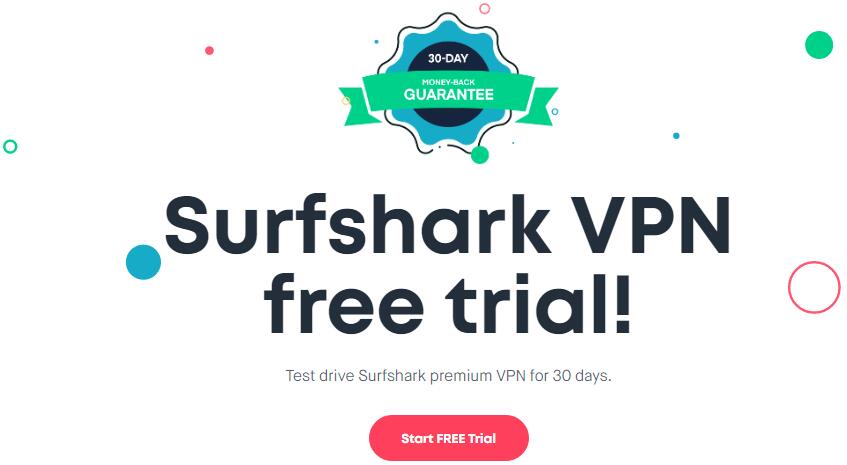 How to Get Surfshark Free Trial?
The provider makes it very easy for users to get their free trial. Let's explain how to activate your Surfshark free trial. First of all, you need to download the Surfshark app on your macOS, iOS or Android device from their official website. Secondly, follow wizard to install and set up the VPN. During the process, you need to create an account by using a valid email address and a secure password. Thirdly, enter your payment information to finally activate the free trial. The provider requires payment information for future subscription, so you won't be charged when you use free trial. Once you finish the activation, the free trial starts. You have 7 days to try their VPN features and even customer support without limits. You will be impressed by its charming features. When free trial expires, your account will be updated to premium subscription automatically. If you don't wish to continue to work with the service, cancel your account before the VPN free trial ends. You totally have the option to make a decision and won't be charged. Get Surfshark free trial. It is really free to try their premium VPN package.
What can You do with Surfshark Free Trial?
As Surfshark free trial comes with full features, you essentially are able to do anything you would do with the paid version of Surfshark. You can connect to any of their fast 800+ servers for excellent browsing. Use the servers to bypass geo-restriction and overcome bandwidth limitations. Enjoy the benefits of unbreakable encryption and the most advanced security protocols. Your privacy will be protected by the strict no logs policy. You also can blocks ads, trackers, and malware with the help of this VPN. Like other premium users, you have access to their 24/7 live customer support. Do anything legal you would like to do with a VPN for a thorough test. That will help you have accurate taste of service and make the right decision.


Why choose Surfshark VPN Free Trial over Free VPN?
Some users wonder if it is necessary to get Surfshark free trial as there are free VPN on the market. It is really necessary to try Surfshark premium service. If you don't try it yourself, you won't know the difference between premium and free VPN. Without income, the free VPNs have poor features and low performance. Commonly, they come with very slow speed, only few servers, weak encryption, out-of-time & cracked security protocols and no customer support. To make money, some free VPN providers even log your online activity, sell your data to third parties, exploit your device's bandwidth, show ads and use trackers. Don't use unknown free VPNs and put your information at risk. When you try Surfshark free trial, you can enjoy the most advanced encryption, VPN protocols, friendly privacy policy, 800+ global servers, helpful customer support and more benefits. Give it a try, and you will know why so many users are happy to invest in Surfshark VPN.

Test drive Surfshark Premium VPN for 30 Days
Would like to try Surfshark on Windows and expect a longer trial period? You should avail the Surfshark money back guarantee. In addition to the standard 7-day free trial, Surfshark offers a risk-free 30-day money back guarantee on their premium plans. To avail the money back guarantee, you can choose any plan to sign up. You have 30 days to decide if you would like to use the service. The provider promises that you will get a refund within 30 days if you are not satisfied with their service. As long as you don't breach Surfshark's Terms of Service, it is very easy to get your refunds. Simply request a refund by using the live chat, contact form, or sending an email to their support department within the 30-day trial period. There is no risk to take when trying Surfshark VPN service. Feel free to have a test drive of Surfshark premium VPN for 30 days.

Is Surfshark Expensive?
If it is turned out that Surfshark is the VPN you want, how to get the best deal to save money? Surfshark offers affordable solution. There is only one package, and you have different billing cycle options. It lets you choose to sign up for 1 month, 1 year and 2 years at a time. If you sign up for longer subscription, you get bigger discount. Therefore, you are suggested to sign up for long period if you are a heavy VPN user. There is no discount on 1-month plan. The 1-year plan is 50% off and the 2-year plan is 83% off. To get extra discount, you can use coupon code during checkout. It starts at $1.99 USD per month. It is very cheap.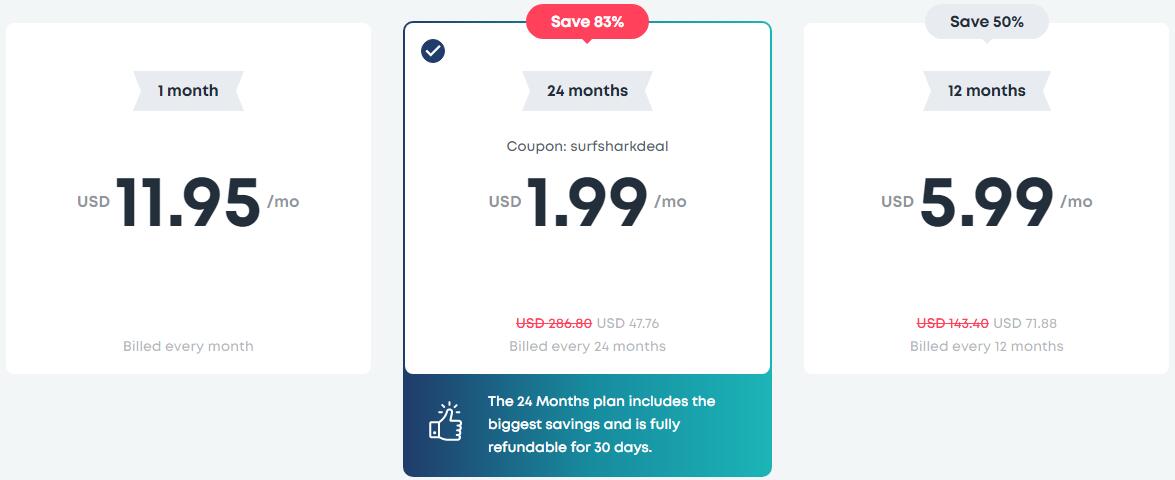 Why is Surfshark so Popular?
Surfshark is a decent VPN with great features and ease of use. The company is registered in the British Virgin Islands and is not obliged to share users' data with authorities. That is perfect to implement and guarantee their strict no-logs policy. Hence, many users choose Surfshark to take their privacy back. Besides, it is one of the few VPNs which completed an independent security audit with no security issues found. This VPN encrypts all the Internet traffic sent to and from your device, safeguarding your precious information and private data. It hides your IP address to anonymize you on the Internet. It helps you unlock restricted contents by spoofing your location. Also, it blocks ads, trackers, malware and phishing attempts to give you a clean network. How to confirm it is a great service? There is a Surfshark free trial. You can try out the premium service for a whole week without paying a dime.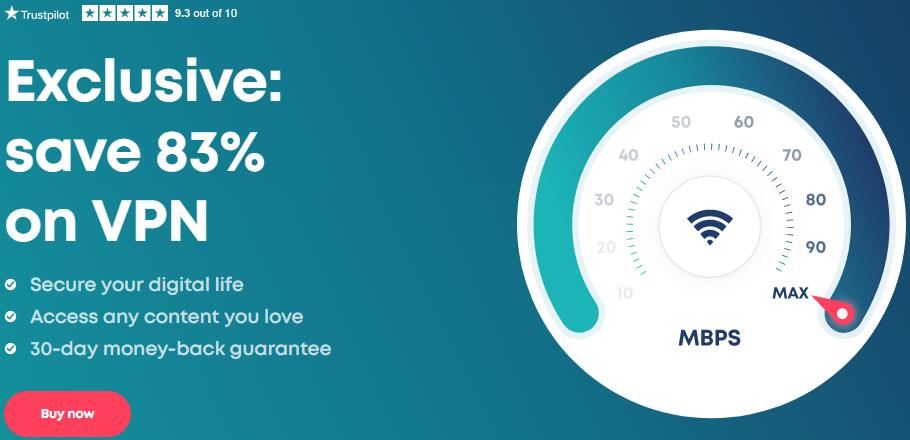 Strict No Logs Policy. According to the provider's no logs policy, they do not monitor, track or store your online activity. Besides, the service works under the jurisdiction of the British Virgin Islands where there is no laws to force the companies to collect their users' privacy. Your privacy stays safe with Surfshark.
Anonymous Browsing. When you browse the web, the web owners, advertisers, snoopers, criminals and your ISP can track you. If you don't feel like to be tracked or monitored, use Surfshark for IP masking. It masks your IP address to prevent others from linking it your online activity via IP detection. Also, this VPN has zero-knowledge DNS on every server. You leave no cracks for potential security breaches. Surfshark is an excellent tool to protect your Internet privacy.
Kill Switch. When you turn on kill switch under setting, it shuts down your connections to the Internet in case VPN connection drops. Your online activities and private data won't get exposed even when the VPN protection if off temporarily.
CleanWeb. Have you been annoyed by numberless popup ads or attacked by malware when browsing the web? Surfshark has CleanWeb which enhances your browsing experience for your peace of mind by blocking ads, trackers and malware.
Solid Encryption.Surfshark uses industry-leading AES-256-GCM encryption to encrypt all your incoming and outgoing traffics. Your personal data will be highly guarded. This VPN gained high scores from Cure53 which is a penetration testing company. "To sum up, Cure53 is highly satisfied to see such a strong security posture on the Surfshark VPN extensions, especially given the common vulnerability of similar products to privacy issues."
Multiple Protocols.When you use Surfshark VPN free trial, you can switch between IKEv2, OpenVPN(TCP), OpenVPN(UDP) and Shadowsocks like the premium users do. IKEv2 is an advanced protocol which delivers a fast and stable VPN connection. OpenVPN is a popular protocol which guarantees fast performance and top-notch encryption. It is paired with robust encryption algorithms and supports data transmission protocols UDP and TCP.
Fast Network. This VPN provider has 800+ servers in 50+ countries. No matter which country or region you are located in, you always can connect to the fastest server. If you don't which server is the fastest, let the client pick it for you. It allows unlimited bandwidth and supports uninterrupted streaming. It is possible to enjoy fast browsing, downloading and streaming without ISP throttling. All Surfshark's servers are P2P friendly. That means you can connect to any server to download privately.
Whitelister. If you have conflict connection issues when using the VPN, you can turn on Whitelister and add apps or websites to bypass the VPN. When you connect to server in China to access Chinese video streaming services from the US, you can't access Netflix and other US-only websites at the same time. In this case, you can set mobile banking apps, Netflix or Hulu to bypass VPN to resolve connection conflicts.
Internet without Borders. Internet restrictions are common in those days. Luckily, Surfshark uses advanced technology, worldwide servers and useful encryption protocols to help users unblock geo-restrictions effectively. There are Camouflage Mode and NoBorders mode that hide your VPN connection and bypass Internet censorship. Surfshark allows you to stream with Kodi, to watch movies on your smart TV or Android TV, as well as Apple TV. You will be able to unblock Netflix, Hulu, and Youtube etc. to access all the content you love from anywhere.
Multiple Platforms & Unlimited Devices. The provider offers their apps for iOS, Android, macOS, Windows, Linux, and Fire TV Stick etc. If needed, you can install browser extension to your Chrome or Firefox on any system. The service allows unlimited devices, so you can get one account for you and your whole family. You can protect as many devices as you'd like at once. The VPN is very easy to use. If you have any problem, their customer support is 24/7 available.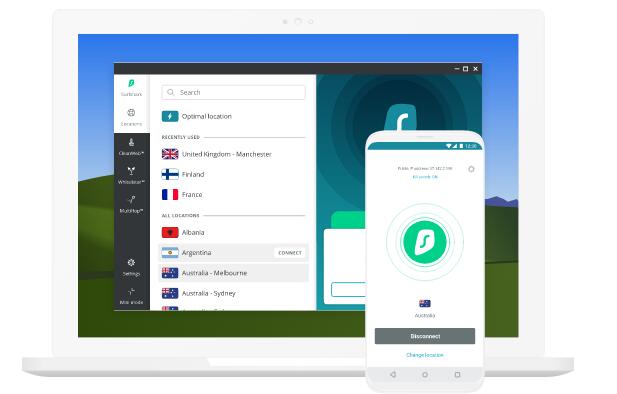 Top 10+ Best VPN Services In The World
VPN Brands
Servers
Country
# of Connections
Price(USD)
Official Website
3000+ servers in 94 countries.
British Virgin Islands
5
$6.67/Month (Save 49%)
Best Choice
5159+ servers in 60+ countries.
Panama
6
$2.99/Month (Save 75%)
View Deals
800+ online servers in 50 countries.
British Virgin Islands
Unlimited
$1.99/Month (Save 83%)

Chinese Click Here>>

View Deals
3,307+ servers in 32+ countries.
USA
10
$3.49/Month (Save 65%)
View Deals
1,300+ servers in 60+ countries.
USA
10
$6.49/Month (Save 46%)
View Deals
Click Here to Read More Top 10 Best VPN Services »
Conclusion (Surfshark Free Trial)
Can't decide when selecting a VPN service? Get Surfshark free trial for a test drive. It is always wise to try out all the features of a VPN service before you make a long-term financial commitment. After you activate the free trial, you have full right to test the service. You will be able to enjoy fast speeds across 800 servers, a strict no logs policy, advanced security protocols, and no ads, trackers, or malware, easy-to-navigate interface, connections on unlimited devices and 24/7 customer support. There is no need to hesitate. Get Surfshark free trial to try out all the features for yourself before determining if it is the right VPN for you. You won't be charged for the VPN trial.

Published by & last updated on April 20, 2020 5:09 am