Have you heard of Kaspersky Password Manager? Is Kaspersky Password Manager any good? Is it worth a try? Kaspersky Password Manager is a useful tool which has the ability to have all your passwords & personal information secure and centralize in one place. It offers to simplify password management by allowing you use a single master password to access all your stored logins. Is it safe to store passwords on Kaspersky Password Manager? What kinds of protection it offers? What else can you do with the password manager? Get your answers in this Kaspersky Password Manager review.
What is Kaspersky Password Manager?
Kaspersky has been in the IT security industry since 1997, providing a wide range of digital security solutions against evolving cyber threats. It has earned high reputation for offering excellent protections for their users with solid and advanced security technologies. To protect users in as more aspects as possible, the company extends their services continually. As most data breaches had been caused by weak passwords and most users have difficulty in managing passwords, the company develops password manager to help.
Kaspersky Password Manager provides all necessary features you expect from password management solution. It stores your logins and sensitive information in one safe place, giving you quick access to all of your important data. It can help you fill web forms with personal and payment info automatically. It offers to find images of sensitive documents & snap photos on your mobile devices and store them to secure storage conveniently. Kaspersky Password Manager works on multiple systems and platforms. It lets you sync passwords & personal information across all devices. You will be able to access your data vault across PC, mobile phones and tablets. Whenever you need, it creates strong and unique password for you with one click and automatically checks passwords for weak and duplicate passwords. This password manager has efficient encryption system that safeguards your data against various kinds of threats. To prevent information leak, it automatically signs you off if there is inactivity for 10 mins.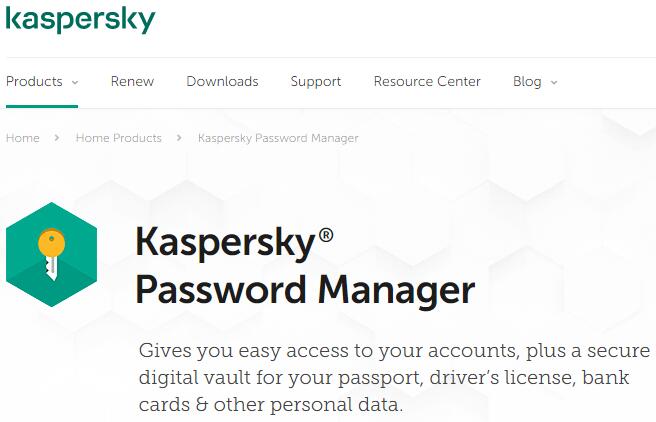 How much Does Kaspersky Password Manager Cost?
Is Kaspersky Password Manager expensive? In fact, Kaspersky offers free and premium versions. The free version comes with limited password storage, allowing users to try their service free before purchasing a plan. Users can store a maximum total of 15 entries of passwords and confidential documents. If you are looking for unlimited storage and access to the full features, you need to upgrade to the premium version. Some of Kaspersky's security suites include the premium version. If you purchase one of the premium security suites, you may use the password manager free with unlimited password storage. You also can sign up Kaspersky Password Manager separately. It costs $14.99 USD for one year of license. The price is cheaper than many similar products on the market. Kaspersky Password Manager is solid yet affordable.

Convenient Password Management
Kaspersky Password Manager simplifies your digital life with convenient password management solution. It offers a secure data vault for all of your passwords and personal information. When you first use the service, it lets you import all passwords for websites and apps stored in the browser. With few clicks, you can have your entire existing passwords store in the vault without adding them manually. It imports usernames and passwords along with URLs. You can launch your favorite websites from the data vault directly. It also has the ability to import passwords from many famous password managers. If you think about switching to this password manager, you can bring all your data from the old service. From the app, you will see a menu of choices including All entries, Passwords for websites, Passwords for applications, Bank cards, Images, Addresses, Notes, Password Security Check, and Settings. You will be able to add personal information in the proper fields and organize them in folders, so you can find them easily whenever you need them. It has a handy search box which narrows the list as you type, helping you find needed information quickly.
After you set up your account on the device, Kaspersky Password Manager is always ready to offer assistance. It captures your credentials when you log in to a secure site, and replays it when you revisit the site. It lets you change your passwords and edit personal information anytime. Whenever you need login or personal information, you have quick access to them with the master password. It creates strong passwords for you, notifies you if your existing passwords are weak or reused. You are allowed to store and sync passwords and personal information across your Windows, Mac, iOS and Android devices with one license. It is possible to manage your passwords with few clicks without forgetting any one of them. Besides, Kaspersky Password Manager provides auto-detect technology to help you quickly find docs in your Photo Gallery. It has been recognized as a helpful management tool.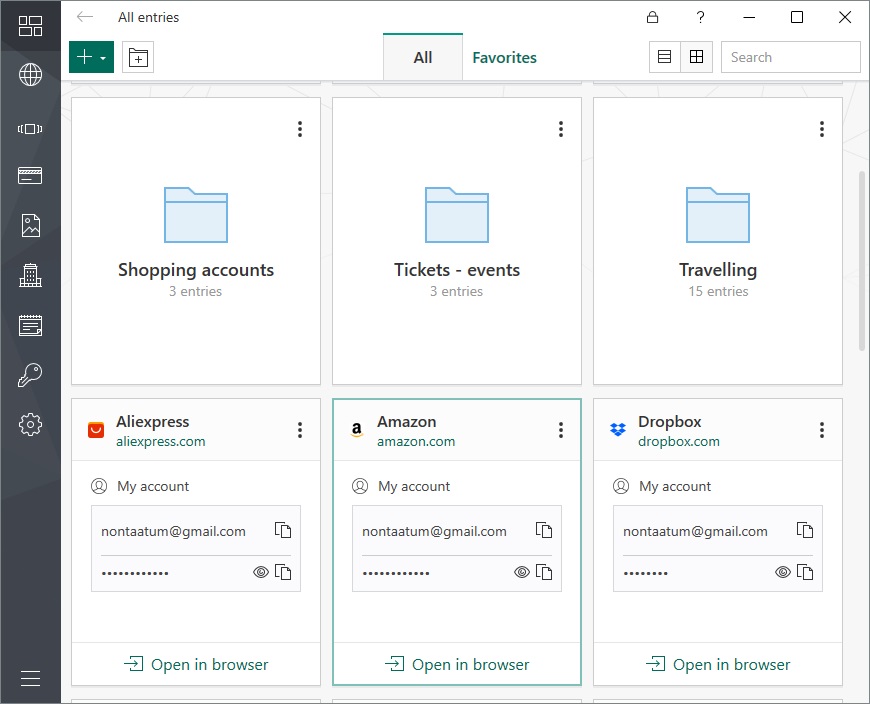 Password Generator
We all know that complicated and unique passwords give our account better protection. The problem is it is not an easy job think of a dozen of different passwords. Many users prefer to base their passwords on birth date, phone number, anniversary, name or other information related to their profile. This kind of passwords is easy to create and remember as well. To save time, some users reuse one password for multiple platforms. We have to tell you that criminals can collect your profile easily on the Internet and use machine to crack your simple passwords quickly. If you they can crack one of your passwords, the rest accounts will be compromised if you use the same password. Kaspersky Password Manager enables you to create unique and strong passwords within few seconds. The best thing is it remembers all the passwords for you.
Kaspersky Password Manager is able to generate strong passwords for use in each and every site or mobile application. By default, the built-in password generator uses four types of characters including uppercase letters, lowercase letters, digits, and symbols to create random passwords, making it impossible for human and robot to guess. When you use the password generator, it displays password immediately. If you would like to customize it, you can change the type of characters and length of password. You have option to copy the new password to the clipboard and paste on a website or app, and it clears the password from the clipboard after a short time to prevent information leak. Kaspersky Password Manager offers to strengthen your existing passwords as well. To find out your weak passwords, click the Security Check menu icon at left. It will show you the list of your problematic passwords. The app marks your passwords with high strength, low strength, unique and not unique. At the right side, you can see a "change password" button. Click it to make all of your passwords strong and unique.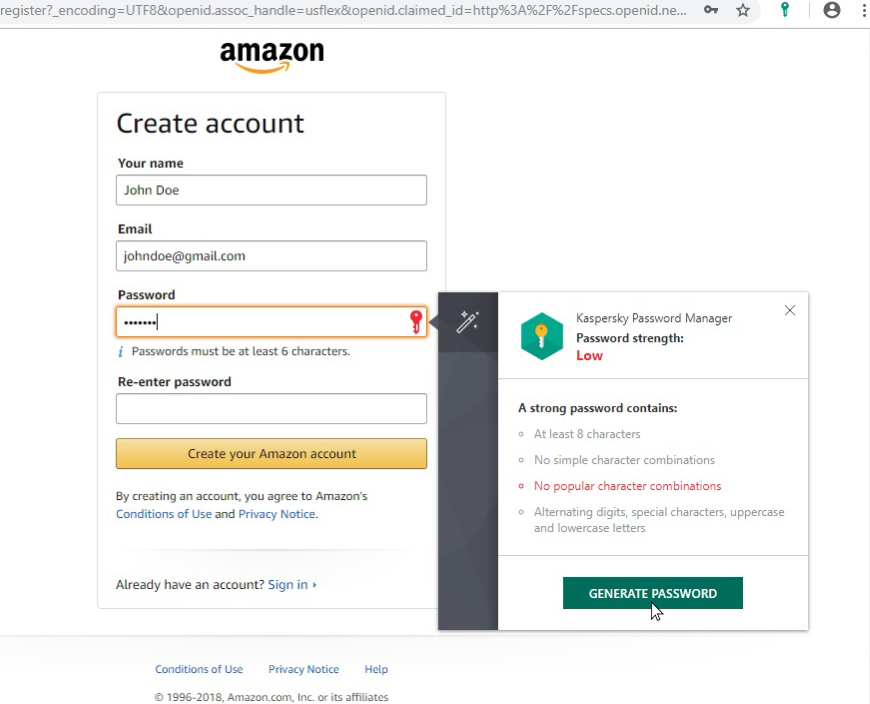 Data Storage & Auto Form Filler
Kaspersky Password Manager offers encrypted cloud storage to let you securely store sensitive information. In addition to passwords, this password manager offers secure storage for personal information that you use frequently. It allows you to define as many Addresses as you need. You can add names, physical address, email address, phone number and poste code etc. to the vault. If you need to shop online or make payment frequently, you can add credit & debit card detail, and digital financial accounts etc. to the password manager. In addition, Kaspersky Password Manager lets you store unformatted information and non-electronic secrets in the form of secure notes. They can be padlock combinations, identification numbers, driver license number and other information you would like to keep it safe and private. Some information like contacts, product licenses, crypto wallet passwords and order reference number can be added to the vault. You can access the date vault from any device connected to network.
You get automatically logged into your accounts with the logins you stored on Kaspersky Password Manager. The stored information and credit card detail can be used to fill web forms. If you need to deal with various kinds of web forms at work, this feature will help you a lot. When you open a page with a web form, you will see the key icons next to certain fields. If you need it to fill the information for you, click the key icon and choose from your saved addresses or bank cards. When you click the icon to ask the password manager to fill bank card data, it displays a confirmation window with the full URL of the page. It only matches your profile with your permission. That helps you avoid giving away sensitive data on a fraudulent site. The auto form filler helps you save your precious time in typing the same information again and again. Besides, you don't have to carry your wallet everywhere to make payment or deal with business with sensitive information. Kaspersky Password Manager makes it more secure and convenient to do your job.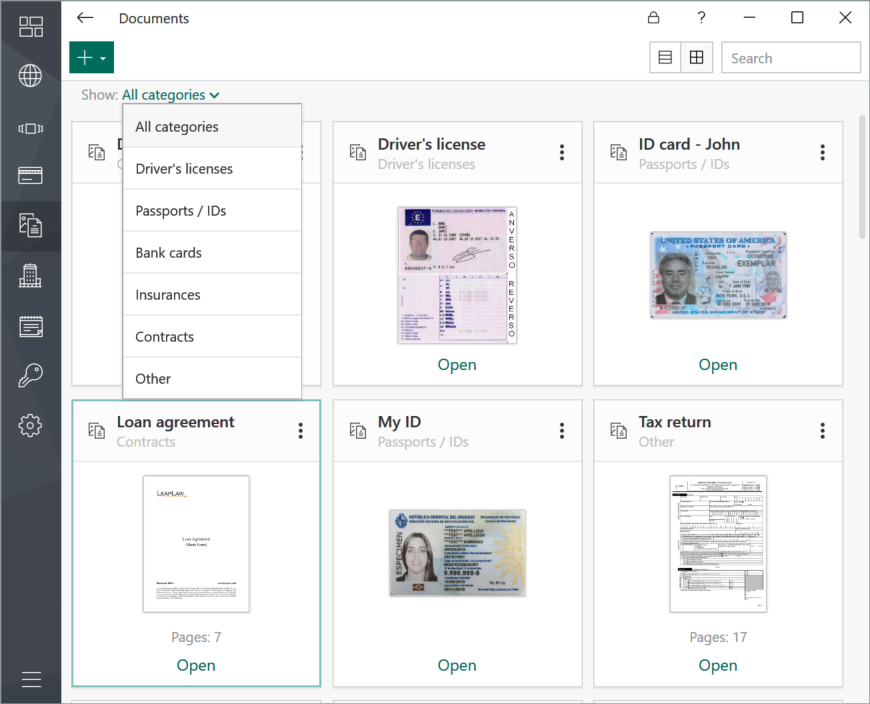 Password Synchronization
In those days, many users have multiple devices for personal and work. Kaspersky Password Manager makes it easy to access your accounts on any device next to you by enabling you sync passwords across all devices with one license. When you add data to your password keeper on one device, the data will be sent to the cloud automatically and then straight to your other devices. The only thing you need to do is install Kaspersky Password Manager on all of your devices and set automatic sync to default within your password management software. This password manager supports Mac, Android, iOS and Windows, so it can apply your personal information securely and automatically on any desktop computer, laptop, tablet, or smartphone, making your password storage seamless. Sync passwords to any device you have and access them anytime for use.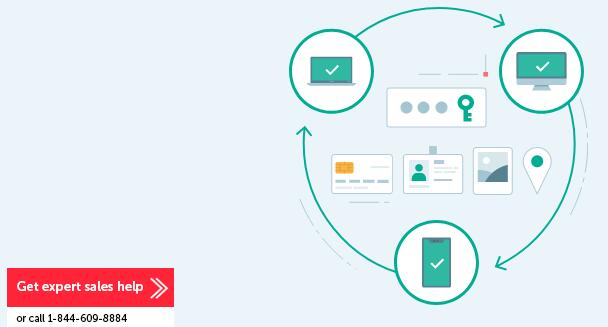 Kaspersky Password Manager Security
When it comes to password storage, you need to confirm it is secure and has the ability to safeguard your sensitive information. Kaspersky Password Manager provides excellent protection to your data vault. With the background of security company giant, you can expect solid security from this service. With rich experience in security industry and advanced technology, it has earned high reputation on the market. This password manager uses a symmetric key algorithm based on the Advanced Encryption Standard – AES 256-bit to encrypt their users' data. When you need to access your account, it sends a key which is derived from your master password using PBKDF2.
For your own security, Kaspersky Password Manager uses zero-knowledge mode. The company knows nothing about your data and doesn't store your master password on any of your devices or in the cloud. It lets you access your account by entering the master password or using your fingerprint on your mobiles to authenticate. If you forget your master password, there is no way to access your data. The password manager allows you to save a local backup copy of your data in case you forget master password. If you save a local copy backup, make sure they are safe from snoopers and other threats. By default, the password manager logs you out automatically after inactivity of 10 minutes on the desktop editions or 1 minute on the mobile editions, eliminating any chance of information leak.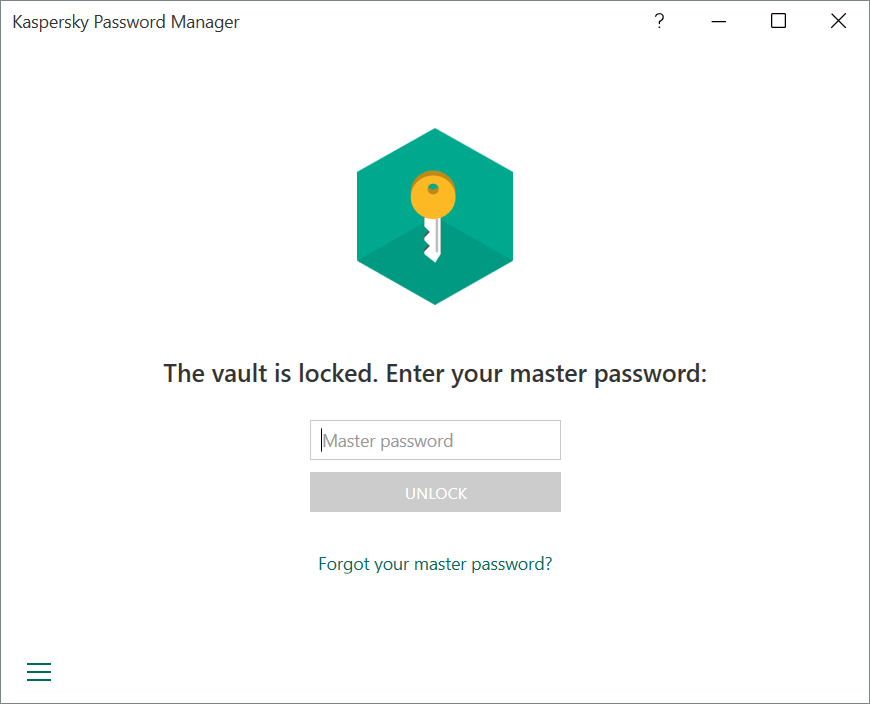 Ease of Use
Kaspersky Password Manager is well-designed, and beginners can use it without any problem. To use it, you can download and install its app for your Windows, Mac, iOS or Android. Currently, there is no app for Linux, but it will come soon. When you install the app, the installer can add its browser plug-in to Chrome, Firefox, Internet Explorer, Microsoft Edge, and Russia-based Yandex. The browser plug-in will handle auto logins, form filler and other features. During the process, it guides you through to set up account, install plug-in, import passwords and add information. You won't run into technical issues. When it captures logins or fills web forms, you only need to give it permission and it will take care of the rest. It is easy to create multiple levels of "groups" to organize your passwords and personal information. During the setup process, you need to create an online Kaspersky account or use your existing account as well as define a strong master password. It requires both the My Kaspersky password and the password manager's master password to access the data vault. That is double protection. If you have any problem, you can contact the customer support for help easily.
How to get Kaspersky Password Manager? Visit Kaspersky official website, scroll down to find Kaspersky Password Manager. You choose to buy the premium version for unlimited storage and full features. It is $14.99 USD for one year. If you can't decide yet, get the free version to give it a try. If it turns out to be the service you need, simply upgrade to the premium version. Download and install the password manager client on your device, create & set up your account, import passwords and add personal information. Kaspersky Password Manager is ready to work for you.


Top 5 Best Password Managers In The World
| Brands | Rating | Support Platforms | Offers | Price(USD) | Official Website |
| --- | --- | --- | --- | --- | --- |
| | #1 Read Review | Windows, Mac, iOS, Android, Linux, Chrome OS, watchOS | Offers Free Version | $39.99/Year | Best Choice |
| | #2 Read Review | Windows, Mac, iOS, Android, Linux, Chrome OS, Windows Phone, watchOS | Offers Free Version | $24.00/Year | View Deals |
| | #4 Read Review | iOS, Android, Safari (Mac), Chrome and Firefox (Mac and Windows) | Offers Trial Version | $14.99/Year | View Deals |
| | #5 Read Review | Windows, Mac, iOS, Android | Offers Free Version | $12.00/Year | View Deals |
Conclusion (Kaspersky Password Manager Review)
Kaspersky Password Manager offers an advanced and reliable solution. This service has been trusted by a large number of users around the world. It is a secure password saver that stores your passwords in one secure place. The master password will be the only password you need to remember. It allows you to create strong, unique passwords for all your online accounts, helping you avoid data breaches and many cyber-attacks. It syncs your data across all devices, so you can access important data on any device. It fills web forms for you automatically to save precious time. Kaspersky Password Manager is a much affordable and easy to use service. It costs $14.99 USD for one year. Would like a test drive? Get started with the Kaspersky Password Manager free version now.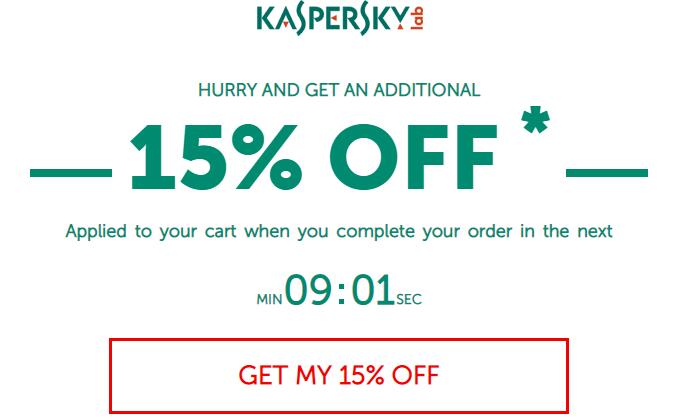 Published by & last updated on March 17, 2020 6:45 am