Can you use ZenMate for free? Yes. ZenMate is a very popular VPN service which has high reputation throughout the world. If you are looking for a reliable and useful VPN service, it is a great option to consider. Can't decide as you don't know much about this VPN? How to know if this VPN is worth subscribing to? Make use of ZenMate Free Trial to have a taste of the service before you commit to purchase a plan. The provider offers a free trial to let you use their premium service free for 7 days. You have enough time to figure out if it is the right service for you. Why hesitate? It does not cost any penny to get started with ZenMate premium package. Learn how ZenMate Free Trial helps you make the right decision in this article.
ZenMate Free Trial
Are you looking for a risk-free way to try out if a VPN provides what you need? You should make use of VPN free trial. VPN free trial has been very important as environment for VPNs is changing all the time. You should ensure it provides what you need and works for you without problem. Does ZenMate offer free trial? ZenMate offers three ways to let you get started with the service without taking a risk. There are ZenMate free client, 7-day ZenMate free trial, and a 30-day money back guarantee to choose. To have a good taste of the service, we suggest you make use of the 7-day ZenMate free trial and the 30-day money back guarantee because the free version comes with limits.

ZenMate Free Version. If you use the free version, you have a choice of four server locations. You only can switch between the four servers, and your favorite server location may be absent. It has a speed limits of 2MB/s, and it isn't sufficient to stream. You don't know how fast this VPN actually is. The free version does not give you access to OpenVPN which is the most secure one. Note the provider displays ads via their free VPN client. You may be annoyed due to the unexpected popup ads. Also, the free package only allows one connection.
ZenMate Free Trial. While many VPN services like to limit their speeds or bandwidth for free trial users, ZenMate does not set restrictions on their free premium trial. This free premium trial gives you full access to ZenMate's entire range of features. During the 7-day free trial, you have the ability to use all of ZenMate's global servers in 30+ countries and regions. There is no limit on server switching, and you have bigger chance to get higher speeds. There are no speed restrictions at all. It lets you use the Smart Locations tool which automatically connects you to the fastest available server. ZenMate free premium trial comes with full support for torrents and other P2P traffic, allowing you to download anonymously and securely. There are no adverts at any stage during the trial period. ZenMate offers a completely free premium trial. It does not require credit card detail, so it puts you at no risk of unexpected charges. When you free trial expires, your account reverts to the free version of ZenMate which comes with only four server locations, reduced speeds, and accessibility on only three platforms.
ZenMate Money Back Guarantee. If 7 days are not long enough for you, the money back guarantee can help. The provider offers a 30-day money back guarantee on all of their plans. To benefit from the policy, you can purchase any ZenMate subscription of your choice. You have 30 days to feel the service and confirm if it is the service you want. Try the service in every aspect to get accurate answers to your questions and concerns. During the 30-day refund period, you are allowed to use the VPN on up to five different devices. So, you will know if it works on all of your devices. If you don't feel like the service, simply cancel your account and request a refund via ZenMate's support team within 30 days of your subscription. If you decide to cancel, use the email address associated with your ZenMate Account to send an email to their customer support service. You can find their email contact details on their official websites. Remember to make it clear that you are requesting a cancellation and provide your payment detail in the email. The money back guarantee policy grants you a refund if you are not happy with the service. It is important to cancel your account before the 30-day period has elapsed. If you find out ZenMate is the VPN you want, just keep the account to enjoy the full subscription.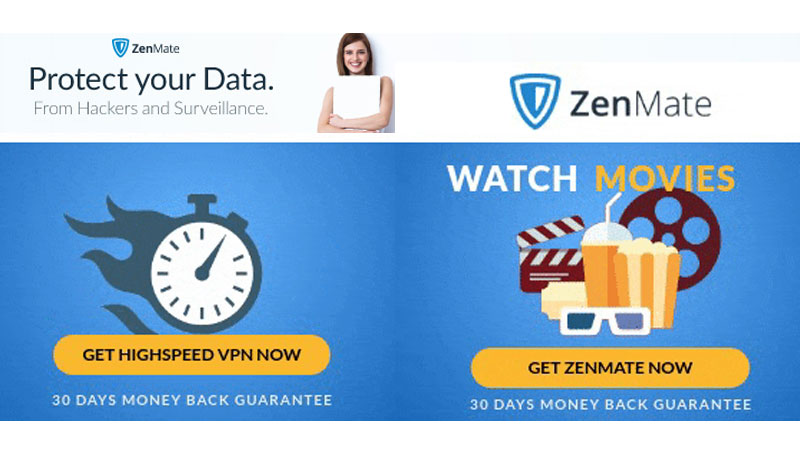 How to Activate the ZenMate Free Trial?
The provider makes it very easy to get ZenMate premium free trial. How to start your free trial? First of all, open ZenMate VPN official website. From the home page, you will see 'Start free 7 day trial.' Click the button.
Secondly, ZenMate VPN client will be downloaded automatically once you click the button. Install it on your device.
Thirdly, sign up your ZenMate account with your valid email address.
Fourthly, you will receive an email with a verification link from ZenMate as soon as you sign up.
Fifthly, click the verification link, and the confirmation page will open. Once your account is verified, you free trial start. It does not require your payment detail because it is a truly free trial. You will gain access to what premium subscription has to offer for the whole week. Enjoy the secure, private, fast and free Internet with this service.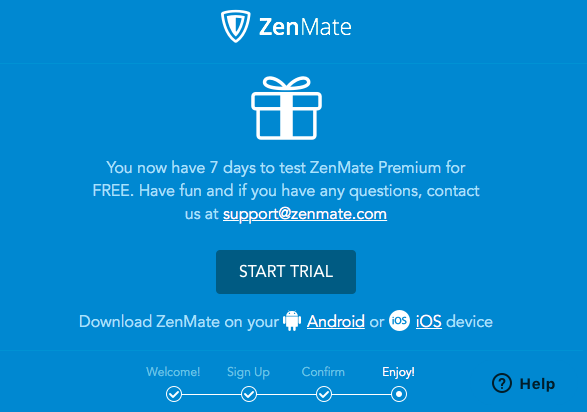 How to Use ZenMate Free Trial to Test the Service?
How to confirm it is the service you want? Firstly, run the VPN client and connect to a server to see if it works on your favorite devices. If it does not work, you don't need to consider other factors. Secondly, find out if it hides your IP address. You can see if your device shows your IP address on Google or other website. Type 'What is my IP address' in Google search box, and it will show your IP address. If it shows the IP address offered by VPN provider, your real IP address is well hidden.
Thirdly, confirm it uses secure VPN protocols to protect your online traffic. You can view what VPN protocols it uses under settings from the client. OpenVPN is the most popular protocol because it comes with the most advanced encryption standard while maintains high speed. Fourthly, try if you can access the server you need. ZenMate has servers in 30+ countries and regions. Test if you can connect to any server you need.
Fifthly, learn if the VPN is fast enough to let you enjoy a great browsing and streaming experience. Connect to server the client suggests to browse the webs and stream your favorite contents to see if you are satisfied with the connection. Try to unblock Netflix, BBC iPlayer and more popular streaming sites that come with geo-restriction. Sixthly, observe the VPN to learn if its uptime is high. Commonly, you will see popup reporting about disconnecting when the VPN drops. It is very easy to know its uptime. ZenMate gives you 7 days to get the answers without paying a penny. Activate ZenMate free trial now.
Brief Information of ZenMate
ZenMate is a trusted and solid VPN service located in Berlin, Germany. It delivers advanced cyber security solution and has been chosen by more than 45 million of users around the world. The provider is committed to create a more secure, private and free Internet by providing hundreds of servers in 30+ countries and regions, turbo speeds, friendly privacy policy and top-notch encryption. ZenMate VPN creates a virtual tunnel between a user's device and the company's server network. The tunnel is encrypted. User's data is rerouted to the VPN servers first and then sent to targeted website. During the process, user's IP address is switched to another cities or countries. The VPN prevents snoopers from spying on you and stops hackers from stealing user's credit card information and other things that they send over the network. It can be used to clock user's IP address and spoof the location to avoid censorship and bypass geo-restriction for using the Internet without restriction from anywhere. ZenMate is an easy and affordable way to stay secure and private online as well as access the Internet contents freely. How to find if it is the best VPN for you? Use ZenMate free trial to test the service yourself. You will know exactly if it provides what you need.

How much does ZenMate VPN Cost?
If you confirm it is the service you want, you can sign up a plan to enjoy ZenMate's amazing service. The provider offers three billing cycle options. You can sign up monthly, yearly or biennially. If you would like to save money, you are suggested to purchase longer subscription and use ZenMate coupon discount. The 1-month plan is $9.99 USD. The 1-year plan is 60% off and costs $3.99 USD per month. The 2-year plan is 79% off and costs $2.05 USD per month. When signing up for two years at a time is much cheaper than paying monthly fee for 24 months. To redeem coupon discount, just enter valid ZenMate coupon code during checkout. Can't deicide yet? The ZenMate Free Trial will help. Try the ZenMate Premium service for 7 days for free by simply verifying your ZenMate trial account. Your account will automatically go back to the free version, and you won't be charged. If you like the service, just purchase a premium subscription.

Encryption Standard & VPN Protocols. ZenMate uses 256-bit encryption to encrypt your connection to the Internet. 256 refers to the length of the encryption key it uses to encrypt your traffic. There are 2256 combinations to break the encrypted information. So far, this level of encryption has not been cracked yet. Likewise, it supports OpenVPN which is the most popular protocols among VPN users due to high speed and security.
Worldwide Servers. ZenMate has servers in 30+ countries and regions. You can access all of the servers when using the free premium trial. Switch to any server you like. There is no limit or extra charge on server switching. It has servers in Austria, Australia, Belgium, Bulgaria, Canada, Czech Republic, Finland, France, Germany, Hong Kong, Israel, Italy, Japan, Latvia, Luxembourg, Moldova, Netherlands, Norway, Poland, Romania, Russia, Singapore, South Africa, Spain, Switzerland, Sweden, Ukraine, United Kingdom, United States and United States West.
Privacy Policy. ZenMate has zero log policy. It helps you hide your IP address and other personal information on the Internet. Your Internet data goes through their servers, and the provider promises that they do not access or keep any log of your online activities. Your privacy is guarantee.
Ability to Bypass Geo-Restriction. In those days, the Internet is restricted based on where you are located. You may not be able to access your popular websites as your government blocks it or the streaming service refuses your Internet request because you are located outside the "legit" country. ZenMate enables you to bypass government censorship and overcome geo-restriction to unblock Netflix, Hulu, BBC iPlayer, Pandora and more sites by offering worldwide servers and advanced protocols. It embraces P2P and torrent, allowing you to download anonymously and safely.
Compatible Devices. ZenMate is compatible with all popular systems and platforms. You can install and use ZenMate on Windows, MacOS, Linux, Android and iOS. It has client for OpenVPN. There are also browser extensions for Opera, Firefox, and Chrome. It lets you protect up to 5 devices with one single account. ZenMate is not only for the tech savvy. It is very to install and set up. No complicated configuration is required. Simply follow the wizard to get it ready. It has clean user interface, and you can navigate and find the feature you need easily. If you have problem, contact the customer support for instant help.
Learn How to Get Zenmate VPN in This Short Video:
Top 10+ Best VPN Services In The World
VPN Brands
Servers
Country
# of Connections
Price(USD)
Official Website
3000+ servers in 94 countries.
British Virgin Islands
5
$6.67/Month (Save 49%)
Best Choice
5159+ servers in 60+ countries.
Panama
6
$2.99/Month (Save 75%)
View Deals
800+ online servers in 50 countries.
British Virgin Islands
Unlimited
$1.99/Month (Save 83%)

Chinese Click Here>>

View Deals
3,307+ servers in 32+ countries.
USA
10
$3.49/Month (Save 65%)
View Deals
1,300+ servers in 60+ countries.
USA
10
$6.49/Month (Save 46%)
View Deals
Click Here to Read More Top 10 Best VPN Services »
Conclusion (ZenMate Free Trial)
Would you like to enjoy the ZenMate premium VPN free of charge? Start your ZenMate free trial account. You can get a good understanding of the service and decide if it is the service you are looking for. Don't know what ZenMate offers and can't decide if it is the VPN you need? The provider makes it easy to figure it out. It offers free premium trial with full features, allowing you to test the service free for 7 days. During the trial period, you get full access to the service just like the premium users do. There is no need to worry about any automatic payments at the end of the free trial. Start your test to find out the best VPN for you by activate your ZenMate free premium trial account. It is truly free.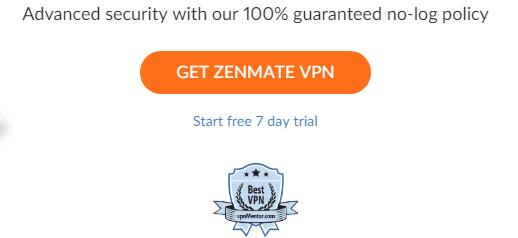 Published by & last updated on July 1, 2020 4:37 am