When we mention Panda, you may think of the famous security service. Yes. Panda is a popular service that offers impressive security products. The security products protect your device against various kinds of malware and dangerous threats. To give users further protection, Panda develops VPN which secures users' connections to the Internet. Is Panda VPN fast? Is it safe? Is it worth to invest as a new service? You will get the answers in this Panda Dome VPN Review.
Brief Information of Panda Dome VPN
Panda is first a trustworthy cyber security company that delivers excellent security solutions to protect users' devices and data in many aspects. Though it is new on the market, it offers secure connection, reliable privacy protection, fast streaming, and private torrenting. There are free VPN and premium package. The premium version comes with fabulous features like online security, antivirus, and data recovery. Panda Dome VPN uses very high security algorithms and encrypts all traffics to ensure users' connections are unbreakable. It protects user's privacy from prying eyes no matter they are at home, at work or in public environments. It is a very useful tool that allows Internet users access the Internet contents safely and privately.


How much does Panda Dome VPN Cost?
Is Panda Dome VPN free to use? How much does it cost? Panda offers a free version along with their premium antivirus package with a limit of 150 MB per day of data. No option is provided to change server. The premium package allows unlimited bandwidth and server switching. Premium users can enjoy the amazing speed when streaming or downloading. There are three plans to choose. They are 1-month, 1-year and 3-year plans. No matter which plan you choose, you get access to full features. The different thing is that you get bigger discounts on long-term plans. The monthly plan costs $11.99 USD. The yearly plan is 35% off and costs $6.45 USD per month. The triennially plan is 70% off, and the monthly price is reduced to $2.97 USD. The 3-year plan is the best seller which includes the biggest savings. It is only $2.97 USD per month which is relatively cheap on the market. All plans come with a 30-day money back guarantee. There is no risk to use Panda Dome VPN. The provider accepts all major credit cards, debit cards and PayPal.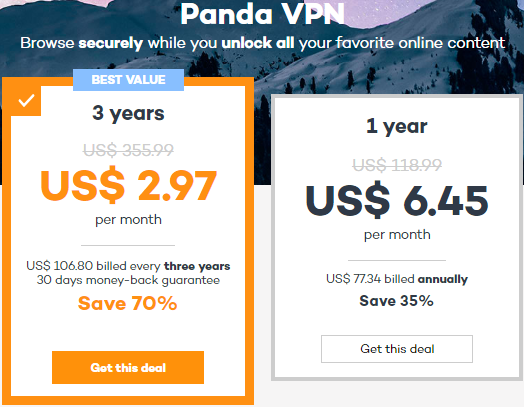 Why choose Panda Dome VPN?
With so many VPN available, why should you choose Panda Dome VPN? What makes it a special VPN? Compared with other VPNs on the market, Panda VPN is relatively new. However, you should not understate it. Panda has been making antivirus products for a very long time and has rich experience in security industry. Besides, it works with Hotspot Shield to complement its less experience in VPN industry. You can expect amazing features from the service. When you use the client, you may see a message "Powered by Hotspot Shield" in the bottom right corner. One of the most attractive points is the useful set of security features bundled with the VPN. When you use Panda Dome VPN, it provides network security as well as hardware protection. It includes a free antivirus, protecting you against malware and malicious programs. The VPN secures your connection to the Internet and protects your privacy. It uses the most secure encryption standard (AES-256) and fast VPN protocol to protect your online traffic, so you will be able to enjoy a safe Wi-Fi connection even when you are using public networks. It protects your IP address and browsing histories from prying eyes. The provider has zero-logs policy, and you are 100% anonymous. The worldwide servers and Catapult Hydra make Panda VPN one of the fastest VPNs. Panda VPN also has the ability to unblock many famous streaming services. The affordable price is another attractive point of this service. It starts from $2.97 USD per month.


Is Panda VPN Safe?
When you use public Wi-Fi hotspots to check your email and perform other tasks, criminals can intercept your session and steal sensitive information easily. Luckily, Panda VPN automatically connects when it detects an insecure Wi-Fi network. It protects your connections with the AES 256-bit encryption standard along with a set of privacy and security features. With the background of security service, Panda VPN has fantastic security features. When this VPN works on your device, it encrypts both your IP address and online traffic, making them invisible to others on the Internet. The snoopers and your ISPs won't be able to spy on you anymore. They can't read your data without the 256 characters of encryption key. Panda VPN does not use regular VPN protocols like OpenVPN or PPTP. A VPN protocol is a technology that determines how the data sent and received over the Internet or a LAN is formatted and transmitted. Different protocols bring different platform compatibility, encryption and speed. Panda uses Hotspot Shield's Catapult Hydra protocol which is faster and more secure than usual one. You get military-grade encryption and can maintain high speed at the same time with Panda Dome VPN.


Does Panda VPN Protect Your Privacy?
Most users buy a VPN service to protect their privacy. The ISPs are allowed to collect and sell their users' browsing histories to third parties without users' permission. As users have to rely on their ISP's servers, they can't stop the ISP from invading their privacy. In order to reclaim your privacy, you should use Panda VPN. It alters your IP address and channels your data through remote servers that are encrypted by random 256 characters of encryption key. When you reveal your real IP address on the Internet, the advertisers, website owners, snoopers, ISPs and government can track you and collect your browsing habits. The IP address is unique to your IP address. By purchasing your browsing histories from your ISP, others can know which website you visit, what folder you download and what product you look for on the Internet. That is creepy. However, none of these will happen with Panda VPN. It replaces your IP address with an anonymous one, encrypts your online traffic and sends your data through remote servers. Besides, the provider has zero log policy. They do not collect your sensitive information or store your traffic log. You become anonymous and can't be tracked online with Panda VPN.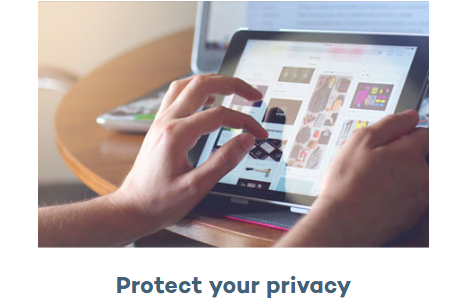 Is Panda VPN fast?
Every VPN slows down your connection as it needs to reroute your data through remote and encrypted server. However, you barely can notice the slowdown if you choose a fast VPN. So, is Panda Dome VPN fast? When we tested the VPN, we had great speed. The VPN connection had slightly effect on our speed. It defeats lots of VPNs that we have tested. With support of Hotspot Shield, Panda has fast and wide servers around the world. It has 200 servers in 23 countries throughout the world, covering all continents except Africa. The popular US and European locations are available. You also can connect to servers in India, Japan and Hong Kong. Servers in the US are great for streaming. Servers in Asia are great options for users in mainland China to bypass Internet censorship. You are suggested to connect to a VPN server that's close to your current location to ensure the best possible download speeds and minimum latency. If you are located in Europe, server in Germany is a great option for you. Panda VPN is fast. It is a great option for users who would like to use streaming services, download P2P and play video games.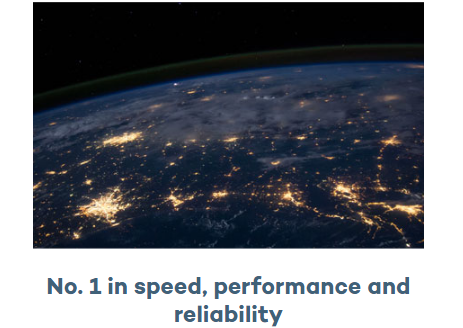 Can Panda VPN Unblock Restricted Content?
You may not be able to access some famous websites or watch a popular show in your country due to Internet restrictions. The Internet restrictions may be set by your government or the streaming services. In fact, many governments around the world enforce rules that censor the Internet for their citizens. Due to different reasons, they block websites and apps that they consider as "bad." For example, the Chinese government created the most powerful firewall to block millions of websites to control the information flow. Users in mainland China can't use Google, YouTube, WhatsApp and Instagram etc. normally. Due to license issue, many streaming services restrict their contents in certain areas or show different contents in different countries. Even though you purchase the service license, you still can't access the contents properly after moving to a different country. Does Panda VPN bypass the geo-restriction? Yes. It helps users unblock Netflix, Hulu, BBC iPlayer and more effectively by masking the IP address and spoofing the location. It sends your data through remote server in the US or UK, and you have a new IP address which tells the firewall or streaming sites that you are located in the US or UK. The VPN disguises your connection as normal http traffic to let you avoid VPN blocking. That's how Panda VPN helps you overcome geo-restriction and access the Internet without limit. Access the websites and stream the contents you like freely from anywhere.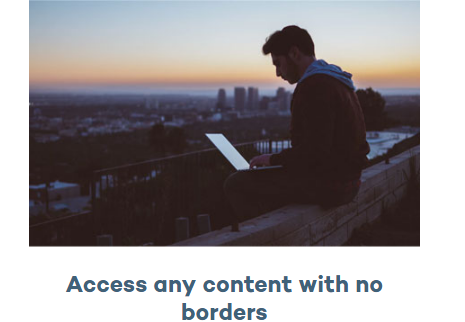 Does it Support Torrent?
Does Panda VPN support torrent on their servers? Can you download via P2P with this VPN? Yes. Panda VPN supports torrenting and other types of P2P file sharing. Many VPN providers do not allow torrent and P2P due to different reasons. The good news is you can share contents privately and securely with Panda VPN. When you download folder from torrent sites, your IP address is left on the websites. Advertisers and your ISP can track back to you according to the IP address. Malware may come with downloading folders. When you use Panda VPN to download, it protects your IP address, secures your traffic and helps you avoid ISP throttling. Connect to any server you need, and you will be able to download privately at great speed without potential threats.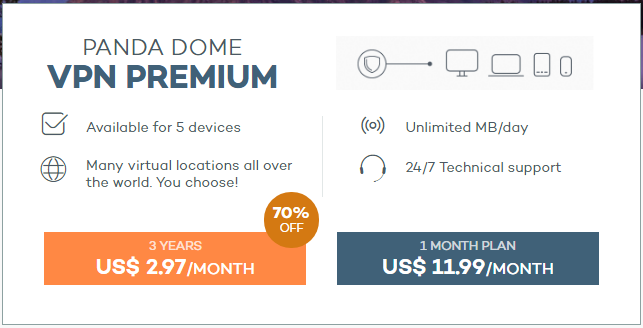 Does it Work on Your Device?
Does Panda VPN work with your device? As a new member in the VPN family, Panda only has apps for Windows, Mac and Android. If you use one of those systems, it works with your device. App for iOS is still in development. Hope it comes as soon as possible, so our iOS users can benefit from this great service as well. It allows you to connect to five devices at the same time with single account. A plan can protect all your devices. There is no need to sign up an account for each device. It is surely worth the money. The provider designs the VPN so well and makes it easy to set up and use the VPN. It has intuitive interface with bold colors and big icons. Users can navigate and find features they need easily. Within the client, you can select from server list and connect to any server you like. If you would like to skip selecting every time you run VPN, you can change the settings to let the client choose proper server for you based on your location or set your favorite server as a default. If you need VPN protection all the time, you can choose auto launch upon startup. You can contact the support team on their official website if you meet any problem when using the VPN.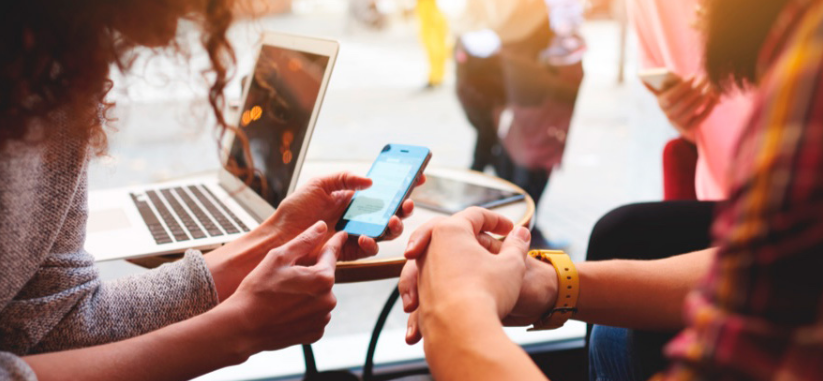 Learn How to Get Best Deal in this short video
Top 10+ Best VPN Services In The World
| VPN Brands | Servers | Country | # of Connections | Price(USD) | Official Website |
| --- | --- | --- | --- | --- | --- |
| | 3000+ servers in 94 countries. | British Virgin Islands | 3 | $6.67/Month (Save 49%) | Best Choice |
| | 5159+ servers in 60+ countries. | Panama | 6 | $2.99/Month (Save 75%) | View Deals |
| | 3,307+ servers in 32+ countries. | USA | 10 | $3.49/Month (Save 65%) | View Deals |
| | 800+ online servers in 50 countries. | British Virgin Islands | Unlimited | $1.99/Month (Save 83%) | View Deals |
| | 1,300+ servers in 60+ countries. | USA | 10 | $6.49/Month (Save 46%) | View Deals |
Click Here to Read More Top 10 Best VPN Services »
Conclusion
Panda Dome VPN is a useful and reliable service that is worth to invest. With the solid security service background, it has done a great job in protecting your online traffic and privacy. The free set of antivirus gives your hardware protection as well. You get Internet freedom at the same time. Panda VPN hides your IP address, encrypts your connection to the Internet, changes your virtual location and disguises your online activities. Use this VPN to take back your privacy, safeguards your precious information on insecure network, avoid ISP throttling, and access any contents you like from anywhere.

Published by & last updated on March 9, 2020 10:01 am