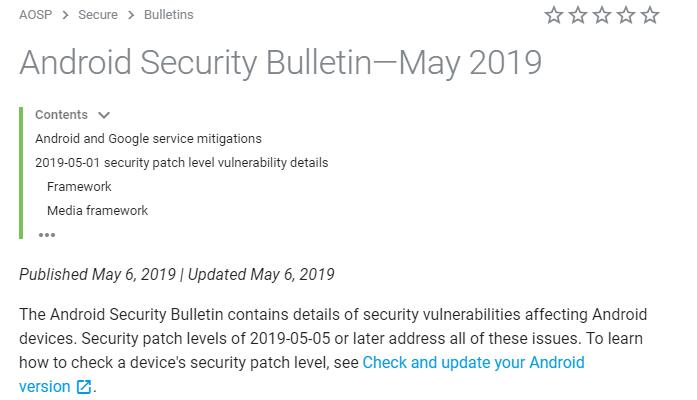 On May 6, 2019, Google released the May Android security patch, which fixes many of the most important security vulnerabilities recently discovered and other issues found in various Android components. This month's Android security patch includes 2019-05-01 and 2019-05-05 security levels, and fixed 30 vulnerabilities on Android Framework, Media framework, Android System, Kernel, and Nvidia, Broadcom, Qualcomm and more components.
The most important vulnerabilities fixed in this security patch can affect the Media framework, allowing remote attackers to execute arbitrary code. The security bulletin tells, "The most severe of these issues is a critical security vulnerability in Media framework that could enable a remote attacker using a specially crafted file to execute arbitrary code within the context of a privileged process. The severity assessment is based on the effect that exploiting the vulnerability would possibly have on an affected device, assuming the platform and service mitigations are turned off for development purposes or if successfully bypassed."
The May 2019 Android security patch is currently available for all supported devices, including Google Pixel, Google Pixel XL, Google Pixel 2, Google Pixel 2 XL, Google Pixel 3 and Google Pixel 3 XL. Essential Phone users should be the first users to receive the Android security patch for May 2019 to update the installation via OTA (wireless). If you would like to experience a more secure Android mobile operating system, we suggest you update your devices to the May 2019 Android security patch as soon as possible. 30 vulnerabilities have been fixed with the May 2019 Android security patch.
Published by & last updated on May 9, 2019 3:09 am