Have too many precious files on your PC? Have lost important files forever due to ransomware infection or hardware failure? Can't afford to lose confidential business information? You should use a reliable online backup service to protect your data. Acronis True Image is one of the most popular online backup services. How does Acronis True Image work to keep your precious files safe? Is it easy to back up and restore files? What features does it provide? You know what? You can find out the answers directly by using their service for free before signing up a plan. Acronis True Image offers 30-day free trial to let all users try their service without paying a penny. How to get Acronis True Image free trial? How does it actually work? You can find out the answers in this article.
Start Acronis True Image Free Trial
In daily life or at work, people may lose files for various reasons. You may fail to access your files due to blue screen or hard drive issue. You may delete the wrong folders and just can't recover them. Your files may be corrupted as your PC has been attacked by ransomware. The hackers demand a large amount of ransom to take back the files. However, there is no guarantee that the criminals will give you decryption key after you send them money. Besides, there is no way to recover the corrupted files without decryption key so far. As the hackers demand ransom via bitcoin which is a type of cryptocurrency, the police can't track them down. They also update the ransomware to bypass security software to attack more PCs and take victims' files hostage for more money. To avoid losing precious data, you should back up them regularly and keep them in a safe place. If you have tons of personal and business files, it may cost you a lot when using a cloud service. You are suggested to use an online backup service as it is affordable and allows unlimited data space. Based on real tests and analysis, we find out that Acronis True Image is a great service to recommend. It is an advanced service that delivers reliable and useful backup packages to worldwide users. Don't know which service is right for you? Would like a taste of the service before you make the decision? You should make use of the Acronis True Image free trial.
Acronis True Image offers a 30-day free trial to let you test the waters before committing to any purchase. The free trial version is available for all new customers. It does not require credit card to apply the offer, and no serial number is needed to activate Acronis True Image trial. Simply download the software on your Windows or Mac computer, and start your free test of the service. Acronis True Image free trial includes 1 TB of Acronis Cloud. It is a generous offer. It supports mirror imaging/full image backups to let you back up all your personal files and folders. Its boot media builder and recovery tool assist you to restore data quickly in case you lose files due to any reason. It supports blockchain-based file authentication to verify the file's authenticity effectively. Any small change make to the files can be noticed easily. During the 30-day free trial period, you feel the service and figure out if it provides what you need. When the trial period ends, the software functionality is blocked. If you would like to continue to use the service, you need to upgrade to the full version. The service creates cloud backups of your files and stores them in the cloud storage during the trial period. The cloud backups can be used for recovery in the full version of Acronis True Image after you upgrade the service. If you don't feel like the service, you are allowed to cancel your account. When the Acronis True Image free trial expires, it gives you 30 days to recover your data from the cloud. There is no risk to take to use Acronis True Image service. Make use of the Acronis True Image free trial to confirm if it is the best service for you.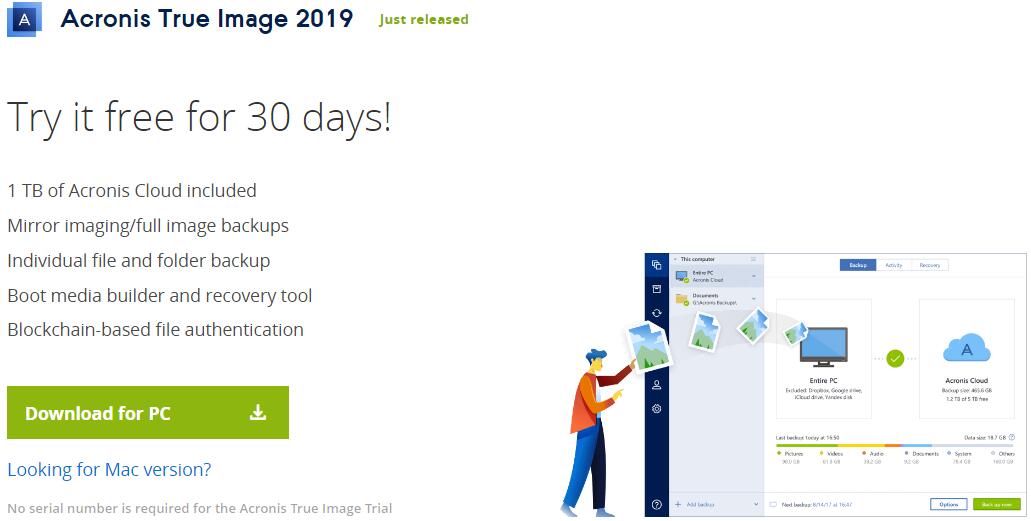 Limitations of Acronis True Image Free Trial
Acronis True Image free trial comes with limits while you still have access to all the basic features. It offers 1 TB of Acronis Cloud and allows you to back up all kinds of personal files. Let's learn about the limits. The trial period is 30 days that is long enough to test a service. After 30 days, you lose access to the program functionality. The service creates cloud backups for you, and you have Acronis Cloud Trial Subscription for 30 days. You will know how the service backs up your files and restores needed files during the trial period. When you use free trial version, the clone disk is disabled. It only allows you to restore a backup when booted from Acronis Bootable Media while other options are disabled. Besides, the Acronis Universal Restore is not available. You probably do not need to restore big size of files during the trial. If you feel like the service, you can update to the premium version for more functionality after the trial period. Though there are limits, Acronis True Image free trial is useful in helping you make the right decision.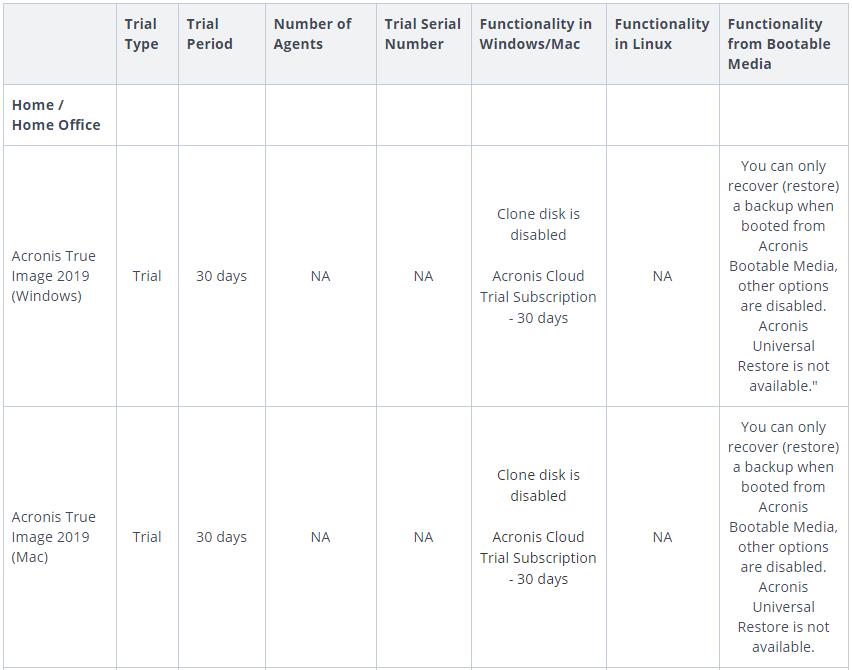 How to Start Acronis True Image Free Trial?
Is it available for everyone? How to get Acronis True Image free trial? All new users can get the free trial. If you already downloaded and used the free trial on your PC, it can't be used again on the same device. To get Acronis True Image free trial, you need to request the trial version on Acronis website. It provides options to download the installation file on to your Windows PC or Mac. The trial version is 570 MB and may take a while to download. The download time depends on the connection speed offered by your Internet Service Provider. Next, install Acronis True Image trial version. The process is easy, and the provider offers clear guides on how to install on Windows and Mac. It does not require technical skill to go through the process. Once the product is installed, click Start trial. No serial number is required. Acronis True Image is ready to work for you. From the Acronis True Image trial version, you can check account information like the expiration date and space occupied in the cloud storage. It also let you enter serial number of the full version or purchase Acronis True Image from the account tab.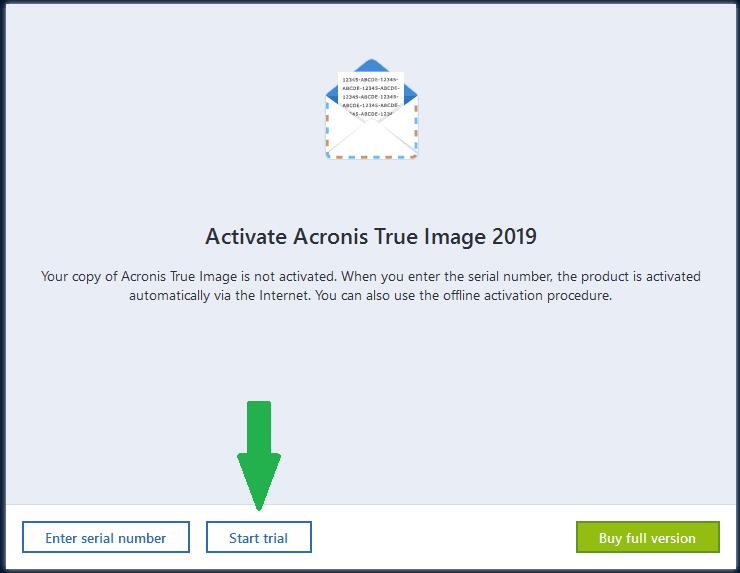 Risk-Free 30-Day Trial of a Paid Plan
Every backup package of Acronis True Image comes with the 30-day money back guarantee. Like others advanced services, Acronis True Image lets you get started with their service at ease mind. No matter you sign up the standard, advanced or premium backup package, you get the money back guarantee. It gives you 30 days to decide if it is the service you like after you purchase a plan. Not like free trial, it gives you access to full features to the package you choose. Try the functionality you need and perform various tasks to learn their performance. Acronis True Image is widely recognized as a robust online backup service. How to know if it is the service you need? Simply try a paid version of your choice including Acronis True Image Premium risk-free by taking advantage of the company's 30-day money back guarantee. If you like the service, keep the account to protect your important files. If you don't like the service, request a refund within 30 days after you purchase the plan. The company will refund you.
About Acronis True Image
Acronis True Image is a reliable, easy-to-use and secure personal backup service. Acronis is founded in Singapore in 2003 and incorporated in Switzerland in 2008. The company has rich experience and advanced technologies in delivering cyber protection and hybrid cloud storage for customers' valuable data. With active protection technology, unique hybrid-cloud architecture and blockchain-based authentication, actively defends your files against ransomware, unauthorized access and other threats. According to the company, they have more than 1,300 employees in 18 countries and trusted by more than 5 million consumers & 500,000 businesses around the world. Acronis True Image backs up and protects your files, photos, media library, and even your entire system. It offers options to let you choose where you would like to store your data. You are able to sync files across computers and with mobile devices with the help of this service. If you lose files due to a PC crash, Acronis True Image can perform full-image backups and restore your PC to the same one it was. Like its banner says, you never lose another file. Acronis True Image interface is clean and easy to navigate. How does it work? Take advantage of the Acronis True Image 30-day free trial or 30-day money back guarantee to get the direct answer.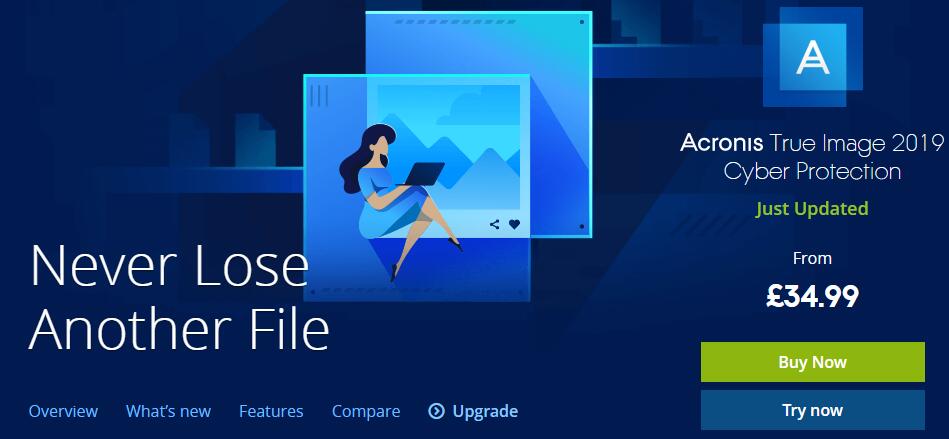 How much does Acronis True Image Cost?
Acronis True Image offers reasonable prices. To meet different needs, it offers three flexible packages for you to choose. The Standard one-time purchase is £34.99. The Advanced backup package is £34.99 per year. The Premium backup package is £69.99 per year. It lets you purchase 1, 3, or 5 licenses with one account. Some users may think it is expensive to use a backup service. In fact, you need to know that the hackers demand from $500 USD to $1000 USD ransom after they encrypt your important files. If you lose your business files due to any reason, you may lose a business partner and causes thousands of dollars. That is the real expensive price. Compared to the data loss cases, it is worth to invest a reliable backup service. To ensure it is the right service that is worth your investment, you can use the Acronis True Image free trial before committing to purchase a plan.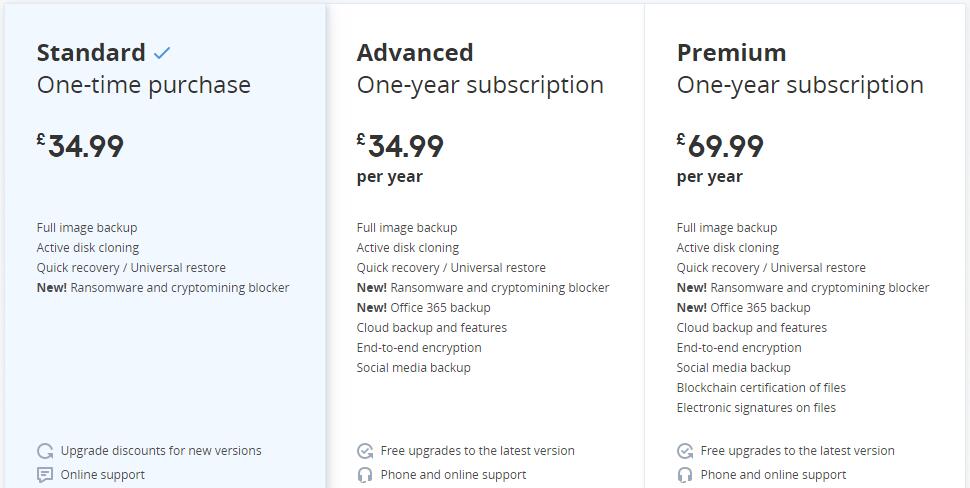 Easy Backup Process
Acronis True Image allows you to back up everything on the system. It is able to create a complete disk image of your operating systems, applications, settings, photos, videos, files, social media accounts and more from PCs, Macs, iOS and Android devices. After you install the software and log in your account, you can select a source and target or let the software select it for you. Next, use the green Back Up Now button to start the backup process. It also let you delay it until a specified time. After it finishes uploading the files, you can schedule the future backup as Daily, Weekly, Monthly, or Nonstop backup. Another great feature is that you can set the software to start backing-up when a new external USB drive is plugged-in. Acronis True Image makes it easy to back up all files you consider as important. This product has sync feature that keep your backups accessible and up-to-date across devices. You will be able to access the files and folders from both the web interface and mobile apps. The service offers to store the contents of your entire hard drives in the cloud. You get the control over how and when your backups are updated. It lets you schedule incremental, partial and full backups easily.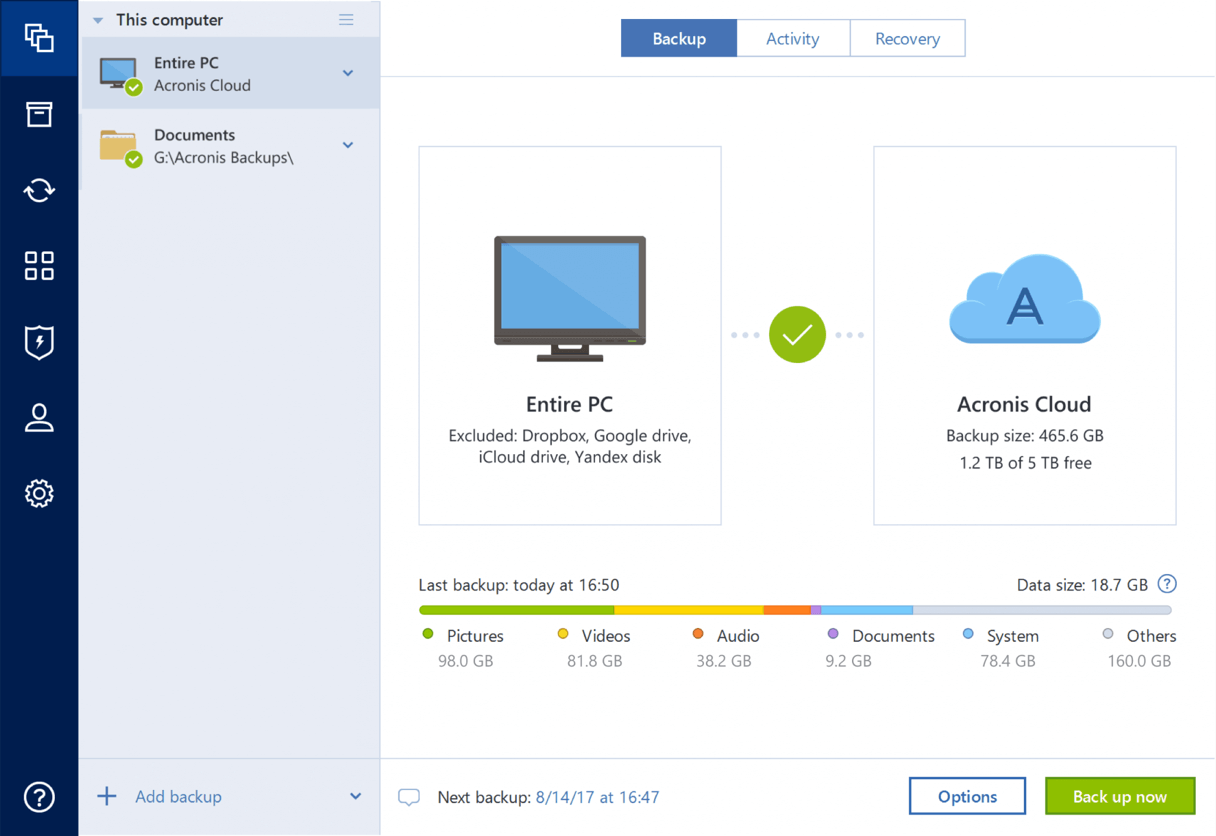 Instant File Restore
Acronis True Image can create a true disk-image backup online for you. If you lost files due to hardware issue, malware corruption or other reasons, you can do a full restore to bring back everything on your PC. Most online backup services only let you restore your personal files, but it is not the case with Acronis True Image. In the Advanced options section, you can change the number of file versions stored. In case you are not satisfied with the change you make to the files, you can restore to previous option easily. Acronis True Image lets you create and recover your online backup via cloud. You are able to set periodic backups and recoveries for your media content. This service lets you restore your machine states via bootable media such as USB. To recover files, you need to select a backup task and navigate to the Restore tab. You are allowed to select some or all of the files via the dropdown menu. As the service allows you to search for backups from the file level, it is quick to restore needed files. Once you finish selecting, click "Continue." To overwrite existing files on your local drive and control the task's priority for computer resources, you can tell Acronis to restart your computer after the restore completes from the Advanced Settings dashboard.


Is Your Data with Acronis True Image?
You may wonder if is safe to let the backup service store your files. Acronis True Image uses end-to-end encryption and provides dual protection to ensure your data is highly protected both on local drive and in the cloud. It offers to back up your full system to a local drive, NAS or the cloud for security and quick recovery. The company uses AES-256 encryption to protect your backups, and supports blockchain-based file authentication to prevent any other party from trying to access or alter your files without permission. Likewise, Acronis True Image actively protects your data from file ransoming which is a common and aggressive type of hacking attack. It monitors your drives for unusual file modifications and stops malware timely when it detects suspicious encrypting activities. Besides, the company has zero knowledge about the content of your backups. They highly protect your files and respect your privacy. The provider only keeps your contact & payment information and usage data to maintain your account as well as improve and tailor its services. In addition, you are allowed to set up a local encryption key that is never sent to Acronis for each backup set. You have control over your important files.


Video Guide to Get Acronis True Image Best Deal
Conclusion
Would like to try Acronis True Image free? Simply download Acronis True Image trial version to move on. Acronis True Image is an advanced online backup service that comes with impressive number of features. It enables you to back up all important personal files on the system easily. The detailed wizard interface in Acronis True Image makes the whole backup process pretty straightforward. Just tell the software what files you would like to back up and when you would like to start the upload. Make a backup schedule after the initial backup, and the service will take care of the rest. In case you lose files for any reason, it let you restore files quickly. Would like to restore your files, just select the desired files and the service will send you a ZIP archive. It is pretty simple to restore your files. You are allowed to create bootable recovery CDs, so you will have an external solution to reboot your PC in case of a major breakdown. It offers many bootable media possibilities like FTP, CDR or DVD. Simply boot and start the recovery process simply by pressing F11 if your operating system fails. The company provides user-friendly software. It only takes several minutes to run through the installation and setup process. Just follow the wizard, and you can do it without any problem. Is Acronis True Image really that amazing? Let the Acronis True Image free trial give you a direct and accurate answer. Start your Acronis True Image 30-day free trial now.


Published by & last updated on January 23, 2020 8:30 am