Have you ever used Avast SecureLine VPN? Is Avast SecureLine VPN fast? Is it secure and reliable? Does it work with Netflix? Instead of searching for others' answers, you can get the Avast SecureLine VPN 7-day free trial to find out the answers yourself. The company offers a generous 7-day Avast VPN trial period to let all users try their service risk-free. Be afraid that you may sign up with the wrong service? You should download Avast SecureLine VPN free trial and test the service for seven days before purchasing a license. Learn how Avast SecureLine VPN works and how to get Avast SecureLine VPN free trial in this article.
Avast SecureLine VPN 7-Day Free Trial
In those days, VPN has been very popular among Internet users. Users need it to protect privacy, safeguard online traffic and unblock restricted contents. However, users have much confusion when selecting the right products. They don't know which one they should choose among the various VPN services on the market. In this case, users can read reliable VPN reviews or consult experts. The most direct way is to try the service yourself. As things change frequently in VPN market, VPN trial is important. A VPN may work in your own country while fail to work after you travel to a different country. Luckily, Avast offers free trial, letting their new customers know how their product works before committing to payment plans. What if the service you would like to try has no free trial? Some providers offer paid trial of one day at one to three dollars. Besides, most VPN providers have money back guarantee which is another type of risk-free trial. Avast offers money back guarantee on their VPN product as well. If you are not satisfied with the service, you can cancel and get a refund within 30 days of the purchase.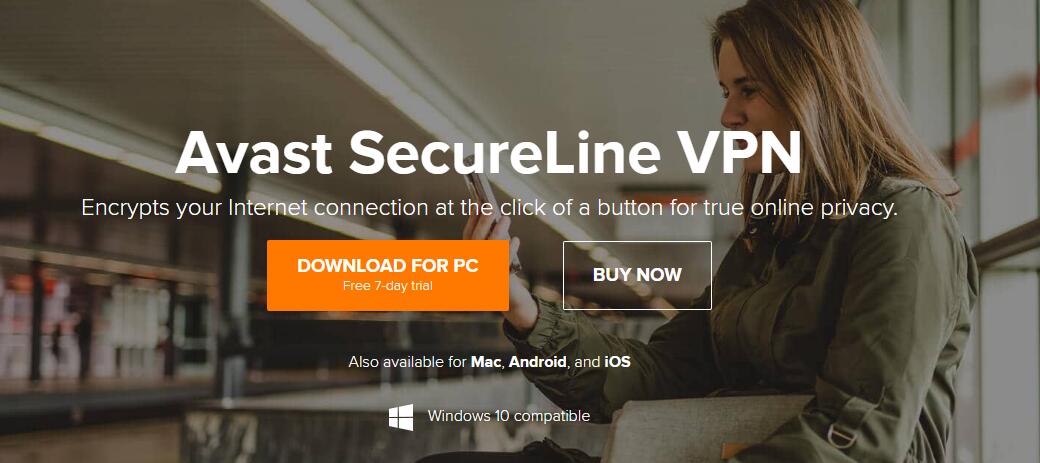 Avast SecureLine VPN free trial provides you full access to the entire server network with unlimited bandwidth, VPN protocol, AES 256-bit encryption, reliable shared IP, DNS leak protection and more solid features. You may notice that some service offers free trials, but they are different with Avast SecureLine VPN free trial. Most free trials on the market come with restrictions that make them much less functional than the real thing. Users can't decide the VPN performance accurately. Luckily, that is not the same case with Avast SecureLine VPN free trial. On one hand, the trial is totally free of charge. It does not require you to pay when the trial period ends. You surely have options to keep or cancel the VPN account after the trial period. Simply download the free trial, create your account, set up VPN and connect to a server to start your trip with Avast SecureLine VPN. You will have a full-featured taste of the service. The full package let you use the service like the premium users do.
How to Get Avast SecureLine VPN Free Trial?
To try Avast SecureLine VPN, you only need to download and install the free trial version. It is simple to download the Avast free trial version and get started with the service. Simply head to the Avast Store and scroll down to the bottom of the page to find download button. First of all, you need to visit official website of Avast SecureLine VPN. Secondly, you can features of the service after you are redirected to the official website. Scroll down to open Avast Store. Thirdly, you will see a range of options from the store. The Avast SecureLine VPN free trial is available for Windows, Mac, Android, and iOS. Click on related link to the version you need, and the software will be downloaded instantly. It only takes few minutes to download, install and set up the VPN. It provides clear guides to proceed after you download the software. It shows you need to click the downloaded files and click "Yes" to confirm the installation. Once it's done, you can click "Connect" button. Then, it seamlessly runs in the background and takes care of the rest of work for you. You have a whole week to learn how the service works and see if it provides what you need from a VPN service. This VPN is powerful yet easy to use. If you are looking for easy and download-and-go VPN, Avast SecureLine VPN is a great option.


Avast SecureLine VPN 30-Day Risk-Free Trial
Like leading VPN provider like ExpressVPN, Avast SecureLine VPN provider has 30-day money back guarantee. They won't force you to use their service if you don't like it. Of course, you need to contact the company for a refund within 30 days after you purchase a plan. To avail this special offer, you need to purchase a plan. Though you need to pay the service, there is no risk to take. As a premium user, you have full access to their VPN package. Switch to any server you like and stream videos freely. You can fully enjoy any benefit of the service. The service gives you 30 days which is a pretty long period to try the service out. If you don't feel like the service, you are allowed to cancel the account and request a refund within 30 days of your subscription. Avast SecureLine VPN 7-day free trial or Avast SecureLine VPN 30-day risk-free trial? Choose any one you like to find out if it is the best VPN service for you.


What can You Do during the Trial Period?
What can you do with the VPN during the trial period to get an accurate test result? Our experts have tested tons of VPN services to show reliable VPN reviews to help users make the right decision. We have special technologies and tools to ensure professional test results. In fact, you don't need special tools to do the test. Simply feel the service when using it to conduct various activities. Our VPN reviews are shown to both individuals and businesses, so the results must be very specific while you only need to confirm if the service meet your own needs.
Firstly, you can use Avast SecureLine VPN free trial when you browse, communicate with partners or shop online. You can see if you can hide your real IP address, protect your VoIP communication and make purchase abroad to save money when booking airplane tickets and hotels. Secondly, try some foreign channels and websites to confirm if Avast SecureLine VPN allows you access media platforms without blocking, play online games without speed reduction, stream foreign TV channels without restrictions, bypass censorship to unblock international libraries blocked in some regions, or access to computer network UseNet. Thirdly, conduct several tests at coffee house, library or other public places to see if this VPN prevents hacking attacks when you connect to WiFi hotspots. You can clearly know the performance, speed, and the ability to bypass geo-restriction, protect privacy as well as encrypt online traffic during the trial period. The results you get from Avast SecureLine VPN free trial surely can help you make the right decision.


How much does Avast SecureLine VPN Cost?
The provider only offers one Avast SecureLine VPN package with three billing cycle options. There is no monthly plan. The shortest subscription term is one year. You can purchase a plan for one year, two years or three years at once. It starts from $4.88 USD per month. All of them are 20% off at this time. During checkout, you can redeem Avast SecureLine VPN discount coupon code for extra discount. Currently, it costs $63.99 USD for one year, $119.99 USD for two years and $175.99 USD for three years. If you would like to save money, you can get deal when there is a promotion and apply discount coupon code during the payment. Avast SecureLine VPN is a powerful service while it has friendly price. It won't break your bank for using the advanced and reliable VPN service. Can't decide yet? You should make use of the Avast SecureLine VPN 7-day free trial to make the right decision.


Brief Information of Avast SecureLine VPN
Avast SecureLine VPN is owned by a famous online data security company based in Prague, Czech Republic. The company takes advantage of a jurisdiction that is thought to be outside of Western influence to ensure their customers' privacy is untouchable. As more and more users realize the importance of VPN service, the giant security company provides a new Virtual Private Network service called Avast Secureline. Having the pedigree of a leading antivirus company behind it, Avast SecureLine VPN delivers robust Internet privacy and security solution. It has advanced encryption technologies and VPN protocols to safeguard users' online traffics. It protects users' privacy by offering a collection of shared IP addresses and server locations in 34 countries around the world, including the United States, Russia, Brazil, Australia, and the UK etc. It comes with the anti-geo-blocking functions that help users work around blocks on streaming sites, government censorship and price discrimination for Internet freedom and convenience. There is no bandwidth or speed limits, and it provides torrent-friendly servers, allowing users to stream videos and download folders freely with amazing experience. The provider allows you to connect up to 5 devices using the same VPN account. They offer apps for multiple systems & platforms, providing optimized user interface for smartphone users with specialist Android and iOS versions. The service has phone support to help you fix issue timely. It starts at $4.88 USD per month. Besides, there are Avast SecureLine VPN free trial and money back guarantee that allow you to decide if the service matches your needs before making a decision. There is no risk to take to get started with Avast SecureLine VPN.


Access Global Network. Avast SecureLine VPN has 54 server locations altogether at this time. Though it has not a huge amount of servers like ExpressVPN does, their geographically diverse servers spread over 34 countries cross six continents. They cover the most popular VPN server locations across the Central and South America, China, Eastern and Western Europe, Russia as well as Turkey. With the fast and smart servers, Avast SecureLine VPN has has minimal impact on your download and browsing speed. You are allowed to switch to any server you need to access the global network freely.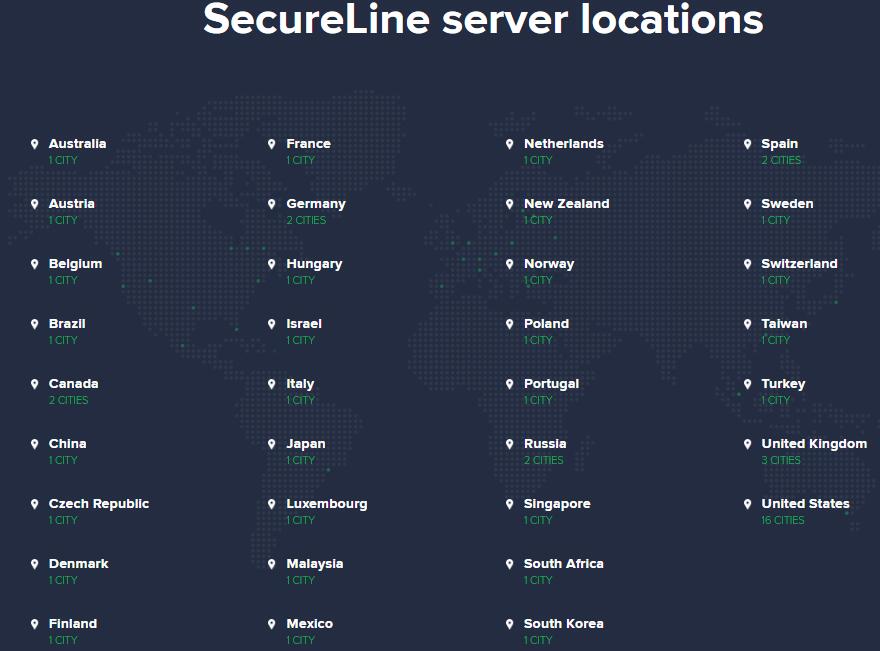 Reclaim Internet Privacy. As we know, snoopers, spies and ISPs can track your digital footprint around the web. They know where you are and what you do online. Any party can purchase your browsing histories from your ISP. Luckily, Avast SecureLine VPN wipes your tracks on the Internet and spoofs your location. It masks your online presence to prevent anyone, from advertisers to hackers and government, from monitoring you or invading your privacy. With the VPN, you leave no trace for the bad guys to follow. You are able to shop online, check email, watch videos and play games privately. Your Internet data goes through private and encrypted "tunnel" and your IP address is replaced by new one shared by lots of users. Avast SecureLine VPN allows you to be anonymous online.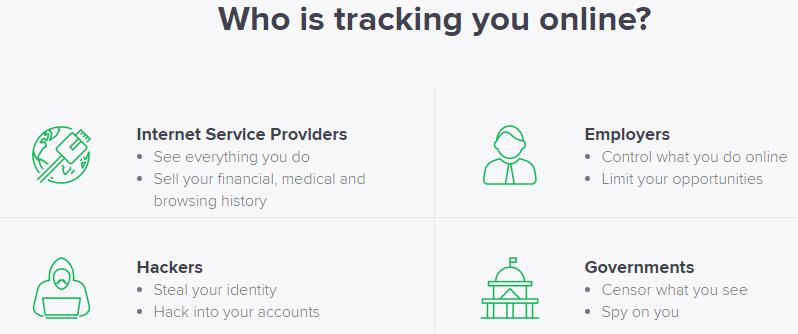 Secure Online Traffic. Hackers can make use of advanced technologies to intercept your online session and steal confidential information. Especially when you use public network, hackers can steal your credit card detail easily. You need Avast SecureLine VPN to secure your connection to the Internet. Avast VPN applies 256-bit encrypting to create a virtual "tunnel" to channel your data to the Internet securely and privately. It supports OpenVPN, OpenSSL and IPSec protocols. OpenVPN comes with the highest encryption standard. Your online traffic and sensitive information sent via the Internet are untouchable. When you use Avast SecureLine VPN free trial, you have access to the highest encryption level.


Access Restricted Contents Freely. Avast SecureLine VPN free trial enables you to use the web services that are not available in your country by connecting you to global servers around the world. When you connect to a remote server, your virtual location is changed. The global network and encryption technologies help you circumvent Internet restrictions imposed by strict governments or streaming services. If your favorite contents are blocked by the local government, this VPN tunnels out to another country where there is less Internet restriction and you can access the internet freely. It spoofs your location to make your web traffic appear to be coming from the VPN server but not your computer. In addition, Avast SecureLine VPN embraces P2P and torrent. It allows torrents on servers in Prague, Czech Republic, Frankfurt, Germany, Amsterdam, Netherlands, New York City, New York, Miami, Florida, Seattle, Washington, London, United Kingdom and Paris, France. You can download and share folders privately and securely.


Ease of Use.Is Avast SecureLine VPN free trial available on your device? The provider allows users to download and install free trial on Windows, Mac, Android and iOS. You can test the service on any device you like. Avast SecureLine VPN works on multiple platforms, and it allows five devices with one single VPN account. You can protect all of your devices, like desktop PCs, smartphones and tablets at once. This VPN has incredibly simple interface, and you can navigate to needed section quickly. Click the "Connect" button. You will see a dropdown menu that lets you select your favorite server. From the settings, you can pick one of several supported languages and set up VPN for specific case like when using unsecure WiFi connection. Anything can be done easily and quickly.


Fast Customer Support.If you meet problem when using the service, you may need to contact their support. Avast SecureLine VPN customer support is helpful. If you need support fast, contact them via phone support which is available 24/7. It also has Twitter account to let users send them direct messages. The support team is always ready to help. Besides, they offer a knowledge base full of help articles and tons of support pages as well as a forum. Users can easily find information they need by typing in a few basic keywords from the knowledge base. The forum is a good place to discuss issues with other users or the support team.
Video about Avast Secureline VPN
Top 10+ Best VPN Services In The World
VPN Brands
Servers
Country
# of Connections
Price(USD)
Official Website
3000+ servers in 94 countries.
British Virgin Islands
5
$6.67/Month (Save 49%)
Best Choice
5570+ servers in 60+ countries.
Panama
6
$3.49/Month (Save 80%)
View Deals
200+ servers in 70 countries.
Bulgaria
6
$4.18/Month (Save 50%)
View Deals
Servers over 34 countries &

Still work in China

.
Czechia
5
$4.88/Month (Save 20%)
View Deals
Click Here to Read More Top 10 Best VPN Services »
Conclusion
Avast offers a fully functional Secureline VPN trial that does not cost any penny. It gives you seven days to feel the service with full features for free. The money back guarantee is another popular risk-free trial. Though you need to pay the service first, you have longer trial period. No matter you prefer Avast Secureline VPN 7-day free trial or Avast Secureline VPN 30-day risk-free trial, you always can have full experience with the service. There are no restrictions that come with the trial version. It allows you to connect to any server to bypass censorship and defeat geo-restriction freely. Unblock your favorite shows from anywhere. Its shared IP addresses, DNS leak protection and other privacy features are all available for you. It uses its advanced encryption technologies and protocols to give your unbreakable protection on the Internet. Is Avast Secureline VPN worth your investment? Let your real experience with the service answer your question. Start Avast Secureline VPN 7-day free trial or Avast Secureline VPN 30-day risk-free trial now.

Published by & last updated on January 15, 2020 7:36 am