Get confused by different VPNs in the market? Be afraid you may pick the wrong product and waste money on unwanted service? Can't decide if you would like to work with SaferVPN? You should get SaferVPN free trial to help you make the decision. Most users would like to try the service out before they input their card details. With a free trial, you can test if a VPN works for you without spending a penny. Is SaferVPN worth to invest? Your experience with SaferVPN free trial will give you answer. SaferVPN gives every user the chance to use a 24-hour free trial.

Activate Your 24-Hour VPN Free Trial
No matter you need a VPN for staying private & secure online or bypassing geo-blocked webs, it is important to select the right service because different services have different strong points. Free trial is the most direct way to find out if a service works in the way you like. To let user try their service before committing a purchase, SaferVPN provider offers a 24-hour free trial. This free trial is available for every new customer. Some users may wonder if 24 hours are enough to try the service out. In fact, you can conduct many activities to feel the service during 24 hours. It takes few minutes to download, install and set up VPN on your device. Connect to any of the provided server, and you start the test. You can feel the connection speed, the ability to bypass geo-restriction and more features. The experience of 24 hours with SaferVPN will help a lot.
Does SaferVPN 24-hour free trial give you the full experience? Yes, all the same privacy and security features you expect from a premium package. Though the duration of trial is short, it still defeats many competitors in the market. Many VPN providers offer free trial with limited features, and you won't have full feelings of the service. You can't decide how fast the VPN is without full access to their servers. Some VPNs do not have free trial. SaferVPN provider has confidence on their service and generously offers 24-hour free trial for everyone. During the trial period, you get the same level of service as a premium user.
Does it require credit card to activate free trial? It does not require credit card detail to get the free trial. Simply provide your email to receive information to activate the trial account. There is no limitation of the trial. You have full access to their service during the trial period. As it does not require your credit card, you won't be charged after the free trial. If you love the service, you can choose to renew your account. If you don't feel like to continue, just cancel the account.
Duration of trial: 24 hours
Credit card Require: No
Number of servers in original plan: 700+ servers
Number of servers in trial plan: 700+ servers
Data cap: Unlimited
Renewal period after trial: 1-year /2-years / 3-year
Compatible Devices: Windows, macOs, Android, iOS.
Best for: Netflix, Routers.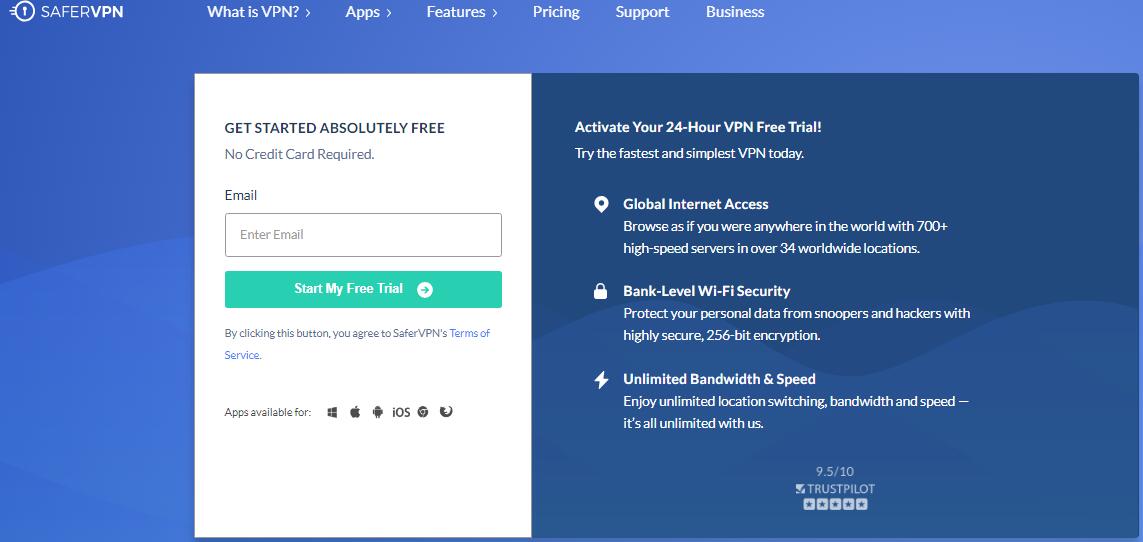 Free Trial is Different from Free VPN
Free trial is useful for people who have confusion and can't make the decision. Reliable VPN providers offer free trial with privacy and security guarantee. It lets you use the Internet conveniently while keeping your connection private and secure. You may hear of free VPNs when searching for a satisfied service. Please note that free trial is different from free VPNs. Commonly, free trial works for limited time while you can free VPNs all the time. Why don't we choose free VPN instead of paying a VPN service? Actually, nothing is truly free. Though you may use the service without a fee, you are paying it in another way. When the providers offer free VPN, where do they get income? Some VPNs show ads to make money. You may see annoying ads when using the service. Some services use your computer as a server or use it to mine bitcoin. That consumes your resources a lot and slows down your PC performance badly. Some VPN providers collect your browsing histories as well as other sensitive information and sell them to third party for money. That's terrible. You try to use a VPN to protect your privacy while untrusted provider can put your privacy at considerable risk. Though we said free trial is important, we don't suggest you use free VPN. It is important to choose free trial from reliable provider like SaferVPN, ExpressVPN and NordVPN.


30-Day Money Back Guarantee
Want longer period of time to feel SaferVPN? You can have it. In addition to 24-hour free trial, SaferVPN provides 30-day money back guarantee which is another way to try the service without taking a risk. Most leading VPN providers let users try their risk-free services in this way. For example, ExpressVPN offers 30-day money back guarantee to try their with an ease mind. You can find it out yourself if it is the fastest VPN in the world. Just like ExpressVPN, SaferVPN has the same money back guarantee policy. Simply select a billing cycle you like to purchase a subscription. Create and activate your account. Download VPN app to your device and follow the wizard to install & set up VPN. You can use SaferVPN to browse the web, stream videos & sports, download via P2P and conduct more activities to learn its performance and uptime etc. to confirm if it is the service you want. If you are not happy with the service, you can contact the provider to request a refund within 30 days of the purchase. Cancel your subscription plan and you receive a refund. Thanks to the money-back guarantee policy, you have a lengthy 30-day period to experience the full suite of tools available with SaferVPN without a risk. There are some situations that you can't get a refund.
Should your User Account be hacked, you will not be refunded for any losses, even if the loss of control results in the deletion of your User Account.

If you are using our Service through our App, any refunds are also subject to the Usage Rules of the applicable store from which you have purchased our App (i.e., Google Play or App store, as the case may be).

Should you, by any means or way, revoke or cancel any of your payments to SaferVPN, SaferVPN shall be allowed to supply the third-party clearing or payment service any information about such transaction; including, but not only, your email address, your IP address and activity pursuant to such denied transaction.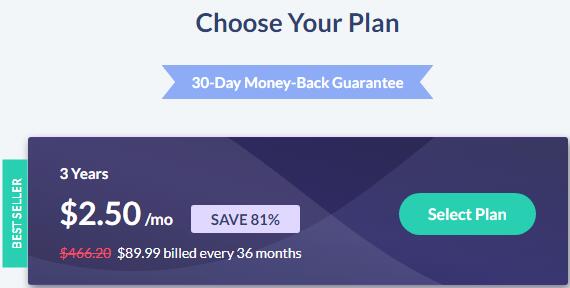 How to properly Test the Service with SaferVPN 24-Hour Free Trial?
After you activate SaferVPN free trial, the next 24 hours are precious. You need to figure out how the service works for you effectively. What aspects you should test properly? Most of you use VPN to protect privacy. First of all, you can check if it provides your IP or DNS address leak protection. Use online tool or visit some websites to see if your real IP address is exposed on those websites. Secondly, compare the browsing or downloading speed with and without VPN connection. It is normal that the VPN slightly hinders online performance and speed as it needs to channel your Internet through remote servers. Performance can vary widely based on your router and distance from the VPN server and more factors. Fast connection gives you amazing online experience. Thirdly, check if you get solid protection when you conduct important activities online. Learn the encryption methods and VPN protocols it uses. Fourthly, check if it can help you unblock famous streaming services like Netflix, BBC iPlayer, Hulu and Pandora etc. Of course, it is not a problem if you already have access to your favorite contents or don't need access to those services. Confirm if their servers support P2P traffic. Last but not least, check device compatibility and get a feel for the user interface on different operating system. Can you navigate to any section and find needed features easily? Contact the customer support to see if they provide you satisfied solution to your problem. You surely can finish those tests within few hours.


How to Pay Less on SaferVPN Subscription?
If you find out that SaferVPN is the service you want, how do you pay less on the subscription? Does the provider offer any discount? How to select the right package? In fact, SaferVPN only provides one package. There is no need to pick or give up a feature. No matter which plan you sign up, you get full features with unlimited bandwidth and usage. All plans allow unlimited bandwidth and the highest encryption level. There are 1-month, 1-year, 2-year and 3-year plans. The provider offers sweet discount. The 1-month plan costs $12.95 USD. If you want discount, you can consider longer subscription. The 1-year plan is 58% off, 2-year plan is 75% and 3-year plan is 81% off. The 3-year plan includes the biggest savings. It is only $2.50 USD per month. It is the best deal if you would like to save big.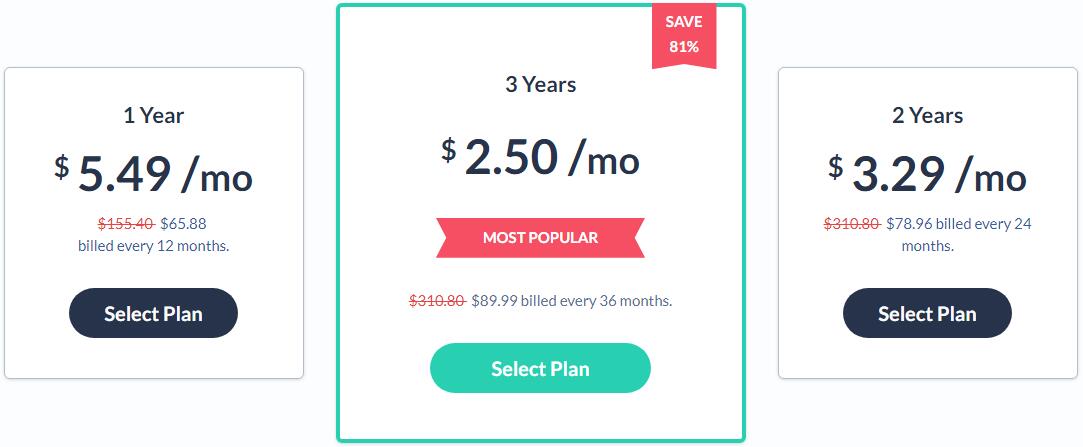 About SaferVPN
SaferVPN is a popular VPN that enables users to enjoy the original Internet they deserve. This service delivers easy-to-use and reliable cybersecurity products and applications. It provides 700+ high-speed servers in over 34 worldwide locations to help users bypass geo-restriction and access their favorite contents freely. The service allows unlimited bandwidth & Speed, so you can expect satisfied browsing and streaming experience. SaferVPN uses advanced encryption technologies and high WiFi security to safeguard your personal data from snoopers and hackers. It masks your IP address and disguises your online activities to stop tracking and monitoring. This VPN is available for multiple platforms and is very easy to use as well. Simply connect to servers from all over the world and start the new Internet journey with the VPN. SaferVPN is free to use for a period of 24 hours. When the trial expires, you need to get a paid SaferVPN plan if want VPN protection. You have flexible plans to choose, and get sweet discount on longer subscription. There is a money back guarantee that gives you 30 days to decide if it is the best service for you. The SaferVPN free trial will let you try the premium service within spending a penny.


Global Network. SaferVPN operates over 700 servers spreading across 34 countries including North America, Thailand, Singapore, India, and South Africa that are neglected by other providers. It also covers the most popular locations for Internet users. With one click, you can connect to any of their global servers quickly. It allows unlimited server switches, unlimited bandwidth and unlimited data. There are no data caps, so you can view HD contents and download popular videos without limits via amazing connection.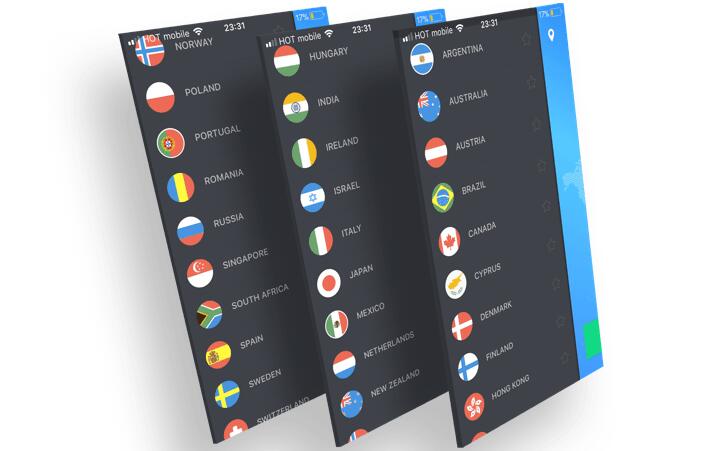 Robust Security Features. There are various kinds of potential threats on the Internet. You need solid protection to keep your precious information secure. SaferVPN channels your Internet data through encrypted and private virtual tunnel. It uses 256-bit AES encryption which is considered as unbreakable at this time. SaferVPN provides four VPN protocols to choose from. They are OpenVPN, IKEv2, L2TP/IPSec and PPTP. Among them, OpenVPN is the most popular one because it supports the highest encryption standard while it maintains high connection speed. PPTP delivers the fastest connection, it is weak in security. This VPN comes with automatic Wi-Fi security, protecting you on open and public Wi-Fi networks automatically.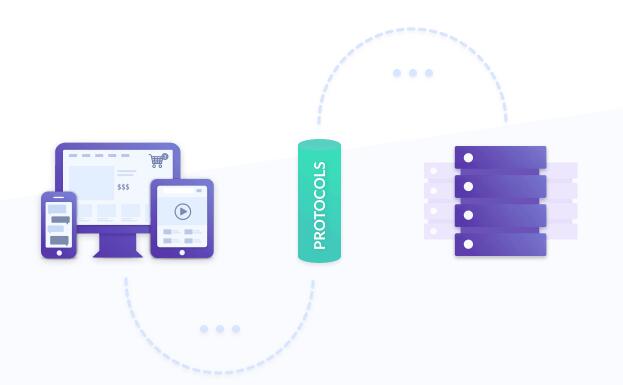 Reclaim Your Privacy with Less Effort. Users' Internet privacy has been invaded badly. To help user reclaim privacy, SaferVPN offers shared IP addresses & server locations from different countries, DNS Leak Protection, IPv6 Leak Protection and Kill Switch etc. The kill switch will shut down all your online traffics in case your VPN connection drops. It prevents any chance of your personal information leak. When you connect to SaferVPN, your IP address is hidden, virtual location is spoofed, and online traffic is encrypted. Your privacy is guaranteed.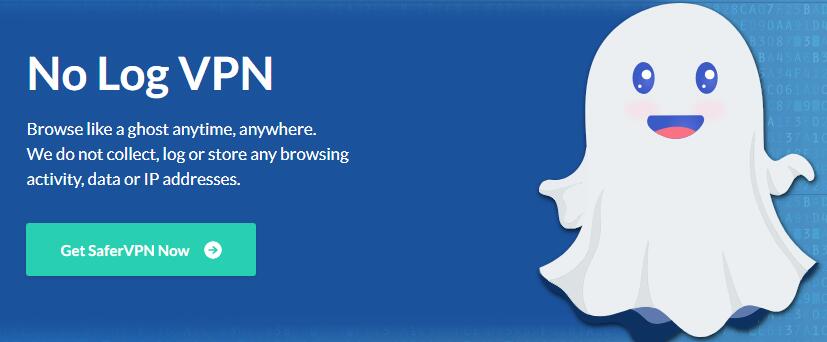 Bypass Geo-Restriction. As some copyright holders requires streaming services to restrict their contents to certain areas, you may fail to watch the most popular movies, TV series or shows. Luckily, SaferVPN has global servers and advanced VPN protocols to help you bypass censorship and defeat geo-restriction conveniently. Connected to remote server, your virtual location is changed. You will be able to access Netflix, BBC iPlayer and Amazon Prime Video etc. abroad. It evens help you bypass government censorship to access blocked contents effectively. SaferVPN servers allow anonymous P2P traffic on servers in Canada, the Netherlands, and Spain etc. It wipes your tracks and lets you download via P2P securely.


Multiple Platforms & Ease of Use. SaferVPN is available for multiple platforms, including Windows, Mac, Android, iOS, Routers, Chrome, Firefox, smart TV and video game consoles etc. One SaferVPN subscription allows five devices. If you set up VPN on router, you can protect all devices in the house. SaferVPN has a simple and clean home screen, letting you find any section easily. From the home screen, you can click on the digital map or click the green button on the right side to connect to a remote server. It lets you view the name of the connected server, your new IP address, and other information from the client. If you don't need VPN connection, you can click "Disconnect" button to turn it off. If you have any technical issue, contact customer support via live chat or ticket system.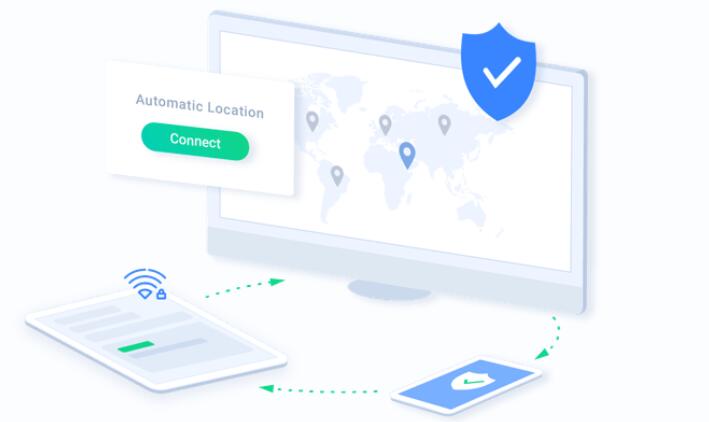 Learn More About How to Get Best SaferVPN Deal in this Video
Top 10+ Best VPN Services In The World
| VPN Brands | Servers | Country | # of Connections | Price(USD) | Official Website |
| --- | --- | --- | --- | --- | --- |
| | 3000+ servers in 94 countries. | British Virgin Islands | 3 | $6.67/Month (Save 49%) | Best Choice |
| | 5400+ servers in 62+ countries. | Panama | 6 | $2.99/Month (Save 75%) | View Deals |
| | 3,307+ servers in 32+ countries. | USA | 10 | $3.49/Month (Save 65%) | View Deals |
| | 1,200+ servers in 60+ countries. | USA | 10 | $6.49/Month (Save 46%) | View Deals |
| | 200+ servers in 70 countries. | Bulgaria | 6 | $4.18/Month (Save 50%) | View Deals |
Click Here to Read More Top 10 Best VPN Services »
Conclusion
Does SaferVPN offer free trial? Yes, you can try the service with a 24-hour free trial. How much does SaferVPN cost? Currently, SaferVPN is 81% off and costs $2.50 USD per month. It is affordable yet powerful. When it works on your device, your real IP address is hidden, virtual location is altered, online traffic is encrypted and Internet data is rerouted via remote servers. Your privacy is protected and online session is safeguarded. You can become secure and anonymous online. The VPN provider does not retain user browsing logs. With the worldwide servers, you can bypass geo-restriction and access contents that are not available in your region. SaferVPN works with all major systems and devices. The VPN client is very easy to use. The provider offers support via live chat and ticket system, promising users' problems will be resolved around 24 hours. You can find the support option on their official websites. Besides, it provides setup instructions on multiple platforms and devices. Following the guides, you can use the service without any problem. On their FAQs page, you can find answers & solutions to common issues & problems related to troubleshooting, billing, and more. Have problems about the service? Simply contact the customer support. Would like to know if SaferVPN is a well-functioning service? Is it capable of protecting your data without compromising speed? Activate SaferVPN 24-hour free trial to find out the answer yourself. Or simply sign up a plan without hesitation. There is a 30-day money back guarantee.


Published by & last updated on April 30, 2019 2:31 am