Is Backblaze a good option to back up important files? How much does it cost? Is it easy to back up and restore files with this service? Is Backblaze secure? Does it provide customer support? How many computer you can back up? Backblaze is a great online backup service. Find the answers to your questions in this Backblaze review.
Brief Information of Backblaze
Backblaze is a popular and useful online backup service. It provides solid features, and supports unlimited backup & unlimited file size at low cost. This service offers to back up by file types and supports block-level backup for convenient management. It offers bandwidth speed up and other measures to let you finish uploading files quickly. It supports USB and external hard drive backup, so you can protect all of files you have. If you lost important files for any reason, you can recover them by downloading a free restore. It offers to deliver you a USB hard drive with your backup files. Backblaze uses file versioning to keep multiple versions of your previous backup in case you prefer the old version of your files after a change. This service allows users to share backed up files conveniently by generating and sending out a link. It also makes it easy for you to access your files by supporting mobile file access. The backup package comes with strong security features. It uses high encryption standard to safeguard your files and highly protects their data centers to prevent unauthorized access. In addition, it offers to help users track and locate your backed-up computer if you lost the device. Backblaze has compact and well-organized user interface, and it is very easy to use. Besides, it offers 24/7 customer support to assist users to fix issues timely. This solid backup service starts from $4.58 USD per month.


How much does Backblaze Cost?
Many services in the market do not have monthly subscription. You have to purchase at least one year of subscription at a time. The good news is you don't have to do that with this backup service. Backblaze offers month-to-month option to give customers flexible subscription. You can choose monthly billing cycle and renew every month.
If you confirm Backblaze is the service you want, we suggest you sign up long-term subscription to save money. Sign up with the service for one or two years at a time. If you choose to sign up every year, you save $12.00 USD. If you purchase 2 years, you save $34.00 USD in total. It is only $4.58 USD per month. All the prices we list here are for one PC. It allows you to purchase 1 to 100 licenses with one account. The price will be increased when you add the number of licenses.


Easy File Backup
Backblaze generously offers unlimited storage, and it does not throttle your speed. Once you install the client, it starts to scan your hard drive to select files it considers as important to back up. When it automatically selects files to back up for you, it excludes operating system files, applications and temporary files. It shows the list of files to upload, and you can start the backup if you agree with the list. If you do not agree, you can add or delete files or folders manually. No matter which service you use, the initial backups always take some time to finish. It could take days or even weeks. That depends on how much files you need to back up and upload. Backblaze allows you to speed up the backup process by increasing the number of backup threads you use and throttling the backup which takes too much of your resources.
After you finish the initial backups, it lets you set up the subsequent backup. There are "Continuously", "Once Per Day" and "Only when I click" options to schedule your backup. Continuous backup is the default option. If you choose this option, it only back up and upload the changes on your hard drive. If you need to change your files frequently every day, you may prefer to back up them once per day. It lets you set up the time period for backup, so it won't affect your work. If you only use the service to protect your personal videos, photos or documents, you only need to tell it back up when update the files.
Backblaze allows you to back up USB and external drives. If you connect your USB or external drive to your PC when you do the initial backup, they will be selected by default. If you have lots of files on PC, we suggest you back up USB or external drive next time to speed up the process. You need to regularly connect your USB and external drive to your PC to have them scanned and backed up. Please note that Backblaze purges your data if your drive has not been backed up for 30 days. This situation comes with continuous backup. According to their support agent, your data would remain for 6 months without update if you choose to back up manually, namely the "Only when I click" option.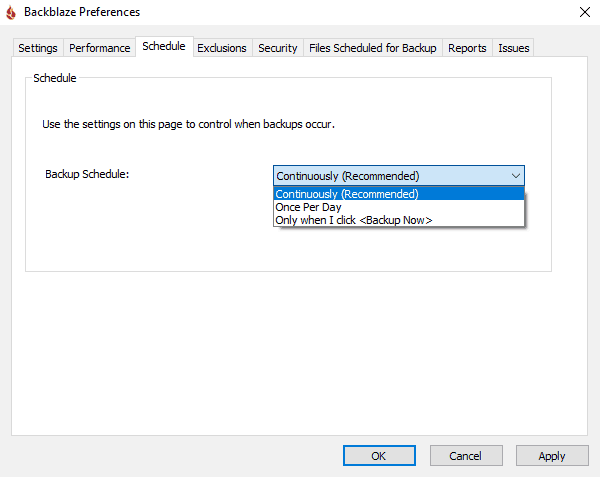 Quick Files Restore
Backblaze offers multiple options to restores your files easily. It lets you download a free restore of one file or all your files anywhere. From the web interface, select the files you would like to download. For faster download, you can let the service prepare a ZIP file from your data and inform you via an email when the ZIP file is ready. Some users don't like to create ZIP files to recover files because they only can create 10 restore-zips at a time. If you have a large number of folders to restore, you need to perform the tasks many times. Besides, you can't view the file content after you create the ZIP file. You may get confused which file you already backed up and which one you didn't. Of course, it is not a problem if you keep track of the files you already backed up clearly. To download and recover your lost files to your PC may take some times. It depends on the size of your files and connection speed offered by your Internet Service Provider. A downloader program can help you speed up the download while you need to download the program yourself.
Besides, it offers to save files to Backblaze B2, USB Flash Drive and USB Hard Drive. Those options allow faster files restore while they come with additional fee. They allow you to access the files on iPhone, iPad or Android. If you are not in a rush, the free option is good. If you have huge size of files to recover within short time, the alternative methods help you a lot. This backup service uses versioning to save previous versions of files. If you find out that you made improper change to a file, you can quickly revert to a previous version. Please note that the previous versions are stored only for up to 30 days.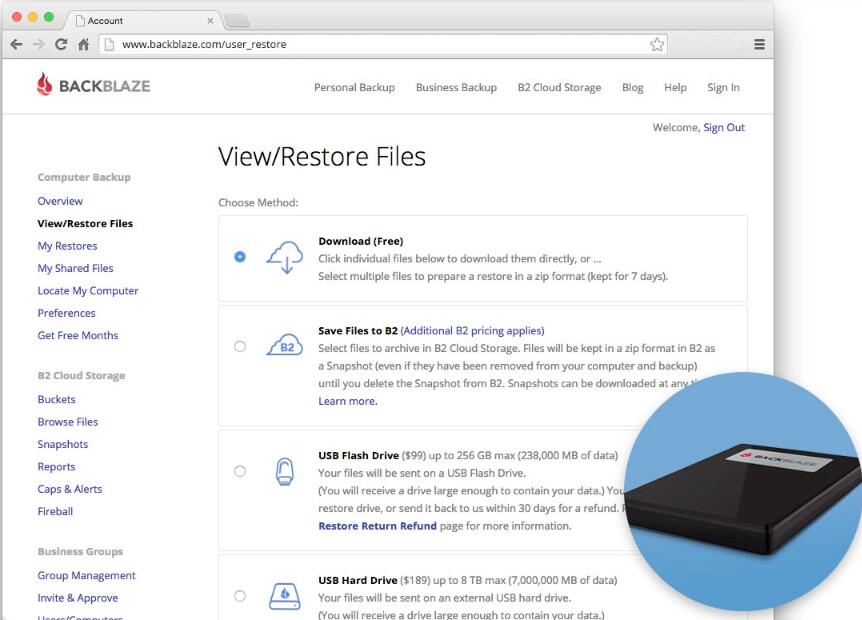 Files Sharing
There is a useful Sharing feature which enables you to share files conveniently and quickly. For example, it allows you to generate a link, and copy & paste it to a social network. In this way, you can share files with your partners or friends easily. As a team leader, you may need to share files with your team members frequently. If you share the files directly, it takes time to upload, and others need time to download the files as well. With Backblaze, you simply need to generate a link of your backup files and send it to your team members. They can use the link to access the backup files from anywhere. Please note it requires you to enable the B2 Cloud option in your account settings to share files Backblaze backs up for you. Backblaze B2 is a cloud repository, and files stored on it are not affected by any local change you make. The backup service and B2 service are separate. Any Backblaze user gets 10GB of total storage and 1GB of downloads free on B2 per day. It costs $0.005 USD per GB if you use over the provided amount. If you increase the download capacity, it costs you additional $0.01 USD per GB per month. For enterprises, it is an cost-effective solution for them to work and cooperate effectively.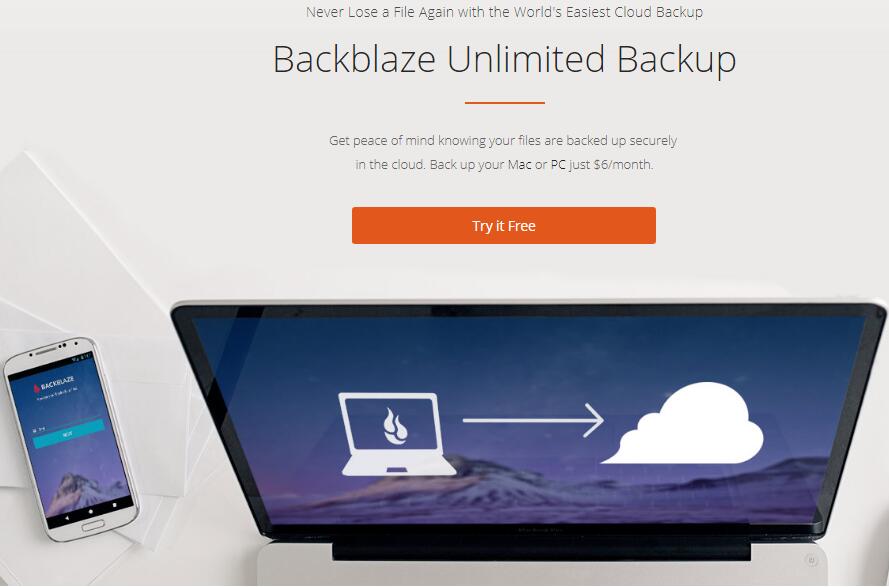 Is Backblaze Secure?
How does Backblaze protect your files? Are your files safe? Your files to back up are encrypted with AES military grade encryption before they leave your PC. The service transfers the encrypted files over a secure SSL connection to the Backblaze databases. The whole connection is secure. Once the files arrive at the databases, they are stored and encrypted on disk. They remain encrypted until you request to access with your email and password. Backblaze allows you to hold a private encryption key that only you know. Once you set up the private key, you need to remember it yourself because Backblaze never stores it. Every time you need to access your backup files, you need to provide the private encryption key in addition to your email and password. If you forget the private encryption key, you lose access to your files and won't be able to recover lost files. By default, the provider retains your encryption key. To manage the private key, you need to enable private encryption key from the Settings.
In case of your email and passwords leaking, Backblaze does not allow others to access your files easily because it provides two-factor authentication. After users enter email and password, it requires a six-digit security code to log in. Others still can't access your files even though they stole your password. The provider uses a RAID setup for redundancy and keeps copies of your files on multiple servers. Even if one of the data centers has been through natural disasters and physical intruders, your files remain secure. As SSAE 16 SOC 2-compliant, this company utilizes biometric security, ID checks and area locks to prevent unauthorized access. Besides, their privacy policy claims, "We will retain your personal information for the period necessary to fulfill the purposes outlined in this Privacy Notice unless a longer retention period is required or permitted by law." The provider promises that they do not share your email address or other personal information with any party.

Easy to Use
Backblaze is popular for its ease of use as well. It is simple to back up, restore lost files and share backed up files with partners with this service. To work with this service, you need to create a Backblaze account with your email. Before purchasing a plan, you can get the 15-day free trial to test the service first. If you confirm that it is the service you want, you can purchase the premium package for full features. You will receive emails about account details, guides to activate account and link to download client. Simply follow the guide to get the client ready. It may take some times to install the software. After you follow the wizard to set up the software, it scans your drive and selects files to back up. After you confirm the list, hit the Continue button to start the backup. Leave it alone and do your own business while it uploads your files in the background. You can schedule the subsequent backup after it finish the initial backup, and the service will take care of the rest.
Backblaze has simple and straightforward. It lets you view, restore files section of the website conveniently. You can find the option to inherit a backup state for new setups quickly. On Windows, it displays an icon in the notification tray to give you quick access to the client control panel. On Android, you can access any files you download from your backup or visit the app settings from the hidden left-hand menu. It displays all the backup devices linked to your account on the main screen. Backblaze works with macOS, Windows computers and Android & iOS devices. How many computers can you back up with Backblaze? This service offers 1 to 100 licenses in one subscription. Besides, it provides the option to inherit backup states. You are allowed to resume your backup from where you left off if you move Backblaze account to a new PC or install a new operating system. Though the service is easy to use, the provider still offers 24/7 customer support to help users fix issues timely. It provides a support ticket system, and users get responses within 24 hours via the system. For fast respond, users can contact them via live chat support while it is only available most working hours during weekdays (Pacific Time). In addition, there is a useful knowledgebase where you can find solutions to common seen problems. You will work with Backblaze with pleasure experience.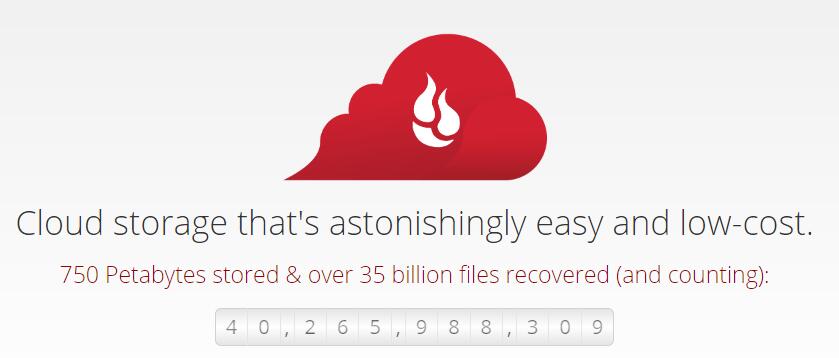 Guide to Get Backblaze Best Deal
Conclusion
Backblaze is a secure and affordable backup solution. It helps both home users and business to protect precious files in an effective and secure way. Due to hardware issue, malware infection, human mistakes or natural disasters, people lost their precious files forever as there is no way to recover the files. Hence, it is very important to back up files regularly. Backblaze offers simple backup solution and unlimited backup space. It can automatically select common file types on your PC to back up. You can add more files or exclude some files among the list it shows you before starting the backup process. As it supports unlimited backup space, it does not require additional fee if you have huge size of files to back up. It could take a long time to finish the initial backup. It uploads files in the background silently without affecting your work. The connection speed offered by your ISP can affect the time of initial backup. The service ensures your files are always encrypted and protected when being transmitted or stored in data centers. It takes multiple security measures to safeguard your files. Backblaze pay close attention to file changes on your PC and updates the stored version timely to ensure all your important files are backed up and protected constantly. It is simple to restore files as well. Select files and methods to restore. You will be able to recover your files easily. It lets you use the courier service for faster restore of huge amounts of data. Backblaze has lightweight app and web clients that are straightforward to use. Users can cancel their accounts without contacting the company. To do that, you can delete all active backups for the account on the Preferences page on the web. Clear the licenses you didn't use on the Overview page and delete your account from the Settings. Backblaze gives you the peace of mind that your important files are backed up continuously and keep safe all the time. With it, you won't lose important files any longer. It starts from $4.58 USD per month.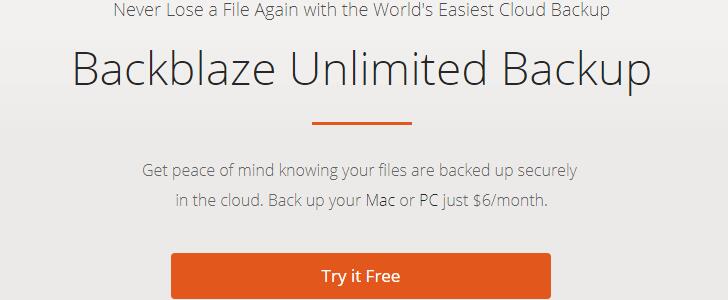 Published by & last updated on April 17, 2019 8:09 am