Would like to cut cost on backing up important files? You should make use of Carbonite Safe Backup discount coupon. People need to sign up many online services and frequently purchase products on the Internet. When you shop in the right way, you can save lots of money while enjoying great service & product with high quality. The providers run promotions and release coupon to reward their users. Therefore, you should check out Carbonite Safe promotion & discount coupon when you are about to sign up a plan. Let's save money with Carbonite Safe discount coupon. Learn more about Carbonite Safe Backup promotion with us.
Carbonite Safe Pricing & Coupon Discount
Carbonite is a leading service in backup industry. It delivers services to both individuals and businesses, helping their customers protect precious data. In this article, we will tell how you can save money when purchasing Carbonite Safe for home use. There are three packages for you to choose. Based on your need, you can pick Basic, Plus or Prime package. You have three billing cycle options, annually, biennially and triennially. The longer billing cycle you choose the bigger discount you get. It lets you decide how many devices you would like to cover. By default, it covers one device. If you purchase a plan for one device, it only can work on one of your device. Of course, you can purchase a plan for multiple devices. How much does Carbonite Safe cost? Is there any Carbonite Safe coupon or discount? The provider is offering discount, and you get up to 10% off at this time.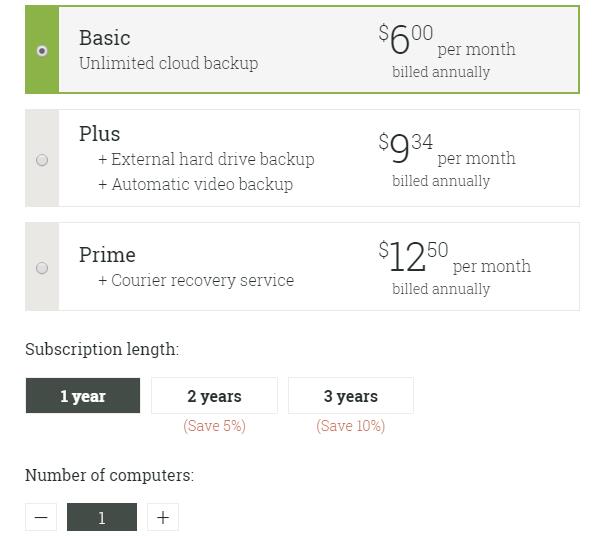 Get Carbonite Safe at $6.00 per month. There is no discount on annually plan while it is still cheap. The Basic package includes great features while it is only $6.00 USD per month. Though it is basic, it allows unlimited cloud backup. You can backup all important folders with this plan. External hard drive backup and Automatic video backup are added to the Plus package which is $9.34 USD when you sign up annually. Prime package includes all features Plus package has. Courier recovery service is the unique feature. It is $12.50 USD per month billed annually. It is the most expensive one as it is the ultimate suite.
Get 5% Off 2 Years Carbonite Safe. If you always need backup service and want some coupon discount, we suggest you choose a longer billing cycle. When you decide to sign up 2-year plan, you get 5% off on any package. You will be billed every two years and the monthly prices are cheaper. The Basic package is $5.70 USD month. Plus package is $8.87 USD per month and Prime package is $11.87 USD per month. Take advantage of the Carbonite Safe coupon discount and get savings.
Get 10% Off 3 Years Carbonite Safe The 3-year plan includes the biggest discount. You get 10% off no matter which package you choose. For users who need to backup files regularly, it is wise to sign up a long subscription. That saves your time on renewing plan frequently and save your money on the same package. If you choose to be billed triennially, the Carbonite Safe basic plan is reduced to $5.40 USD per month. Plus package costs $8.40 USD per month. The Prime package is $11.25 USD per month.
Besides, you can get extra discount when using valid Carbonite Safe promo code during the signup process. Carbonite may release promo code during big holidays and special occasions. With the valid promo code, users get additional discounts based on the discount available on the official website. At this time, no valid Carbonite Safe promo code is available. Once it is available, we will display it on our websites to let you save as much money as you can. Currently, you get 10% off Carbonite Safe.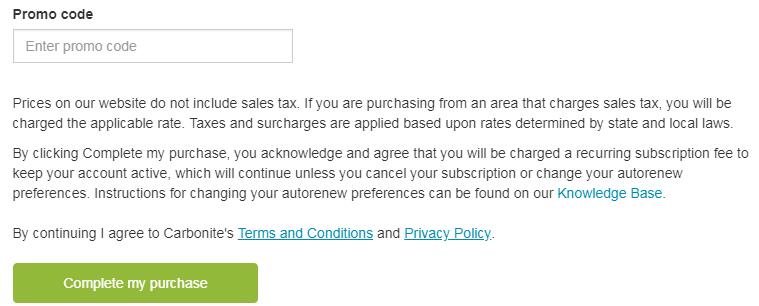 How to Use Carbonite Safe Promo Code?
Step 1: Visit Carbonite Safe from promotion link.
Step 2: Copy Carbonite Safe promo code while you are redirected to the official website.
Step 3: choose to view plans based on how many computers you need to cover. You can choose to backup computers, external storage & NAS, databases and live applications.
Step 4: You can choose One Computer for home use. Click "View Plans". You will see Basic, Plus and Prime package. From there, you also can choose numbers of devices and billing cycles.
Step 5: After you select the package you need, click Next Step to proceed. Fill up billing information.
Step 6: Click "Have a promo code?" and paste promo code you copied, and hit Enter key to apply. Finally, click "Complete my purchase" to finish the payment. That's how you can save money with Carbonite Safe Promo Code.


15-Day Free Trial of any Plan
You may have difficulty in making a decision before you actually try this service. You know what? Carbonite offers 15-day free trial on each plan. You can view detail of each plan and start a free trial of the package you need. To sign up a free trial, you need to fill a form with your email address. It does not require credit card detail to get the free trial. It will send you link via email to activate your account. You have a half month to check out this service and see if it works as you like. As you don't need to provide credit card detail to start the free trial, you won't be charged at the end of the trial. You can decide whether you would like to purchase a plan. If you find this service useful, you can purchase the Carbonite Safe package which is affordable yet powerful.


About Carbonite
Carbonite is a solid choice to backup important files. It utilizes robust security technologies and provides physical and virtual server environments to protect users' data and avoid data loss caused by accidental deletions, ransomware corruptions, hardware failures or natural disasters. This service provides an easy and affordable way to backup files online. It allows you to backup all files and formats, helping you improve your job performance effectively. It offers different packages to meet different needs. All plans allow unlimited storage space. You won't need to pay extra fee if you have massive files to backup. Carbonite offers simple yet solid management and restore functionality, allowing you to access files from anywhere via a web-based dashboard and restore related files at any time. It encrypts users' data at rest and in flight, storing them on their own secure servers. Carbonite supports HIPAA compliance. That means it establishes national standards for the protection of your backup data. It also supports EHD and NAS backup. You can backup NAS to external hard drive to avoid data loss due to power failure, hardware failure and physical damage. This service is easy to use. The Remote Deployment lets you install backup across your entire organization conveniently. To ensure their product work with users without problem, they offer instant customer support via phone, chat and email. Carbonite is an advanced backup solution yet affordable one. They provide big promotion and sweet discount. It starts at $5.40 USD per month.


Backup Process
After the service select folders and you add extra files, it starts to backup. Initial upload will take long time if you have huge size of data to backup. There may be speed throttling when you upload big size of files. It's ok to leave it alone during the backup process. It lets you check backup status easily by providing a taskbar icon. Carbonite has "show colored dots" option. When this option is selected, you see different color dots on your system files. The files that have been backed up are marked with green dot. The files for scheduled backup have a yellow dot. Some folders have half-green dot. That means only some of them backed up. Carbonite offers image-based backup, external drive backup, NAS backup, server backup, hybrid backup and mobile device backup, allowing you to backup various formats in different ways. It has backup scheduler which lets you schedule backup regularly. There is a continuous backup. You can let it backup every day or make it not to backup during busy hours. This option is recommended as it has light impact on PC performance. Carbonite provides incremental backup option. It only backups your new documents or documents that have changed. That takes less time to backup as the uploading speed is faster. This service let you cover unlimited devices, and the price is set according to how many devices you choose. It allows block-level file copying and multithreaded backup, meet users' multiple needs. When you edit and save files, Carbonite saves multiple versions of them. It keeps different versions for future use. It may take days to backup massive files.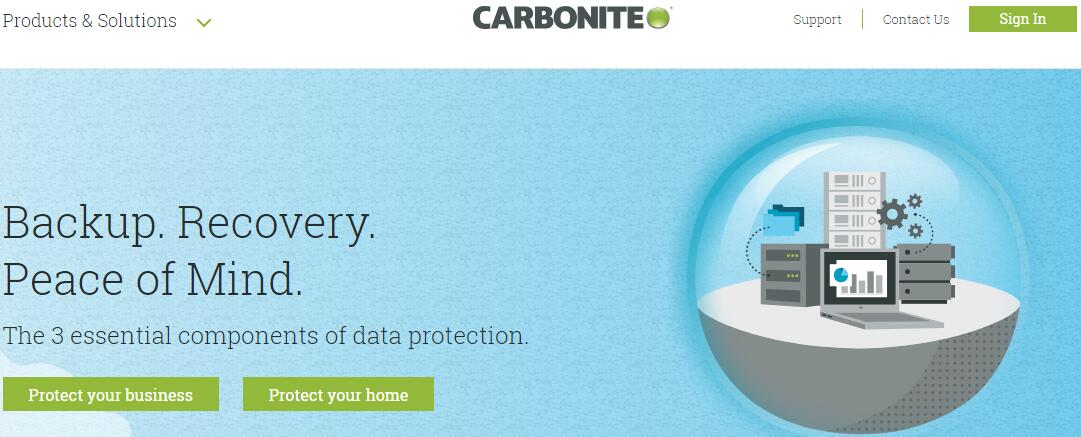 Restoring Files
If you lose important files on PC, you can restore them instantly to avoid financial loss. Users may delete files by mistake or can't access to system files due to hardware issue. At this time, you need Carbonite to take your precious files back. This backup service allows you to restore your files & folders at any time. There are two ways to restore files. On one hand, you can go through it via Anytime Anywhere Access. If the files you need to restore are less than 10GB, you can access the files and do the restoring remotely. When computer covered by Carbonite is next to you, you can restore big size of files & folders quickly through the Carbonite Backup Drive. It should be your first option if you have big folders to restore. When you click the Get My Files Back button, it lets you choose to restore specific files or download everything from your current online backup. You can restore your files to their original location or save them to a new folder. It allows you to restore the files to your old machine or new PC. Please note you the backup service will not work your old device any more after you restore files to a new PC because the plan only cover one device. Of course, you can use it on all covered PCs if you purchase a package for multiple devices. Another attractive feature of this service is the ability to restore deleted files. If you delete a file on a PC that is covered by Carbonite, the service keeps the deleted file for 30 days. You can recover it if you find out you deleted the wrong files within 30 days. No matter you lose access to your system files or have ransomware infection, they can't take away your files forever. Carbonite has got your back.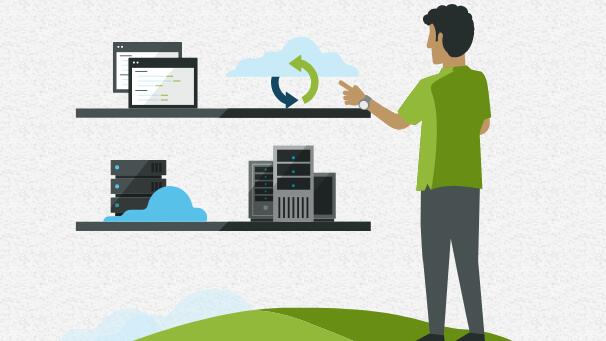 Solid Protection for Your Data
Is Carbonite safe? How does it protect your data? Carbonite safeguards with advanced technology. It backups your folders to data facilities that operate based on RAID 6 technology. This service stores your data on hardened data centers that are monitored and maintained all the time by their team. Your data will be stored on multiple servers for redundancy. Even if one server fails, you still can access your data because there are other copies on different servers. For multiple layers of protection, Carbonite spreads at least 3 copies of your backup across 15 disk drives. This service also provides you a copy of your data to an external drive. That can be a quicker and easier way to restore your files because you don't need to connect to network to download them. If you have hundreds of gigabytes of files to restore, it needs great network speed and also takes some hours to recover. Before Carbonite sends your backup to their servers, it encrypts your data. By default, it manages your encryption key. Of course, it allows you to use private encryption key and manage it yourself. If you use private encryption key, no one including Carbonite can't access your backup. The only drawback is that there is no way to recover your files if you lose the encryption key. For starters, this service uses AES 128-bit encryption to safeguard data stored on their servers. When you use private encryption key, Carbonite switches to AES 256-bit encryption. This level of encryption has never been cracked as far as anyone knows. When your files are transited, the service uses TLS to protect them. For extra layer of protection, Carbonite supports two-factor authentication. Users will be asked to enter a unique security code via phone call or text when logging into Carbonite backup account from new machine. Even if someone stole your password, they still couldn't access your files.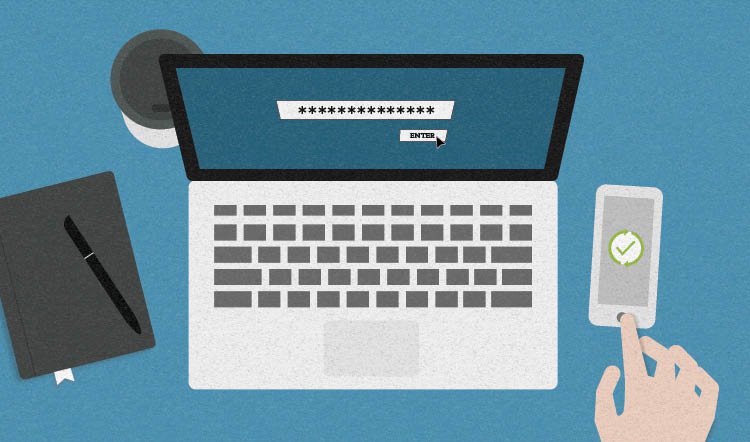 Video Guide to Get Carbonite Safe Best Deal
Conclusion
Want the best Carbonite Safe deal? Make use of Carbonite Safe discount coupon for biggest savings. During this promotion, you get 10% discount. Carbonite is one of the best known backup services that offer flexible features and unlimited storage. This service backs up most file types and keeps former file versions, protecting all of your important data in different formats. It allows you to backup as much data as you want and lets you backup external drives as well, so you save precious limited space on your PC and keep data secure at the same time. It encrypts your data with leading technology and stores copies of your backup on multiple servers. It offers convenient and quick ways to restore your files. Carbonite Safe requires little setup. When you install and set up Carbonite, it gives you the option of automatically backing up your important files. By default, it automatically selects your photos, documents, email and music. Videos are not included. You can select other folders manually. Carbonite Safe has user-friendly interface, letting you backup files, check your backup status, manage your account and restore files easily. You can navigate to related features quickly to set up SMS-based two-factor verification and edit the security questions. Carbonite offers useful customer support. You can contact them via live chat, telephone call and email, and find practical information on user forum and knowledgebase. Their support team is 24/7 online. The only drawback is the slow backup speed. It takes long time to upload if you have large size of files to backup. This is a solid yet affordable backup solution. It is only $5.40 USD per month with Carbonite Safe discount coupon.


Published by & last updated on March 29, 2019 8:46 am