What is the latest Intuitive Password discount coupon? If the coupon is available, how do you get it? Recently, huge data breaches happened frequently. Accounts & password on many platforms have compromised. A large number of credit cards along with PINs have been cracked and sold on black market. People lost data and money due to data breaches. Most of the data breached were caused by weak passwords. People use simple to remember passwords to secure their accounts while they also are easy to crack. How to create strong passwords? You need a reliable password manager like Intuitive Password to do the job. It is a useful tool with great features. Does Intuitive Password offer what you need? Is it secure? Get your answer in this Intuitive Password Review.
Intuitive Password Pricing & Discount Coupon
In those days, more and more users invest in password manager. When you need a service to manage your confidential information, you need to pick the reliable one. It costs some money and it is worth it. In fact, users can apply coupon code for extra discount to save money every time you sign up or renew the service. If you are able to purchase an Intuitive Password package, you should use our exclusive Intuitive Password coupon code for big saving. Intuitive Password offers free version and premium versions. The premium versions include Express, Advanced and Pro packages. They start at $2.00 AUD per month. If you use our exclusive Intuitive Password coupon code, it is reduced to $1.10 AUD per month. Redeem Intuitive Password 50% off discount coupon.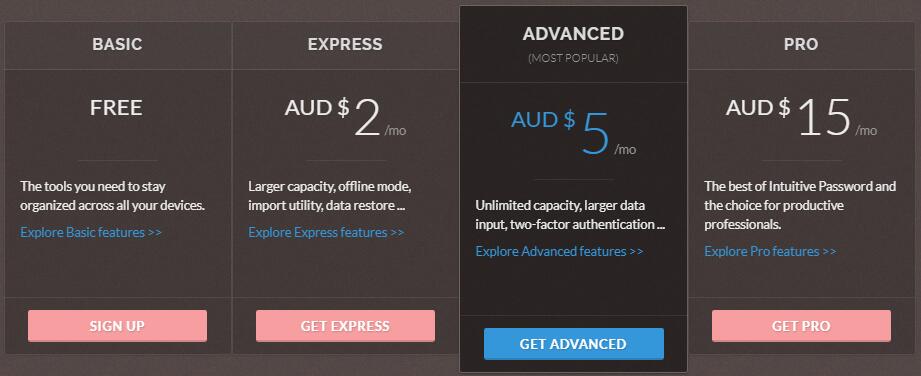 How to Use Intuitive Password Coupon Code?
Step 1: Visit its official website via special promotion link on this page.
Step 2: When you are redirected to the provider, you will see Intuitive Password coupon code on the redirecting page. Copy the coupon code.
Step 3: Click "Editions" to pick an edition or compare all the editions.
Steps 4: Click "Get Express", "Get Advanced", or "Get Pro" button to sign up.
Step 5: Fill up personal information on the payment page. You will see a blank for coupon code. Paste the coupon code you copied and click "CLICK HERE" button bellow the blank to apply Intuitive Password coupon code. The finial price will be readjusted. That's how to get 50% discount by using Intuitive Password coupon code.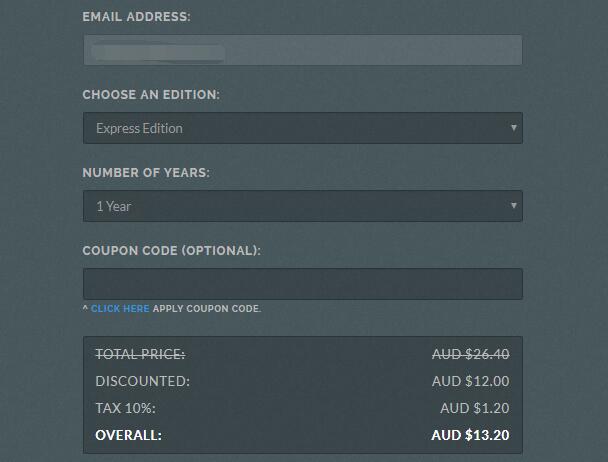 Free Version
Intuitive Password generously offers free version to let users try their service without spending a cent. Of course, it comes with limited features. If you use the free version, it allows you to store 20 passwords, associate three tags with each password, share 3 passwords with other users, use 3 single-use codes, and use 100 of characters for an input field. If you have less 20 passwords, have less than 3 passwords to share or don't need single-use code for better protection, you can use the free version. If you need more storage or features, you can consider the premium version. After using Intuitive Password coupon code, it starts at $1.10 AUD per month.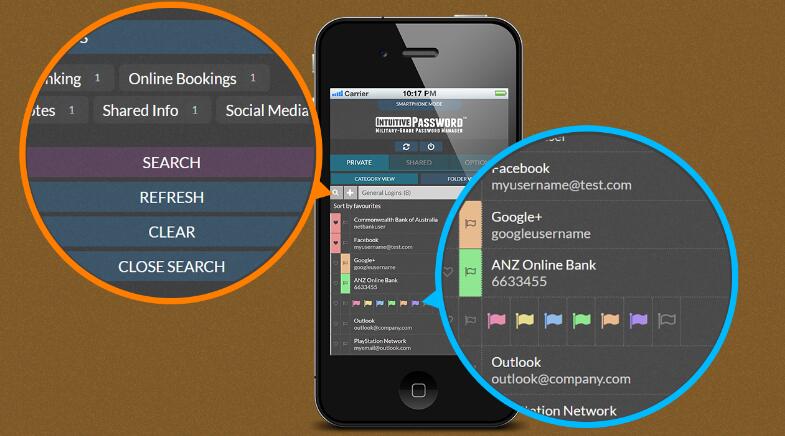 Premium Version
Express: Intuitive Password Express package comes with all basic features. You can store 2,000 passwords and 12,000 characters for a Notes filed. You can receive unlimited shared passwords. Express package offers convenient data migration. It allows you to import all your passwords from other password managers and export your data into five different formats. It supports offline mode to let you access your important data when there is no reliable network to use. There are quick data backup and restore options. It lets you backup and restore all your passwords and other stored personal information at any time. There is a one-on-one sharing setup which provides you and your friends or colleagues easy access to shared passwords. On the official website, the price is $2.00 AUD per month. When you use Intuitive Password coupon code during the payment, it is $1.1 AUD per month. You can choose to sign up a plan for one to ten years. It costs $13.20 AUD when you choose 1-year subscription and apply discount coupon.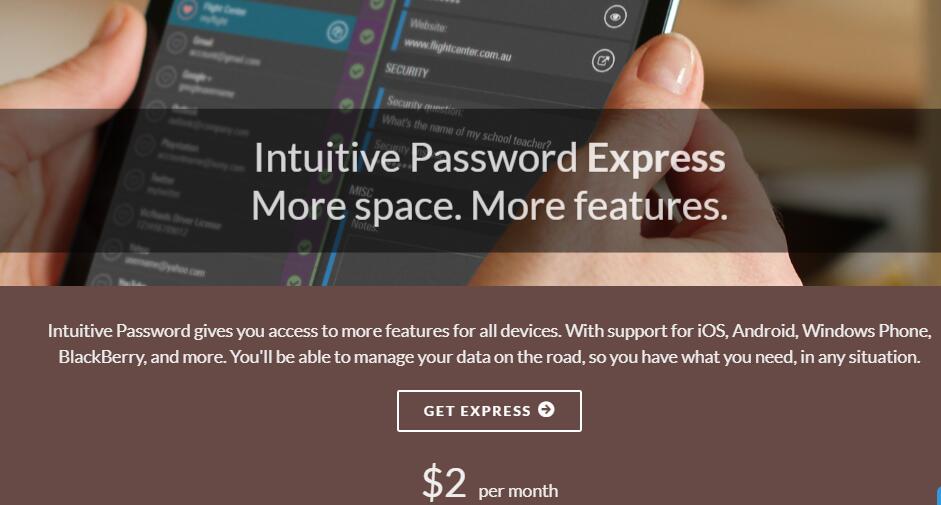 Advanced: Want more features? Upgrade to Intuitive Password Advanced plan. It includes all features Express package has. This version allows you to communicate and cooperate with your partners in a secure and fast way within the password manager. You can bundle your email address or phone number to the account, so the password manager is able to send you alert when it detects someone is trying to access your accounts or alter your credentials without permission. This password manager also offers to remind you of expiry date for each of your passwords, so you can renew or cancel timely. It allows unlimited storage. That means you can store as many passwords as you want. Advanced edition comes with two-factor authentication which is another layer of protection against unauthorized access. It has account inheritance program to let you give your family or partners access your data vault in case you are involved in an emergency. You benefit a lot from this edition while it is affordable. You will see it is $66.00 AUD a year including the tax on the official website, but you don't need to pay so much money. You should use our exclusive Intuitive Password coupon code for 50% discount. The overall is reduced to $33.00 AUD a year.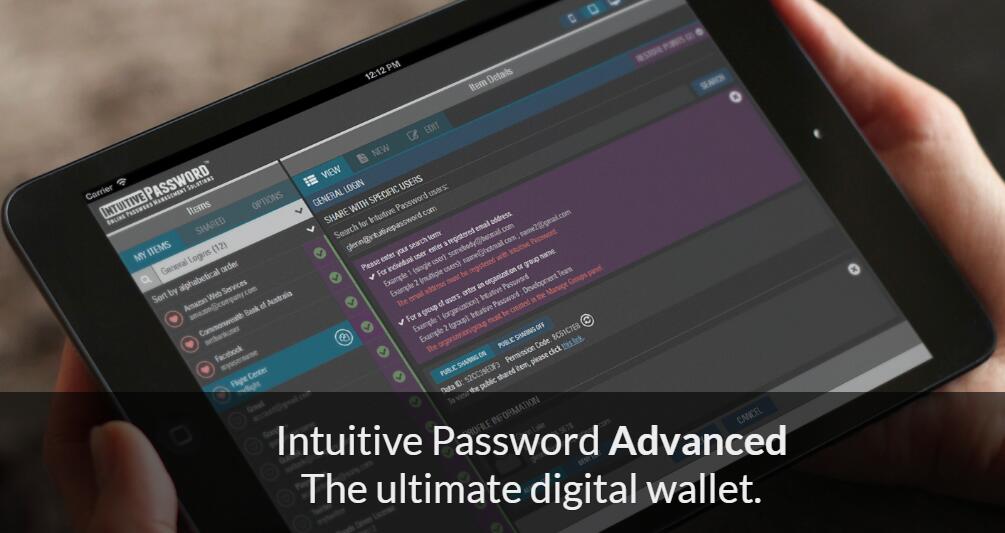 Pro: If you are looking for the best suite, Intuitive Password Pro is the edition you need. It comes with ultimate password vaulting capabilities to help users protect their passwords at high level and improve collaboration efficiency. You get all advanced features and additional features with this edition. Intuitive Password Pro supports offline access to your data vault. Hence, users can achieve mobile freedom and access all your confidential information without network connection. This edition also supports automatic sync, so you can work with all important data on any device. It allows you to go back to earlier versions of your notes to learn the way you how you thought over time. Intuitive Password Pro includes unlimited restore points, unlimited shared passwords and a huge size field capacity. It provides a simple search panel which lets you find data you need quickly. You are able to start a dialogue with your friends or partners within Intuitive Password to get job done effectively. This Pro edition gives you access to premium support. You will get instant support no matter you need technical, non-technical or professional direct. Is this excellent edition expensive? The original price is expensive, but it can be much cheaper when you use Intuitive Password discount coupon. The overall is $198.00 AUD a year. After you apply Intuitive Password discount coupon, it is reduced to $99.00 AUD a year. It includes the price and tax. If you need so many additional features, you can pick Express or Advanced edition. They are cheaper as well as powerful.


About Intuitive Password
Intuitive Password is owned Intuitive Security Systems which is a reputable company that provides innovative military-grade management services. The company was formed in 2013. They have a great team consisted of experienced and highly skilled engineers. They use cutting-edge data encryption technology and utilize other solid techniques to provide excellent data security solution, aiming to protect users' passwords and other precious data in a professional and effective way. Intuitive Password helps users generate strong passwords and keep them safe in an encrypted data vault. It enables you to log in websites quickly, auto fill web forms and share passwords with your partners securely. Intuitive Password supports offline mode, so you can pull down passwords to refer to offline for much convenience. This password manager supports two-factor authentication for extra layer of protection. It has the ability to create single-use codes for secure access to your account on public computer and when you are on a trip. Intuitive Password works on all major systems and platforms. It helps you manage passwords on your desktops, laptops, smartphones, and tablets. It has easy to use web interface, and it is a great product for beginners. This service supports English, Chinese, German, Japanese, Spanish, French and Italian. Users in different industries around the world choose this password manager to secure their confidential data. If you would like to purchase an edition, use the valid Intuitive Password discount coupon for 50% off.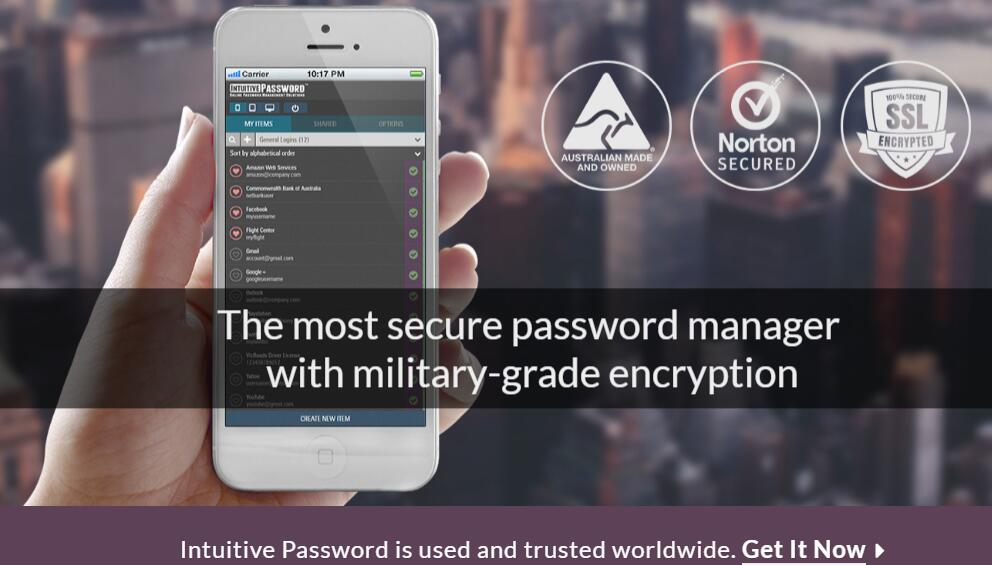 Create Strong Passwords
Intuitive Password provides free password generator to help users create secure and reliable passwords that are difficult to crack or guess. Password is necessary to secure your online personal information and assets. If the password you set is weak, hackers can use special machine to crack it and hack into your account easily. As users have more and more accounts and passwords to remember, they tend to use simple to remember password or use the same password for all platforms. However, hackers make use this trend and develop particular machine and program to crack users' passwords all various platforms. Millions of accounts can be hacked within few minutes. Therefore, a strong password is important. Intuitive Password generates strong passwords for all of your accounts. You are able to decide the length and characters of the passwords. When you set it, it shows you a combination of characters and password strength rates. The password it creates includes uppercase letters, lowercase letters, numbers and punctuation to it pretty difficult to crack. It also helps update your existing passwords to ensure all of them are strong and unique. After you import passwords, it flags your login passwords as safe, vulnerable, or not safe. You can make it update the weak ones with few clicks. All of your accounts will be safe.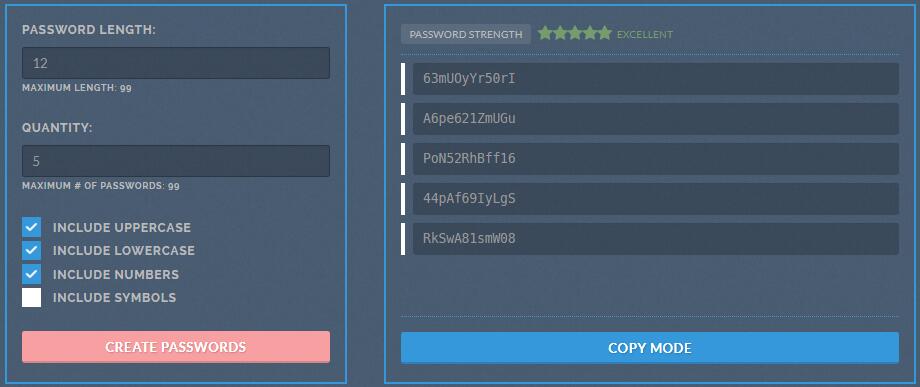 Secured & Trusted Password Manager
Is it secure to use Intuitive Password to manage your passwords? How does it store and protect your confidential information. When you create your account, it requires a master password which is the key to your account. You are the only person who knows this password. If you forget the master password, you lose access to your account. Intuitive Password safeguards your passwords and personal information from cyberattacks, phishing scams, malware, cybercrime, and online fraud by using multiple advanced security technologies. It lets you store passwords and adds personal information to the data vault. Intuitive Password uses the latest 256-bit SSL encryption technology to secure the data vault. It utilizes PBKDF2 with a unique salt for each of your important information. This password manager stores your encrypted data at one of their enterprise-grade data centers that are monitored and maintained 24x7x365. At network level, it places stored data behind several firewall layers. Likewise, it scans for malware and offers DDoS protection to ensure users' data is always protected. It also offers two-factor authentication and anti-phishing protection. When you use your confidential information, it uses SSL protocol for the communication between your browser and the server for secure and fast experience. When you need to log in your account on a public computer, it lets you use a single-use code. Even though someone tries to view and record the password you enter, they still can't access your account because the code only can be used for one time. You also can define a device-specific six-digit PIN on your device for extra security. The Auto Logout feature makes your account log out automatically after a period of inactivity. With all the solid layers of protection, criminals and snoopers who try to access your precious information will be stopped effectively. Your passwords and sensitive information will stay safe with Intuitive Password.


Offline Mode
To allow users to access their important data anytime, Intuitive Password supports offline mode. That means you still can access your data vault without Internet connection. It creates a static copy of your login that is not dependent on their servers. You can store the copy on local drive or different types of cloud services. Copy on cloud service only works as a backup because you can't access files on cloud when you are offline. Once you store them on local drive, you can access them without Internet connection. Another master password is required when you choose offline mode to create a copy. That ensures others won't be able to view the copy and invade your privacy. At offline mode, you can view the item detail there and use search box to locate the items you need quickly.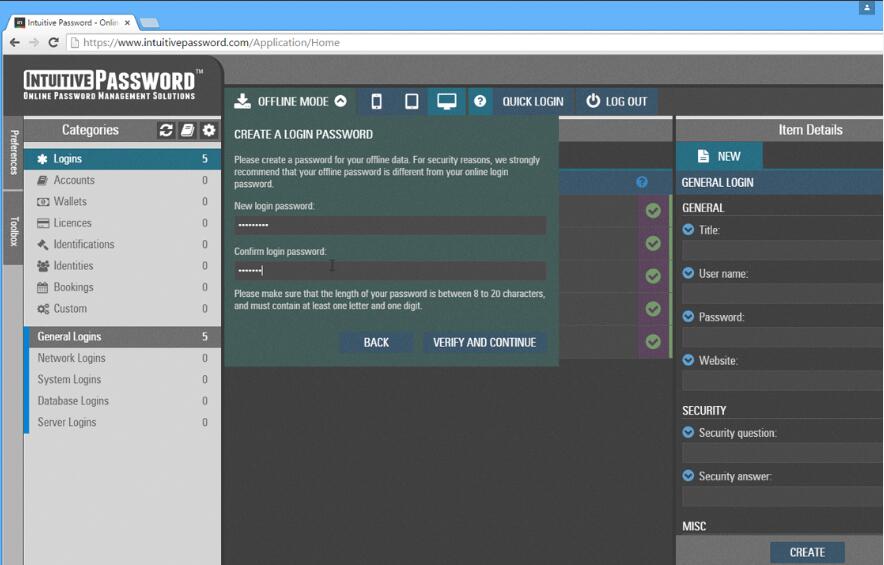 Fast Login & Auto Form Filler
Intuitive Password allows you to store passwords to different accounts & platforms as well as add confidential details such as bank information, contracts, and other secret documents into the data vault. You can store your licenses, identifications, shipping addresses, poste code and more to the password manager, so you can view them anytime you need them. After you store login information in the data vault, the password manager can enter login information for your on trusted websites. You are able to log in to all your devices, systems, and accounts simultaneously with one click. Have too many web forms to fill for work? Intuitive Password will help you a lot and save your precious time by entering the same information over and over again. The password manage can recognize legit and malicious websites and won't match your profile on untrusted websites.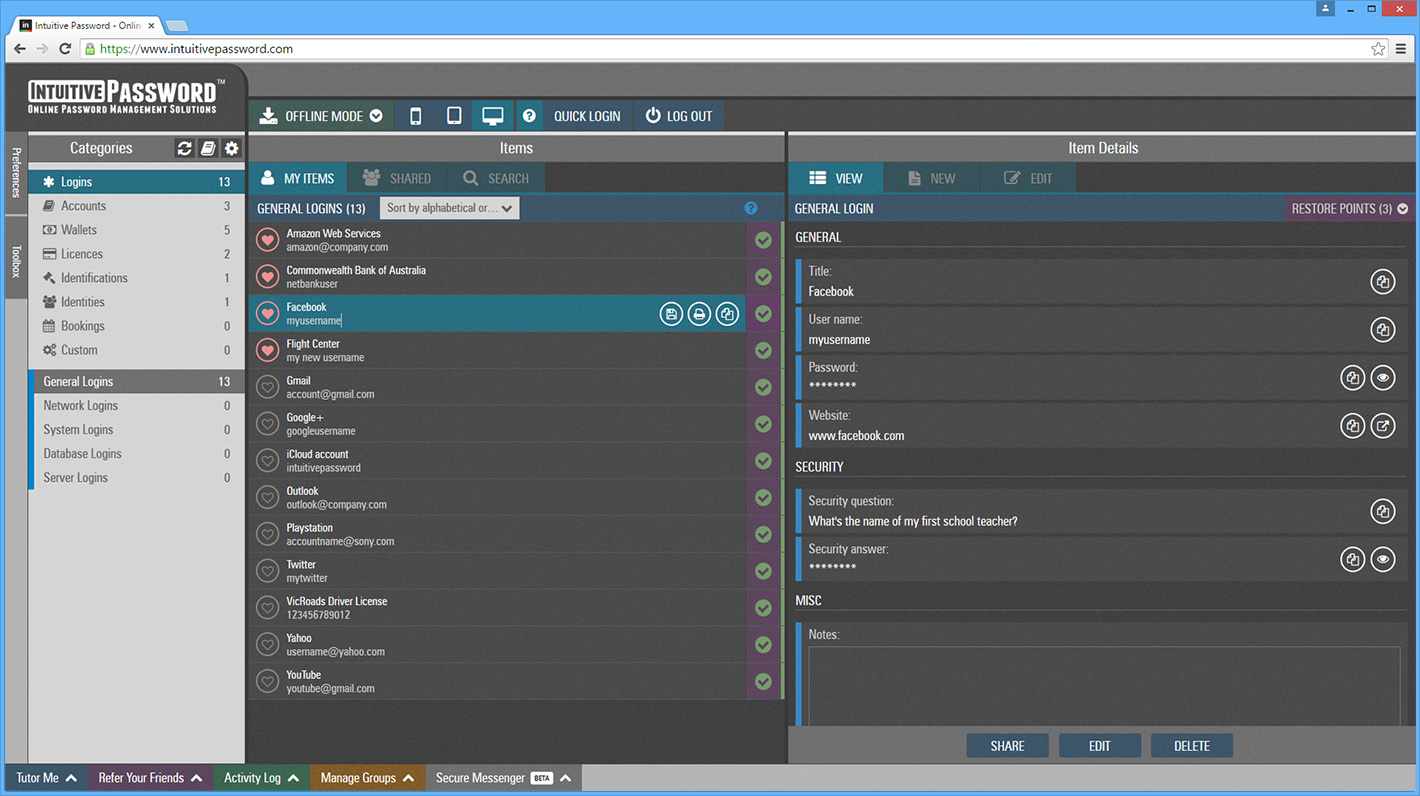 Ease of Use
Like its name suggests, it is a very easy to use password manager. To get started with Intuitive Password, you need to go through the simple signup process. It takes less than a minute to receive an email validation and get your account ready to work. Create a password as complicated as possible. You only need to remember this password in the future. It will secure your data vault. The user interface is intuitive and customizable. It lets you choose the display size to place data in the way you like. You are able to use the visibility settings to set which logins, accounts, wallets, licenses, identifications, identities, and bookings you see in the interface. It is simple to change settings and setting is easy to reverse as well. From the client, it lets you view the data, edit it, and create a new entry. Intuitive Password offers apps for Windows, MacOS, Linux, Android, Chrome, and iOS. It helps you manage passwords and auto fills information on all of your devices. It provides plugins for Chrome, Firefox, Safari, and Opera to give you quick access to your login feature. Even beginners can use this product easily. Don't forget to use Intuitive Password coupon code for 50% discount when you sign up a plan.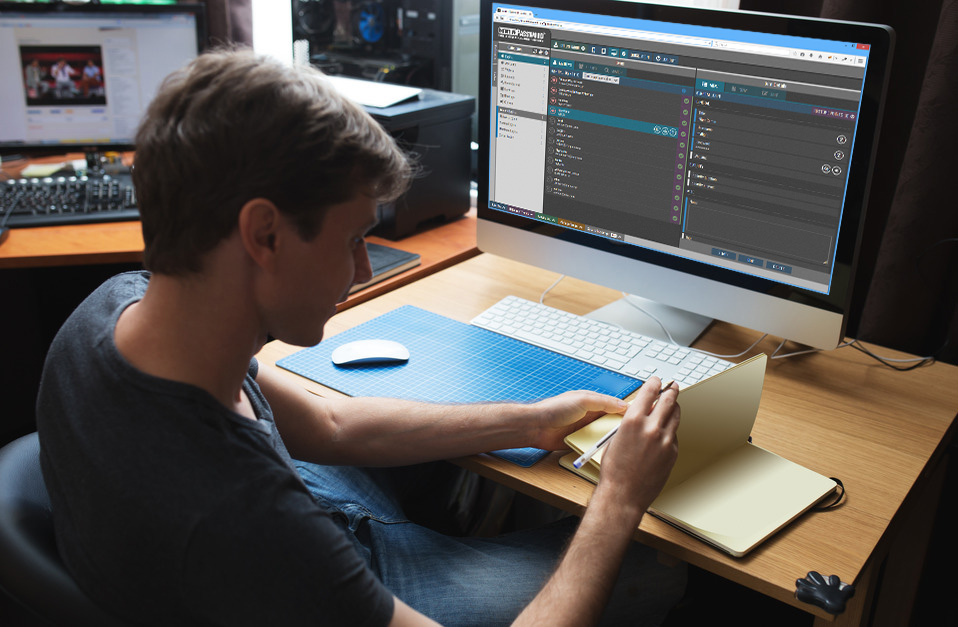 Video Guide to Get Intuitive Password Best Deal
Top 5 Best Password Managers In The World
| Brands | Rating | Support Platforms | Offers | Price(USD) | Official Website |
| --- | --- | --- | --- | --- | --- |
| | #1 Read Review | Windows, Mac, iOS, Android, Linux, Chrome OS, watchOS | Offers Free Version | $39.99/Year | Best Choice |
| | #2 Read Review | Windows, Mac, iOS, Android, Linux, Chrome OS, Windows Phone, watchOS | Offers Free Version | $36.00/Year | View Deals |
| | #3 Read Review | Mac, iOS, Windows, Android, Linux, and Chrome OS | Offers Free Version | $35.88/Year | View Deals |
| | #4 Read Review | iOS, Android, Safari (Mac), Chrome and Firefox (Mac and Windows) | Offers Trial Version | $14.99/Year | View Deals |
| | #5 Read Review | Windows, Mac, iOS, Android | Offers Free Version | $12.00/Year | View Deals |
Conclusion
Intuitive Password is a military-grade password manager. It delivers reliable and comprehensive service to simplify users' digital life. When you first use this password manager, you can import passwords from another password manager in CSV file format. Don't know how to transfer the format? That's ok. The password manager offers to generate a CSV template file that includes title, username, password, and URL for you. It allows you to export your saved data to CSV, TXT, HTML, JSON, or XML. You also can create an encrypted backup of your data and restore a backup at any time. The special feature is that it enables you to use a restore point to restore your data to an earlier point in time for useful information. Need to share login information with your partners in another city? Intuitive Password provides a secure and professional way to share passwords. You can communicate and share important information with your partners within the password manager securely and effectively. With the logins and personal information, Intuitive Password also helps you auto log in many platforms and fills web forms for you. That lets you save lots of precious time. Intuitive Password is a reliable and effective way to manage a bunch of passwords and other sensitive information. It is the right time to get deal because sweet Intuitive Password discount coupon is available. With our exclusive Intuitive Password coupon code, it is only $1.10 AUD per month. Don't miss this great deal.

Published by & last updated on July 3, 2020 8:07 am