Has your PC been corrupted by malware? Have you been a ransomware victim? Can't recover corrupted files due to virus infection? You should have safeguarded your PC with a reliable security program. Hackers are rampant and create dangerous malware to attack unprotected devices for valuable information and money at this Internet age. Even though you don't have confidential data on your PC, your precious family videos and photos can be destroyed. Your PC system can be damaged badly. To prevent malware attack and data loss, you use solid security suite to protect your device. Don't know which product you should choose? You can read security suite review on this website. Our reviews are written based on real test results and user experience. Let's get to know one of the popular products in this F-Secure Anti-Virus Review.
Why F-Secure Anti-Virus?
Founded in 1988, F-Secure has rich experience in delivering security solution. It was listed on NASDAQ OMX, Helsinki and has earned high reputation. This company has 30 offices and 1600 employees around the globe, helping worldwide users secure their devices and data. Currently, F-Secure has over one hundred thousand corporate customers and tens of millions of consumer customers in different countries. Can F-Secure Anti-Virus keep your PC safe from viruses? Yes. This product received excellent scores from many independent labs and regular users. F-Secure develops their own signature scanner and database and utilizes traditional malware-signature matching as well to increase the malware detection rate. Its smart and fast scanning tool assists users to catch and stop malware quickly. Malware will be quarantined before they can damage your files or system. F-Secure Anti-virus safeguards your system against all sorts of malware and cyber threat. The software is easy to install and use. It does not require computer knowledge to use the program. F-Secure offers Anti-Virus free trial and affordable premium plans. No credit card is required to get a free trial. Simply submit your email address. It will send you link to activate free trial. The price is set based on how many devices you need to protect. F-Secure Anti-Virus is a useful product with great tools.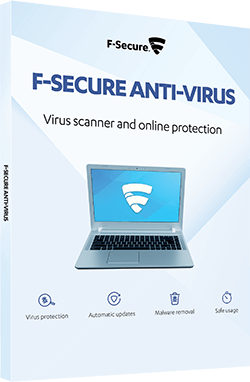 F-Secure Anti-Virus Malware Protection
F-Secure Anti-Virus puts emphasis on malware protection. It has done a great job in preventing viruses. Virus prevention is very important because some viruses can do irreversible damage to your files and system. Spyware can be installed and send your personal data to remote hackers before you detect them. Therefore, a good security program should help to prevent malware in multiple aspects. F-Secure Anti-Virus suite is equipped with advanced network protection components and tools. It blocks malware-hosting URLs, suspicious downloading and unknown software installing. The famous DeepGuard behavior-based component can catch and stop file encrypting timely. The Anti-Virus scans any device connected to your PC via USB or other device. There is a pre-scan tool which eliminates malware infection before the main program installs. The detected malware will be quarantined immediately, so it won't have chance to damage your PC. To prevent spyware, ransomware and remote hackers sneaking in your system, F-Secure also provides a personal firewall to monitor your Internet connection closely. Malware is very tricky and can disguise itself to sneak into your system easily. It even pretends to be security software to trick you into downloading and installing it yourself. But don't worry. F-Secure Anti-Virus can stop that from happening and keep your PC safe.


Fast Scanning
Scanning tool is very important for anti-virus program. The smart and keen scanning tool helps you catch malware timely. As we mentioned, F-Secure combines traditional malware-signature matching with their own database built with real-time data from millions users throughout the world to detect new and old malware effectively. F-Secure let you choose between a full scan and quick scan before. Now only full scan option is available. When you launched a full scan, it looks for malware thoroughly among your application installation and system files & folders. It goes further because tricky malware is very good at hiding itself in you system. Some viruses can copy themselves and distribute them at different locations. If you don't remove all of them, they can damage your PC or steal information. F-Secure Anti-Virus scanning tool dives into the Settings section to catch and remove viruses completely. Based on how frequent you use the PC, you can schedule daily, weekly or monthly scans. There is no need to spare your precious time to launch a scan manually. If you use the Internet to do important job all the time, you are allowed to set an automatic scan every five minutes. The frequent scanning may affect your PC performance a bit. If you don't access unknown websites, open suspicious link or use unknown program, daily scan is enough. This scan tool could scan different types of virus samples and malicious folders when we tested the product.


Ransomware Protection
Ransomware protection is a pretty important factor when you select an Anti-Virus product because ransomware is very aggressive and dangerous. Besides, the damage it does to your files is irreversible. It uses advanced encryption standard to take your files hostage. So far, no one ever recover corrupted files without decryption key. To get the decryption key, victims are required to pay few hundreds of dollar via prepaid card or cryptocurrency. However, victims should never trust them. After all, they were dealing with criminals. Many victims paid ransom as required while they still couldn't take their files back. Other types of Ransomware pretend to be the authority like FBI, cyber police or Department of Justice to accuse victims of viewing illegal porn or violating copyright. The Ransomware blocks users' whole screen and demands a ransom to unblock device and avoid more punishment. Lots of users have fallen in the trick and lost money for nothing. Luckily, F-Secure Anti-Virus offers solid Ransomware protection with advanced Anti-Virus components. This product provides ransomware protection components along with DeepGuard. The DeepGuard can work independently, but ransomware will be off if you disable DeepGuard. During our test, DeepGuard eliminated all our Ransomware samples. This tool monitors folders on your PC for suspicious activity. It is able to catch different kinds of file-encrypting ransomware samples before any harm is done to your files. You won't lose your precious files. The Ransomware will be stopped and eliminated immediately. F-Secure Anti-Virus keeps your PC and files away from Ransomware. It is worth every cent you invest on this product.


Complete Malware Removal
F-Secure Anti-Virus offers advanced malware removal technology to ensure the malware will be completely removed and never can come back. If you ever dealt with Trojan or other tricky viruses, you might realize the malware could be very stubborn. Though you used the system security program to remove the virus, it just could come back again and again after you restarted the PC. It is just like a ghost haunting there. Some malware can be updated with the help of remote hackers and disable weak security software. This is why some security program can't remove malware. The key to get rid of malware successfully is to pick a powerful Anti-Virus tool. F-Secure Anti-Virus is the tool you need. It has huge database and uses signature-based detection to catch every brand-new threat. Its DeepGuard behavior-based detection system is excellent. Their experts analyze new threat right up to the point with rich experience and database. Once new threat is detected, they release update with effective solution to new threat. In this way, their users can be safe from the latest threat. F-Secure Anti-Virus is able to identify and wipe out known and unknown threat effectively. Once the malware is quarantined or removed, it won't have the ability to recover or come back again to harm your PC. You are able to remove malware once for all with the help of F-Secure Anti-Virus.


Automatic Updates
F-Secure Anti-Virus supports automatic updates. Almost every kind of software or system needs update to add new functions or fix bugs. The security software works the same. The security company and experts keep working on analyzing new threat and updating their software with more features and tools to be immune to more malware. You may miss the newest version as you don't pay attention to those updates. Many users had been attacked by ransomware as they failed to install the latest system patches in recent years. Some users might have no time to check for update and install it. Hence, automatic update is expected. F-Secure Anti-Virus offers automatic update. That means you don't need to update the software manually to access the latest features and functions. You can keep your security software always up-to-date and your PC can be safe from the latest malware. It is not a technical job. Simply install F-Secure Anti-Virus software and it will take care of the rest.


Ease of Use
How to get started with F-Secure Anti-virus? Decide how many PCs you would like to protect and sign up a plan. Activate your according to the email sent from F-Secure. Download and install software on your device. It starts to protect your device. The software is light and it does not affect your PC performance. F-Secure designs and stream the antivirus product's user interface to be very convenient and easy to use. You are able to view necessary information of your PC status and find useful tools quickly. It shows a green icon with a message of "Your computer is protected" when no threat is detected. When the green icon turns into a red one, you need to be cautious. It displays virus detail and offer to help you get rid of threat completely. You also can launch a scan manually or open settings to select tools to stop virus. There are tools that let you check for updates, view recent events, submit a sample, and execute more tasks. If you have difficulties in using the software or execute a task, contact the customer support any time. They are always available for you.


Customer Support
F-Secure provides a robust selection of customer support options to ensure their users' issue can be fixed timely. Many new users may have questions or confusions when they first use the service. They don't know who to go for when having the issue. Some users may just refuse to use security product as they can't deal with it. Things go easily with F-Secure Anti-Virus. On one hand, the product is easy to use. On the other hand, the company offers multiple options to assist you to make everything work without any problem. F-Secure offers useful knowledge base and instant customer support to help users resolve issue effectively. You can find clear and useful information among How-To articles and on FAQ page. The information is consistently updated, so you can find your solution there. It also offers Help Forums to let you interact with other users. The forum is active. If you need direct help, you can call the team support, start a live chat with them or send them email. The phone lines are available only from 9 a.m. to 6 p.m. Eastern time, Monday through Friday. You don't need to wait when you contact them via live chat. The support agents are patient and helpful, assisting users to fix issue quickly. Their contact detail is displayed on the official website. You can contact them in any way you like. F-Secure Anti-Virus is solid and its customer support is awesome as well.


Video Guide On How to Get F-SecureAnti-Virus Special Offer
Conclusion
F-Secure offers an affordable and bare-bones antivirus program. The Anti-Virus program uses advanced detection and protection technology to protect your PC against aggressive, latest, dangerous and complex malware. The smart scanning tool is able to catch known and unknown malware timely. It allows you to schedule scans as you like. The hackers create and update malware constantly to ensure they can attack more devices that has confidential data every day. The good news is that F-Secure Anti-Virus supports automatic updates and has real-time response guarantee. The experts detect new threat timely with advanced malware-signature matching and database. They add news features to their software and your software will be updated automatically. You will be able to fight against the latest malware. Is this powerful security suite expensive? No. It offers affordable prices. The price is decided by how many devices you need to protect. You can protect as many devices as you like. If you sign a yearly plan for one PC, it is $39.99 USD. Your PC will be protected for the whole year. If you use F-Secure Anti-Virus discount code, you get extra discount. The intuitive user interface and thorough system scan and minimal system affect make F-Secure Anti-Virus a popular product. It is easy to install and it does not slow down your computer. The customer support is helpful. F-Secure Anti-Virus safeguards users' devices against viruses, spyware, ransomware, and other threats found on the web, downloads and emails etc. It is a product you can trust.


Published by & last updated on February 26, 2019 8:14 am