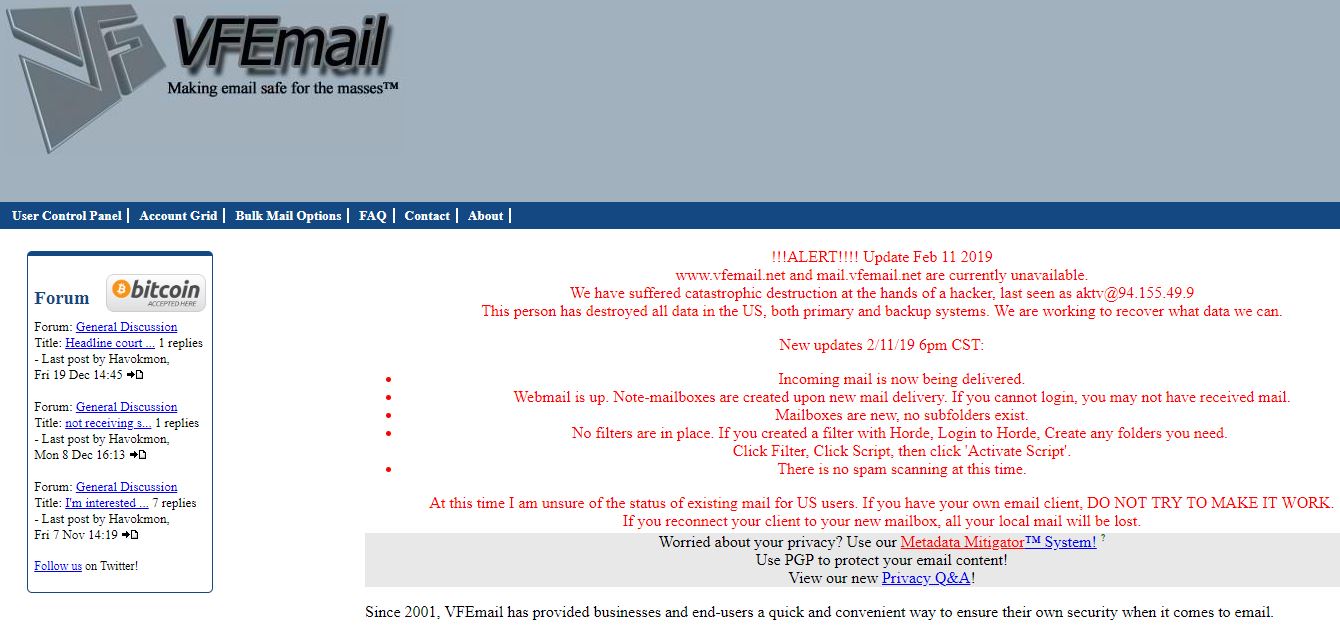 The well-known United States email provider – VFEmail – has suffered a brutal hack. Their servers, data as well as backups of almost two decades were permanently erased with no possibility to recover them.
VFEmail was started in 2001 by Rick Romero. It provides secure and private email services to companies and end users with both free & paid version. This "catastrophic destruction" caused massive data loss.
VFEmail.net tweeted, "Strangely, not all VMs shared the same authentication, but all were destroyed. This was more than a multi-password via ssh exploit, and there was no ransom. Just attack and destroy."
This attack took place on February 11. The hackers didn't ask for ransom or deliver any message. They destroyed its entire U.S. infrastructure and wiped up both the primary and the backup systems completely. The VFEmail team detected the attack when they noticed all servers for their service went offline suddenly. According to the company, they caught the hackers "in the middle of formatting its backup server" after two hours they detected the attack. It had been confirmed that "all the disks on every server" had been deleted. They deleted all mail hosts, virtual machine hosts, and a SQL server cluster.
It is unclear who was behind this destructive attack, but the company collected a suspicious IP address which appears to be registered in Bulgaria. According to Romero, the detected IP address most likely used a virtual machine and multiple means of access onto the VFEmail infrastructure to implement the attack. You may find your inboxes empty if you are an existing user.
At this time, the official websites have been restored and running. The company posted, "So far only a utility server has been salvaged, BUT I was able to rebuild an older backup server, so mail prior to Aug 2016 will be available once I figure out the best way to get it to the Netherlands."
In fact, it is not the first destructive attack. Hackers targeted and attacked many major and popular email providers in those years. To keep your data and device secure, you can sign up a VPN service, install security software or use a password manager. VPN creates encrypted and private virtual tunnel to deliver your Internet data securely. Most VPNs use military-grade encryption technology to secure your online session. You can view the list of the best VPNs. Hackers can use ransomware to attack your PC for money and other valuable information. A piece of reliable security software will protect you against dangerous ransomware, viruses and other malware. Norton by Symantec is a great product with high reputation. A password manager assists you to create strong & unique passwords for every account as well as manage all of them for you. All of your accounts will be highly secured. Dashlane is recommended as it is a reliable and secure product. Security and privacy are every precious at this Internet age.
Published by & last updated on February 18, 2019 3:38 am