Do you need a reliable web host to build a successful online presence? Have no idea which product you should choose? We are happy to test all the popular hosting services and show its review for providing information you need to know about the web host. Is NameCheap reliable? Is it cheap? Does it deliver fast page load? Will you have high uptime? Get the answer in this NameCheap Review.
About Namecheap
NameCheap is a privately-owned independent technology company with great brand values and transparency. Founded in 2000, it is a famous web host with high customer satisfaction. At the beginning, NameCheap only provided domain name registrars. Users get great domain name registrar at cheap price with this service. If you already have a website, this web host offers free migration for current sites. Since 2007, it expanded to provide hosting services as well. By now, it has over 10 million domains under management. It offers a wide range of hosting solutions, including shared hosting, VPS hosting, reseller hosting, dedicated servers, managed WordPress hosting and private email hosting. A large number of developers from different countries choose their hosting solution to run website and business. This web host utilizes advanced server technology from Dell, HP, and Supermicro to give you high performance and uptime. Your website will be available the vast majority of the time with NameCheap. The enhance datacenter efficiency brings pretty fast page load and your visitors will have great experience. Helpful website builder is offered, so beginners can start their projects easily. NameCheap provides solid hosting packages at friendly prices. It starts at $2.88 USD per month. During promotion, it offers up to 50% off on hosting plans. It is possible to get satisfied products at cheap price.


Shared Hosting
If you are about to start a new project, you are suggested to purchase a shared hosting plan. It is the most simple and affordable solution to launch your website. As your website is new, it does not require too much resource to handle traffics. Shared hosting plan includes resource you need and they are cheaper than dedicated ones. NameCheap offers flexible shared hosting plans. There are Stellar, Stellar Plus and Stellar Business plans to choose. All plans come with website builder and unmetered bandwidth. Stellar Plus and Stellar Business plans allow unlimited websites. Stellar is the cheapest plan. It lets you choose to be billed monthly or yearly. It costs $2.88 USD per month for monthly billing. If you purchase one year at a time, it costs $30.88 USD. The attractive prices have won lots of customers. When signing up the plan, you are allowed to choose US datacenter or UK datacenter. NameCheap uses Dell's state-of-the-art shared infrastructure to power your website, so you still can have great experience though you share resources with other customers on the servers.


WordPress Hosting
WordPress is a very popular effective platform that business owners, bloggers, and publishers use to maintain online presence. It lets you put your content online to promote a product or service without coding skills. It gradually becomes an important tool to develop online business project. WordPress platform makes everything to be easy to do. NameCheap offers managed WordPress hosting service. It uses the latest and true cloud technology to power your website, so your website will have the ability to handle visitor storms. To get started, you need to use the Softaculous app installer to deploy WordPress which only takes seconds. NameCheap's Softaculous app also helps you install third party apps and scripts. You are allowed to create new pages, edit & publish blog posts, adjust your website's visual appearance and conduct more activities after you log in your WordPress dashboard. There are thousands of themes and plugins to help you design a beautiful website. Beginners can update and maintain open-source applications smoothly. WordPress uses a database to store and organize all of your data safely. You can backup or restore posts, pages, site URLs and other data with one click. There is no need to worry about data loss. NameCheap WordPress hosting starts at $3.88 USD per month. It provides three plans, EasyWP Starter, EasyWP Turbo and EasyWP Supersonic. The packages allows up to 100GB SSD storage and 500K visitors/month.


VPS Hosting
NameCheap delivers solid VPS hosting solution with great reliability and speed.
The VPS plans are hosted on high-performance networks out of Phoenix. They use SSD drive storage as standard. No matter from where the visitors open your website, they can load the website page and download content at superfast speed. The VPS works like an independent physical machine that provides security and flexibility your website need. NameCheap uses hardware and software firewalls to secure your websites and data. The VPS hosting plan includes everything the shared hosting plan offers. Besides, you have access to all the features of a dedicated server while it costs less than dedicated hosting plan. NameCheap offers affordable VPS plans, starting at $14.88 USD per month. Based on your need, you can choose VPS Pulsar or VPS Pulsar plan. If needed, you are allowed to downgrade or upgrade the plan any time to adjust the resource, disk space and bandwidth requirements etc. The web host lets you choose among self-manage, half-manage and full-manage. If you are good at writing code, managing resources or conducting other technical activities, you can choose self-manage to manage server configurations, make backups and monitor your VPS by yourself. You will be able to choose the operating system, have reboot access, root access and the ability to do reinstall on the server. If you are a beginner and would like build up a successful website within a short time, you are suggested to choose full-manage. In this case, you only have Reseller access to the server configurations. NameCheap VPS allows you to enjoy abundant resources at lower cost.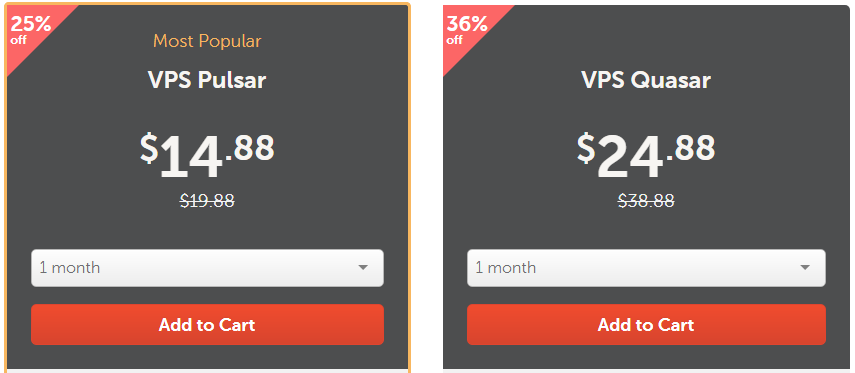 Dedicated Servers
Resources from shared hosting package can't meet your website's need any more? It's time to consider the dedicated servers. NameCheap offers affordable and competitive dedicated servers. All the dedicated servers are hosted in their independent datacenter and powered by leading-edge technology from Dell and Supermicro. That ensures that you always have continual high performance. It operates optimized network to ensure your websites have stable connectivity and enable you to troubleshoot quickly in case of any malfunctioning. If you purchase a dedicated server package, you have root access to all the resources of one physical server. It comes with optional security packages and maximum bandwidth. Your website's performance won't be affected by others because you are the only owner of the server. Dedicated servers are great options for developers or business owners who need to handle a considerable amount of daily traffic. Social media, video streaming and game sites etc. especially need dedicated server to deal with traffics at peak hours. With the development of your website, the number of visitors to your website will increase. Your website may crash for traffic storm without enough resource and storage. That can cause huge business loss. Dedicated servers give your website the ability to handle various types of traffics and get through peak hours without any problem. NameCheap offers a wide range of management options to let both new and experienced developers make use of dedicate servers effectively. If you are good at managing and configuring servers, you can save money by choosing the user-responsible. It is okay if you are beginner because the web host will take care of the job for you. NameCheap dedicated servers start from $82.88 USD per month. It is relatively cheap on the market.


Reseller Hosting
NameCheap provides reseller hosting service, allowing you to resell servers to make money. In another case, you can resell your domain names if you no longer need them before your contract expires. Simply list your domain names and price you would like to charge via NameCheap Marketplace using the fixed-price model. You are able to design the hosting package freely for your client with the resources you get from the web host. It has WebHostManager to help you create and modify unlimited accounts. It also supports unlimited domains and sub-domains. You can manage all the account with cPanel in one place. The accounts you create for your client work independently from your own accounts. There is no conflict to concern about or complicated configurations to do. This web host supports anonymous name servers. In this way, your privacy is well protected and others do not know you are reselling services. NameCheap gives you full priority support. The team support is always available to assist you with every aspect of the process, so you don't need to worry about tough technical issues. You can make money easily with less effort on your side. NameCheap offers three types of reseller plans. They are Nebula, Galaxy Expert and Universe Pro. They start from $16.99 USD per month. The most popular plan is Galaxy Expert.


Private Email Hosting
Namecheap offers private email which is a piece of cloud-based open-source collaboration software. It delivers secure and reliable solution for customers' web-based email needs. With NameCheap private email, you have Web-based access to your accounts, secure storage on its private cloud, tough anti-spam protection and abundant space. The private email plans come with powerful collaboration tools, extended capacity, full mobile support and other enterprise-level email service features. It offers Private, Business and Business Office plans. The price starts from $9.88 USD per year. NameCheap private email has a fast and intuitive webmail interface for you to manage the email, contact and calendar easily. You are able to create a public space in shared folders, monitor the availability of colleagues for participating in meetings, create & manage work schedules and perform more tasks to finish the job with your partners effectively. Your emails and data are stored and secured on their private cloud. You can communicate with your partners anytime without worrying about information leak. Besides, it allows you to manage multiple email accounts from different providers in one place. You don't have to purchase additional service to protect your privacy with NameCheap. This service helps both businesses and individuals to manage their emails in an advanced way. Every plan includes a 2-month free trial. If you can't decide if you want it, simply choose the 2-month trial from the drop-down billing cycle menu. During the two months, you can try every aspect of this service. At the end of the trial, you can decide to renew or cancel the account.



Domain Name
A memorable website name is a great tool to help increase your online presence. As your domain name carries your brand, professional reputation and public image, you need a reliable domain registrar. NameCheap has a solid reputation as a domain registrar and it is a great choice. It provides in-demand and recognizable domain names and the number of domain names keeps growing. Lots of domain extensions are available. No matter you need domain names for your personal or business website, it gets you covered. How to create a unique domain name to attract visitors to open your website? You need pick a short and easily pronounceable domain name to let your client remember your website without effort. You can add your brand or key words of your service to your domain name for giving Google good impression. In this way, your website will rank high on search engines and have more chance to be viewed by visitors. NameCheap is famous for its reliable and cheap domain name register plans. You need to check if the domain you like is still available before purchasing it. Different domain extensions come at different prices. You can purchase a domain name as low as $ 0.88 USD per year. Domain name with .com extension costs $8.88 USD per year. If you would like to transfer your domain name to NameCheap's server, it helps you migrate data for free, and most domains include an extra year of registration added during the transfer process. NameCheap domain name service is surely recommended.


WhoisGuard
NameCheap provides WhoisGuard which masks your personal registration information in the publicly accessible Whois database. When you purchase and register a domain name, your personal information, such as address, email and phone numbers are available for everyone in the public WHOIS directory. Spammers, advertisers, frauds or other parties can make use of the private information to send you unwanted and malicious programs or access your precious data. Luckily, NameCheap's WhoisGuard hides your privacy and prevents malicious access to your domain. Others only see that your domain is already hosted and no more personal information is available. It is worth to mention that it is a lifetime free offer with every eligible Namecheap domain registration.


Website Builder
NameCheap's drag and drop website builder enables customers to build a professional-look website quickly. It does not require special skill when you start your project with this web host. The website builder lets you use add-ons like social media and payment options on your website. You can install third-party scripts and applications for E-Commerce. There are about 200 fully-equipped website templates for you to choose. The website templates are categorized into Business, E-Commerce, Personal, Entertainment, Technology and Social etc. They will save you lots of time on doing complicated configuration. The website builder adjusts the layout to all devices automatically. No matter your clients use a desktop, tablet or smart phone to browser, they always get the best view. You also are allowed to add videos from YouTube, Vimeo and Google Maps etc. to design a unique website. The website builder is available in 45 languages. Simply pick your favorite language. This website builder is very helpful.


Customer Support
It will be great to know the support team is always available for you when things spin out of control. NameCheap provides 24/7/365 support via live chat and email. No phone support is available. You can start a live chat or submit a ticket anytime if you have issues in using the service. If you need instant support, you should use the live chat. The support team are very helpful and patient. Feel free to contact if you have any problem or confusion about the service. Besides, it has comprehensive knowledge base and active forum where you can find solutions to your problem easily. You can communicate with other users and share experience on their forum. NameCheap also has a great FAQ platform with useful answers to most common problems users run into. Don't worry if you meet any problem, their support team is always available for you.


Video Guide On How to Get Best Namecheap Deal
Conclusion
NameCheap is an all-in-one website solution. On this platform, you can register your domain, host your website and buy any necessary add-ons. It utilizes advanced server technology, SSD drive storage to achieve high uptime & performance and fast page load.
If it takes long time to load your website, the visitors may bounce off before they've seen anything. NameCheap servers offers high speed and delivers great user experience so they'll want to come back. Their datacenters are located in North America and Europe. The worldwide datacenters offer a solid global reach and speed up your website for certain portions of your traffic. We suggest you choose a datacenter location which is closest to your website visitors for best possible visitor performance. It is a customizable service. You are allowed to upgrading your hosting package any time when your traffic has been steadily increasing. There is no need to wait until your billing cycle ends. There is no complicated process to go through. Simply submit a billing request with your current account details and tell the plan you want to upgrade to. The affordable price attracts global users. The domain name register starts from $0.88 USD per year. They accept payment via credit cards, PayPal, Dwolla and Bitcoin. Start your project with NameCheap and you won't be disappointed.

Published by & last updated on December 12, 2018 6:02 pm