Are you planning to build a website for your business? Websites become important for business as they help build impressive and useful online presence for people and companies. Can't decide among the various web hosts? To give you useful suggestion on selecting hosting services, we tested all the popular web hosts. We will show you the services with reliability, high performance, reasonable price and high uptime. 1&1 IONOS Web Hosting is one of the recommended services. Lean why it has high reputation in this 1&1 IONOS Web Hosting review.
Why 1&1 IONOS Web Hosting?
1&1 is the biggest European hosting company. Now, they united 1&1 hosting company and ProfitBricks, the German cloud infrastructure solution specialists, providing one-stop-shop for customers to get a website online as efficiently as possible under the new name of 1&1 IONOS. ProfitBricks were acquired last year. 1&1 has been in business for over 26 years. It has servers in 10 different countries including Germany, Spain, the United Kingdom and the United States. This company offers products to companies, agencies, institutions and private individuals, and it currently holds over 15 million customer contracts. They deliver outstanding services with the combination of innovative features and affordability. 1&1 IONOS offers transparent prices and flexible tariffs. There is no hidden fee.
Their products including Web hosting, cloud hosting, dedicated hosting, WordPress hosting, website builder, domain names, professional email address, SSL certificates and Norton security online etc. come with excellent uptime and reliability. To make your website fasters and more secure, they utilize advanced technologies to ensure top levels of performance. A large number of customers like bloggers, web developers, students and start-ups choose 1&1 IONOS as it is easy to understand and operate. Customers can build a professional-looking website by using 1&1 IONOS MyWebsite within minutes, and it does not require tech skills. If you have any problem or confusion, their tech support is always available for you.


Scalable Performance
1&1 IONOS products bring scalable performance, allowing you to build and upgrade your websites effectively. On one hand, the provider allows SSD storage on all cloud, dedicated and VPS plans. The combination of cloud hosting and SSD storage will greatly improve speed and reliability. It is because the solid state drive uses flash memory while traditional drives lack a mechanical disk that could fail. On the other hand, it has RailGun CDN which scatters your websites to over 60 data centers throughout the world. Likewise, the web server and storage are on the same platform. In this way, your websites will be loaded fast from anywhere and your visitors will have higher performance. 1&1 IONOS enables your websites to handle different types of traffics by allowing you to scaling up RAM, memory or parallel processing capabilities instantly. When you expand your infrastructure for increasing resources demands, the provider makes it easy to integrate seamlessly into your existing environment without affecting your websites in bad way. The scalable performance ensures your websites won't suffer crash during peak hours and the Internet request will be processed quickly. You can develop successful websites stably.

Web Hosting
Would like to create a successful online presence? You need the provision of storage space for a website by 1&1 IONOS hosting provider. Its web servers run the HTTP/2 network protocol with multiplexing and utilize header compression for SSL encrypted traffic to achieve fast page load times. This service supports dual platform technology to ensure visitors to your websites have faster performance from anywhere. When you purchase a 1&1 IONOS web hosting package, you will get a free domain for the first 12 months. This web hosting service allows you to choose between tariff options. You can decide how much you want from a fixed framework of IT resources including processor power, RAM and storage space for your web projects. That ensures you have enough resources to suit your websites' demand and don't have pay the ones you don't need. With 1&1 IONOS web hosting, your websites can be distributed to over 60 data centers and can be accessed easily and quickly from different countries. That is very important if you would like to show your websites to the global market. The provider uses the latest version of PHP with a 768 MB memory limit to make your websites faster and more secure.
When you design your websites, you can upload and crop photos, link and other contents inside the blocks. If you would like more creative content, there is a fantastic built-in photo editor for you. It will help you design the contents to look professional and highly fix the template. You don't have to install other software to achieve this goal. To enable green hands to get started smoothly, 1&1 IONOS provides step-by-step guides of the whole process of website building. It is a great tool to deliver your professional web presence at low cost.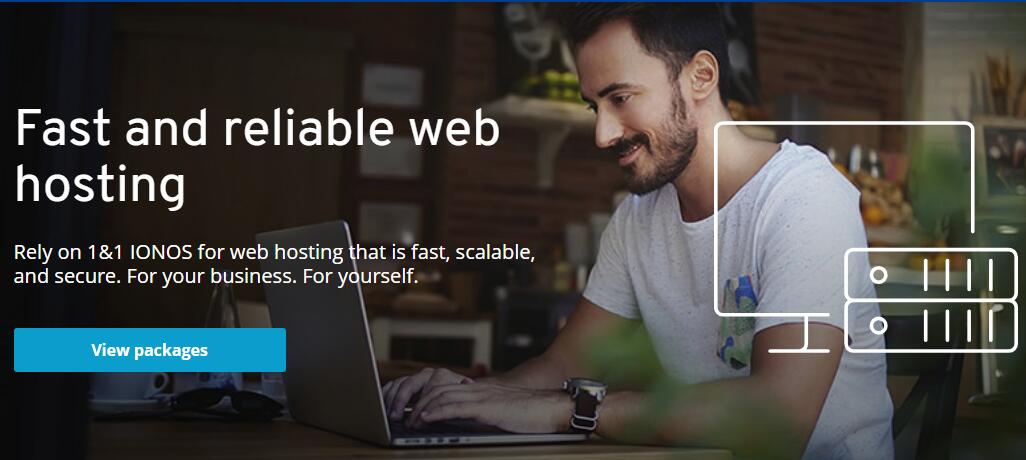 Cloud Hosting
If shared hosting solutions do not satisfy your need, you can switch to cloud Hosting as it provides dedicated resources including processor vCores, memory, and SSD storage. 1&1 IONOS cloud hosting provides a range of instantly deployable applications including WordPress, Drupal, and Joomla. They are powered by cutting-edge technology and high-end hardware, offering impressive performance. The provider allows you to adjust your vCores, RAM, and storage freely to suit the increasing demand of your website or application. You can start and stop cloud hosting project at any time. It provides user-friendly Cloud Panel to let you launch projects, create custom stacks, and scale resources with few clicks. The provider tracks usage and billing down to individual minutes, and you won't be billed if you don't configure any resources. It lets you have a look at the overview of your spending and the charge is transparent. To start your project with 1&1 IONOS cloud hosting service, you only need to select your web server, scripting language and database to create your custom stack. The provider will take care of the infrastructure, operating system, software updates and more.

Dedicated Servers
If you need root access and would like to configure the server yourself, dedicated hosting package gives what you need. You can own the performance of an entire server, and you won't have to share processing power or bandwidth with other customers. 1&1 IONOS network offers unlimited traffic and up to 1 Gbit/s connectivity, your website will have superb performance and high workloads. It supports dedicated hardware to grant your website the capacity to handle large numbers of users simultaneously. Data will be proceeded instantly and smoothly even at peak hours. No server admin is required to enjoy the benefits of dedicated hardware because the provider simplifies the service to let you focus on developing your project. To manage your dedicated hosting package, simply navigate to their Control Panel which is intuitive to use.
1&1 IONOS offers awesome dedicated hosting package with advanced hardware and technologies. You have abundant resources at friendly price. Compared with similar products on the market, 1&1 IONOS dedicated hosting package is very cheap.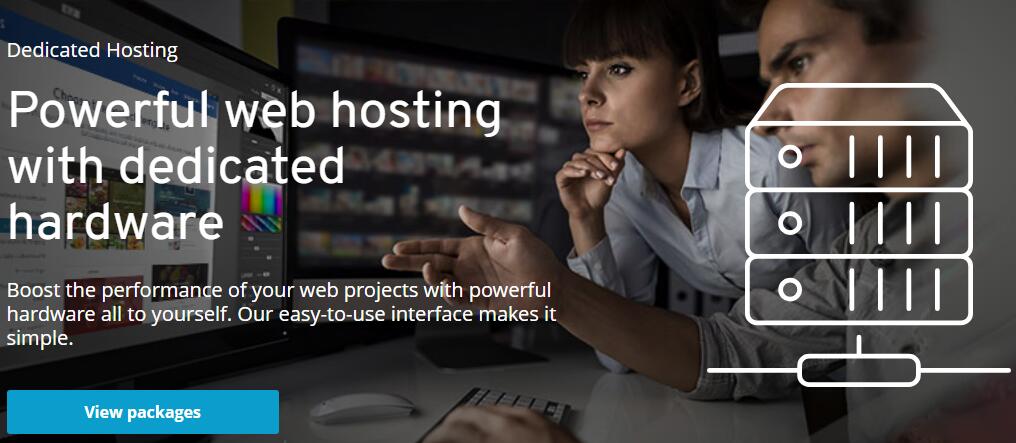 WordPress Hosting
WordPress is the most common web-publishing platform that helps developers promote products effectively. 1&1 IONOS offers full-featured package to make WordPress faster, easier, and safer. The provider offers CMS to allow you to design, manage, and publish blog articles or website content easily without any problem. Most WordPress packages include a domain for one year free of cost. Verified SSL certificate and a sufficient number of email inboxes are included in all WordPress hosting package. They utilize fast and reliable SSD drives to store your files and databases, ensuring secure and fast access. How to get started with 1&1 IONOS WordPress hosting? Firstly, choose your domain. Secondly, install WordPress. Simply follow the step-by-step instructions to go through the installation process. Finally, create an admin profile. As the most important plugins are pre-installed, there is no complicated configuration to do. After you finish the three steps, the provider will take care of the technical and server-related issues. They will handle the maintenance and security, and keep the technical infrastructure up to date for you. You can choose from various free design templates and make your websites more professional with the WordPress Assistant. Besides, 1&1 IONOS has brilliant built-in SEO tools that assist you to give Google all the information it needs to attract more visitors to your websites. Your blogs always rank top at Google search engine. If you have technical issues when using the services, contact them any time. They are 24/7 available. 1&1 IONOS also offers fantastic unmanaged WordPress hosting package. With this page, you will need to log in to your blog regularly to make sure your theme and plug-ins are up to date.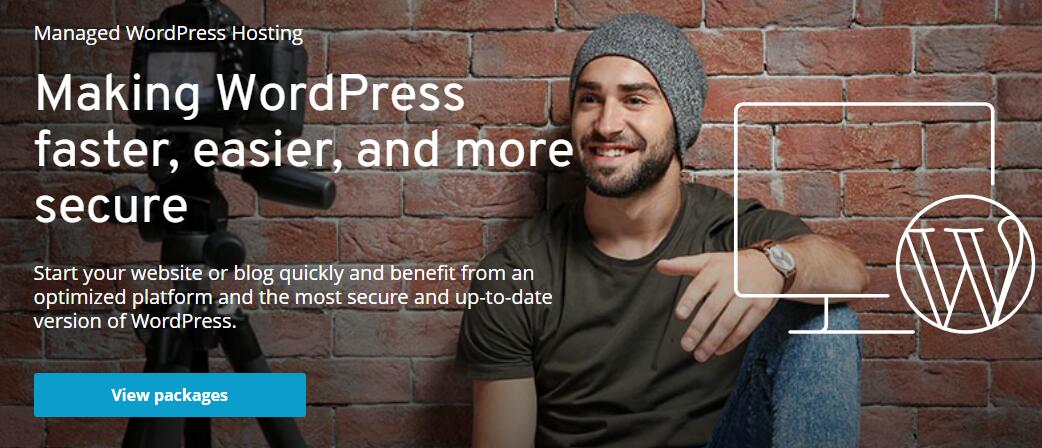 Domain Registration
A domain is an Internet address that leads to a web server. A great domain will help you a lot in developing a successful website because your domain is your business card on the Internet. The domain you choose should be distinctive yet simple to give visitors deep impression and make them remember your websites easily. 1&1 IONOS offers a vast number of domains and gives you practical suggestions on creating a memorable domain. It enables you to register a domain privately without leaving personal information on the web. You won't be bothered by information leak. You can create a domain based on your brand or your product. With a successful brand, your websites can deliver various products and services. Visitors can remember and share your brand easily. If you create unique page addresses, they will give Google a much better idea of what that page is about so as to gain high ranking in search engine. Now 1&1 IONOS also let use create "nested" page addresses by adding slashes. That will include more detail information of your business. This service allows you to register a domain for up to 5 years. You can focus on developing your project and don't need to pay attention to the contract for a long time. There is a redemption period that ensures your domain won't be registered by other customer at the moment your contract ends. When you register your domain name with 1&1 IONOS, you will one year of free domain. After the first, it costs $15/year if you choose .com. If you would like to use your exiting domain, the provider allows you to transfer it to their platform.


Website Security
1&1 IONOS solid security features to keep your websites safe while maintain high performance. No matter which package you buy, you will get the best security certificates. Every package comes with one free Wildcard SSL Certificate which is the same level used by leading banks. The SSL certificate secures all information transmitted to and from your website and protects them from third parties attempting to access it. SSL encrypted traffic will not cause slow page load time because they run HTTP/2 network protocol with multiplexing and header compression for encrypted traffic on their servers. Additional features are included in Pro and Expert packages. SiteLock is the useful tool which scans your web applications to identify and eliminate any vulnerability that could be exploited, protecting you from any possible threat. It checks for SQL injection risks, identifies weaknesses allowing for cross-site scripting attacks and monitor servers and connection for malware. It also is able to check if your website has been added to search engine blacklists or marked as insecure to drive away your visitors. Possible reasons and related solution will be given if you have one of the problems.
Besides, the provider verifies SSL certificates constantly to ensure your websites always are secured. They monitor for file changes constantly to detect suspicious activities and stop potential security holes in time. They also provide automated pen testing, automated source code testing and PCI-compliance solutions to let you handle website security with less effort. In addition, they offer DDoS protection to defense your website against incoming attacks and keep your visitors safe on the websites. To avoid data loss, it automatically stores backups of up to six days of data. You may forget to backup or store changes of your data regularly due to busy stuff. 1&1 IONOS will take care of backup and allow you to recover files from restore points in case you deleted data by mistake or lost data due to unexpected change.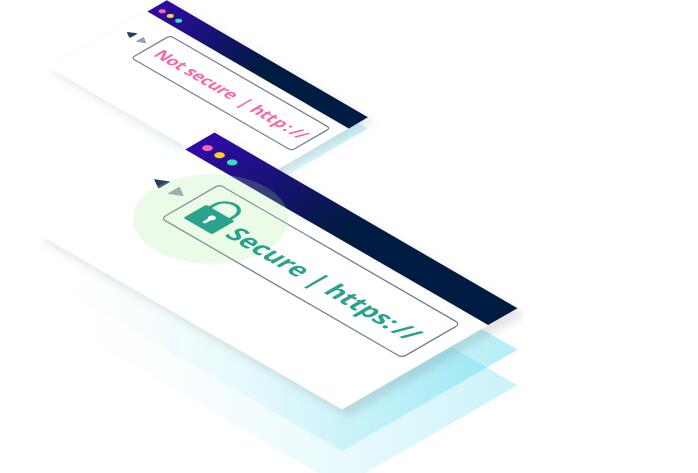 Flexible & Efficient Management of Load Peaks
On the market, many websites and products are only needed in certain seasons of the years. They can be very popular at spring and face low traffic at autumn. Therefore, many customers do not need big computing power all year round. Flexible package is needed while many hosts do not take it into consideration. Many organizations are forced to purchase expensive hardware simply to cope with load peaks while they don't need it at most time. They have to invest much more than they should. If they run their websites without these costly purchases, it runs the risk of outages. They can miss many chances to promote their business. 1&1 IONOS's cloud computing can help those companies get rid of this dilemma. It supports fixed framework and allows you to decide the amount of resources you need at your will. You can configure the processor power, RAM and storage space to suit your growing websites at reasonable cost.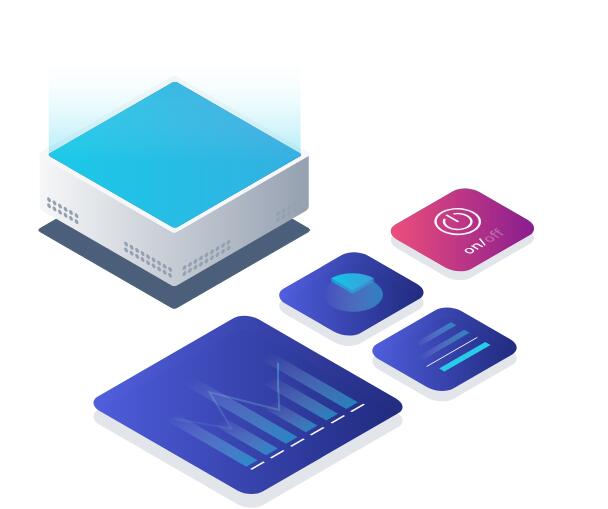 Easy-to-Use Service
1&1 IONOS products come with intuitive control panel and do not required special skill to operate. You can view a list of every server with specs you have if you purchase dedicated hosting. Users who are less experienced in web hosting can get started with 1&1 easily. The provider offers a wide range of industry-specific templates and layouts to help you start your website. There is an extensive catalogue of powerful applications and tools for you to improve your project. You only need to choose what you like and the provider takes care of the necessary configurations for you. For experienced customers, there are advanced site features such as automated widgets and HTML support. Their ecommerce and business tools are very helpful. To help customers resolve issues instantly, 1&1 IONOS provides customers round-the-clock support. Their support team can handle various tech support needs and billing issues quickly. You can send them an email, give them a call or use the live chat button. After you send them an email with support request, you will immediately receive an email like this "Thank you for your recent e-mail. We expect to answer your email within the next 12 to 24 hours." You need to wait for a period of time to receive the email with solution. Phone support is available 24/7/365 and you need to provide your 1&1 IONOS customer ID to get phone support. The support agents are very helpful. If you are not a customer and have confusion on their products, you can start a live chat with them. Besides, you can see a series of articles and how-to videos on their support center. Guides to everything from connecting domains to adding new pages are available. The instructions are clear and shown with videos and screenshot. They are pretty useful to help you get started.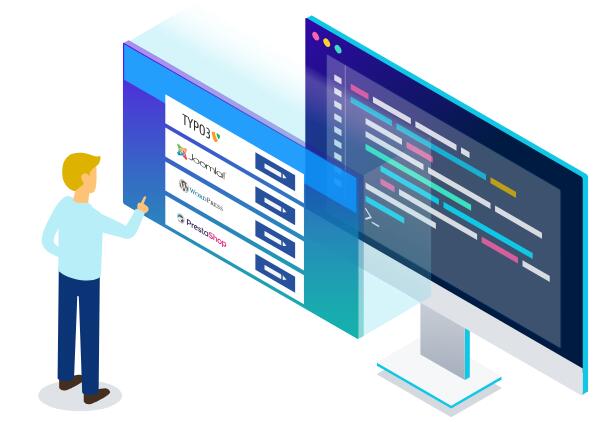 Video Guide On How to Get 1&1 IONOS Web Hosting Special Offer
Conclusion
1&1 IONOS is a fast and reliable web hosting that has been trusted by a huge number of companies and individuals. If you seek for low-cost and reliable hosting, easy email setup, domain transfers or website building, it is a great choice you should consider. As an experienced provider, 1&1 IONOS offers tailor-made service for website design, helping customers design a creative and professional websites based on different environments and needs. The scalable web hosting service allows you to choose suitable package to your website and save money on unnecessary resources. Powerful security features are available to safeguard your data and your IT infrastructure. Wildcard SSL Certificate and SiteLock safeguard your website traffics, protect your data and prevent malware and other potential threat. New CDN and DDoS Protection also are supported. The provider stores your data among the most secure systems with strict data regulations and offers Geo-Redundant Datacenters to achieve fast page load time. 1&1 IONOS also allows unlimited domains, emails, databases and apps, and has 99.9% uptime guaranteed. The preinstalled app templates, specific WordPress hosting packages, customizes site building tools, Internet marketing tools, E-commerce resources and more tools are provided to assist you to build a professional websites in no time. Want the best-in-class cloud infrastructure? Get 1&1 IONOS hosting packages. They offers affordable prices and support discount coupon. The billing is based on resource usage instead of a fixed monthly billing method. You won't need to pay on unnecessary resources. Besides, 1&1 IONOS has friendly cancellation policy. It allows you to cancel your subscription at any time without paying extra fee. It also has 30-day money back guarantee. Give 1&1 IONOS a try. It is a risk-free service.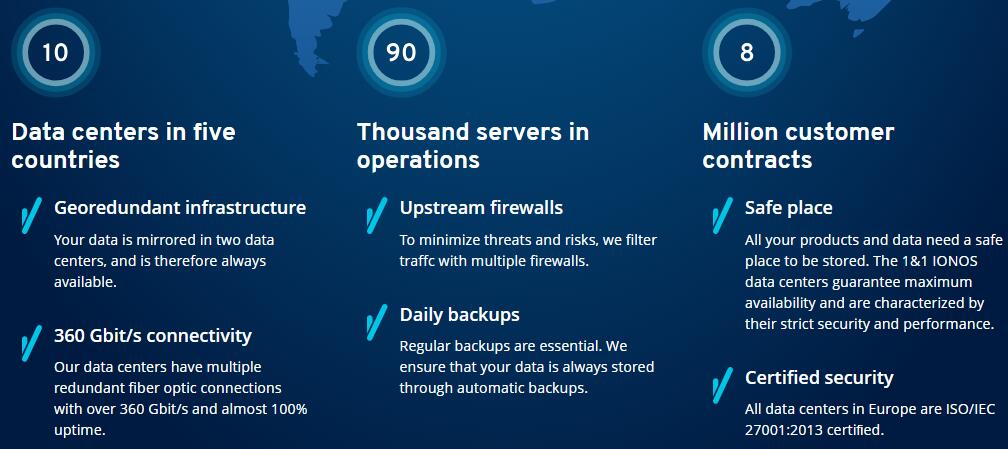 Published by & last updated on February 21, 2019 8:27 am