Are you struggling with remembering long and complicated passwords? Sticky Password delivers a simple and straightforward solution for securely storing passwords, login detail and other important information. The provider offers affordable price as well as sweet discount. With discount coupon, Sticky Password Lifetime account only costs $74.98 USD. Would like to save big? Learn more about Sticky Password Lifetime discount coupon to get $75 off in this article.
Introduction to Sticky Password
Sticky Password is a user-friendly and feature-rich password manager product. As a password management, it generates strong passwords for all of your accounts. Instead of remembering a dozen of passwords, you only need to keep the master password which is the key to unblock your account. It supports state-of-the-art biometric authentication to let you log in with fingerprint scanning. It safeguards your passwords with advanced encryption technology and organizes them well in data vault. You are allowed to sync them across different devices so that you can access them from anywhere. The manager also lets you add personal information. It offers convenient and encrypted memos for all your sensitive information, and prevents phishing and key logging attempts. To meet different needs, it offers options to choose between cloud-based and local storage. Your stored information can be used by the auto form filler to let you save time in typing the same personal information again and again to fill various web forms.


Pricing & Coupon Discount
Not like other products, Sticky Password does not offer many packages. It only has yearly and lifetime license. The yearly license was $29.99 USD per user and now is $14.99 USD. If you don't know how long you would need to use this product, the yearly plan is flexible and should be your choice. You only need to pay $14.99 USD for the whole year and you can save $15.00 USD on Sticky Password yearly plan. If you refuse to renew the account every year, pick the lifetime account. Sticky Password provides one-time payment for a lifetime license which is very convenient. When it comes to lifetime account, you may think it is very expensive. In fact, this license was offered at $149.99 USD. Currently, the provider offers a big discount. It is 50% off and costs $74.98 USD per user. You will save $75.00 USD in total. It is the best deal. If you need a license, it is the very right time to purchase. This offer is time limited. Don't miss this chance to get the biggest savings.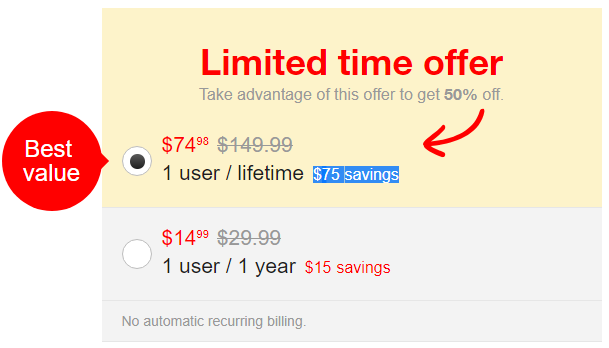 Why Not Using Browser to Store Login Information?
When talking about password storing, you may think that the browser can store passwords for and it's free. In fact, they are different things. Let's take Sticky Password as an example. First of all, its job is not simply storing your passwords. It generates new uncrackable passwords and upgrades existing passwords for you. This manager offers to save other valuable information, allowing you to auto log in websites and fill forms with one click. Besides, it locks your account with master password which is not stored anywhere but only in your mind. The stored data will be encrypted and others won't be able to view or steal them. If you store bank account detail on the browser, anyone who sits in front of your computer screen has access to your financial information through your browser. Hackers also can access them by corrupting your system with malware. If you use browser to store passwords, you have to add all the passwords manually every time you use different browsers. Sticky Password lets you sync logins information across different devices and systems. Password manager defeats browser in many ways and it is a practical tool for Internet users.


Password Management
Like using other service, you need to create a Sticky Password account before you use it. A master password is required to secure your account. You are the only person who has knowledge of the master password. The provider does not store it. If you forget this password, you can't find it back from the provider. It does not offer options to reset the password either. Your account is completely under your control. After you create the account, it invites you to import passwords from browsers. Data from mobile devices or others manager products can be imported in CSV format. The passwords will be divided into web accounts and App accounts. They are organized in alphabetical order and you can find them easily, or you can use the search tool to locate them instantly with key words.
Once you import the information, it checks and scores your existing passwords. From there, it shows clearly that your password is weak, normal, or strong. It offers to strengthen them with few clicks. When you are about to create a new online account, its password generator creates super strong and random password for you immediately. The passwords will include various characters and are almost impossible for human to guess. Do you concern that you can't remember the complicated and long passwords? In fact, the manager will remember all of them for you. Anytime you need them, simply log in your Sticky Password account.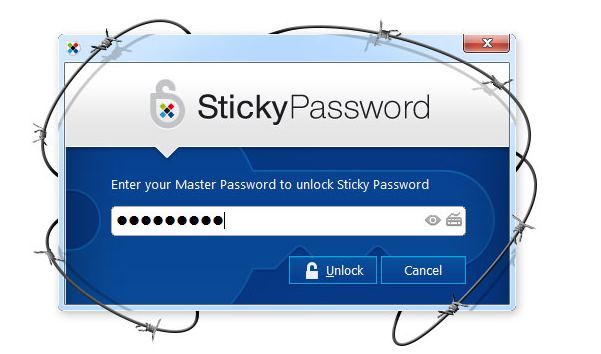 Unbeatable Protection
Is it secure to store passwords on Sticky Password? Can Sticky Password protect you against information theft? The answer is "Yes." Sticky Password utilizes the world's leading encryption standard AES‑256 to secure your stored passwords and other information. Many government organizations use the same standard to protect their confidential database. When you use the password manager, your devices and passwords will be secured by military-grade encryption both locally and in the cloud. As we mention, the provider lets you choose to store data on your device or on the cloud. If you refuse to let your passwords leave your device, store them locally. If you are oaky with sending them to the provider' servers, choose their servers. Their servers are encrypted and the company has zero-knowledge privacy policy, so your data is safe and private.
Besides, Sticky Password supports two-factor authentication to add another layer protection to your data vault. Every time you need to unblock the data base, you have to provide an additional unique security code from your mobile device after entering the master password. In this way, the hackers still can't access your account even though they grabbed your master password. To activate it, you need to install Google Authenticator on your mobile device. Besides, you can use fingerprint authentication instead if your device has Touch ID. To prevent your competitor from snooping at your sensitive files, make sure your computer is locked when you walk away. What if you leave the office in a hurry and forget to lock it? Let Sticky Password helps you. It allows you to set time for auto lock. You can choose from 1 minute of computer inactivity to up to 60 minutes of inactivity. It is suggested to set shorter time to reduce the chance of information leak. You need to go to Menu, look for Settings and click Security to set the time. With Sticky Password lifetime account, all of your precious information always are highly protected. It only costs you $74.98 USD per user. It is worth every cent.

Personal Information Auto-Filling
In daily life, we need many kinds of personal information to proof ourselves to conduct many activities. We may need ID to book ticket, social security account to receive money, driver license to deal with accident and shipping address to deliver package etc. Do you have to write them down and carry the note anywhere? Have difficult in organizing personal information? Import them to Sticky Password account. The manager lets you store any information you want. You need to select Identities and add Identity like ID, email and more. The stored information will be used to fill form automatically with your permission. When you make payment, it fills blanks like email address, phone number, shipping address, and credit card account etc. When you register a website, it helps you creates passwords as well as finish the long form. It makes everything easy. Every time you fill web form with new information, it will inquire whether you want to store the provided information as an Identity. If you agree, select the Add option and the information will be saved automatically. Next time you fill form online, the information will be available in the existing data and can be used directly. If you have multiple accounts on the same platform, it lets you choose a different name, email address, billing addresses, postal code and credit card numbers. You also are allowed to save contact and address information for other persons, such as colleagues and business partners so as to help them register or handle affairs easily.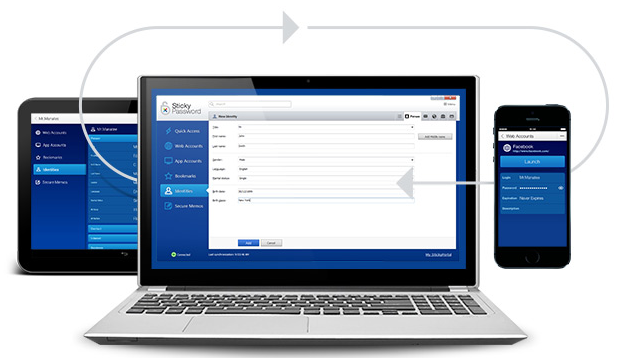 When you open your favorite website, Sticky Password is able to recognize it and automatically loads username and passwords. Simply click on login, you can use your account directly. When you need to type in some information like credit card password, it lets you turn on a virtual keyboard to prevent other snooping at your valuable information. The auto-fill feature only works on secure website. It does not match your personal information on phishing or suspicious platforms. The criminals can't make use of this feature to steal your precious information. It helps you save time as well as protects your information from phishing attacks. When fill form offline, this password manager assists you too. From the client, you will see Quick Access section which lets you quickly import or export information copied onto a removable flash drive, create new password accounts, add an identity tag with all necessary details and draft a secure memo without having to navigate to related respective tabs and have a look at the Security Dashboard where the weak and reused passwords are checked and evaluated. You will be able to locate wanted data and use them on any platform instantly. Being tired of entering the long and complicated forms again and again? Get Sticky Password lifetime license at 20% off to save you from this annoying stuff.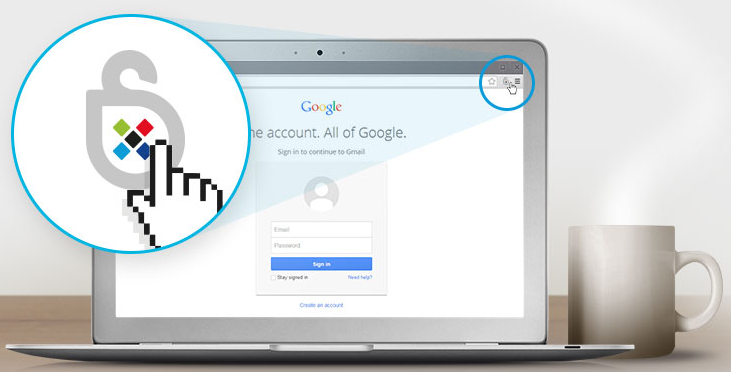 Easy-to-Use Service
Sticky Password has a user-friendly, feature-rich interface which is very welcomed by password manager novices and tech-savvy users alike. No matter you are old or new manager user, you will be able to manage security, use password generator, determine the on-device database and backup folders, locate needed data and import or export login credentials easily without any problem. Sticky Password is fully compatible, working on PCs, Macs, Android/iOS tablets and Smartphones. Its extension works with a dozen different browsers including Google Chrome, Mozilla Firefox, Microsoft Internet Explorer and Apple Safari, Comodo Dragon, Opera and Pale Moon etc. No matter which browser you prefer, Sticky Password gets you covered. There is no need to worry about software installation and setup. The instant setup lets you finish the job within several minutes. During the setup, you need to create an account with a master password, import saved passwords from a chosen browser or others products and go over syncing. As soon as the setup is finished, you will see a tutorial pop-up window. You can choose to move forward by clicking through the tutorial or following the video in tutorial library. They provide a well-detailed FAQ page with the commonest and most important questions answered. You will be able to find a complete user manual as a downloadable PDF file on their website. The guides are very easy to understand and specific enough to follow. If you have any problem in using their product, contact their support. Sticky Password offers 24/7 online support and the staff can only be connected directly via an inquiry form. That is rare in password manager market. Besides, you can contact them via social media platform like Facebook or Twitter page. You will get useful and instant support from Sticky Password.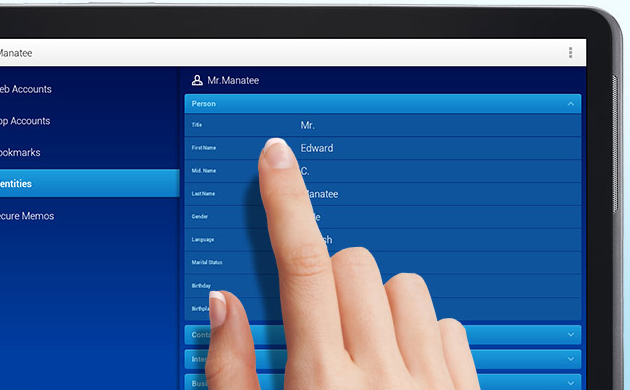 Top 5 Best Password Managers In The World
| Brands | Key Features | Support Platforms | Offers | Price(USD) | Official Website |
| --- | --- | --- | --- | --- | --- |
| | Get more details on Dashlane Review | Windows, Mac, iOS, Android, Linux, Chrome OS, watchOS | Offers Free Version | $39.99/Year | Best Choice |
| | Get more details on RoboForm Review | iOS, Android, Windows, Mac, Linux, Chromebook | Offers Free Version | $23.88/Year | View Deals |
| | Get more details on LastPass Review | Windows, Mac, iOS, Android, Linux, Chrome OS, Windows Phone, watchOS | Offers Free Version | $24.00/Year | View Deals |
| | Get more details on Sticky Password Review | iOS, Android, Safari (Mac), Chrome and Firefox (Mac and Windows) | Offers Trial Version | $14.99/Year | View Deals |
| | Get more details on LogMeOnce Review | Windows, Mac, iOS, Android | Offers Free Version | $12.00/Year | View Deals |
Conclusion(Sticky Password Lifetime Discount 2019: Get $75 Off)
Sticky Password is a feature rich password manager. It simplifies and secures your digital life. For security, never use simple passwords or reuse one single password for all accounts because simple ones can be cracked easily and reused password can cause massive compromised accounts due to one password leak. Don't know how to create strong passwords and always forget different passwords? We can tell you that there is no need to remember dozens of different passwords. Sticky Password enables you to create super strong passwords without straining your brain. Likewise, it memorizes and stores them in encrypted data vault. You are able to add your profile and identity information for quick access or form filling. It loads your login detail, saving you from typing username and password over and over again. When you are logged in to Sticky Password account, it has the ability to automatically fill in web forms for you. If you store your credit card numbers or other financial information, you can make use of the express checkout when you're shopping online. Don't worry about the security of your passwords or other valuable information as Sticky Password utilizes AES-256 encryption to safeguard your data vault. They are always encrypted both on the device and during cloud syncing and backup. The criminals have no chance to steal information. Sticky Password is popular not only because it offers all features users need, but also because it is offered at friendly price and lifetime account is available. As password manager play a very important role in our digital life, users are in need of lifetime account of reliable service. Sticky Password lifetime license is what you need. If you want an account, it is the very right time because big discount is available on Sticky Password lifetime account. It was $149.99 USD per user. Currently, it is 50% off and $74.98 USD per user. You get saving of $75.00 USD in total. Get Sticky Password Lifetime Discount Coupon 50% off now.

Published by & last updated on July 3, 2020 8:08 am