As the number of macOS-centered attacks is growing steadily, more and more users seek security software for their Macs. Selecting a proper security program is not an easy job. You need to consider it in many aspects to get the best antivirus software for you Mac. Don't know which one is suitable for you? Can't decide between several products? Reliable review written by experts would help. Our experts have tested numberless of antivirus software to sort out the most reliable and useful ones. Intego Mac Security is one of the recommended services that offer full features and decent functions. Learn if it is what you need in this Intego Mac Security review.
What is Intego Mac Security?
Intego Mac Security is one of the favorite security services for Mac. It delivers security solutions to defense users against viruses, Worms, Trojans, Ransomware and other forms of malware online and offline. Intego products are designed with simple user interface while it contains all features that users expect from a security product. They have received dozens of awards from Mac magazines around the world. Intego has done a great job in helping users prevent and remove all kinds of known and unknown PC threat. It has high-performance antivirus scans with a light footprint. It is a great option to keep your Mac free of viruses.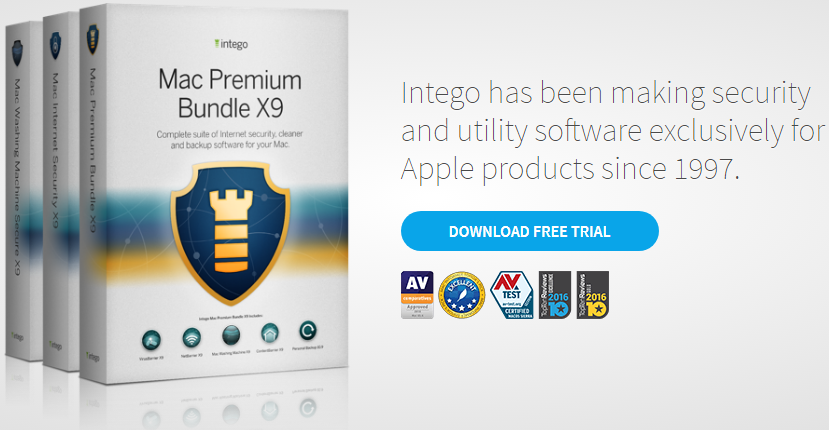 Products & Pricing
Intego offers multiple security packages to meet users' different needs. According to your need, you can purchase products for home or business. For home use, there are Mac Internet Security X9, Content Barrier Secure X9, Washing Machine Secure X9 and Mac Premium Bundle X9. The provider updates their products regularly to fight against the changing malware, and those products are the latest versions at this time. For Business use, you can choose from Flextivity Secure, Flextivity Monitor, Flextivity Complete, VirusBarrier X9 and NetBarrier X9. You will get industry-leading real-time protection from Mac malware and viruses as well as manage your team effectively.


Mac Internet Security X9: $39.99 USD for one year and $74.99 USD for two years for one computer
ContentBarrier Secure X9: $59.99 USD for one year and $114.99 USD for two years for one computer
Washing Machine Secure X9: $55.99 USD for one year and $99.99 USD for two years for one computer
Mac Premium Bundle X9: $69.99 USD for one year and $129.99 USD for two years for one computer
Flextivity Secure: $42 USD /yr per computer
Flextivity Monitor: $102 USD /yr per computer
Flextivity Complete: $144 USD/yr per computer
VirusBarrier X9: $179.99 USD/yr for five computers
NetBarrier X9: $89.99 USD/yr for five computers

Why Choose Intego Mac Security?
Intego is a leading company which has rich experience in Internet security. It has been committed to Apple products since 1997. Their Security products are good at protecting the privacy and security of the data of their clients, associates, suppliers, and website visitors. You will get comprehensive antivirus, anti-phishing and anti-spyware protections, thus avoiding virus infection, scam and information leak. It gives you real-time firewall network protection, so you can check email, make online transactions and share confidential information safely both at home and on the go. The security products also protect your privacy when you browse or shop online. The snoopers won't be able to monitor or collect your sensitive information. They even give you parental controls with website and application blocking to give your kids a safer network. Intego security supports secure personal backup to let you recover data quickly and easily in case of a crash. The Mac Cleaner effectively speeds up and organizes your Mac. You can always enjoy the high performance. The great quality and ease-of-use of Intego software make it very popular among Mac users. Give Intego Mac Security a try and you will know why people love it.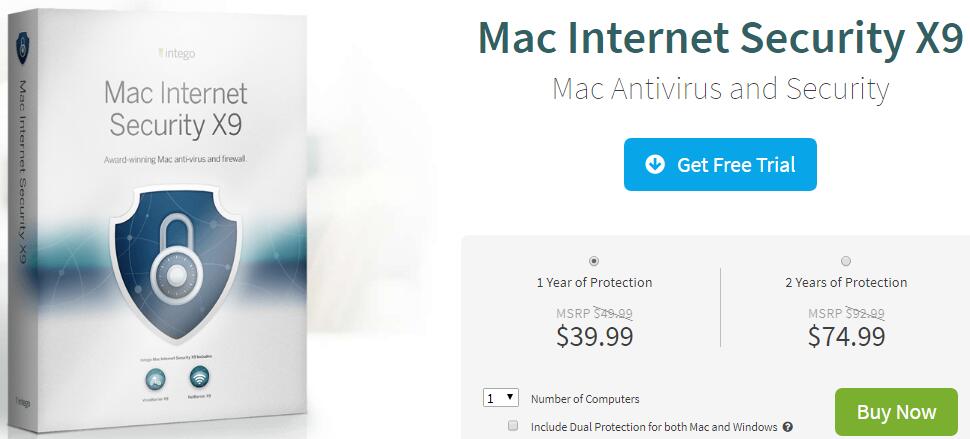 Malware Scanning
According to the independent laboratory AV-Test results, we know that it earned high score in detecting and removing virus and threat. The ability of preventing malware is very important because some viruses can do irreversible damage to your system or important files. Never put your precious Mac and information at risk. Intego Mac Security provides 24/7 real-time protection that pays close attention to all file activity for you to make sure you're always protected. It supports full scans for maximum coverage of your entire Mac as well as quick scans for day-to-day use. To make scanning conveniently, it lets you set scheduled scans. Simply make the schedule and it will finish the job for without any problem. Intego security automatically scans incoming emails and any USB drives that are plugged into your PC. It is able to find malware contained in archive files keenly. In addition, it assists you to identify rogue applications accessing the Internet to act as zombies, expose your confidential information, or act as backdoors into your Mac. It is possible to stop tricky malware though you know little about computer. By scanning for threat, it does not give any chance for the malware to sneak into your system.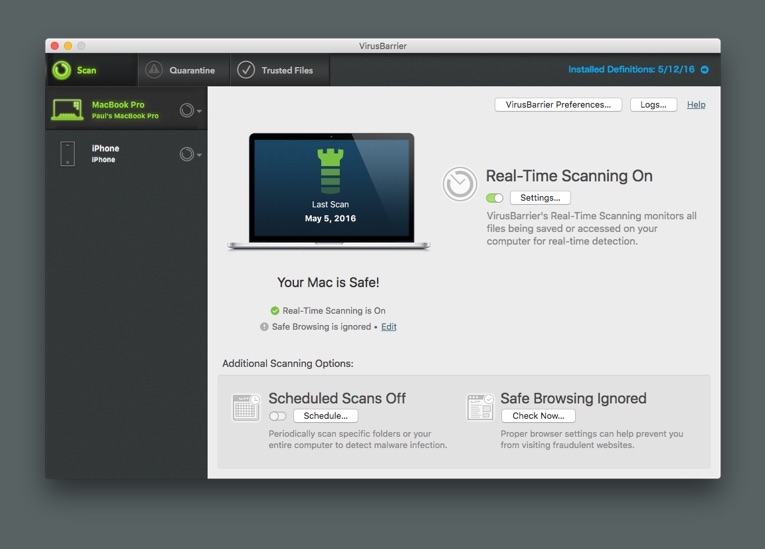 Ransomware Protection
The spread of ransomware is on the rise. In recent year, hackers create various ransomware to attack innocent users. Fake FBI virus is the most classic one. It pretends to be from the FBI, telling you that you violated the law and your device is locked due to illegal activities. It lists laws items, FBI logo and photo of president etc. to make the warning authentic. It states that you have to pay a ransom of $500.00 USD to unblock the device and avoid more punishment. It threatens that you will be put in jail for years if you don't pay the fine in time. Usually, it gives you 24 or 48 hours to prepare the ransom. Some versions of Ransomware encrypt victims' important files. So far, it is almost impossible to recover the corrupted files. Even you pay the fine as it requires, you still can't take you files back. Therefore, Intego Mac Security offers decent Ransomware protection. To prevent this aggressive threat, it blocks unauthorized access to your personal files, detects ransomware based on its activity and further recovers encrypted files from backup. Most victims were forced to download malware when they clicked on popup or hyperlink accidentally. Malware was installed within seconds and they had no time to respond and stop it. Intego Mac Security prevents ransomware carrier like unknown apps, porn player, video link or attachment in spam from accessing your system. You will get alert when any dangerous program is trying attack your Mac.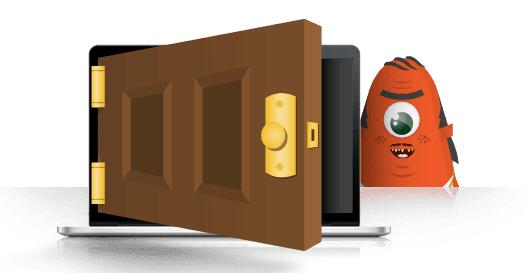 Of course, Intego Mac security also protects you from spyware, Trojans, viruses, and other malware types.Spyware also is a headache for all users as it is able to secretly peek at you through your Mac's webcam, use logging keystrokes to capture your passwords, send Trojans to steal your personal data, and monitor your online activities to build a profile. The collected information will be sent to the remote hackers and used for illegal purpose. That's horrible, but Intego will not let it happen. It blocks any threat that can do harm to your PC and data. As the viruses are changing all the time, Intego Mac Security team constantly changes and updates their techniques. They give you the latest and most effective security solution. After Intego security detects malware on your Mac, it does not remove the malware immediately, but quarantine it. The quarantining allows VirusBarrier to block access to malware even on read-only volumes where it is unable to delete it. The malware will no longer be able to do any harm to you. You can choose to remove the malware directly or repair the corrupted first.
Firewall Protection
Intego Mac Security includes a firewall to enhance the default one that comes with your Mac. It includes all needed components to block attacks coming in from the Internet and also manages network permissions for programs installed on your Mac. There are three modes, Home, Work and Public Hotspot, in NetBarrier settings. When you turn on the Public Hotspot mode, it automatically blocks NetBarrier connections from untrusted devices. As there are many phishing networks out there, this mode will stop hackers from stealing your accounts and passwords when you use them on the Internet. In addition, it watches any application which tries to use your network, and keeps you informed when a new connection is created. You will be able to block or allow any attempt to access your Mac in time.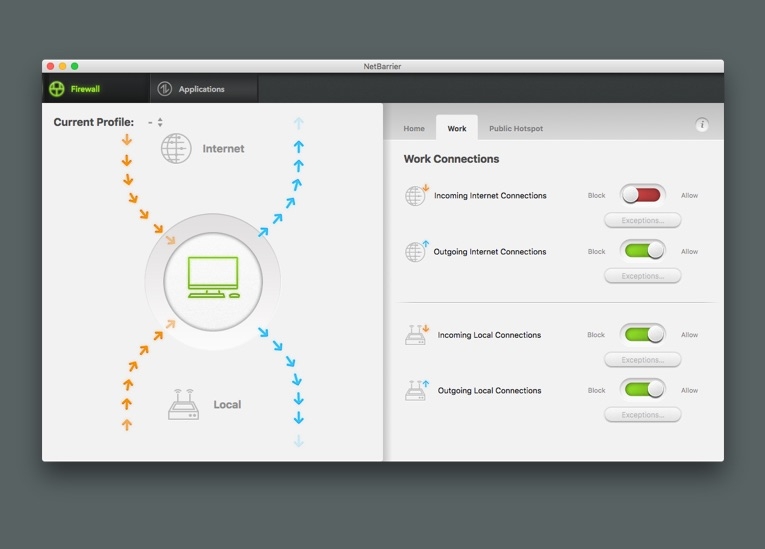 Parental control
Parental control is a common suite component with security products. It offers a content filter can block access to websites matching unwanted categories. For parents, they need to protect their kids from improper content and assists them to balance the time in studying and using the Internet for fun. If the kids spend too much time in playing games, they may lose interests in studying and that also affect their sleep. To help them develop healthy habits, use the parental control offered Intego Mac Security. You can block improper content by setting the categories of content, specific websites, websites with specific keywords. By using key words, it will filter contents related to porn, violence, alcohol, adult games and many more to prevent them from corrupting your kinds' thought. Intego makes it possible to block connections to game servers or streaming music and video. You also can create whitelist functionality and they can't be accessed without your permission. Besides, its browser-embedded UI allows for overriding parental controls and allowing websites so long as parents have the necessary security credentials. The kids won't be able to use your credit card to make payment without consent.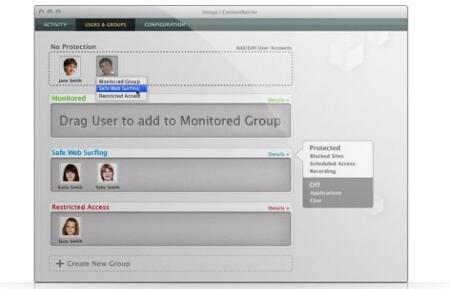 Data Backup
Data backup is very important as we may lose files due to device theft, virus infection, system crash natural disasters. Intego Mac Security offers personal backup. You can choose to let it run manual backups or create an automated schedule that backs up your important files. Even though you are very busy and have to no time to do backup, it can make copy of your files and update the database regularly according to schedule you make. This backup tool also can create bootable clones on an external hard drive, so you can boot from the backup and access your files. It is a very popular feature, letting you find back precious files in a quick and simple way.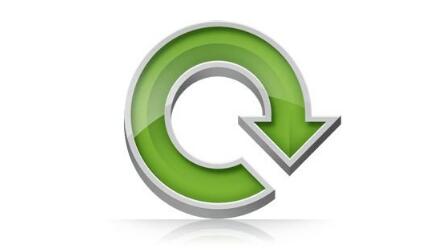 Anti-Phishing
Intego Mac Security product includes antiphishing tools to identify insecure emails that could potentially trick you into giving your personal and financial information away. To get your trust, the hackers develop phishing messages or websites by imitating famous websites like Amazon or PayPal. It may lie that you won a chance to get free iPhone or cash as prize, and you need to provide bank card account, ID, email and more information to get the prize. Once you enter your credentials at the fake login page, you've given the hackers access to your account. No matter you are browsing on a PC, a Mac, or an Internet-aware sewing machine, the hackers can take this chance to grab all of your money in your bank account. Intego Mac Security checks and blocks those phishing programs. It disconnects you from the malicious websites with a warning. It does not let your device connect to phishing network. In this way, hackers can't "fish" any of your sensitive information.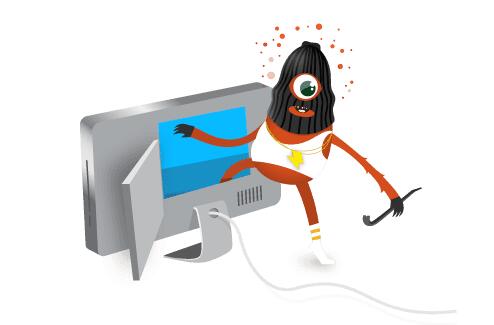 Mac Washing Machine
Like other security products, Intego offers Mac Cleaner. They name it Mac Washing Machine which helps you free up your Mac by hunting down and clearing junk and useless files. When you use the Mac, there are more and more files stored on hard drive. It enables you to easily find out cache files, duplicate files, useless installation packages or similar files that are slowing your system down. When you are allowed to customize your deletion criteria to let it clear the files in a proper way. After it scans and shows you unnecessary files, you can get rid of them with just the flip of a switch. With more free space, your Mac can run faster and more efficiently. Your Mac will always perform like a brand new device. In addition, it organizes your heap of Desktop files into the right folders so that you can find needed files instantly.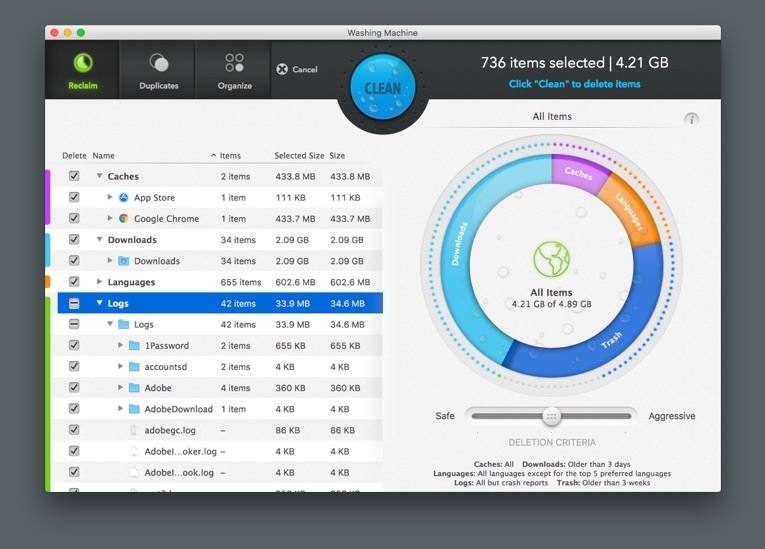 Intego Mac Security Video Review
Conclusion
Intego Mac security offers full protection from various dangers of the Internet. It boasts strong malware detection scores and an extremely light performance impact on Macs. It makes use of full-time application activity monitoring and supports real-time scanning for anti-spyware measures. The anti-phishing tool and firewall protection keep potential threats away and make your Mac free of virus. The parent control is really a useful tool for parents to supervise their kids effectively. It helps you clean useless files, organize regular files and back up important files. In this way, both you and the Mac work effectively. The Mac will still run fast and smoothly when you open several apps at the same time. Intego Mac Security apps have clean and simple user interface. New users can get started with it easily. The security software automatically checks for the latest updates to make sure you're protected against the newest Mac threats. When we tested Intego Mac security, we found that it had lightest impact, both in its quick-scan and its full-scan features. Intego Mac Security is a great service for Mac users. It comes with decent features at affordable prices.

Published by & last updated on April 11, 2019 1:59 am