Do you want to know details about Password Boss Discount Coupon & Promo Code? Are you looking for Password Boss Discount Coupon? Do you need password manager to safeguard your passwords? Password theft happens every day. Users had lost a huge number of money due to illegal invaders. Besides, most users have problem in creating and remembering strong passwords. They usually set simple passwords or reuse one password for all accounts. To keep their online accounts safe, users choose password managers to strengthen and store passwords. Is Password Boss a great choice? Does it offer coupon? Get information about Password Boss and Password Boss discount coupon in this article.
Brief Information of Password Boss
Password Boss is a password manager and digital wallet, allowing you to manage passwords and make payment conveniently. It is relatively young product which is founded in 2014. You only need to remember the master password to unblock the rest. It not only generates super strong passwords for you, but also upgrades your old passwords and stores them in secure place. This password manager imports every logins stored on the default browser even before its add-on is installed. That saves you time in importing them one by one. It lets you store personal information and synchronize it across all devices so that you can access them anywhere. Password Boss utilizes the AES-256 encryption to secure your data vault. It encrypts all data on your device before being sent to the company's cloud storage. Its form filler feature assists you to fill web forms and log in to website directly. Besides, Password Boss has done a great job in detecting phishing domains, auto locking itself after a certain amount of time, cancelling the authorization of lost devices and granting emergency access to the vault for a trusted person. Password Boss keeps your passwords and personal information safe, organized and easy to access. Dashlane password manager is another great product offers great service and more features. Learn about Dashlane here.

Pricing & Promotion
If you wan to get further information about Password Boss Discount Coupon & Promo Code, first you need to learn about its plans and pricing. Password Boss provides products for both individuals and teams. There are free trials and premium versions. You can try the individuals or teams package for free for 30 days. For individuals, it costs $2.50 USD per month. This package allows one user on unlimited devices. For teams, there are standard and advanced packages. The standard package costs $3.00 USD per month per user. It starts with five users and you can add as many users as you want. The advanced package comes with extra security and all features of standard package. It is $4.00 USD per month per user. When you apply Password Boss Discount Coupon, you will get extra discount. You can save up to 65% off with Password Boss discount coupons. Please note that discount coupon is not available all the time. During holidays, the provider releases coupon and it lasts for a period of time. They accept all popular payment methods including Visa, MasterCard American Express and PayPal.

Password Generator
Hackers can make use of the advanced technology to crack passwords for illegal money. To avoid loss, strong passwords are necessary. When creating a password, we suggest you to use a minimum of 8 characters. Of course, the longer a password is the better. You should use the combination of upper case, lower case, symbols, and numbers to create a very long password. Do not use common words or phrases like abcdef or 123456. It is not a wise choice to set the password with your birthday, address or name because hackers can guess it and crack your account quickly. To create a strong password, you may need to think for a long time. In fact, you don't have to do this. Let Password Boss do the job for you. It has password generator that creates 20-character passwords by default, using all character types. When it generates passwords, it offers options to let you decide the password length, include lowercase letters, include uppercase letters, include numbers, include symbols, exclude similar characters and quantity. You can exclude characters you don't like and create multiple passwords at a time. You can view your existing password's security score on the prominent panel at the bottom of the password list. The manager marks the weak or duplicate passwords. The passwords you use for a long time will be marked as old. You can replace weak, duplicate old passwords with strong and unique ones with the help of password generator.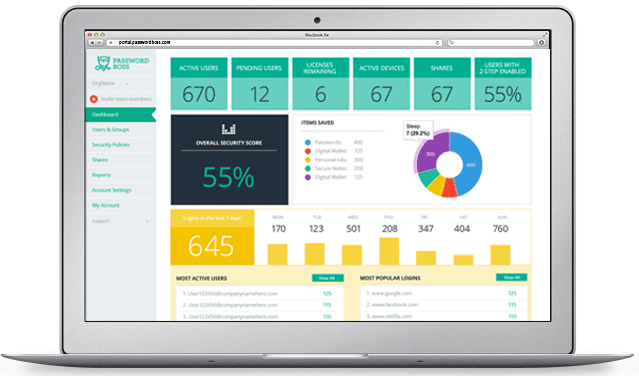 Data Store & Protection
Have important data and need to use them frequently? Password Boss allows you to store personal data on its vault. This company has data storage locations throughout the globe to provide faster synchronization of data between your devices. By default, your data will be assigned to a storage location close to your physical location. If you prefer other location, you can change it any time. This manager allows you to copy passwords or other data to the clipboard, and paste them to anywhere you need. To prevent spyware abuse the copied data, it automatically clears the items from clipboard after one minute. You may concern about data security and privacy when storing passwords and similar precious information on the product. This company can't access any of your data because you are the only one who has the master key. The manager does not monitor or collect your online activities. For data security, Password Boss utilizes the same level of encryption banks and governments use to protect data. All of your passwords and data are encrypted and decrypted locally with AES-256 bit key before being stored in provider's servers. So far, no one can crack this level of encryption. Likewise, the manager client database is initialized with a random and unique salt in the first 16 bytes of the file. The auto-lock feature locks up your account when you are away from your PC or mobile device to prevent others from snooping at your confidential information. It is free to customize the amount of time before locking happens on all devices you have. If a trusted device on your account is lost or stolen, you can remotely delete your data from the lost or stolen device. The thief has no chance to steal your confidential information.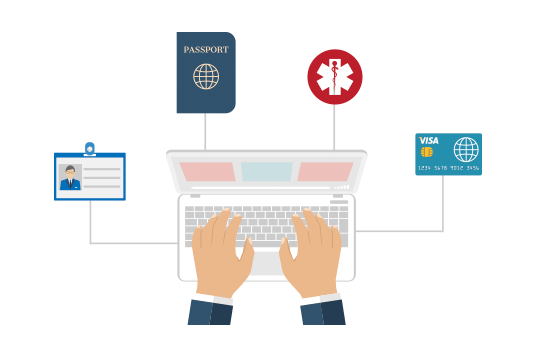 Auto Logins & Form Filler
Like other products, Password Boss offers to let you auto log in a website. To use this feature, it is required to install the Password Boss browser extension and enable automatic password capture and replay. If you are using a browser without this extension, you will see a popup telling you to install it. The extension works on Chrome, Internet Explorer, Firefox, and Opera. When you first log in a reliable and safe website, a dialogue appears to let you save credentials in new folder or assign it to an existing folder. You can find a "digital wallet" section on Password Boss client. From there, you a6 allowed to add credit card information or bank accounts to streamline the online checkout process. To recognize them clearly, you can set a color and a card type you like. No matter you are using American Express, Discover, JCB, Mastercard, or Visa, you will see related icons and logos beside them. It allows you to create multiple secure note to store ID number, driver license, email, phone number, shipping address and more for form filling. Whenever you need Password Boss, it is able to fill in personal and financial information on web forms, enabling you to skip typing your details over and over. It can use information on the menu of Digital Wallet, Personal Info, and Identities with your permission to auto fill web forms. This password manager will check if it is safe before it sends your passwords and other data into website forms.
When you make banking transaction, Password Boss makes use of a secure DNS service so as to avoid the possibility of a DNS poisoning attack, and suppresses system calls that could override DNS resolution. It won't match your profile on malicious websites. It also deletes cookies and temp files on exit to prevent information leak and protect privacy. Besides, it doesn't allow third-party add-ons to access your valuable data without consent.
Two-Factor Authentication
In case you revealed your master password accidentally, hackers could unblock your account with key. To prevent it from happening, Password Boss supports two-factor authentication and it relies on Google Authenticator for this purpose. After you enable this feature, you will need to enter a six-digit code generated by the authenticator from your mobile device after entering the master password. If necessary, you can set it to only require this second factor every 15 days on authentic devices. You are the only person who can add a new device to your account by using the two-factor authentication process. Even though you didn't enable the two-factor authentication, it will still require entry of a code sent to your email account. You will receive email with a verification code from the provider every time you need to add a new device. Without the verification code, the device won't be verified. Commonly, verification codes expire after 30 minutes or 3 failed attempts. Others can't invade your account. Two-factor authentication adds an addition layer of security to your Password Boss account.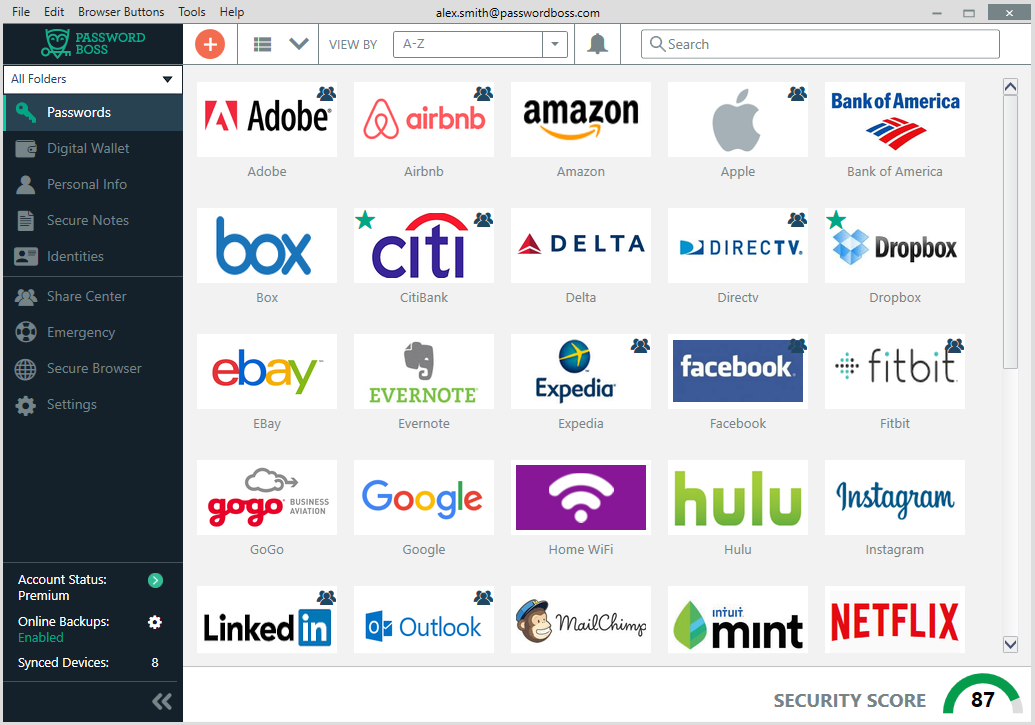 Phishing & Malware Protection
Password Boss assists you to avoid scam and malware infection. The cyber criminals may send you spam in the name of famous online shops or shipping companies to trick you into revealing personal information like passwords, credit card numbers or bank accounts. It may lie that your package can't be sent to you for some reasons and you need to fill a form to make it normal. The spams are designed to look authentic and written in the format used by the company the criminals are pretending to represent like brand and logo. Password Boss is able to recognize the phishing messages and remind you not to provide any information. Besides, Password Boss safeguards your passwords and personal information by keeping your device free of viruses and malware. The team develops their client with advanced features to protect you from the changing and dangerous malware. When you use passwords, the manager will check if your browser has been signed with a code signing certificate from the manufacturer. In addition, it encrypts your online sessions to prevent malware from intercepting the data. It lets you avoid any possible risk of leaking your data.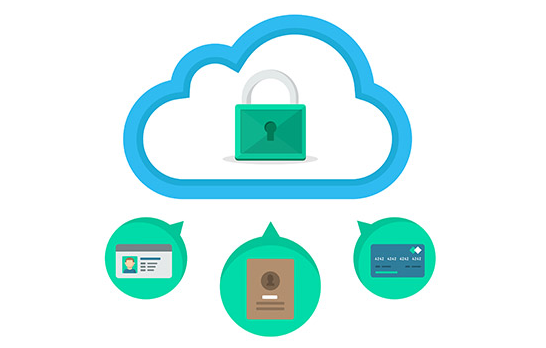 Secure Sharing of Passwords
Password Boss allows users to share data with person you trust easily and securely. After you choose the shared data, the manager uses a unique key with a randomized IV to secure it and encrypts it with 256 bit AES in CBC mode and computing SHA256 HMAC on the ciphertext. Next, it will use 2048 bit RSA keypairs to encrypt data prior to being transferred between you and the recipients. When sharing data, you have complete control over who will receive the information as well as how long they will have access to it. Of course, you can revoke the sharing any time. If you are sharing the passwords with users who have Password Boss account, they will get a notification within the client that a new share is available. You also get a notification after the recipients accept it. If you are sending passwords to users who don't have Password Boss account, the manager will send recipients an email with a notification and a link to download the free edition. It is very convenient and free. By the way, the free version of Password Boss only allows five shares.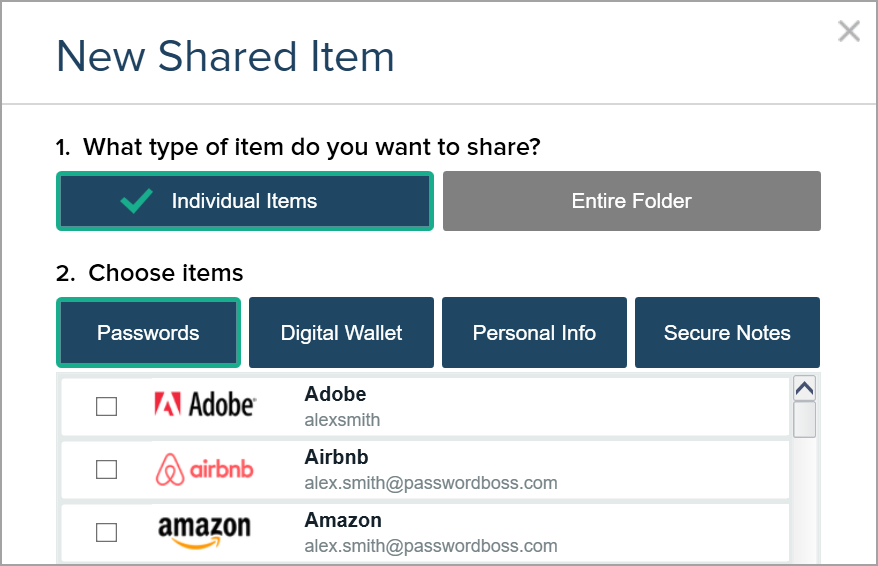 Password Inheritance
Password Boss does not offer option to transfer actual ownership of your account, but it allows you to configure one or more trusted friends for emergency access. You may want your loved one access your important accounts in case something bad happen to you. To set up emergency access, you need to enter the emergency contact's email address, prepare a personal message, and set a waiting period of up to 30 days. After you set it up, the emergency contact can request access any time and you will receive a notification within the password manager client. You can cancel the access request any time during the waiting period if you think it's not necessary to grant them access. After the waiting period, the emergency contact will able to inherit your account data. Therefore, think twice when you set the emergency access and waiting period. Make your loved or trusted ones to inherit digital property.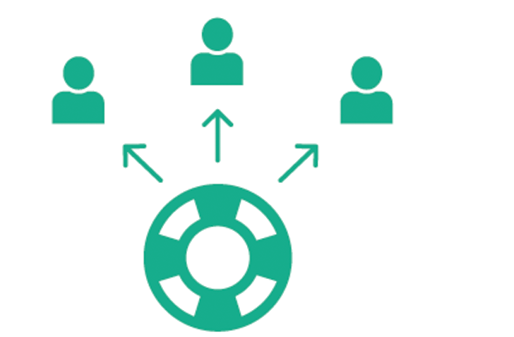 Top 5 Best Password Managers In The World
| Brands | Key Features | Support Platforms | Offers | Price(USD) | Official Website |
| --- | --- | --- | --- | --- | --- |
| | Get more details on Dashlane Review | Windows, Mac, iOS, Android, Linux, Chrome OS, watchOS | Offers Free Version | $39.99/Year | Best Choice |
| | Get more details on RoboForm Review | iOS, Android, Windows, Mac, Linux, Chromebook | Offers Free Version | $23.88/Year | View Deals |
| | Get more details on LastPass Review | Windows, Mac, iOS, Android, Linux, Chrome OS, Windows Phone, watchOS | Offers Free Version | $24.00/Year | View Deals |
| | Get more details on Sticky Password Review | iOS, Android, Safari (Mac), Chrome and Firefox (Mac and Windows) | Offers Trial Version | $14.99/Year | View Deals |
| | Get more details on LogMeOnce Review | Windows, Mac, iOS, Android | Offers Free Version | $12.00/Year | View Deals |
Conclusion (Password Boss Discount Coupon & Promo Code 2019)
Like its name, Password Boss acts like a boss of your passwords. It creates complicated and random passwords to secure your online accounts. Simply remember the master password and you will able to access your entire password collection. It maintains and upgrades the security of your passwords. None of your accounts will be compromised. It also is a convenient multi-platform vault. You are allowed to store any data from ordinary passwords and personal information to all kinds of secure notes, identities and payment information. The smart manager will categorize saved data according to various factors. Any data you need can be searched and found easily. You will be able to make use of your data super-efficient, do quick copies, modifications or directly access websites. Your passwords and other personal information are stored in an encrypted database on each device you add to your account. Your Master Password is needed to unlock and open this encrypted database. Two-factor authentication adds another layer to your data protection. It is pretty easy to install and set up Password Boss. However, you may face some issues if you have other security on your device. Some antivirus software will prevent it from installing. You can deactivate antivirus software when you install and activate it when it's done. Sometimes, you may suffer conflicts between the two apps. If you only need basic password manager features, you can choose Password Boss.
If you want smooth experience, we will recommend Dashlane and Sticky Password. Dashlane is one of the most popular password managers which make your life simpler and faster by letting you forget about security. It protects user credentials using AES-256 bit encryption and stores them locally. It supports features that can help users when filling forms and provides automatic logins, two-factor authentication, import/export of credentials, etc. Sticky Password Premium does everything you'd expect from a password manager It works on PC, Mac, Android and iOS, supports fingerprint authentication on mobile, is available as a portable USB version and offers lots of sync options including Wi-Fi syncing with local devices. Can't decide now? Give them a try with the free trial and you will know if they are what you want. There is no risk to use the service.


Published by & last updated on July 3, 2020 8:08 am