Zoho Vault Promo Code & Coupon Discount 2019. In those days, most people use simple or the same kind of password for all services and websites. In fact, it is wrong to use easy-to-guess or reuse the same password. Cyber criminals are always hunting for a chance to crack online account for valuable information and money. Password theft is the easiest way to access victims' accounts. If you use weak passwords, you may be their next target. Always forget passwords? Don't know how to create strong password? You need a password manager. It will manage and store your passwords securely. Are you looking for Zoho Vault promo code & coupon? Learn about Zoho Vault discount and promotion in this article.
Brief Information of Zoho Vault
Zoho Vault is a very comprehensive password manager. Passwords are created by users at the authentication prompts of web accounts. They are needed for various platforms and websites. Commonly, Internet users have dozens of passwords for different services. Some users even have multiple accounts on the same platform. That makes users get confused or forget passwords frequently. Password managers come to help. They create and remember strong passwords for you. Zoho Vault is such a password manager. It acts as a secure central repository with entitlements and eliminates the pain of passwords for you. It generates unique and complicated passwords to make your online accounts uncrackable.
You are able to store unlimited passwords and all kinds of personal information on it at peaceful mind. The manager utilizes host-proof-hosting technique to protect your online credentials. With your permission, it is able to type personal information to fill form automatically. Zoho Vault allows you to share their passwords securely among other members of the team. It helps you gain visibility into password access and usage to manage the team effectively. Others products have emergency contact to allow users to grant their loved ones to access their accounts in case something bad happen to you. This password manager lets you transfer ownership of passwords directly to your trusted friends and family. In my opinion, emergency contact is more convenient.


Pricing & Coupon
Zoho Vault Promo Code & Coupon Discount 2019. Zoho Vault offer plans ranging from personal use to enterprise for large teams. For personal use, it provides free version. For team use, there are standard, professional and enterprise packages for you to choose. When you sign up for annual subscription, you get 10% discount. The standard package is for small teams which costs $0.90 USD per user per month if you sign up manually. The professional package is developed for medium teams and it costs $3.60 USD per user per month. The Enterprise package is for large team. It is $6.30 USD per user per month. These two packages allow minimum five users. There are no long-term commitments or hidden charges when you use Zoho Vault. This is a pay-as-you-go service. Therefore, it is very easy to upgrade & downgrade subscription and cancel the account any time. The provider accepts payment via Visa, MasterCard, American Express, and PayPal. If you purchase yearly subscriptions, they accept payment via bank transfer or check transfer. There is a 15-day free trial of the Enterprise plan. You will be automatically moved to their free plan with all your data intact if you don't upgrade your plan after the free trial. Zoho Vault is bit expensive than other products. Besides, there is no coupon or promo code to let you save money.


Zoho Vault Privacy Policy
It is necessary to read a company's privacy policy before using its products. Zoho Vault has transparent privacy policy. This company guarantees that they never will sell your information to someone else for advertising or generate revenue by showing you other people's ads. The provider states that they only store information that you provide them when you sign up for an account, register for an event, ask for customer support, or buy something from them. They have your name and contact information, but they don't collect your credit card detail. The manager app doesn't monitor or keep log of your online activities. With your name and contact information, it creates and maintains your accounts, and keeps an eye out for unauthorized activity on your accounts as you require. They can know which product you are using and gives you effective customer support. When the provider has no longer have a legitimate need to process your information, they will delete, anonymize, or isolate your information. They won't sell your private information for money or use it for any other purpose.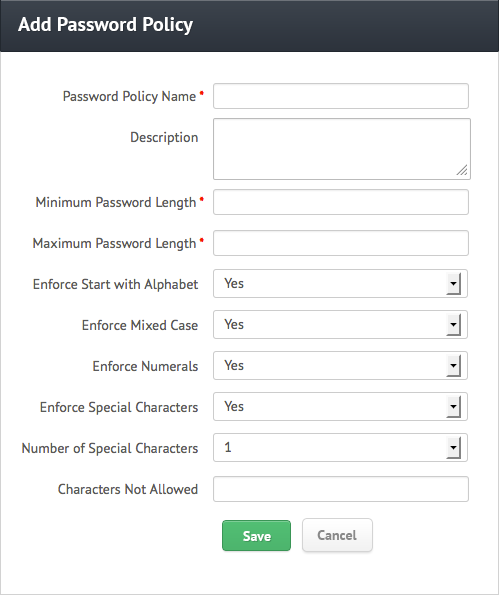 Password Manager
Zoho Vault is a useful tool, helping you manage all of your passwords. After you create your Zoho Vault account, it allows you to import existing passwords from LastPass, Keeper, KeePass, Roboform and True Key etc. You can also import a CSV file containing password data. However, Zoho doesn't import passwords stored in your browsers. It is really upset because most users store passwords and accounts on browser for personal use or work. You have to add passwords on browser manually. If you prefer the manager import passwords from browser for you, Dashlane is recommended which is one of the best password managers. After you import passwords, it scans your passwords and marks the weak and reused ones. It offers to upgrade your passwords. If you use a password for a long time, it reminds you to change password to reduce the risk of password theft.
When you create a new account, it generates powerful and random passwords for you. It is allowed to define your own password policies. When you use this tool, you can force passwords to start with a letter, and listing characters not permitted in passwords in settings. By default, it generates a password that is between 8 to 14 characters in its length. To get super-strong passwords, we suggest you raise the minimum password length to at least 12, and the maximum to at least 16. Zoho Vault assists you to access your secrets and other records quickly by allowing you to sort and search in all table views. Besides, your passwords can be exported for offline access. Open the Tools menu, you can download an encrypted HTML version of your data vault for offline access, export your confidential information for use on another service or import logins from another service. Zoho Vault allows you to download your current vault at any time. You will be able to access it offline from any standard web browser after you enter your passphrase. To keep your account safe, the vault is read-only. It lets you exports data as a general CSV file, or in a special Zoho Vault CSV format. Your passwords will always be remembered and accessible.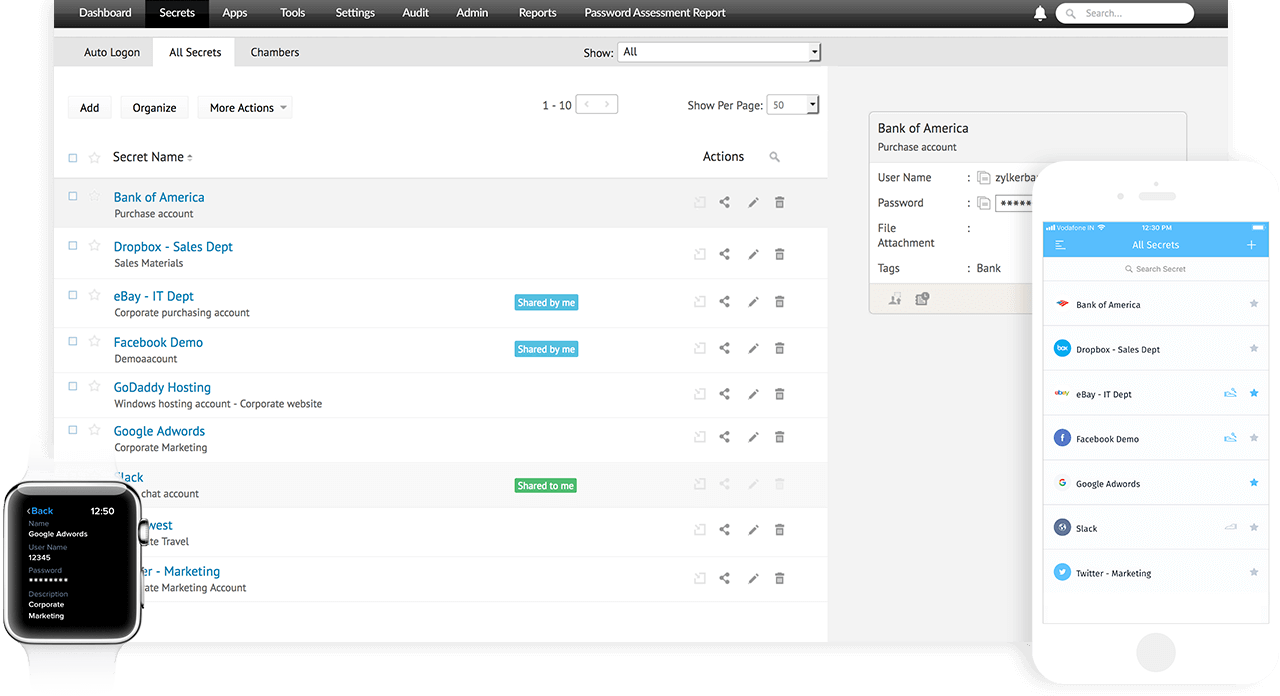 Securely Store
Zoho Vault securely stores all your passwords and organizes them for easy access and management. It does not limit how many passwords you can store. Besides, it allows you to store any personal information you like. You may need credit card number, ID number, passport number, driver license, shipping address and more personal information to deal with various cases. A large number of users have difficult in keeping all of them in mind and have to carry them everywhere. Zoho Vault makes it easier. It lets you create any category and add any information. Is it safe to place your confidential information on this product? Will the manager protect your valuable data? Yes. All your passwords and other sensitive data are encrypted with the strongest known encryption standard AES-256, approved by the US Government. Your data vault is always encrypted on manager's servers or in transit to your device over SSL. The passphrase you create will be used as the encryption key. Every time you log in the account, you are required to enter the passphrase which is only known to you. It is not stored anywhere, but only exists in your mind. Without the key, it is basically impossible for a hacker to do anything with your data.
To prevent shoulder surfing, Zoho Vault displays the passwords in masked form in the interface when you type them. When you retrieve the password, it is shown in plain text only for 10 seconds and will be masked again. No matter you are in office, coffee house or airport, snoopers have not chance to steal your passwords. It always requires master password the first time you log in with a particular browser or device. Not like other products, it does not require your master password every time you access the account. By default, the device or browser becomes trusted after your first login. That means Zoho doesn't ask you to verify the account again for 180 days. It is a risk. If you walk away and let your browser open, snoopers can take a picture of your confidential information and use them for malicious purpose. If your device has been stolen, the thieves can access your confidential and grab all of your money. To avoid this kind of loss, you can configure Zoho Vault to automatically log the device out of the session after a set period of inactivity so as to prevent unauthorized access to secrets. In addition, you are suggested to enable two-factor authentication. When this feature works, you must enter a phone number and choose to receive authentication information via SMS or phone call, or through Google Authenticator every time you unblock the account. In this way, criminals can't gain access your account even though you revealed your master password by mistake.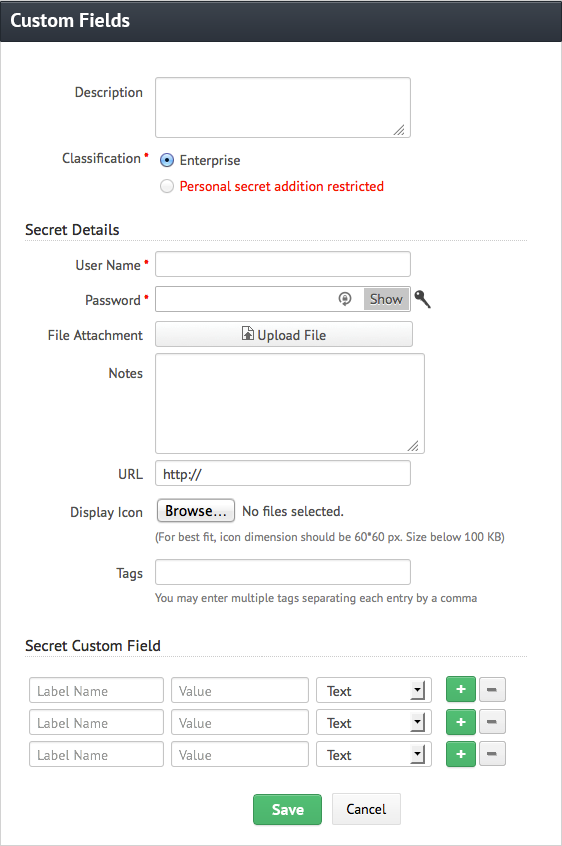 Directly Log in
Zoho Vault allows you to have as many data fields for your secret type as you need. You can keep personal and business logins in separate locations. It enables you to save time in entering login information and personal profile on web form with stored information. You will be able to directly unblock your account on websites and applications without having to manually enter login detail. Its browser extension comes with password capture and replay features you expected. The first time you log in to a secure website using a supported browser, the extension offers to save your credentials as a secret. Next time you return to the same website, it puts a Z icon in the username and password fields and offers to fill in the saved credentials. If you stored multiple accounts on this website, simply click the icon to select a different set of credentials.
Surprisingly, it even auto-fills passwords on unsupported browsers, so you can log in to your saved password data from any browser on any platform. It is very convenient. You can speed things up for more effective work by choosing your saved login from the browser extension's menu. Clicking on wanted account, it will navigate you to the website and then log you on. Besides, it fills certain fields when you need to finish a web form. When you join a forum, it auto-fills your name, email, job, address and more information and create secure password for you as well. When you make payment on reliable website, it saves you from typing email, phone number, shipping address and credit card number etc. You can finish payment with few clicks. Zoho Vault makes your job effectively and lets you save precious time.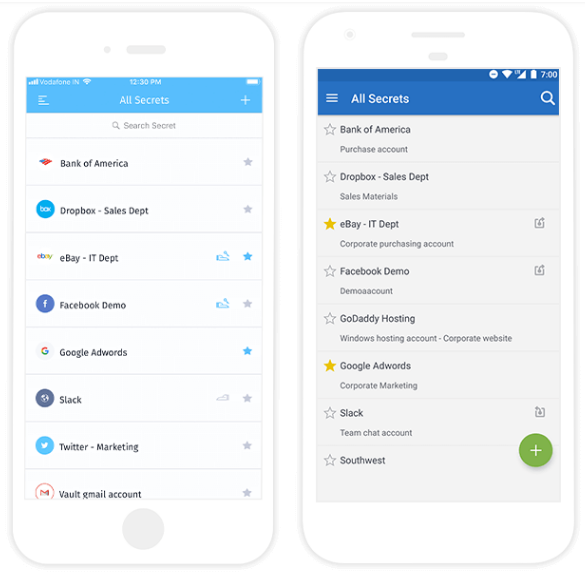 Safely Share
How do you share your passwords with your friends or colleagues? Do you send passwords of important account in plain text to your partner? Hackers can intercept your sessions and steal your confidential information when you send them over the Internet especially when you are using the public network. Zoho Vault assists you to share precious passwords securely. When sharing, you need to provide the recipient's email address and a personal message including passwords. The manager will display a one-off encryption key that you send under separate cover. Only you and the recipient can decrypt the content. It allows you to set that sharing will end after 24 hours or 30 minutes after the recipient makes use of the shared information. It is suggested to change password once the need for sharing is over to avoid information leak. If you are the boss, it lets you safely share common passwords among members of your work group by granting different access privileges. You are able to use it to track team members' actions and maintain complete records of their password activity with timestamps. It is a helpful tool to manage your team members. Zoho Vault keeps your passwords secure when sharing them by disabling plain-text view. Feel free to grant access to your trusted business partners and you will be able to revoke access in real-time with only one click. Hackers won't be able to attack your connection for precious information.

Top 5 Best Password Managers In The World
| Brands | Key Features | Support Platforms | Offers | Price(USD) | Official Website |
| --- | --- | --- | --- | --- | --- |
| | Get more details on Dashlane Review | Windows, Mac, iOS, Android, Linux, Chrome OS, watchOS | Offers Free Version | $39.99/Year | Best Choice |
| | Get more details on RoboForm Review | iOS, Android, Windows, Mac, Linux, Chromebook | Offers Free Version | $23.88/Year | View Deals |
| | Get more details on LastPass Review | Windows, Mac, iOS, Android, Linux, Chrome OS, Windows Phone, watchOS | Offers Free Version | $24.00/Year | View Deals |
| | Get more details on Sticky Password Review | iOS, Android, Safari (Mac), Chrome and Firefox (Mac and Windows) | Offers Trial Version | $14.99/Year | View Deals |
| | Get more details on LogMeOnce Review | Windows, Mac, iOS, Android | Offers Free Version | $12.00/Year | View Deals |
Conclusion (Zoho Vault Promo Code & Coupon Discount 2019)
Zoho Vault is a decent password manager. It manages your confidential information, allowing you to access your passwords from your laptop, phone, or tablet anytime and anywhere. To ensure all your online accounts are safe, use its password generator to create super strong and unique passwords to replace your weak and reused ones. You are allowed to store unlimited passwords and notes, attach files/documents to data vault. The password manager utilizes leading encryption technology to secure your data. You can't get this protection when you choose to store data on browsers. The manager also supports two-factor authentication to prevent invaders. It allows sharing and transferring of logins and passwords between users, and the sessions are encrypted. You also can set password policies and track your password access. With it, you can automatically log into your favorite websites and finish web forms without typing. Zoho Vault has been designed to be intuitive and easy-to-use. You can just signup and get started within a few minutes. It does not require you to be an IT geek to setup and use the vault. Zoho Vault is a good option, but the provider does not offer any promo code or coupon. No Zoho Vault promo code or coupon is available. It does not come with special features that other products don't have. We would still recommend Dashlane and Roboform to most users because of their more extensive feature sets. You can use coupon for extra discount to save money when purchasing Dashlane.


Published by & last updated on February 11, 2019 7:08 am