With more and more data hacks hitting the deadlines, users gradually recognize the importance of strong passwords. To secure your online accounts, use hard-to-guess passwords and do not give the hackers any chance to crack them. Do not reuse one password for all accounts. If one account is cracked, the rest will be compromised. How to create and manage all the complicated passwords? The most effective way is to get a password manager. Which password manager is reliable and useful? We tested numberless products and sorted out the best ones for you. Sticky Password is one of the recommended passwords. Learn why it is recommended in this Sticky Password Review.
What is Sticky Password?
Sticky Password is owned by Lamantine Software. Behind the software, it's a team made up of former executives from AVG Antivirus. It is an effective password manager which has been trusted by millions of users throughout the world. This tool makes saving and changing passwords secure and easy. You will be able to import passwords from browsers, phone and other similar products. It manages all your passwords and personal data. It allows you to add tags to store credit card numbers, shipping address, postal code and email address etc. for express checkout. All stored data are encrypted in the vault. The provider takes your security serious and uses the most advanced encryption technology to protect your data. A master password is required every time you access to your data vault and the company has zero-knowledge of to unlock your database. To make your account safer, it offers two-factor authentication via Google Authenticator. Besides the master password, a second security code is needed. This is additional protection.

Sticky Password creates extra-strong passwords for new account and strengthen your insecure passwords as well. After you store personal information on it, it is capable of automatically filling in forms for you, thus helping you save time. Sticky Password has apps for all major platforms and the apps are very simple to configure. It has a user-friendly and feature-rich interface which lets you easily choose between syncing your data in the cloud or over Wi-Fi networks or not at all. It is not simply a password manager, but a helpful product with multiple functions. Sticky Password only offers two premium plans. You have 1-year and lifetime plans to choose. The yearly plan is 20% off and costs $14.99 USD for one user. The lifetime plan was $149.99 USD one user. At the time it is 50% off. You can get it at $74.98 USD now. It is a great deal.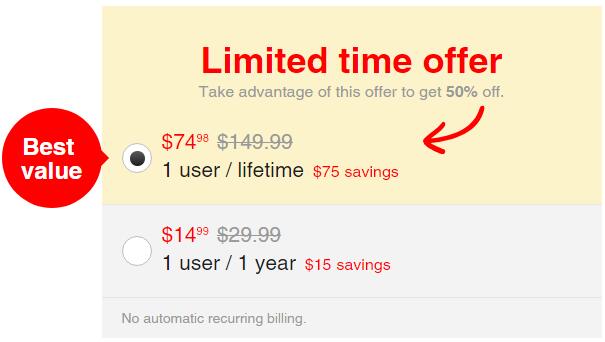 How to Get Started with Sticky Password?
Pick a plan you need and download software on your device. During the process you install and set up the software, your email is required to create your account and you need to create a strong and unique password as your master password. It will be needed each time you login the account. After you create the account, you are able to import existed passwords from supported browser, certain files format or other password managers. Besides, the browser plug-in detects your credentials and offers to save them with one click. If needed, you can edit the entry's name and assign it to a group. You also can skip it and let the manager do it for you. Next time you visit the same website, it will auto-fill your login information and let you access the account instantly. If you store multiple accounts, it lets you choose one to log in. Sticky Password enables you to store more information and auto-fill them on many platforms. It helps you save time in straining your brain to create and remember various passwords as well as filling long web form.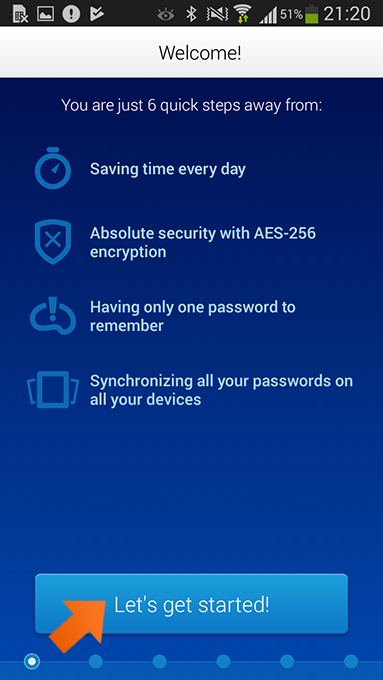 How Safe Sticky Password Is?
Is Sticky Password powerful enough to safeguard you against cyberattack? Should you trust Sticky Password and let it to manage your confidential information? Yes. Sticky Password is a reliable and leading password manager. It utilizes AES‑256 encryption to secure your data vault. How do you know it is safe enough? Leading banks, universities and some government agencies apply the same encryption standard to secure their confidential data. It is the latest encryption standard in the market so far. The password manager provides option to let you sync via local Wi‑Fi so that your encrypted data never leave your device. The master password is the key to your account and you are the only person who has the master password. The provider doesn't save it on their server or send them over the Internet. They do not store it anywhere. It only exists in the place you decide. To give you another layer of protection, it supports state-of‑the‑art biometric authentication and lets you log in via fingerprint scanning. Only your fingerprint matches the authentication. Besides, it has online console to manage your license keys and trusted devices. In case your device has been stolen, you can remove it from the trusted list and lock the account on the lost device. It also allows you to wipe out all of your personal data, or wipe out your account entirely. Your precious database is locked on your devices and you are in control of all passwords and accounts. If the manager detects that someone is trying to access your account, you will get alert immediately. It offers one-click to change password, so you don't have to log in the specific account to change it. You will be able to stop the hackers in time. Sticky Password makes your valuable data untouchable and only you have access to them. Your account is surely secure.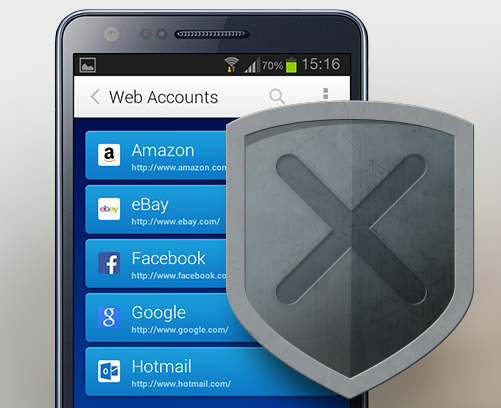 Password Generator & Changer
Creating one complicated password is not a difficult thing. The fact is you have dozens of accounts to secure. You need password manager's assistance. Sticky Password offers great password generator, helping you generate unique and strong password. Every time you click in the password file when creating a new account, it pops up to help you finish the job. To create strong and satisfied password, it lets you choose a length from 4 to 99 characters and decide the character sets you prefer. For example, you can set it 16 characters with a combination of uppercase letters, lowercase letters, digits, and punctuation. Sticky Password also manages your existing passwords. It scans the passwords and gives them scores. You will know which one of your passwords is weak and which is reused. Alongside the scores, options are provided to upgrade them. You can update them one by one to use the one-click button. Do you concern that you will forget the random passwords? It's not a problem because the manager remembers them for you. All of your passwords will be well-organized and secured in the data vault. You can access, change, add or delete any password anytime with the master key.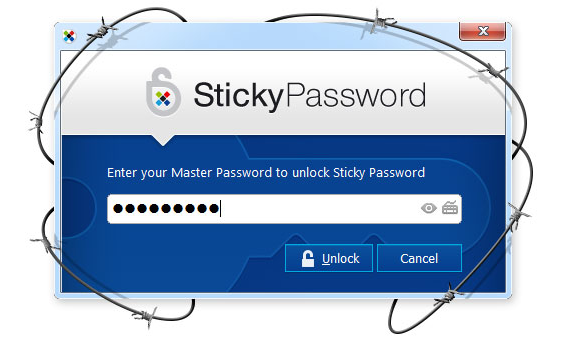 Two-Factor Authentication
To increase the security of your data, Sticky Password supports two-factor authentication which requires two pieces of information for authentication. Each time you try to access your database, you are prompted to fill in an additional unique security Code after entering your Master Password. To use it, you need to activate it on your device first. The Google Authenticator app is needed to enable 2FA on your mobile device. It generates the codes that will be the second factor for logging into Sticky Password. You will get random codes when you require. The code will be valid only for few minutes. It is possible to choose to scan the QR code on the screen or manually enter the alpha-numeric code. As the master password and security code are from an independent source, it is almost impossible to break your account because it usually needs months or years to crack one password. The hackers will need to go through two processes of this type. It will take years to get that done. Therefore, your Sticky Password account is surely safe. In case you can't access your account, it allows you to create a portable USB-based edition of the program with all your current passwords included to log in.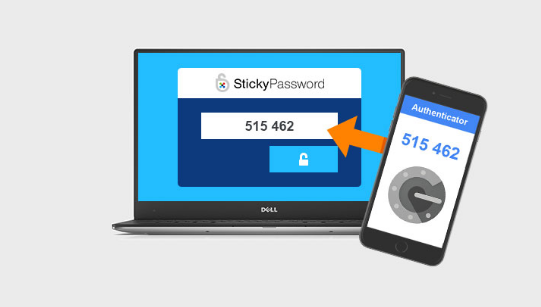 Form Filling Feature
If you shop online a lot or need to fill various web forms, you will need form auto-filling tool. Can't remember all personal information and need to carry your wallet everywhere? How to remember ID number, drivers' licenses, passports and postal codes etc. easily? Get this tool. Like other managers, Sticky Password helps you fill web forms. It allows you to store files like personal details, online contact information, shipping address, snail-mail address, and business details etc. A finance page is provided to store credit cards and bank accounts. When you open the website to fill form, you will see icons next to the fields that it can fill for you. If you have multiple accounts, it offers a menu of available identities to let you choose. In addition, it is able to capture data that you once entered in a Web form and offers to store it as an identity entry. It allows you to save time in typing the same long and complicated information again and again. That makes your job more effective. You may wonder if it is safe to use this feature for payment. Yes, it is. Sticky Password helps you enter the card number while it is not able to make payment without your password and permission. It is able to recognize the phishing websites and will not auto-fill your confidential information on them. You can use form filler freely.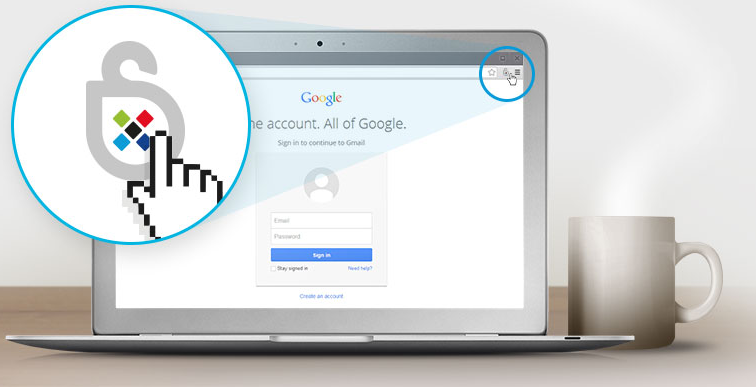 Password Backup
Have you ever deleted important photos or documents by mistake? Have you lost precious data because your device has been stolen? Can't access your data due to unexpected vital system error or malware infection? Data loss can cause money loss, job loss and other tough problems. Sticky Password assists you to back up important files regularly. If you need, Sticky Password offers an encrypted password database backup in the cloud. If you lose your device or data, you can restore them from the cloud. If you refuse to upload data to the cloud, the perfect portability lets you store data and save change via portable USB. It is one of the favorite features of this product. You can load your entire vault on a USB drive that's readable by any instance of Sticky Password. The stored files are also encrypted and you'll need your master password to view them. Besides, it enables you to sync your data via local Wi‑Fi or the provider's cloud servers if you are Okay with it. Manual offline synchronization is available. You can gain access to your personal data on any device you prefer. The secure backup ensures that your important data will not be gone for some mistakes or problems.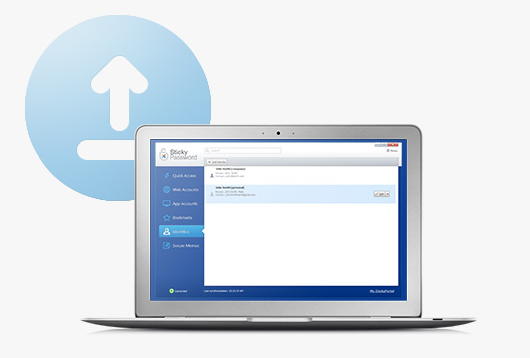 Multiple Platforms
Sticky Password allows you to store and access all of your passwords anywhere. It works on your PC, Mac, Android/iOS tablets and smartphones. It has approachable and easy-to-use interface, so new users can get started without any problem. No matter you are at office or on a trip at airport or coffee house, you can manage your passwords and use them to deal with business immediately. Besides, it supports 16 browsers like Google Chrome, Chromium, Mozilla Firefox, Mozilla Thunderbird, Windows Internet Explorer, Comodo Dragon, Opera, Dolphin, and Safari etc. Regardless of your favorite browser, Sticky Password gets you covered. If you need direct support, contact them via email. They do not provide live chat support. It will take some times to get a respond. If you have problem in installing or setting up the software, navigate to the support center where general articles on setting up and using the application as well as operating system specific topics are provided. The information is laid out clearly with step-by-step instruction and plenty of screenshots. Even there is no live chat support, problems can be fixed effectively. You also can choose to get assistance from other users on Sticky Password forums. Their forums are active and updated daily.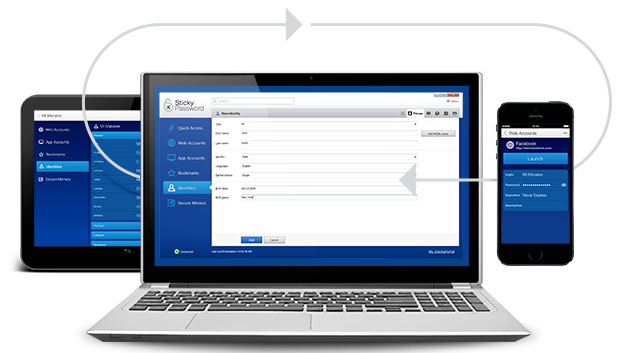 Top 5 Best Password Managers In The World
| Brands | Rating | Support Platforms | Offers | Price(USD) | Official Website |
| --- | --- | --- | --- | --- | --- |
| | #1 Read Review | Windows, Mac, iOS, Android, Linux, Chrome OS, watchOS | Offers Free Version | $39.99/Year | Best Choice |
| | #2 Read Review | Windows, Mac, iOS, Android, Linux, Chrome OS, Windows Phone, watchOS | Offers Free Version | $36.00/Year | View Deals |
| | #3 Read Review | Mac, iOS, Windows, Android, Linux, and Chrome OS | Offers Free Version | $35.88/Year | View Deals |
| | #4 Read Review | iOS, Android, Safari (Mac), Chrome and Firefox (Mac and Windows) | Offers Trial Version | $14.99/Year | View Deals |
| | #5 Read Review | Windows, Mac, iOS, Android | Offers Free Version | $12.00/Year | View Deals |
Conclusion
Sticky Password is a robust and reliable password manager which stores your passwords and helps you generate new, strong ones to protect your accounts. It offers advanced features that users need at reasonable price. Once you store passwords on it, you will not forget any password. The password generator creates powerful and unique for all of your accounts. Your weak or duplicated passwords can be strengthened and upgraded. Your passwords as well as other personal information will be secured by the latest encryption technology. No one can access or steal your confidential information with the unbreakable protection. With the stored information, it can help you fill various web forms with your permission, letting you save the precious time to do more important thing. It assists you to backup important data regularly in case your device is lost or corrupted by virus. To let you access all of your data from anywhere at any time, it allows you to sync data to your loved devices. Sticky Password is a great tool to simplify and secure your digital life. It comes with useful features at affordable price. Sweet discount is available. It is worth to give it a try.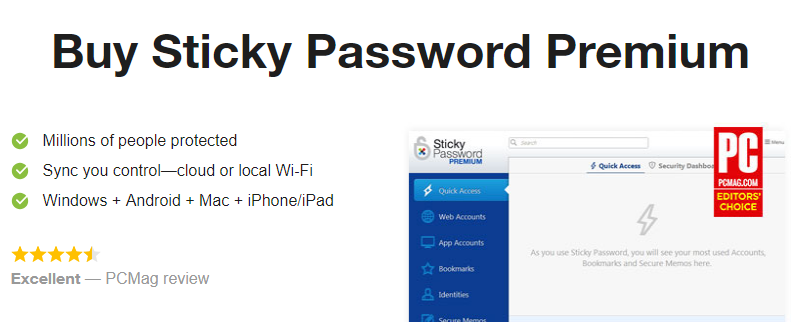 Published by & last updated on July 3, 2020 8:09 am