Intego Mac Security Coupon, Promo Code 2019 – Get Extra 30% OFF. Are you looking for verified Intego Mac Security coupons and promo codes? It is a wise choice to save money. In those days, many Mac users got malware infection. The malware causes blue screen, browser hijacking, misleading popup, tech support scam and more. Users gradually recognize that antivirus software is necessary for Mac. Which product should you choose? Got confused by the various products on the market? You can consider Intego. Intego is a very solid choice if you operate a Mac. By applying Intego coupon, you can save money on any plan. We will show Intego Mac Security coupon 2019 and related discount information in this article.
Brief Information of Intego Mac Security
Intego is a Seattle-based security company which offers software to fight against viruses, malware and other malicious invaders from causing havoc to users' computers. It builds antivirus software from the ground up for macOS and Mac OS X. They have been delivered great solutions for protecting, cleaning, and organizing Macs since 1997. Their goal is to give users a safer experiencing surfing and conducting work and business on the Internet. Why do you need Intego Mac Security? It is necessary to note that all Internet connected devices are vulnerable because devious cyber-criminals make use of a variety of malware to infect and corrupt Macintosh computers. Hackers likely are after your sensitive personal information and your money. Malware is the tool which helps them achieve this goal easily. Luckily, Intego Mac Security utilizes state-of-the-art technology to scan your entire computer, critical locations or specific locations on your Mac and detect any malicious files or vulnerabilities. Once malware is found, it lets you quarantine or delete the dangerous files in time. It is a very useful tool for Mac users.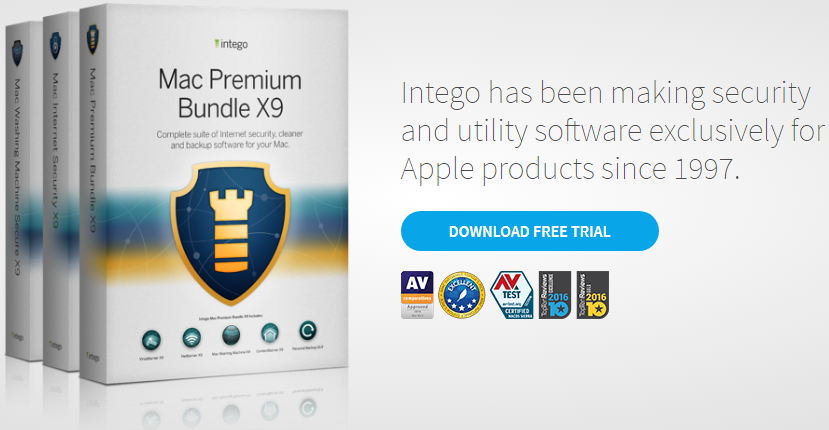 Products & Pricing
Intego Mac Security Coupon, Promo Code 2019 – Get Extra 30% OFF. Intego offers a full range of products. They provide products for home and business. For home use, there are Mac Internet Security X9, Content Barrier Secure X9, Washing Machine Secure X9 and Mac Premium Bundle X9.
Mac Internet Security X9 costs $39.99 USD for one year and $74.99 USD for two years for one computer. You will the following features with the product.
Antivirus for Mac to Safegurd against macOS OS X malware
Firewall network protection for both home and on the go
Anti-phishing to secure sensitive personal information
Real-time protection with automatic scanning
Worry-free protection from unknown devices and applications
Easy set up and configure for non-technical users
ContentBarrier Secure X9 costs $59.99 USD for one year and $114.99 USD for two years for one computer. You can view its features to learn if it what you need.
Protect your kids from inappropriate and dangerous Internet content
Anti-predator chat monitoring blocks objectionable chat content
Customize settings by family member
Set limits on your child's Internet time
Always-on monitoring of your child's Internet use
Antivirus, anti-phishing and anti-spyware protection
Washing Machine Secure X9 costs $55.99 USD for one year and $99.99 USD for two years for one computer. It is your Mac cleaner and security.
Release disk space to enhance system performance
Speeds up your Mac by cleaning up useless and duplicate files
Helps create smart folders to quickly access files you use recentely
Simply organizes your desktop, dock and files by category for easier access
Antivirus, anti-phishing and anti-spyware Protection
Firewall network protection for both home and on the go
Mac Premium Bundle X9 is the most expensive one which costs $69.99 USD for one year and $129.99 USD for two years for one computer. It includes all features users may need.
Antivirus, anti-phishing and anti-spyware Protection
Firewall network protection for both home and on the go
Parental controls with website and application filter
Protects valuable personal information
Mac Cleaner speeds up and organizes your Mac for higher performance
Secure personal Backup software for quick, easy and effective recovery in case of a crash
Sometimes, the company releases coupon to allow users to get deal at lower price. Currently, coupon is available. When applying Intego coupon, you will get extra 30% off. The coupon works on any product of Intego. No matter you are about to purchase Mac Internet Security X9, Content Barrier Secure X9, Washing Machine Secure X9, Mac Premium Bundle X9 or Intego business products, you get 30% discount. Take the verified Intego Coupon to save money.


How to Use Intego Coupon?
Do you have Intego Coupon? Don't know where to get the coupon? You come to the right place. We keep a close eye to Intego promotion and show you valid Intego Coupon in time to let you save as much money as possible. How to get and use Intego Coupon? Here is the guide.
1. Visit Intego here and copy coupon code when you are redirecting.
2. Choose a needed package among the home and business use products.
3. Click on "Buy Now" and it will take you to Intego eStore.
4. Paste coupon code you copied and click on "Update coupon."
5. Fill in order details to finish payment. There you are. You get 30% off saving with the Intego Coupon.
Real-Time Antivirus Protection
It is a big misconception that people think Macs don't need to be protected when it comes to virus protection. In fact, your Mac is no more immune to intrusion when it is connected to the Internet. The viruses perform malicious activities in different ways they do on Windows or Android devices, but they do exist and put your personal data at risk. Luckily, Intego VirusBarrier gives your Mac real-time virus protection. It uses signatures to detect known malware viruses. This product earned top score when it was tested to block less-risky PUAs, or potentially unwanted applications. It not only protects you from existing Mac threats, but also detects PC-based malware to help you ensure that you won't spread corrupted files to friends, family, or work colleagues. Intego Mac security deals with malware in different way. For example, Internet Security X9 doesn't delete malware by default. There is no option for you to set the program to automatically do so. Instead, it quarantines the malware and provides the option to attempt repairing files that contain data you still need. In this way, you can delete malicious files and maintain your precious data as well. Intego security automatically checks for the latest updates to make sure you're protected against the newest threats. Your Mac will always be protected.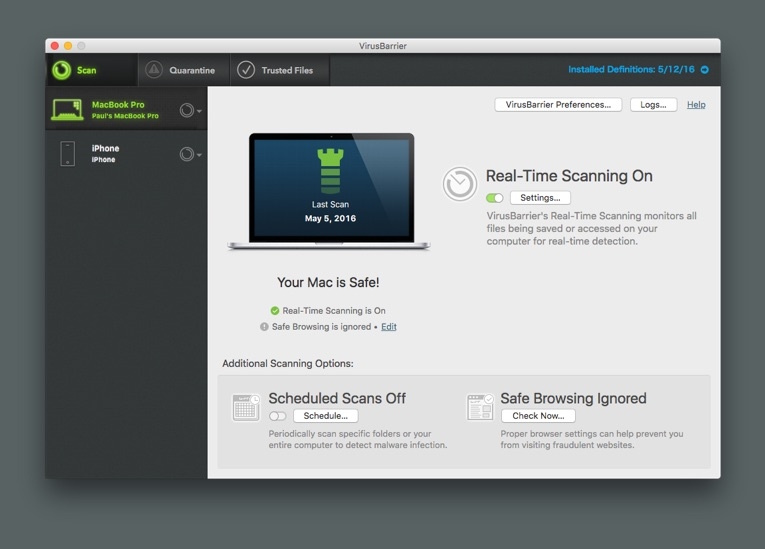 Threat Scanning
To eliminate malware before it can damage your Mac, Intego scans files whenever they're accessed. When you need it, it lists the drives and partitions available on the Mac. From there you can launch a quick or full scan. It allows you to enable a scheduled full or quick scan on a daily or weekly basis, so you don't have to spare time to launch it particularly. The VirusBarrier scans and detects malicious files received via email on your iOS devices every time they're plugged into your computer. And, it also prevents your iPhone, iPad or iPod touch from passing malware to other computers. Besides, Intego NetBarrier blocks unsolicited visitors in their tracks, keeping the bad guys out of your Mac. Hackers won't be able to control your device secretly. Intego Mac security also helps you identify rogue applications accessing the Internet to act as zombies, expose your financial information, or act as backdoors into your Mac. If your Mac is not protected, you may install rogue security software for being misled by fake popup. Intego will not let it happen. During our test, Intego also was able to detected and removed Windows-focused malware specimens. It effectively scans the whole Mac and keeps your Mac free of malware, so you can use the Internet with peaceful mind.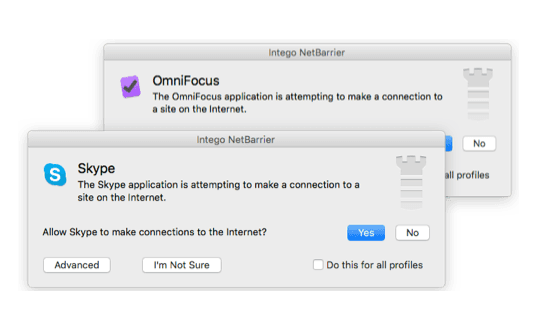 Two-way Mac Firewall
Intego NetBarrier is a two-way firewall while it is easy to use and simple to configure. When you first use this feature, it invites you to identify the current network as Home, Work, or Public Hotspot. You are allowed to customize Intego NetBarrier rules settings to automatically set protection levels perfect for private or public networks. It blocks applications from communicating with specific Internet domains while keeping the functionality you want. You can do what you want freely and keep safe at the same time. When you switch to Home mode, your Mac can freely function and the performance is higher as a server, and file-sharing features are enabled because the environment is safe. If you switch to Work mode, NetBarrier pops up a dialog when a program attempts to use these features. You can decide to allow or deny them. In Public Hotspot mode, Intego firewall blocks any suspicious and unsolicited connection attempts from the Internet or from other devices on the network. Hackers usually generate phishing free WiFi network to trick you into connecting to and grab your account and password information when you typed. With Intego Mac security, your Mac will not connect to those networks automatically. It will mark them and tells you not to connect. With the protection, you can work or do shopping on your Mac at hotel or coffee house via the public network safely.
In addition, Intego provides anti-spyware measures to secure outgoing data sent from your Mac to prevent others from snooping at you. It also actively monitors applications that use your network and you will be informed each time an application attempts to send outbound communications from your Mac over the Internet. The adware, browser hijacker or spyware will not be able to send any of your information to the remote owner.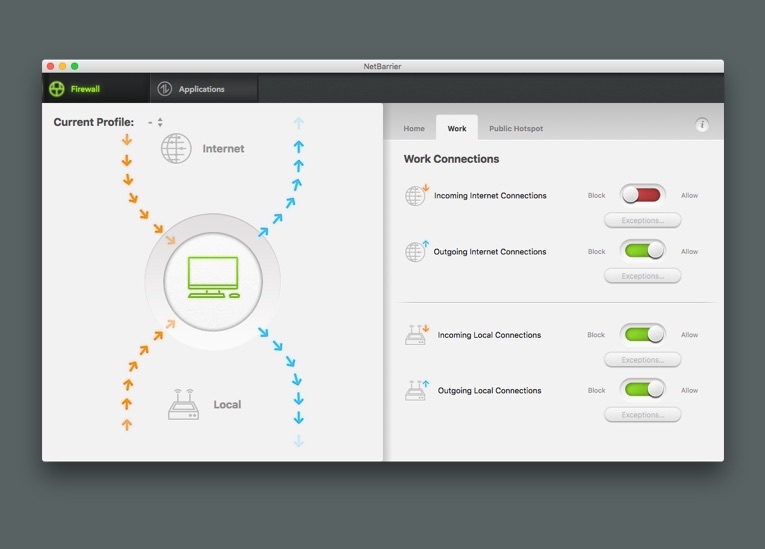 NetUpdate
Hackers are always coming up with new malware, spyware and viruses. They change the malware and add new features constantly to make sure that the malware can help them make money before people can't find a solution to their new threat. Therefore, you have to stay a step ahead of them with updates from the Intego team. It has the tool named NetUpdate which is a simple list of virus definitions that identify malware and are regularly updated as new malware is found and documented. It lets you choose your VirusBarrier client up to date automatically or manually. The Intego team is always working to spot and analyze new malware. Once new threat is detected, they will push the update information to NetUpdate so that it can update your VirusBarrier Anti-Virus application to detect new malware so you can stay a step ahead of hackers.
Parental Controls
Intego gives users parental control to monitor their children's Internet use and help them develop healthy habit. It gives parents control over all iOS devices in their household, allowing them to set age limits on websites, stop in-app purchases, and monitor what children are doing online. You are able to block harmful content. For example, gambling sites and especially pornography are no place for children. Violence contents are improper for them. Let Intego ContentBarrier block out the entire categories of websites for you, preventing those content from corrupting your children's thought. You are suggested to set up a specific list of approved websites, so your children can access them without accidentally running into a filter. You can monitor and supervise them without keeping a close on them. That can reduce conflict between parents and kids. Intego also lets you control the time that your children can use the device and Internet. After you set the time, a simple message "your device is locked for meal time" will appear across the screen and tells kids to do the right things for you. You can also set up times of the day when the device freezes 0- such as at night. You can keep everything under control with less effort on your side.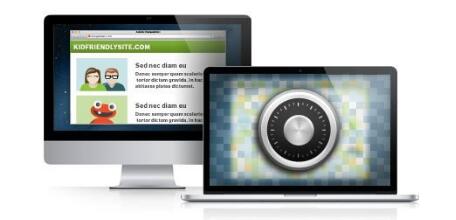 Mac Cleaner & Personal Backup
Intego has a Mac Washing Machine. It also is called Mac Cleaner. It is a truth that all devices will become slower after you use them for a certain of time. You may store data, install apps and bring cache etc. Those things will take up your member and degrade the performance. Intego Mac Washing Machine assists you to get rid of junk files that slow down your Mac and duplicate files and programs you never use. The duplicate files. Nice interface, presets for Cashes, Downloads, Languages, Logs and Trash will be cleared regularly. You don't have to figure out which one is useful and which one is not. The cleaning process will not cause any system error. The useless files will be deleted safely and completely. It also helps you automatically organize things, so both you and your Mac work more efficiently.
Backup is very important as we may lose device or delete important files by mistake. Sometimes, ransomware can corrupt your precious document and there is no way to recover. You will need the backup. Intego Personal Backup makes copies of your files for quick and easy recovery in case of theft, data corruption, or natural disasters. It enables you to create your own Backup schedule, normal or bootable backup and Restore for your data if necessary. It is suggested to create an automated schedule to save time. Intego backup software provides most used, basic backup options. It also supports backup to external servers and offers standard backup presets for documents, pictures etc. There is no need to worry about data loss with this tool.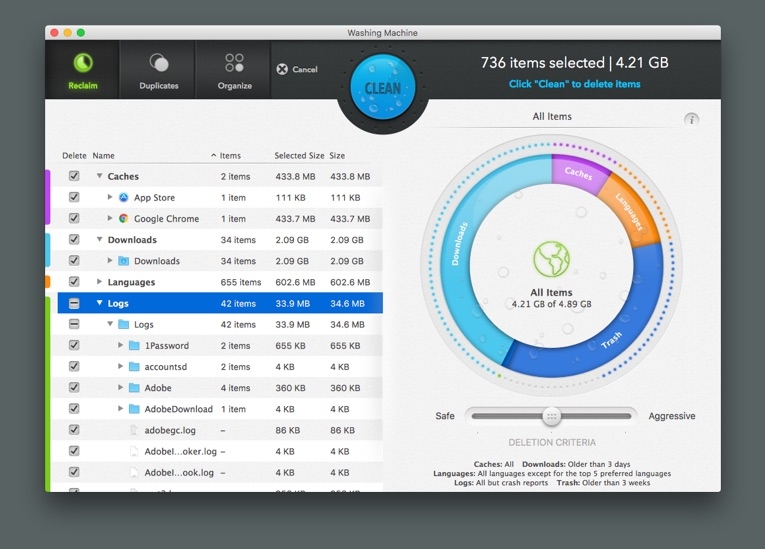 Intego Mac Security Software
Intego provides software of great simplicity. It requires that you restart your Mac after installation. They designed the security software easy to operate just like other Mac applications. The software is effective, straightforward and unobtrusive. It has a clear, streamlined interface that makes it easy to see how your system is being protected. You can also use the control panels to make changes to the level of the scan, and to set up your scheduled scans. It allows you to decide whether or not you'd prefer a display showing a brief overview of threats or a detailed log explaining why this item has raised a red flag. The software works mostly in the background, detecting and blocking malware and malicious Web links. If you want to learn about the product, the company offers a Knowledge Base with common questions and a set of articles for you to look through. If you need their tech support, you can submit a ticket for email help. It is a pity that there is no phone line or live chat.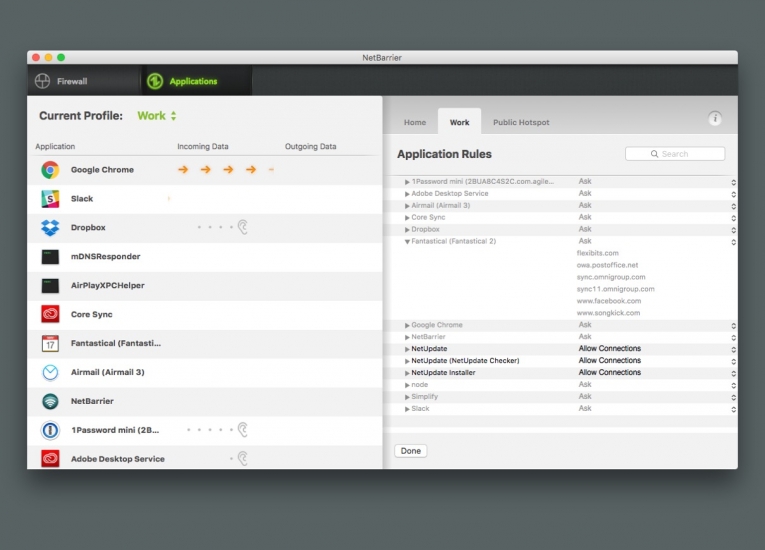 Conclusion (Intego Mac Security Coupon, Promo Code 2019 – Get Extra 30% OFF)
Want best value? Promotion and discount coupon are important. Get promotion link and discount coupon before you purchase Intego Mac Security product. Apple products are very popular and used by millions of people throughout the world, thus making it interesting to internet crime. Malware, phishing and viruses tracing your personal information can infect your device. In recent years, Mac users are also faced with ever increasing Internet related security problems. For the various infections, victims have to pay high fee in repair shop to get their precious Mac back to work. Sometimes, they get scam virus which tricks them into paying non-existing fine or fake antivirus programs. Therefore, more and more users install security program on their Macs. To protect your precious Mac, you need a product which is reliable and has strong ability to defeat various dangerous viruses. Intego Mac Security is an all-in-one bundle and boasts strong malware detection scores and assist users to get rids of famous threat. Its firewall safeguards your network for home and on the go. It protects your sensitive personal information. The Cleaner speeds up and organizes your Mac. Intego takes care of your important backup and keeps your Mac safe & clean as well. Need virus protection on Mac? Get Intego Mac Security. Want save money? Grab Intego Mac Security coupon to get 30% discount.

Published by & last updated on February 13, 2019 7:39 am