1Password Disocunt Coupon Code, Promo Code. Are you looking for 1Password coupon code, promo code or discount code? AgileBits 1Password is a powerful password manager while it is easy to use. The provider rarely offers discount. If coupons are available, you never should miss the great chance to save big. Let's view 1Password coupons/discount codes and its features in this article.
What is AgileBits 1Password?
AgileBits 1Password is a famous password manager which works as digital vault, random password generator, form filler and secure digital wallet etc. Strong, multi-key encryption is the foundation of their security model. It utilizes a potent cocktail of AES-256 encryption and PBKDF2 key derivation to give you unbreakable protection. This manager complies with the most stringent industry standards for data confidentiality, integrity, and availability. Users can store various passwords, software licenses, and other sensitive information in a virtual vault. 1Password is the first password manager to use WebCrypto which is the next generation standard from the W3C. Multi-factor authentication also provides an extra layer of protection for your data. 1Password can be set up to only store password files locally, and not sync with remote servers. It can also be set up so that files are synchronized through Dropbox, local Wi-Fi and iCloud and more. It has useful features and its prices are a bit expensive as well.

1Password Disocunt Coupons & Discount Codes
1Password Disocunt Coupon Code, Promo Code. 1Password provides four packages for users. They are personal, family, team and business packages. The personal package costs $2.99 USD per month when billed annually. It comes with apps for Mac, iOS, Windows, Android, and web. Unlimited passwords, items, and 1 GB document storage are supported. Friendly 24/7 email support, travel Mode to safely cross borders, two-factor authentication for an extra layer of protection and 365 day item history to restore deleted passwords are available.
The family package is $4.99 USD per family of five per month when billed annually. With one package, you can secure all online accounts of the whole family. It includes all features of the personal package. You can share with 5 family members and invite more for $1.00 USD each. It also allows you to invite up to 5 guests for limited sharing. With this package, you can share passwords, credit cards and secure notes etc., manage what family members can see & do and recover accounts for locked out family members.

The team package can be billed monthly which is $3.99 USD per user. It comes with Apps for Mac, iOS, Windows, Android & web, unlimited shared vaults and item storage, admin controls to view and manage permissions, 1 GB document storage per person, 5 guest accounts for limited sharing, two-factor authentication for an extra layer of protection, Duo integration for business-wide multi-factor authentication and friendly 24/7 email support.
The business package costs $7.99 USD per month per user. You will get VIP Support, 5 GB document storage per person, 20 guest accounts for limited sharing, fine-grained access control for each vault, free family accounts for all team members, activity Log for tracking changes to vaults and items and Custom roles to design and delegate responsibility etc. It lets you control what everyone sees and shares, and easily delegate management roles. You will get comprehensive usage reports to see how your employees are using 1Password at work.
Currently, 1Password coupons are not available. Commonly, coupons are released during special events and big holidays. We will display 1Password coupons immediately once they are available to help you save as much money as possible. If you don't feel like to wait, the original price is friendly as well.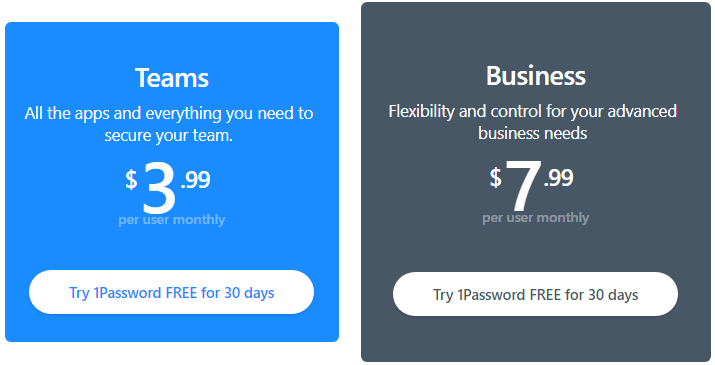 How does AgileBits 1Password Work?
To let 1Password work for you, you need to purchase a plan you need and install client on your PC. Enter your name and you have the option to add a photo during the setup. To help you manage that master account key, the wizard creates what it calls an emergency kit which is a massive string of 34 letters and digits, separated by hyphens into seven blocks of varying sizes. You need this key every time you add a new device or browser extension. This step is unique with this password manager. Next, it lets you create a strong master password. You can get a PDF file containing your email address and account key, with a space to write down your master password. It's possible to print it off and store it at a secure place.
After you create your account, you need to set up your apps for Windows, Mac, Android, and iOS. For full functionality, it is required to add the 1Password extension to your browsers. When you first open a supported browser, it offers its extension. The account key is required each time you install the apps. To save time, you can snap a QR code that fills in all your information except the master password to login on an Android or iOS device. If you're installing on a desktop device, you can copy that QR code to the clipboard for import. In case your activated device gets stolen, the thief will not be able to access your account without your master password. For total security, you are suggested to log into the web console, click My Profile and deactivate the device once you notice it has been lost.
Password Management
It is common that one Internet user has dozens of accounts and passwords. Passwords are the key to protect and access users' personal information. According to online survey, the majority of users have difficult to manage their passwords. Many users forget their passwords frequently. Lots of users create simple passwords that contain their names, phone number or birthday. Some users create one long and complicated password and reuse it for all accounts. In fact, they are not the right way to secure your account. Simple passwords can be cracked easily while reused password can cause massive password theft at a time. You need hard-to-guess and unique passwords to secure your account.
The problem is how can you remember this kind of passwords? You don't have to do this job. A password manager will take care of password generating, storing, sharing and more. 1Password is such a program. You can import or add passwords manually and it will remember all of them for you. 1Password allows you to import passwords stored in Chrome, and import from LastPass, Dashlane, and RoboForm. It also is possible to import password from a CSV file. By contrast, LastPass can import from over 30 competing products. The passwords will be well-organized and you can use key word to search for needed account quickly. In fact, storing your passwords is not enough for security. 1Password assists you to find out those old, weak and reused passwords. Besides, it offers help to strengthen them to make sure that all of your passwords are strong and unguessable. 1Password does not automate the process of changing passwords for a variety of reasons.
1Password comes with a password generator to help you create a strong password when signing up for a new website or strengthening an existing one. It works in the Windows app and the browser extension, generating random passwords with 24 characters. By default, 1Password generates passwords that include capital and small letters, digits, and symbols. You can disable use of digits and symbols if you hit a website that doesn't accept them, but the letters are always there. You also can create the passwords yourself and let it value the strength and give you suggestion to make it stronger. When you first log in a website, it offers to store logins and replay it next time you revisit the same website. With a password manager, you will own uncrackable passwords and access them any time you need them.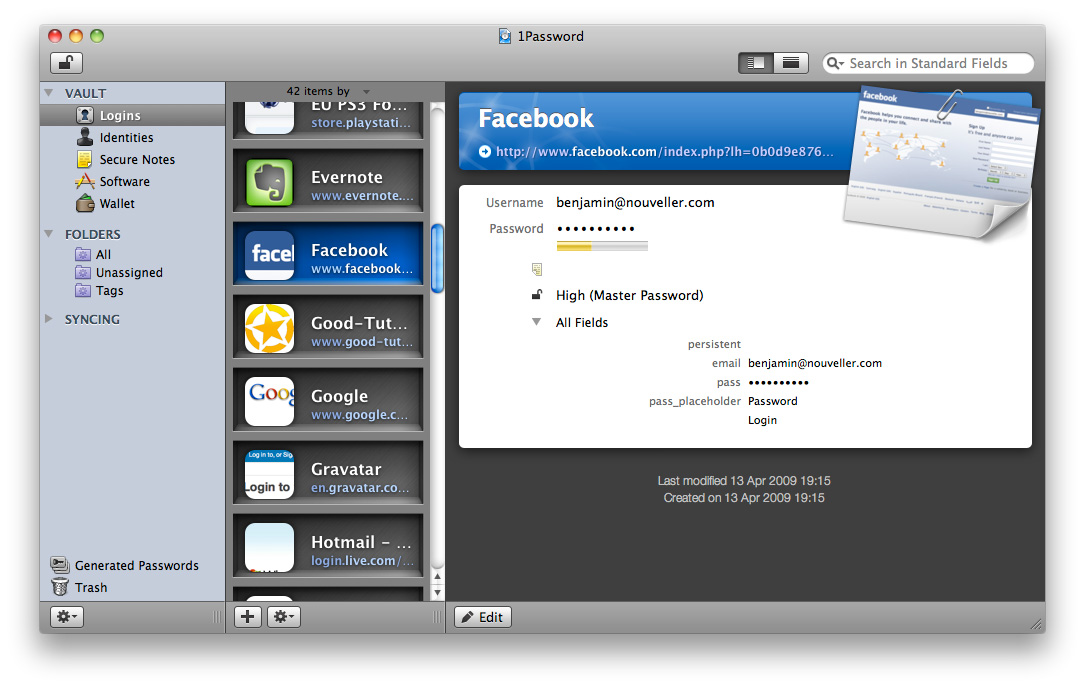 Password Manager Security
Most users choose password manger to keep their online account safe. Does 1Password offer security we need? Yes, 1Password uses multiple techniques to protect your data at rest and in transit. It utilizes AES-256 bit encryption to safeguard your stored information. No matter you are using 1Password to create & share passwords, store personal information, log in accounts or fill web form, your data always is encrypted before a single byte ever leaves your devices. 1Password uses a zero knowledge protocol to encrypt all traffic over the network. It also verifies the authenticity of the remote server before sending your information over TLS/SSL. To make sure that you are the only person who can control your data, it enables you to use master password and secret key to login your 1Password account. Secret key is the unique 128-bit identifier that is generated locally. Your encryption keys are protected by your Master Password, so only you have the keys to unlock your secrets. Even though others steal your device, they can't access any of your precious data without master password r secret key. With the solid protection, you can securely store your credit cards, receipts, and more, and access them on any device. Criminals have no chance to grab them. Besides, it has travel mode to let you remove sensitive data from your devices when you are on a trip and restore access with a click when you arrive at home or other destination. 1Password has a feature called Watchtower warns you of possible compromised passwords. If someone tries to hack your accounts, you will receive around-the-clock security alerts for the services and websites that you use. You will be able to change passwords in time to avoid loss.


Logins Captures & Form Filler
Like others products, 1Password's browser extension is able to capture credentials on secure websites and offer to save them. The password capture dialog appears at the right top, allowing you to change the name for the login and add one or more tags. By default, all passwords will be stored into your personal password vault. 1Password lets you store various personal information for use in filling Web forms. It allows you to create many identities. Personal data, shipping address information and a variety of Internet contact details will be included. It stores credit card information separately from the personal identity. That is very convenient when you need to share the personal information catalogue to others. You are allowed to view and edit all your saved logins and other stored data on both Windows application or the browser extension. You may need to separate your work accounts and personal accounts for easy management. It lets you define additional vaults and choose which to use at capture time. You can choose to view items from just one vault or see them all at once and you won't get confused. It shows you logins in a popup list. Simply scroll down to look for wanted logins or type key words and the list will narrow to match what you've typed. Click the desire account and you will be able to visit and log into website immediately. RoboForm, LogMeOnce, and many other password managers offer another handy way to use your saved logins. When you click on the toolbar button, it displays a list of your saved sites. It will navigate to website first and then logs in after clicking on login information in the list.
1Password has form filler, helping you fill different kinds of web form. You may need to fill various form to make payment, join a forum or apply for something on the Internet. It's not a very difficult job, but you may get annoyed for retyping the same and long series of words, digitals and letters etc. again and again. With the form filler feature, you can save those steps. When you open a website with form, it automatically fills blanks like name, address, and telephone. You can click the red-circled minus icon in front of optional fields to remove them if you'll never use them. For sensitive information like credit card, it will ask for your permission. Therefore, there is no need to worry that it will abuse your bank card information. Besides, it does not match your profile on insecure website.

Top 5 Best Password Managers In The World
| Brands | Key Features | Support Platforms | Offers | Price(USD) | Official Website |
| --- | --- | --- | --- | --- | --- |
| | Two-Factor Authentication, Fill Web Forms, Multiple Form-Filling Identities, Actionable Password Strength Report, Browser Menu Of Logins, Application Passwords, Secure Sharing, Digital Legacy | Windows, Mac, iOS, Android, Linux, Chrome OS, watchOS | Offers Free Version | $39.96/Year | Best Choice |
| | Two-Factor Authentication, Fill Web Forms, Multiple Form-Filling Identities, Actionable Password Strength Report, Browser Menu Of Logins, Application Passwords, Secure Sharing, Digital Legacy | iOS, Android, Windows, Mac, Linux, Chromebook | Offers Free Version | $19.95/Year | View Deals |
| | Two-Factor Authentication, Fill Web Forms, Multiple Form-Filling Identities, Actionable Password Strength Report, Browser Menu Of Logins, Application Passwords, Secure Sharing, Digital Legacy | Windows, Mac, iOS, Android, Linux, Chrome OS, Windows Phone, watchOS | Offers Free Version | $24.00/Year | View Deals |
| | Two-Factor Authentication, Fill Web Forms, Multiple Form-Filling Identities, Actionable Password Strength Report, Browser Menu Of Logins, Application Passwords, Secure Sharing, Digital Legacy | iOS, Android, Safari (Mac), Chrome and Firefox (Mac and Windows) | Offers Trial Version | $29.99/Year | View Deals |
| | Two-Factor Authentication, Fill Web Forms, Multiple Form-Filling Identities, Actionable Password Strength Report, Browser Menu Of Logins, Application Passwords, Secure Sharing, Digital Legacy | Windows, Mac, iOS, Android | Offers Free Version | $10.20/Year | View Deals |
Conclusion (1Password Coupon Codes)
1Password Disocunt Coupon Code and Promo Code help you save money during checkout. 1Password is great password manager, providing many features. It manages all of your passwords to make them strong, unique, safe and convenient to use. You won't need to strain your brain to think of complicated passwords and keep all of them mind or write them down. Your passwords will not face the risk of being hacked because the password manager provides tamper-proof & authenticated encryption using AES-GCM mode and brute force protection using PBKDF2-HMAC-SHA256. Key creation, derivation, and splitting techniques also are applied by this manager. 1Paasowrd secures the vault sharing by using asymmetric cryptography. It lets you grant and revoke access to shared passwords and documents both to individuals and groups securely. It also smoothly syncs your passwords and personal data across all your Windows, macOS, Android, and iOS devices, and handles all the expected tasks of a password manager. You can import and export your most important information at any time. 1Password is built with modern, open source libraries and industry-proven solutions. There aren't many configuration options to worry about. Once 1Password runs promotion and provides discounts, we will display valid 1Password coupons right away.

Published by & last updated on January 23, 2020 8:04 am